Canik Mete SFT Miami
Numbered, limited-edition series
Miami Days or Miami Nights themes
18+1 and 20+1 mags
MSRP: $769.99
Canik just announced its annual special edition firearm, and it's a lot to put into words. The Canik Mete SFT Miami pistol shoots 9mm, comes with a host of accessories, including an IWB/OWB holster, and boasts a limited-edition color scheme that pays tribute to the city of Miami. It can be yours for an MSRP of $769.99. And it's very, very Miami. This pistol brings to mind a slew of movie lines:
"Your scientists were so preoccupied with whether they could, they didn't stop to think if they should." "With great power comes great responsibility." "Look how they massacred my boy."
In the end, this new Canik pistol looks like something from Call of Duty that requires way too many hours to unlock.

GOOD GEAR – Wear the Perfect Shirt for Concealed Carrying With the BRCC Combat Knife Pocket T-Shirt
---
Canik will produce 3,050 (a reference to Miami's 305 area code) Miami Days and 3,050 Miami Nights collector-edition pistols. Functional features include an optic-compatible slide, a flared magazine well, an under-barrel Picatinny rail, interchangeable backstraps, and Canik's Ready-Out-Of-The-Box Trigger. 
What sets this run of Signature Series pistols apart is, of course, the bright and oh-so-bold color schemes. The Miami Days pistol has a white frame and slide with blue controls and a black palm tree on the grip. The Miami Nights version is black with blue and pink hardware and no palm tree. Both feature a silhouette of the coastal city's skyline on the slide.  
Limited-edition factory runs of popular firearms are nothing new, and you'll find them in practically every firearm category. Smith & Wesson offers competition-prepped pistols, and this year, Sauer has revived cool throwback camouflage patterns for its most popular waterfowl shotgun. Guns like these offer exclusivity and some kind of advantage over the base model worth paying extra for. This Canik, though, is something else.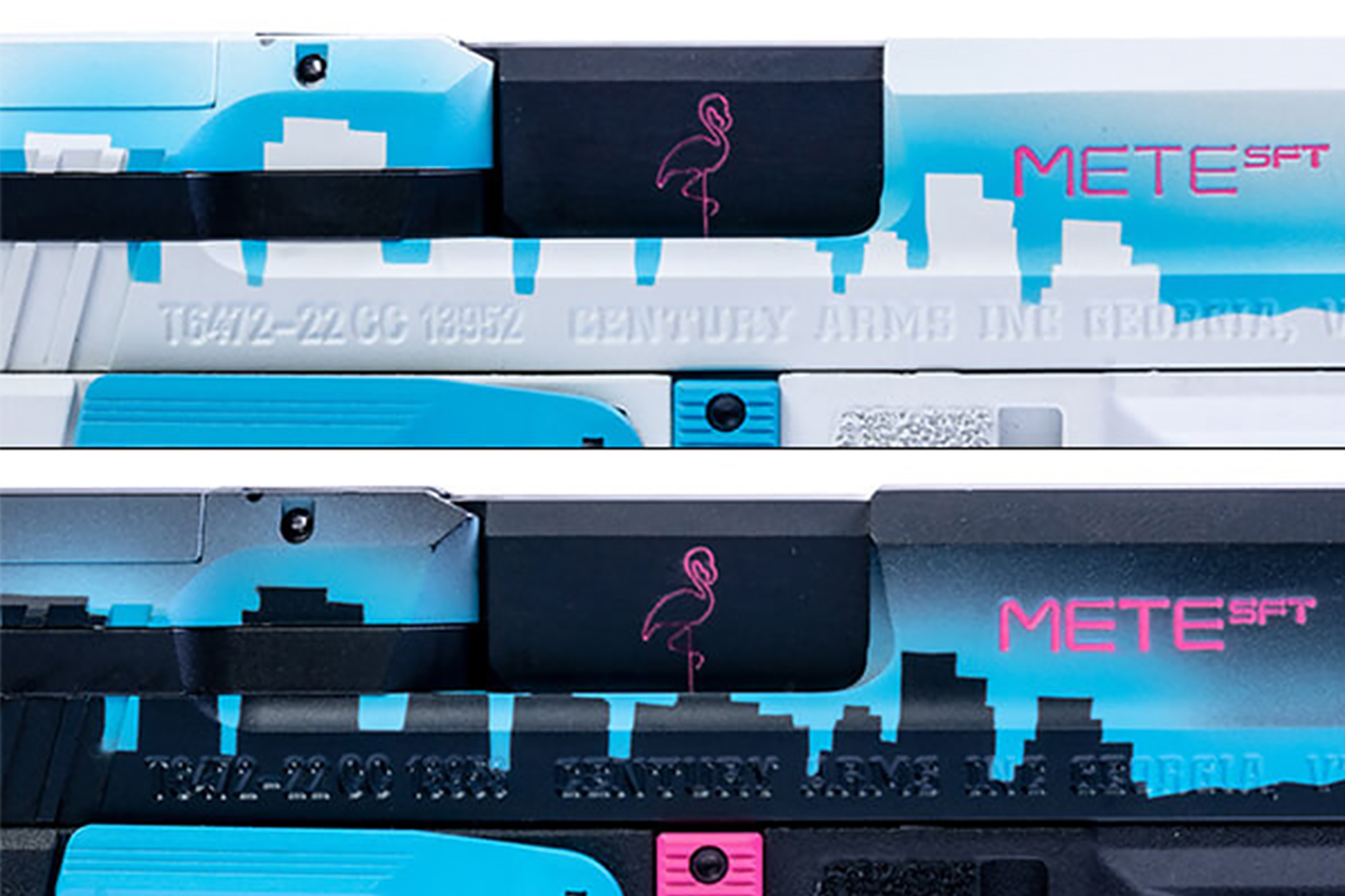 RELATED – 44 Magnum: The Most Powerful Handgun Cartridge, for a While
---
There's nothing wrong with the pistol itself. It's a polymer-framed 9mm with a full-size barrel and decent sights. Canik has a reputation for producing reliable pistols that punch above their price. It's all well and good until you get to the commemorative Miami-themed graphics. 
Hell, there's even a pink flamingo engraved on the barrel. The wild color scheme carries over to the holster that comes with the pistol, which implies that it's a carry gun. 
Think that through for a second. If you carry a concealed handgun, it's because you believe you may need to use it to save your life. If you do have to fire in self-defense — no matter how justified — there's a good chance you'll end up in court. 
This isn't the first cringeworthy special-edition firearm, and it won't be the last. If you love the city of Miami, have the spare cash, and want to pay tribute with a commemorative pistol slathered in '80s neon that you hang in a shadow box with a photo of the Miami skyline behind it, that's your right. But if you take this thing to the range, it's also the right of everyone else on the firing line to wonder what the hell you and Canik were thinking. Unless, of course, you're at a range in Florida.
GOOD GEAR – Show Support For Our Law Enforcement Community With the BRCC Thin Blue Line Coffee Roast
---
Canik Mete SFT Miami Pistol Specs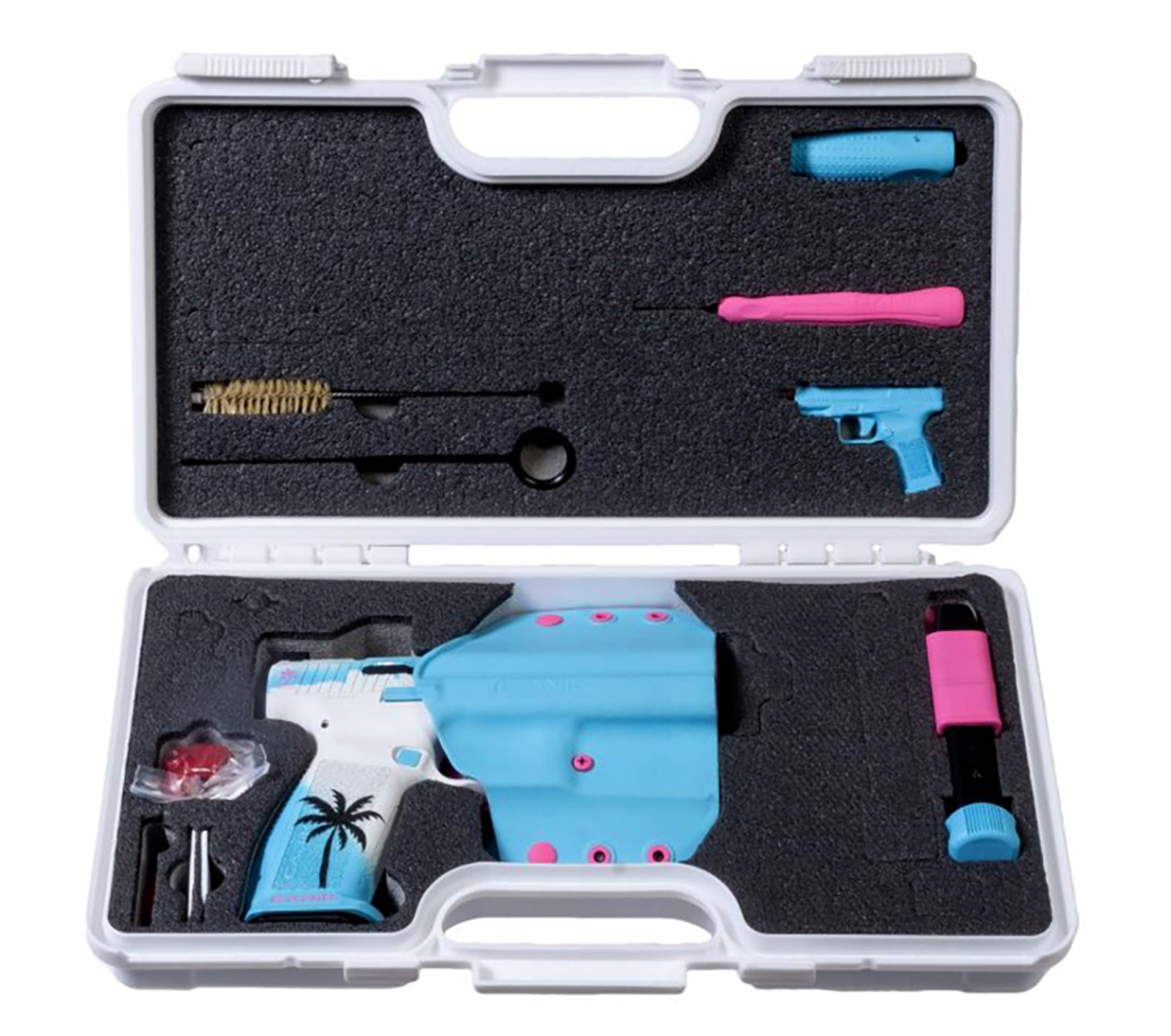 Caliber: 9mm
Capacity: 18+1, 20+1
Weight: 28 ounces
Overall Length: 7.56 inches
Height: 5.72 inches
Barrel Length: 4.46 inches
Frame: Synthetic
Rear Sight: White dot
Front Sight: White dot
MSRP: $769.99
---
READ NEXT – New S&W PC M&P9 M2.0 Competitor Pistol Came To Win