Justin Lee tagged out in the first two days of a weeklong trip. Caribou hunting in Greenland turned out to be way more archery-friendly than he anticipated. It wasn't easy — not by any stretch of the imagination — but opportunities were plentiful, which always helps.
The arrow-slinging portion of his trip was over a little too quickly, considering the distance the professional spearfisherman and seasoned bowhunter had traveled from his home in Hawaii: just a bit over 5,300 miles. But that didn't mean the hunt was over.
The Greenland caribou hunting crew, organized by Yeti in August 2022, included Remi Warren, Cole Kramer, Adam Foss, Moe Newman, Joe Koehly, Pedro Ampuero, and Nick Kelley. They all saw success, and Lee got to be present for and share in much of it.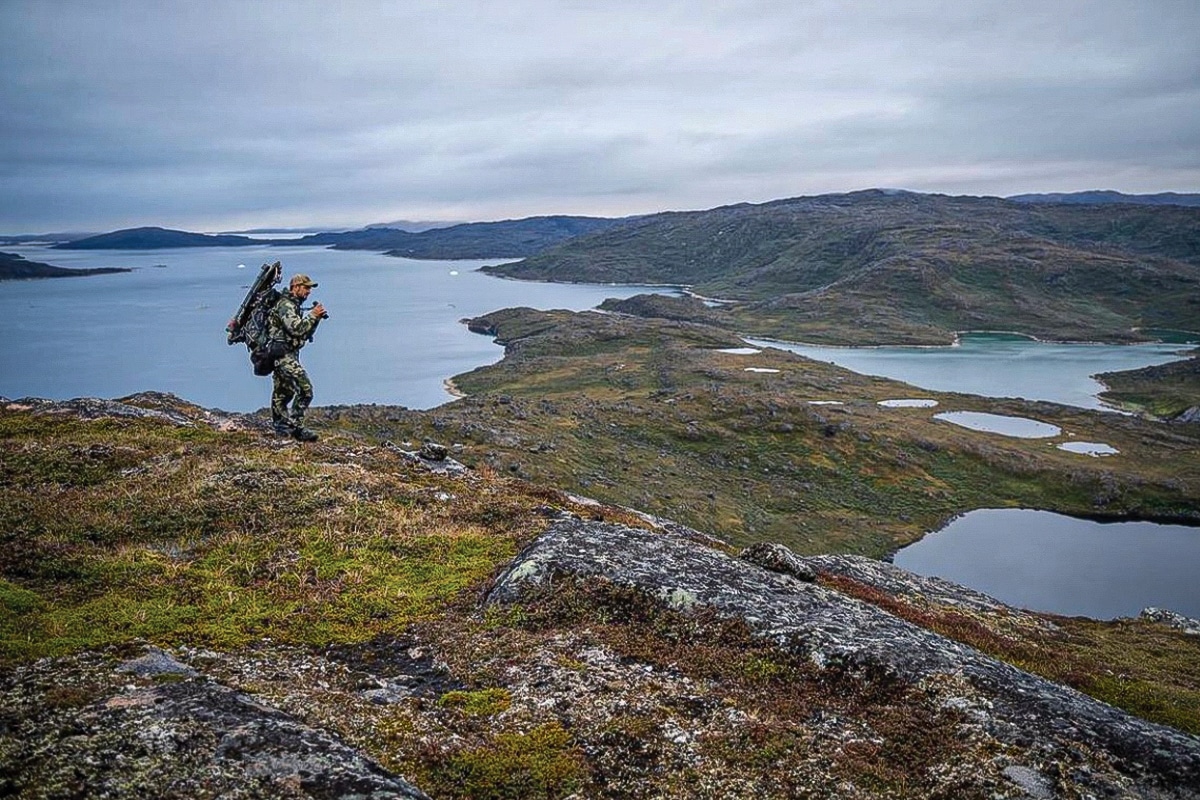 "I wish I would have pumped the brakes a little bit and slowed it down so I could've enjoyed hunting the rest of the trip," he said with a laugh. "But it allowed me to be there for other caribou hunts. I got to see Moe shoot her caribou. I was standing right next to Remi when he shot one. I was sitting right behind Cole and watched his arrow hit. And I got to guide Nick on his caribou."
For Lee, the trip was made even better because of the connections he was able to form with his hunting companions, thanks to his early tag-out, even though his bow was in its case.
"It was super rad to be there and experience that with them," he said. "As long as you're in the game and crawling and being quiet, it makes no difference who's slinging the arrow."
RELATED – The 7 Oldest Pope & Young Archery Records
---
A Brand New Landscape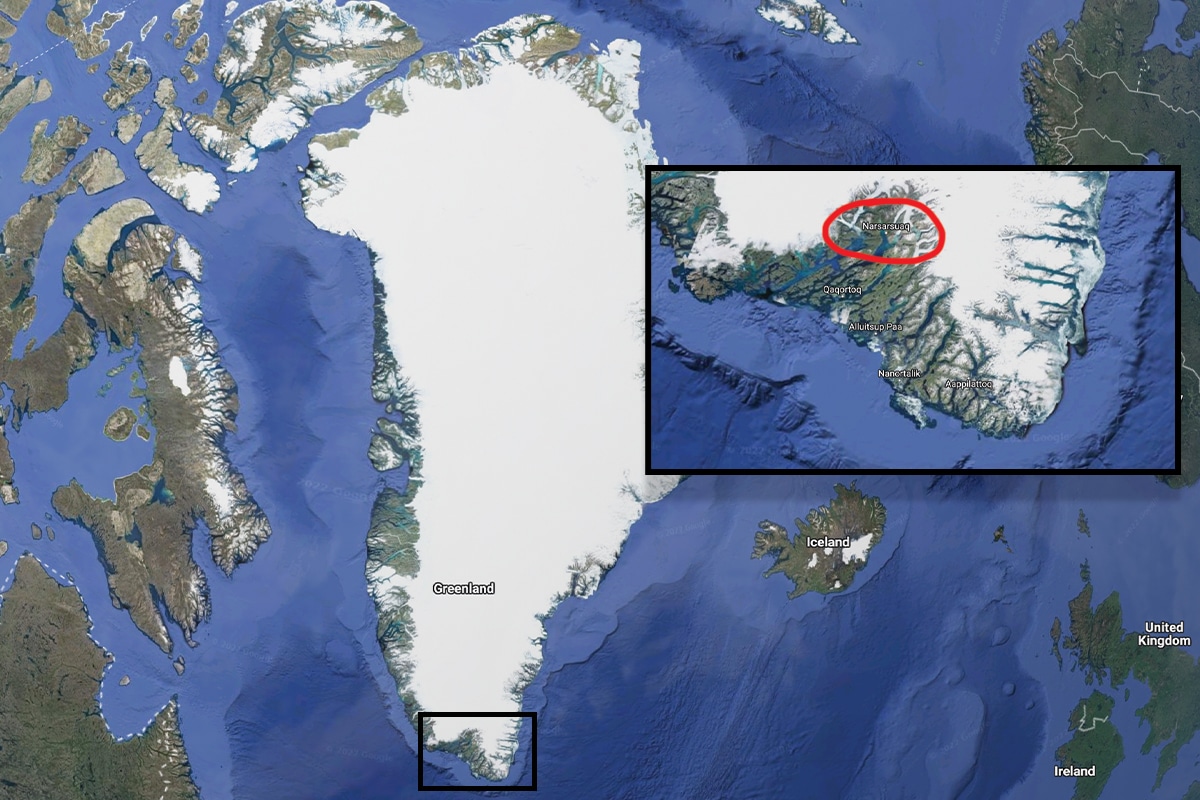 Twenty-seven hours after first boarding a plane in Hawaii, Justin finally landed in Narsarsuaq, a settlement in southern Greenland home to approximately 120 residents, the airport, and a museum. The glacier left this exposed land behind in its retreat over the millennia.
Despite its remote location and spartan community, Narsarsuaq is a popular destination for people who want to gaze at the glacier, gemstone seekers, and wildlife lovers — both hunting and non-hunting varieties. The rest of the group arrived, and, surprisingly, so did all of their gear.
There were no roads leading to their hunting camp; it was a three-hour boat ride away.
Greenland is an 836,330-square-mile island, 80% of which is covered with ice. The country has been part of the Kingdom of Denmark since 1814 but has been ruled by its citizens since 1979.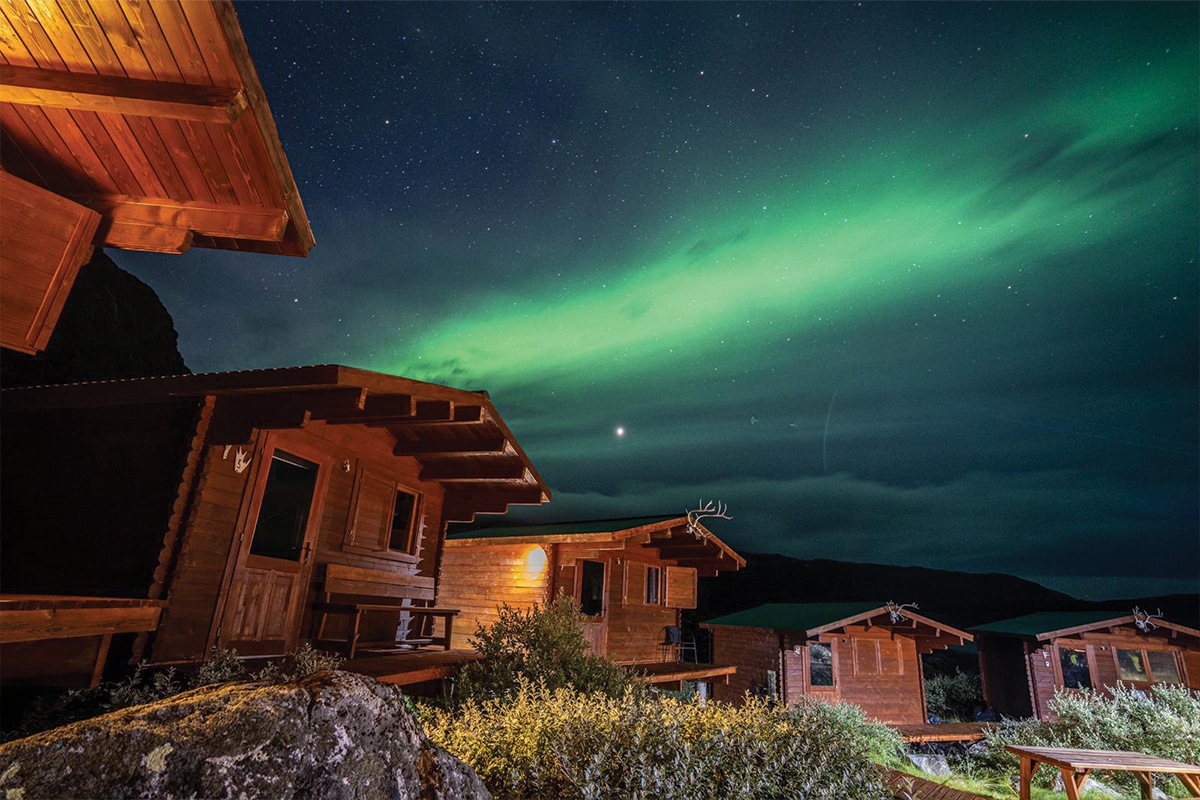 This hunt was Lee's first trip to the land of ice and stone.
"I knew nothing about Greenland," he said. "I knew it was wet and cold, and a majority of it was ice, but I didn't know much more. There were no trees, just islands of rocks. They felt like lava rocks, so it kind of felt like I was back home, just really wet. The landscape was built for archery, I swear. It's an archery playground."
Nick Kelley, a professional outdoor photographer from northern Colorado, felt the Hawaiian vibe, too.
"It was a maze of rocky coastal islands; everything from the size of a swimming pool to stuff that felt like a big Hawaiian island," he said. "The Greenland ice cap is visible most of the day, like a low-lying cloud bank engulfing the mountains. The whole thing is surreal."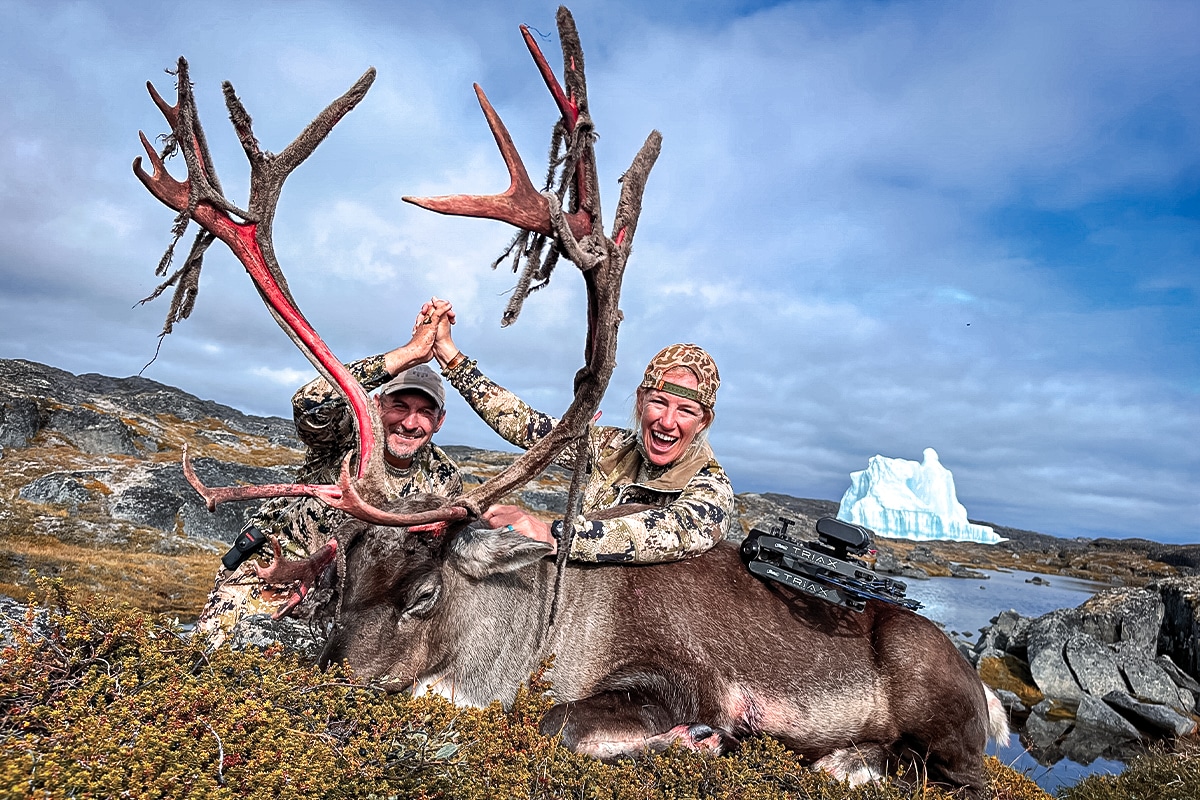 Lee and Kelley weren't the only Greenland newbies on the trip; it was Newman's first visit, too. She's a professional fishing guide and a whitetail hunter who calls Venice, Louisiana, home — and you can't get much different from that part of the world than Greenland. For her, hunting there was like hunting on an alien planet.
Newman was with Lee for both of his caribous and said she couldn't get over the scenery.
"To come from my little world and have everything from waterfalls to glaciers and to be able to hunt animals in that scenery was just breathtaking," she said. "When we did harvest a bull, we were more taken by the surroundings than the animal. I had a glacier in the background of one of my kills — I mean, where can you go, and that's your photobomb?"
RELATED – DIY Alaska Caribou Hunt Checklist: How to Hunt the Dalton Highway
---
The Greenland Caribou Hunting Rhythm: Cruise, Spot, and Stalk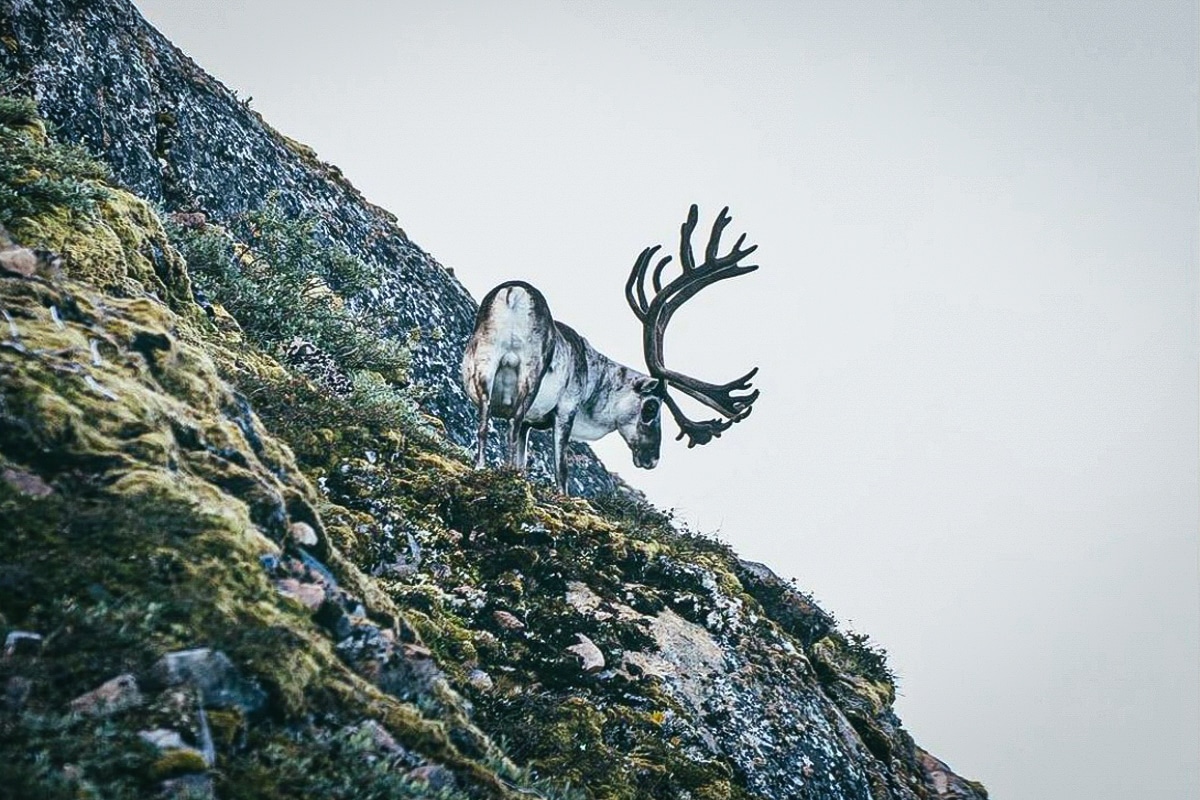 Greenland's caribou population in the early 1990s was roughly 7,000 to 9,000 animals. By 2001, there were approximately 140,000. The population fluctuates, but with no natural predators, it's either hunting, herd health (like sickness or age), or unsustainable food sources that keep them in check.
The coast consists of countless islands, and caribou move between them by swimming, so boats are a must. According to Lee, every morning began with a cruise and glassing from the water.
"When you find caribou, if it's one that you want to pursue, you park the boat a few hundred yards downwind, and you start your stalk," Lee said. "The first morning, after Moe shot her bull, I spotted my first about two miles away on a different island. He skylined himself. We packed Moe's bull in the boat and went to find mine."
Having located the herd and his bull, they pulled up to the shore. The wind kicked up and swirled, spooking the group.
"We watched them slow to a walk after about 500 or 600 yards," he said. "I made a big circle around the herd and lost them. All of a sudden, they came running back toward me. They must have run down on a peninsula and didn't want to jump in the water, so they turned around and walked right back into me. The wind was pretty strong, so we had a pretty good crosswind. I shot him at 40 yards and hit him a little far back."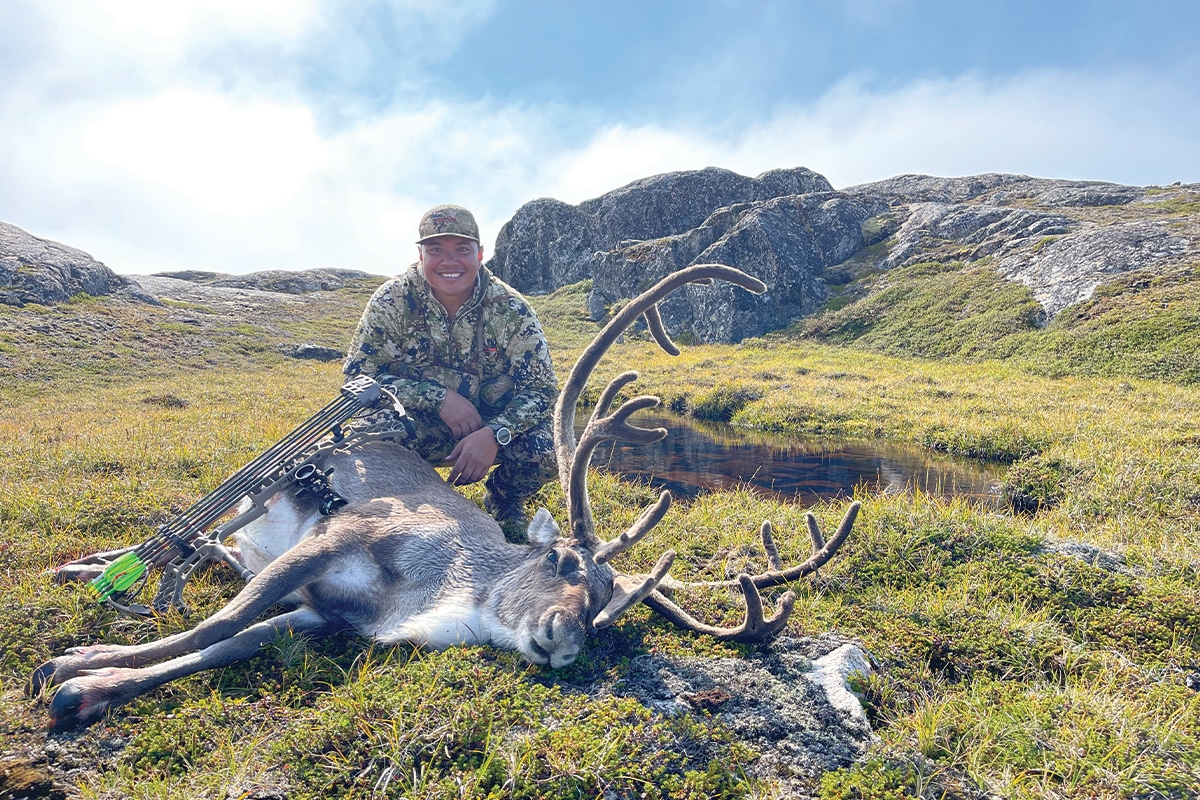 Lee knew the shot was fatal, but he and the guide decided to give it time and wait till the following day to trail the animal.
When Lee and Newman set out with their guide, fog and low clouds pushed in and killed visibility on the island. They switched to Plan B and found an island with enough visibility to hunt in the meantime. Lee drew the first hunt.
"We came around this point, and there's this double shovel bull. Kind of weak on top, but just beautiful fronts," he said. "Oh, it's game on."
They jumped out, and Lee stalked to within 40 yards of where the bull was bedded.
"I was anticipating him slowly standing up when I came to full draw. When I did, I came around a little knob, and he got to his feet and ran instantly. I was like, 'Oh, that's fucked.'"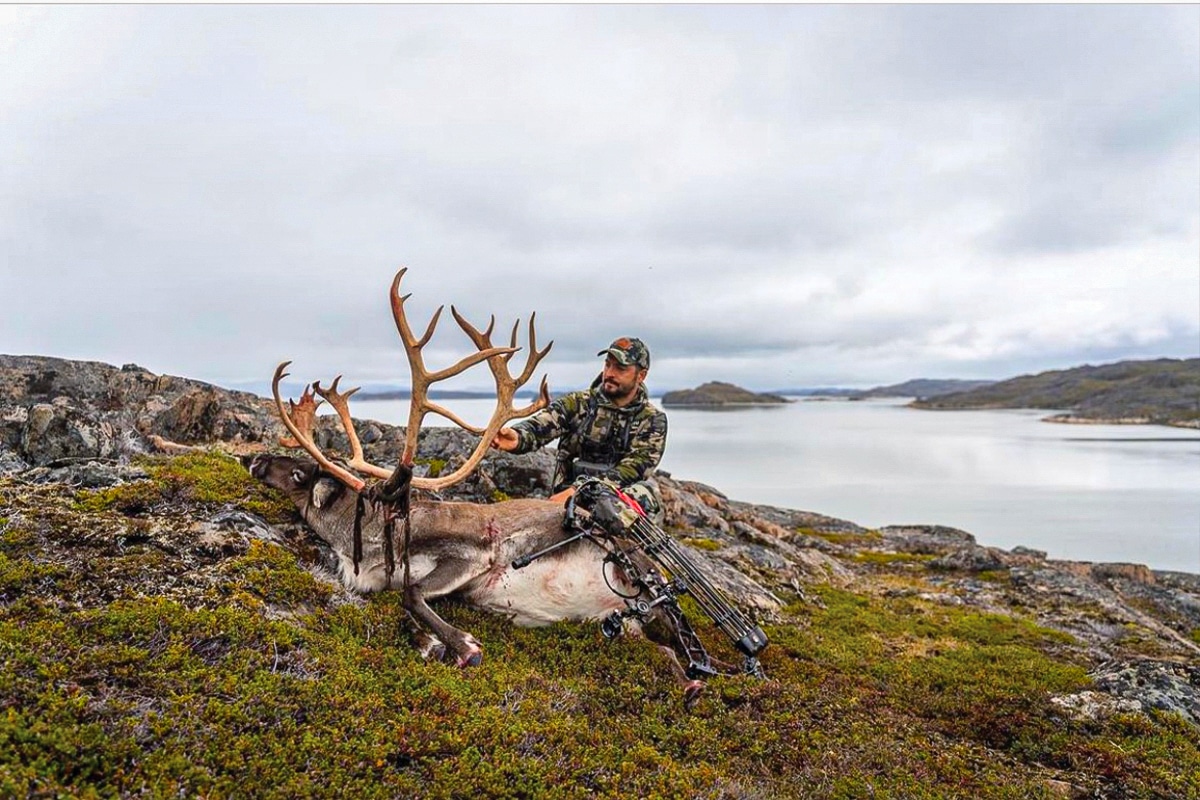 Lee ran to the top of the hill, but the bull was gone. He sat down to contemplate the shittiness of the last few minutes when his caribou reappeared just like the caribou had the day before.
"The next thing I see is antlers coming. He walked straight up to me, and I shot him at 18 yards," he said.
With a caribou in the boat and the fog almost burned off, the three boated back to the island, where Lee shot his first bull. Newman hung back to watch for other caribou as they searched.
"As we're walking, I started hearing a bunch of crows," she said. "We were spread out, but we all climbed up high and signaled that we all heard them. We started walking over, and sure enough, those crows led us to Justin's bull. About 50 yards from where he walked the night before, tucked up under a rock. Without the crows, we would have overlooked him."
RELATED – Alaska Woman Shoots Record Caribou on Solo Hunt 4 Months After Bear Attack
---
Greenland on My Mind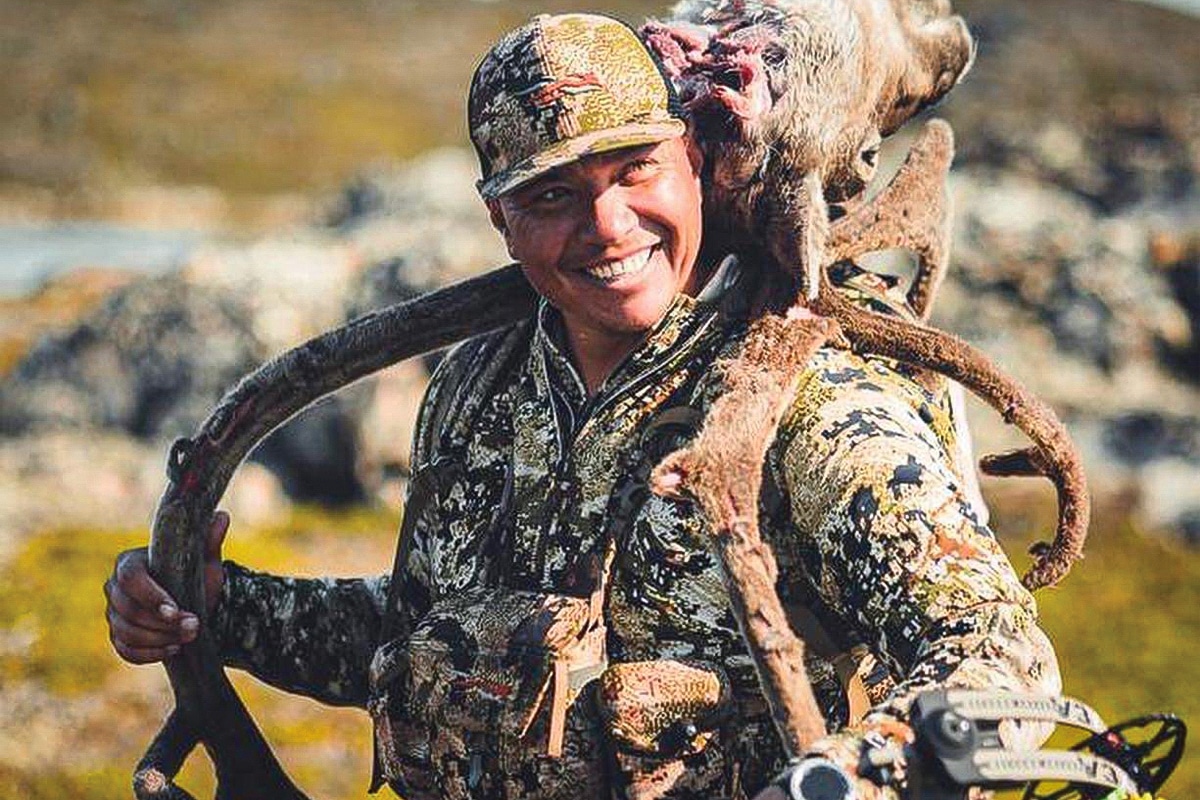 Trips like these are the stuff of dreams. Spot-and-stalk caribou bowhunting in an especially remote and rugged landscape is on more than a few hunters' bucket lists.
When the ungodly travel days, jetlag, and gear bag excavations are over — in many cases — it's not necessarily the animals that stick with us most.
The trip's high points for Kelley were the country and the company.
"Each stalk seemed better than the last one," he said. "Some were cliffed-out. Mine was in a huge boulder field. Others were way up at the top of valleys or walking up a waterfall, using that as cover. It's an archer's and photographer's paradise. But having that caliber of people and outdoorsmen together in a new environment — I feel like the hunting was a bonus."
For Lee, it was also the prospect of another trip with the group.
"For a kid like myself — a little Honoka'a island boy — they were a group of extraordinary individuals that were idols and kind of a guiding light," Lee said. "You have this collection of people that are just insane at figuring out the best equation to get closer to animals."
"It was super rad to be there and rub shoulders with the giants of the hunting world, for me at least," he added. "We walked away really close friends, and I can't wait till the next time we get to hunt together."
---
READ NEXT – Meet Justin Lee: Spearfishing Champ, Bowhunter, Cancer Survivor, Role Model