When Tana Grenda and Alishia Zemlicka, two well-seasoned western hunters, were dropped into a remote area of the Alaskan backcountry, they were hoping for a chance to rest, recharge, and have fun. However, with hurricane-like weather, a near-death encounter with a rutty moose, and a shot at a once-in-a-lifetime record-book bull, their hunt was about as far from calm and tranquil as they were from civilization.
Grenda and Zemlicka met on the internet four years ago. As avid big-game hunters and die-hard fitness junkies, the two women immediately hit it off. After striking up a genuine online friendship, Grenda invited her buddy to Alaska to join her on a DIY moose hunt originally planned for September 2020.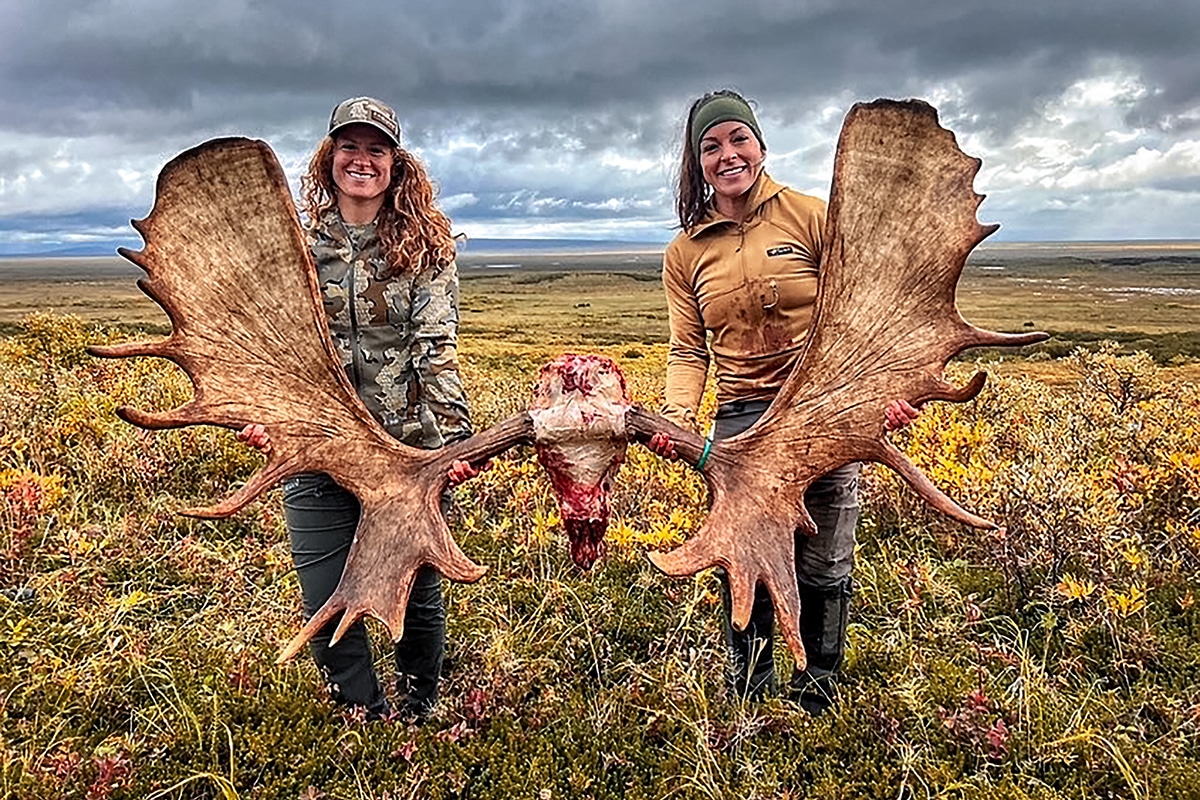 "I met this cool girl on the internet that lived in Alaska, and I was like we would have fun hunting together because she's actually strong enough to pack out quarters," Zemlicka said of her internet pal.
"We don't invite a lot of people to come hunt with us, but Alishia is one of those people that is a really accomplished hunter," Grenda explained. "She archery elk hunts in Montana. She doesn't even own a rifle."
With Zemlicka unexpectedly pregnant with her first child, the women decided to put their September hunting plans on hold. Zemlicka also chose to skip the next season because she was busy juggling the demanding schedule of her newborn daughter, Payten. But motherhood hasn't slowed down her hunting; she often hunts Montana with her daughter in tow.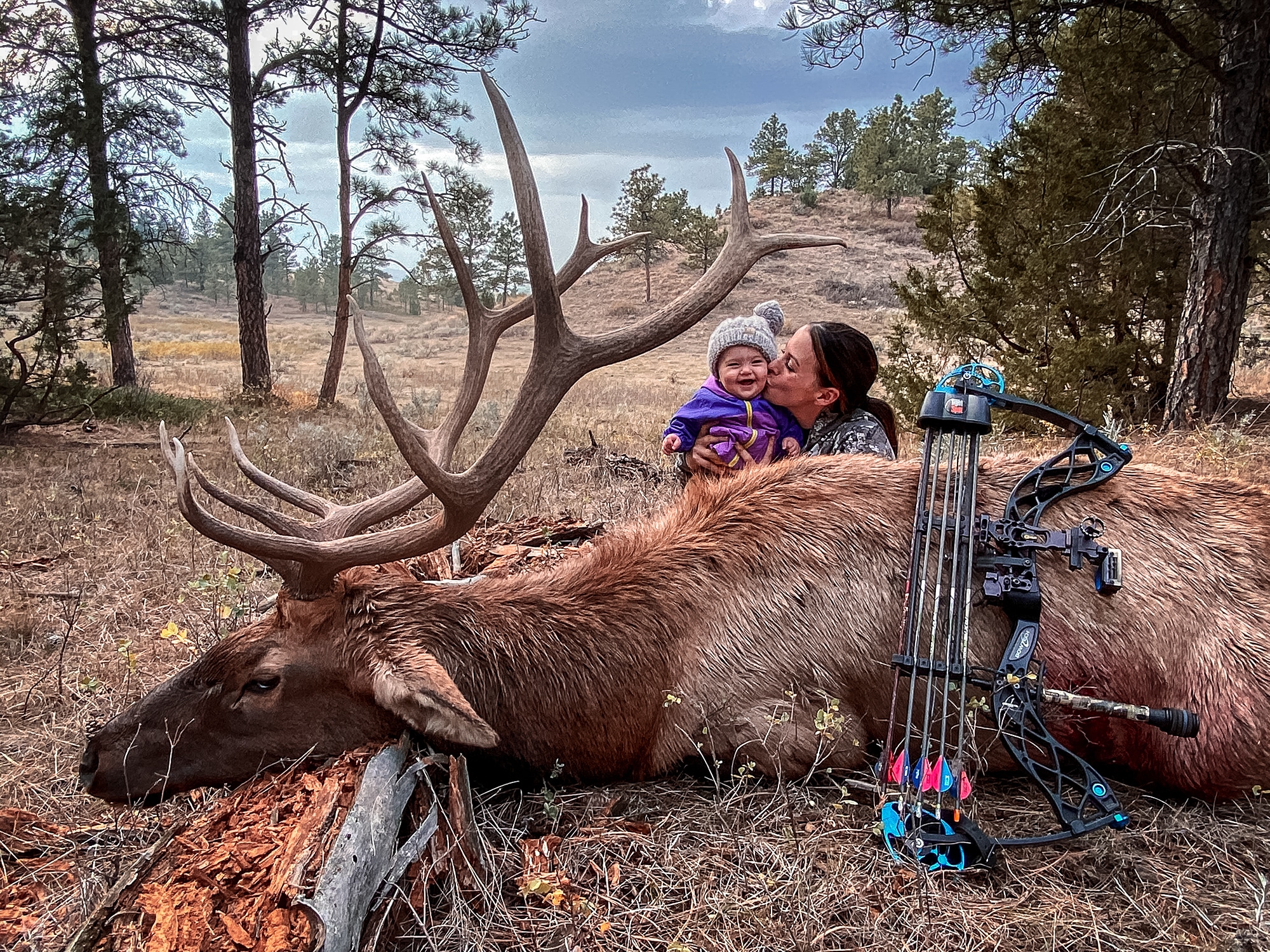 In 2022, the women decided to make it happen; in early September, Grenda's husband Adam, a skilled Alaskan pilot, dropped the two in a remote portion of the Alaskan tundra for their DIY moose hunt. It's a process with which Grenda has some experience. In 2021, her husband dropped her off for her first solo Alaska hunt the same way, and she killed a massive, potential world-record, 400-class caribou.
Alaska's rough weather and unforgiving terrain are known for absolutely kicking your ass, but the tundra heaped an extra helping of suck on the two hunters.
"It was the worst weather you can imagine in Alaska," Grenda said, a longtime Alaska resident who has seen her fair share of hellish hunting weather.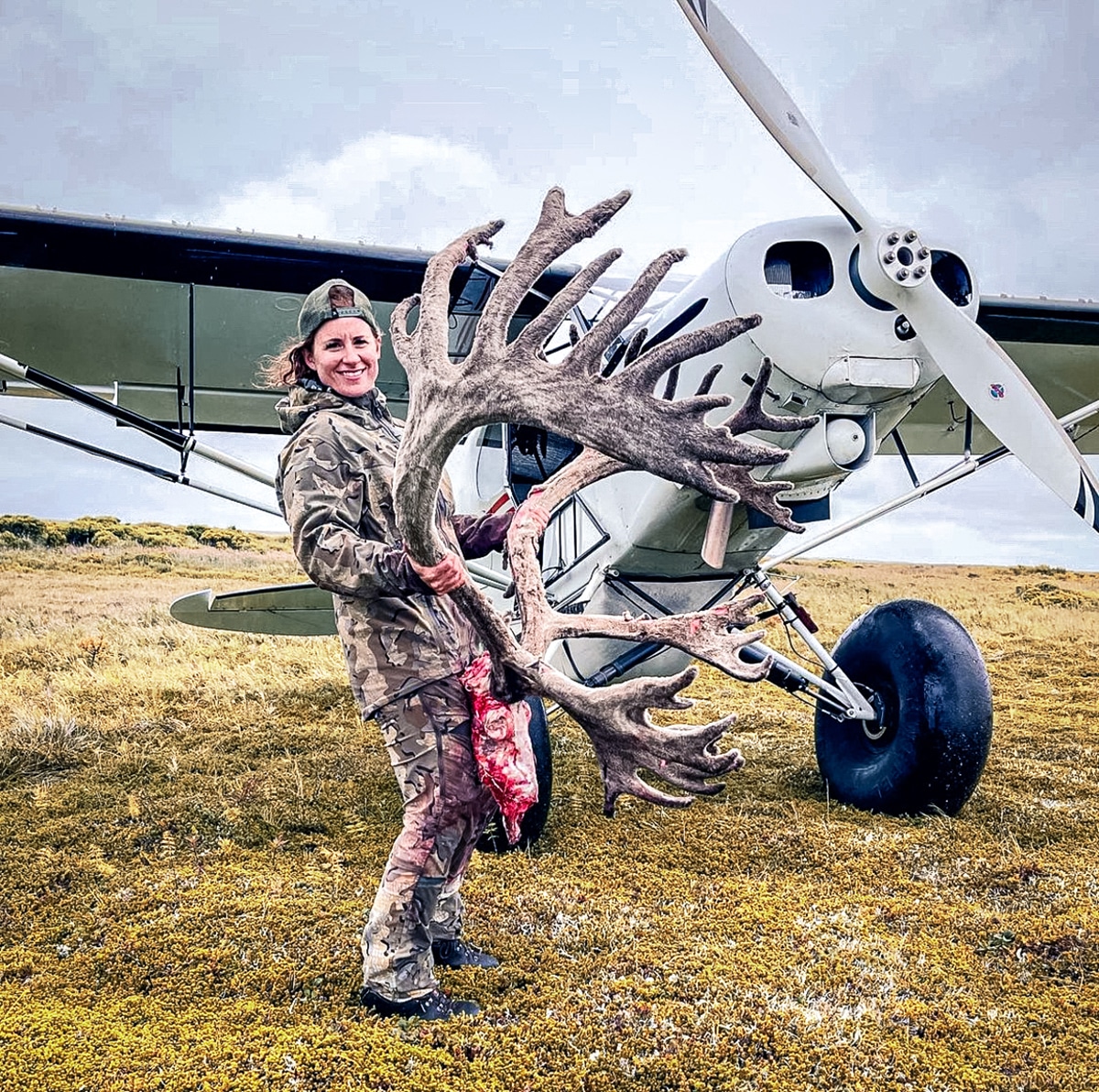 Despite monsoon-level conditions, the women's spirits were high as they left their base camp for the first time.
"It was morning one, our energy levels were high, and we were super excited to get out," Zemlicka told Free Range American. "We were only 20 minutes into our morning hike. We had just crossed a creek and were coming up out of the bottom when I spotted a moose probably 75 yards away."
RELATED – Alaska Woman Shoots Record Caribou on Solo Hunt 4 Months After Bear Attack
---
"It Felt Like He Was Cornering Us…"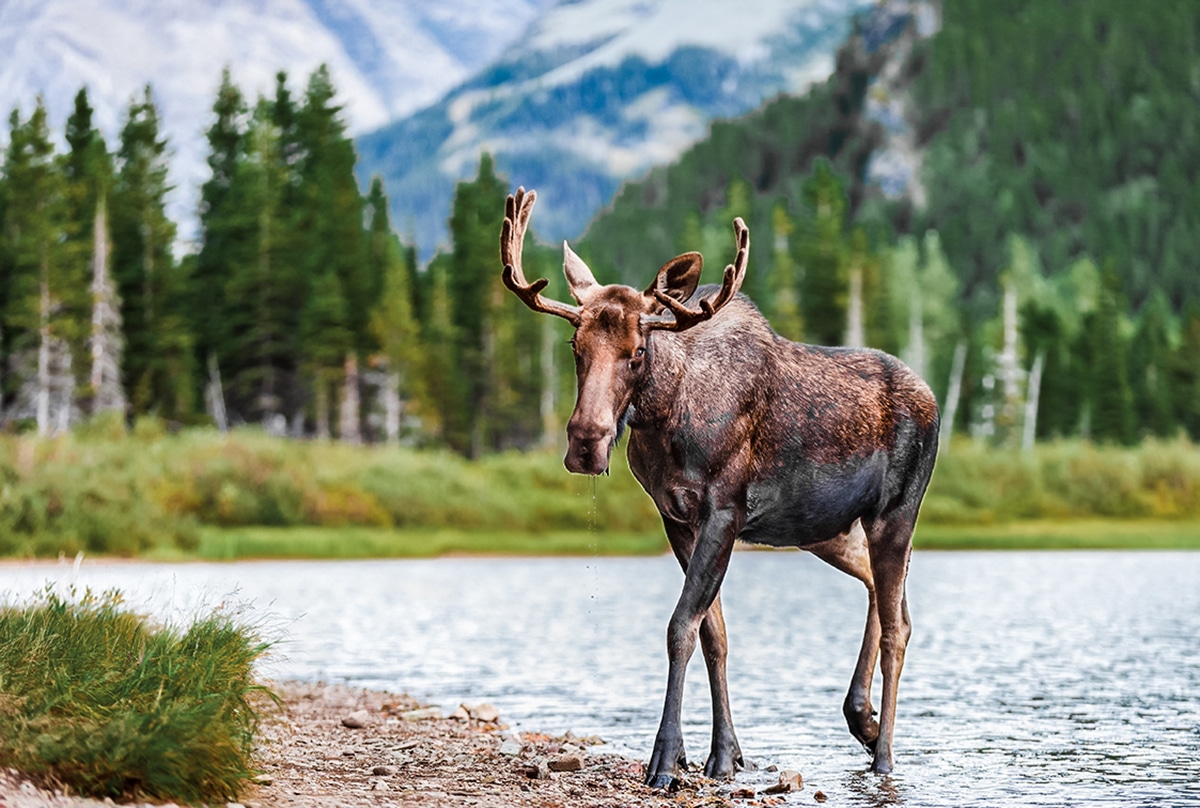 Grenda described the moose as "just a little Bullwinkle, maybe two years old." Because the women were hoping for a big bull, they just watched him for a while and snapped a few photos.
But Bullwinkle wasn't moving away despite being directly downwind of the hunters, so they raised their voices with a few "Hey, moose!" hollers, hoping he would move off and out of their way.
That's when the young bull turned rowdy. He bluff charged them, stopping short to put on a raucous show at about 15 yards.
"The hair stood up on the back of his spine, his ears went back, his head was down, and he started aggressively raking this bush," Grenda said. "I was like, 'Oh, crap. This boy wants to fight, and I don't have horns.'"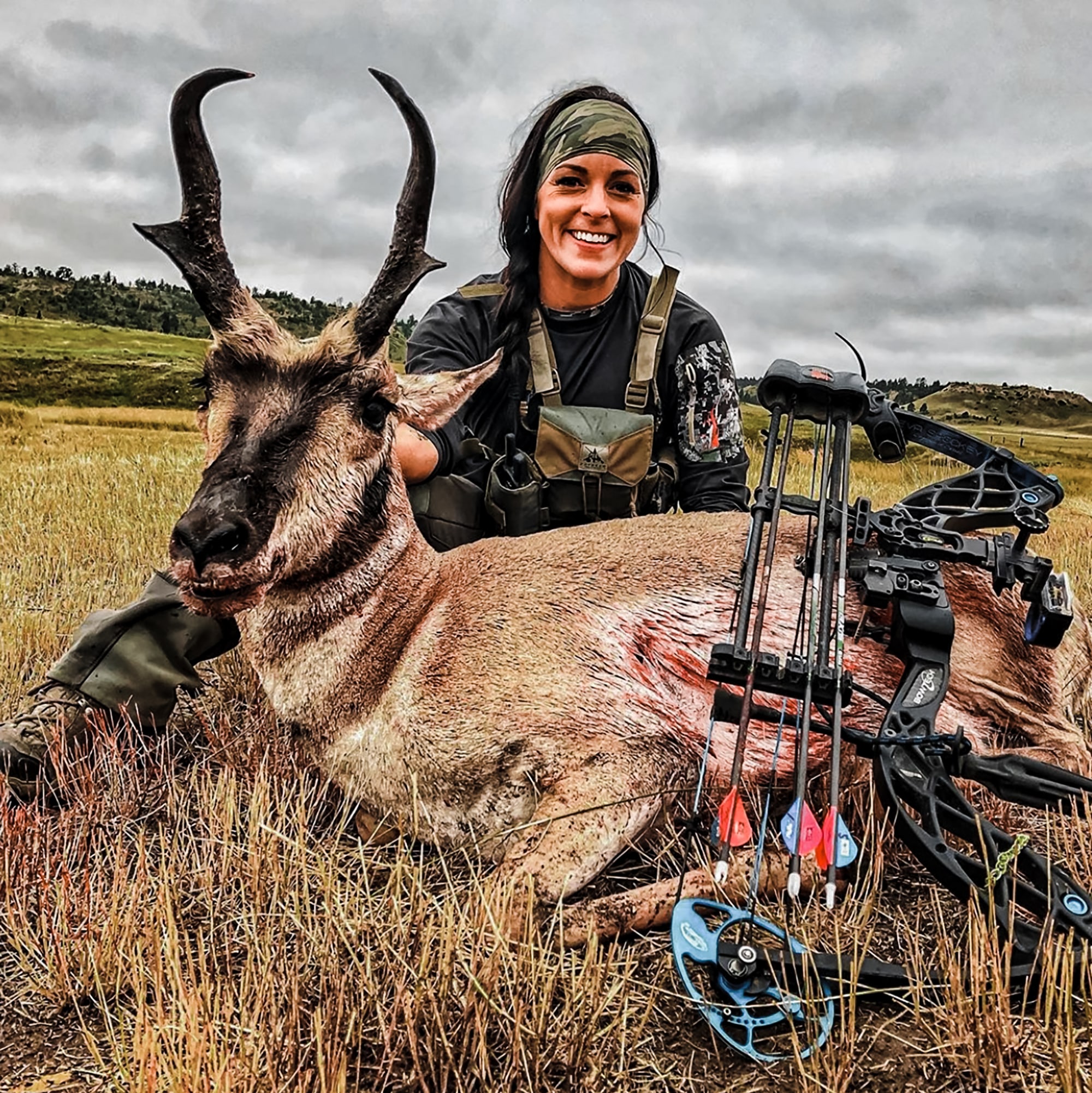 "I was the new girl in Alaska, so I didn't know if this was normal," Zemlicka said. "We both drew our handguns as we backed away. We just wanted to leave him alone and get out of his territory."
When Grenda and Zemlicka tried to skirt the bull, he started trailing them.
"He didn't even care that we were upwind of him. He knew we were humans. We were yelling and waving our arms in the air. He just didn't care. It was so weird," said Zemlicka.
With their adrenaline levels on overload, the hunters decided to try to slip back to camp and restrategize their hunt, but the moose wasn't cooperating.
"It felt like he was cornering us. We would move to the right a little bit, and he would move right. Then we would move to the left, and he would move to the left. He was just herding us," Grenda said.
Staying upwind of the young bull, the women just tried to cover ground and get some distance away from the angry animal.
RELATED – Bear Attack: Killing a Charging Giant at 5 Yards in the Alaskan Backcountry
---
"He Slid to a Stop Eight Yards From Zemlicka's Boots…"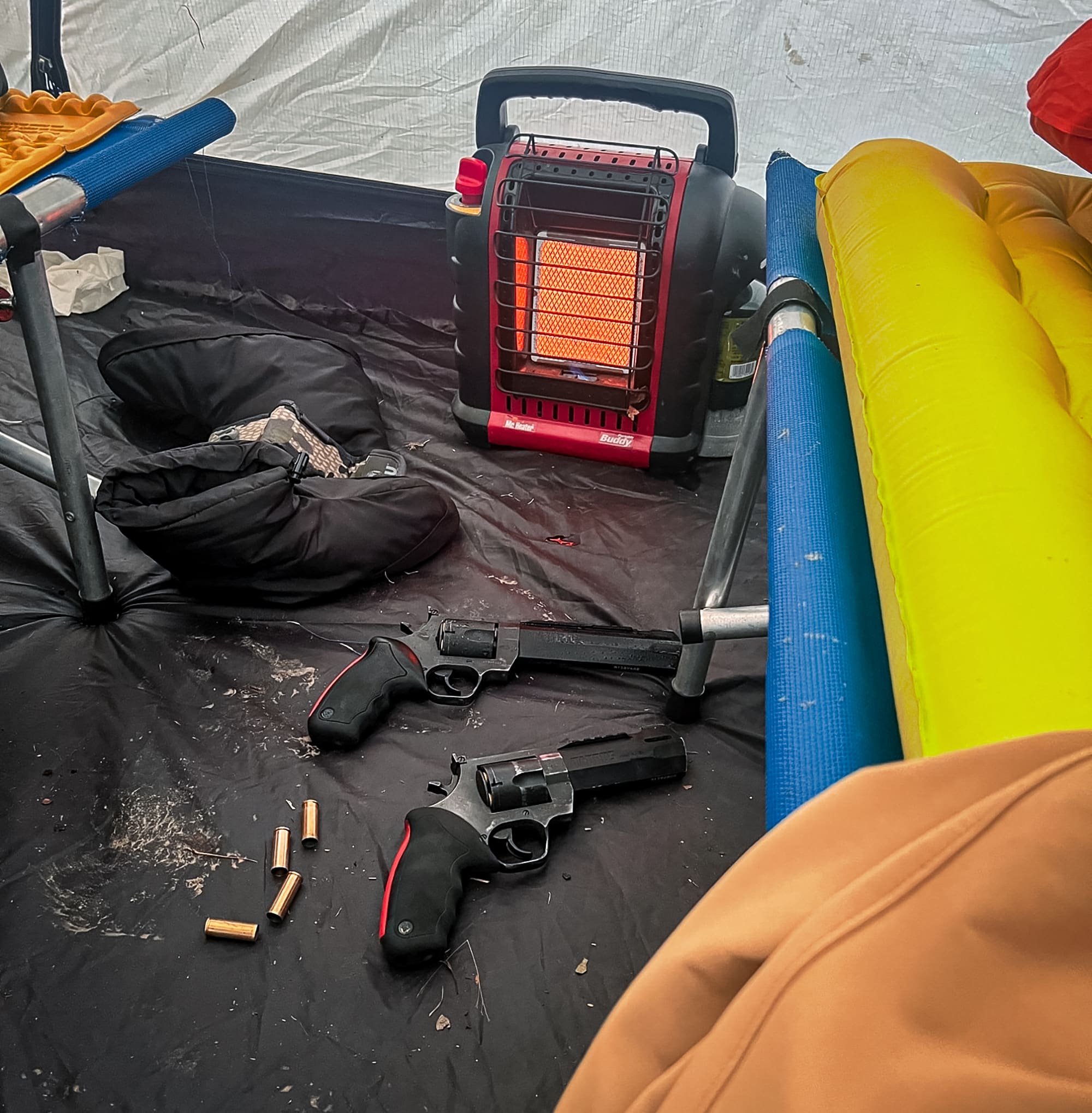 With long lanky legs, a moose can sustain a casual trot at 20 miles an hour, which is considerably faster than the average adult male human can run. Two hunters weighed down by hefty packs and slogging through soggy muskeg move considerably slower than that.
"He was coming fast. At one point, he had us pinned against a deep creek that we couldn't cross. We just couldn't outrun him anymore, so we turned around and started yelling at him," Zemlicka said.
That's when Grenda fired a warning shot with her trusty .454 Casull Taurus Raging Hunter revolver, which had saved her life in the past. She thought a gunshot would spook him away once and for all.
"It just made him madder," said Zemlicka. "He put his head down, flattened his ears, and he just started to come in."
"I kept asking Tana, 'When can I shoot?' but she just kept telling me to wait," Zemlicka said. "She held me off until he was inside of 15 yards. Then we both shot twice. It didn't even slow him down."
"All I could picture was those hooves collapsing my rib cage and being stomped to death," Grenda said.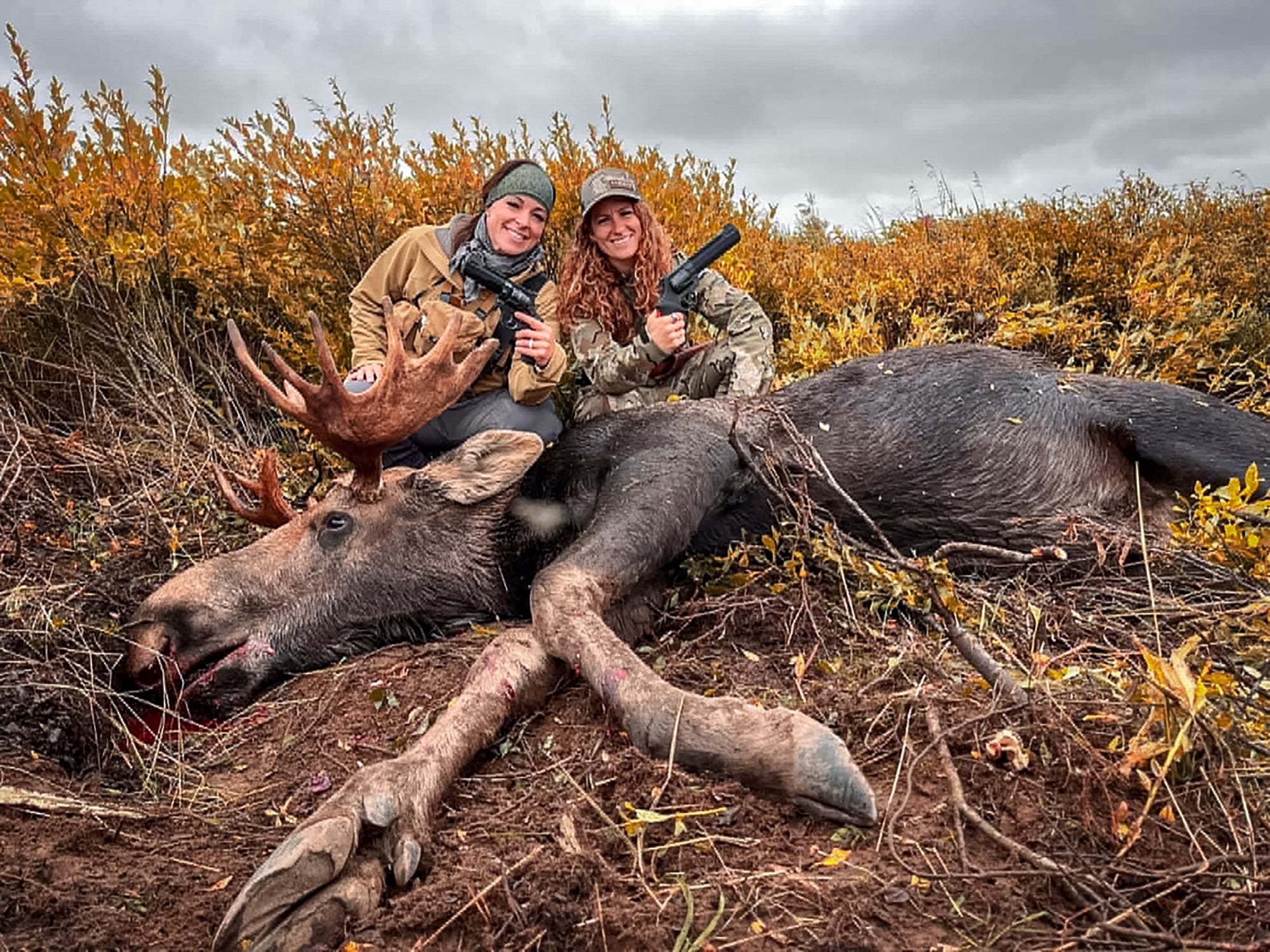 "The last thought in my mind was that this is really going to hurt," Zemlicka added.
Grenda fired her five-shot revolver once more — she had only one round left, but she wouldn't need it. Her last shot hit the bull in the spine, and he slid to a stop eight yards from Zemlicka's boots.
Once he hit the dirt, the hunters took off running.
The whole incident took place less than 800 yards from their tent.
"I couldn't even talk," Zemlicka said. "I didn't even know what to think. I've never had to shoot an animal in self-defense, and I've been hunting my whole life."
RELATED – Everyone Needs a Good Hunting Hat – Check out the BRCC Circle Logo Trucker Hat
---
Charging Moose and Grizzlies vs. a .454 Casull Wheelgun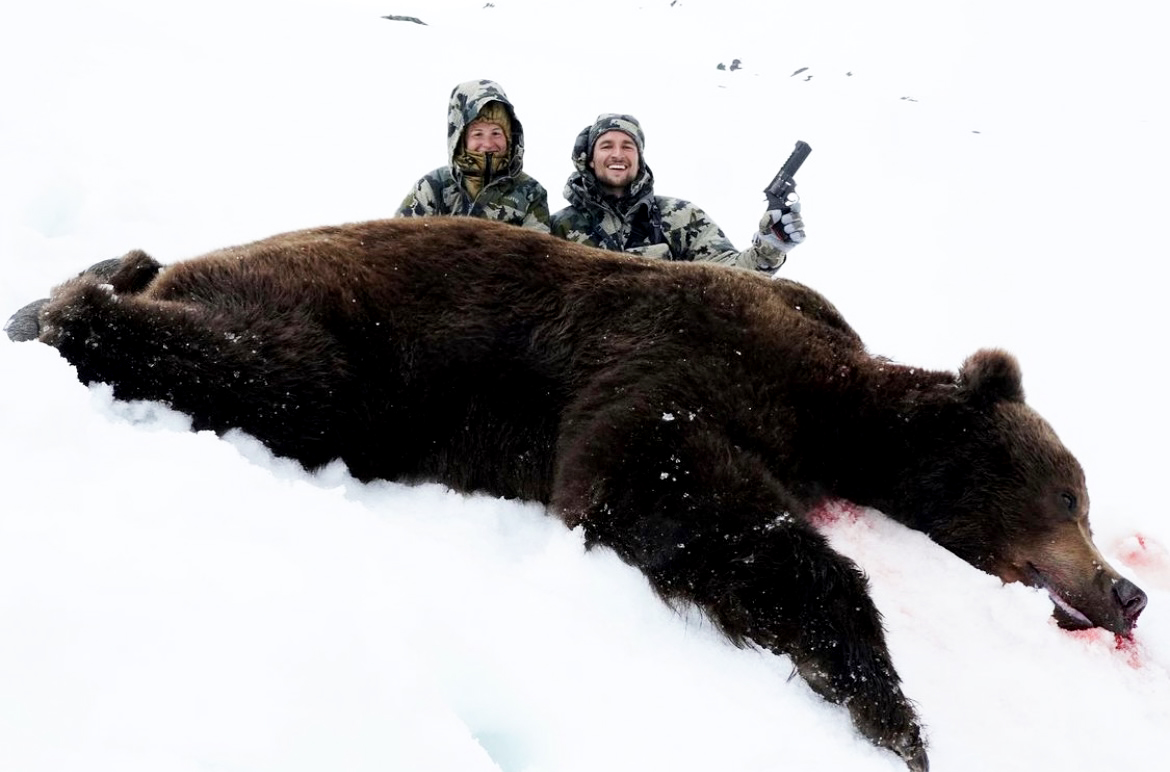 Although moose typically do their best to stay well away from people, the Alaska Department of Fish and Game warns that bull moose can be aggressive toward humans during the rut, which takes place in September and October.
As previously mentioned, this wasn't the first time Grenda used her big-bore sidearm to save lives from a huge, pissed-off, charging animal. In 2021, just four months before she shot her record caribou, Grenda and her brother, Trevor Schneider, were nearly mauled by a wounded and angry 10-foot grizzly while hunting in the Alaska backcountry. Four rounds from the same revolver finally stopped the charging bear at halitosis range.
"I am pretty impressed with that gun. I'll continue to trust my life with it," said Grenda. "I have learned you should always have a pistol on your chest. Even when you're taking your pack off. Even when you're going outside to pee. Always have a pistol on you."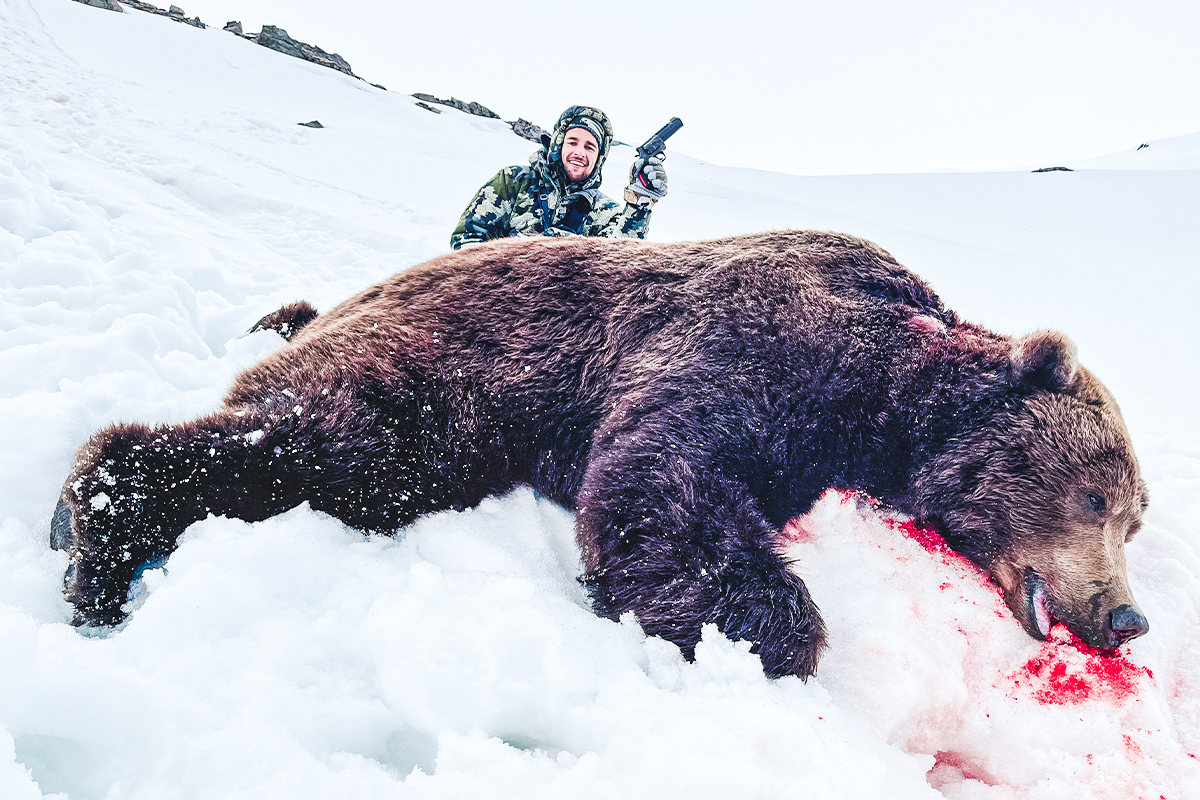 Zemlicka took her friend's recommendation to heart and carries a nearly identical Taurus .454 Casull revolver (Grenda's gun has a longer barrel) in a Gunfighters Inc. Kenai chest holster. Grenda sports hers in a Guide's Choice from Diamond D Custom Leather.
Although the hunters had a clear self-defense claim against the bad-tempered young moose, filing a Defense of Life or Property (DLP) report can be a long, complicated process. Ultimately, they decided they didn't want to deal with the headache of copious paperwork. The process would also rob them of several hunting days, so Grenda burned her tag on the little bull, and they packed out the meat.
The moose had taken a round to the lungs and the final shot to the spine. The .454 Casull is a powerful round, and an angry moose is one tough creature.
RELATED – The Best Way to Make Coffee in the Backcountry: The BRCC ESPRO French Press
---
Nailing a 543-Yard, High-Wind Shot on a Monster Bull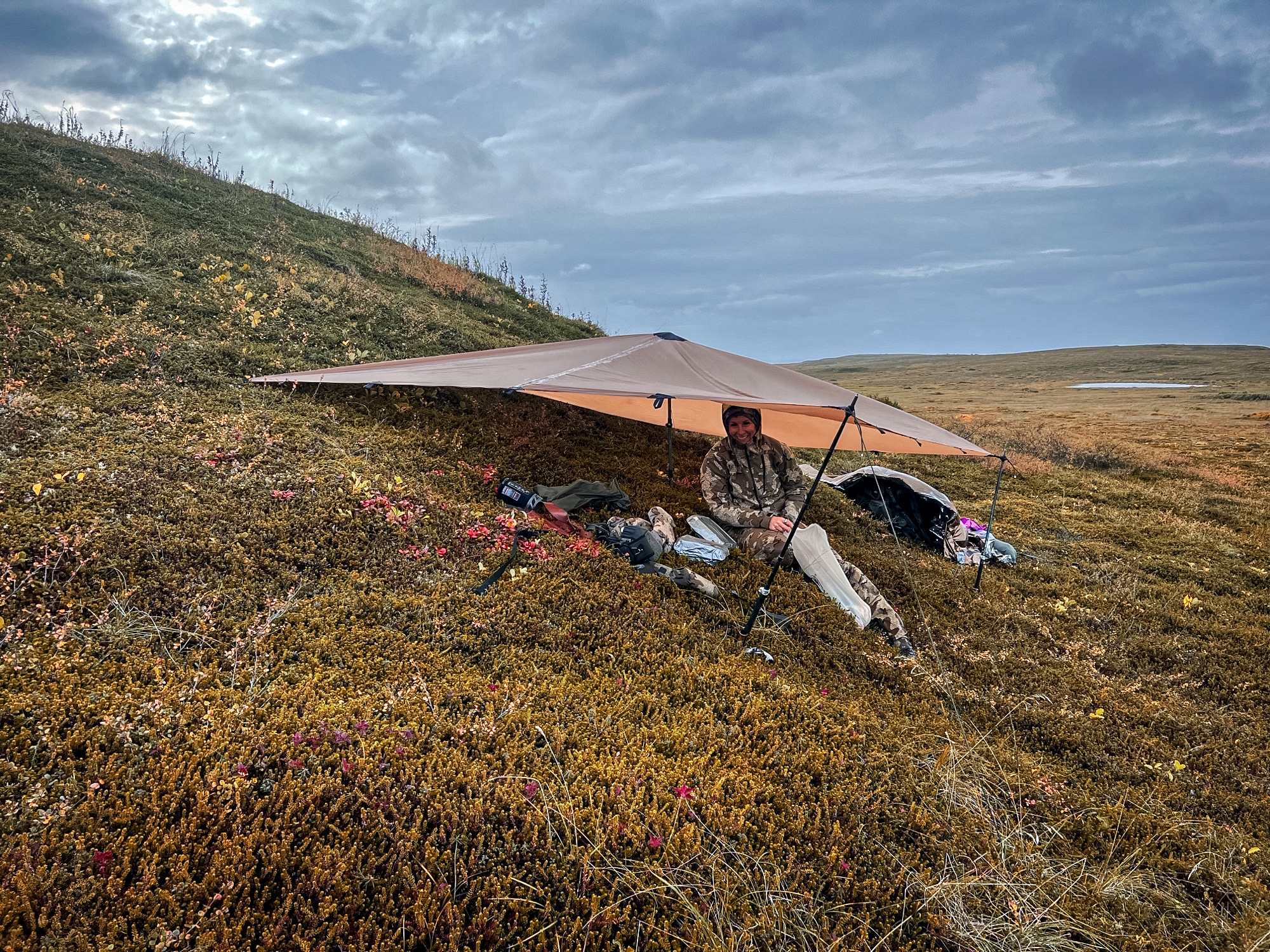 The next day brought more bad weather, along with three grizzly bear sightings, which was enough to inspire the hunters to change locations. They called in Adam and his Super Cub to drop them in a fresh area.
Although the new spot had fewer grizzlies, the weather was just as brutal. Glassing sessions became an exercise in misery.
"We spotted a bull the first night we were there, but it was almost dark, so we didn't pursue him," Zemlicka said. "The next day, right at first light, we got up early and got our spotters out, and we found him just a little bit lower than he was the night before."
With eyes on their target bull, the women made a game plan, which required a long, harsh hike.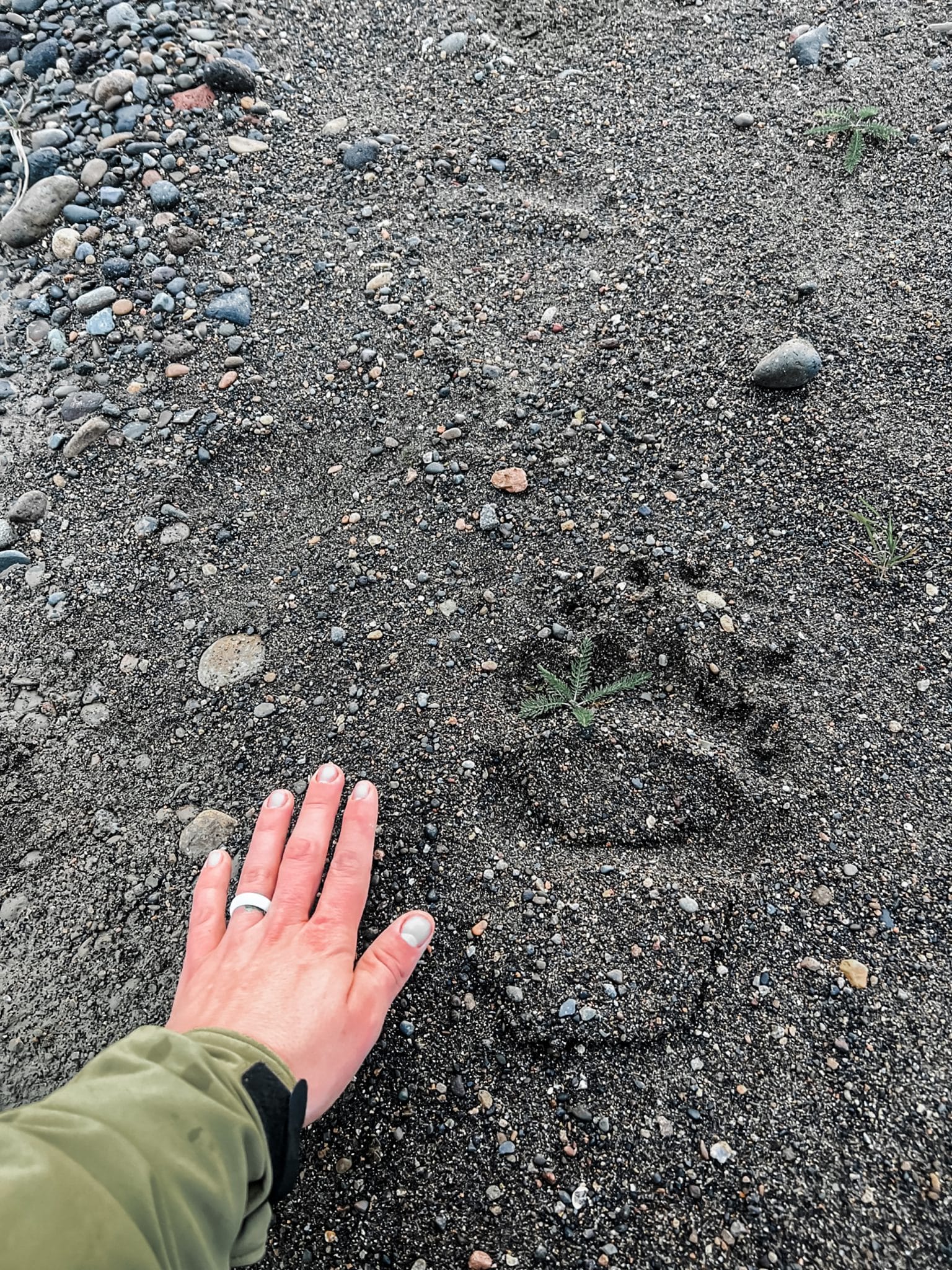 "It was a terrible hike across a quarter-mile swamp. The wind was blowing 40 miles an hour, and it was dumping rain on us all day. We stayed up there until dark, but we never saw him again that day. We went back to camp discouraged," Zemlicka said.
"The next afternoon, we were watching a cow through the spotting scope, and then all of a sudden, that bull popped out. I was so excited I threw whatever was in my hands.
"We chased him basically all afternoon. We had to hike all the way out in front of him, like 2 miles, to get the wind right for us to come in on him.
"It was getting late. It had been downpouring and windy all day. We knew we had to make a move, or it would be dark, and then it wouldn't happen. We just dropped everything we had, I grabbed the gun, and we took off running."
RELATED – Never Get Caught Without Coffee on a Hunt. Check Out BRCC's Instant Sticks
---
A Bowhunter Gets on a Rifle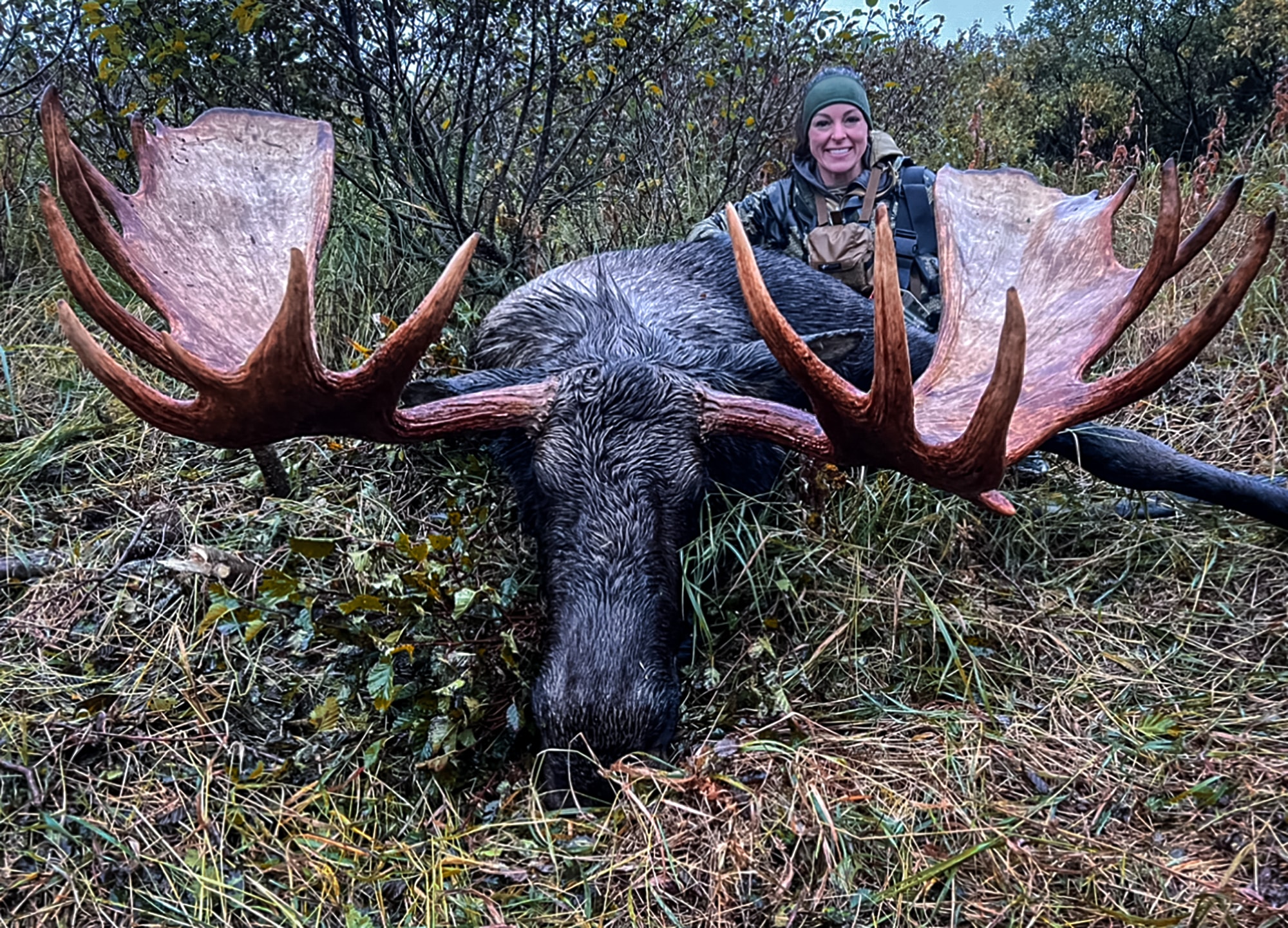 Zemlicka is usually a bowhunter, but she opted to use Grenda's .338 Remington Ultra Magnum bolt gun instead.
"Quite frankly, after that, I didn't want to get in bow range of a moose again. I was pretty scared," said Zemlicka.
Once Zemlicka was set up and shivering, Grenda cow-called a few times, and the big bull rose to his feet for a closer look. He gave Zemlicka a clear shot to the boiler room.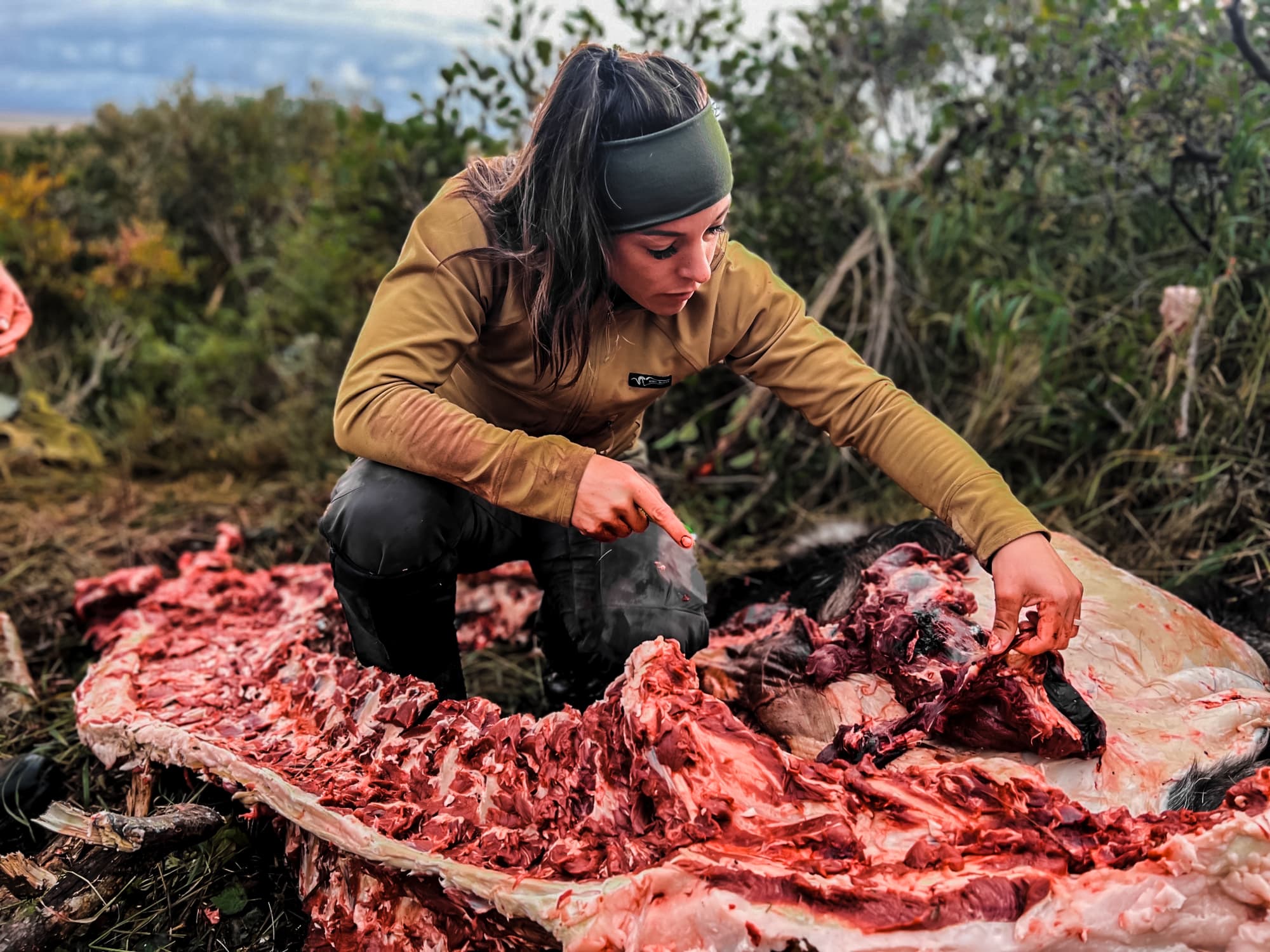 "I'm only a bowhunter back in Montana. I've only ever used a rifle one time before. So Tana kind of taught me how to use this rifle on the fly," explained Zemlicka.
She made the shot at 543 yards in weather conditions that would have made a monsoon look like a gentle spring shower.
"I smoked him, double-lunged him right before dark."
When the hunters walked up on the downed bull, they again stood stunned and wordless, but this time, in a good way.
"We were like, 'This is a freakin' huge moose,'" Zemlicka said. "We knew he was big, but we didn't know he was that big."
Zemlicka's monster bull moose measured 71 1/4 inches wide and scored 228 1/8 total inches. It took the hunters 2 1/2 days to pack him out.
"Never in my wildest dreams would I have thought this would happen. I never thought I'd get a bull of this caliber," Zemlicka said.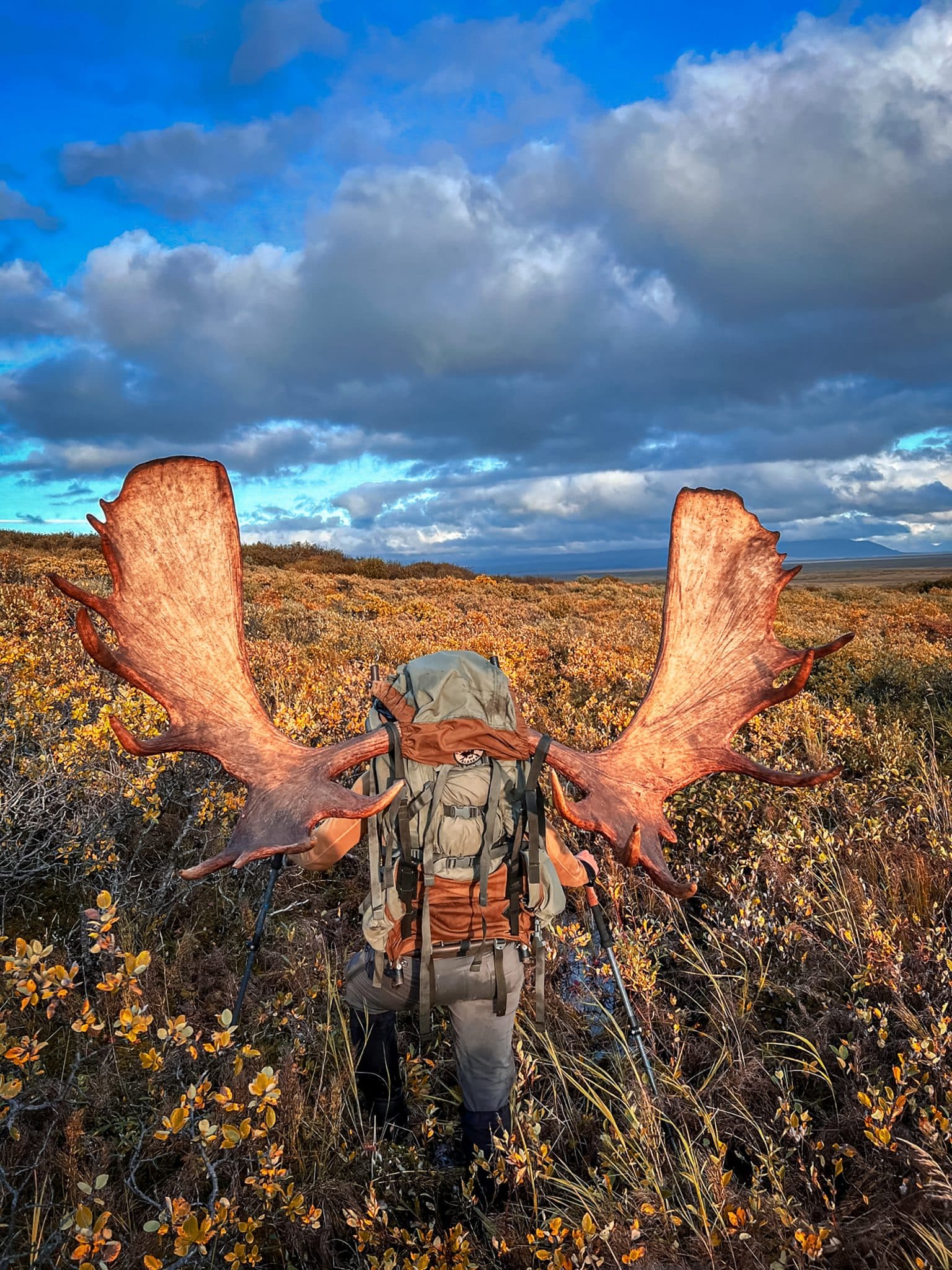 It wasn't just two bulls that surprised her, she said. The conditions in Alaska were Type II fun, the kind that sucks when you're in it, but once you're comfortable at home, it seems well worth the effort, she added.
"I'm in really good shape. I do CrossFit five days a week and compete at high-level competitions. Even at that level, I still got my butt kicked in Alaska," she said.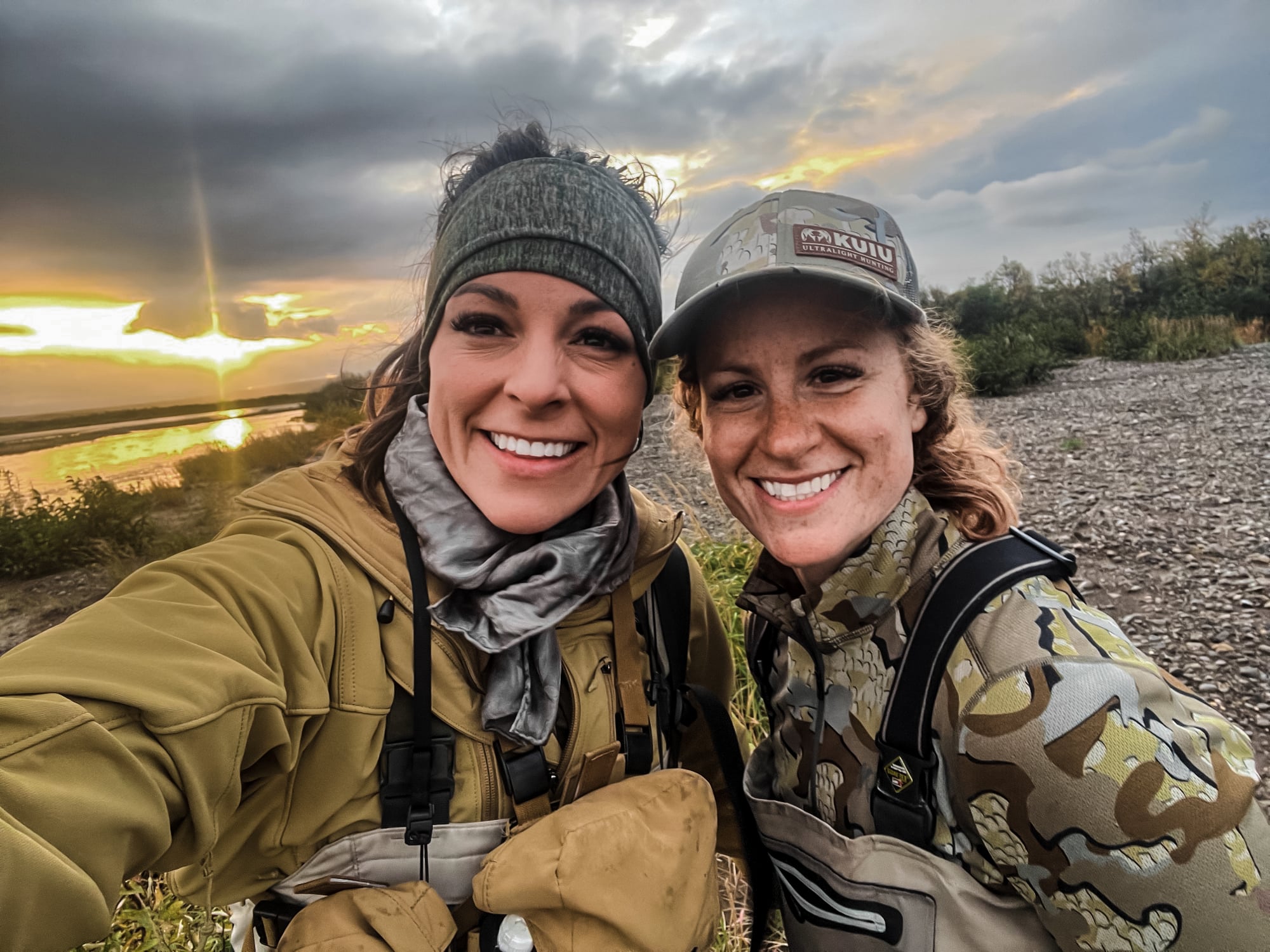 "Alaska is hard. We sure worked our butts off for this big boy. You can't explain to someone who's never hunted Alaska just how hard it is until you are there in the moment of suck," Zemlicka said. "Ups and downs, highs and lows, rain and wind, wet and cold, not being able to walk on solid ground. It will flat-out beat you up and leave you hanging."
"But I couldn't have done any of it or anything even close without Tana. She is a flat-out beast."
When it comes to beasts, it takes one to know one.
---
READ NEXT – A Bowhunter's Paradise: Caribou Hunting in Greenland