Watching the horizon turn from darkness to a mixture of piercing pinks and oranges reminds me of sunrises over the Carolinas' intercoastal waterway. The way the nearly-neon colors push the night's cloud coverage away to reveal a sky so brilliantly colored and vast it takes your breath away is something I thought only existed near the sea. The sound of migrating waterfowl overhead only adds to the false sensation that I'm once again on the coast. In reality, I'm smack-dab in the middle of the United States — the great plains of Oklahoma — waiting for enough light to spot waterfowl.
For avid duck and goose hunters, an outfitted hunt in the fields of Oklahoma is about as good as it gets. Fortunately for me, my second-ever duck hunt is just that.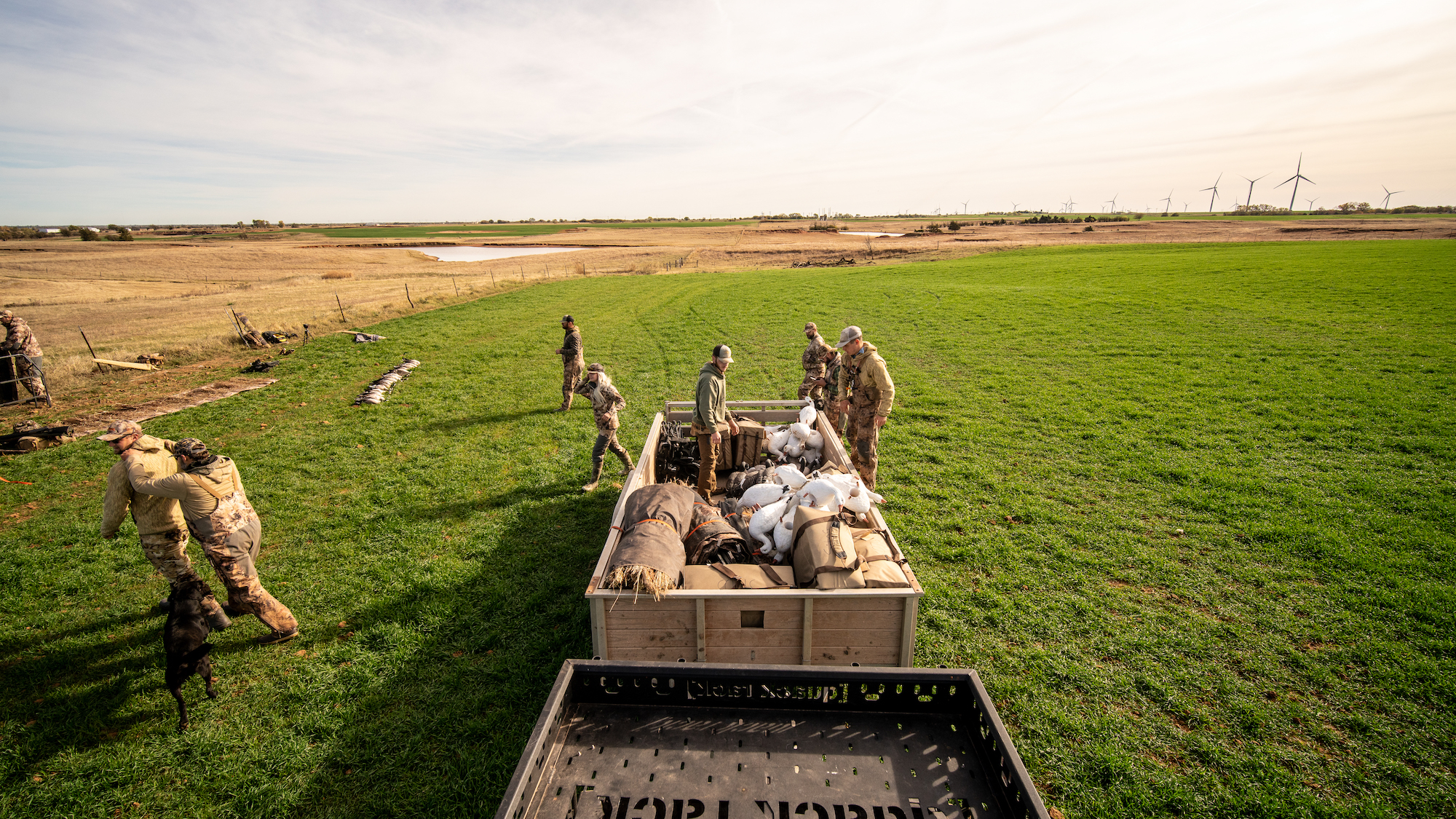 Nestled in a duck blind in the heart of the Central Flyway in Noble County, Oklahoma, all the hunters I share this hide with live and breathe wing shooting. I, on the other hand, am as novice as they come. I've only blasted sea ducks in the Chesapeake Bay once, and that was a week ago. It's opening weekend for Oklahoma's season, and I'm out of my element, so I pay attention and do my best impression of the pros to my left and right.
"Wait for 'em to lock up," Josh Teff whispers, barely loud enough for the rest of us crammed into the blind to hear. Three ducks — perfectly silhouetted in the brightening sky — come silently swooping into the decoys Teff and the other outfitters have arranged in the dark.
"Take 'em!"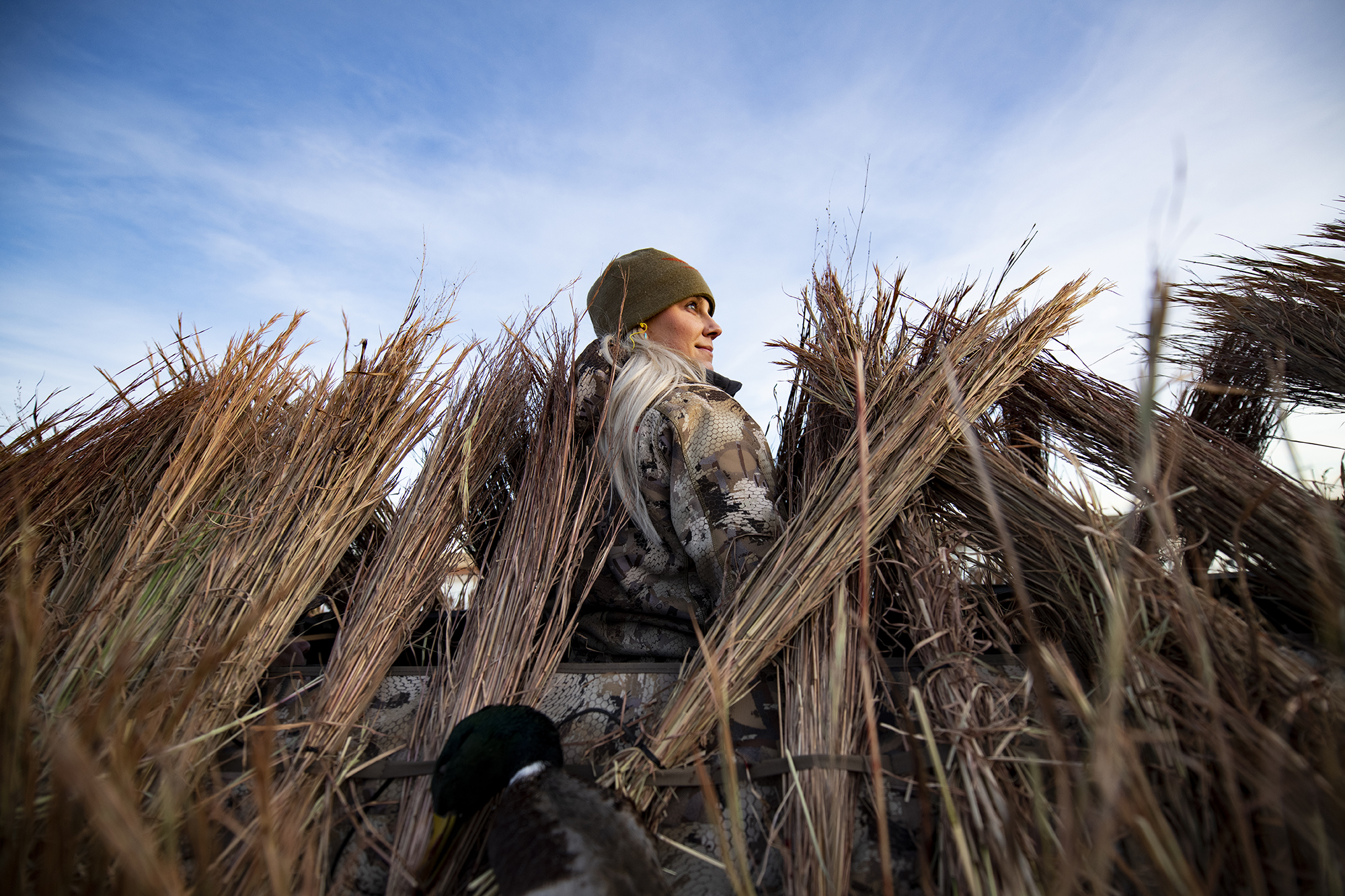 Related: Mississippi Duck Hunting Victory – Public Land Buffer Zone Rejected
Seven shotguns emerge in unison from the camouflaged blind. As I disengage the shotgun's safety, I remember reading a tip to "paint one of the birds out of the sky" rather than fling lead at the group like a Jackson Pollock piece. The guns open up, and three ducks fall from the sky.
"Not a bad start!" Teff congratulates the group as we high-five to a promising opener of Oklahoma's three-month duck season.
Teff is one of three founding members of FowlCo Outfitters, a premier waterfowl guide service in North-Central Oklahoma. Along with John David Blagg and Aaron Seifritz, the three hunters formed FowlCo in 2017 with the vision of creating an entirely unique outfitting service that focuses on experience rather than hitting bag limits, though they do a lot of that, too.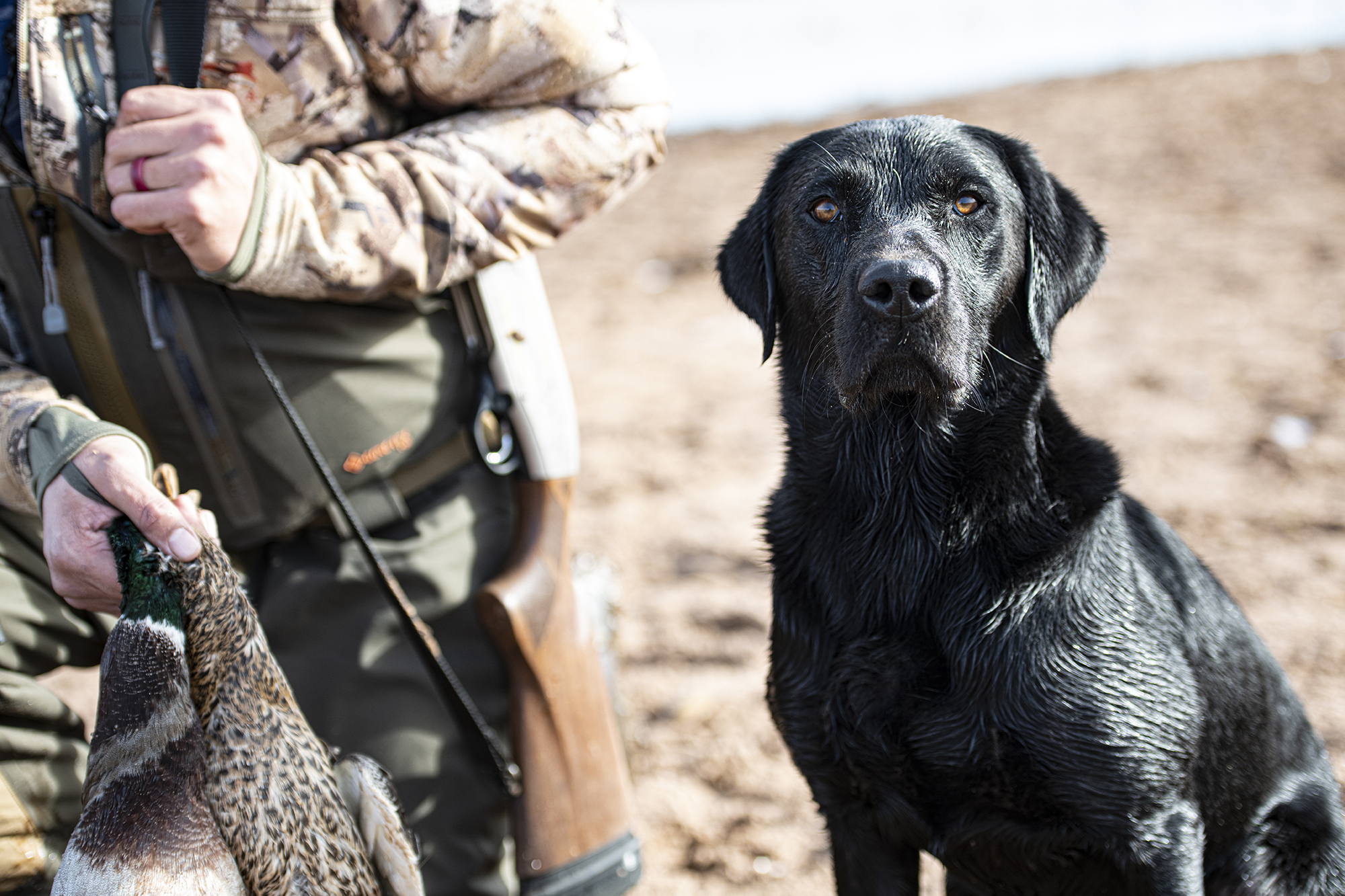 "For a lot of outfitters, their focus is killing birds. Sometimes that's all they care about. That's not our focus. We kill as many — if not more — than anybody, but our focus is getting to know each person who comes here and figuring out what we can do to give them the trip of a lifetime," Teff tells me at the end of our two days together.
That's exactly what the FowlCo team has created at their lodge. My weekend watching the outfitters host 15 other hunters was indeed the trip of a lifetime. Their massive lodge holds 16 beds for clients, and each bedroom has its own private bathroom. Two professional chefs prepare three delicious meals a day, and an open bar in the lodge's loft keeps clients well lubricated while they kick their feet up by the patio's stone fire pit. They've also built a five-stand sporting clay pavilion complete with lights for night shooting. All of this overlooks FowlCo's private wetland. Premier hunting aside, the facility is practically a small resort and lavish enough to draw clients in on its own.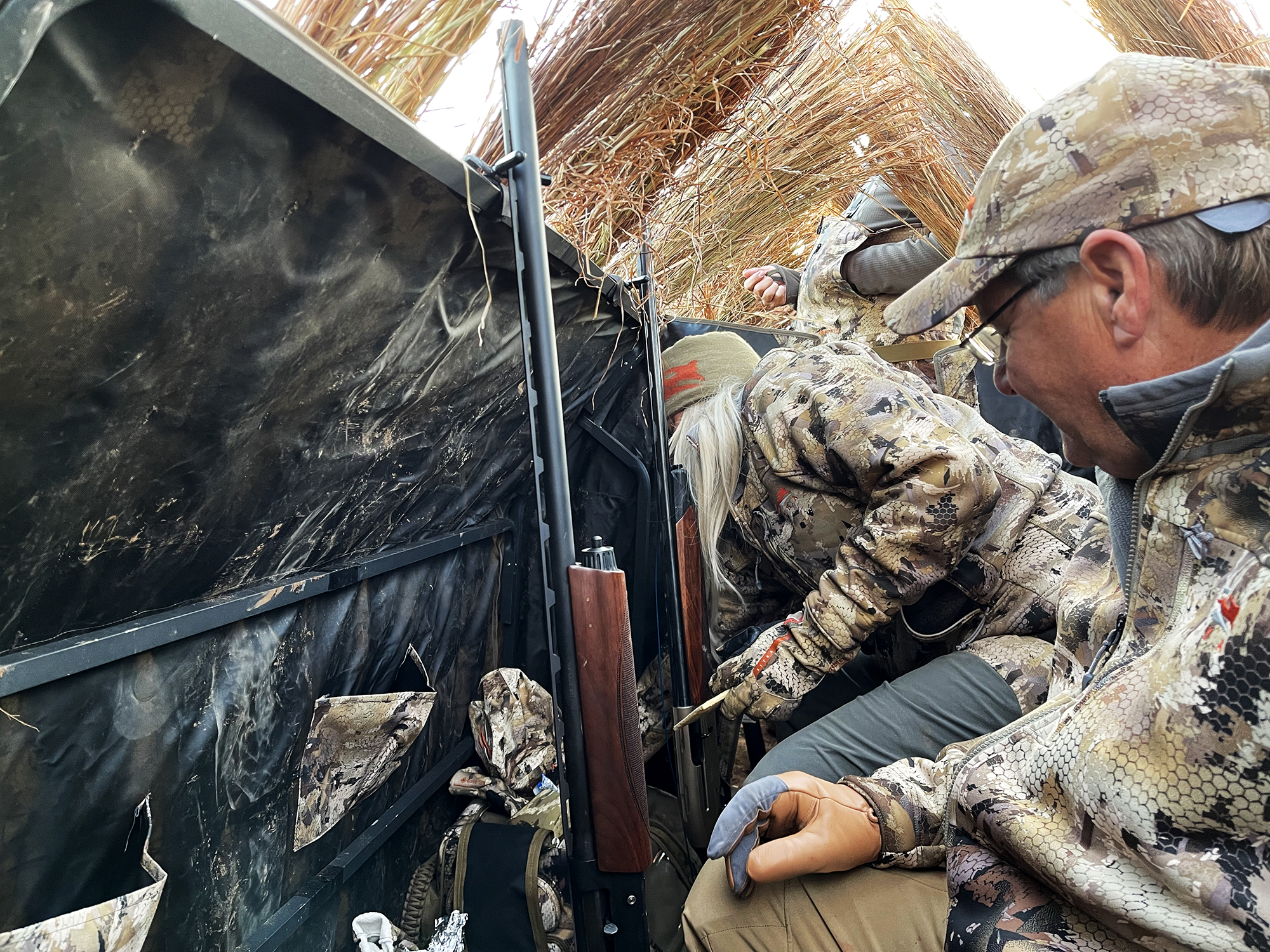 Related: Chuck Adams, Archery Legend, Tells the Story of His New World Record Sitka Buck
These reasons and more are why FowlCo is one of Black Rifle Coffee Company's newest partners through the BRCC Waterfowl Lodge Program. Partnering with a high-quality lodge like FowlCo was a no-brainer for Black Rifle. FowlCo knows how to bring in the birds.
On our first morning, we collectively took home 27 geese and 10 ducks. The second morning was equally successful. The guides scouted to find the perfect location then arranged the right decoys in the right places. They outfitted everyone who needed it with quality shotguns and equipment. Then, when the birds came, they called them in to land precisely in our kill zone. They've turned wingshooting into an art form. Despite skills developed over generations of hunting, all three FowlCo founders give credit for their success to God.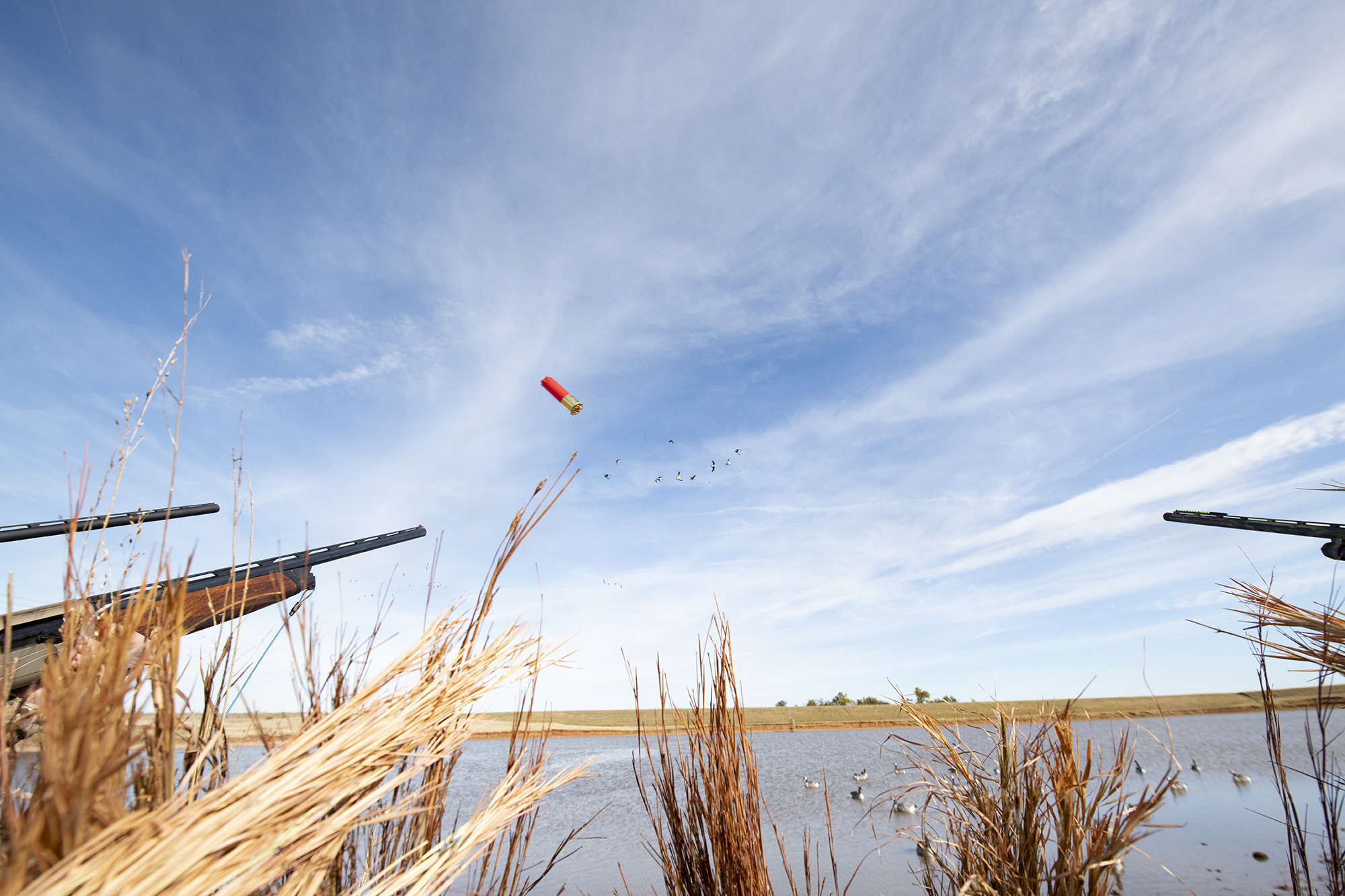 "This place is divine. All credit goes to God," Teff tells me.
"Yeah, we don't want credit for it," Blagg immediately agrees.
To the three founders, there is no doubt in any of their minds that God's hand plays a pivotal role in FowlCo's success. Back in 2016, Teff and Blagg met while attending the same church in Arkansas. Teff had recently left his previous job of eight years, and Blagg was in the process of getting his ducks in a row to start his own outfitting business.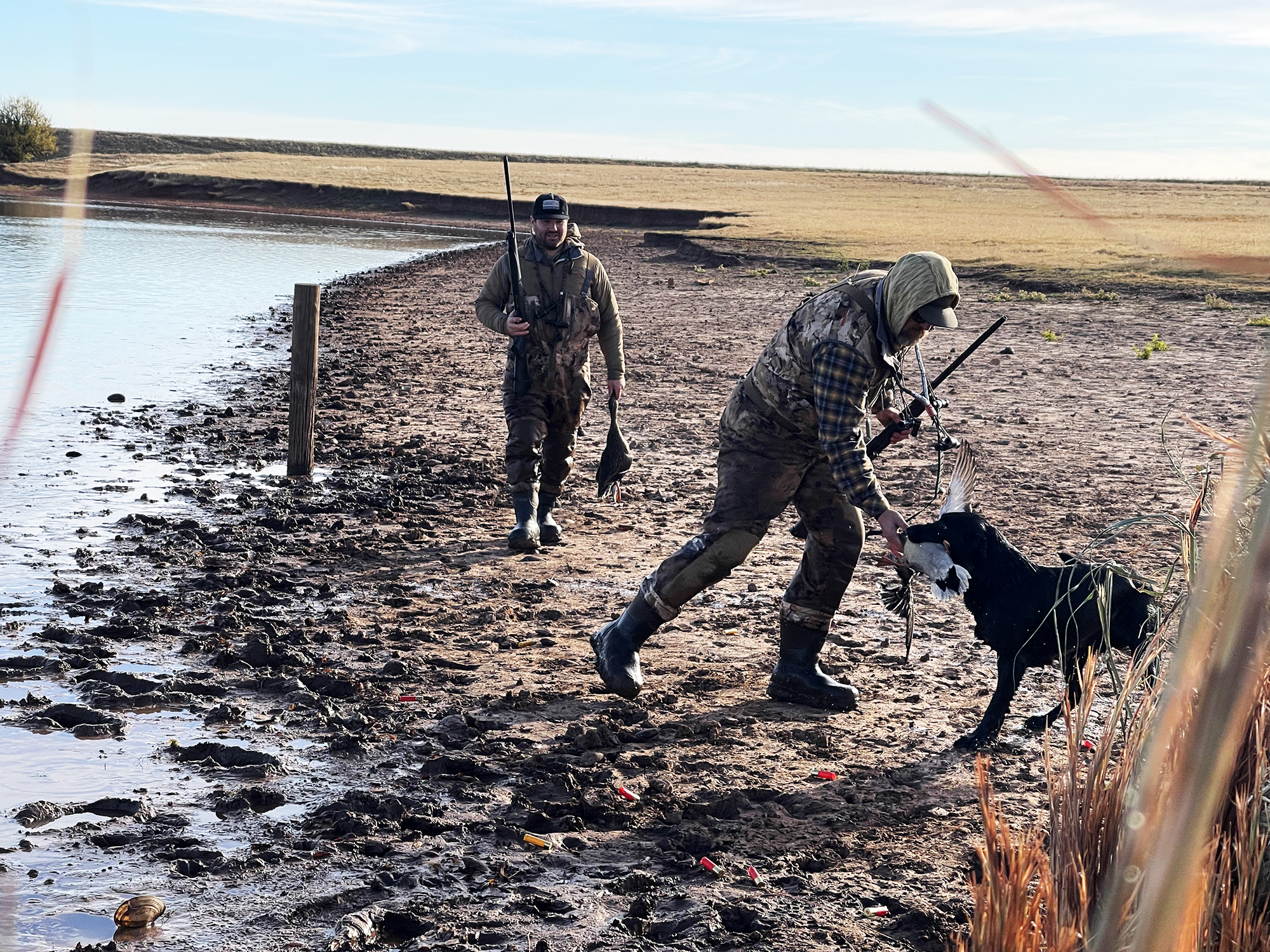 Related: After 40-Year Wait, Maine Hunter Draws Moose Permit, Bags Grand Slam
"The timing of it all revealed God's plan to us. All three of our lives were on different paths and came together in the right way to make FowlCo happen," Blagg tells me. "From the timing in each of our lives to finding the money, to the right piece of land, to the right clients; it was all an incredible intersection."
Seifritz, FowlCo's third founding member and head of FowlCo Retrievers, grew up just a few miles from Teff in southeast Arkansas, though the two hunters didn't meet until they vacationed at the same place later in life.
"We met because we happened to be walking on the same beach in Florida. That's the kind of stuff you can't look at and think it's just coincidence," Seifritz says.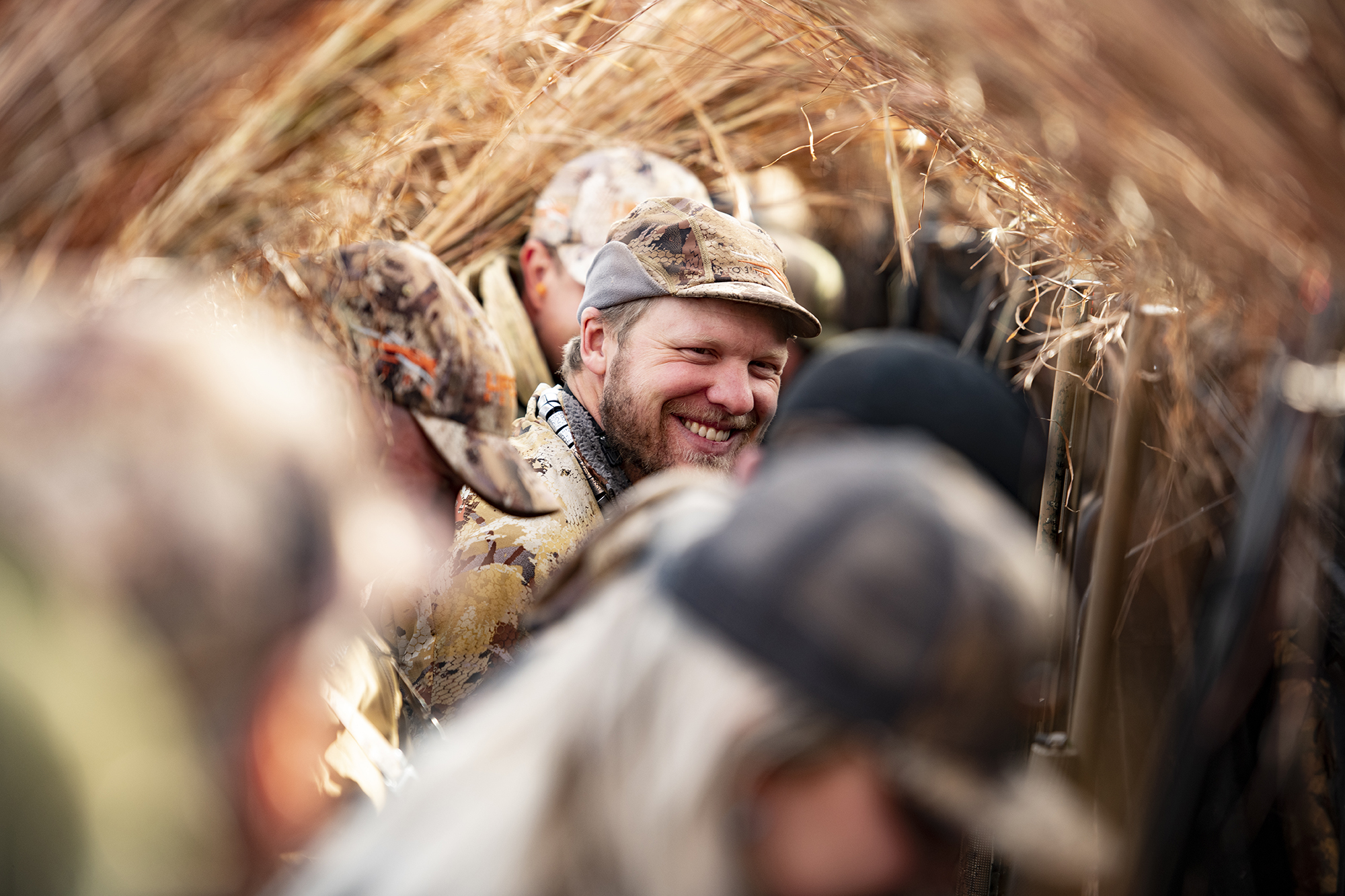 Even though all three founders are in solid agreement that their success is due to God's grace, they don't label FowlCo a Christian company. Their lodge is a divine place, but they don't want it to be exclusive. To them, kindness and acceptance towards everyone they interact with are what makes their company a success. Keeping that goal as FowlCo's top priority has paid off.
Despite not intentionally filling their schedule in advance, FowlCo doesn't have many open slots for new clients. Averaging 700-800 clients a season, FowlCo is responsible for an impressive number of hunters getting a taste of what Oklahoma has to offer waterfowlers. When the majority of their clients go to pay their bill at the end of their stay, they typically book for the same weekend the following year.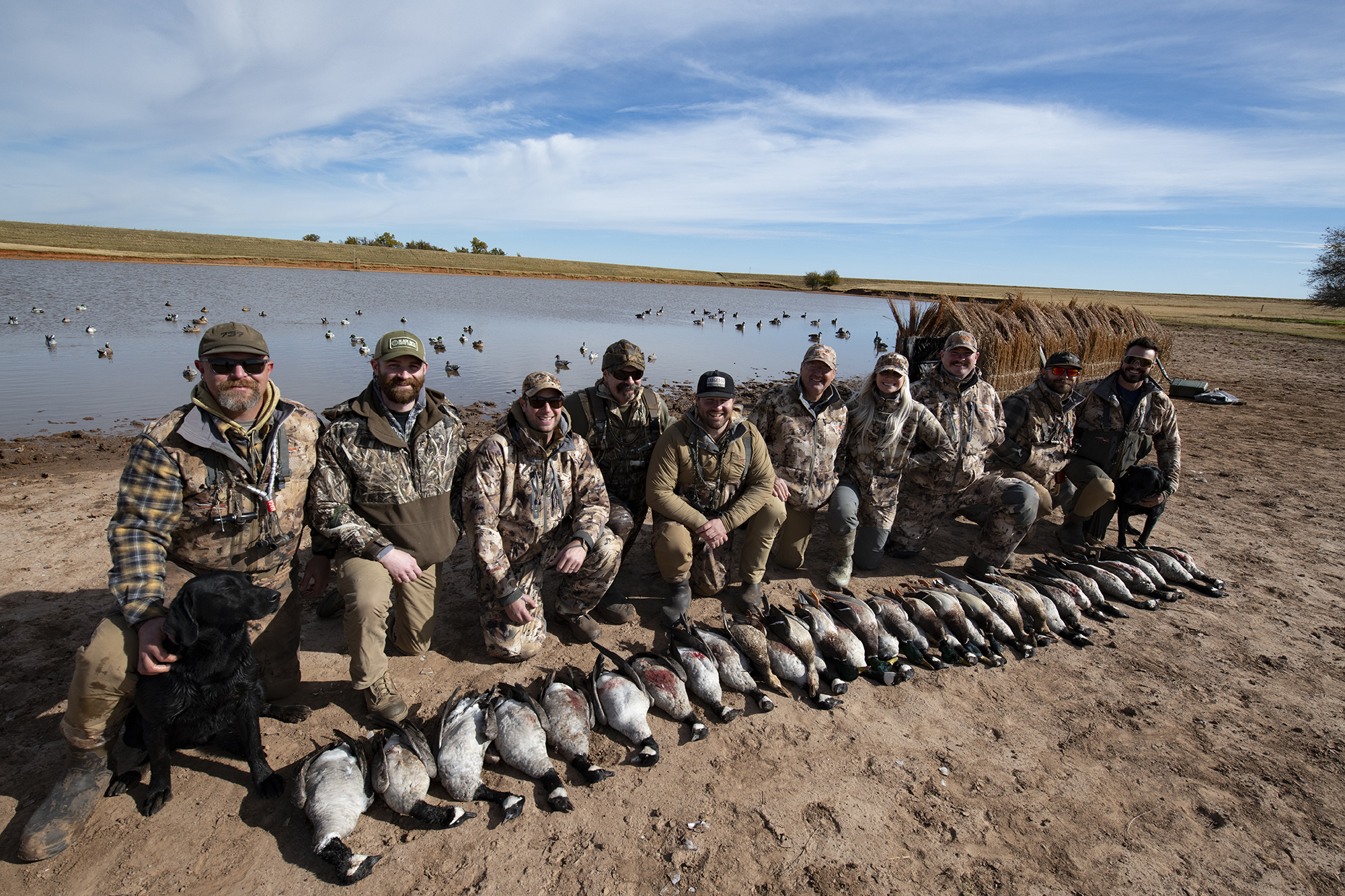 Related: Underdog Game Recipe: How to Make Amazing Sea Duck Mole Tacos
"We've been blessed enough to have people here that we want to hunt here," Teff explains. "So each group that comes through are like buddies of ours. For example, these guys getting here later today, we talk to them all year, and they're good friends of ours now. So we don't book out five to 10 years in advance, but we kind of are booked out because these people aren't going anywhere."
The founders chalk the full schedule up to both God and the fact that they continue to prioritize relationships over killing birds.
"Just this last year, I had two separate clients come stay at my house because they didn't know who else to turn to. That kind of stuff doesn't happen because I'm a good duck guide," Blagg says.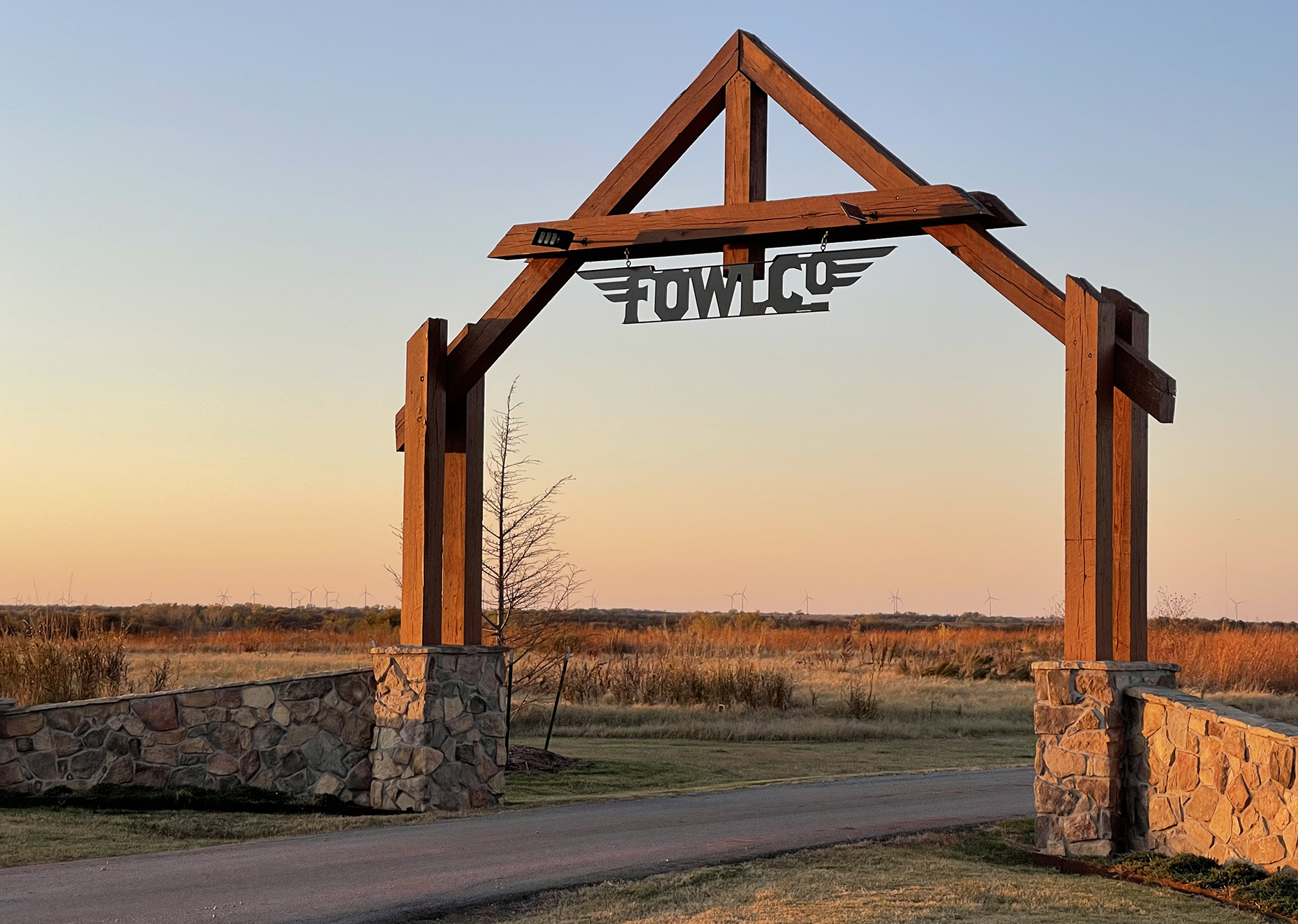 After I give back the Beretta shotgun I borrowed, I throw my bags in my car and get ready to drive back to the airport. The FowlCo team makes sure I have everything I need and make it clear I can stay longer if necessary. Then, they quickly set to work preparing for the next group of hunters arriving later in the day. During the hunting season, there's no time off for the three midwesterners. They work hard, pray hard, and play hard.
As I prepare to leave, Teff reminds me what makes FowlCo so unique:
"Always leave a positive impact on everyone you meet. That's the common denominator between all of us. That's how this place exists."
The ducks just don't happen to have it so nice.
Read Next: Waterfowl Starter Kit: Everything You Need to Slay Ducks and Geese