After a long, cold boat ride, we broke ice in the hole. Then, my host dropped me, outfitted in waders, by an oak tree in waist-deep water.
"Don't fall in," he said as I was halfway out of the boat. "It's 45 minutes to the ramp. You'll be dead before we get there."
Of the many times in my life, I have been cold, that morning at Bayou Meto WMA near Stuttgart, Arkansas ranks at the top, along with several other times I have frozen in pursuit of ducks and geese. Waterfowling heats up in cold weather. Birds have to feed, conserve heat and find open water to survive in bad weather. If you're hardy and geared up correctly for the cold, you can have some of your best hunts of the year.
Here's a list of gear that will help you make the most of cold weather duck hunting opportunities and keep you shooting without suffering too much.
---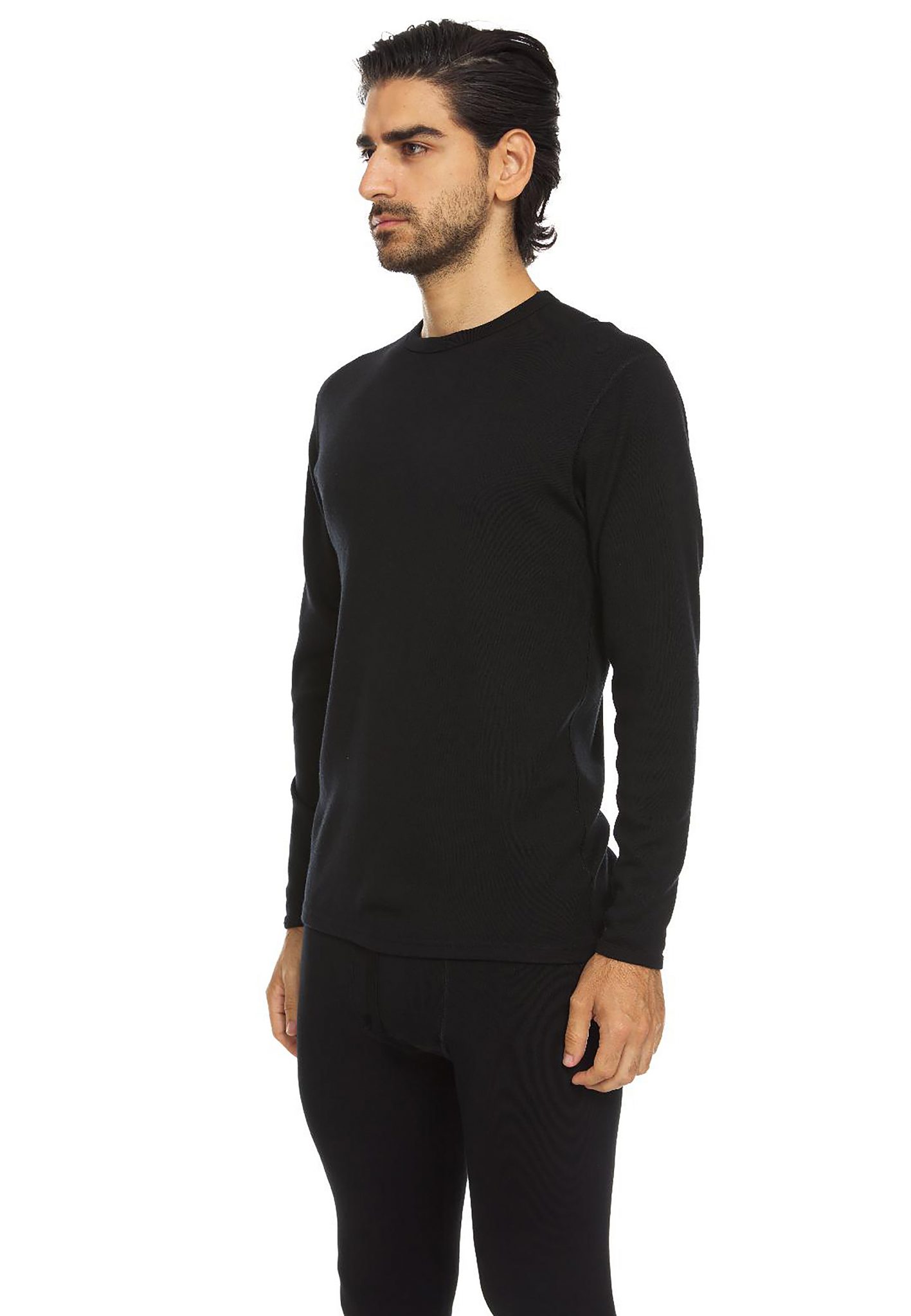 Warmth starts with a good base layer. I like merino wool. It has terrific insulating qualities, it wicks moisture, and it doesn't reek five minutes after I put it on the way polypropylene long underwear does.
Minus33 merino wool was originally designed for snowmobilers, who get even colder than duck hunters do because while sitting in the cold is cold, sitting in the cold going fast through icy air is much colder. It comes in weights up to 400, which is "Expedition" weight.
Go with a basic Expedition-weight Crew Top ($119.99) and the 3/4-length Chugach bottoms ($149.99), which you can zip off and remove without taking off your boots in case you overheat.
RELATED: Mississippi Duck Hunting Victory: Public Land Buffer Zone Rejected
---
LaCrosse Brush Tuff Extreme Waders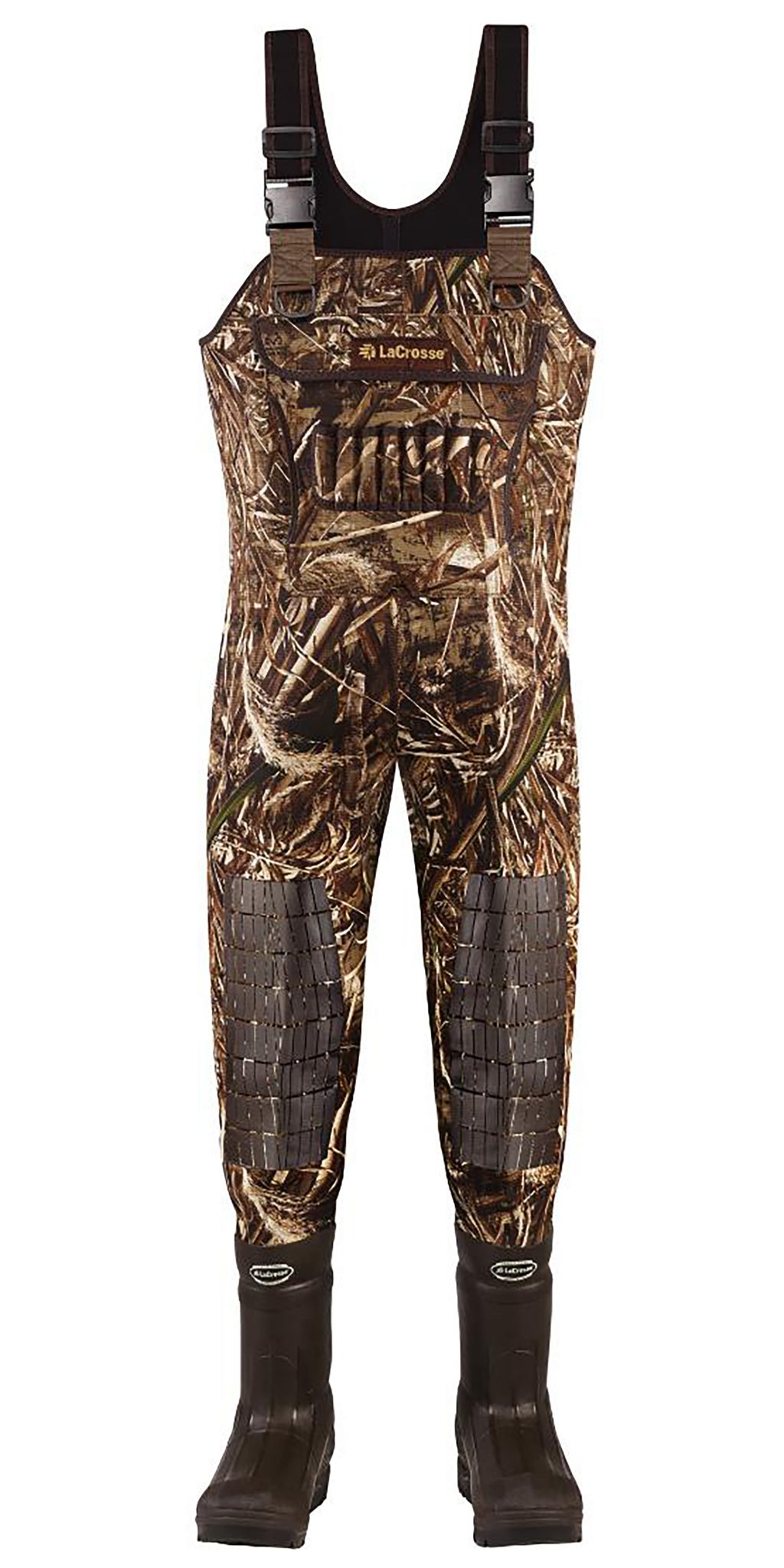 When it comes time to break ice late in the season, rugged neoprene waders win out over breathables. Thick neoprene keeps you warm, too. LaCrosse Brush Tuff Extremes are made of heavy, 5mm neoprene with a lycra/Spandex "Brush Tuff" layer. That neoprene is backed with warm fleece, and the boots are insulated with a full 1600 grams of Thinsulate Ultra.
The boots are ankle-fit, which helps keep them firmly on your feet in sucking mud because, unfair as it may seem, mud stays soft and clingy even when water freezes solid.
They also have shell loops, a top-open pocket for phones and the like, and a handwarmer pocket. At $310 per pair, these will keep you every bit as warm or warmer than waders selling for three times as much.
---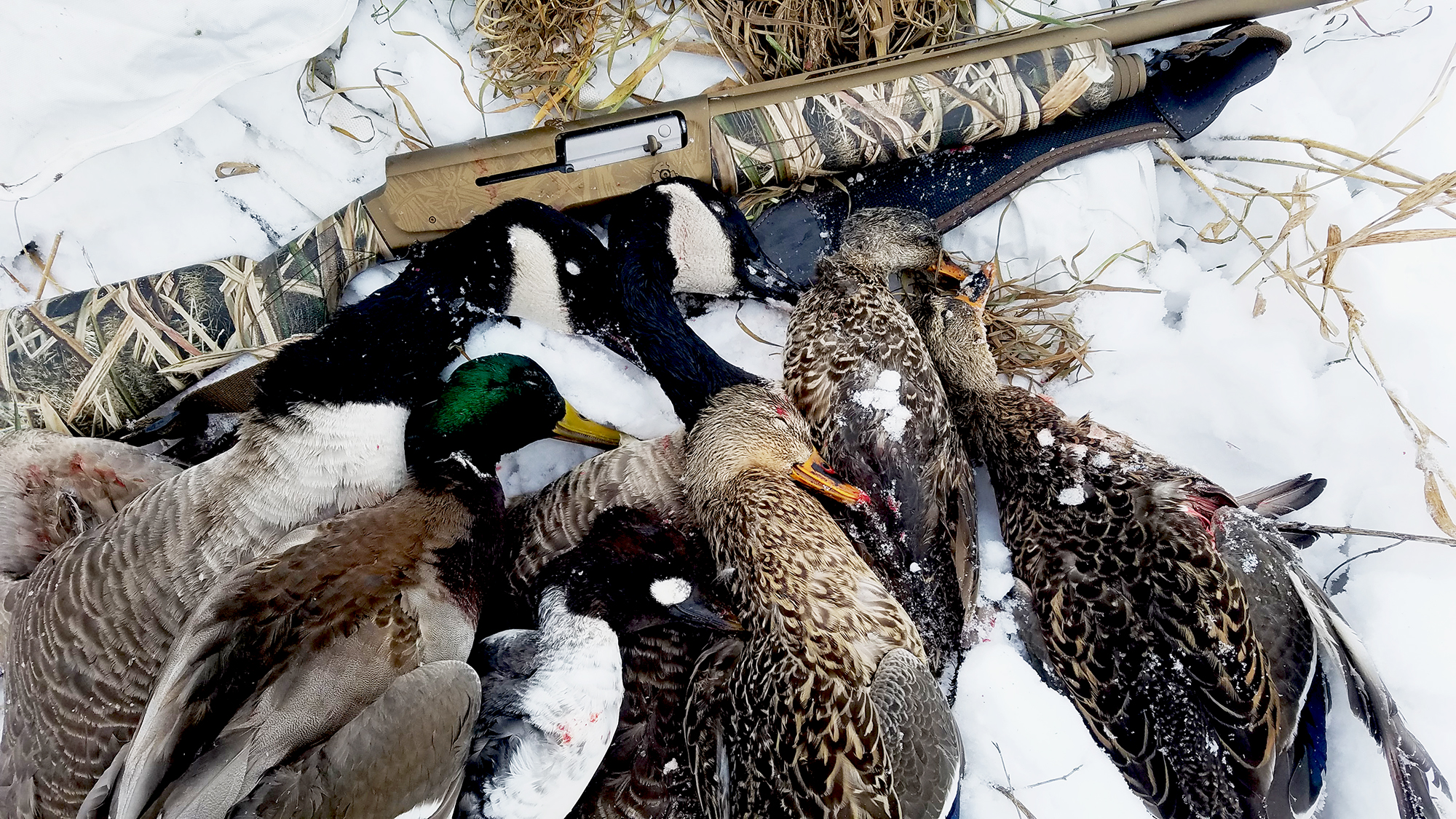 Maybe it's me and my approach to gun care – it probably is – but in my experience, when temperatures reach single digits, inertia semiautos work more reliably than gas guns. My choice for an extreme cold weather gun is Browning's A5 and its version of the inertia action. Mine always works, and it shoots exactly where I'm looking.
It's also a lightweight gun. Mine has a 28-inch barrel and weighs just 6 pounds, 14 ounces. Even though the Inflex recoil pad does a good job of cutting the kick, shooting 3 1/2-inch shells in this gun hurts. But with standard 2 3/4- and 3-inch ammo, it's no problem at all to stay on target and make good follow-up shots with the A5.

Inertia guns often have softer action springs than do most semiautos, so this is an easy gun to open. The magazine spring is fairly relaxed, so I can thumb shells into this gun even when I can't actually feel my thumb.
Lube your A5 as little as possible in the cold – or not at all – and make sure you let the bolt slam shut into battery; it will not fail you. The A5 comes with wood, synthetic, and camo furniture, and Cerakote finishes are available in 12 gauge with 3- or 3 1/2-inch chambers. Prices start at $1,539.99.
RELATED: A Thanksgiving Duck Hunt Miracle
---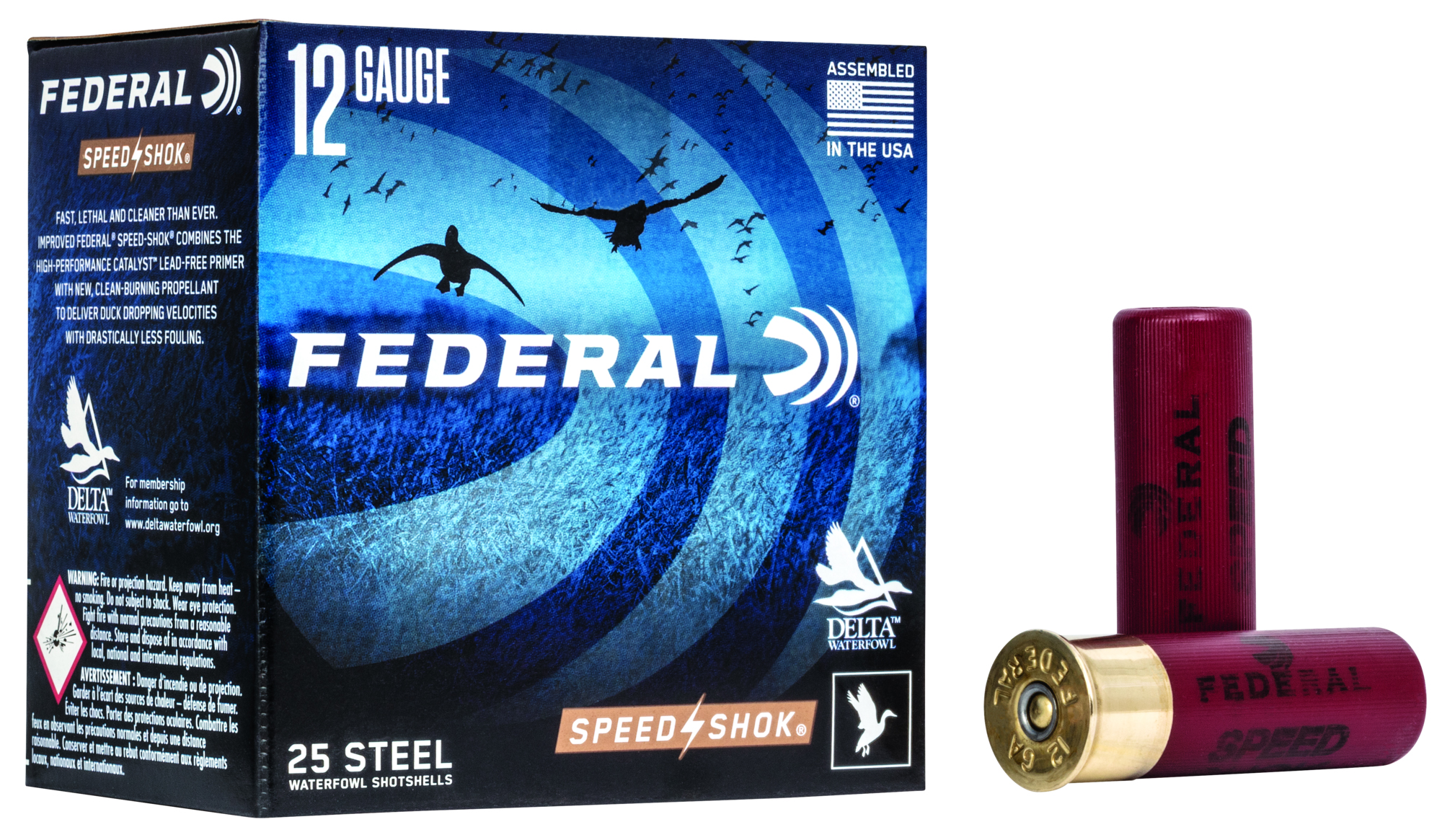 Leave it to an ammo company from Minnesota to make shells that work in the worst weather. Cold temperatures affect the chemical reactions that launch pellets out of our guns. Shells lose velocity and become harder to ignite.
A few years ago, Federal ammunition, in a rare case of actually fixing something that wasn't broken in a good way, revamped its popular and affordable "blue box" Speed-Shok steel shotgun shells. Speed Shok was already a favorite of many hunters who saw no need to spend the extra money on tungsten or bismuth. Cleaner burning powders leave less residue, which helps guns keep working even in the coldest temps. They also feature improved primers that ignite consistently at all temperatures.
I have seen these shells test-fired at -20 degrees in the special, very cold freezer at the Federal plant where this ammo was developed, and I've shot it on cold days in the field, too. Federal's 3-inch, 12 gauge, 1 1/4 ounce Speed-Shok loads have a muzzle velocity of 1450 fps and go for $18.99 a box.
---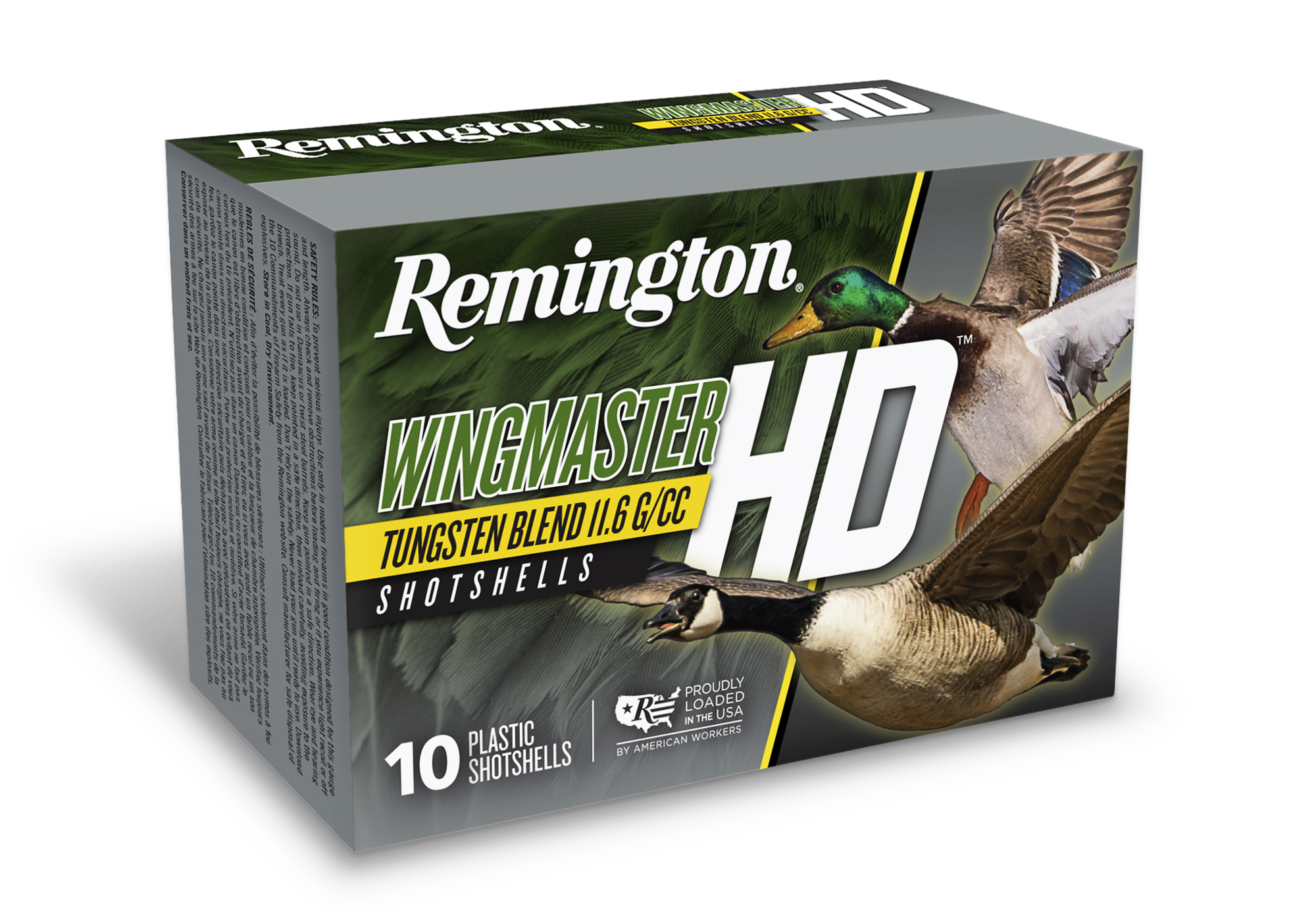 Late in the season, every shot counts. Birds are bigger, fatter, and more heavily feathered. They're warier, too. At the same time, cold, dense air saps pellet energy. Now is the time to break out your carefully hoarded supply of the "Good Stuff."
Remington HD shells contain hard, round, denser-than-lead tungsten-iron pellets that retain energy much better than steel or even bismuth projectiles. First introduced in the 2000s, HD went on hiatus for a time (along with the Remington ammo brand), but it's back and just as good as ever. I had a chance to shoot long-range ducks with the original stuff, and it patterns efficiently and hits very hard.
HD costs way too much for day-in, day-out use, but late in the season, it's worth its weight in gold. It comes in 3-inch 20 gauge loads and 3- and 3 1/2-inch 12 gauge loads starting at $49.99 per box of 10 rounds.
RELATED: Waterfowl Starter Kit: Everything You Need to Slay Ducks and Geese
---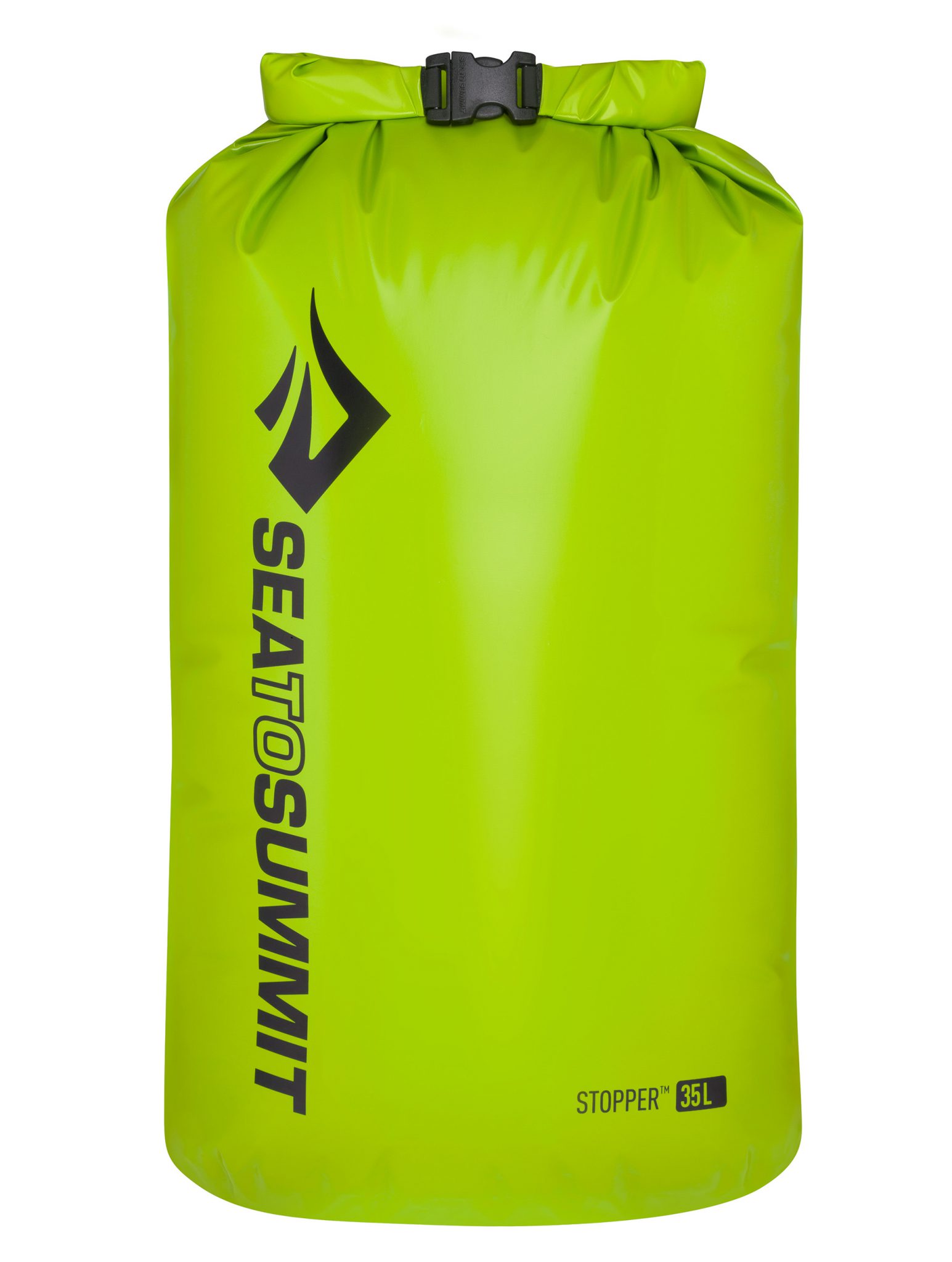 Water and cold weather can be a potentially deadly combination. Pack a dry bag with extra clothes, a space blanket, a first aid kit, fire starters, glow sticks, and anything else that you think you need to keep you alive and recover from a potential dunking, or if you wind up stuck out in a boat overnight.
Made of nylon coated with Thermoplastic Urethane, the Stopper dry bag from Sea to Summit is tougher, stronger, more abrasion, and UV light-resistant than cheaper PVC bags. It comes in several sizes to hold as little or as much emergency gear as you want to bring along.
It's available in easy-to-see blue, yellow, and light green, which is fine, because who wants to be looking for a camo bag when you need it ASAP? If you absolutely have to be super stealthy, you can pay a little extra for the new clear model, which the ducks will see right through. Available in several sizes from 5 to 65 liters, prices range from $27.95 to $69.95.
---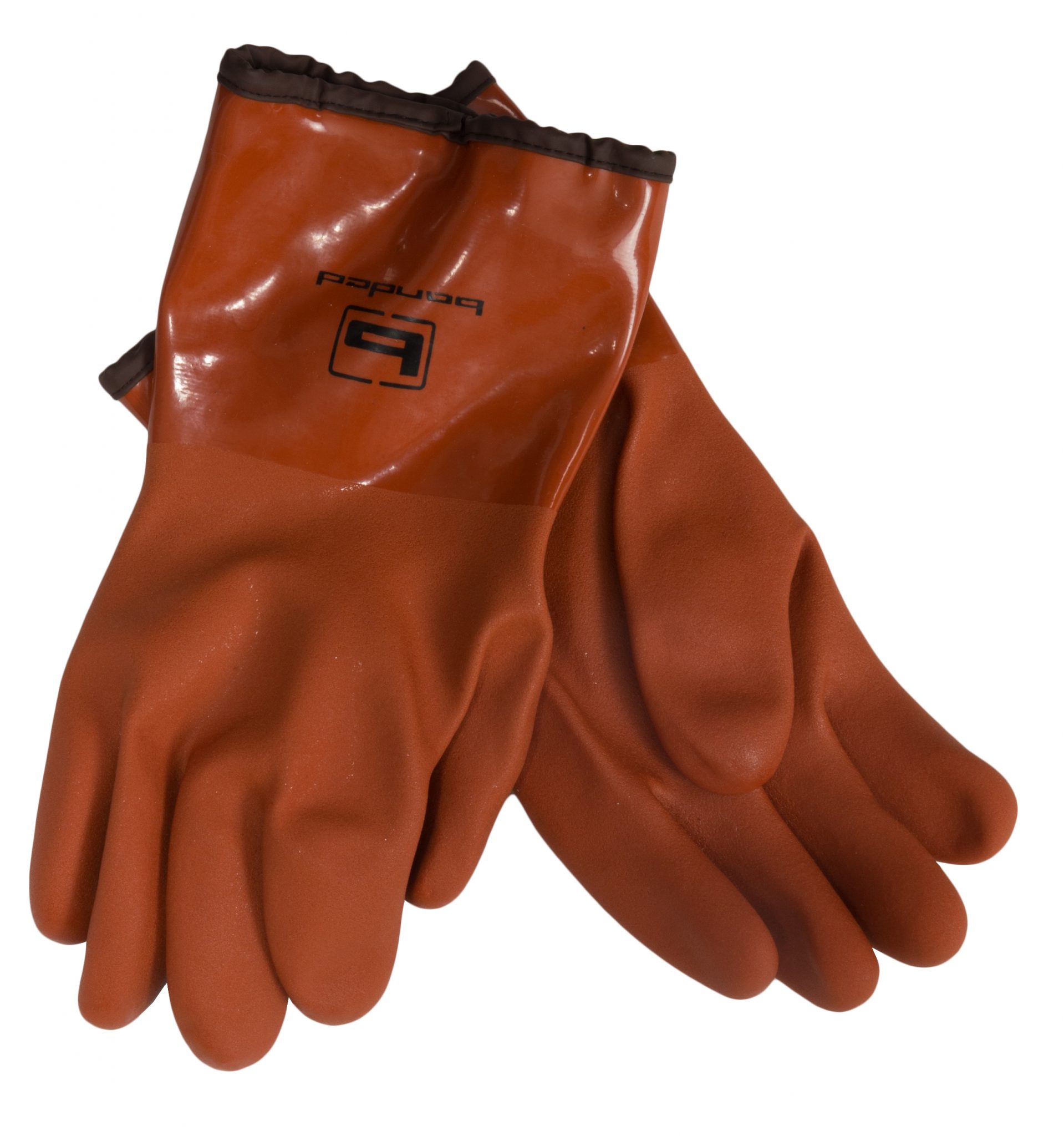 Keeping your hands dry when setting and picking decoys and breaking ice matters in cold weather, even if you don't have hands that turn to ice at the slightest hint of cold like mine do. Banded's PVC-dipped decoy gloves have no seams to leak, and they stay supple down to -20 degrees.
The outsides are textured for a good grip and the cuffs, while not as long as the cuffs on some decoy gloves, are plenty long enough to keep water and ice out and aren't a chore to pull over bulky sleeves the way the long gauntlets can be.
They come in Crabber Orange because they are not hunting/shooting gloves but pre- and post-hunting/shooting gloves that will keep your hands dry and unchilled, so you're ready to shoot when the ducks show up. A pair will run you just $16.99.
RELATED: Off Script Q&A With Lee Kjos: Outdoor Photographer, Waterfowl Legend
---
Rig'Em Right Lowdown Floating Backpack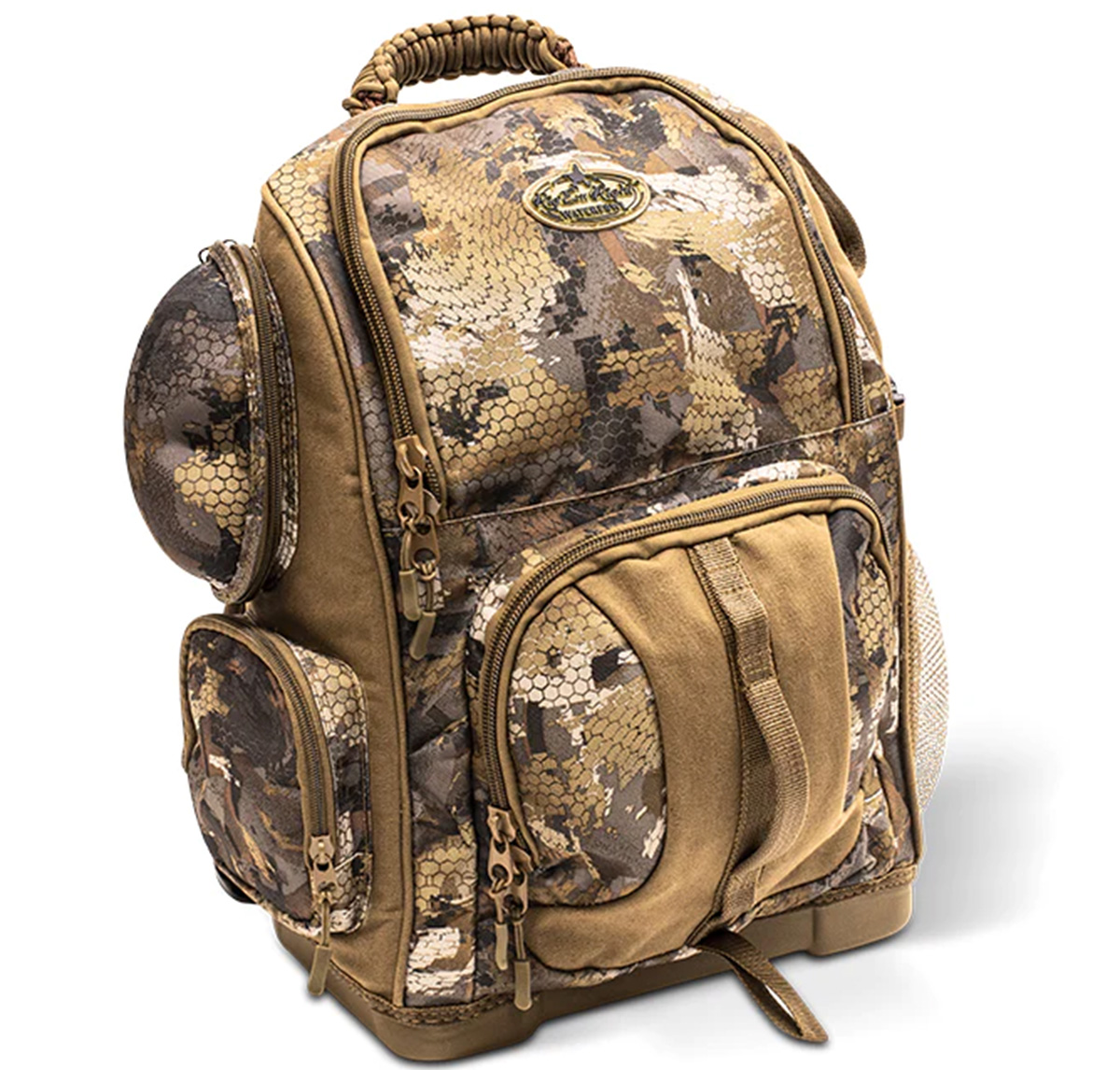 The Lowdown Pack has been my blind bag for the past two seasons, and while I use it on every hunt, it comes into its own in cold weather. There's room in this bag for everything: extra gloves, handwarmers, extra beanies, fleece neck gaiters, electric mittens, snacks, and a Thermos, on top of the usual duck hunting accessories and ammo. I've come close to filling it up, but there's always room for more stuff.
The hard plastic bottom lets the pack stand up and stay dry in the muck, and it floats, although I have yet to drop it in the water. It has an outside quick-access pocket for a handful of shells and a top sunglasses pocket, which is the perfect place to store my extra headlamp. It has loops on the outside, so I can pack my birds out hands-free after the hunt, and a stabilizing waist belt. This excellent pack won't blow your hunting budget at $139.99.
---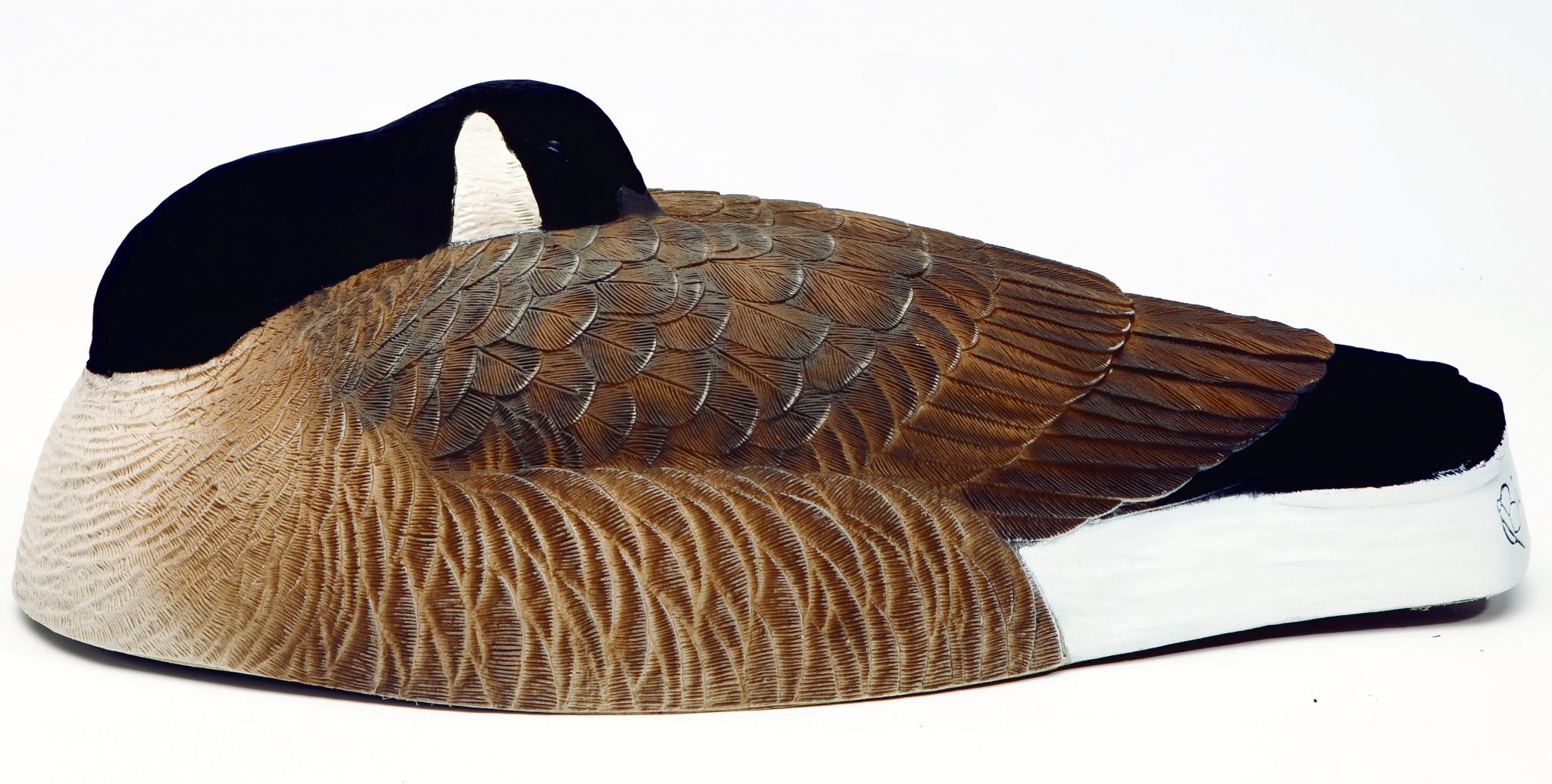 Often, the best duck decoy is a Canada goose decoy, especially when you break a hole in ice. Set sleeper shells close together on the edge of the hole as if huddled for warmth, or set a sleeper spread on a river sandbar when everything else is frozen. They show up from a long way away and send a signal to ducks that all is well.
Sleepers are easy and fast to set, and they are one-piece and stackable, so they pick up in a hurry: always a plus in the cold. Bigfoot's B2 shells are sturdy, heavy enough to stay put in winds that can roll lighter shells, and, at 25 inches long, bigger than many competing decoys. A set of six will run you $99.99.
RELATED: Tennessee Tornado Kills 2 Hunters, 3rd Missing, Others Aid Rescue Efforts
---
TangleFree Xtreme Coated Decoy Anchors
Wait, what? You haven't Texas-rigged your decoys yet? Texas rigs are one of the best duck hunting inventions of my lifetime, and they're especially great in the cold. Your hands stray dryer, and therefore warmer when you don't have to touch wet anchor cords or wrap them around wet decoy necks or keels.
You can pick up your spread in no time and get back to a warm truck that much faster. However, not all Texas rigs are created equal. Spend extra on coated wire cable anchor cords; you'll be glad you did every time you don't have to undo a snarl of heavy monolines. The cable doesn't kink, it doesn't tangle (much), and it won't take a set.
Rig 'Em Right's Xtreme Coated Cable Decoy Anchors are an excellent example of the right kind of Texas rig, and I have them on a few dozen of my decoys. They come in lengths from 18 inches to 4 feet, in weights of 3, 4, 6, or 8 ounces. Use the light ones for walk-in hunts, or pick heavier anchors if you hunt rivers. They come in sets of six or 12 packed with a large carabiner, starting at $49.99 per dozen.
Read Next: The Hunter's Most Important Item of Clothing: Stay Warm in a Treestand