A Florida man broke a 28-year state fishing record when he caught a whopper of an exotic butterfly peacock bass in Broward County. Felipe Prieto landed the 9.11-pound, 21 5/16-inch technicolor slab this week, which dethroned the previous 9.08-pound Flordia state record — just 3.5 pounds under the all-time world record peacock bass.
The predator fish is native to the Amazon River Basin in South America. The Florida Fish and Wildlife Commission first introduced the species to Miami's waterways in 1984 to help control an exploding tilapia population. They are the only non-native species that have been legally introduced in the state.
A 2015 study found the species not only helped control the overabundant tilapia but it also quickly became a wildly popular game fish that contributed $6.6 million to the state's $15.5 million sportfishing economy. Commission Chairman Rodney Barreto confirmed the popularity of peacock bass and the species' value.  
"Anglers from across the country travel here to catch a peacock bass, which only adds to the tremendous economic impact fishing has in Florida," Barreto said in a press release.
Related: Urban Fishing: 5 of the Best Big Cities for Anglers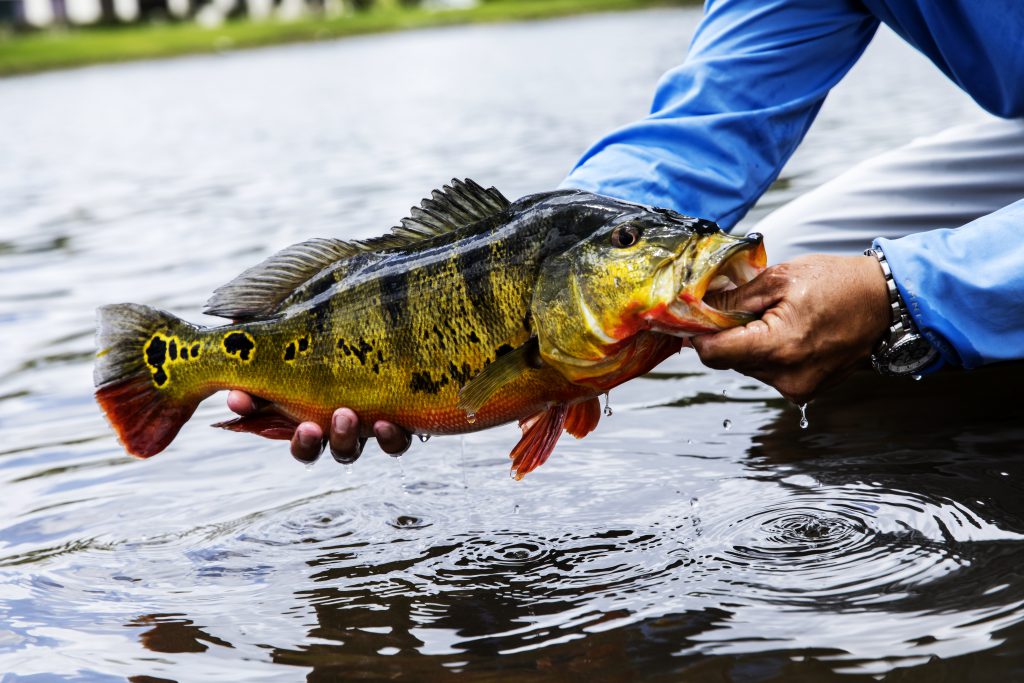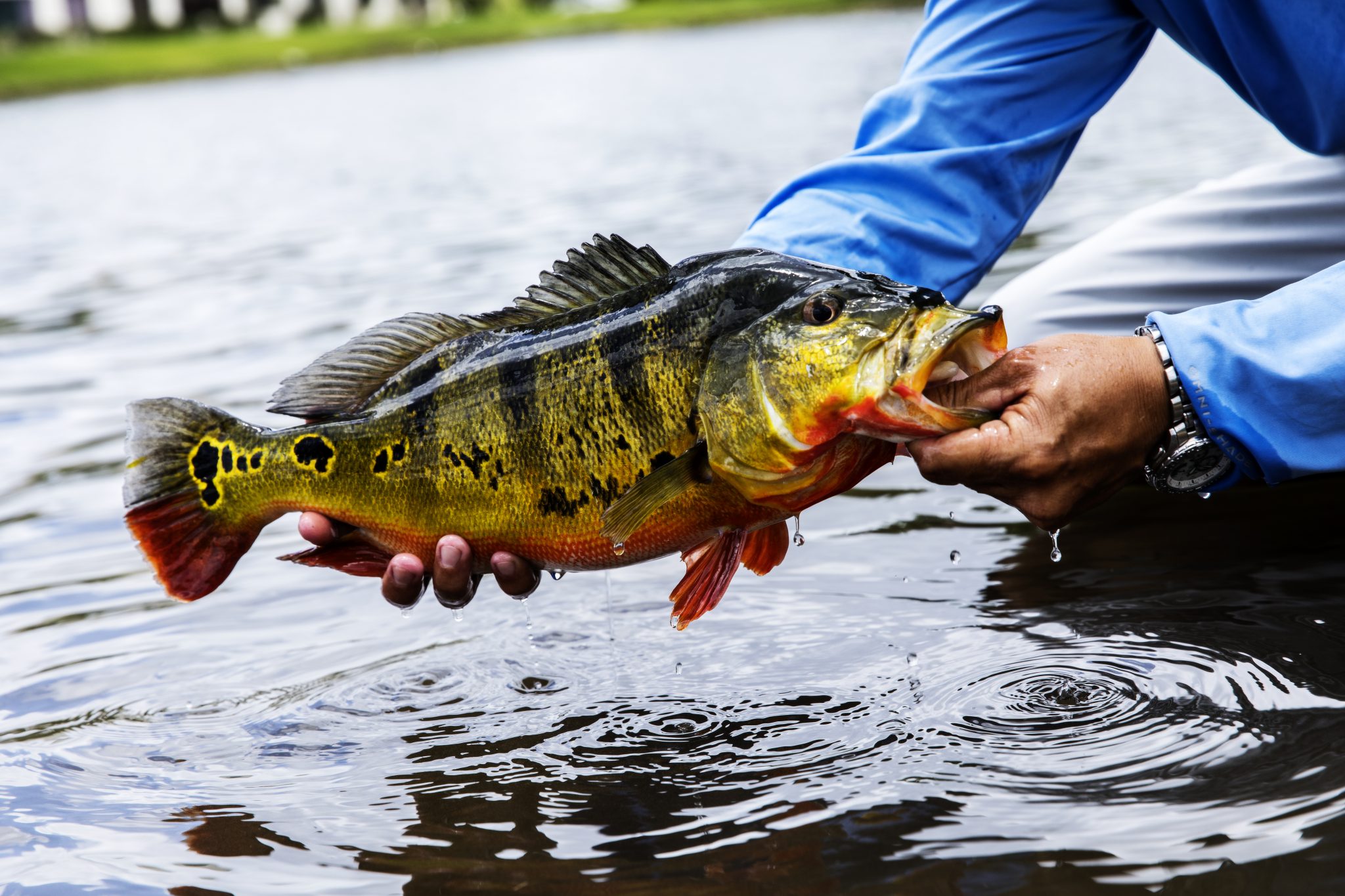 Butterflies are short-tempered brawlers that don't even try to hide their bad attitude, and they're the most common of the 15 peacock bass subspecies. Whereas most bass lurk in or around structures and ambush their prey, peacocks just don't give a shit. They will sit in the open and crush small fish — and lures — at will.
Their day-glow green, yellow, orange, and red colors, black markings, and the presence of a large bump between their head and dorsal fin on mature fish make them look exotic and almost prehistoric. The yellow-haloed spot on their tail looks like an eye and serves to confuse larger predators if they rushed the Cichlid.
Related: North Carolina Blue Catfish Breaks State Record by 5 Pounds
Traditionally, the canals and lakes around Miami are home to the highest population of peacocks, but their territory has now reached Naples and Fort Meyers. Hawaii and Puerto Rico also have them.
They can grow to 14 inches within the first 18 months of their life and add 1.5 pounds of weight with every inch gained in length. FWC reports that the largest peacock caught in Florida was actually 12 pounds, but that fish was never submitted for the International Game and Fish Association record book. The current IGFA world record peacock bass is 12.6 pounds and was caught in Venezuela's Chiguao River by Tony Campa in 2000.
Peacocks are a true warm-water species that can't tolerate water temperatures below 60 degrees. Live bait is the go-to for catching these fighters, but they'll attack topwater lures, fly-fishing flies, or other swimbaits, which makes them a favorite of exotic fishing fanatics. They're all fierce when hooked but expect an ass-whoopin' if you connect with any fish approaching the 20-inch mark.
Read Next: Watch: Teen Lands New Michigan State Record King Salmon