When it comes to fly fishing boots, most anglers' first experiences with river footwear are wading around for summer bass in soggy sneakers or pulling on a pair of hip waders when the water temps run frigid in the early spring or late fall.
Simple solutions are great when you're just starting out, but as you start putting more miles on your fly fishing footwear, you find simpler is not always better.
Better boots translate into more hours on the water doing what you love to do: catch fish — whether that means accessing bigger rivers, maintaining solid footing, or staying comfortable on longer hikes into remote streams.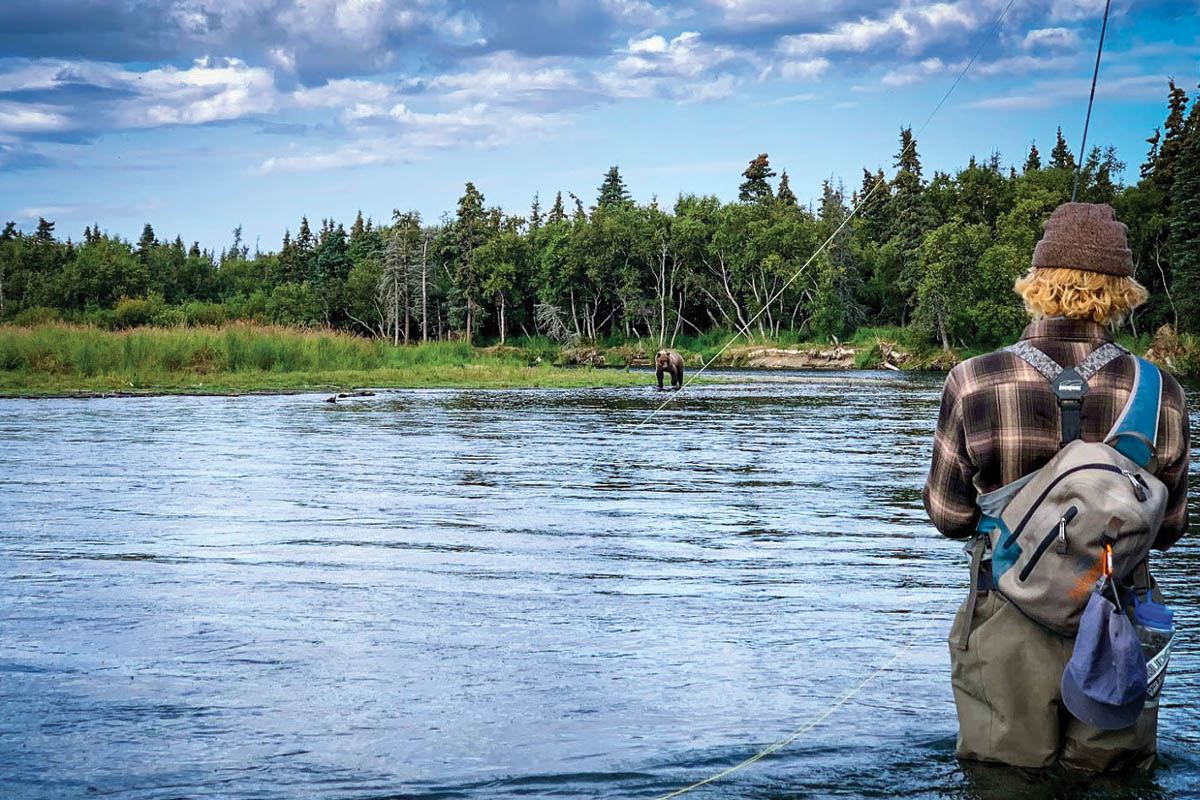 To be honest, today's fly fishing boots are mostly all high quality and designed to wade hard and fish hard. They have to be, since today's anglers demand better quality out of the gate, regardless of price.
There are more quality options available today than ever before. The fly fishing boot-scape covers every possible scenario from cold tailwaters to tropical flats and can handle long hikes to remote alpine lakes or wading wet on your favorite bass river.
Wherever you want to fish, there's a fishing boot that will have you covered. Let's take a look at some footwear that will make your feet happy in any situation.
RELATED – Carp Crazy: A Fly-In Fishing Adventure On Lake Michigan's Beaver Island
---
Cold-Water Wading Boots
Patagonia Foot Tractor Wading Boots with Aluminum Bar
$399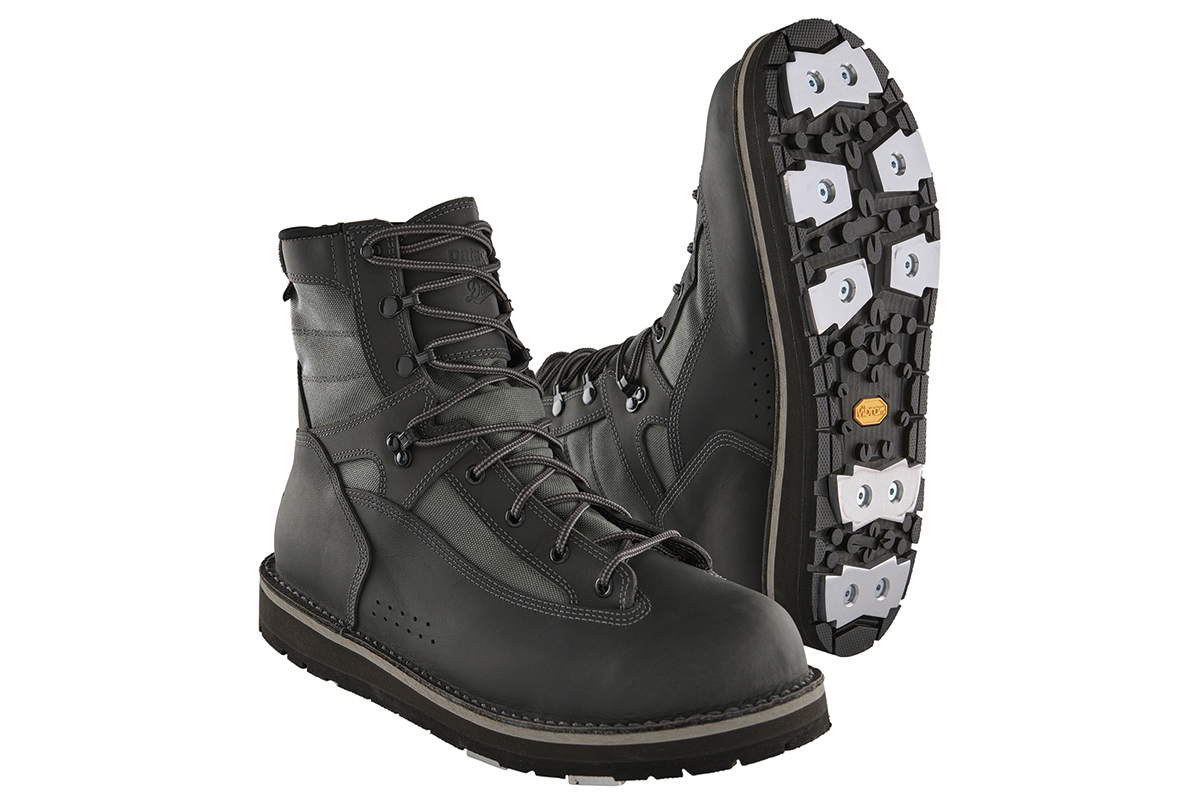 Comfort and traction are critical factors in boot selection, especially during cold weather months. The unique Vibram Idrogrip sole on these boots uses aluminum bars instead of more conventional studs, which provides unbelievable grip even on the slickest slime-covered rocks.
Danner manufactures the Foot Tractor for Patagonia, and it's designed like a true hiking boot with full-grain leather, adjustable lacing, and stitchdown construction that allow for a better fit. While the boot's overall weight is more than most (86.8 ounces), the well-thought-out design minimizes the feel of the added ounces. Plus, wet or dry, they go on easily. The Foot Tractors are also available with plain Vibram Idrogrip or felt soles.
Added bonus: When the river miles finally wear out the soles on these boots, there's no need to throw them away — Danner can resole them for you.
---
Simms G3 Guide Wading Boot
$279.95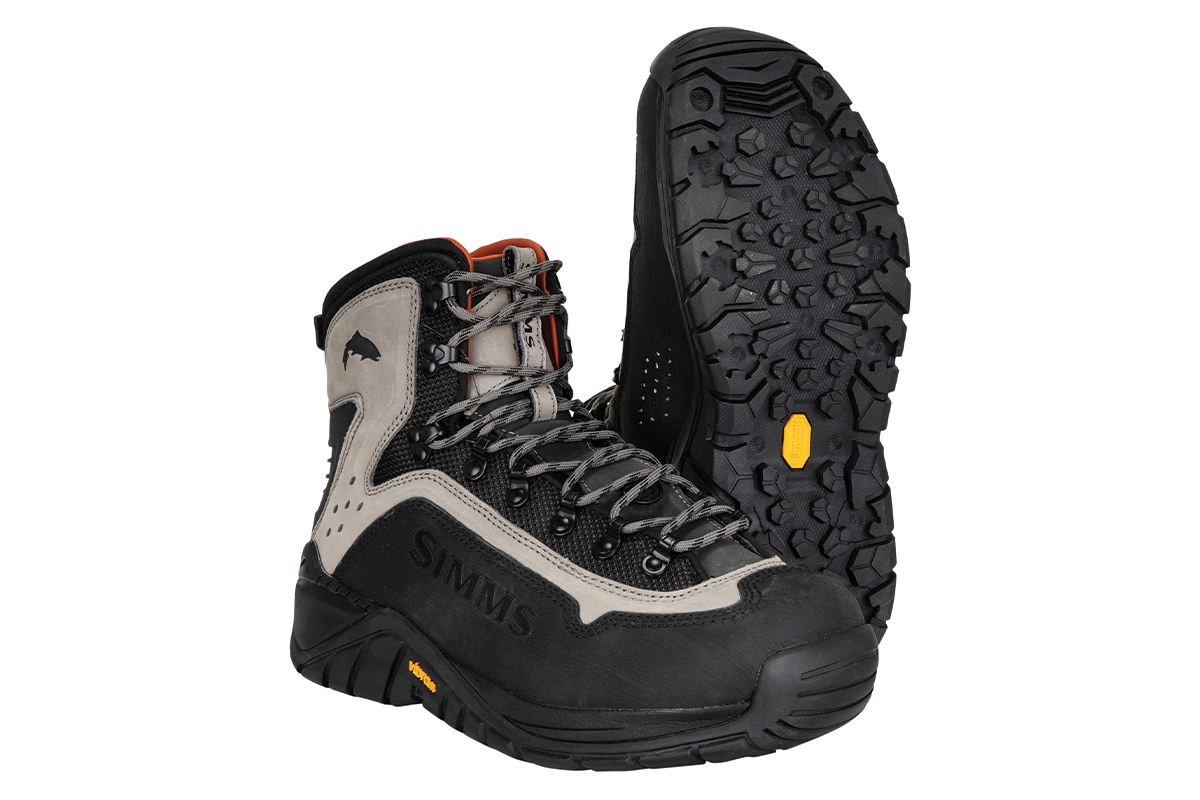 There's a reason these boots have "guide" in their name. Built to stand up to the gnarliest, 200-plus-days-on-the-water demands of hardcore fishing guides, the Simms G3 Guide Boots keep your feet under you no matter the river bottom, and they provide both comfort and support from sunrise to sunset.
Our feet gather information about the river bottom with every step, and the Simms' RiverTread is designed to provide an enhanced tactile feel underfoot. Greater awareness every time you plant your foot means increased confidence when wading to those tough-to-reach spots — and we all know that's where the biggest fish live.
These boots are also available with either Vibram or felt soles, and studs can be easily added to either version.
---
Orvis Clearwater Wading Boots
$169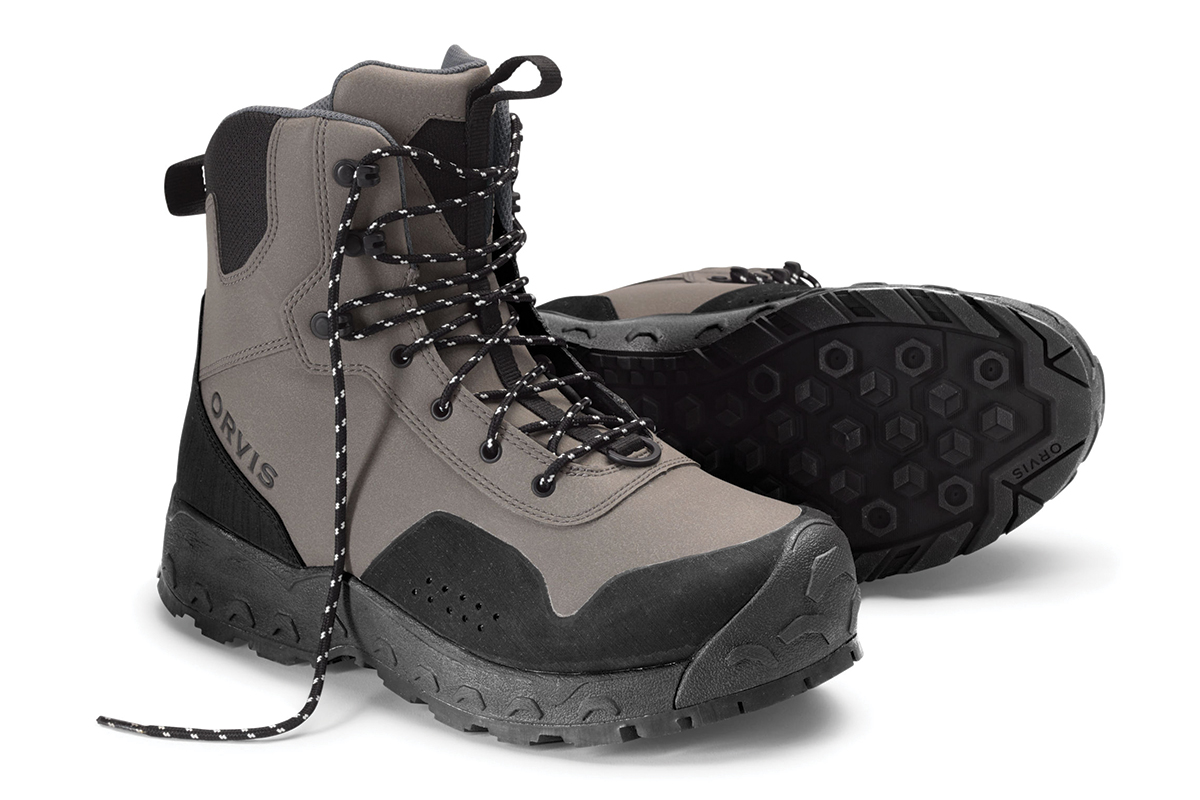 Not all quality wading boots come with nausea-inducing price tags. This mid-range option from Orvis is proof. The full synthetic leather uppers on the Clearwater Wading Boots provide ankle support, comfort, and durability, while an integrated EVA foam footbed offers enhanced comfort and a better fit.
For the slickest limestone spring creeks, consider the rubber-soled version with screw-in studs. An aggressive lug design combined with the studs increases the overall grip capability of the boot. The Clearwaters are also available with felt soles that can also take studs. Ankle support, comfort, grip, and durability add up to a truly fantastic wading boot that can fit into almost any budget.
RELATED – The Frank: A Fly-In, Fly Fishing Adventure in Idaho's Largest Wilderness
---
Fly Fishing Boots for the Backcountry
Simms Fly Weight Wading Boots
$199.95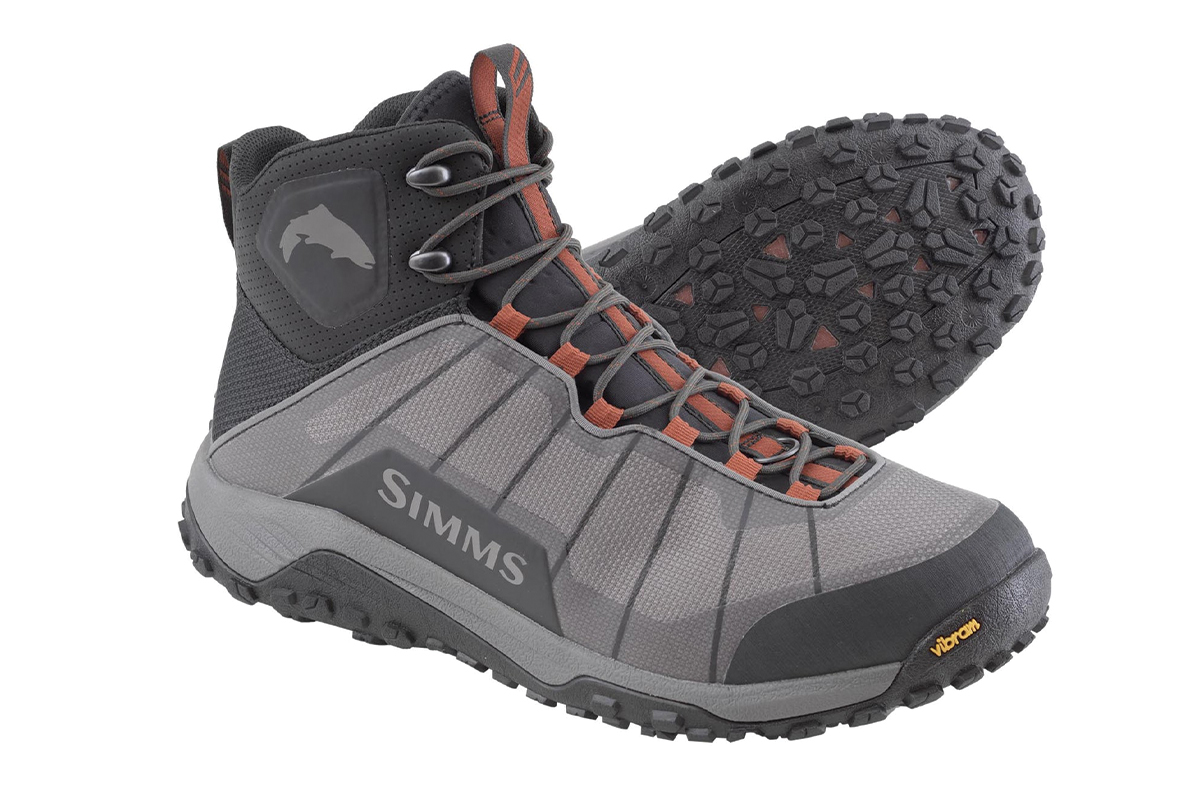 If you've ever slogged multiple miles in heavy wading boots, you might just appreciate Simms' Flyweight offering. Weighing in at 40 ounces, these boots are designed for those who insist on staying off the beaten path.
The boot's lightweight synthetic upper and low-profile design make a significant difference when covering miles of trail before the fishing begins. Plus, either the Vibram or felt soles transition seamlessly once you finally step into the stream.
The one tradeoff you'll make with these boots is the degree of ankle support you get for the reduction in overall weight. If that's not a deal-breaker, then the durability and comfort of Fly Weights are the right choice for eating up backcountry miles.
---
Korkers Devil's Canyon Boot
$209.99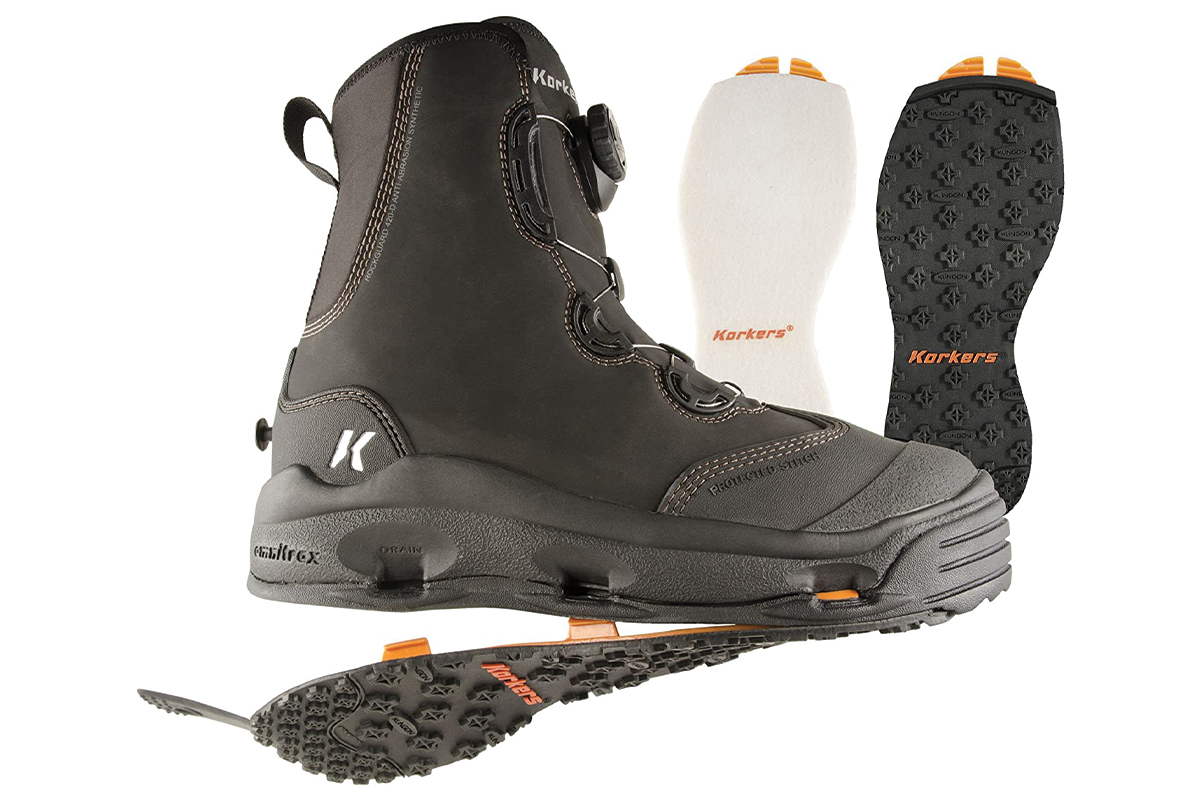 These boots incorporate two handy features in a solid all-around wading boot: the unique OmniTrax Interchangeable Sole System and the BOA Fit System instead of laces.
Each pair includes two outsoles: either a felt sole and a Kling-On Sticky Sole or a studded Kling-On Sticky Sole and a regular Kling-On Sticky Sole.
The BOA system is designed to let you get your boots off and on effortlessly and provides a tighter full-foot fit. Adventurous anglers will appreciate the weight of these boots: only 46 ounces.
This all comes together for an all-around great boot that won't fatigue aggressive backcountry anglers. The lightweight but sturdy construction is a fantastic benefit during those unexpected moments when your agility is all that's between you and an unplanned swim.
RELATED – Cold Weather Trout: 4 Tips and Tactics for Winter Trout on the Fly
---
Saltwater Flats Fly Fishing Boots
Orvis Christmas Island Bootie
$98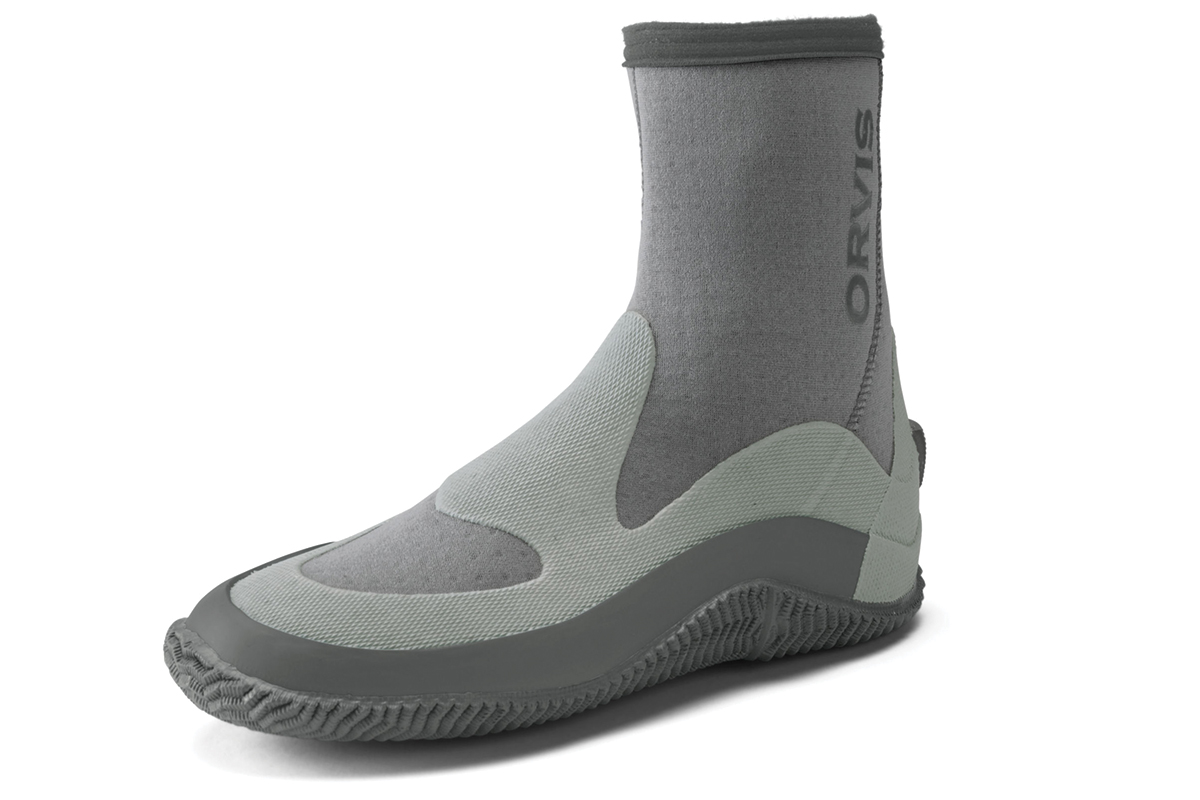 Christmas Island Booties do what they're meant to do — and do it well. These flats boots have been around for over a decade. In that time, the design has evolved and improved.
The latest version of these booties has an Airprene upper that allows water to flow freely through the boot but hugs the ankle to keep sand and grit out. The YKK side zipper allows for easy donning and doffing, which is especially nice when transitioning from boat to wading.
For the more style-conscious anglers who are worried about looking goofy in these things: These booties are designed for quietly stalking tailing bonefish, not to look cool while chilling back at the lodge. That's why flip-flops exist.
---
Simms Flats Sneaker
$169.95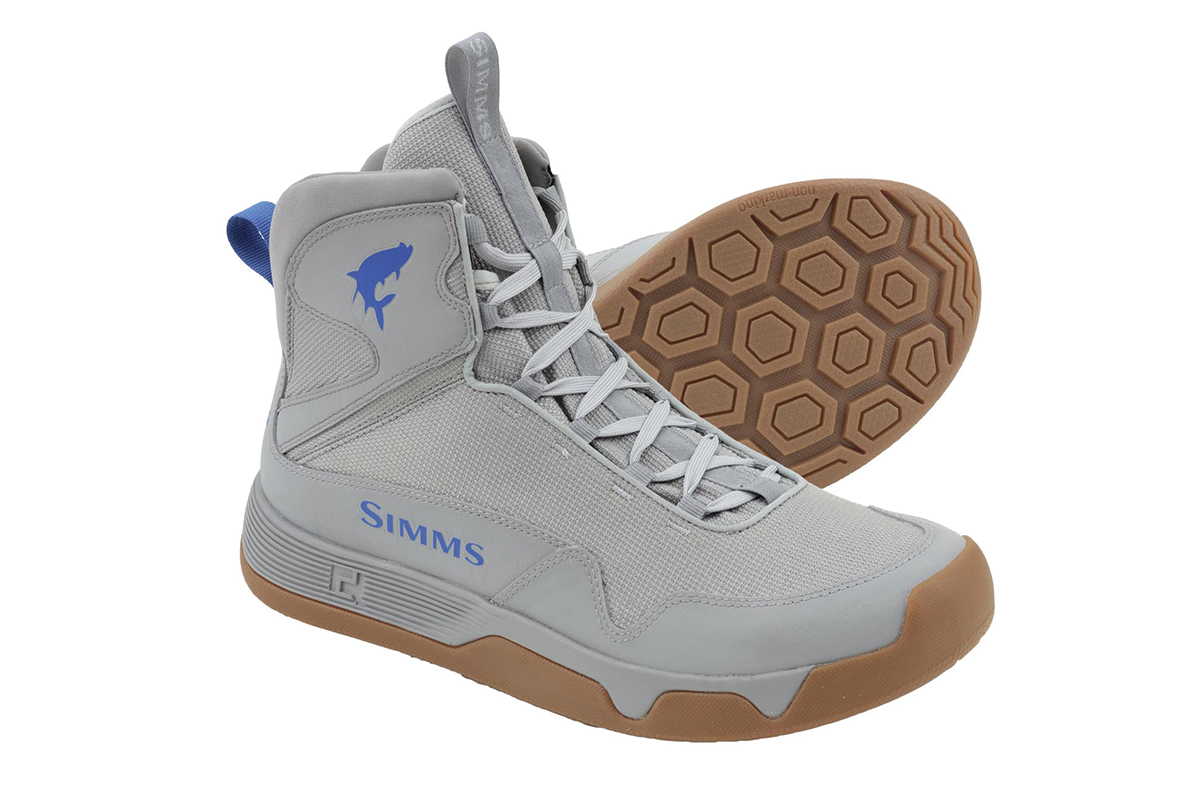 Simms offers a great alternative to the more classic zippered fly fishing boots with their Flats Sneaker. The hybrid design blends the support of a wading boot with the lightweight feel and look of a sneaker.
If you've ever chased a Permit with a guide, you were probably amazed at how fast both the fish and the guide could move through the water. While the guide has years of practice, you now have these boots to help you keep up.
Saltwater-friendly materials, a speed lacing system, and a gum rubber outsole that offers excellent traction make these boots a real winner for anyone who wants more ankle and foot support when fishing saltwater flats.
RELATED – Starter Kit: Learning to Fly Fish — Casting
---
Wet Wading Options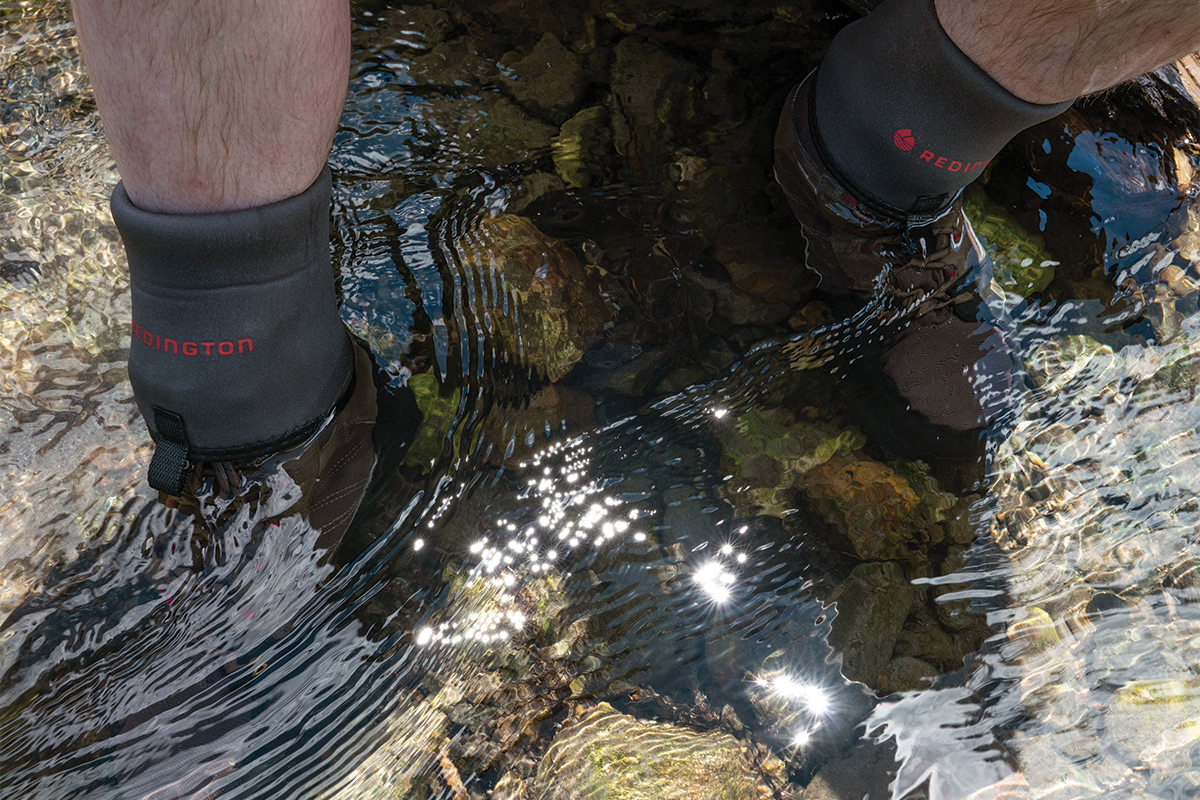 Summer heat means ditching waders for quick-drying shorts and wading wet. But you still need to outfit your feet.
The beauty of wet wading is that specialty fly fishing boots are not necessary. Instead, wear your regular wading boots with neoprene wet-wading socks. Two great options to consider are Redington's Wet Wading Sock ($39.99) and Simms Neoprene Wading Sock ($29.95).
Keep in mind, if you're going to wear something other than your regular wading boots, choose footwear that doesn't have open toes or other large openings in the upper of the shoe. (Leave the Crocs at home or in the truck.) Openings allow rocks, grit, and gravel to get in. If you're constantly picking unwanted rocks out of your footwear all day, well, that's time that could be better spent catching fish.
---
READ NEXT – 10 Fishing Podcasts Every Angler Should Check Out