Garmin Instinct Crossover Smartwatch
Battery life of up to 70 days
Solar charging
Analog face with backlit digital face
Analog watch lovers can now get all the cutting-edge tech and old-school charm they want in one timepiece that's way more than just a watch: the new Garmin Instinct Crossover. Combining analog timekeeping with a digital face isn't just for show — it allows the Instinct Crossover to push battery life beyond what should be possible for a GPS adventure watch.
"We created Instinct Crossover for active lifestyle individuals who prefer the look of a traditional watch but who are ready to tap into the functionality of a modern smartwatch," said Dan Bartel, Garmin's vice president of global consumer sales. "By eliminating the need to compromise between tradition and technology, the Instinct Crossover reimagines and redefines the modern adventure smartwatch."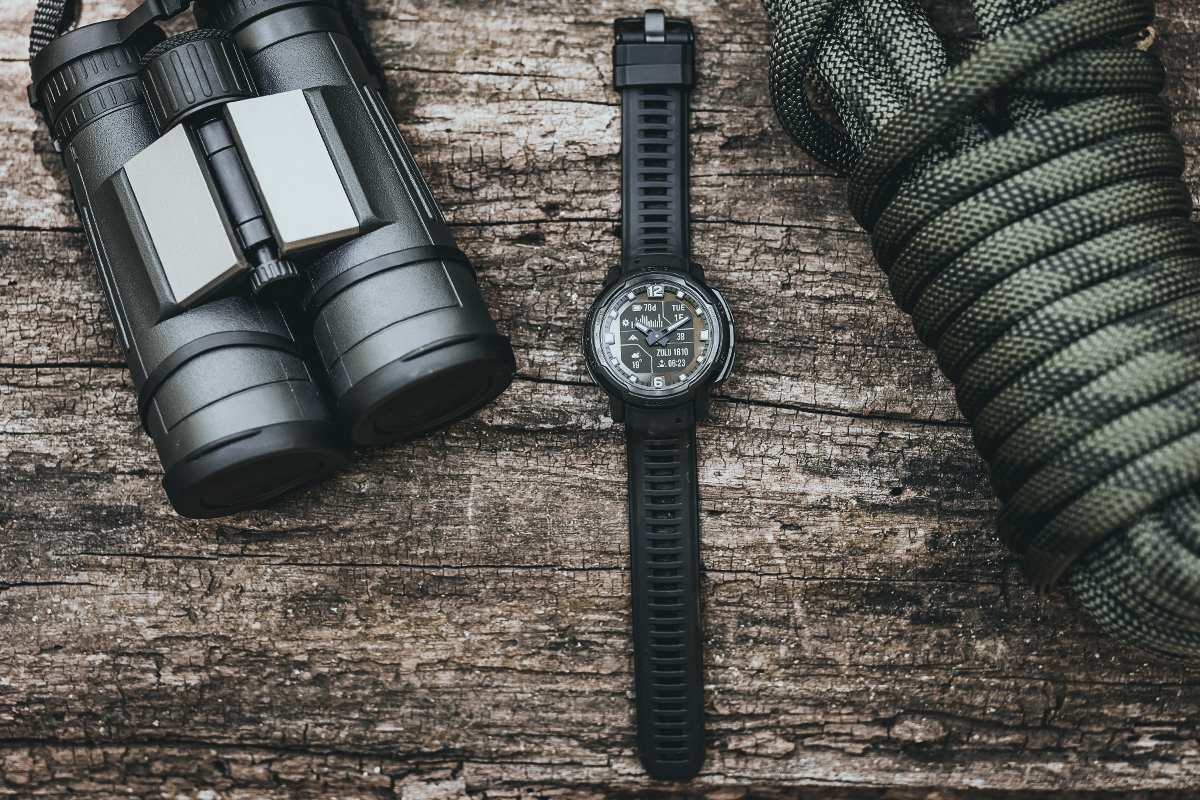 The familiar fiber-reinforced polymer case now contains hands and hour markers coated with Super-LumiNova. Behind them, the black-and-white digital display allows owners to cycle through the feature-rich capabilities we've come to expect from the Instinct series. In the case of the Instinct Crossover Solar, the result is a watch that provides health monitoring, fitness tracking, and navigational assistance when you need it, and the potential for limitless timekeeping when your only power source is the sun.
As we've seen before with the Instinct and tactix series, there's a hierarchy within the new Crossover line. The base model starts at $499.99 and offers most of the features consumers are looking for. The Solar edition boosts battery life so efficiently that it is possible to use smartwatch features for up to 70 days. You can reduce power demand with battery-saver mode, and you could very well use the Instinct Crossover Solar as an analog watch indefinitely with three hours of intense sunlight per day.
At the top of the food chain is the Tactical Edition of the Instinct Crossover Solar, which adds night-vision compatibility, dual-form GPS, stealth mode, and a kill switch for military use. For those of us who spend as much time outdoors as possible, this is the watch to have. Between the incredible battery life and suite of military tech, it's a serious asset off-grid.
RELATED – Gear Test: The New Maven CRF 1 Rangefinder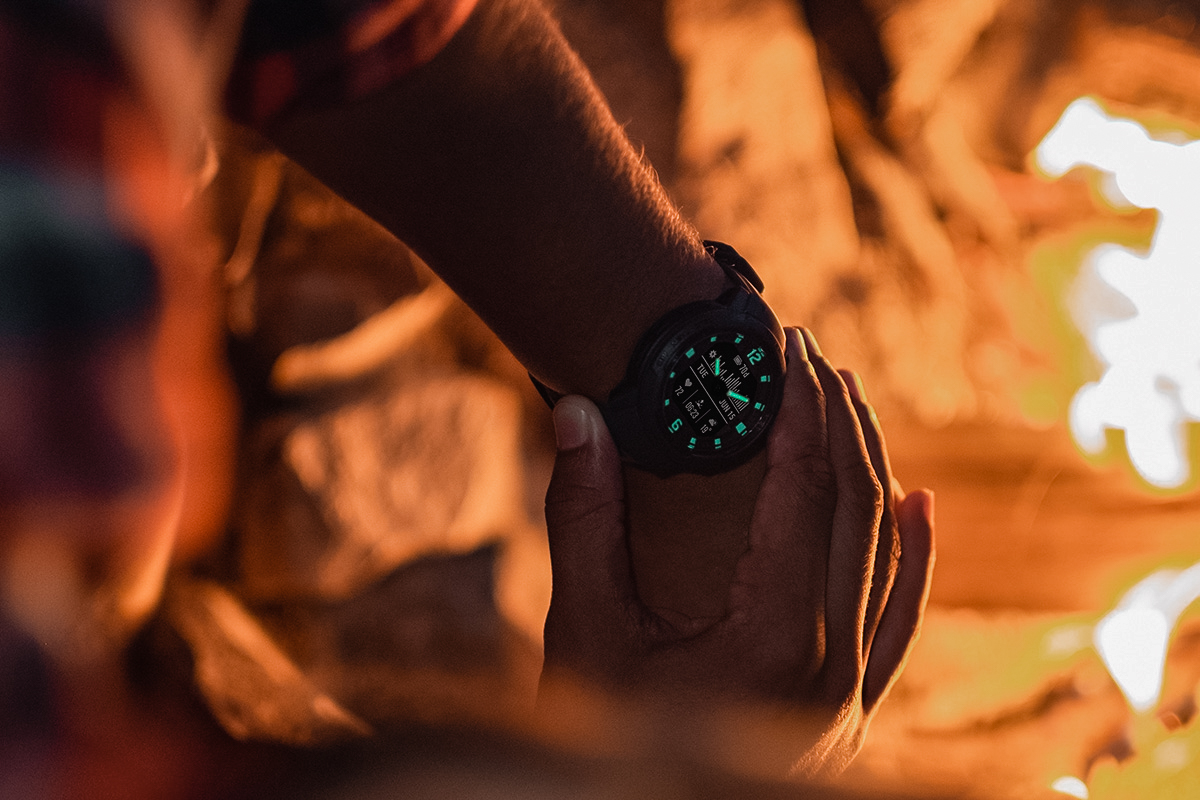 Garmin's navigation chops remain the standard to beat for GPS devices. The Instinct Crossover Solar Tactical Edition carries on this tradition with multi-band Global Navigation Satellite System (GNSS) support that pulls location data from several domestic and international satellite networks.
This is less about accuracy (although Garmin devices are seriously accurate) and more about eliminating blackouts so you can get reliable location data around the world. Track your route, reference a known point, or navigate to a destination with the watch's advanced functions or keep it simple with the altimeter, barometer, and compass.
Like the rest of the lineup, the Instinct Crossover Solar Tactical Edition is tough enough to endure life in the wild. The case is waterproof-rated to 10 ATM (100 meters) and meets MIL-STD-810 for impact and thermal stress. This new adventure watch gets all of Garmin's wellness features, including sleep monitoring and body battery analysis. It provides fitness metrics like heart rate, VO2 max, blood oxygen levels, training status, and recovery time. Hell, you can even get notifications from your phone and make touchless purchases with Garmin Pay.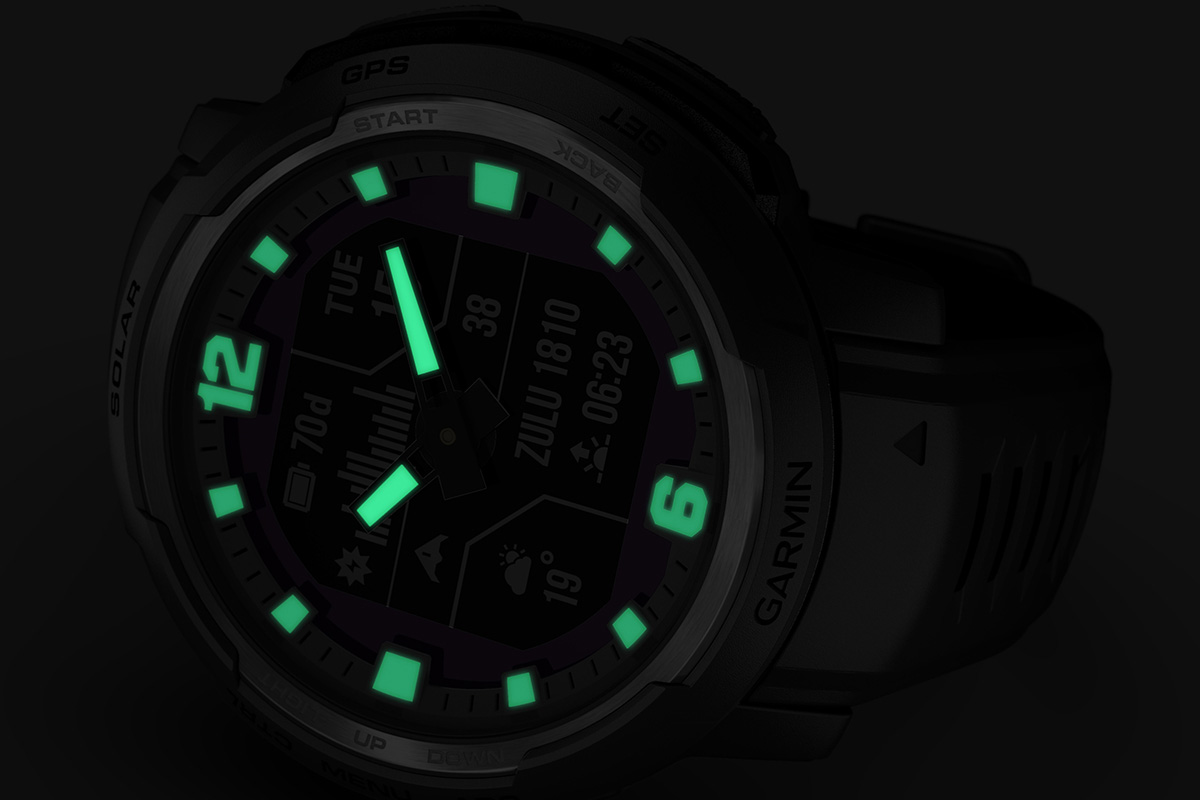 I haven't gotten my hands on the Instinct Crossover yet, but previous Instinct watches have been remarkably comfortable. Not only do I consider the case shape and silicone strap the most comfortable option in Garmin's lineup, but it's also one of the most comfortable watches I've worn. If that's any indicator (and the Instinct Crossover's case and strap look similar if not identical to previous models), it will disappear on your wrist.
All this raises the question: Is it worth buying or upgrading to the Instinct Crossover Solar Tactical Edition? If you don't have a GPS watch, this one is a solid choice. Getting more for the money is going to be difficult. I always recommend opting for the solar versions of Garmin's watches and the tactical versions make a lot of sense for life in the outdoors.
The hard part is deciding whether or not to upgrade from an Instinct or Instinct 2. The analog hands are neat, but the biggest advantage of the Instinct Crossover is its battery life. The more time you spend away from civilization, the more it makes sense to spend some money on a GPS watch that can go the distance.
GOOD GEAR – For All of You Night Riders Out There, Try the BRCC Murdered Out Coffee Roast
---
Garmin Instinct Crossover Solar Tactical Edition Specs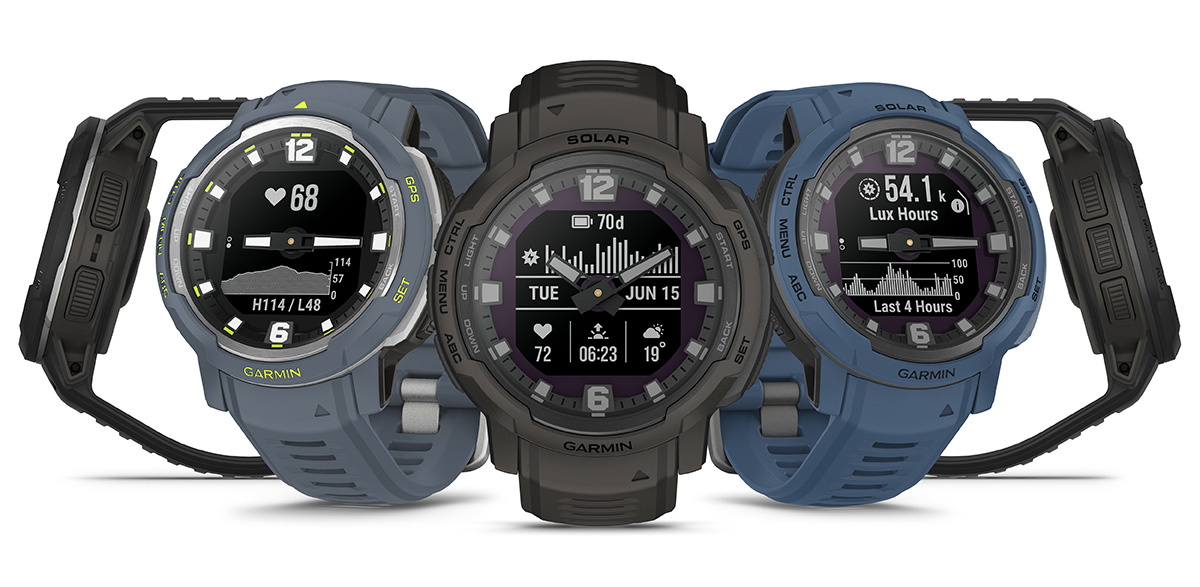 Price: starting at $499.99
Battery life: up to 70 days in smartwatch mode with solar charging
Lume: Super-LumiNova analog face; backlit digital face
Analog motion: RevoDrive
Thermal and shock rating: MIL-STD-810
Water resistance: 10 ATM
MSRP: $499.99
Features:
Multi-GNSS navigation support
Navigate with a compass, TracBack routes, or known reference points
Solar charging
Night-vision compatible
Kill switch, dual-format GPS, and stealth mode
Syncs with Garmin Connect and Garmin IQ apps
Includes health and training functions
---
READ NEXT – The Free Range American 2022 Holiday Gear Guide