To the uninitiated, ice fishing can seem like a masochistic endeavor: Drag a sled full of gear out onto a frozen windswept lake in frostbite temps, gouge a hole through ice that's up to 2 feet thick, drop a line in the water, and sit on a bucket or in a small shelter and freeze your ass off while waiting for something to bite. And drink beer. Often, lots of beer.
Any hard-water angler will tell a far different story though. (Except for the beer part. That's real.) The camaraderie, time outdoors, and siren song of hooking a potential giant fish far outweigh the pain of the cold. If you want to learn how to ice fish, here's a little history and some tips on gear to get you started.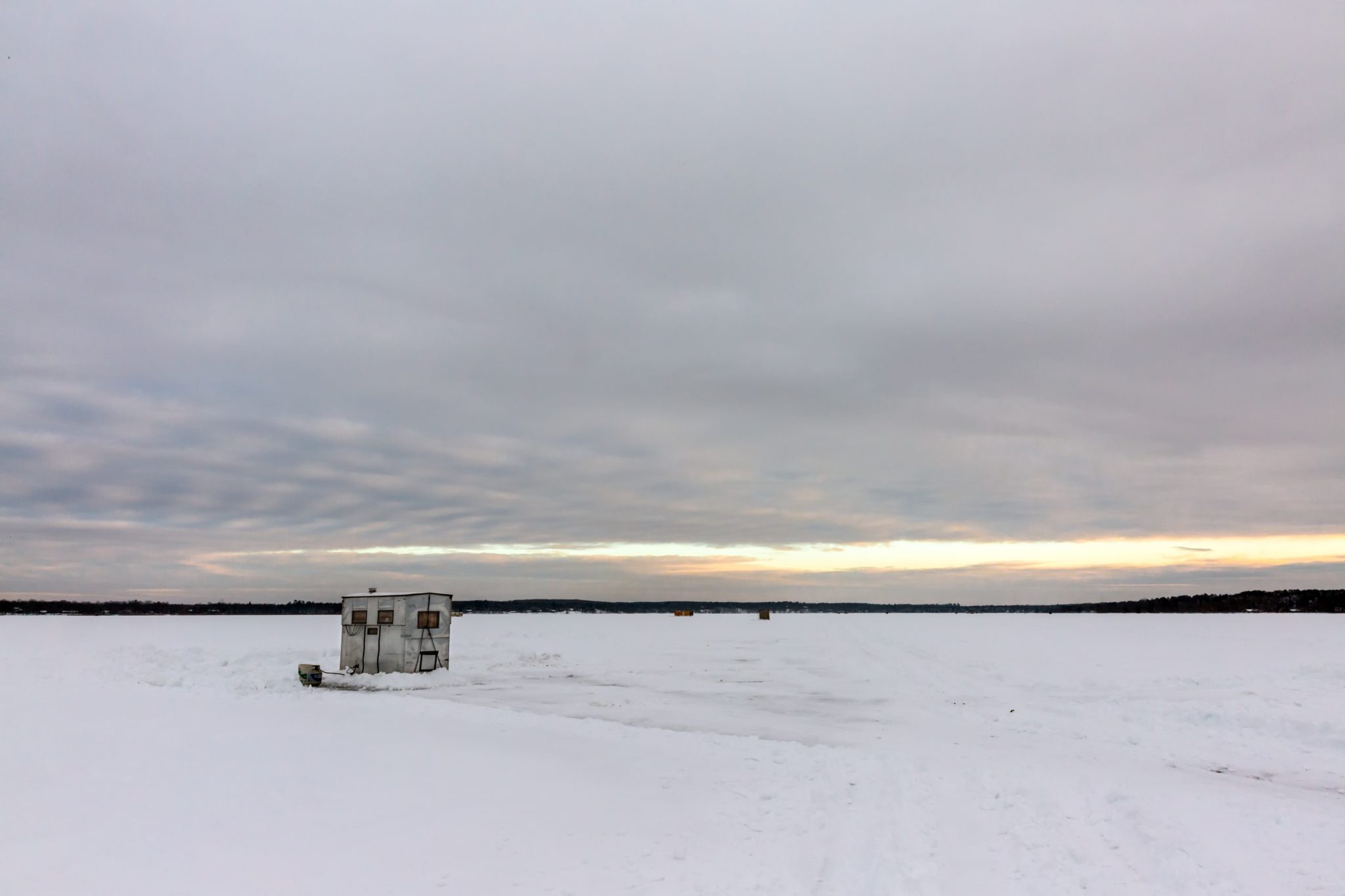 Evidence tells us that ice fishing dates back more than 2,000 years to native populations in North America. During frigid long winters it was discovered — out of necessity — that by breaking ice on frozen lakes, a bounty of fish could be brought to basket.
The earliest hard-water fishermen used spears to kill fish that swam under their holes. Eventually, people carved bait imitations from wood or bone to attract fish into range. Then they fashioned rudimentary hooks to attach to the lures. There is also evidence that a small hut was constructed over the hole to block fish from seeing the angler. Of course, there's the very practical benefit of being somewhat protected from the elements as well. "Dark house" fishing is the genesis of the portable huts and shanties that dot frozen lakes today, with some anglers within still dropping multi-tined spears on cruising pike.
Gear choice: Keep it simple
Understanding this basic history helps us appreciate the function of today's ice fishing gear. Sure, you can absolutely set up and hunt fish with a spear, but 99.9% of ice fishermen use tip-ups with live bait and/or an ultralight jigging rod. But however you do it, you need a hole in the ice first. Hand- or gas-powered augers do this best. A steel breaker bar will, too. Just eat your Wheaties before you go that route.
Tip-ups and jigging rods
Tip-ups let you set a baited line that will release a spring-tensioned flag when a fish bites, like an old-school mousetrap. The flag "tips up" and alerts the angler that a fish is on the line. Anglers can have multiple tip-ups over multiple holes at the same time. Each tip-up is dropped at a different depth or near different submerged structures, like rocks or old trees where fish tend to hold. A jigging rod, on the other hand, keeps you at one hole, where you slowly jig a lure at whatever depth you've located fish.
Get a sled
One other piece of gear that's worth its weight in gold is a plastic sled for carrying all this stuff. You can stow extra warm, dry clothing, snacks, hydration, a camp chair, and your pop-up tent, if you decide to buy one. Your back and shoulders will thank you.
Beyond the basic tip-ups, jigging rods, warm clothes, and a chair to sit on, the gear rabbit hole opens wide. But you do not need all the doodads of pop-up shacks and underwater electronics to catch fish. Keep it simple. The more manageable your kit, the faster you will get good at using it.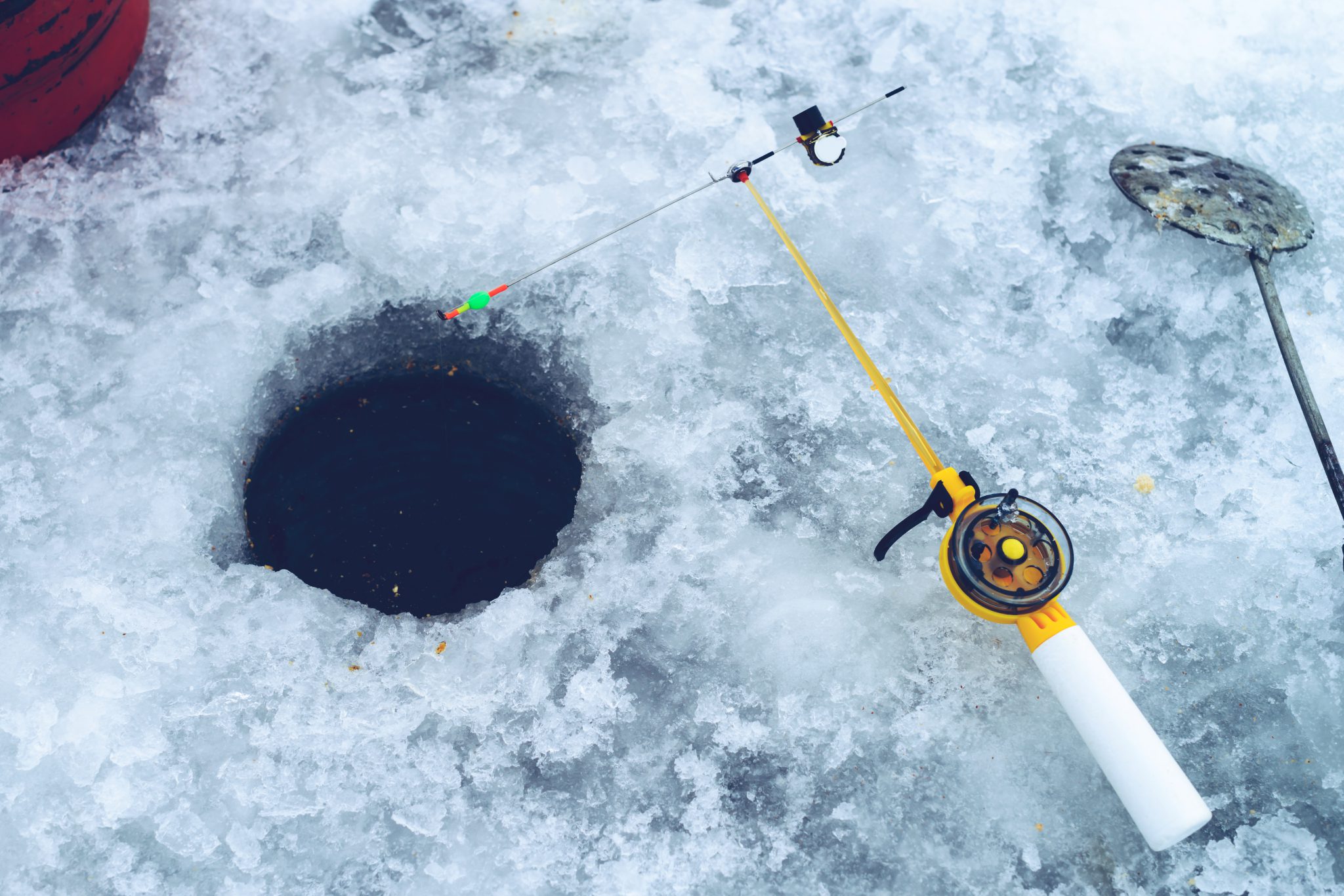 Bait and jigs
Conventional wisdom says that live bait is more productive than artificial lures. Generally, live bait on a tip-up is best suited for fishing at various depths where fish are cruising. Fishing bait around structure, like submerged trees, can lead to the bait swimming into the structure and tangling the line. 
Artificial lures on a jigging rod are effective around structure since you are directly controlling how they are fished. There are exceptions, of course. Both methods can be effective regardless of the water that's under your feet. Trial and error is a great teacher. Lots of guys who are running an auger and multiple tip-ups will bait the tip-ups and jig the hot hole with artificials.
Ice safety
The first time out on the ice should be intimidating. Hell, every walk out should have you on your toes. It's better to have a healthy respect for ice than to barrel out and put yourself or others in danger. If you're not thinking WTF? a little, you're not paying attention. 
So, for starters, always fish with a partner. Going alone will leave you without immediate help should you need it. Next, understand the general rules of safe ice thickness. You want a minimum of 4 inches to walk out with a couple of people, 10 inches for a snowmobile, and 12 to 15 inches at least for vehicles.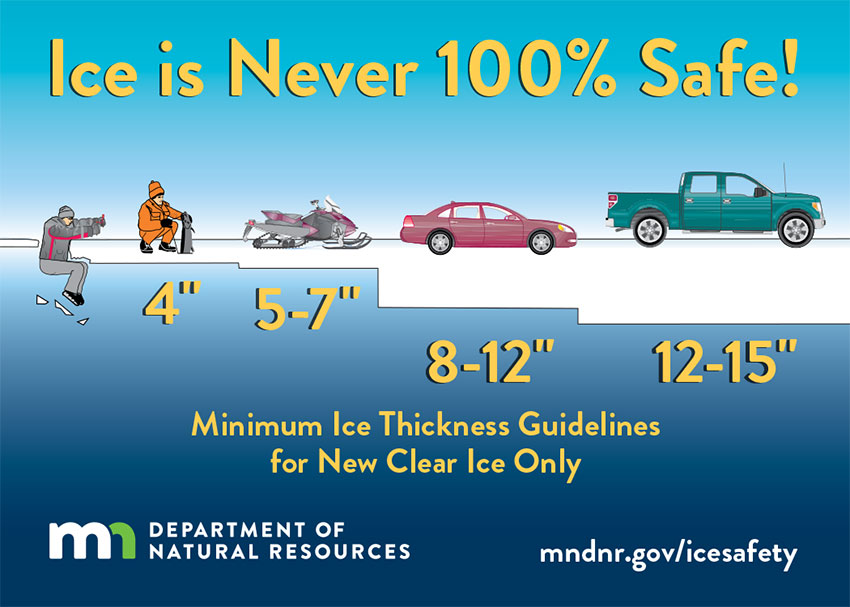 Dress for changing conditions
Dressing for the cold is obviously important. But conditions change so you need layers. First off, insulated, waterproof boots are a must. You are standing on ice for hours and your feet will feel it. Make sure you have extra warm, dry clothes, gloves, and pocket hand-warmers in your sled. If you happen to get wet somehow, you'll want those options. 
Layering is key. When you are dragging your sled out to your spot, and then drilling your holes, you're going to sweat. Inside a dark house or pop-up can get warm, too. Wear comfortable midlayers that allow you to remove heavier, outer layers while you work, then put them back on when you're done. Having the right clothes can make the difference between a good, long day of fishing, and a short day back at the truck with frozen clothes over the defrost vents.
Recommended gear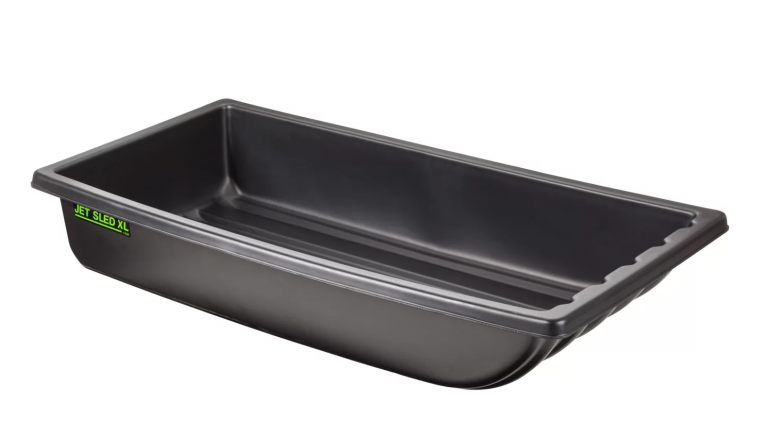 Jet Sled $32 to $100
A necessary piece of ice fishing gear whether you're on foot or snowmobile. Different sizes are available. A durable plastic body, sloped front end, and braided nylon leash makes it easy to pull over snow and lets you carry all your gear in one simple unit.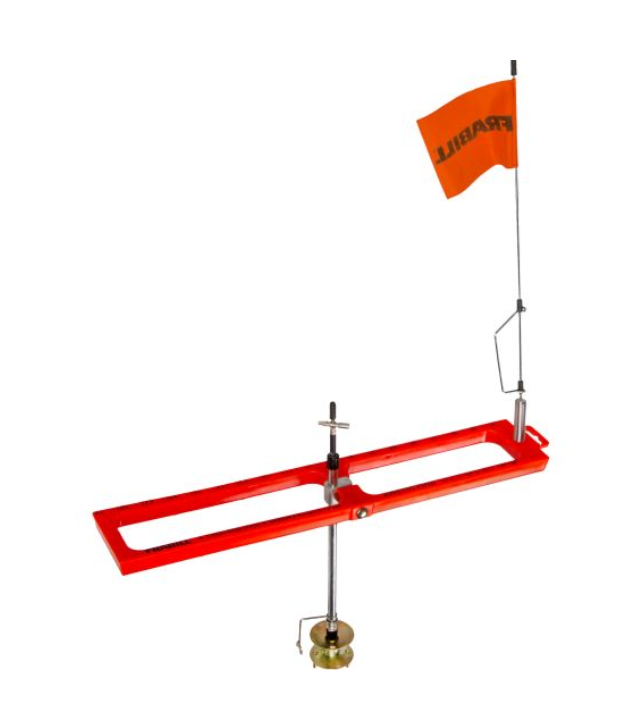 Frabill tip-up $15
There are easily a dozen types of tip-ups on the market. Starting with a reliable basic setup is a great way to get on the ice and start catching fish without spending an arm and a leg on too many bells and whistles.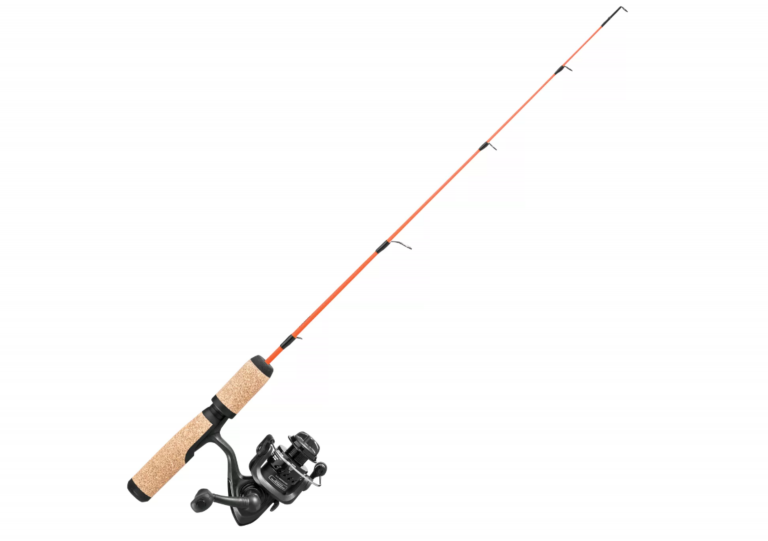 As you can imagine, jigging rods come in endless options as well. A durable, fiberglass rod with good components that won't give out on you when it's bone-chilling cold and you have a good fish on the line is a must. Affordable and reliable.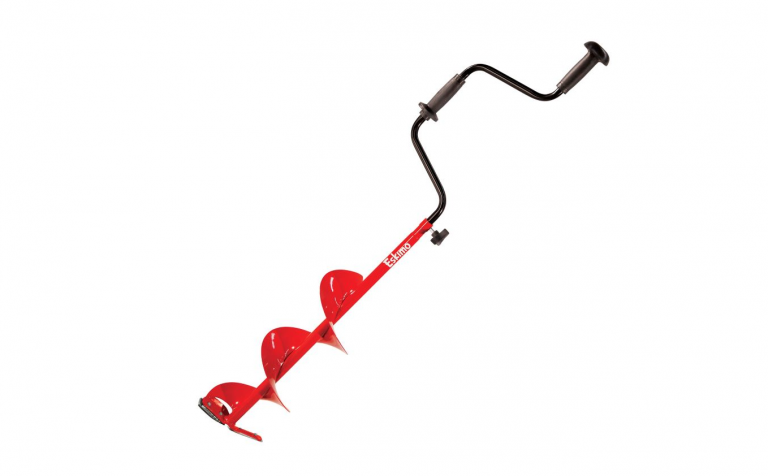 You can certainly pony up for a gas-powered auger, and it will make your life easier on the ice. But you won't likely be drilling through 6 feet of ice, so doing it by hand shouldn't take forever. Hand augers, like this Eskimo, are also far lighter in weight, and you don't need to carry fuel. You'll also feel tough — and warm — after knocking out a few holes.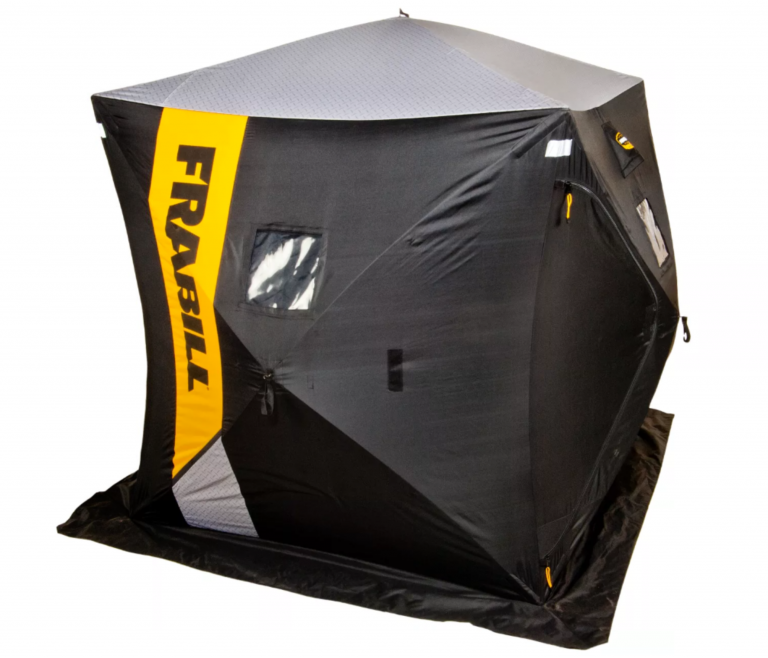 Frabill ice shelter $150 to $190
Depending on how often you plan to fish, and in what conditions, an ice shelter is either a small luxury or an absolute necessity. There are plenty of options on size, construction, and features available, but keep in mind its basic purpose: to simply keep the weather off of you and your fishing partner. This job from Frabill is a good basic pop-up. They work just like a turkey or ground blind.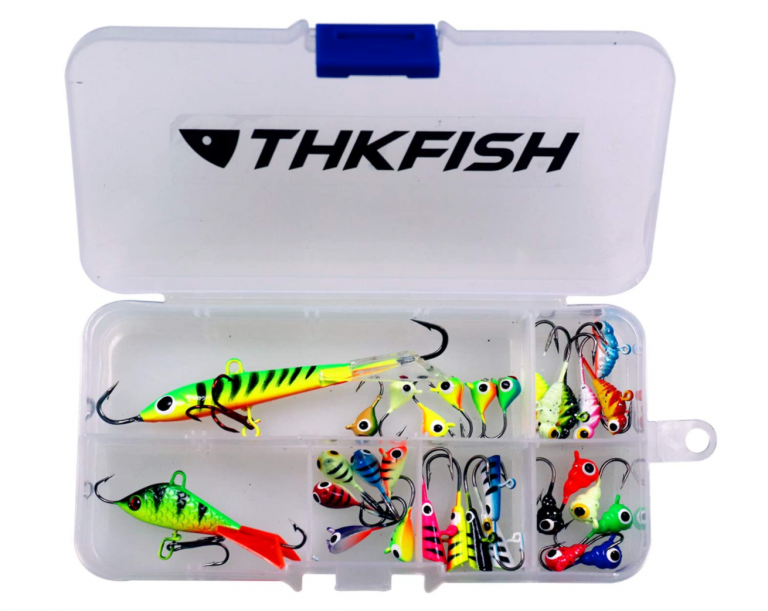 Depending on what body of water you're fishing, you may have a bunch of species available: panfish, perch, bass, walleye, trout, pike. If you're going to drop jigs, and you know there are small and big fish lurking, it's good to have an assortment that works on a range of fish. This kit will cover all your bases until you get your home ice dialed.
Read Next: 5 Winter Survival Tips You Need to Know, According to the Boy Scouts