The American Fly Fishing Trade Association's International Fly Tackle Dealer Show, or IFTD, is officially underway for the first time since 2019. With the show comes a host of new products being unveiled to the fly fishing public this week. We've got it all covered, from fly fishing packs, apparel, and can't miss accessories to the latest rods and reels.
Just as fly fishing rods and reels are historically represented by a few dominant players, the same can be said for waders and wading boots. Meanwhile, the packs, apparel, and accessories product categories provide a space and a legit chance for young, talented, and innovative brands to make a really big impression.
There was a pretty solid lineup of new products in the apparel and fly fishing packs categories this year. Let's take a look at some of the standouts, including a couple of best-in-category winners.
---
Duck Camp Deck Jacket and Bibs
$249 each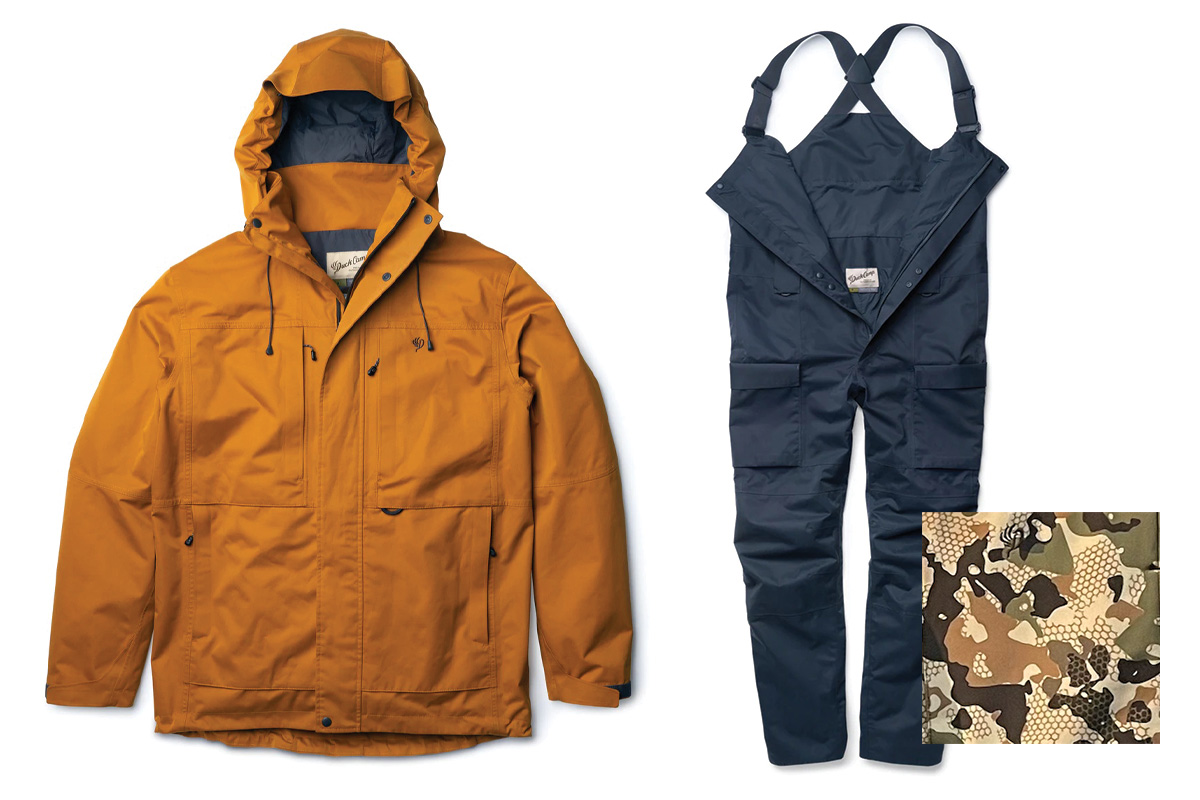 Duck Camp has introduced a sweet foul weather outerwear combo with their Deck Jacket and Bibs — designed for inshore, offshore, and all-season freshwater anglers. Bonus: they'll be releasing them in camo pattern soon (inset).
Both pieces are constructed of 150-denier 100% polyester with PU membrane and DWR finish. The brushed fabric provides a soft, relaxed feel that isn't stiff and doesn't sound like a paper bag when you move.
The jacket has a fully adjustable hood, hem, and cuffs, a longer fit for more protection from the elements, and large, easy-access chest and hand pockets. The bib has hand warmer and cargo pockets, adjustable suspenders and stretch webbing for a comfortable fit, and zippered legs that will fit over your boots.
---
Fishpond Canyon Creek Chest Pack
$79.95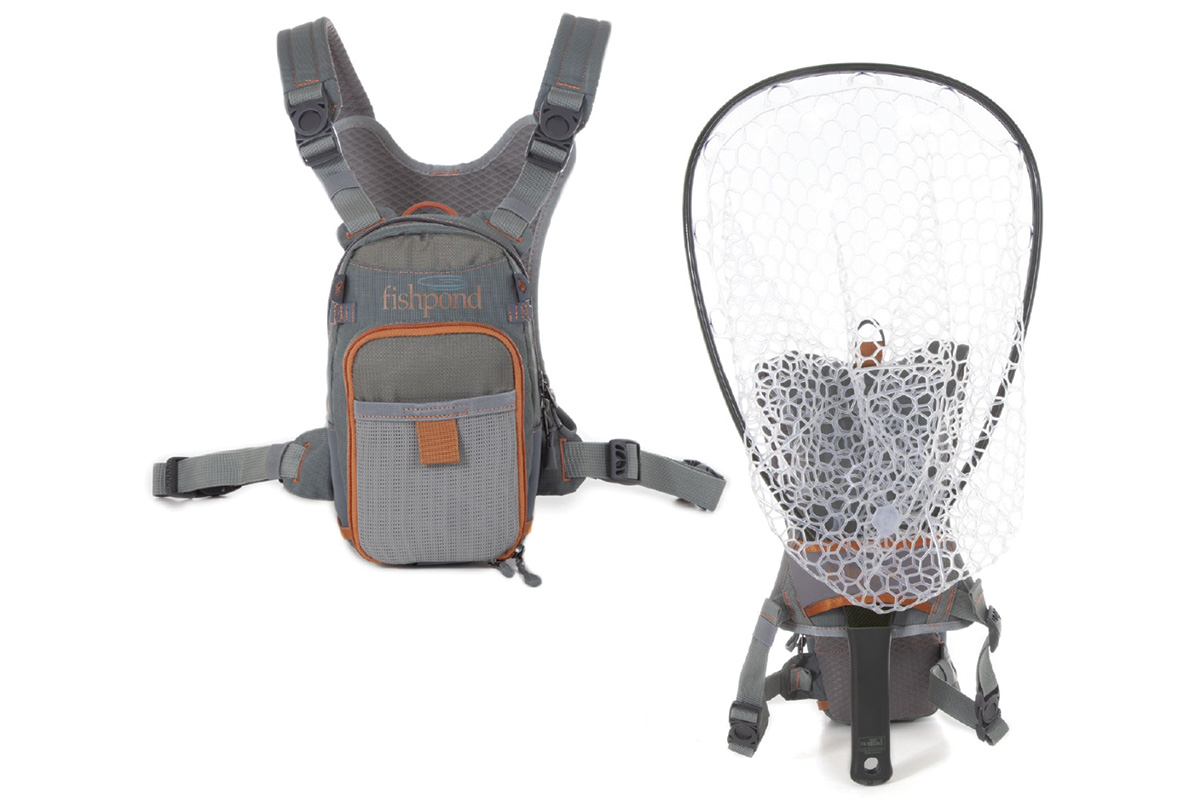 Fishpond has been a leader in fly fishing packs and gear for decades, and the Canyon Creek chest pack is a perfect example of why they are. Designed to be a grab-and-go pack for the essentials, the Canyon Creek has seven tool attachment points, a drop-down fly bench, and an integrated net slot on the back.
It may have a low-profile design, but you'll be able to stow up to four fly boxes and still have room for accessories. The Canyon Creek also integrates directly with Fishpond's Switchback Wading Systems, Ridgeline backpack.
---
Fishe Adventure Series Women's Travel Bags
$25 – $99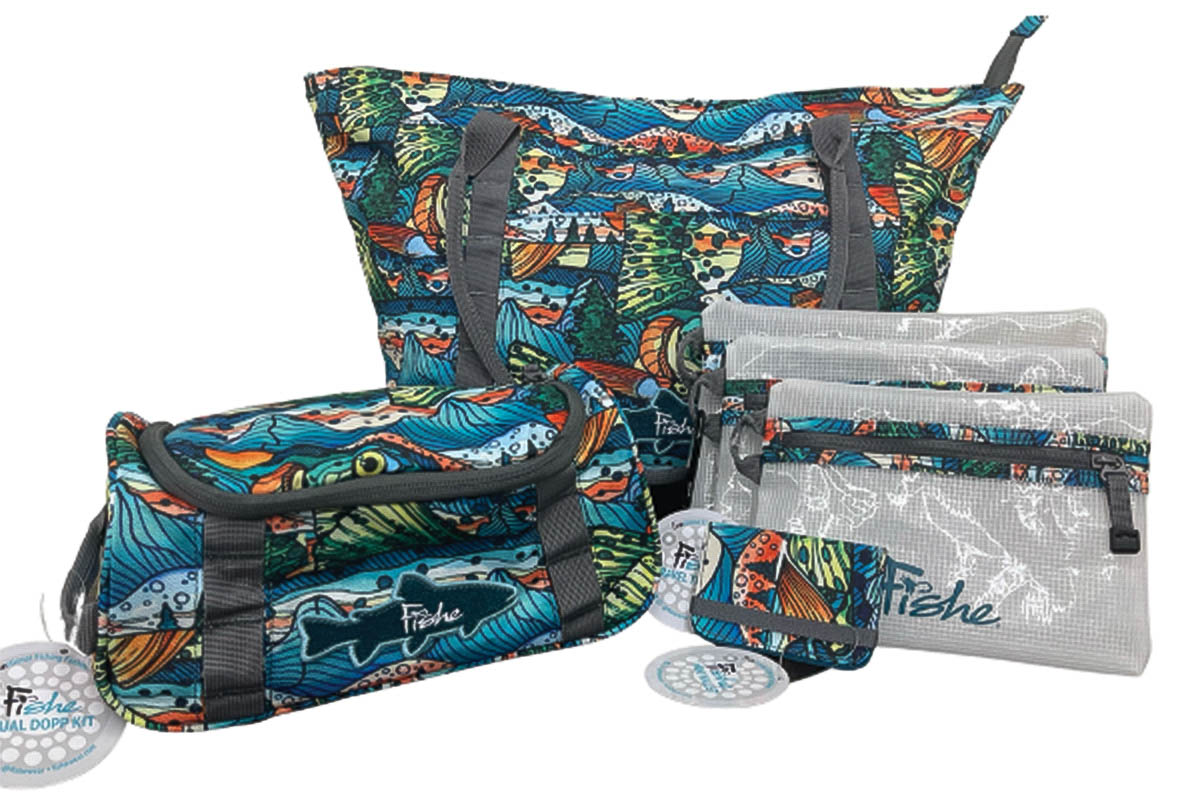 Fishe is a very cool brand that creates functional fishing fashion for women. In addition to apparel, they've introduced the new Adventure Series. It's a collection of three well-designed travel bags and a mini wallet that are running in the opposite direction from drab or boring solid colors.
The Mt. Cutty Daily Tote features a padded laptop pocket for electronics and an interior daisy chain system to organize cords and fly fishing tools. With 20 liters of space, the tote will fit the layers you're going to need to put on and the ones you'll need to shed.
The Dopp Kit will fit all of your go-to travel essentials but can also function as a carrying unit for reels and fishing gear! With 4.5 liters of space, this kit can hold up to four reels comfortably. Finally, the Travel Trio Pack has three water-resistant, easy-to-clean, PEVA-coated mesh pouches in different sizes to ensure things that need to be dry stay dry.
---
Howler Brothers Gaucho Snapshirt
$99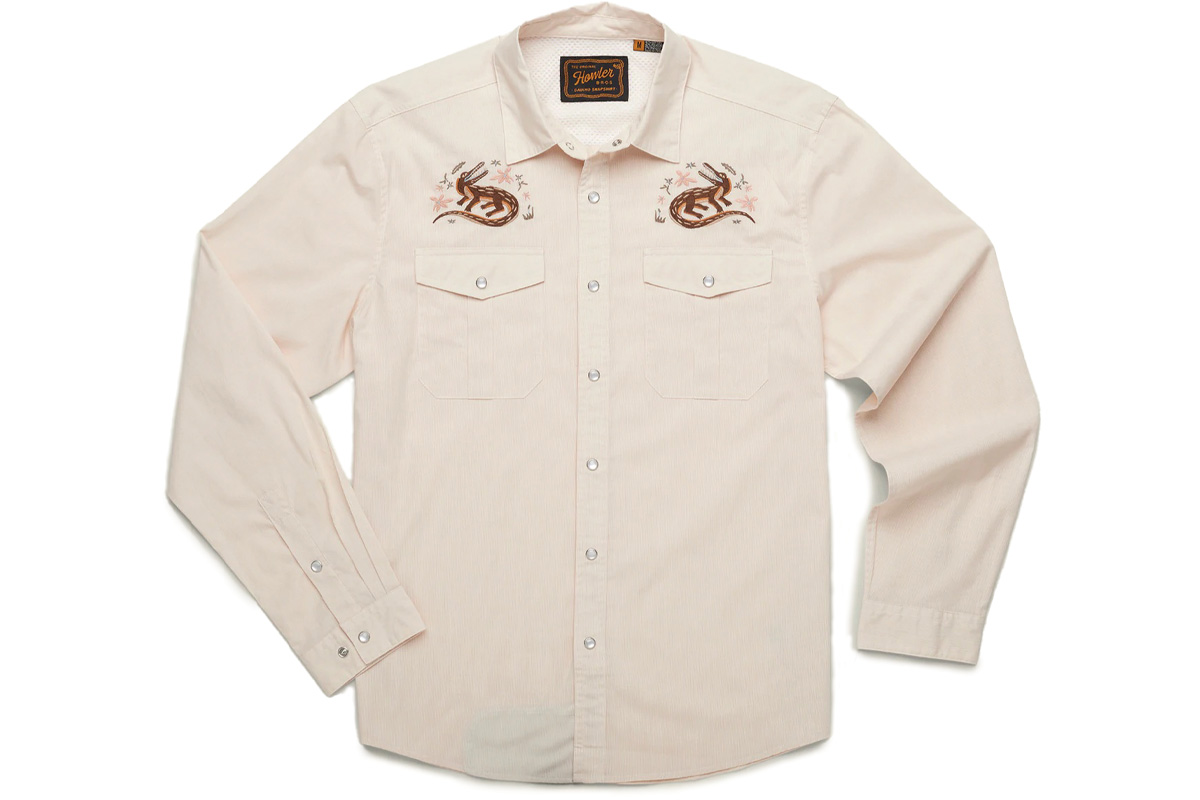 Howler Brothers have single-handedly brought the vintage Western shirts of the past back into the mainstream with embellishments like pleated chest pockets, pearl snaps, and a killer, constantly evolving collection of custom embroidery (like the lazy gators seen here). But the Gaucho Snapshirt isn't just cool for being Western — they are also cool by design.
In order to make the shirts technical and comfortable for everyday wear, Howler landed on a lightweight, quick-drying cotton-poly blend and added a mesh-lined vented back yoke to keep a little air on your back when the temps are soaring.
---
RepYourWater Brown Snacks Merino Blend Sun Hoody
$68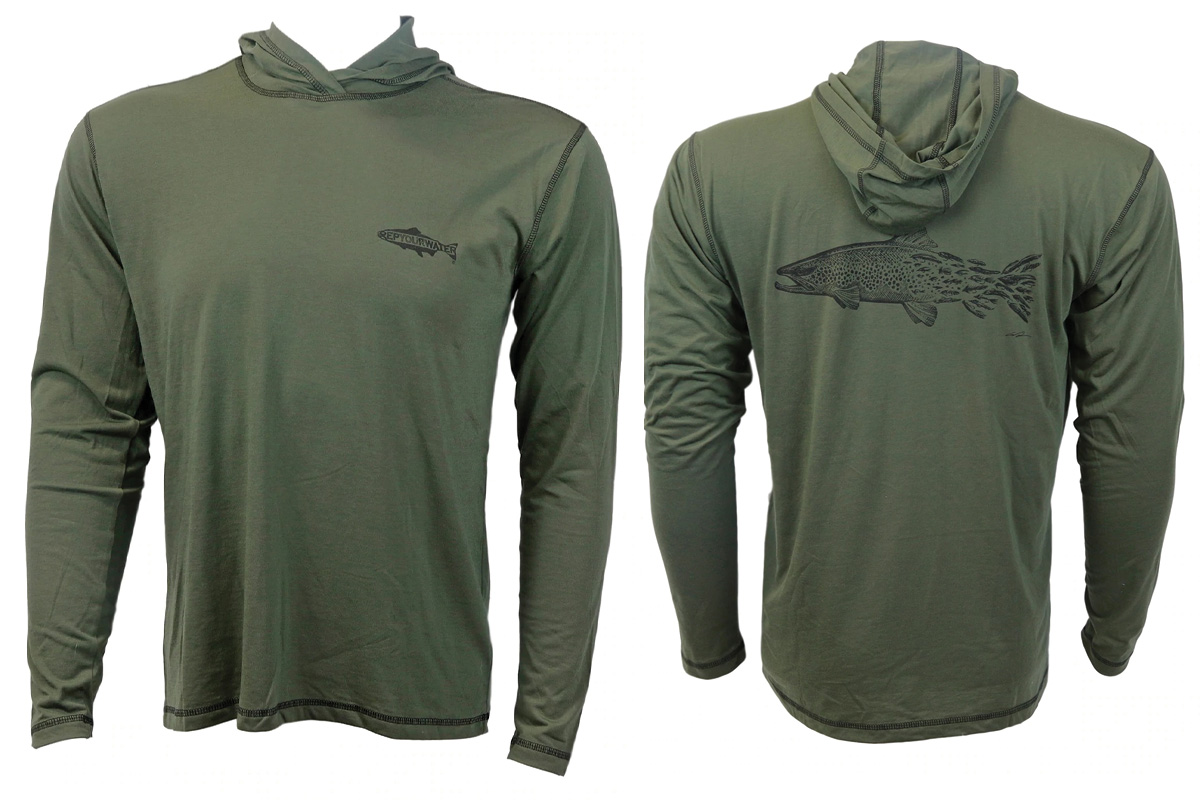 The big downside to most technical sun shirts is that it doesn't take too many days chasing fish in the sun for them to get that perpetual stank that even a good wash can't fix.
RepYourWater said "no more" and designed a merino wool/polyester blend sun hoodie that is perfect for a single layer of sun protection or as the ideal base layer on cooler days — but is also naturally odor-reducing and anti-microbial.
The Brown Snacks sports an oversized hood that fits comfortably over a hat has UPF 30+ protection, wicks moisture, and dries quickly — and it took home the Best Men's General Apparel award at IFTD this year.
---
Simms Flyweight Access Wading Boots
$249.95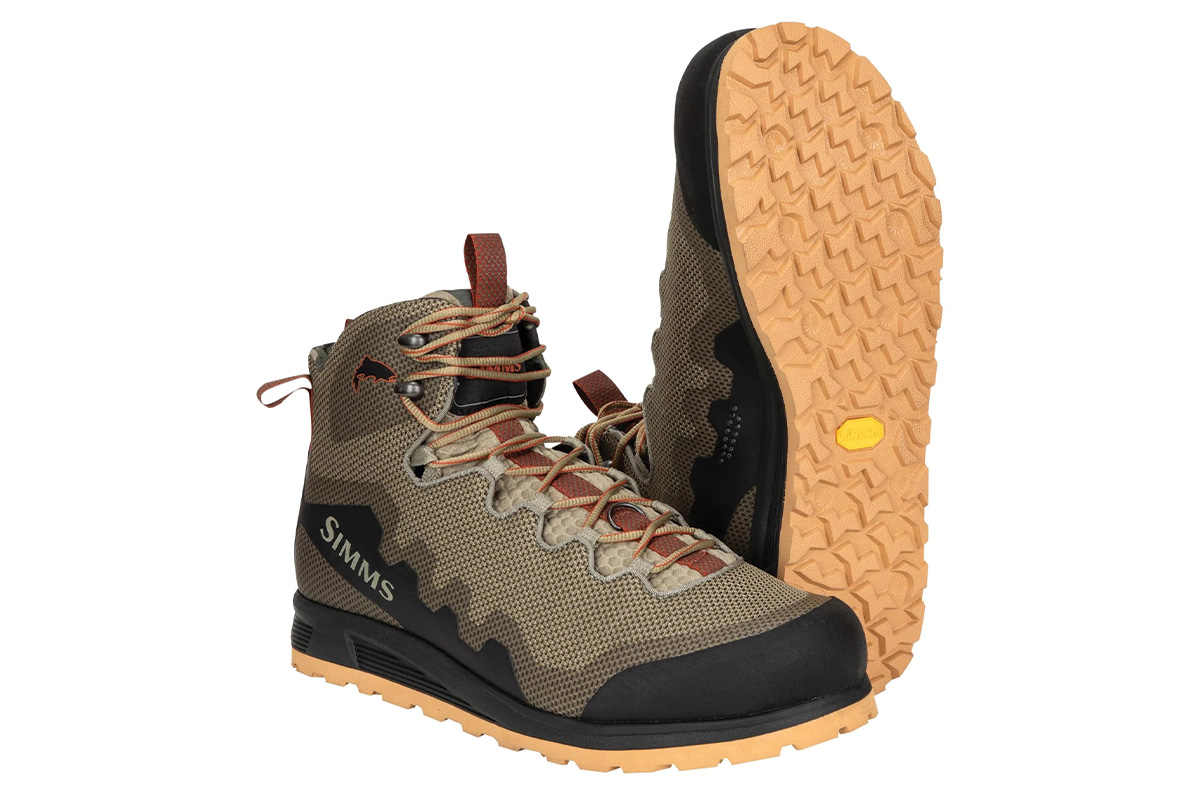 Another best-in-category award winner at this year's show, Simms' Flyweight Men's Wading Boots are light (as the name would suggest) and have great traction, stability, and comfort. The exclusive-to-Simms Vibram Idrogrip Flex outsole is engineered with a softer, grippier rubber compound than the sole materials in other Simms wading boots.
Moving up from the soles, the boots have lightweight, non-absorbent mesh uppers, welded synthetic overlays in high-abrasion areas for added durability, supportive and comfortable webbing lacing hardware across the foot, full closed-cell neoprene foam lining, and pull-on loops for easy on and off.
---
Yakoda Supply Sidekick Chest Pack
$59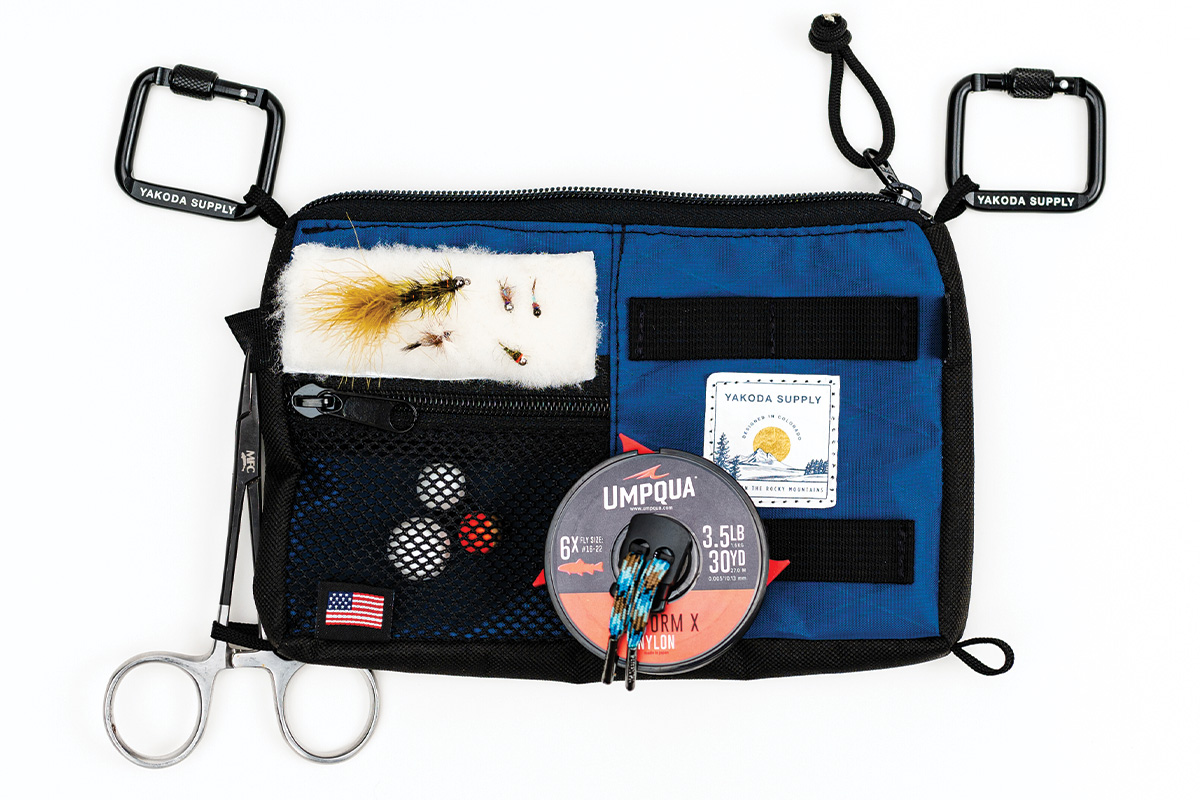 Going even further with the minimalist fly fishing packs theme, the Yakoda Supply Sidekick is a perfect essentials-only fly fishing kit for those who like to stop for a stream at the drop of a hat.
The Sidekick can easily be connected to the straps on your waders and worn on the chest using the carabiners that are included. If wet wading is the move, the kit can be attached to your belt through the webbing loops on the back. It can also be attached to any pack if you're hiking in a remote location and want your flies and other accessories readily accessible.
The Sidekick is built with X-Pac material, originally designed as sailcloth, so it's essentially indestructible. Just to clarify, the tippet, forceps, flies, and indicators in the image are not included.
---
READ NEXT – Fish Per Mile: 9 of the Most Target-Rich Trout Rivers in the Lower 48