Humans have been looking for ways to improve weapon technology since our Stone Age ancestors lobbed their first rocks. That drive continues today as the gun industry relentlessly seeks innovative ways to improve shooting performance. PROOF Research is one company that uses science, modern materials, and cutting-edge technology to push the envelope of firearm capabilities further than our ancient forebears could have imagined.
Over the past decade, PROOF has steadily gained respect as a precision barrel maker. Now their barrels are big features on a growing number of big-brand factory rifles, including models from Savage and Nosler.
It seems like all the cool kids are running PROOF Research barrels on their long-range hunting rifles these days, including BRCC founder and CEO Evan Hafer, who ran a PROOF Research barrel on the .338 Lapua Mag he carried on his epic Alaskan brown bear hunt.
If you're wondering what all the hype is about, you aren't alone. We decided to dive deep into the world of PROOF barrels to see what these space-age, high-tech barrels have to offer average Joe hunters and shooters.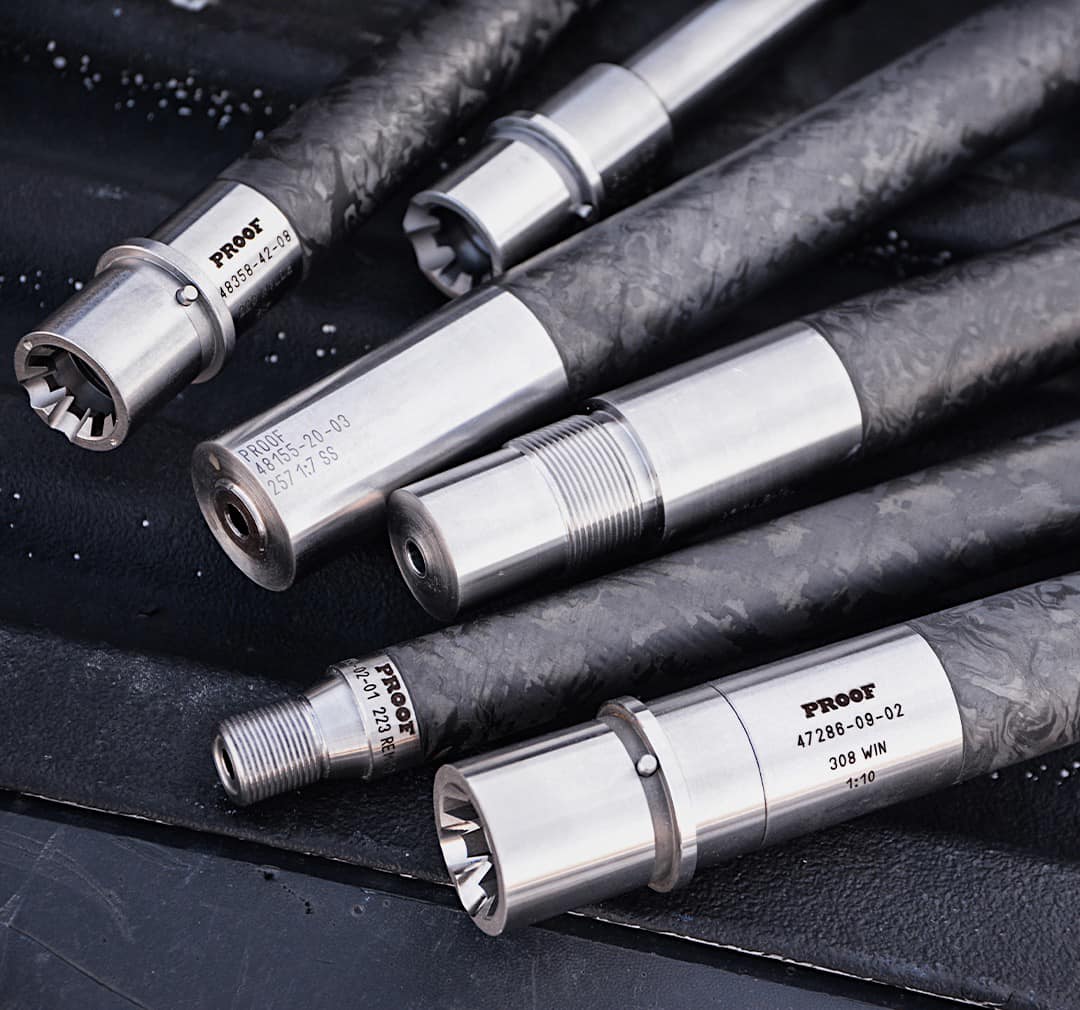 GOOD GEAR – Kick Start Your Workout With Brcc's Fit Fuel Blend
---
Why Carbon-Fiber-Composite Barrels?
Carbon-fiber-wrapped steel is likely the most significant advancement in barrel technology since the Bessemer process made it possible for Europe's growing armies to replace iron barrels with steel in the mid-1800s.
Carbon fiber is a lightweight polymer twice as stiff and five times stronger than steel. When wrapped around a thin steel gun barrel, carbon fiber reduces the overall weight without sacrificing the strength or accuracy of the barrel.
Although PROOF Research manufactures lightweight carbon fiber stocks and ready-to-shoot rifles, it's their barrels that have made waves in the firearms industry.
PROOF Research starts with fully stress-relieved 416R stainless-steel barrel blanks. The blanks are turned down to reduce the barrel profile. PROOF then wraps the reduced contour barrel with high-strength, aerospace-grade carbon fiber impregnated with a proprietary matrix resin.
The process produces barrels that weigh a fraction of traditional steel barrels of the same size and profile. A PROOF Research carbon-wrapped steel barrel weighs 64% less than comparable all-steel barrels.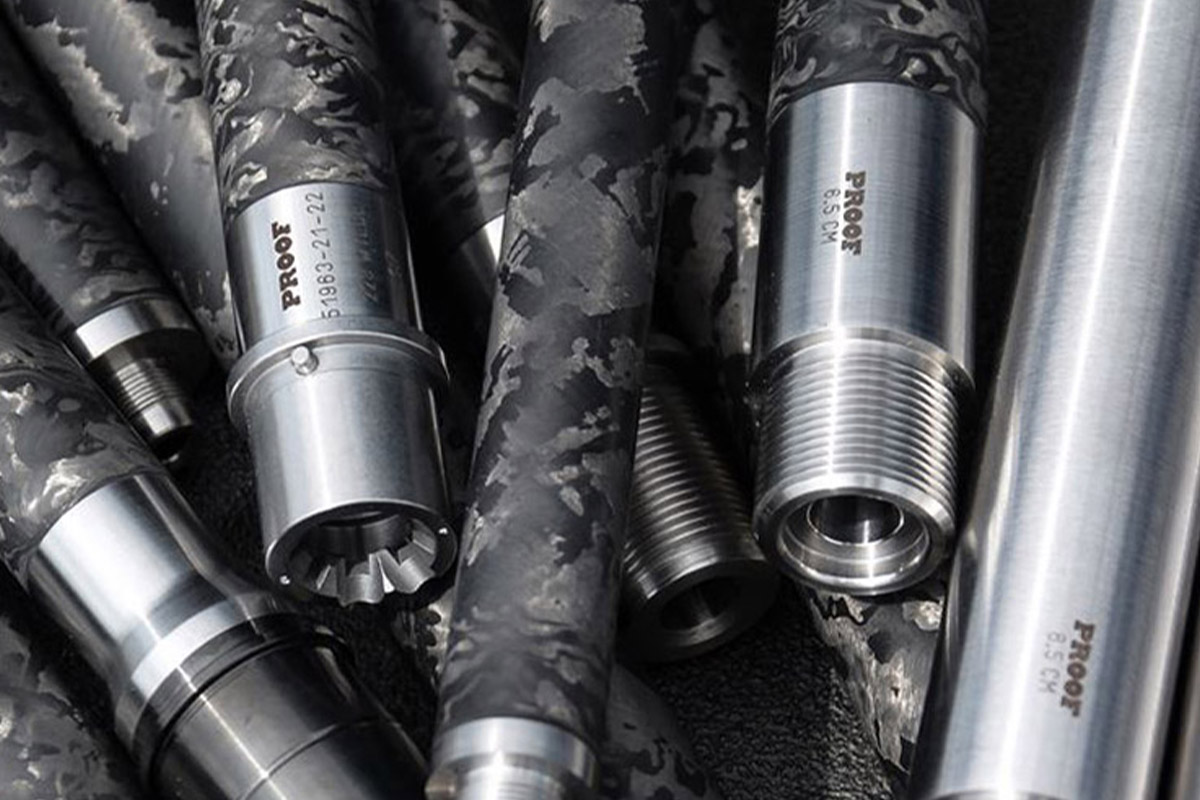 READ NEXT – The Turkey Shotgun: What You Want in a Dedicated Gobbler Getter
---
Beyond Lightweight Barrels
Weight reduction isn't the only perk to a carbon composite barrel. Carbon fiber wrapping also reduces harmonic vibration to improve shot-to-shot accuracy and helps disperse heat to keep the barrel cool during high-volume shooting. However, not all carbon-fiber-wrapped barrels are created equal.
"Our barrels are a little bit different because we don't just wrap carbon material on a barrel," Kelly Streiff, PROOF Research's sales and marketing vice president, explained to Free Range American. "Every one of our barrels has its own wrap pattern and is wrapped using specific angles to account for the materials heating up and constricting at different rates.
"Steel at one temperature wants to heat up and swell, but carbon fiber heats up at a different temperature and constricts. That means you have two materials with different thermal expansion properties, which, if not handled properly, can create an issue."
"You can take a lot of weight out of a barrel by putting carbon fiber on it, but if you're not putting the carbon fiber on in a way that adds rigidity back in the barrel, then you'll have some of the same issues you have with pencil-thin barrels — after a few shots, it starts slinging shots. We solved the thermal expansion issue by wrapping in a pattern that disperses heat linearly along the barrel."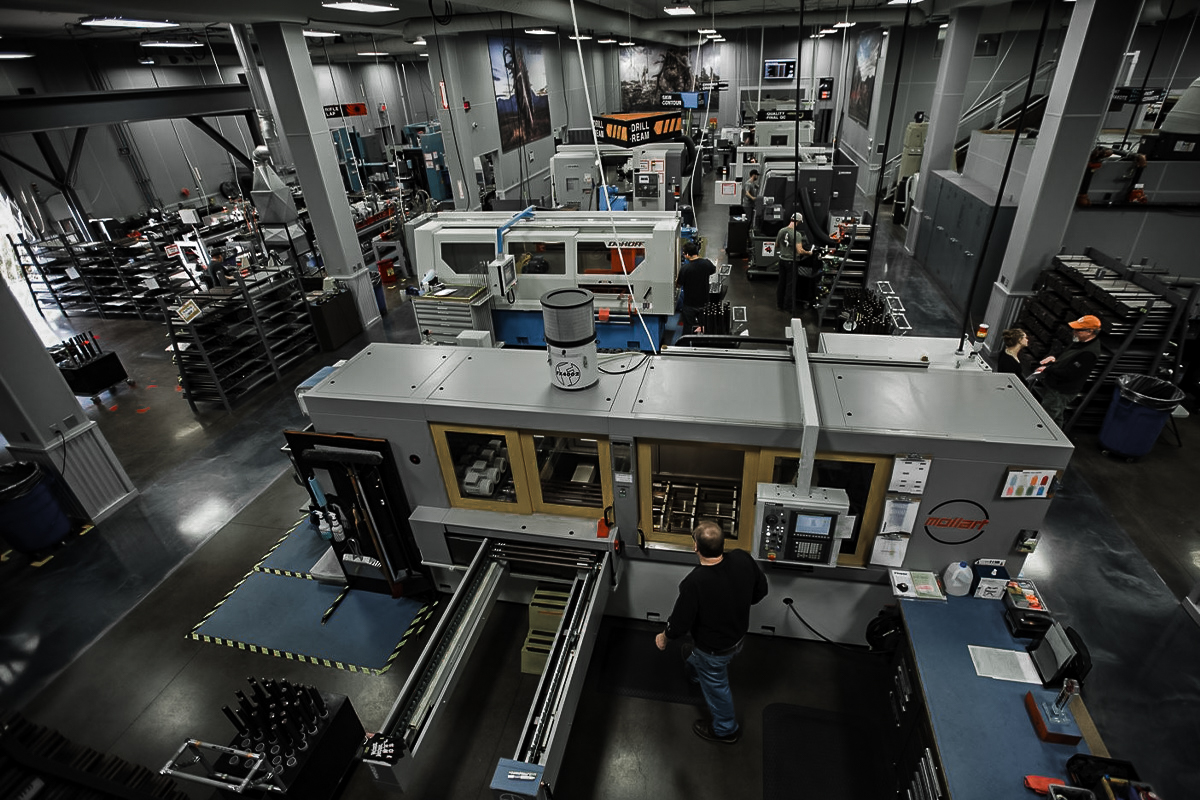 By using high-strength, aerospace-grade carbon fiber and a patented manufacturing process, PROOF Research was able to land a $12.7 million contract with the U.S. military to deliver advanced composite barrels and components for Next Generation weapon systems.
"We do stuff with 30mm barrels," Streiff said. "We're talking about Apache gunships that shoot 600 rounds a minute. We use a high-temperature composite, and you can basically run the temperature on this barrel to the point where the steel will fail before the carbon will."
GOOD GEAR – Celebrate Freedom With BRCC's Coffee or Die Roast
---
PROOF for the Average Shooter
Unfortunately, few shooters in the civilian world get the joy of burning through 600 rounds a minute. However, average Joe shooters can still benefit from the significant weight reduction. Swapping out traditional steel barrels for a PROOF Research carbon-fiber-wrapped rifle barrels can cut 2 pounds or more off your rig.
That weight reduction is good news for your back, arm, and leg muscles, especially if you have to hike through the backcountry with your rifle. However, a lighter rifle might not be easy on your shoulder.
Launching a bullet requires a substantial amount of violent energy. The rapidly expanding gasses that shove a projectile down the barrel also push the rifle backward into your shoulder, producing recoil.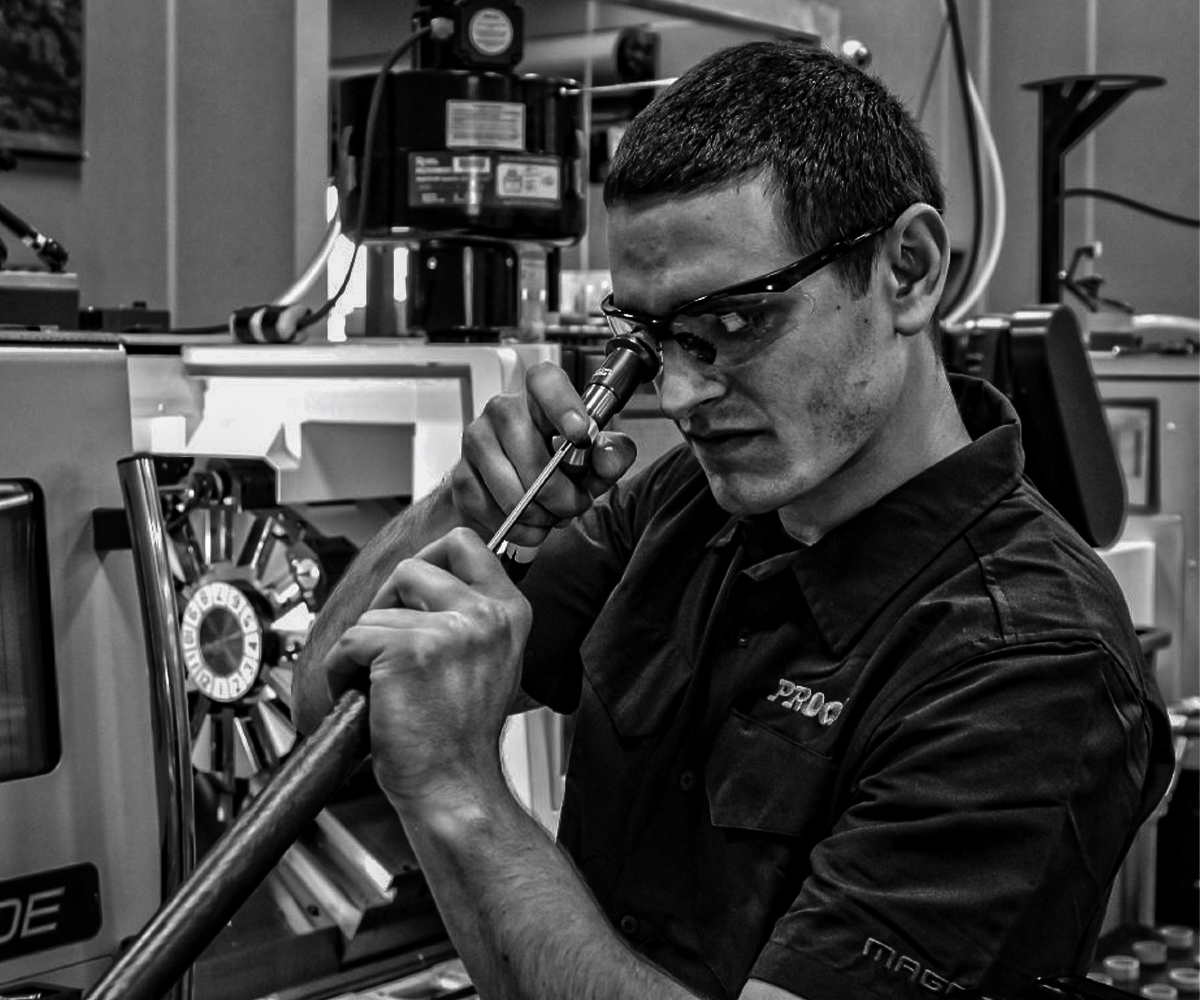 Various factors affect felt recoil, from the load you're shooting to how you hold the gun. The weight of the rifle also affects recoil. A lighter gun gets pushed backward faster than a heavier one. As a result, it can deliver a pretty hefty punch, especially if you're shooting a beefier magnum cartridge.
The rifle's weight absorbs some of the recoil energy before it impacts your shoulder. Therefore, cutting the weight of the gun can increase felt recoil.
However, the recoil produced by a rifle with a carbon-fiber-wrapped barrel isn't any rougher than what you would expect from any other lightweight gun.
Recoil shouldn't be an issue if you're running a rig chambered in a popular competitive cartridge, such as 6.5 Creedmoor. If you're hell-bent on using an ultra-lightweight rifle chambered for one of the big, harsh-recoiling magnums, there's still good news for your shoulder.
"As the industry has advanced, we have muzzle devices that can tame recoil on pretty much any caliber," Streiff said. "If you have the right muzzle device, you can mitigate a lot of that."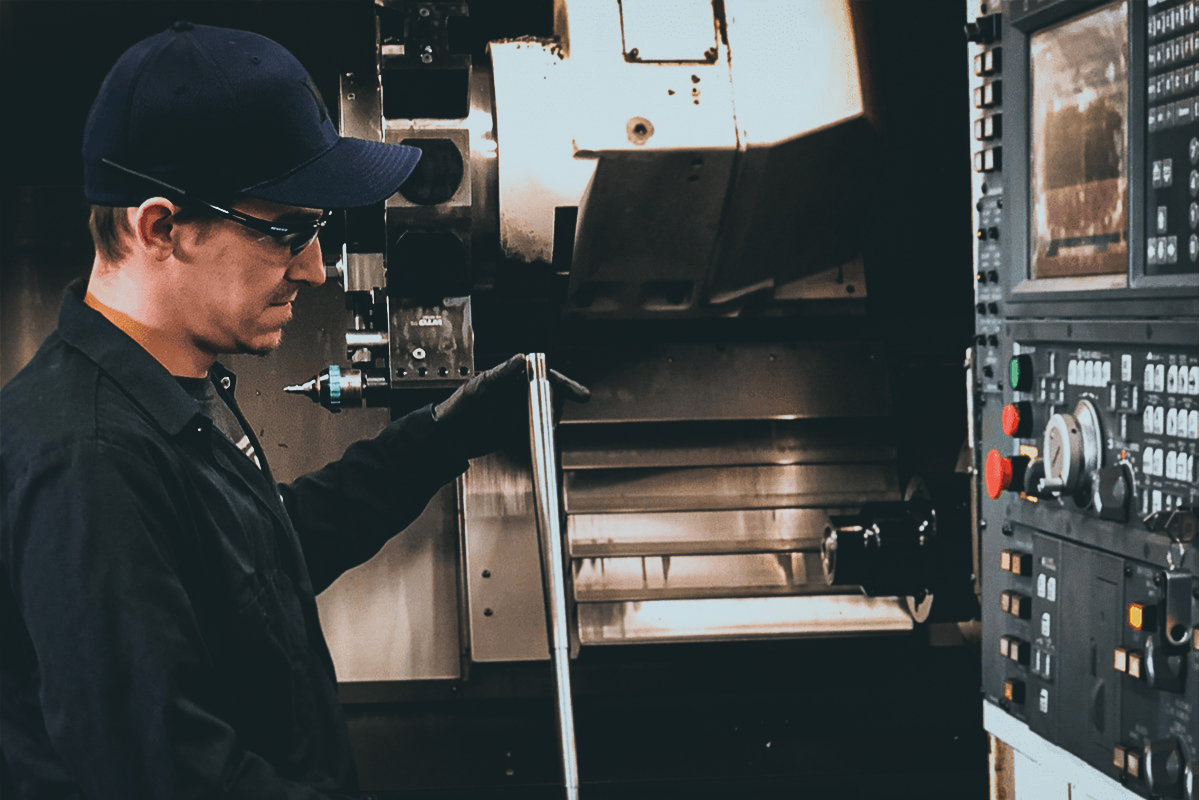 READ NEXT – Alaska Bear Hunt Part 6: Two Bears in Two Minutes
---
The PROOF About Rifle Weight and Stability
Recoil isn't the only issue with cutting pounds off your shooting platform.
"Weight gives you stability, and stability gives you consistent precision," PROOF team shooter and Nightforce Optics training manager Sean Murphy explained to Free Range American. "A lighter gun wants to move around a little bit more. A carbon barrel can give you a lot of weight savings if that's what you need, but you're going to have to work a little harder as a shooter to get the accuracy out of the gun."
Murphy is an accomplished shooter across multiple pistol, carbine, and long-range rifle disciplines. His achievements include earning Grand Master in USPSA Production, representing the U.S. in international F-Class competition, and recently winning first place in the 2022 Coleman's Creek Range Sniper Team Championship with his team member, Greg Hamilton.
Murphy got his first PROOF Research rifle in 2016, and has spent the past four years on the PROOF shooting team, so he is intimately familiar with the company's composite barrels.
"With the lightweight carbon barrels, I'm not giving up the precision accuracy," Murphy said. "If I have to carry the gun for a couple of miles throughout the day, the lighter weight is big savings. I can shoot better because I'm not as tired."
GOOD GEAR – Pay Homage to the CAF Blend With the CAF Skull T-shirt
---
Who is PROOF Research?
PROOF Research started as a joint venture between Jense Precision and Advanced Barrel Systems (ABS). The company has been shaking up the shooting industry for more than a decade with its precision machining and space-age materials.
More than 70 PROOF Research employees hammer it out daily in the company's 45,000-square-foot, state-of-the-art manufacturing facility located in Columbia Falls, Montana, just outside Glacier National Park, to roll out carbon fiber and steel composite barrels, stocks, and complete rifles.
The company also has an Advanced Composites Division in Dayton, Ohio, making high-temperature materials for the aerospace and defense industries. If you've ever wondered where parts for the F-35 Joint Strike Fighter and the B2 Stealth Bomber systems are born, now you know.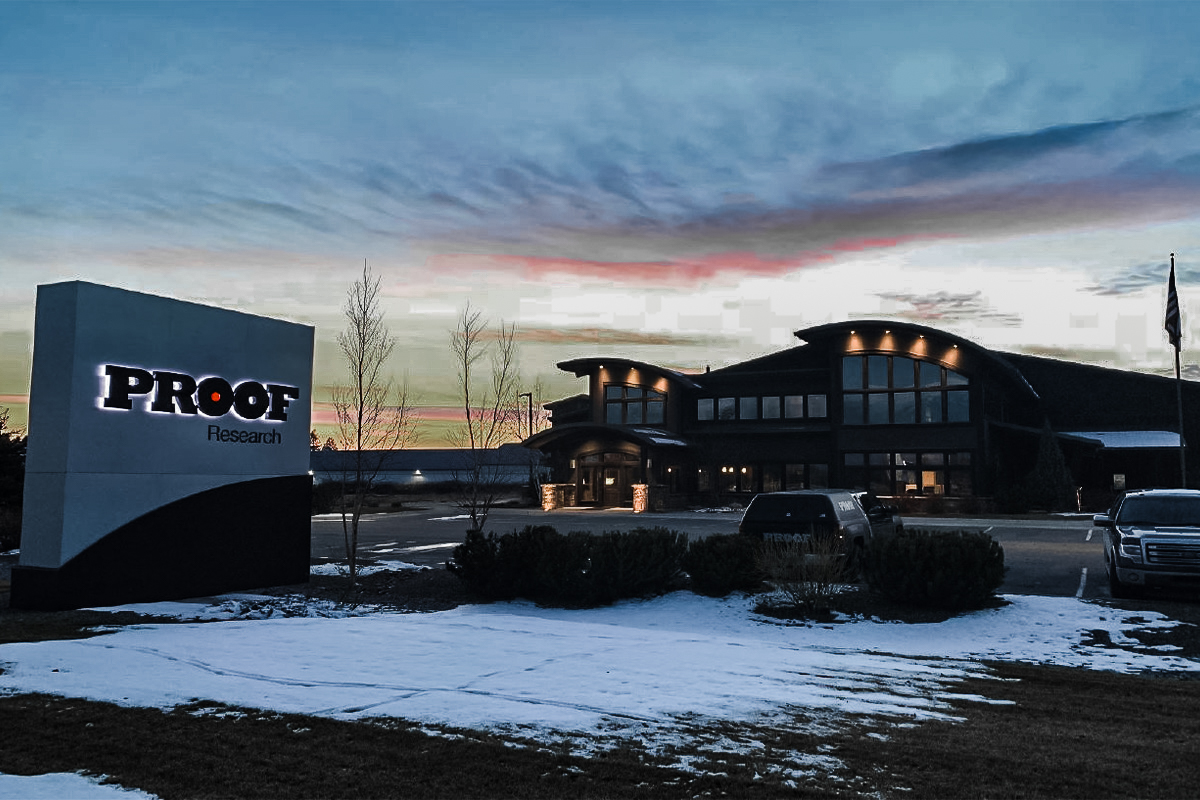 ---
Attention to Detail
PROOF Research has an AS9100 quality standard. The International Aerospace Quality Group established AS9100 as a global standard for aviation, space, and defense manufacturing processes.
"Basically, when you buy a PROOF barrel, everything has been quality-controlled at every step of the process," Streiff explained.
"We measure things to the smallest degree possible. When a barrel is finished, we can tell you exactly who rifled it, who lapped it, and who contoured it. We're to that level. We don't mess around."
READ NEXT – The Laugo Alien Pistol Is the Ferrari F1 of Handguns
---
Are PROOF Research Barrels Worth the Money?
A new carbon-fiber-wrapped PROOF Research barrel will set you back close to $1,000.
If you just look at the price tag, it's easy to see why the company has a reputation in some circles for being overpriced. However, when you consider PROOF's attention to detail, top-notch quality control measures, and high-tech facility, it should be no surprise that their barrels are pricey.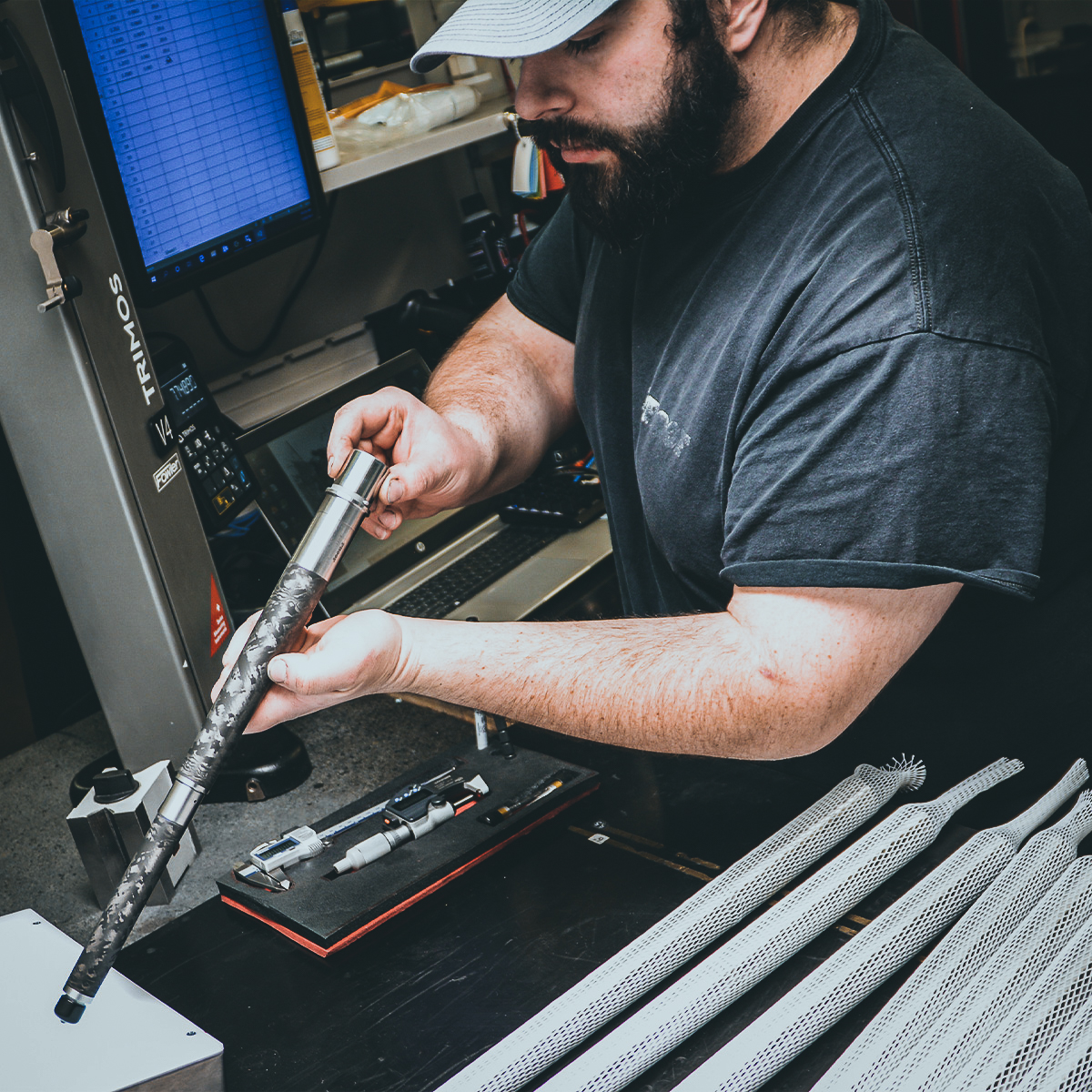 But for that many Benjamins, you could buy a whole factory-fresh hunting rifle and still have enough cash to top it with a decent optic. So the burning question is whether PROOF Research's luxury sports car barrels are worth that cold hard cash, particularly for run-of-the-mill, average hunters and shooters.
The average shooter probably won't see a huge benefit to running an expensive, high-tech composite barrel on their favorite hunting rifle. The weight savings can be nice, especially when hunting rough, remote terrain. However, heat dispersion isn't usually a major concern for hunters. Few opportunities in the field require stringing together more than a few shots.
In the accuracy department, carbon fiber gives a slight edge in high-volume shooting competitions, where targets may stretch beyond 800 yards. But that certainly doesn't describe typical big-game hunting scenarios.
The average hunter is usually satisfied as long as the rifle goes bang and can land a bullet in the boiler room of a whitetail or an elk at 150 yards.
But why settle for average?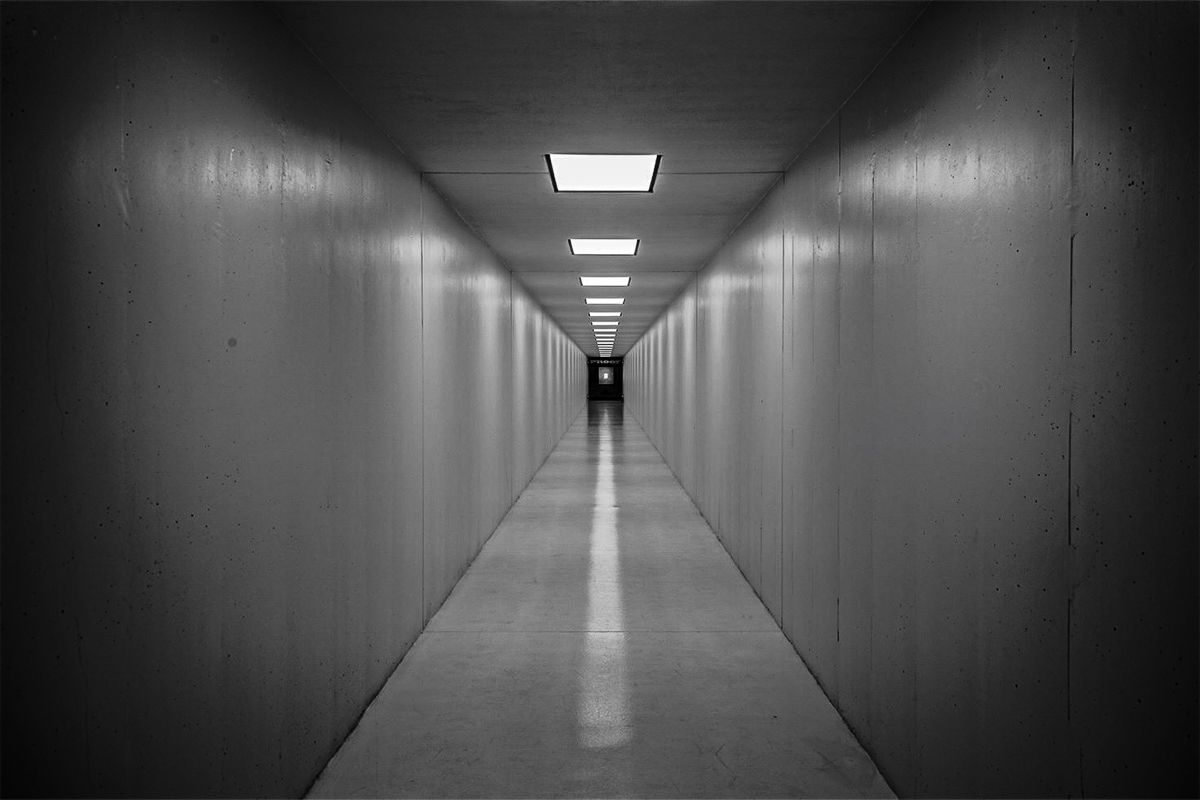 "It's one of the great debates. Do you just get something okay and take time to learn, or do you start with a race car?" Murphy said when asked if PROOF Research barrels were overkill for novice shooters.
Although Murphy is far from an average shooter, he believes investing in quality equipment can help ordinary shooters improve their skills faster than good old-fashioned practice alone.
"You can overbuy in some ways, but buying the best quality barrel or the best quality ammo or scope will let you find your potential faster because you don't have to worry about anything holding you back," Murphy said.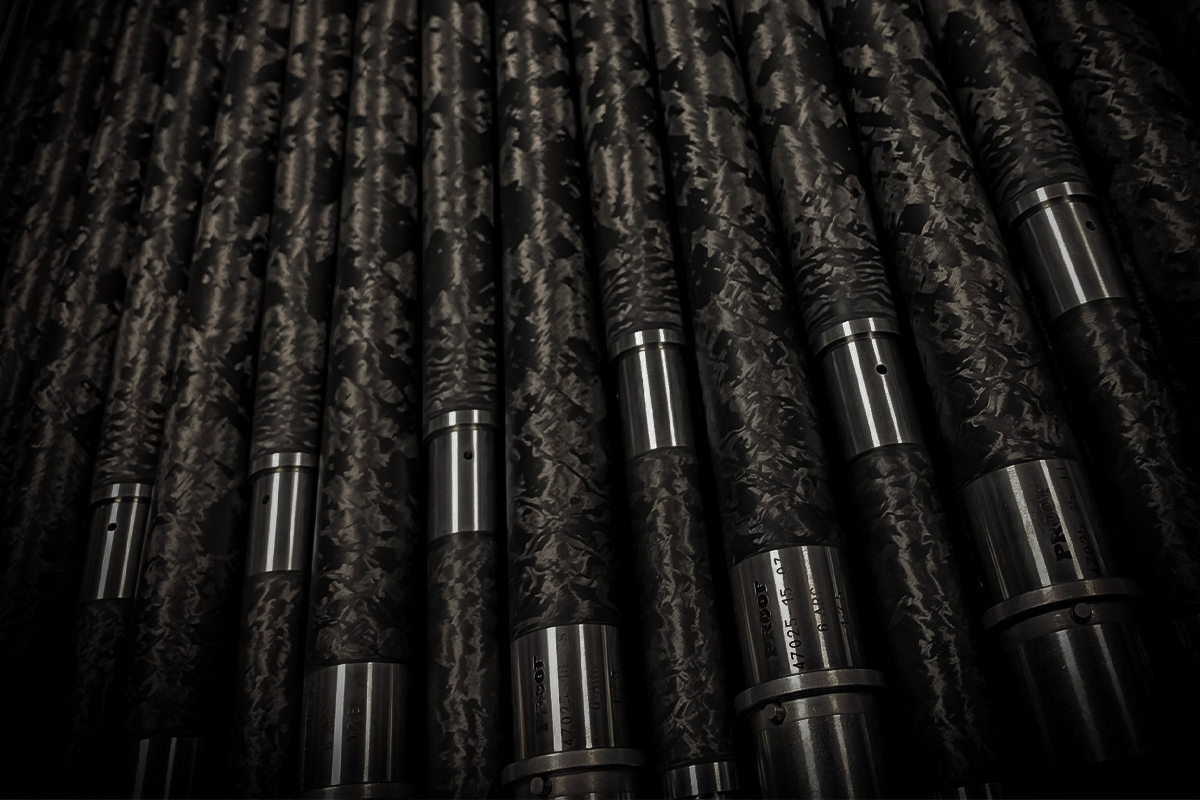 ---
"I know a lot of people say the gun shoots better than you do," Murphy said. "In many ways, that is true, but now the quality of the components is so good that you can actually do really good work, even as a novice shooter. If you just go out there and focus on wanting to get better, take some good training, and practice with it, you could actually reach your potential faster.
"Plus, I think you'll enjoy it more because it is so accurate."
GOOD GEAR – Power Up Your Adrenaline-Fueled Days With BRCC's CAF Roast
---
High-Performance Rifles Featuring PROOF Research Barrels
You don't have to take out a second mortgage to get a top-notch custom rifle with a PROOF Research barrel. PROOF Research offers several complete, field-ready rifle systems designed to help you level up your long-range game. Several major manufacturers are rolling high-quality rifles right off the assembly line with PROOF barrels already attached.
---
Price: $1,649 – $1,709

Savage designed their 110 Ultralite to handle the elements and elevation of extreme backcountry environments. Not only does this bantam-weight rifle feature a feather-light carbon-wrapped PROOF Research barrel, but it also cuts weight with a melonite skeletonized receiver and a synthetic stock.
Specs
Calibers: .270 Win., 28 Nosler, .280 Ackley Imp., .30-06 Springfield, .300 WSM, .308 Win., 6.5 Creedmoor, 6.5 PRC, 7mm PRC
Action: Bolt
Barrel Length: 22 inches and 24 inches
Barrel Material: Carbon-fiber-wrapped stainless steel
Magazine Capacity: 4 rounds
Magazine Type: Detachable box magazine
Length of Pull: 13.75 inches
Overall Length: 42.5 inches and 44.5 inches
Receiver Material: Stainless steel
Stock Material: Synthetic
Stock Type: Sporter
Overall Weight: 5.8 – 6.175 pounds
MSRP: $1,649 – $1,709
---
Savage Impulse Mountain Hunter
Price: $2,437

Built with the backcountry hunter in mind, the Mountain Hunter joined Savage's Impulse line in 2022. These ultralight bolt-action rifles are available in eight chamberings, including popular long-range performers like 28 Nosler, 6.5 Creedmoor, .300 Win. Mag., and the ever-popular .308 Winchester.
Savage cut nearly 2 pounds off their big, beefy Impulse Big Game model by swapping the standard stainless steel for a carbon-fiber-wrapped PROOF Research barrel. The significant drop in weight makes the Impulse Mountain Hunter far more manageable to haul during those steep wilderness climbs.
Specs
Calibers: .308 Win., 28 Nosler, .30-06 Spring., .300 Win. Mag., .300 WSM, 6.5 Creedmoor, 6.5 PRC, 7mm PRC, 7mm Rem. Mag.
Action: Straight pull bolt
Barrel Length: 22 inches
Barrel Material: Carbon-fiber-wrapped stainless steel
Magazine Capacity: 4 rounds
Magazine Type: Detachable box magazine
Length of Pull: 12.75 – 13.75 inches
Overall Length: 44.75 – 46.75 inches
Receiver Material: Aluminum
Stock Material: Synthetic
Stock Type: Sporter
Overall Weight: 7.16 – 7.34 pounds
MSRP: $2,437
---
PROOF Research Elevation Lightweight Hunter
Price: $3,199 – $3,499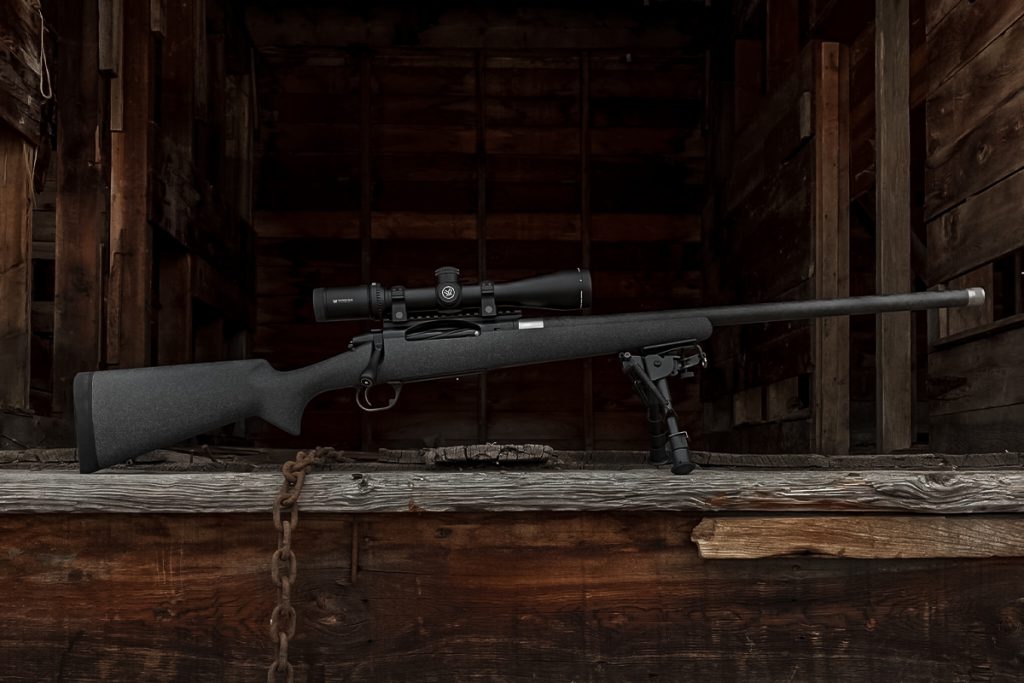 The Elevation Lightweight Hunter comes straight from the PROOF factory optimized to extend the effective range of the recreational hunter. It comes outfitted with a standard carbon-fiber-wrapped match-grade barrel, a composite stock, a Trigger Tech trigger, and PROOF's sub-MOA guarantee.
Available in either black granite or tactical flat dark earth finishes, the Elevation Lightweight Hunter comes in versions chambered for all the long-range superstars, such as 6.5 Creedmoor, 6.5 PRC, .308 Win., 7mm Rem. Mag., 7mm PRC, .300 Win Mag, and .300 PRC.
Specs:
Calibers: 6.5 Creedmoor, 6.5 PRC, .308 Win, 7mm Rem. Mag., 7mm PRC, .300 Win. Mag., .300 PRC
Action: Bolt
Barrel Length: 24 inches (20 inches for .308 Win.)
Barrel Material: Carbon-fiber-wrapped stainless steel
Length of Pull: 13 5/8 inches
Stock Material: Synthetic
Overall Weight: 5 pounds 14 ounces – 6 pounds 8 ounces
MSRP: $3,199 – $3,499
---
Nosler Model 48 Long-Range Carbon Rifle
Price: $3,795

An excellent option for everything from mountain hunting to high-stakes long-range competition, this version of Nosler's Model 48 is designed for shooting situations where rifle weight is a concern, but shots may be long.
Nosler takes a 26-inch fully free-floating PROOF Research carbon-fiber-wrapped Sendero light contoured barrel, marries it to a trued and faced receiver, and beds it in an ultra-lightweight MCS-carbon-fiber stock.
Nosler coated all the exterior metal surfaces with a rugged Cerakote finish to protect against rust, wear, and impact damage.
Specs
Calibers: 6.5 Creedmoor, 26 Nosler, 27 Nosler, 28 Nosler, .300 Win. Mag., 30 Nosler, 33 Nosler
Action: Bolt
Barrel Length: 26 inches
Barrel Material: Carbon-fiber-wrapped stainless steel
Length of Pull: 13.5 inches
Overall Length: 45.5 – 46 inches
Stock Material: Carbon fiber
Overall Weight: 7 pounds
MSRP: $3,795
---
PROOF Research Tundra Long-Range Hunter
Price: $7,799 – $8,099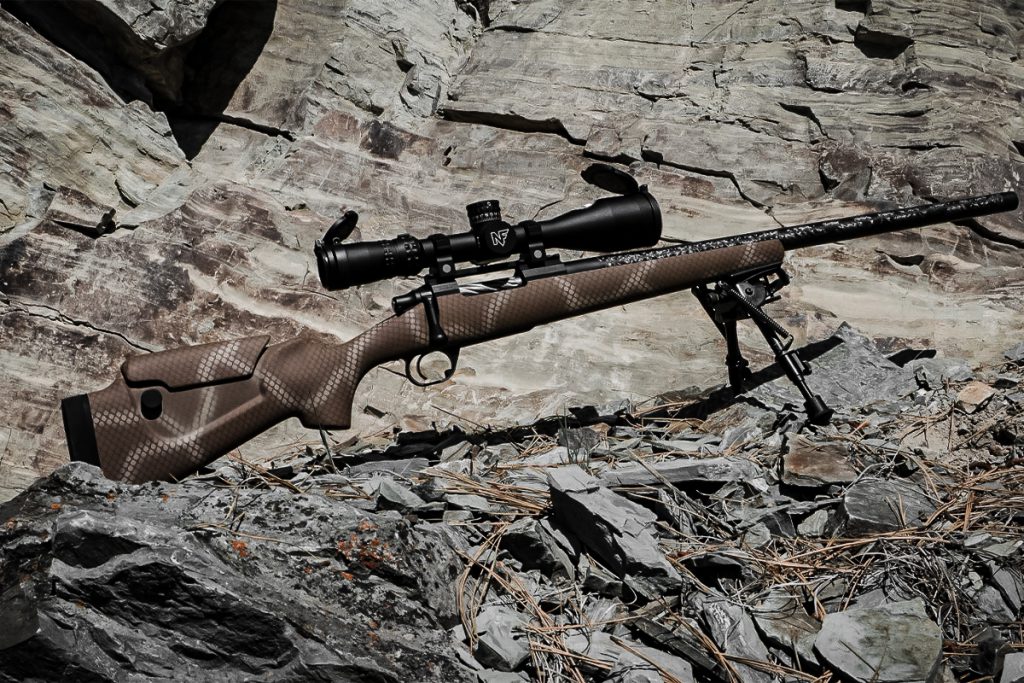 Engineered for the serious high-country hunter, PROOF's Tundra Long-Range Hunter brings the adjustability and performance of a tactical rifle to the hunting sphere. It features a lightweight carbon fiber stock with an adjustable Monte Carlo–style cheekpiece.
Although this model has a pretty spicy price tag, it also comes ready for adventure with PROOF's Sendero contour carbon-fiber-wrapped match-grade barrel, a Trigger Tech trigger, and a sub-1/2-MOA guarantee.
Specs
Calibers: 6.5 Creedmoor, 6.5 PRC, .308 Win., 7mm Rem. Mag., 28 Nosler, 7mm PRC, .300 Win. Mag., .300 WSM, .300 PRC, .300 RUM, .338 Lapua
Action: Bolt
Barrel Length: 20 – 26 inches
Barrel Material: Carbon-fiber-wrapped stainless steel
Length of Pull: 13 5/8 inches (custom options available)
Stock Material: Carbon fiber
Overall Weight: 7 pounds – 8 pounds 2 ounces
MSRP: $7,799 – $8,099
---
READ NEXT – Triple Barrel Shotgun: Novelty or Practical Firearm?