Shotguns have a well-deserved reputation for being jacks of all trades. They are probably the most versatile firearms on the planet. When paired with the right ammo, a single good scattergun can drop everything from tiny upland quail to big burly bears. However, in recent years, shotguns have become far more specialized. The do-it-all scatterguns are almost entirely gone, and modern models optimized for specific applications are becoming the norm. The dedicated turkey shotgun is one of the most beautiful things to come out of this movement.
These highly specialized, purpose-built shotguns may not be as versatile as Grandpa's double-barrel smoothbore, but they are insanely good at what they were built for — dropping longbeards dead in their four-toed tracks.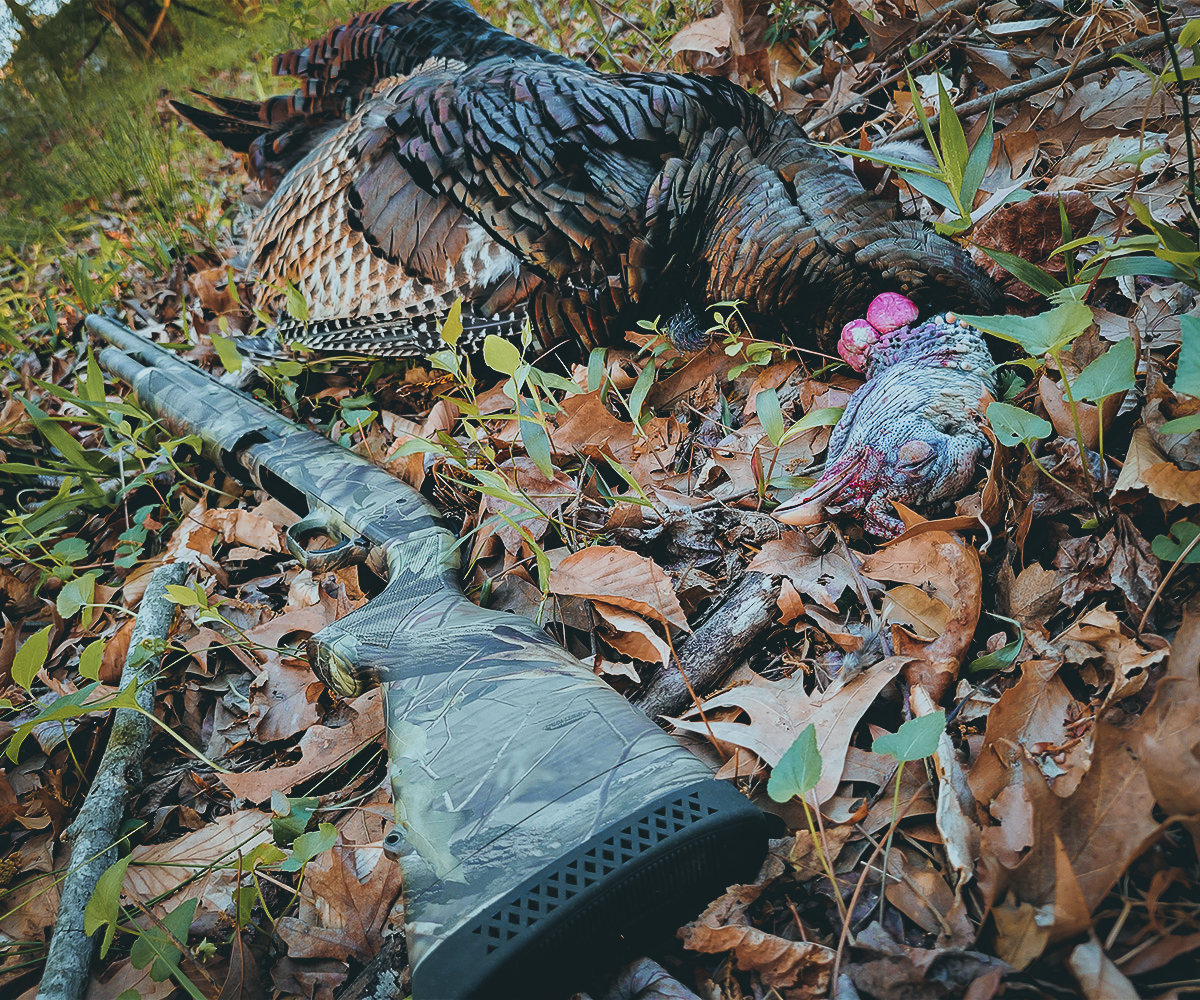 You can still lug Grandpa's rusty old Remington into the turkey woods. You can also drive a nail with a brick, but that doesn't mean it's the best tool for the job. As experienced turkey hunters know, gobblers are humbling and frustrating creatures.
When the stars align, and one with cowboy-sized spurs and a lumberjack-worthy beard comes strutting in to the sounds of your pot call, you want to make sure the shotgun pulled to your shoulder is up to the task.
READ NEXT – Why Hunters Pattern Their Shotguns: Dialing-In Your Turkey Killer
---
What to Look for in a Turkey Shotgun
With spring turkey season fast approaching, we decided to chat with some die-hard turkey hunters to find out what they consider essential qualities in a dedicated turkey gun.
Like most things in the world of hunting, opinions varied wildly. Here's what we found out.
---
PUMP OR SEMI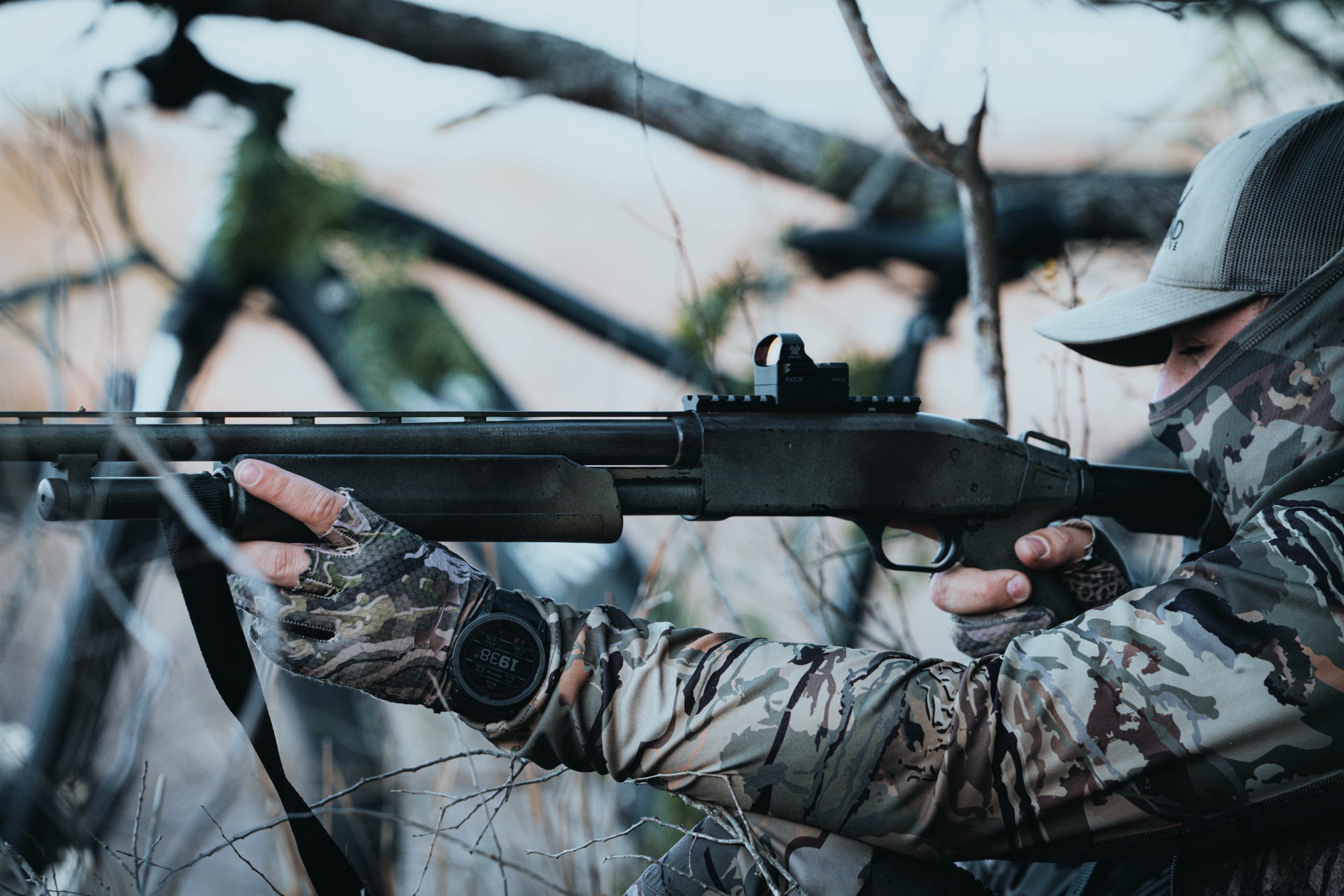 In the not-so-distant past, pump-action shotguns reigned supreme during turkey season. When I was growing up, it was all about the Remington 870 and Mossberg 500. Those were the standard options for a turkey gun, and there weren't any turkey-dedicated semi-automatic models back in the day.
But the times, they are a-changin'.
"Hunters used to choose pump-actions because they were lighter and more reliable," Chris Adams from O.F Mossberg & Sons says. "Turkey hunters are notorious for not cleaning their shotguns. They want to drag it through the mud all season, put it up, and then grab it again next year. They know that a pump shotgun will function no matter what."
Adams admits an understandable brand bias, but he isn't just an expert on shotguns; he's also had plenty of experience with wild turkeys. Before becoming a Regional Sales Manager for Mossberg, Adams worked with the National Wild Turkey Federation for over 13 years. More importantly, he's been an avid turkey hunter for more than 35.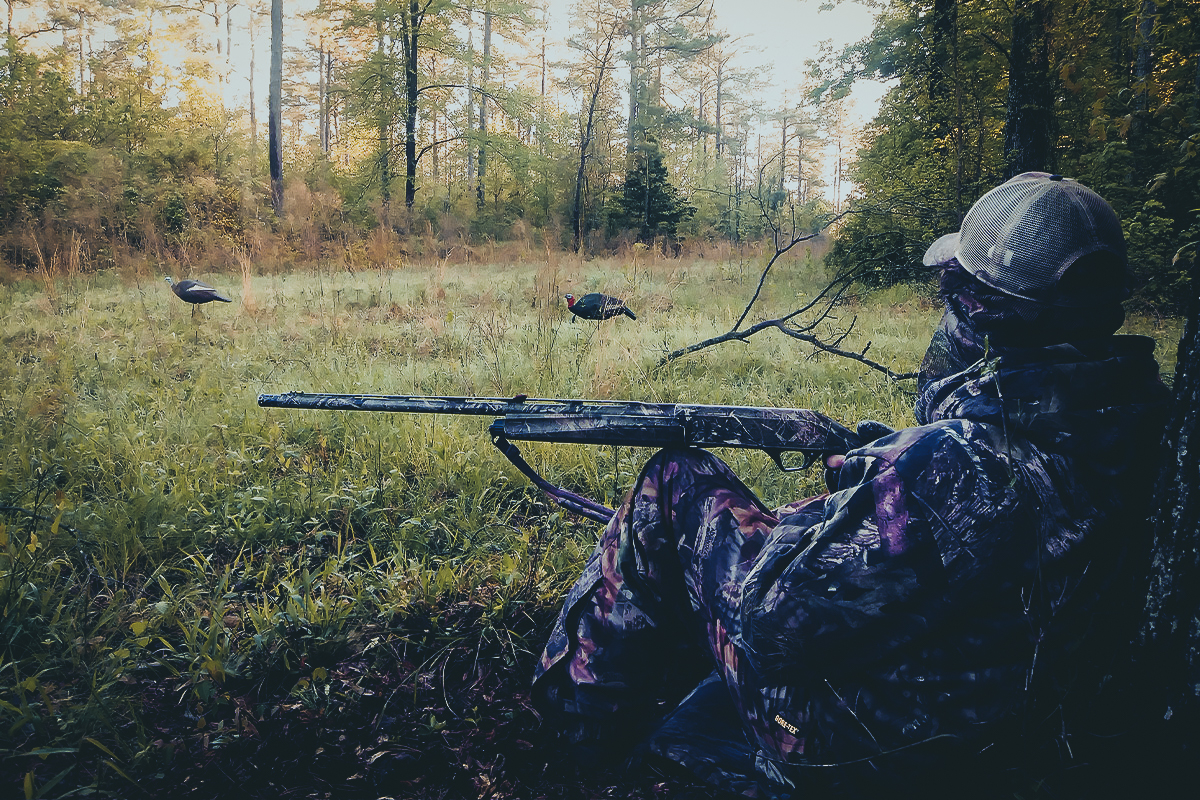 "What I'm seeing now is the semi-auto taking over the pump-action in popularity," Adams says. "I think semi-automatics are easier to teach new people to manipulate just because you don't have to pump. Remembering to pump after the first shot is a trained activity, but a semi-auto cycles the next round for you."
"It needs to be semi-auto, because we like killin'," Caleb Copeland, owner of Copeland Creative and a hardcore turkey hunter, told Free Range American. Copeland and his crew film well over 15 birds a year in addition to his own hunting.
Of course, turkey hunting is often a one-shot affair. Miss with the first shot, and you're mostly sending prayers downrange. A practiced shooter can cycle a pump nearly as fast as a semi-auto. However, there are some other advantages to choosing a semi-automatic turkey gun.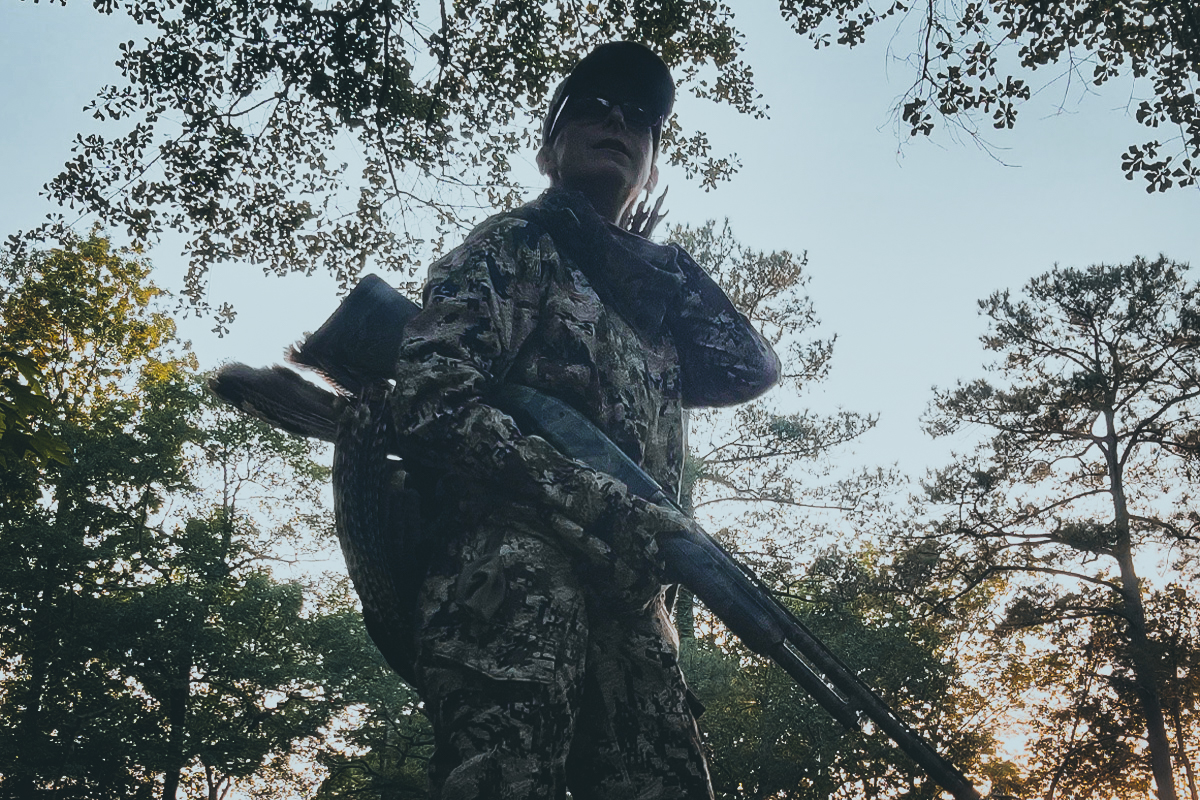 "When it comes to a turkey gun, I like to follow K.I.S.S. — Keep It Simple Stupid. I want a reliable semi-automatic, double-bead sight, and a short barrel. Trying to outsmart a bird with a brain smaller than a testicle can be a surprisingly monumental task," says Mike Herne, who spends plenty of time chasing gobblers when he isn't serving his country as an active-duty U.S. Army NCO or contributing to FRA.
"Murphy's Law applies to turkey hunting — if it can go wrong, it will go wrong. Keeping my weapon choice simple helps eliminate some of the things that can go wrong."
Ultimately, the call is up to the turkey hunter, but be prepared to fork out a few extra bucks for a semi-auto. They are generally much more expensive than their pump-action brothers.
RELATED – Modern Turkey Loads: Worth the Money, Maybe
---
CHOOSING GAUGE AND SHELLS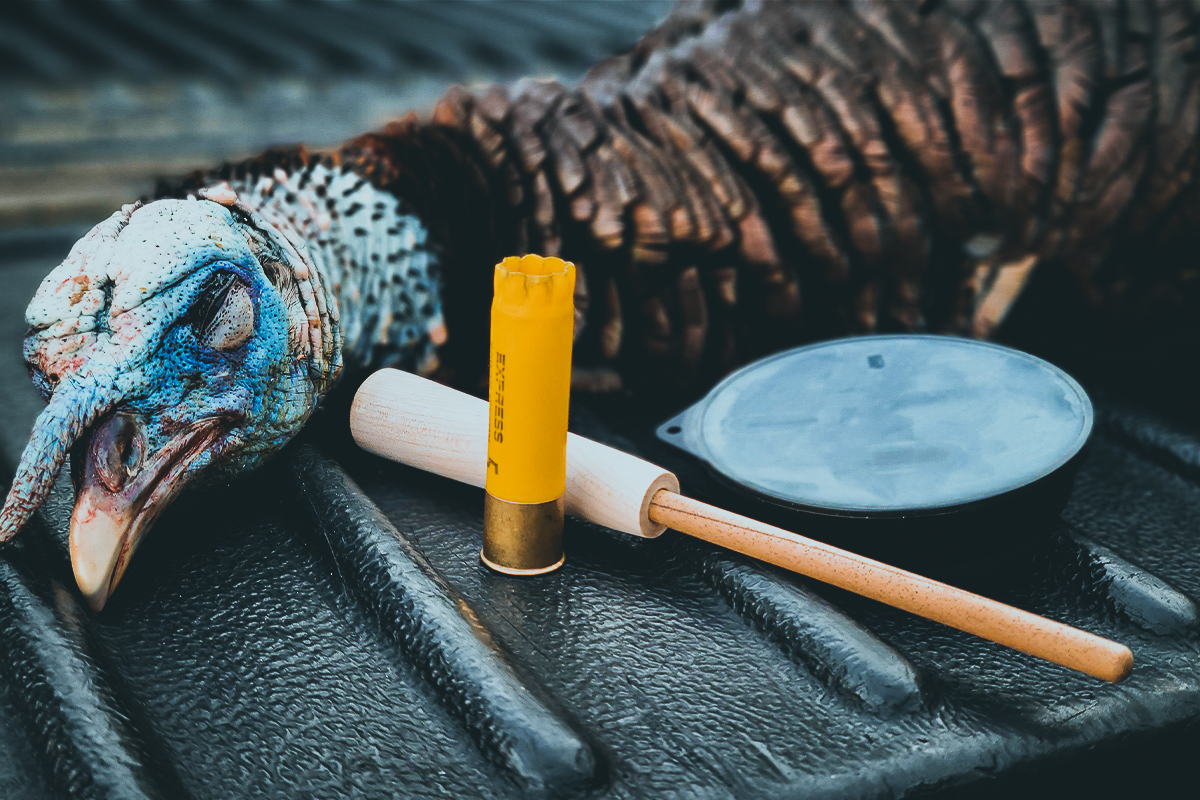 Just as the pump-action once reigned supreme in the turkey woods, so did the 12-gauge. My father wouldn't have dreamed of toting anything other than a 12-gauge loaded with 3 1/2-inch magnums. If you asked him why, he would tell you, "Because they don't make a 4-inch."
Herne agrees with my father's undying love of the 12-gauge.
"I firmly believe god put them on earth to be shot in the face with a 12-gauge. I'm a die-hard bowhunter, except when it's turkey season, I grab a 12-gauge every time," Herne says.
"In my opinion, a turkey gun needs to be 12-gauge, but I have lots of buddies that disagree," Copeland says.
The landscape for the most popular turkey gauge is always shifting. Before the introduction of magnum 12-gauge loads and guns, the 10-gauge was a turkey hunting favorite for many. Those days are long gone.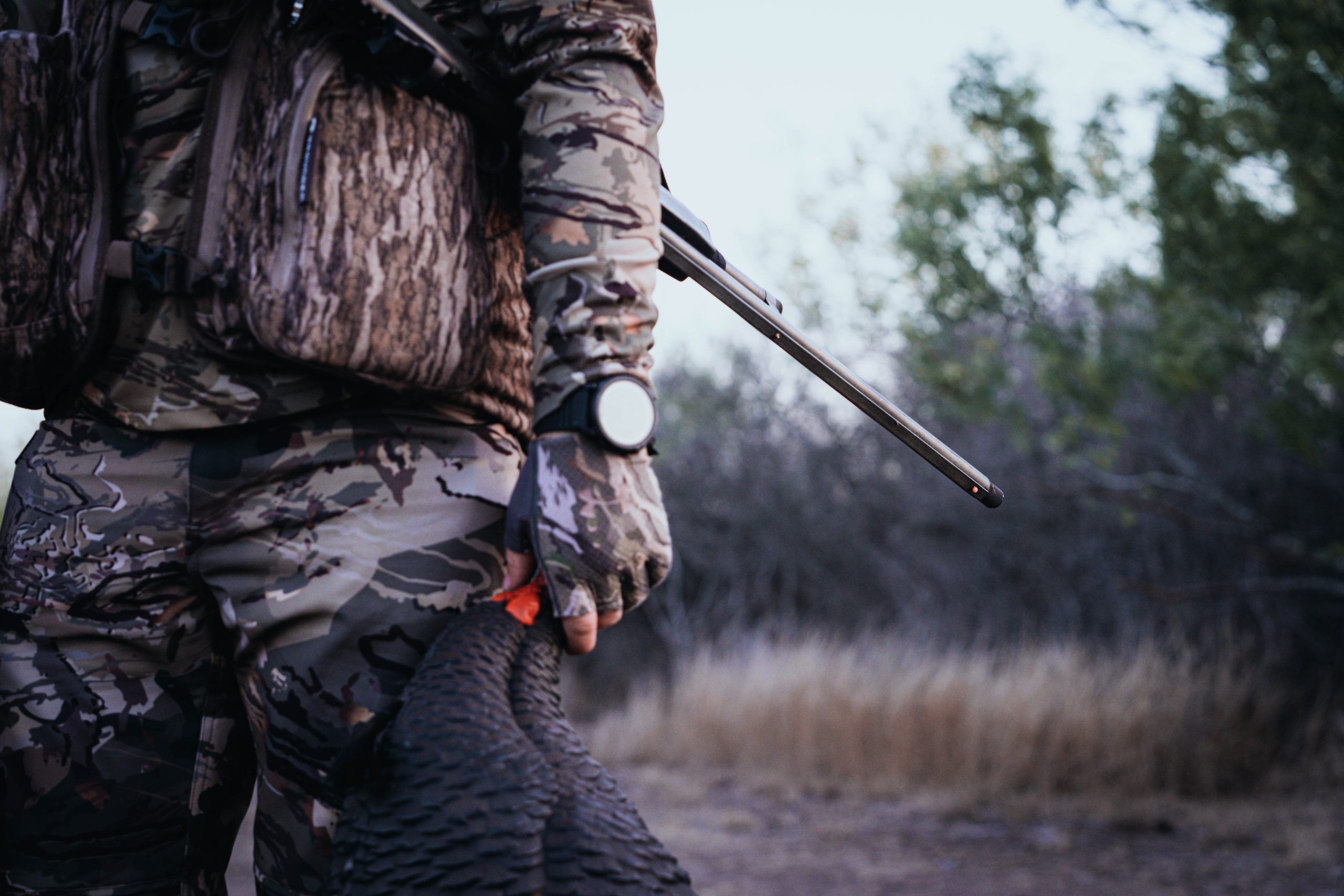 "Everybody is going sub-gauge now," Adams says. "For Mossberg, 28-gauge is our hot gauge right now, and we're selling more .410 and 20-gauge shotgun models now than we do the 12-gauge."
Small-bore scatterguns used to be considered youth shotguns. However, their light weight, low profile, and soft shooting have made them the go-to options for plenty of turkey hunters of legal drinking age.
Tungsten Super Shot (TSS) has helped level the playing field for small bores. Made from tungsten alloy, TSS is 56% denser than lead, which makes it slower to shed velocity, so it can travel farther, hit harder, and penetrate deeper.
Denser, heavier pellets mean turkey hunters can drop a few shot sizes without sacrificing terminal performance or pellet count, and reap all the benefits of toting a lighter, milder-recoiling firearm. TSS has even made the .410 bore a viable lightweight turkey hunting option.
READ NEXT – Vet-Owned Apex Ammo Drops New TSS Turkey Shells for Spring
---
IDEAL BARREL LENGTH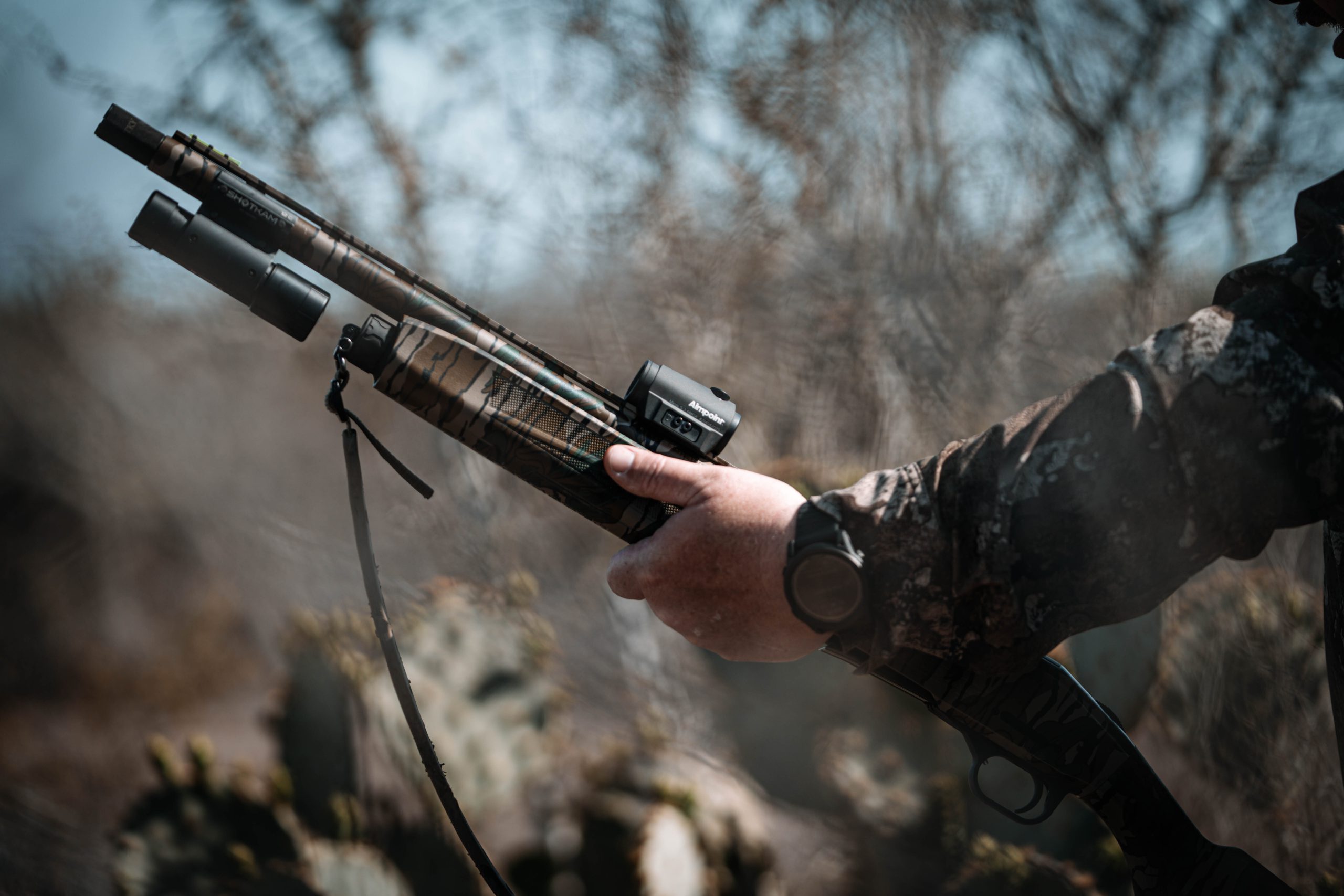 When it comes to barrel length on a turkey shotgun, less is usually more. Some extra inches may be a boon in a duck blind or on a skeet field, where you're swinging on moving targets. However, shorter barrels — usually between 21 to 24 inches — make turkey guns lighter and more maneuverable in the woods and within the tight confines of a turkey blind.
Shots on longbeards are rarely picture-perfect and often require a good deal of contortion. A shorter barrel makes it easier to twist around and squeeze off a good shot when that gobbler comes charging in from a direction you didn't expect.
RELATED – Getting Gobblers: Hunting the Rio Grande Turkey
---
TURKEY CHOKES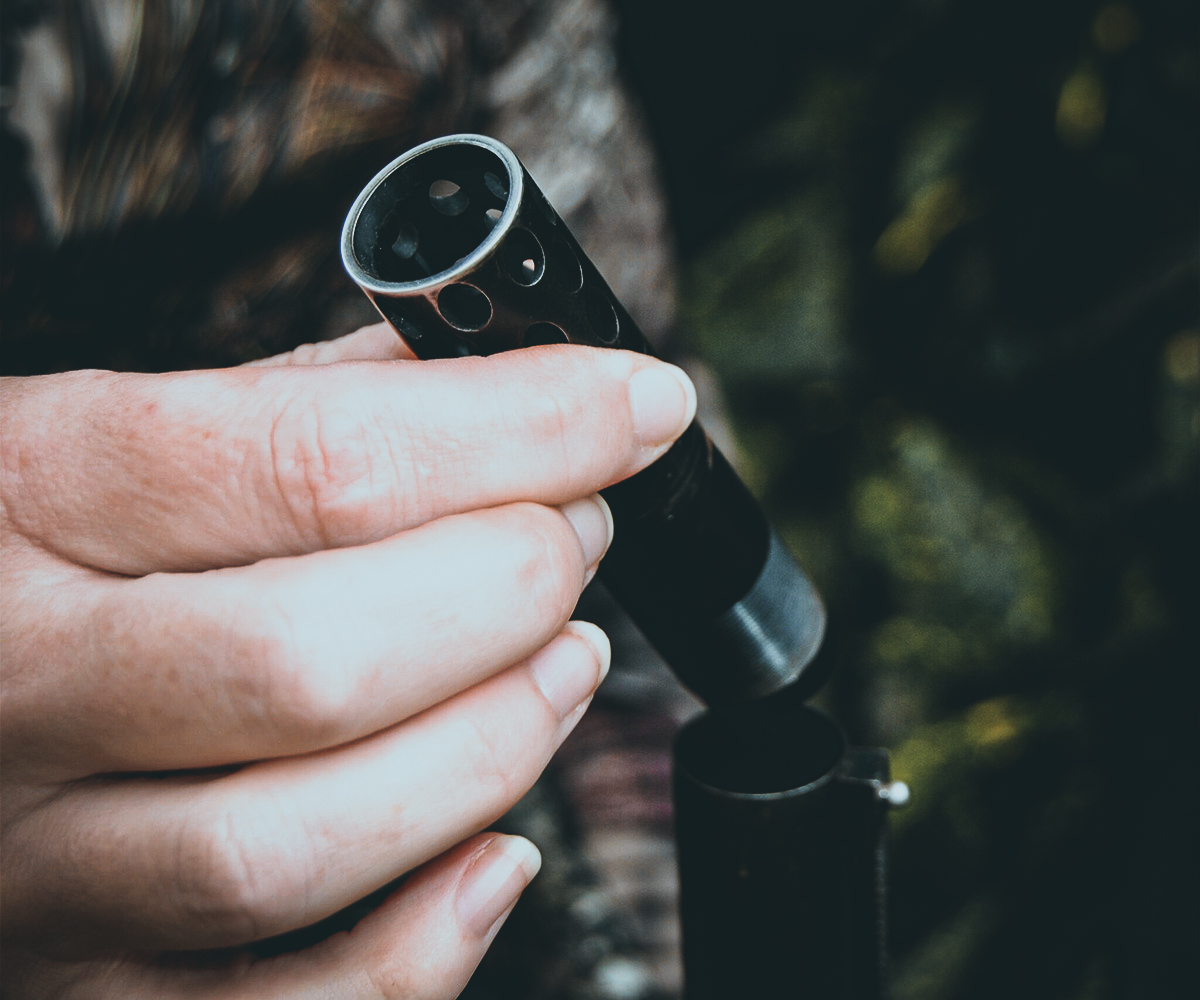 The right choke tube paired with a premium turkey load will quickly turn a regular, run-of-the-mill shotgun into an absolute gobbler-getter and can stretch your effective range out to (and sometimes beyond) 50 yards.
The world of shotgun chokes can be confusing, especially for the uninitiated. Things get even more complicated because not all brands label their chokes the same way. Turkeys are tough birds, so you want a choke that will throw a dense pattern, so more pellets pummel his head and neck.
Some manufacturers even push special turkey chokes with cool names like Gobblin' Thunder and Final Strut. However, there's more to choosing a turkey choke than falling for a name, no matter how dope it may sound. Instead, check out the amount of constriction.
Some loads come with choke recommendations, so read the box. When in doubt, go with an extra full choke with a constriction between .675 to .640 if you're shooting a 12-gauge.
Most modern shotguns come with interchangeable chokes, with many brands using propriety threading in their barrels. Patented threads mean you won't be able to swap out chokes between shotgun brands. Check to make sure any aftermarket chokes are compatible with your shotgun before you buy, or you'll be SOL come opening day.
GUN CAMO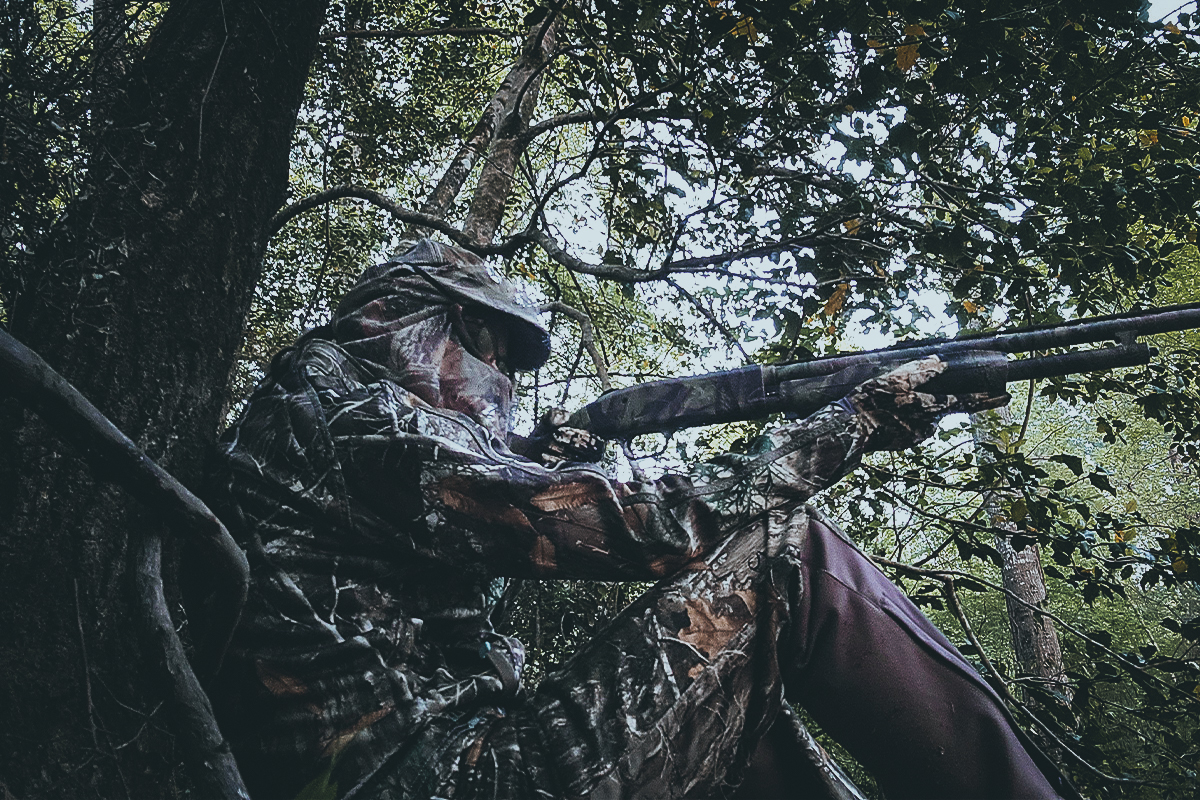 Turkeys have incredible eyesight, so staying hidden in the woods is a must if you want fresh turkey for dinner, especially when hunting high-pressured birds.
"Blending into your environment is so important, especially in the East," Adams explains. "Turkeys get hunted so much, especially in the Southeast, and they get educated very quickly because they are hunted so extensively."
Even the briefest glint of morning sun off a gun barrel can send a longbeard running for the next county. That's why most turkey shotguns now come wrapped in camo.
Can you shoot turkeys with a traditional wood stock and blued-barrel shotgun? Absolutely, but you're just not as cool.
"There have been more turkeys killed with a wood stock gun with a blued barrel and receiver than any camo guns out there," Adams says. "But you have to look good."
Even turkey hunters like to look good for the 'gram.
---
A QUICK WORD ABOUT PISTOL GRIPS
A lot of turkey guns come with pistol grips. Some hunters prefer them, some hate them with vicious ferocity, and some don't care one way or the other. It's entirely up to personal preference. Some find they make a turkey shotgun easier to fire from a seated position hunkered down behind a blind or sitting against a tree. Others would rather eat glass than fire a 3.5-inch magnum from a gun with a pistol grip.
But one thing is for sure as you'll see further down if you are down with pistol grips, it opens up your factory turkey gun options quite a bit.
GOOD STUFF – BRCC's Power Llama Roast
---
Turkey Shotgun Sights and Red Dots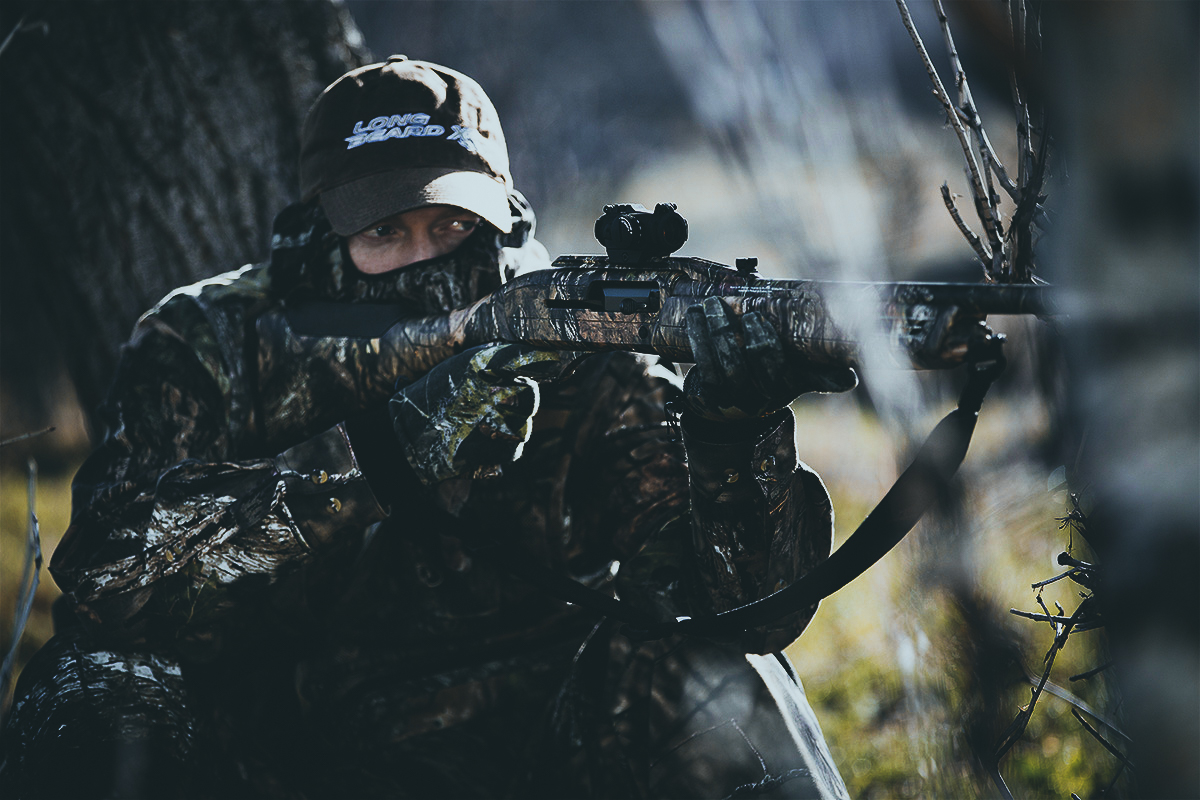 Back in the old days, when Grandpa had to hike barefoot uphill both ways to get to his favorite turkey spot, almost every scattergun was outfitted with a basic rib and a bead sight. Bead sights work well for wingshooting when all a shooter needs is a reference point while focusing on the target in flight.
Turkey hunters began adding a second bead to the rib closer to their eye — they'd then line the two beads up for a shot, like a rudimentary rear and front rifle sight. Some hunters still choose this option because it's simple, reliable, and far more accurate than a single bead.
Although turkeys are birds, the best shot opportunities, of course, don't come when the bird is on the wing. They occur on ground-level birds and usually within 40 yards (although TSS has definitely broadened the turkey hunter's definition of ethical range).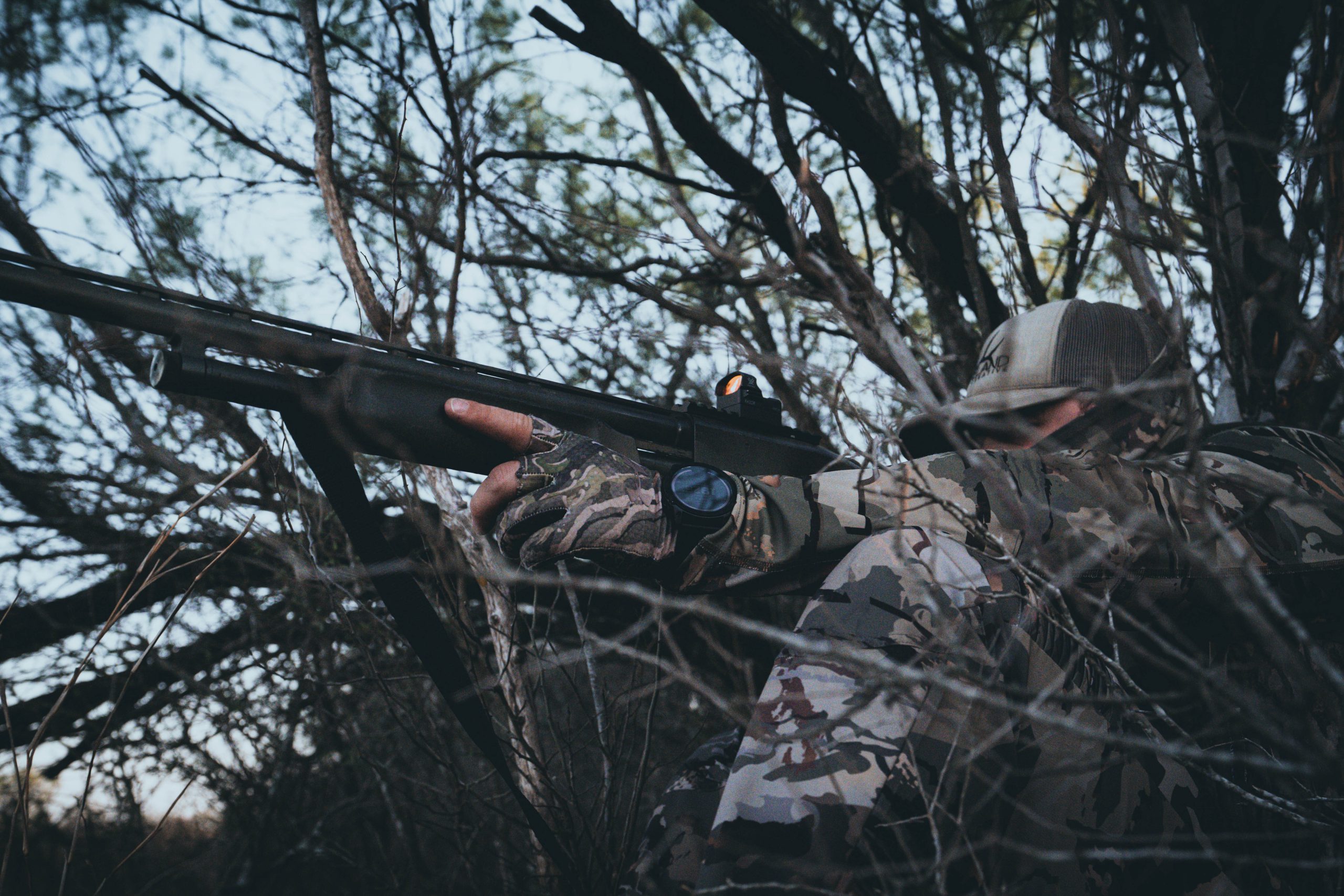 Today, most turkey-specific shotgun models feature fiber-optic sights, usually in a combination of red and green. Aligning rear and front sights is closer to rifle shooting and offers more precision than that bare-basics bead.
What really makes fiber-optic sights shine is their ability to shine. The internal fibers gather, amplify, and direct light toward the shooter, making the sights highly visible in low-light conditions. Fiber-optic sights are an absolute blessing in those early-morning minutes when birds fly off the roost.
The hotness these days is red dots for turkey guns, specifically red dots mounted with a plate adapter, the same way micro red dots are most often affixed to semi-auto handguns.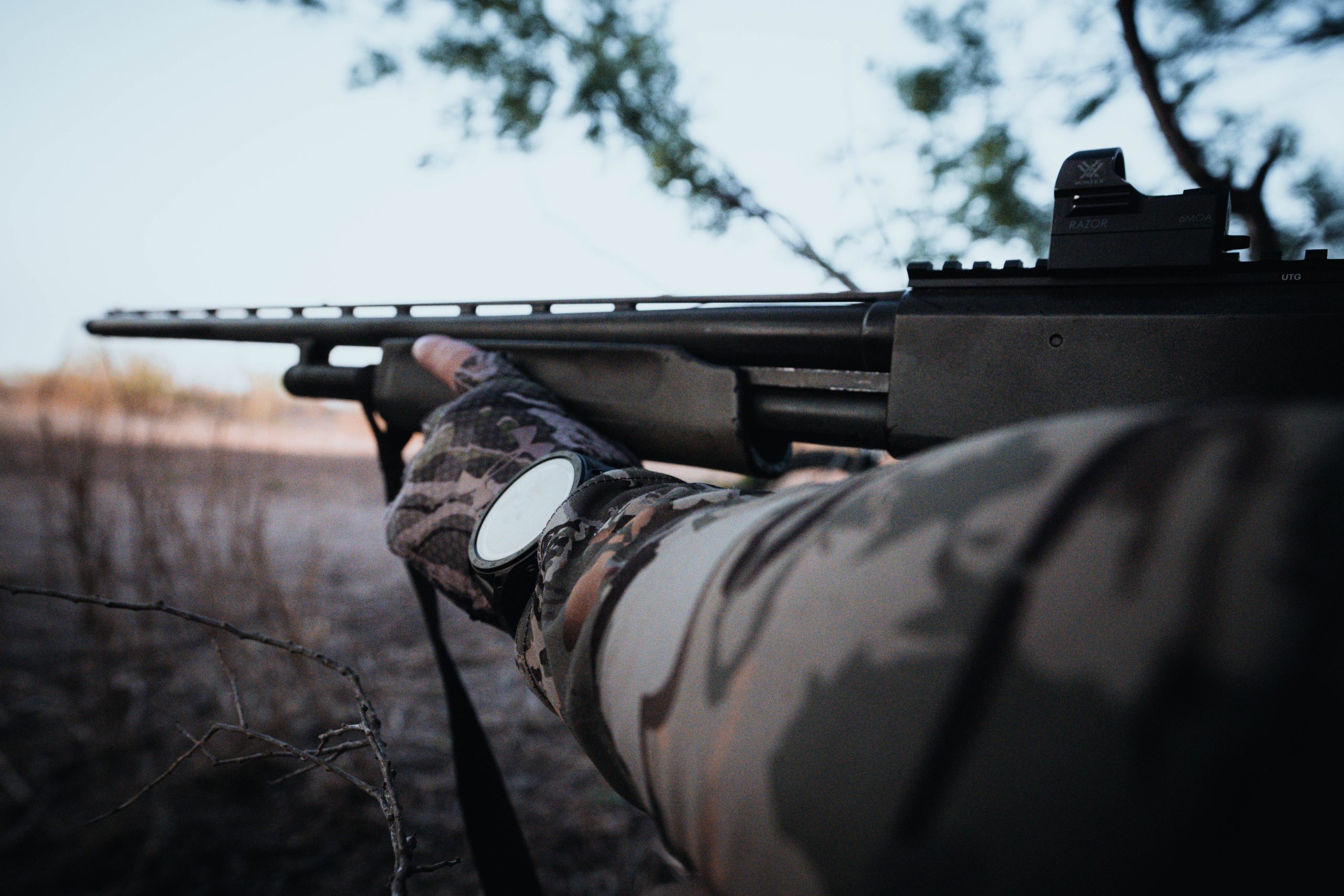 The idea is to keep them as low and close to the receiver as possible, so they don't snag when you're running-and-gunning gobblers. And so you can keep your head down on the gun and as still as possible in scrunched-up positions.
A red dot also provides a consistent point of impact, even when you're forced to shoot from a wonky position. They also look pretty freakin' awesome.
However, not everyone embraces features that complicate their turkey shotgun.
"I am not a fan of red dots. They will fuck you eventually," Copeland says. He prefers a basic double bead. If it works, it works.
READ NEXT – New Mossberg Turkey Guns: Red-Dot Ready M500s, 835 Ulti-Mag
---
Best Turkey Shotguns
If you're in the market for a dedicated gobbler-getter, here are a few models that check all the boxes and then some.
---
Mossberg 500 Turkey
Price: $644

It's probably a mortal sin to list respectable turkey guns and not mention the Mossberg 500. In continuous production since 1961, the pump-action Model 500 has been used to punch plenty of turkey tags.
It remains one of the most popular shotguns in America, and, of course, Mossberg has a turkey-dedicated version with all the necessary turkey trimmings. This optics-ready 20-gauge shotgun comes wrapped in the popular Mossy Oak Greenleaf pattern and features an X-Factor ported choke tube and a fiber-optic front sight.
It's also worth noting that Mossberg offers a 500 Super Bantam Turkey model. Although it's billed as a youth shotgun, it's perfect for any smaller-statured shooter who might need a shorter-than-average length of pull. (Full disclosure: I'm well over 18 and used this model to tag out in the Tar Heel State last spring.)
SPECS:
Gauge: 20-gauge
Action: pump
Barrel length: 22 inches
Finish: Mossy Oak Greenleaf
Choke: X Factor Ported Tube
Length: 41.25 inches
LOP: 13.87 inches
Sights: front fiber optic, optic-ready
Weight: 6.75 pounds
RELATED – Turkey Hunting Gear: New Stuff You Just Have To Have for the Spring
---
Winchester SXP OD Green Long Beard
Price: $589.99

Originally unveiled at the 2023 SHOT Show, Winchester's SXP OD Green Long Beard model has everything a turkey hunter could want in a pump-action shotgun. Winchester is even donating a portion of each sale to the National Wild Turkey Federation to support conservation efforts and improve habitats so your great-great-great-grandchildren can know the thrill of chasing gobblers on foggy spring mornings well into the future.
It comes decked out in an OD Green Perma-Cote with a Mossy Oak Bottomland camo finish. Available in both 12-gauge and 20-gauge flavors, this reliable scattergun has turkey-specific features, such as fiber-optic sights, a pistol grip stock, and an extended extra-full Long Beard Choke designed to optimize the performance of Winchester's LongBeard XR turkey loads.
It comes drilled and tapped for optics and has interchangeable combs and height-adjust spacers, so you can find the perfect custom fit.
SPECS:
Gauge: 20-gauge and 12-gauge
Action: pump
Barrel length: 24 inches
Finish: Mossy Oak Bottomland
Choke: Extra full
Length: 43 inches (20-gauge) and 44 inches (12-gauge)
LOP: 13.25 inches
Sights: fiber-optic front
Weight: 6 pounds 14 ounces (20-gauge) and 7 pounds (12-gauge)
GOOD GEAR – This All-New Duck Camo Hoodie Is Versatile as F**K
---
Savage Renegauge Turkey Obsession
Price: $1,707

The Savage Renegauge is designed to handle everything consistently, from extra-hot high brass loads to ultra-mild low recoil shells. It's also built to accommodate any shooter. Pretty much every fit is adjustable, including length of pull, comb height, and drop at heel.
The Turkey Obsession version of the Renegauge also comes blanketed in Mossy Oak Obsession camo and outfitted with fiber-optic sights, oversize controls perfect for gloved hands, and a quartet of choke tubes.
Tipping the scales at almost eight pounds, the Renegauge Turkey Obsession is a big booger for run-and-gun turkey hunting. But it's a soft shooter that makes a solid option for an all-day blind sit.
SPECS:
Gauge: 12-gauge
Action: semi-auto
Barrel length: 24 inches
Finish: Mossy Oak Obsession
Choke: includes extended turkey, Full, Improved Cylinder, and Modified
Length: 45.5 inches
LOP: 14.25 to 15.07 inches
Sights: red fiber optic
Weight: 7.8 pounds
READ NEXT – Escarole and Beans With Smoked Wild Turkey Wings
---
Mossberg SA-28 Tactical Turkey
Price: $902

Sub-gauge autoloaders are all the rage right now, and if you've got the skills to yelp them into your lap, the SA-28 Tactical Turkey from Mossberg will get the job done once you do. This 28-gauge semi-auto is lightweight, nimble, easy to swing, and perfect for anyone tired of lugging around a hefty 12-gauge. It also shoots like an absolute pussy cat.
It comes finished in Mossy Oak Greenleaf and features cool gobbler-getting features such as fiber-optic ghost ring sights, an extended turkey choke, and a pistol grip stock.
If 28-gauge isn't your jam, the SA Tactical Turkey is also available in 20-gauge and .410 bore options.
SPECS:
Gauge: 28-gauge
Action: semi-auto
Barrel length: 22 inches
Finish: Mossy Oak Greenleaf
Choke: extended turkey
Length: 39 inches
LOP: 12.75 inches
Sights: fiber-optic ghost ring
Weight: 6 pounds
RELATED – Starter Kit: Gear Up for Turkey Season
---
Franchi Affinity 3 Turkey Elite
Price: $1,349

Franchi took their uber-popular Affinity 3 and a butt ton of feedback from turkey hunters and mixed them together to get this sweet turkey-specific shotgun. This inertia-driven semi-auto features a pistol grip stock, oversize textured bolt controls, two custom turkey chokes, and a hooded fiber-optic front sight perfect for hunting in heavy cover. It also has a convenient Picatinny rail on the receiver, so you can easily add your red dot.
It's available in 20-gauge and 12-gauge platforms and your choice of Mossy Oak Bottomland or Optifade Subalpine camo with gorgeous Midnight Bronze Cerakote accents.
SPECS:
Gauge: 20-gauge and 12-gauge
Action: semi-auto
Barrel length: 24 inches
Finish: Optifade Subalpine or Mossy Oak Bottomland
Choke: two custom turkey-specific extended chokes
Length: 41 inches and 41.4 inches
LOP: 14 3/8 inches
Sights: hooded, dual-color fiber-optic front bar
Weight: 6.8 pounds and 7.7 pounds
GOOD GEAR – Want a Little Snakebite With Your Coffee? Try BRCC's New Bourbon Flavored Coffee
---
Benelli Performance Shop M2 Turkey Edition
Price: $2,999

Combining elegant style and impressive performance, Benelli shotguns are sometimes called the European sports cars of the gun world. Whether or not you get your jollies from high-speed driving, Benelli's new turkey edition of its popular M2 is definitely a smooth shooter. This inertia-driven 20-gauge autoloader is ultra-reliable and completely optimized for the turkey woods.
It comes pre-fitted with a Burris FastFire II red-dot optic that has been pattern-tested with Federal Premium ammo. The M2 Turkey Edition also features an extended extra full turkey choke, a ComforTech recoil-reducing stock, and a Mossy Oak Bottomland finish.
SPECS:
Gauge: 20-gauge
Action: semi-auto
Barrel length: 24 inches
Finish: Mossy Oak Bottomland
Choke: extra full turkey
Length: 45.3 inches
LOP: 14 3/8 inches
Sights: Burris FastFire II
Weight: 5.7 pounds
---
READ NEXT – The Many Sounds of the North American Wild Turkey