Here's what happens when you take three veterans and hunters who happen to run the greatest coffee company in the world and drop them in the remotest Alaska backcountry with two expert guides and three bear tags for 15 days.
This latest video series from Free Range American takes you inside a truly epic coastal brown bear hunt on the Alaska Peninsula. You get to follow along with Black Rifle Coffee's Evan Hafer, Mat Best, and Logan Stark as they train for and execute the brown bear hunt of a lifetime in a place completely devoid of humans and civilization.
The conditions are brutal, the stakes are high, and there's potential danger everywhere — we live for this shit!
RELATED – Man Kills Kodiak Bear Inside Neighbor's House With a 12-Gauge
---
Alaska Bear Hunt Part 1: Prepping Rifles and Training for the Most Dangerous Game
This isn't your average hunt, so it requires a fair amount of preparation. The Alaskan brown bear is truly massive and one of the most dangerous animals in the world. While black bears can occasionally be a threat to humans, they're more like scavengers, says Hafer, the founder, and CEO of Black Rifle Coffee Company.
Brown bears are huge — only polar bears are bigger — and they are beyond intimidating and downright terrifying.
"Grizzly bears are different — grizzly bears are dangerous. Like, when you're in grizzly territory, it's a different feeling. Your adrenaline is elevated — these things will fucking eat you," Hafer says.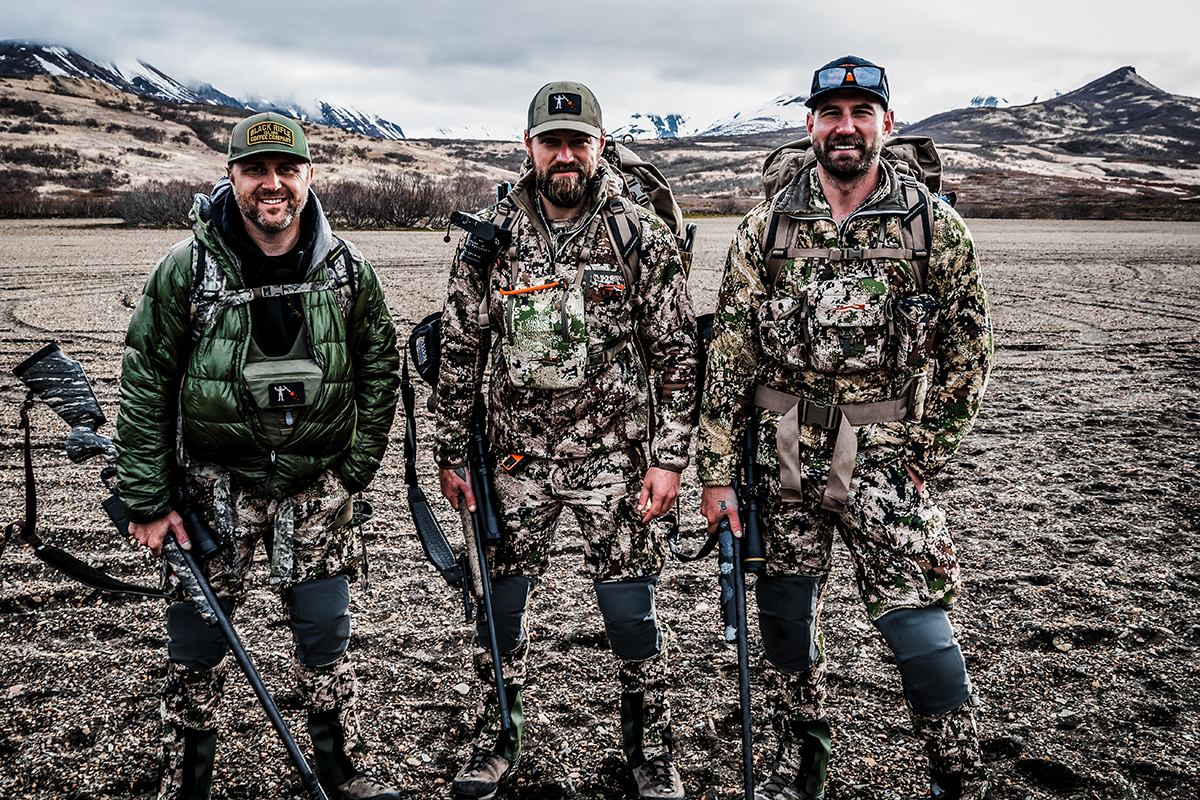 "Then, when you're in brown bear territory, you're like, these things will eat grizzly bears. So now, the things that you're really afraid of in the lower 48, which are grizzly bears, those things are eaten by brown bears."
While many people assume that Kodiak Island produces the biggest brown bears, the record-breakers actually come from the Alaska Peninsula, where the group will be hunting.
"They'll eat cubs, the smaller sows, they'll eat other males," he adds, which is why it's important for hunters to kill the bigger bears so the overall population can flourish.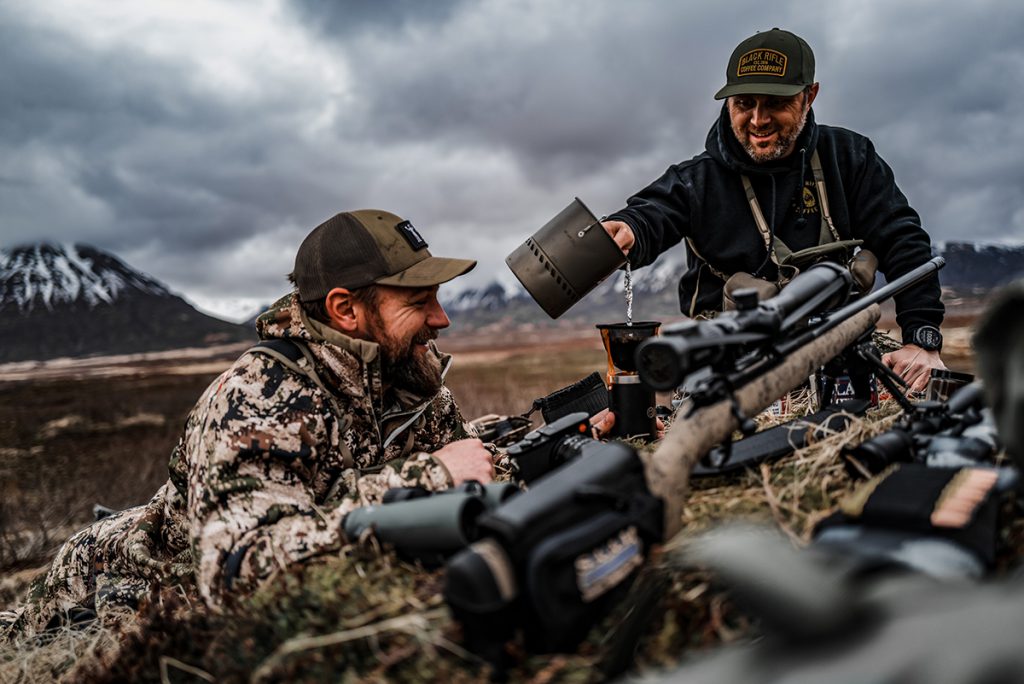 "The [BRCC] partners — Mat, myself, and Logan — going out and participating in a bear hunt, I think is one of the most iconic and aspirational hunts that you can go out and do," Hafer says. "I've been wanting to do this for years, my [whole] adult life."
Even though the trio have been business partners for seven years, they've never been on a hunt like this: sharing a tent and 6 square feet of sleeping space in the remotest spike camp possible for more than two weeks while chasing one of the biggest, most dangerous animals in the world.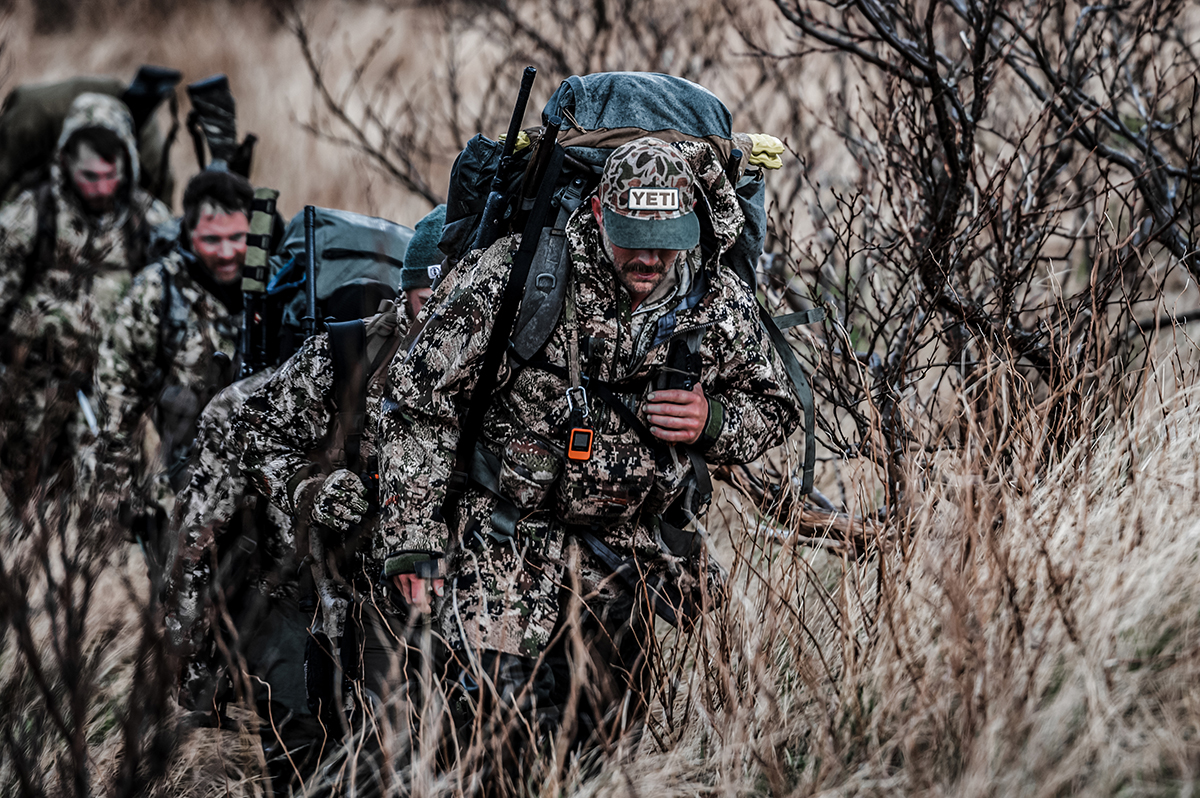 "I've never really even considered going on a hunt like that before just because it's not something that I've read into in the past, you know," Best says. "I deer hunt and all that, but once I started to understand what we were going to be doing and how we would be doing it, I was very intrigued.
"A brown bear hunt is like the precipice — it's the once-in-a-lifetime hunt. Most people never have the opportunity," Best adds. "I mean, I've watched plenty of shows about it, and it's just something you'd never believe that you could actually go do."
---
Logan Stark's Rifle and Dangerous Game Training at FTW Ranch in Texas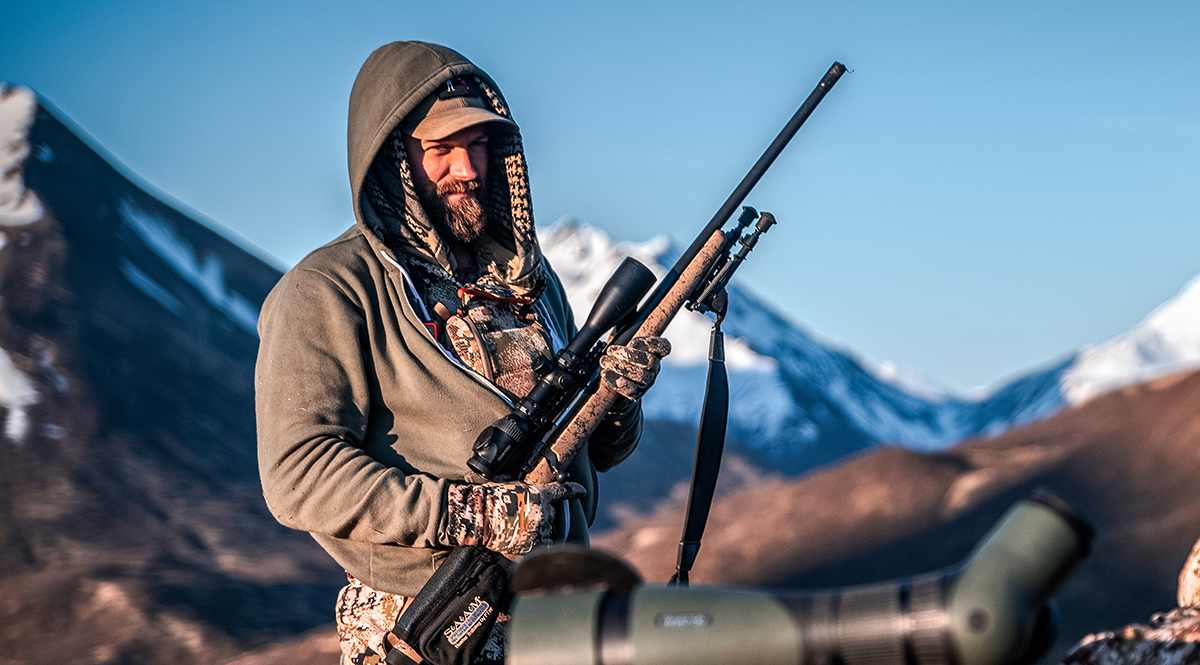 After all three men cleared a three-week window during the hunting season, they began their journey to their remote bear camp in Alaska. But first, Stark headed to FTW Ranch in Barksdale, Texas. It's a premier shooting facility with training courses like no other that are specifically tailored to improve hunters' skills.
Stark completed the Sportsman's All-Weather All-Terrain Marksmanship (SAAM) course under the tutelage of Justus Ballard of the FTW SAAM team.
"The land here is absolutely incredible," Stark says of the sprawling FTW facility. "They do everything: hunting prep courses, long-range-precision courses — a bunch of the Tier One military units come out here to train."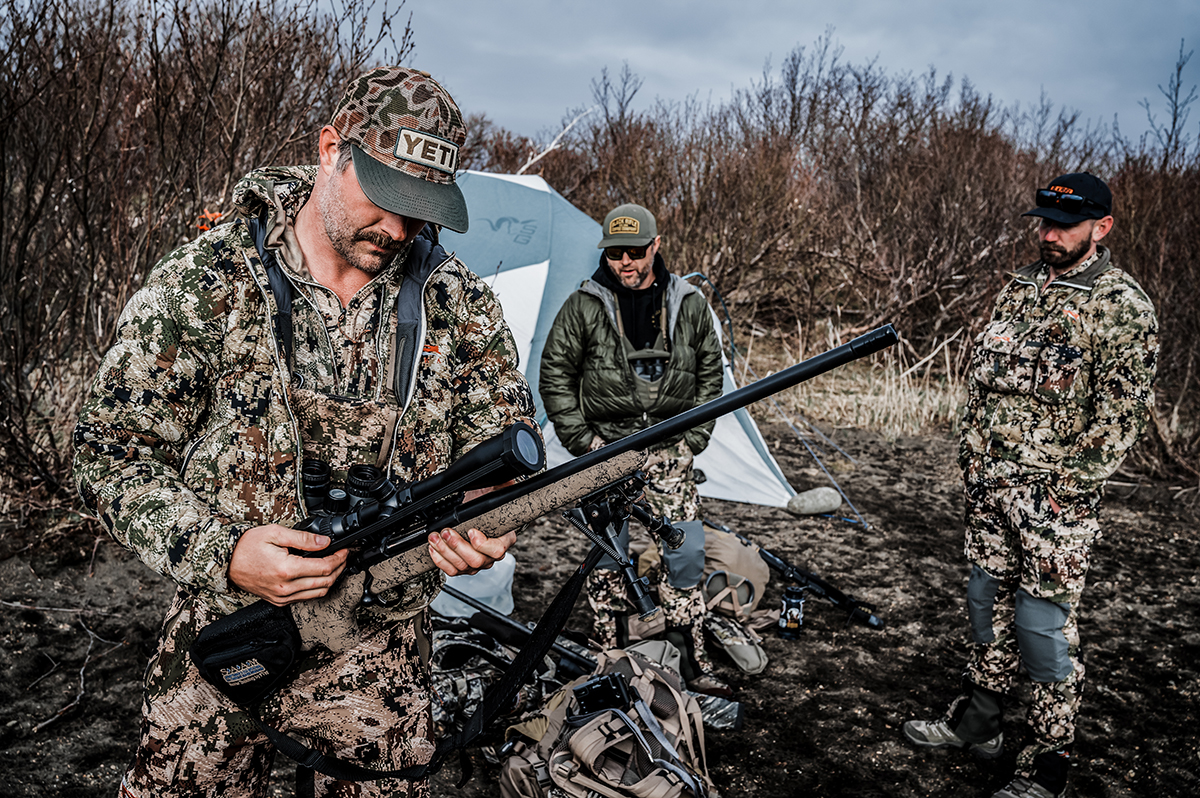 GOOD STUFF – Spartan Kick Your Tastebuds With the BRCC Ready To Drink 300, Vanilla Bomb
The bolt gun Stark chose as his bear rifle is chambered in .357 Ruger. Ruger and Hornady designed the cartridge in 2007 as a dangerous-game round that would be more powerful than the venerable .375 H&H while still fitting in a standard-length rifle action.
"It's got a nice claw extractor on the side there," Ballard says of Stark's custom rifle. "So, it's a dangerous-game rifle where, as soon as that round comes out, it's grabbed by that claw extractor to make sure we have good, positive feeding when we go into dangerous-game country."
The rifle is topped with a sweet Swarovski Z6(i) 3–18×50 riflescope.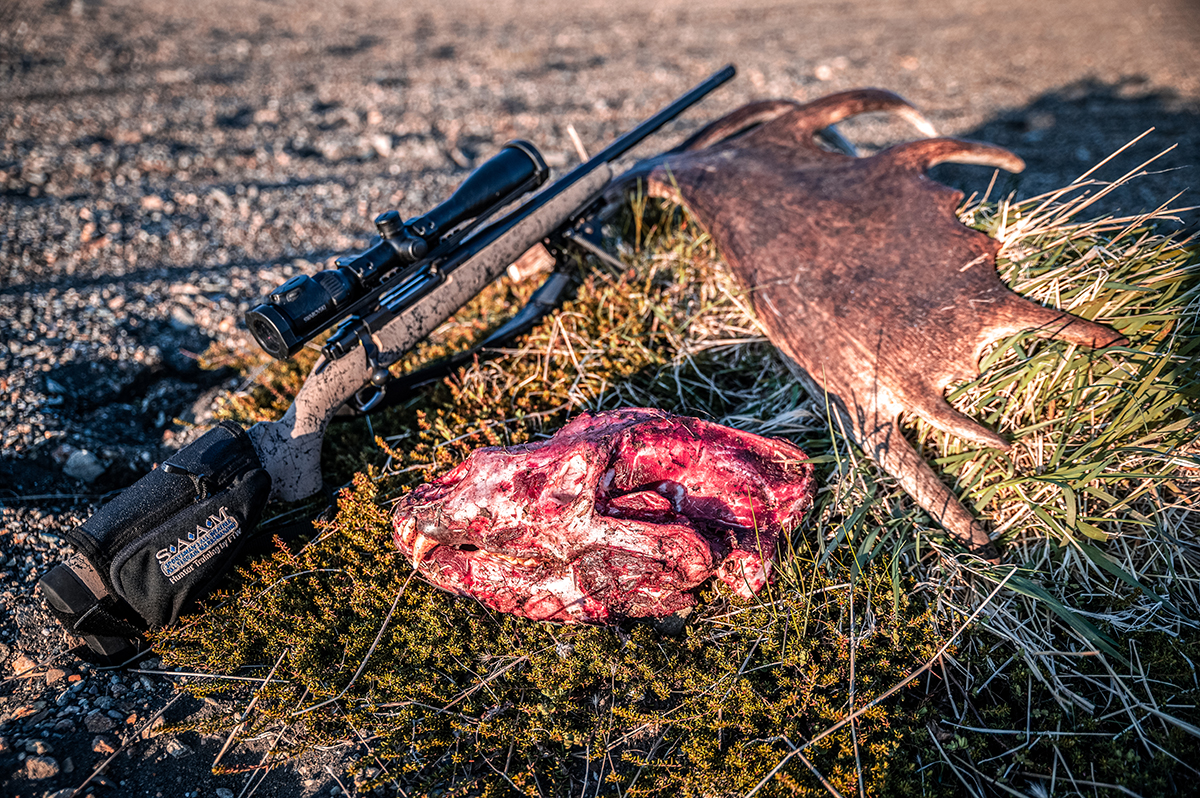 "The deciding factor for me, as we looked at a few different scopes, was that the Swarovski has the illuminated (BRH) reticle, which just helps immensely when you need that quick target acquisition," Stark says. "Your eyeball just immediately goes to that illuminated reticle."
Stark put that to the test as he used his rifle to navigate the FTW course, which is designed to mimic real-life hunting scenarios, which you can check out in the video above.
---
Alaska Bear Hunt Part 2: Three Very Different Bear Guns
The second installment of this one-of-a-kind Alaska hunting adventure sees Hafer, Best, and Stark take a small plane (they only get smaller after this) to a remote, off-season fishing town that's all but deserted.
Once there, they inventory their gear and use the stopover to check the zeroes on their bear rifles, which is an absolutely necessary step after the guns and optics have been thrown in and out of planes, trains, and vehicles across half the North American continent — no matter how awesome your Pelican case is.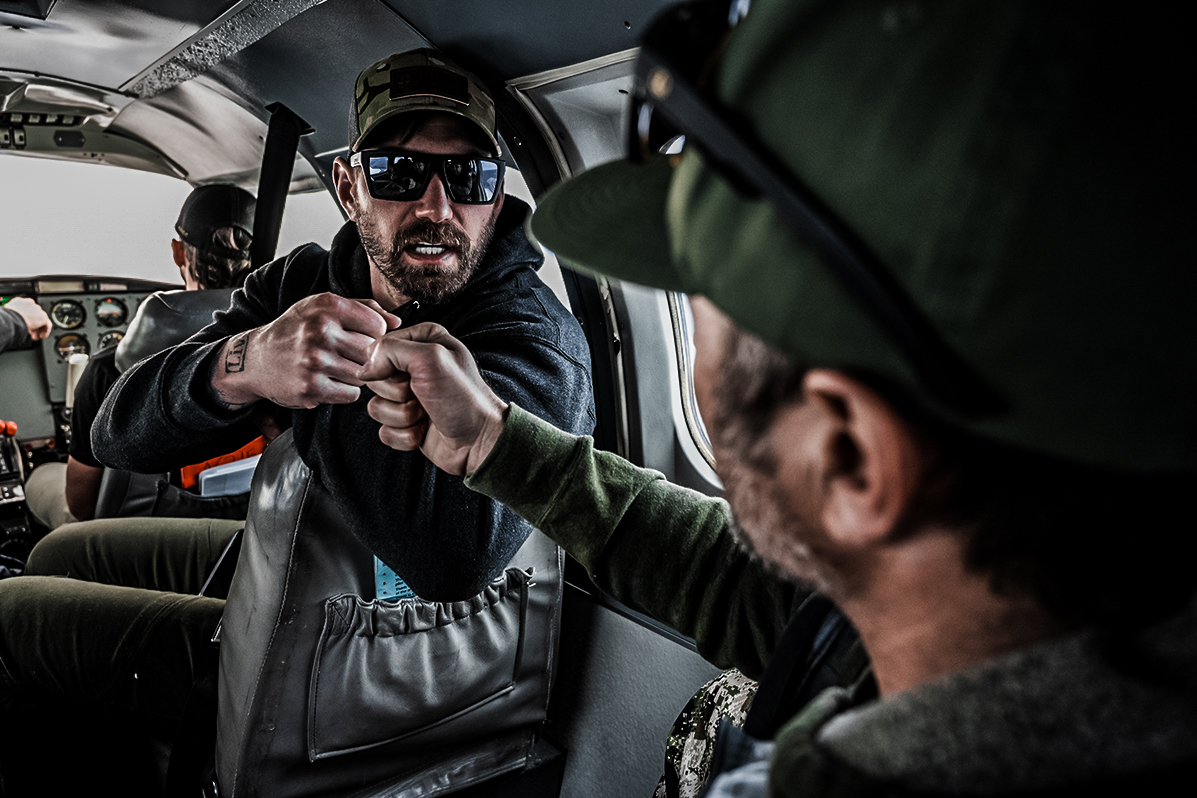 The guys get into the small craft that will take them to the last bit of civilization they will see before even smaller Piper Super Cubs take them on the final leg of their journey and drop them at their remote hunting camp on the Alaskan Peninsula.
"You know, complex logistics getting into places is fun," Hafer says. "That's part of the adventure: going into the backcountry, taking planes, trains, and automobiles to get someplace really remote, and then being able to apply a skill set in order to get even farther — that I really enjoy."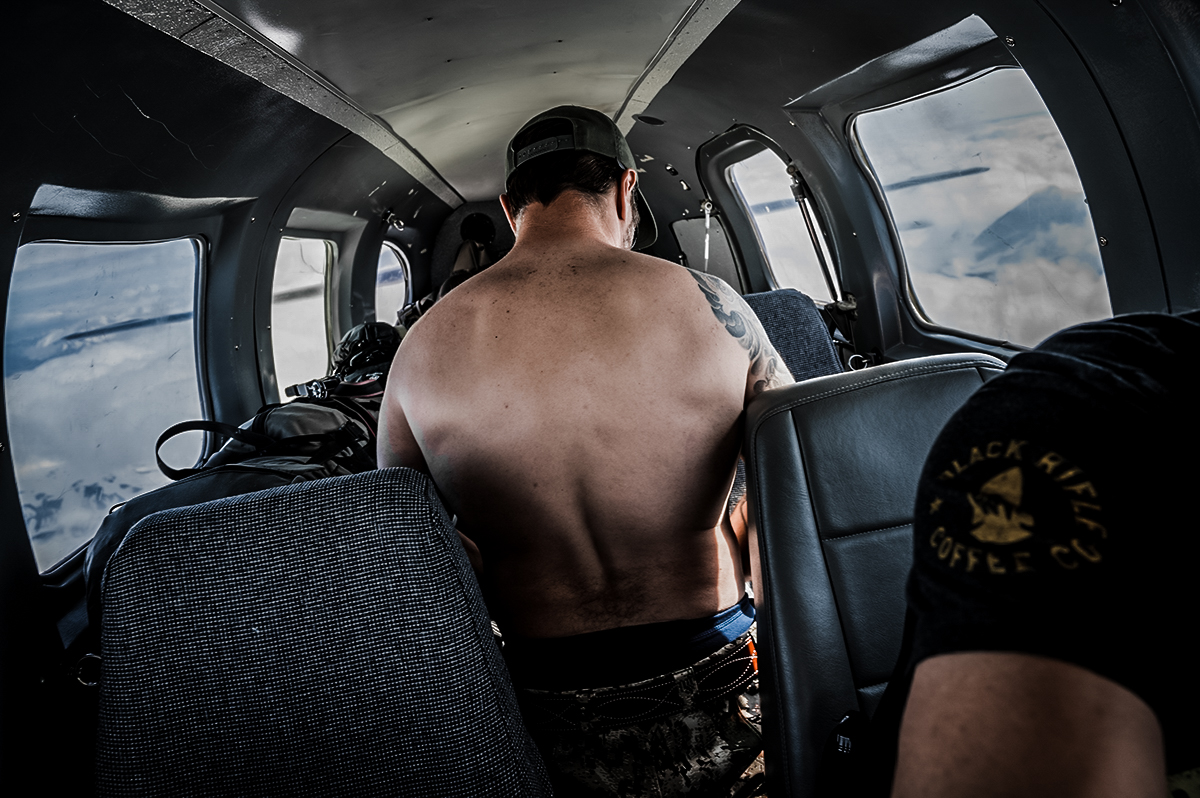 While Best keeps a cautious eye on the ice building up on the plane's wings as they fly over absolutely frigid ocean waters and calculates how long he could survive if they went down (he concludes about 10 minutes), the plane's heat vent is dumping on Hafer, who strips down to the waist before the morning's coffee races through him.
"I put my hand back there, and it was like 100 degrees," Best says. "I look back, and Evan's got his t-shirt off, just sitting in the back. He's like, 'I gotta piss!'"
"I pissed in everything," Hafer says. "I pissed in my coffee mug, and I pissed in two plastic bags."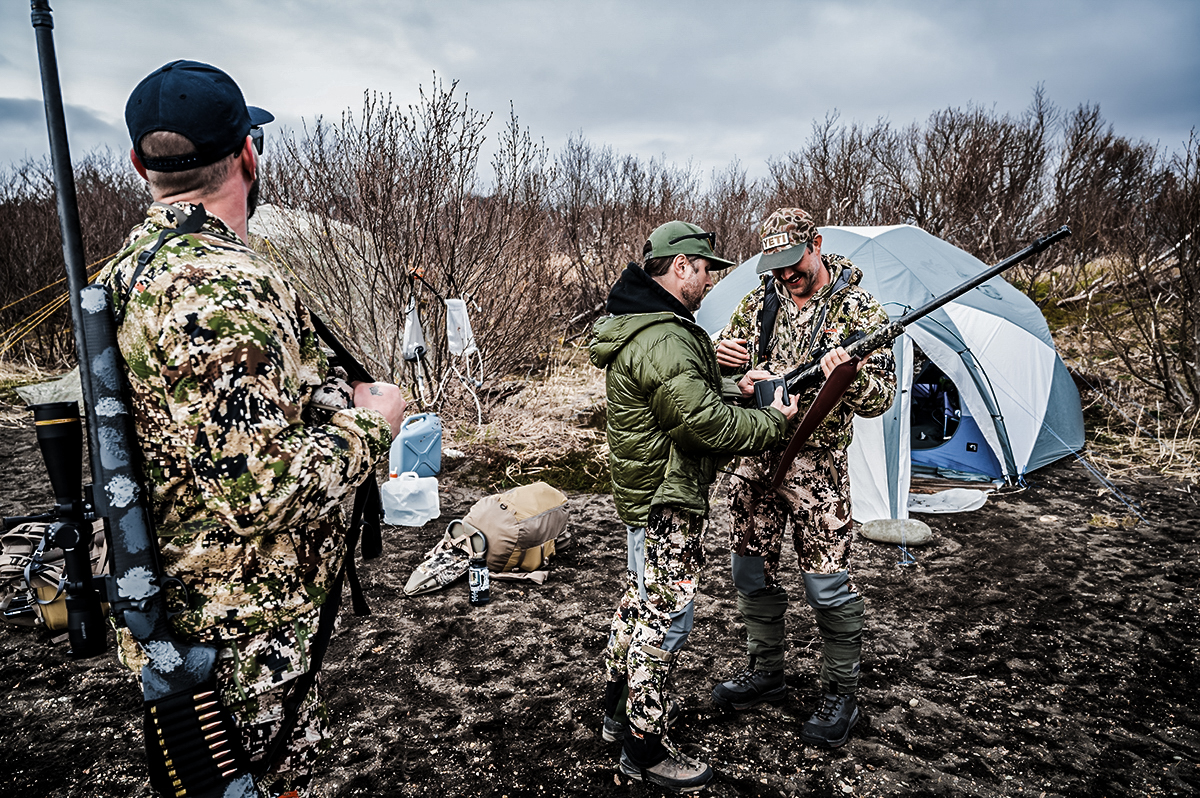 Once they touchdown in the sleepy fishing town, the BRCC hunters start to feel like they've really arrived in Alaska, and they get down to business to make sure they're dialed for the hunt.
"I'm a hunter. That's who I am," Hafer says. "That's part of my DNA. I hunted people for a good portion of my life.
"I'm proud of hunting. I do it to feed my family. I do it for, you know, trophy and conservation reasons. I like the remoteness of it. I like the adventure of it. I like the sport. It's an important part of conservation. And it's also an important part of, I think, being human."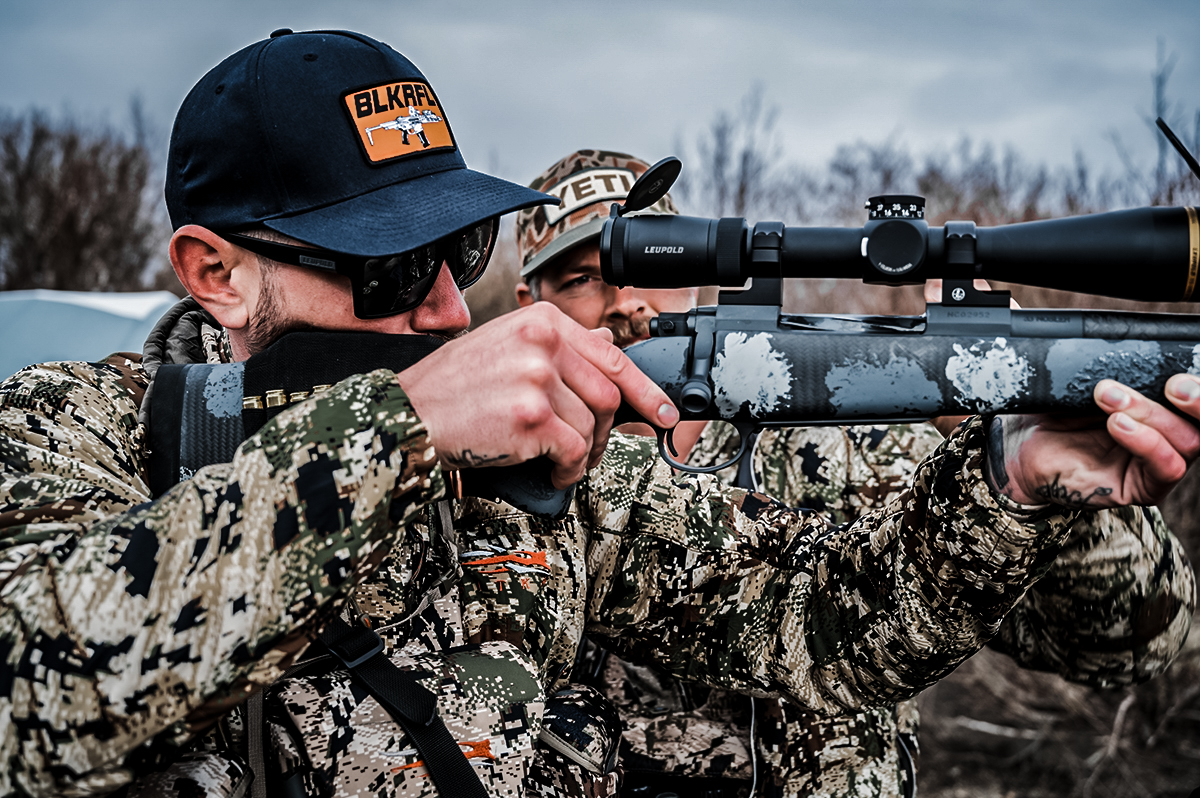 Hafer, Best, and Stark chose different chamberings for their bear bolt guns. As explained above, Stark went with a modern dangerous game cartridge, the .375 Ruger.
Best is running a .33 Nosler rifle with a Leupold scope, and Hafer went with a beast of a rifle and cartridge, a custom, lightweight rifle chambered in .338 Lapua Magnum, also topped with a Leupold optic. It sports a Proof Research barrel and a Surgeon stock.
"It's just ridiculous," Hafer said. "I built it because I needed what I felt was the closest thing to artillery [I could have]. You almost have to wear a mouthpiece with this when you shoot it because it's so light, and it's a .338 Lapua, which is a nasty, big round. It will vibrate your eyeballs when you're shooting it. It's horrible. But it'll put something down."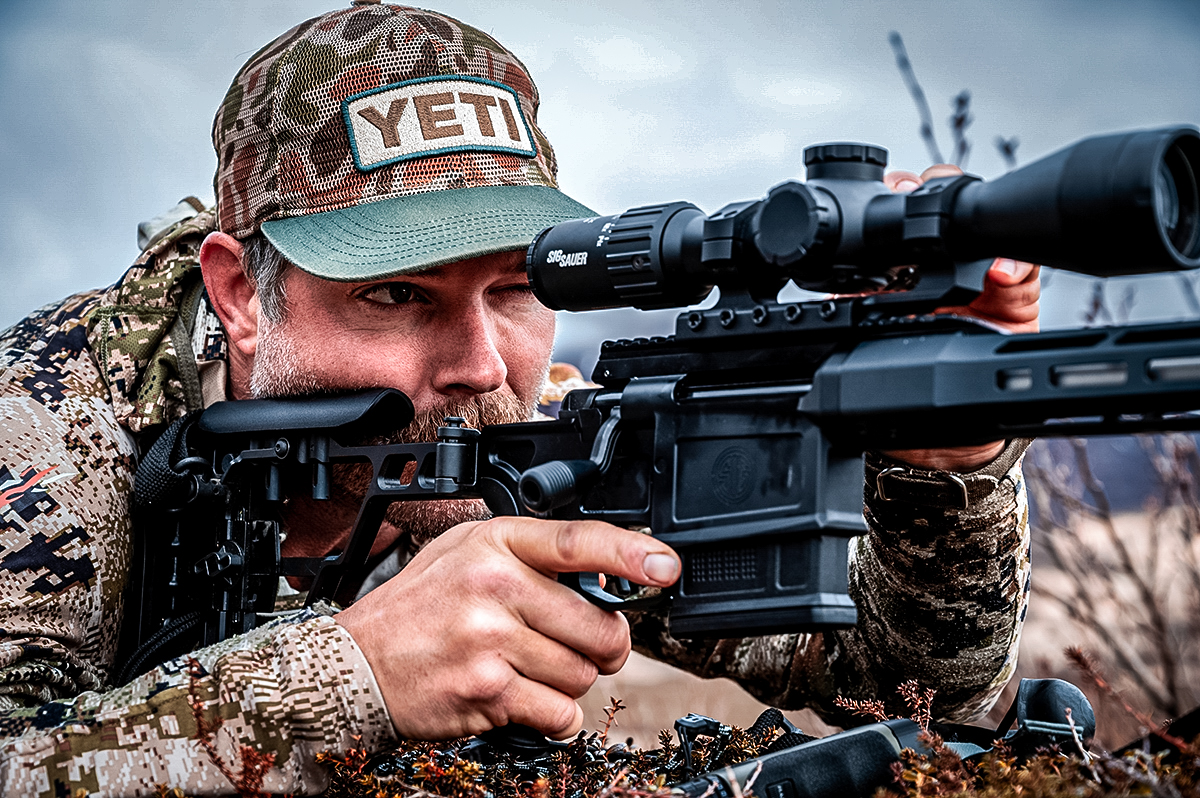 Hafer says his rifle has a sub-1-pound trigger, and Best's reaction when he dry fires it indicates Hafer isn't exaggerating. He says you could set it off by sneezing.
"I like it like that," Hafer says.
After confirming their various zeroes on some convenient junkyard items, the next step is climbing aboard the tiny Piper Super Cub planes that will drop the crew at bear camp so that the hunt can begin!
---
Alaska Bear Hunt Part 3: Life in Bear Camp
In the third episode of the Alaska bear hunt chronicles, Hafer, Best, and Stark climb into a Piper Super Cub bush plane that will drop them one by one at the spartan bear camp the group will call home for the next 15 days.
Best compares the bush plane to a dune buggy with wings.
"I think a dune buggy may be giving it too much. A lawnmower with wings would be more accurate," Stark says.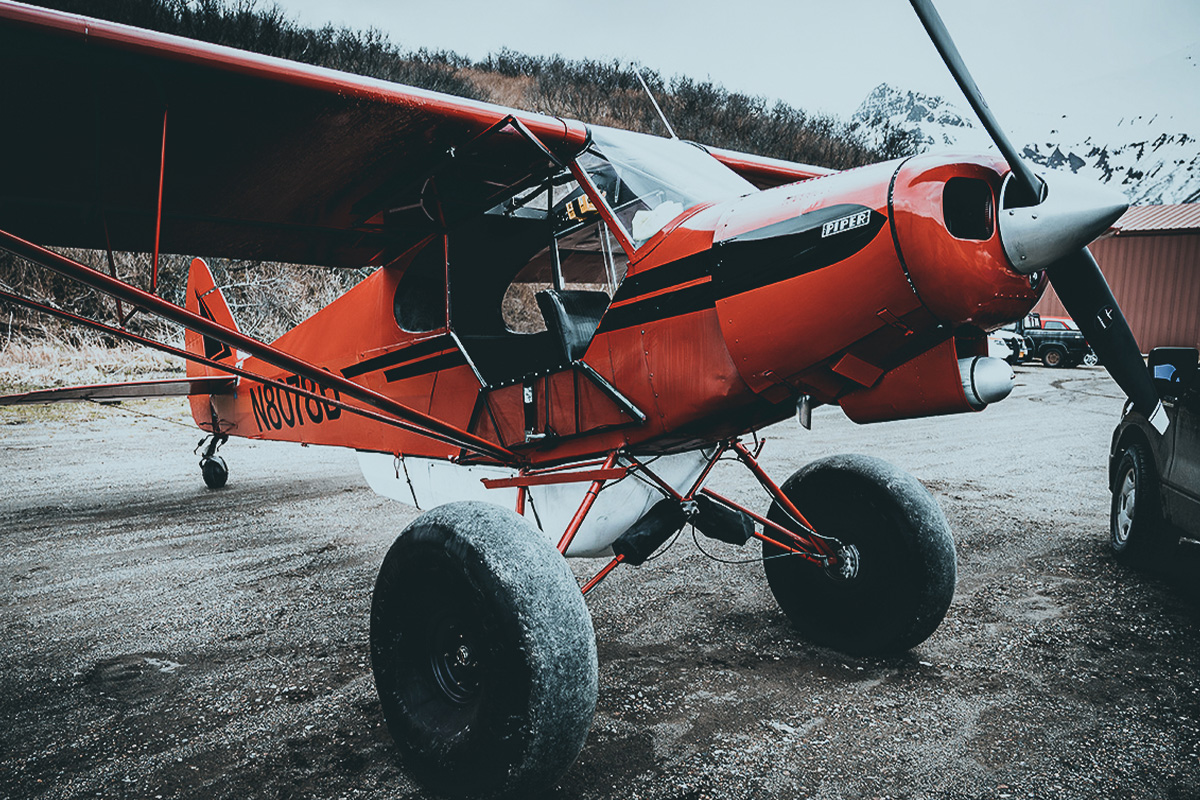 "That was my favorite part of the travel," Best says. "Because you're flying through these valleys at a really low altitude. I mean, it must have been, like, 800 feet, and you're just kind of following the Earth and going through the hills and valleys to get to the landing site. For me, that was just frickin' awesome."
"We landed in an old lake bed," Hafer explains. "There are no roads. There's no humanity. There's nothing for hundreds of miles, so you really have this sense of being disconnected from society and technology in a way that very few people have the opportunity to do."
When they finally arrive, they meet with legendary Alaska guides Cole Kramer and Will Wilks.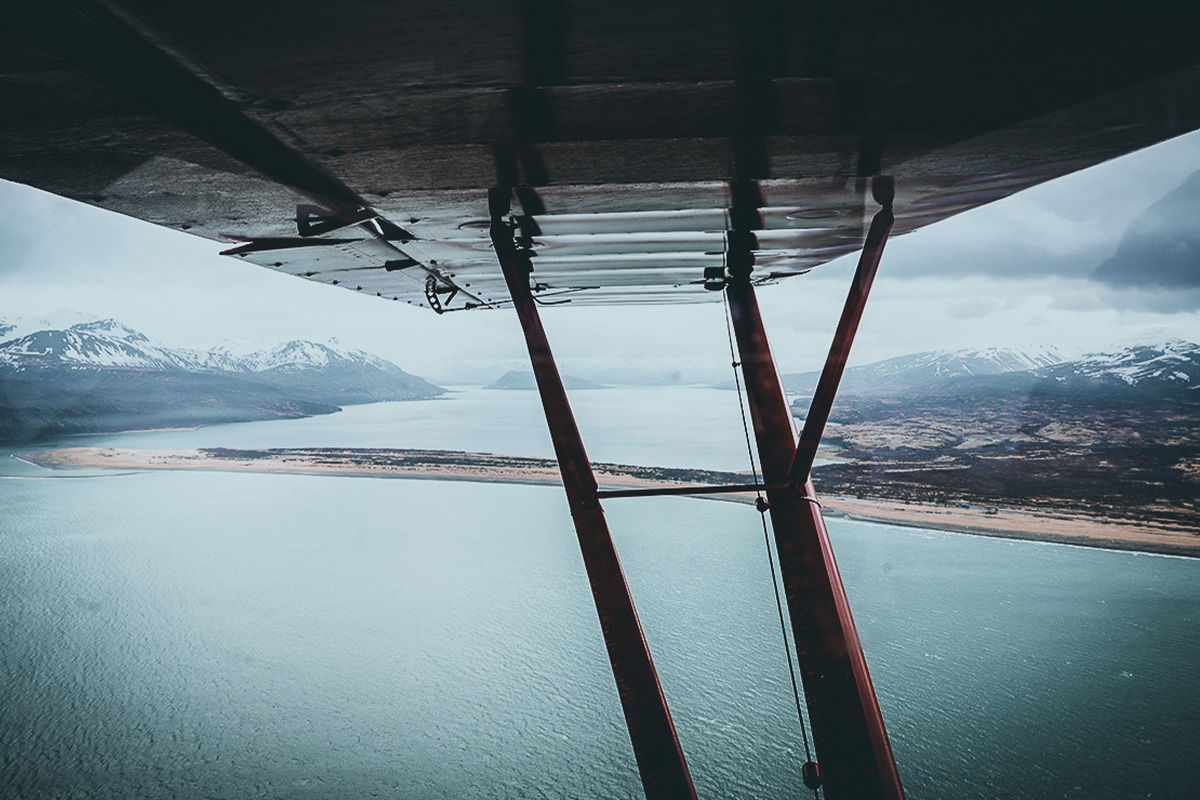 "I didn't want to go out and do it with some rando," Hafer says. "I wanted to know who I was going out and hunting with. I have a relationship with Cole. He came out and participated in Veteran Adaptive Athlete Shoot (VAAS). He volunteered a bunch of his time, and he's obviously one of the most accomplished guides in Alaska."
The group sets up camp far from anything remotely resembling civilization.
"It is the definition of God's country," Best says. "It's not touched by humans. You have some hunters that go out there, but you leave it better than when you came. It's cool to see something that wild.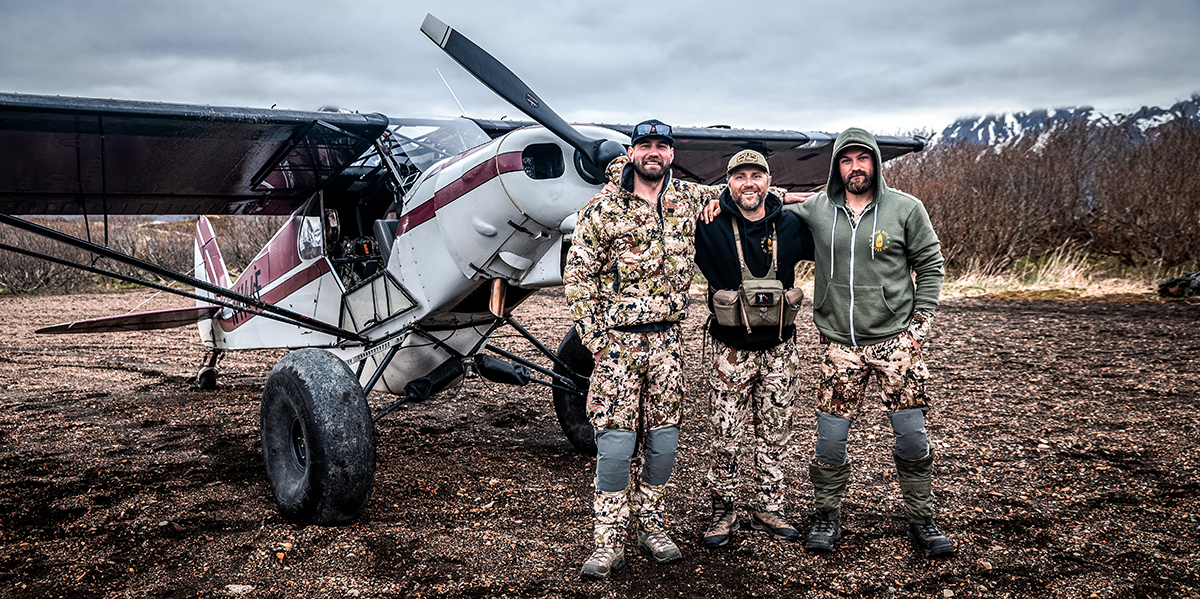 "If you break a leg, you're in some serious shit out there. No one is coming for hours upon hours."
It's also bear country, which means if you're living there for a while, you stick to freeze-dried meals, trail mix, and anything you can heat up over a camp stove — no cooking fires or campfires.
"Smoke and bears don't get along because their noses are so good. You don't want to leave a scent trail because they'll leave," Best explains.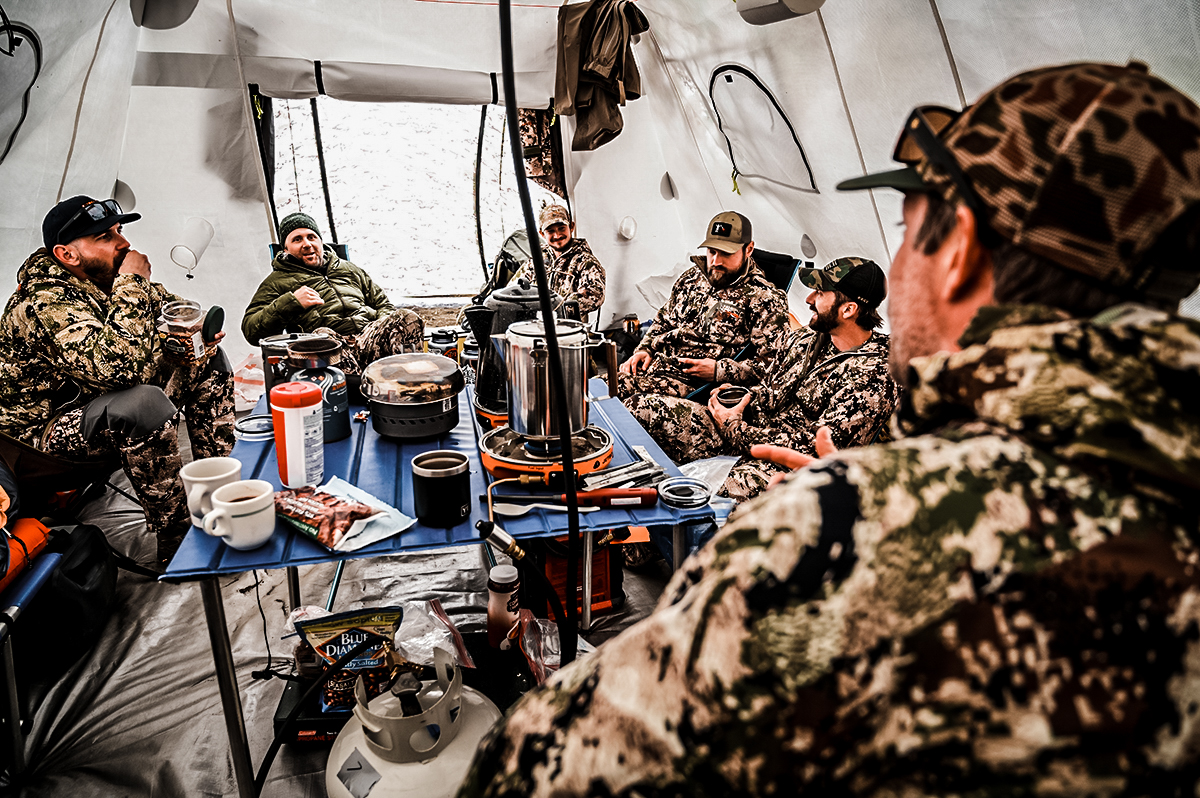 The next step in the hunters' big adventure is hours and hours of endless glassing in shitty weather, huddled under a tarp as they put in time and pain to gain big rewards in the end.
Subscribe to the FRA YouTube channel now! A new episode of the BRCC Alaska Bear Hunt will drop every Monday, and you don't want to miss a minute.
---
READ NEXT – Feds Move Closer to Grizzly Bear Delisting