Kevin Brittingham, the creator of the famous (or infamous) Honey Badger AR, grew up competing with his older siblings for a place in the world and watching his dad fight with bare knuckles. Maybe that's why he fights so hard today.
By the time he was in high school, Brittingham was making a living selling suppressors. At 19, he opened his own suppressor manufacturing business, Advanced Armament Company (AAC).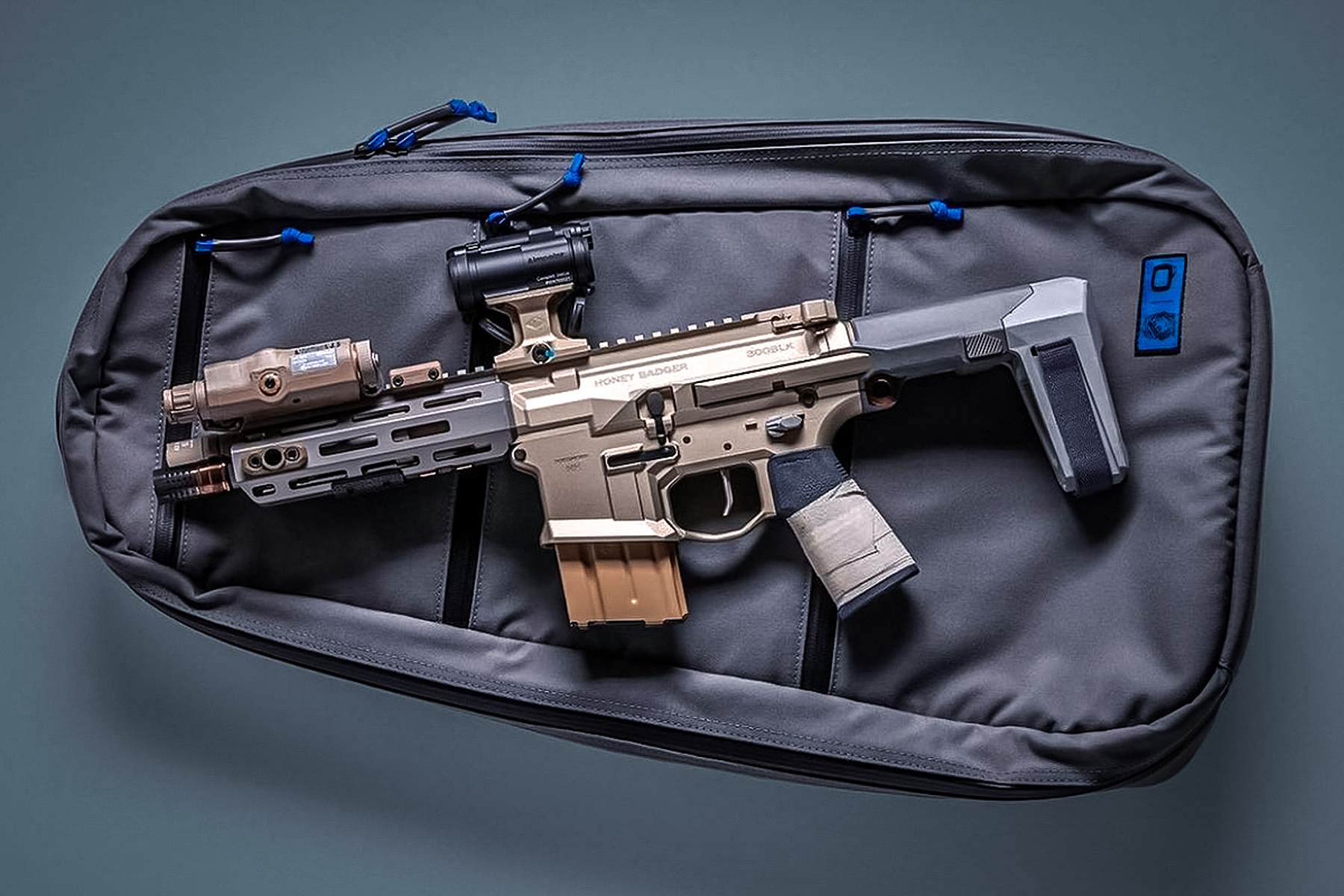 Brittingham is an unconventional and ruthless businessman. He also has some really good ideas about how to make the AR platform better. That's why Remington and SIG Sauer both hired him to bring their suppressors and firearms up a notch.
These days, he's running his own show at Q, LLC. He and Q created a following with the modern Q Honey Badger, but you might know them better for a shitstorm involving pistol braces and the ATF that gets more interesting by the day.
READ NEXT – Vortex Defender CCW Red Dot: 100 Rounds and a Drop Test
---
Breaking Down this Distinct AR Platform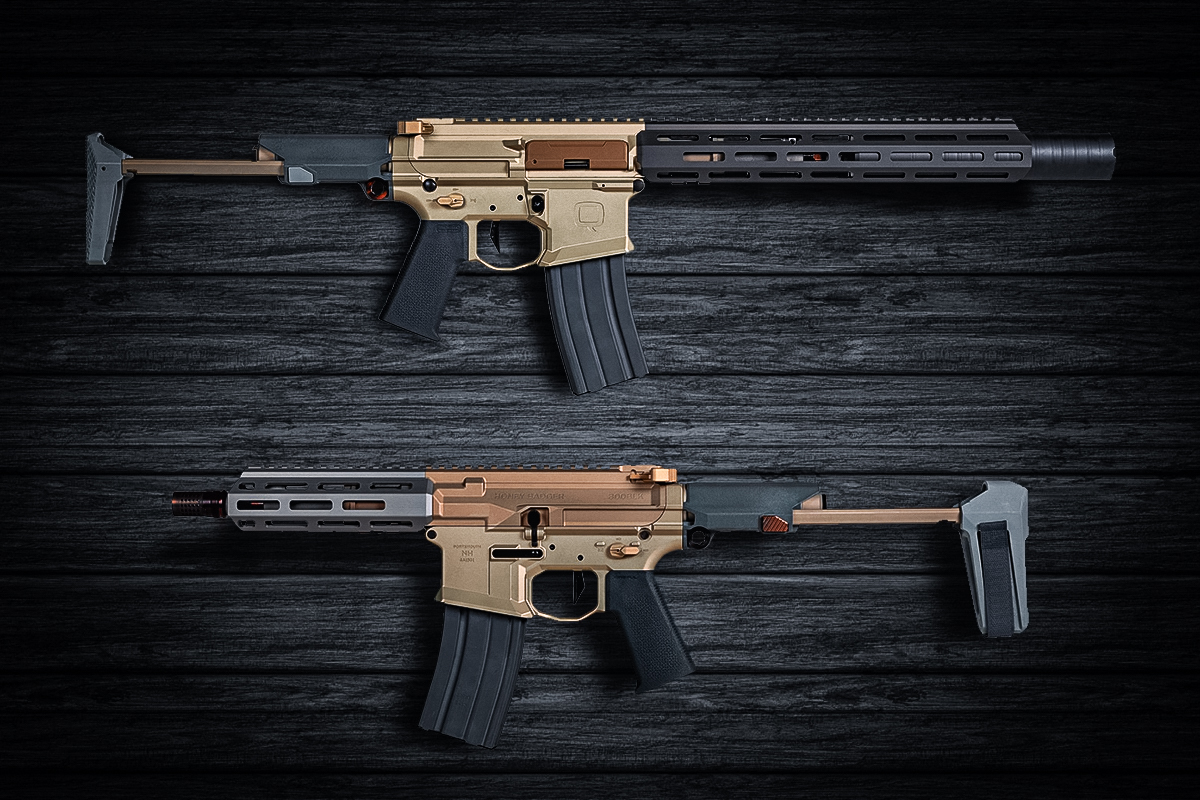 The Honey Badger was developed from the tried-and-true AR platform. It's a lightweight (about 4.5 pounds), magazine-fed, direct-impingement firearm with an easily separated upper and lower receiver. The original Honey Badger came with a collapsible stabilizing brace. Today, you can choose from two Honey Badger SBRs and a Honey Badger pistol with no brace.
If you've built muscle memory running the AR's charging handle, fire selector switch, and magazine release, picking up a Honey Badger will feel familiar — bougie, but familiar. That also means that many components can be swapped out interchangeably.
Q specs these guns to the nines, but if you prefer something other than the stock Geissele trigger, for example, you can drop it right in. The top accessory rail and M-LOK handguard let you add whichever optics and accessories your little heart desires.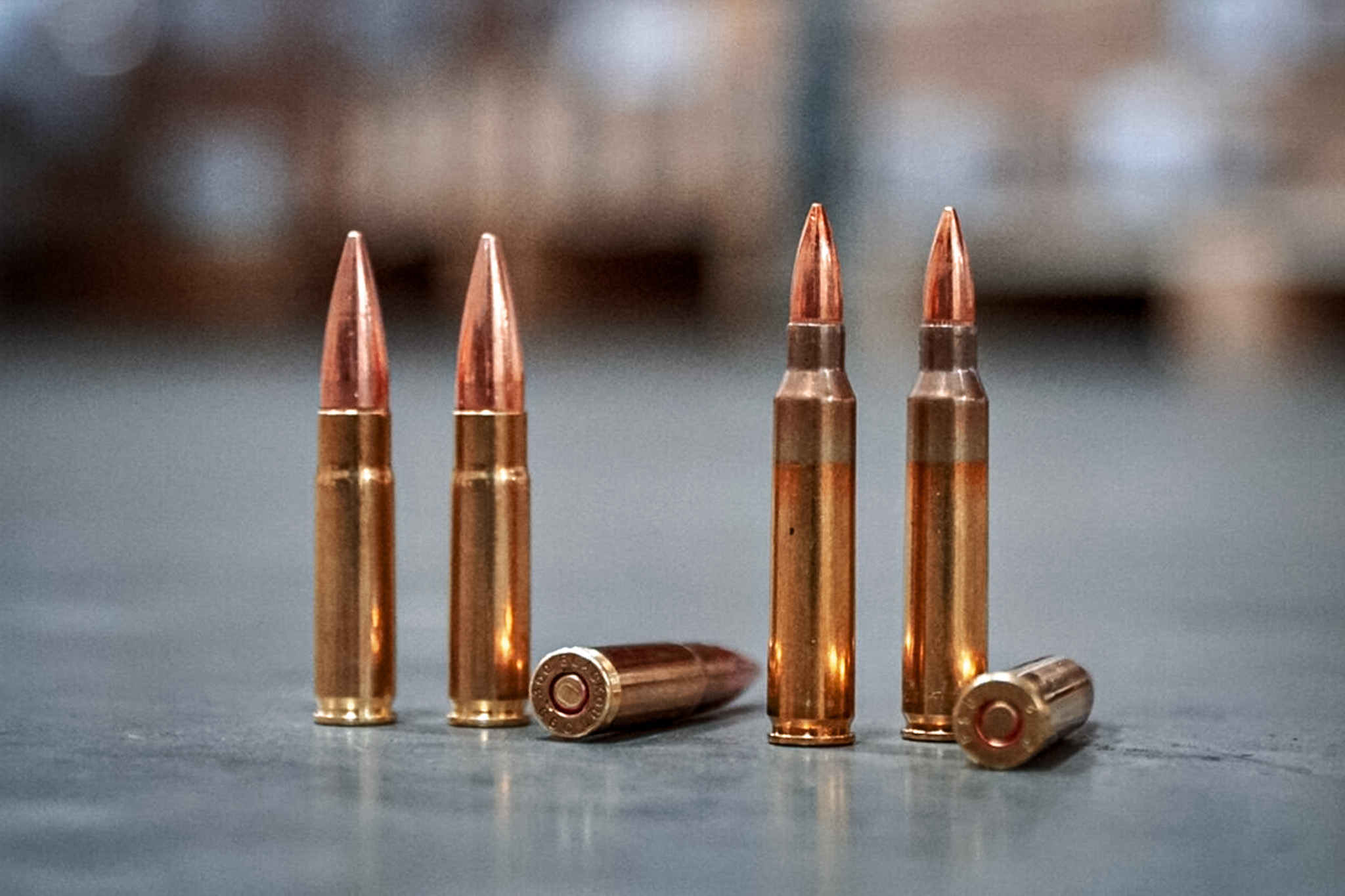 One of the biggest differences is the Honey Badger's chambering: .300 AAC Blackout.
If you're not familiar with the round, it's essentially a .308 bullet stuffed into a 5.56 NATO case. The cartridge is Brittingham's design, and it gets the most out of a seven-inch barrel.
Sure, .300 BLK doesn't fly as well as 5.56/.223, but it's more powerful inside 200 yards, and the big, heavy bullet is easy to take subsonic, meaning it runs much quieter through a suppressor than 5.56. It uses the same magazines, lower receiver, and bolt group. In other words, it's the ideal cartridge for AR pistols.
That's no coincidence; Brittingham designed the Honey Badger and .300 BLK together. They were a package deal from the very beginning, much like the 1911 and .45 ACP.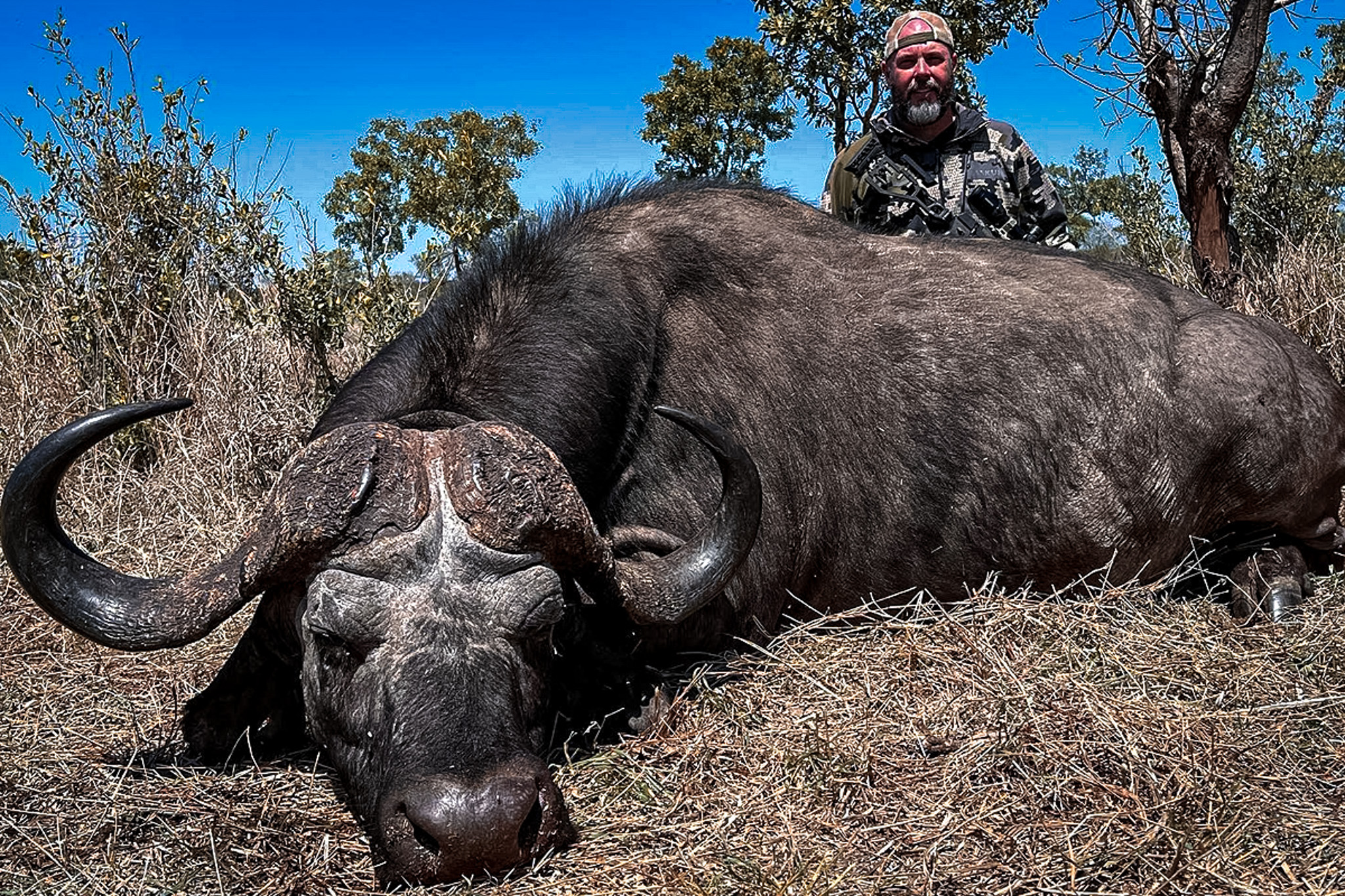 To get the most out of this cartridge, the Honey Badger's barrel uses a 1:5" twist instead of the more common 1:7" twist. The gas system includes an adjustable gas block that can be tuned to work with supersonic or subsonic rounds.
The tapered muzzle is gaining support among manufacturers as the optimal design for mounting suppressors and muzzle devices. All these little touches combine to make a big difference. So much so, that the Q Honey Badger is only an AR from the most basic design perspective.
"Magic ain't cheap," Brittingham says in a company video. "The Honey Badger looks like an AR-15; there are so few parts on it that are stock off-the-shelf parts — some of the springs, some of the pins, and that's about it. Everything else is proprietary."
And yes, everyone loves to talk about the Honey Badger's distinct gold and silver color scheme — and it ain't Cerakote. The receiver and free-floating M-LOK handguard are made from two different types of aluminum, both with a clear anodized coating. It's functional because clear anodizing is supposedly stronger than adding color. It looks pretty rad, too.
GOOD GEAR – Brew With This Chalice of the Coffee Gods With BRCC's Chemex Coffee Maker
---
The Complicated History of the Q Honey Badger AR
In 2010, Brittingham saw an opportunity to build a better version of the Heckler & Koch MP5SD that many U.S. Special Forces units were using at the time. He wanted a cartridge that outperformed the 9mm, a platform that functioned like the AR-based firearms service members were already familiar with, a collapsible buttstock, and an integrated suppressor.
To bring this concept to life, Brittingham sold AAC to Remington in 2009. The honeymoon period was almost nonexistent, though. Paperwork, legal disputes, and personal disagreements doomed the partnership from the beginning.
The Freedom Group–owned version of AAC fired Brittingham in 2011. He came out of the ensuing legal slugfest flush with cash, took his toys, and went home. Then he went to SIG Sauer.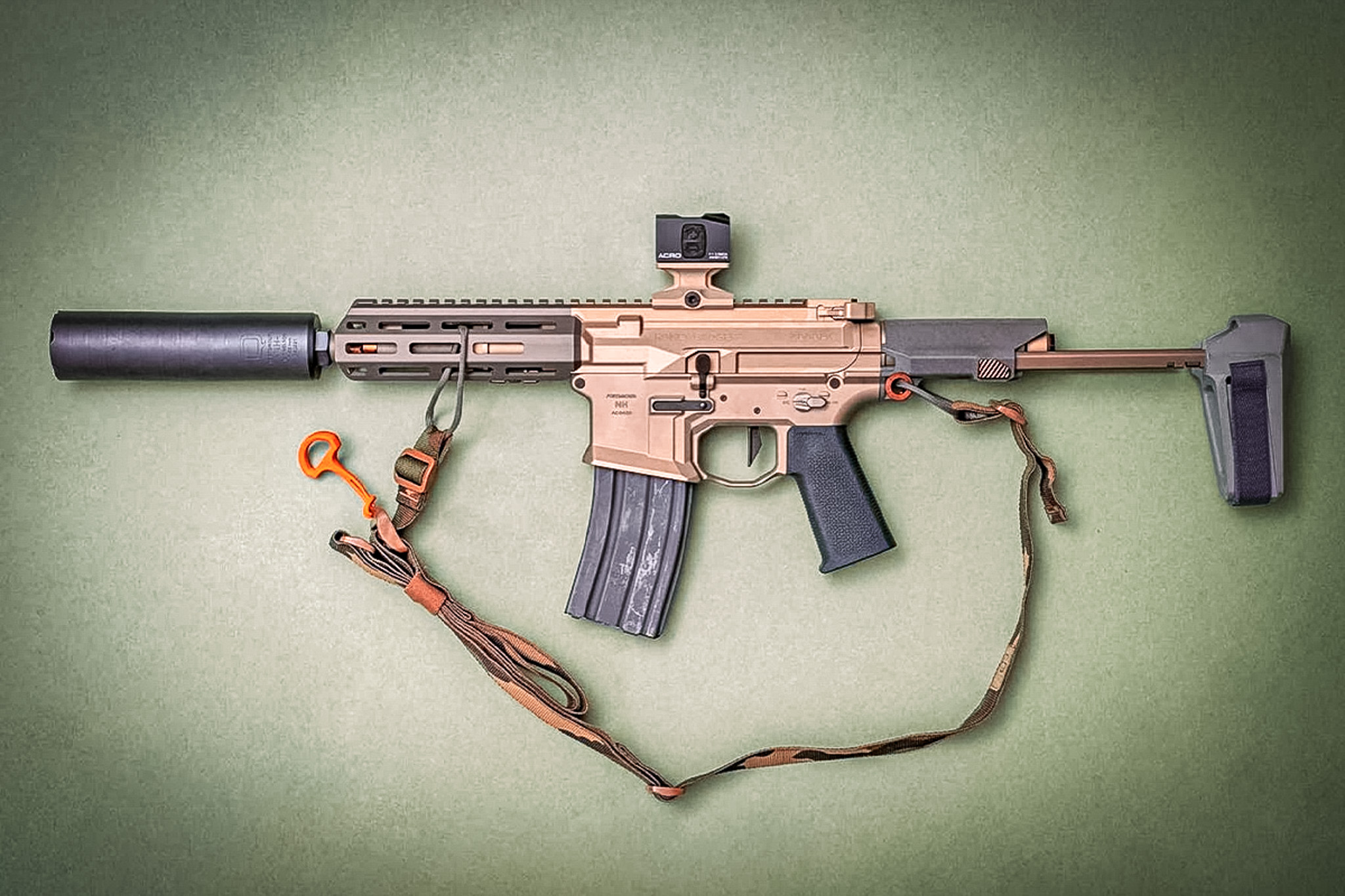 SIG hired Brittingham in 2014 to develop the brand's suppressors. The partnership also put a big bullseye on the AAC Honey Badger and the new duo of Brittingham and SIG came after it hard with the SIG Sauer MCX.
Without Brittingham at the helm, AAC was unable to sort out teething problems with the fledgling Honey Badger, and the more polished MCX (backed by Brittingham's know-how) had it dead to rights.
Brittingham parted ways with SIG Sauer in 2016 — presumably on much better terms than his Freedom Group exit — and formed Q, LLC. He raised the Honey Badger from the ashes, fixed what ailed it, and finally found the success for the platform that he always knew was possible. Q launched the updated Q Honey Badger AR and more budget-friendly Q Sugar Weasel commercially as premium-grade AR pistols.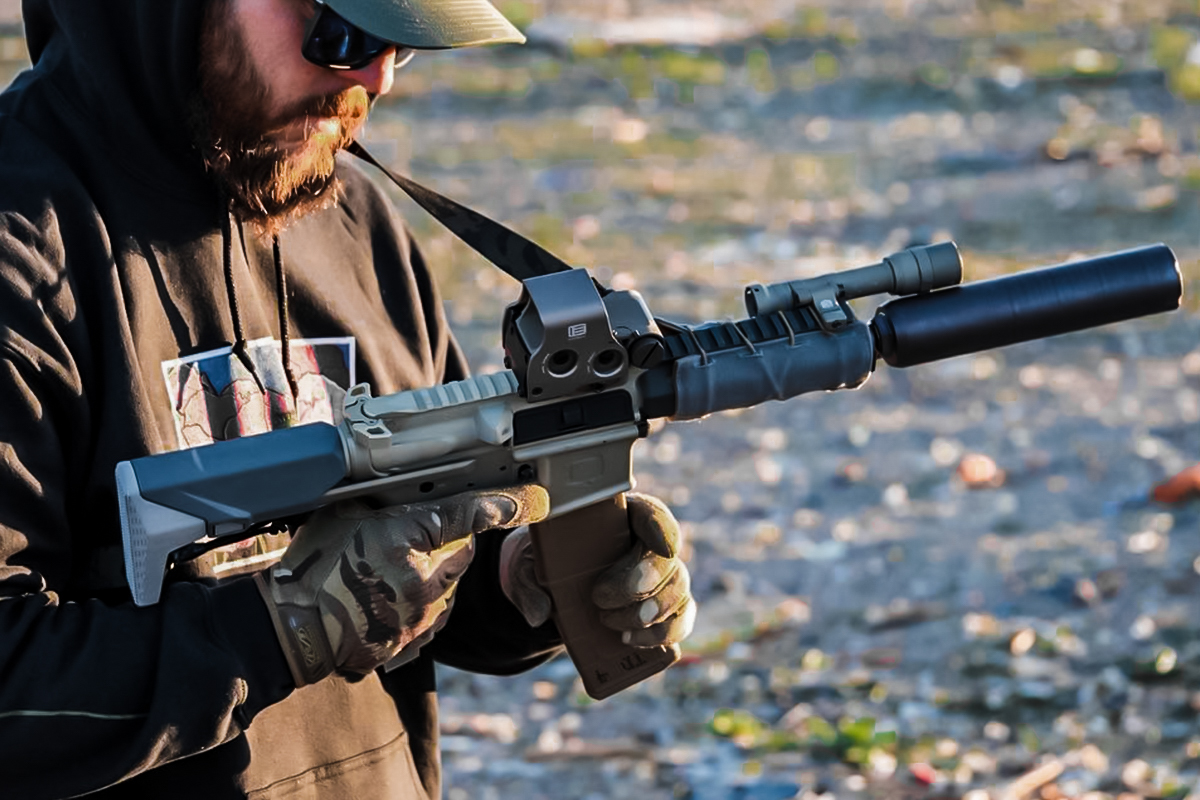 Legally speaking, a pistol must have an overall length of 26 inches or less with a barrel no longer than 16 inches. Here's the real bugaboo: The Honey Badger does not have a buttstock or foregrip, and it is not intended to be fired from the shoulder. This sounds cut-and-dried, but you can come up with different measurements by using different points on a firearm, and "intended" is a completely subjective term.
Q, LLC considered the Honey Badger an AR pistol from day one. The ATF did, too, but somewhere along the way that changed.
READ NEXT – The Turkey Shotgun: What You Want in a Dedicated Gobbler Getter
---
Honey Badger vs. the ATF: An Ongoing Legal Battle
In 2020, Q, LLC was kicking ass and taking names with an AR pistol that was the talk of the firearms community. The Honey Badger had an awesome name, gun reviewers were lining up to get their hands on one, and customers were shelling out $2,400 a pop with smiles on their faces. Everyone was happy — well, almost everyone.
The controversy over the Honey Badger stemmed from the SB Tactical stabilizing brace on the Honey Badger. According to Q, LLC, the brace results in a length of pull equaling 13.35 inches — well within the limit for a pistol.
According to the ATF, it exceeds 13.5 inches. That's rifle territory, and the rules for selling, purchasing, and owning a short-barreled rifle are very different from the ones for pistols.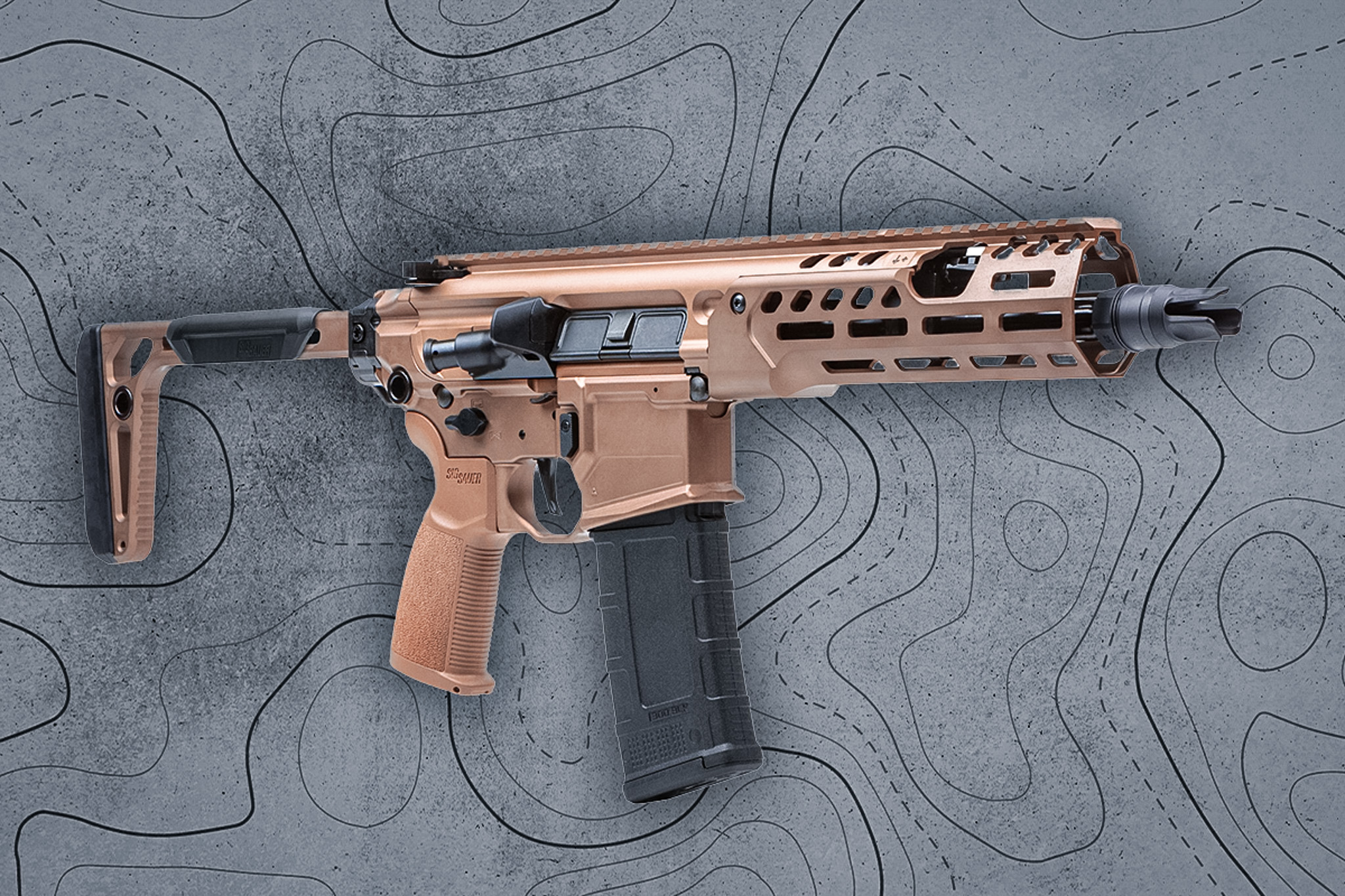 The ATF sent a cease-and-desist letter to Q, LLC dated August 3, 2020, that alleged the Honey Badger was not a pistol at all, but that it was, legally speaking, a short-barreled rifle (SBR). The ATF's Firearms and Ammunition Technology Division (FATD) had inspected the Honey Badger and determined that the brace was actually a buttstock, making the gun subject to the National Firearms Act rules regarding SBRs.
When the ATF sent the letter, other gun manufacturers were using the same brace, seemingly with no issue. This caused confusion and rang a few alarm bells in the 2A community, but Brittingham took steps to work with Uncle Sam and play by the rules.
The easy solution was to sell a Honey Badger SBR with the brace and a Honey Badger pistol without the brace. Remember that SBRs aren't illegal; they just require additional paperwork and taxes. What was curious, though, was the ATF's decision to single out one particular manufacturer, let alone one that didn't even manufacture the brace in question.
During a 2020 interview with Colion Noir, Brittingham said that he was able to work with the agency initially, but when he pressed for specific ways to comply with existing rules in the future, the ATF stopped responding to him in writing. He also pointed out that there were about 4 million pistol braces in circulation at the time, the vast majority of which were not on a Q Honey Badger.
"Clearly, this is just a stepping stone to them going after braces in general," Brittingham predicted.
"I see you as the canary in the coal mine," Noir said. "It's only a matter of time until they use this to start limiting our rights under not only just the brace but every other type of firearm we have."
Sound familiar? On January 15, 2023, the U.S. Department of Justice announced that any firearm with a brace and a barrel shorter than 16 inches would be legally classified as an SBR (if you want to dig into this rule, check out our deep-dive on the subject). Firearm manufacturers, dealers, and owners were given 120 days to remove the brace from each applicable firearm, register the weapon as an SBR, or surrender it to the ATF.
This ruling faced predictable backlash from gun owners, manufacturers, and advocacy groups. Within a month of the announcement, 26 states jointly filed two lawsuits challenging the decision.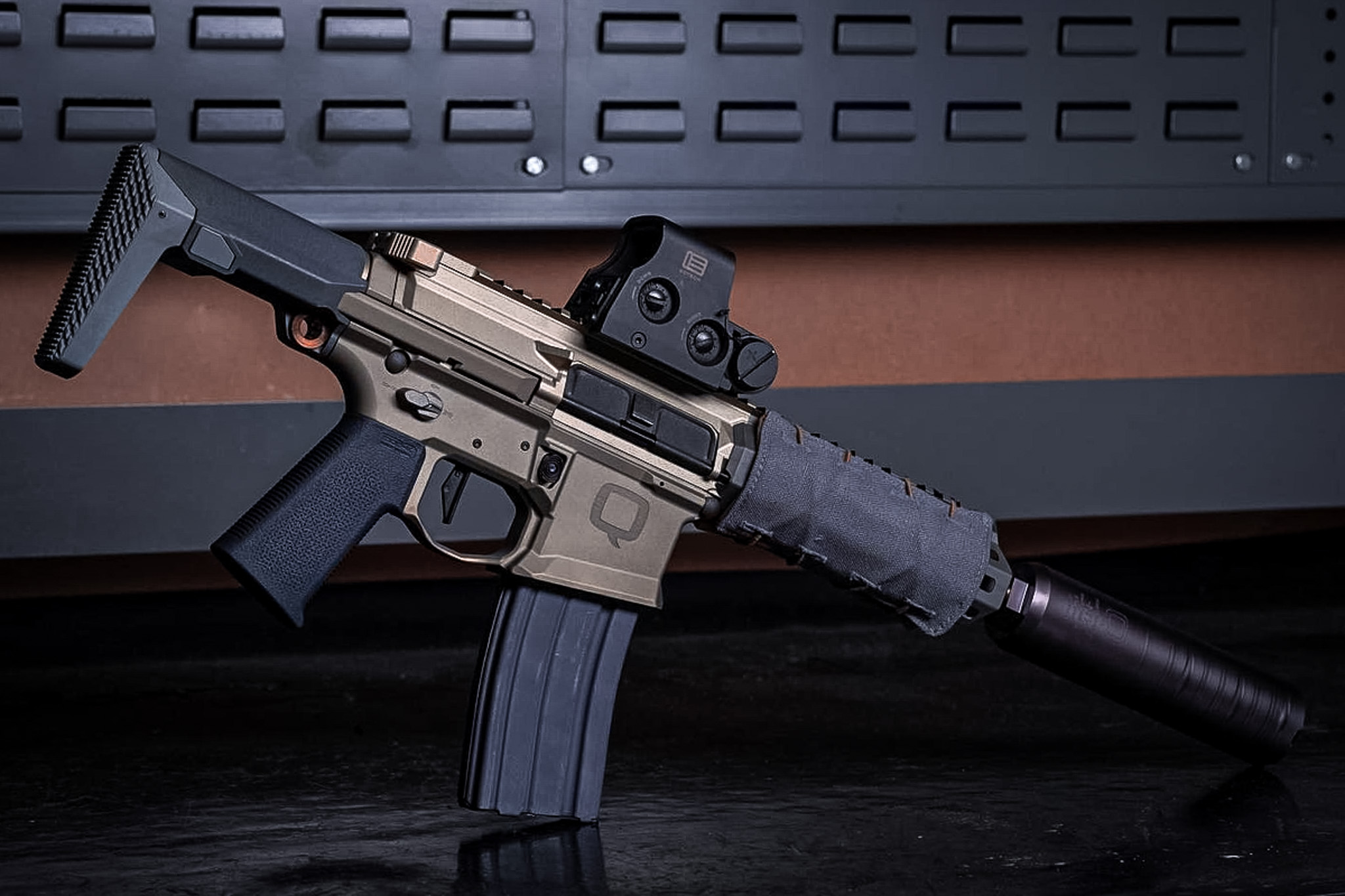 "This rule is dangerous and unconstitutional, and I'm hopeful that this lawsuit will ensure that it is never allowed to take effect," Texas Attorney General Ken Paxton declared in a statement.
"The NRA believes this rule will fail for the same reasons the bump stock rule failed — ATF can only apply federal statutes; it can't rewrite them," NRA lobbyist Jason Ouimet predicted in a statement.
In a 2023 video on Q's YouTube channel, Brittingham explained that complying with the ATF is important to his business, his customers, and his desire to stay out of prison.
"You know, we've developed a great weapon platform that y'all need and you seem to enjoy," he said. "So we're giving you the option to still have it and make your own decisions. Do it however you want. Listen, I'm a simple dude, I have a business, I have people that I love and care about that work with me, and I love our customers and want to support you."
We still don't know exactly how this situation will shake out, but it's obviously not just about the Honey Badger anymore.
GOOD GEAR – Add a Little Snakebite to Your Coffee With BRCC's Bourbon Roast
---
Yes, You Can Still Buy a Honey Badger
These days, Q, LLC is alive and well despite its legal hurdles. The company's current product lineup includes SBRs, pistols, rifles, silencers, and accessories.
---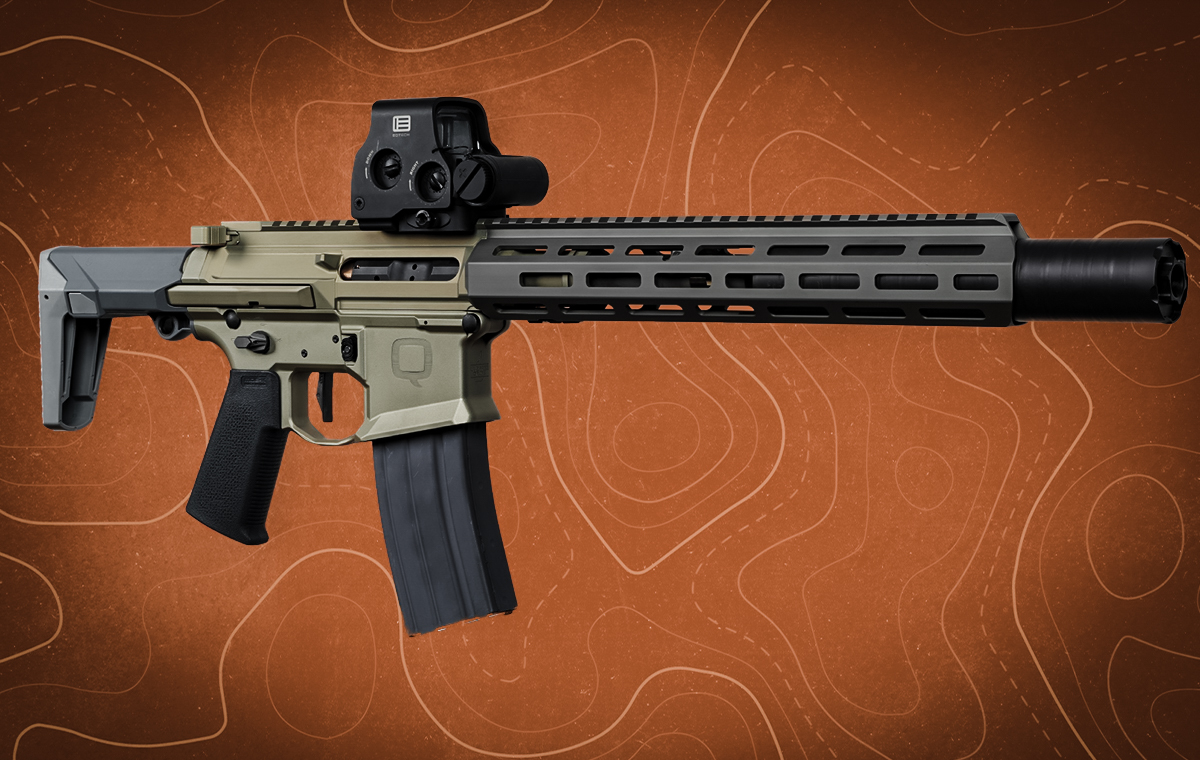 The Honey Badger was born to shoot through a can, and this is the iconic AR in its truest form. It comes with a Q Quiet Ass Silencer and an extended handguard that covers most of it. Yes, $3,500 is a lot of money, and you're going to have to jump through legal hoops to own one, but just look at it.
Caliber: .300 AAC Blackout
Barrel Length: 7 inches
Overall Length: 31 inches
Collapsed Length: 26 inches
Weight: 6.4 pounds
Muzzle device: Q Quiet Ass Silencer
Stock: PDW Stock
MSRP: $3,500
---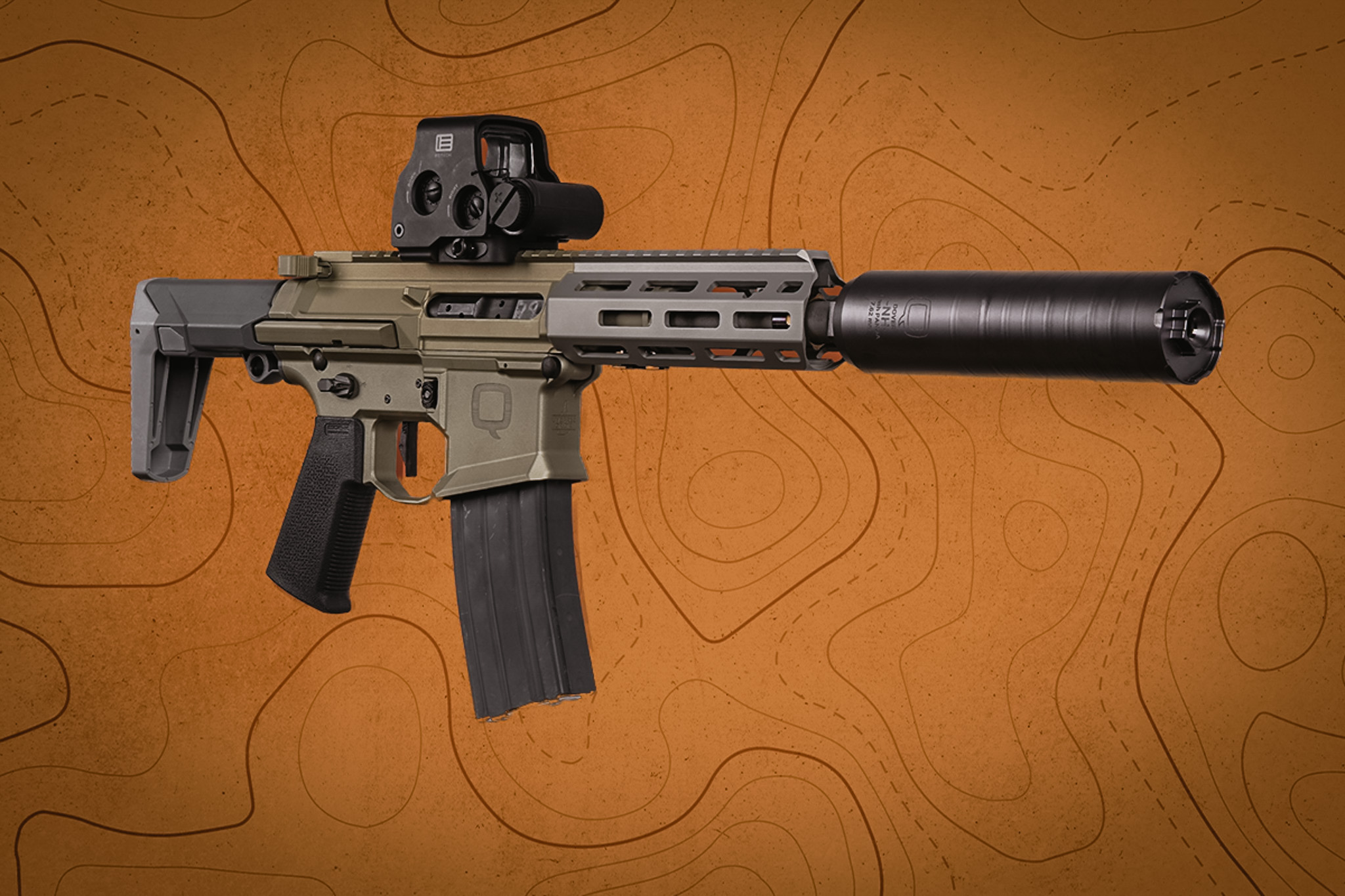 This is the most OG Honey Badger, but it is an even better version of AAC's original. Q pulled no punches on this one, and you'll get all the high-end components and design cues you'd expect for an AR that costs $3,000.
Caliber: .300 AAC Blackout
Barrel Length: 7 inches
Overall Length: 25 inches
Collapsed Length: 20 inches
Weight: 4.5 pounds
Muzzle device: Q Motherfuckin' Cherry Bomb muzzle brake
Stock: PDW Stock
MSRP: $3,000
---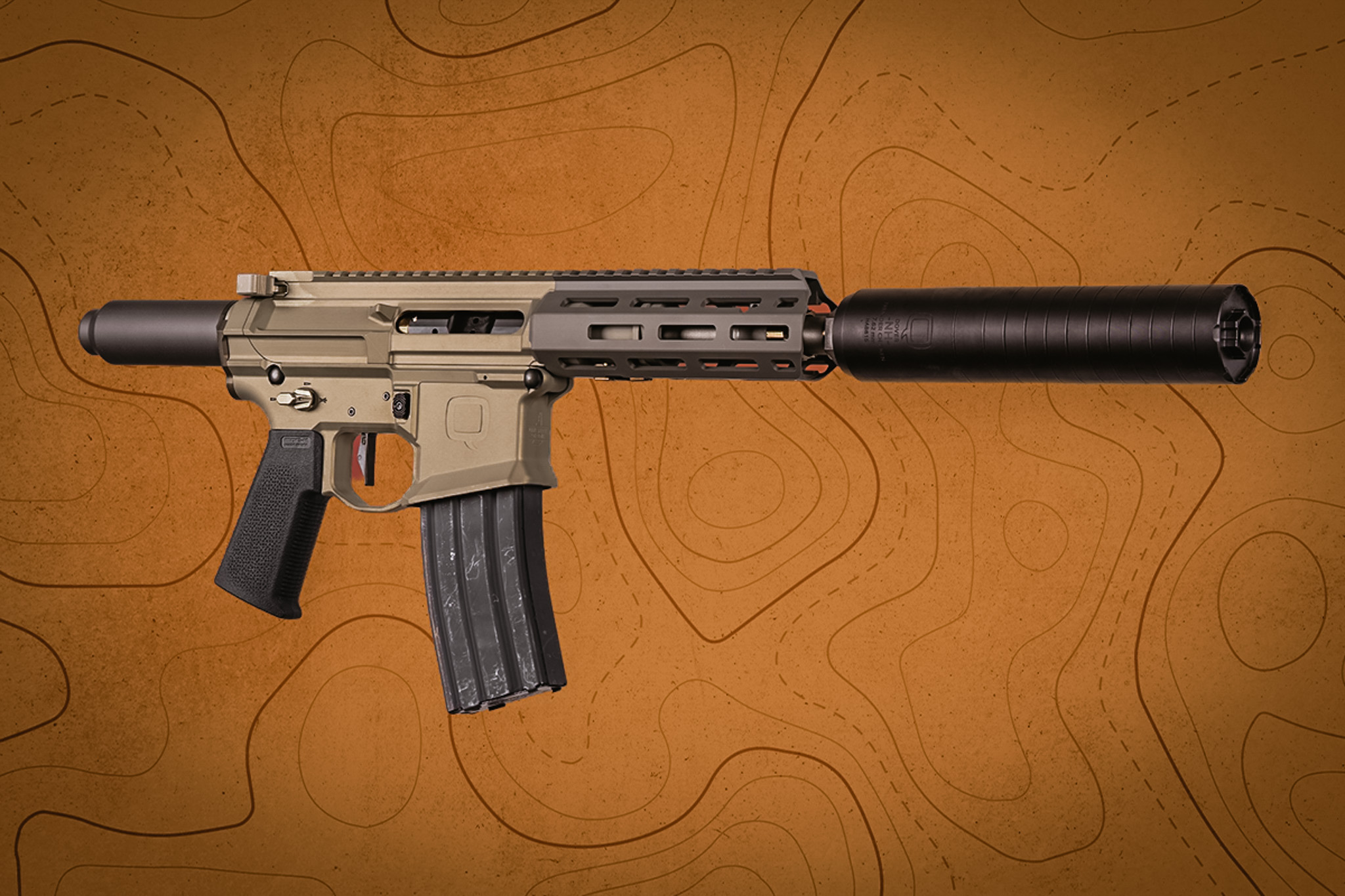 How do you eliminate any controversy stemming from the brace-or-buttstock debate? Easy; don't use either. This pistol version of the Honey Badger comes with a threaded barrel and a simple, padded buffer tube.
Caliber: .300 AAC Blackout
Barrel Length: 7 inches
Overall Length: 19.75 inches
Weight: 4.2 pounds
Muzzle device: Q Motherfuckin' Cherry Bomb muzzle brake
MSRP: $3,000
---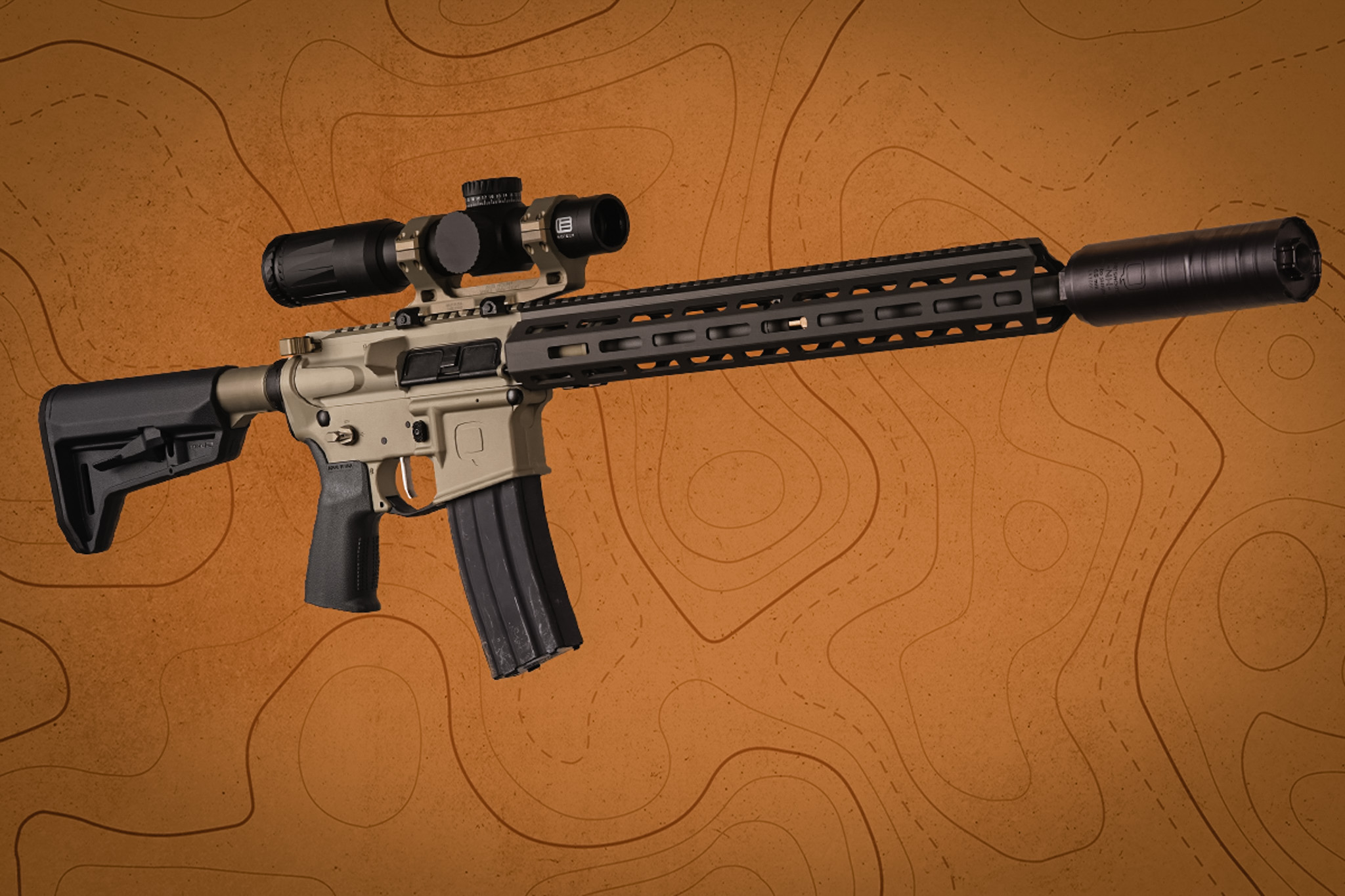 Back in the day, the Q Sugar Weasel was a less expensive Honey Badger. It still costs less, but now it's available as a carbine-length rifle and an SBR. You lose some of the finer touches of a Honey Badger when you step down to the Sugar Weasel, but it's still a solid AR.
Caliber: .300 AAC Blackout
Barrel Length: 7 or 16 inches
Overall Length: 25.75 inches or 35 inches
Collapsed Length: 22.7 or 31.75 inches
Weight: 4.9 or 6.1 pounds
Muzzle device: Q Motherfuckin' Cherry Bomb muzzle brake
Stock: MOE SL-K Carbine Stock
MSRP: $1,600
---
Parting Shots
The Honey Badger AR gained fame by being a badass firearm that looked awesome and ran like a champ. The reference to a viral internet video didn't hurt, either. What made it a legend, though, was Kevin Brittingham's knock-down, drag-out fight with the federal government.
By now, it's clear that the ATF's beef with Brittingham applies to the broader firearm industry. It's not clear what the future holds, but the two entities seem to have settled on a mutually acceptable path forward with Q selling separate pistol and SBR variants of the Honey Badger.
All we know for sure is that the legacy of Kevin Brittingham and his Honey Badger isn't going anywhere. He's an innovator. He's a political lightning rod. And he doesn't give a shit.
---
READ NEXT – Judge Beats up ATF in Polymer 80 Case – Win for 2A