Shield RMS footprint
Motion-activated with 14-hour automatic shutoff
6-MOA or 3-MOA dot with 10 manual brightness settings
Price: $349.99
Vortex has beefed up its pistol optic lineup with the Defender-CCW, a compact red dot for concealed carry and target shooting. The Defender-CCW uses the common Shield RMS footprint and comes with a Picatinny rail adapter for people who want to mount it on a carbine, presumably with a 45-degree offset mount.
To get an idea of how this optic stacks up against the spec sheet, I gave it a 100-round shakedown and subjected it to a few tests to simulate real-world use as soon as the FedEx package showed up. In short, you get a lot for a red dot under $350.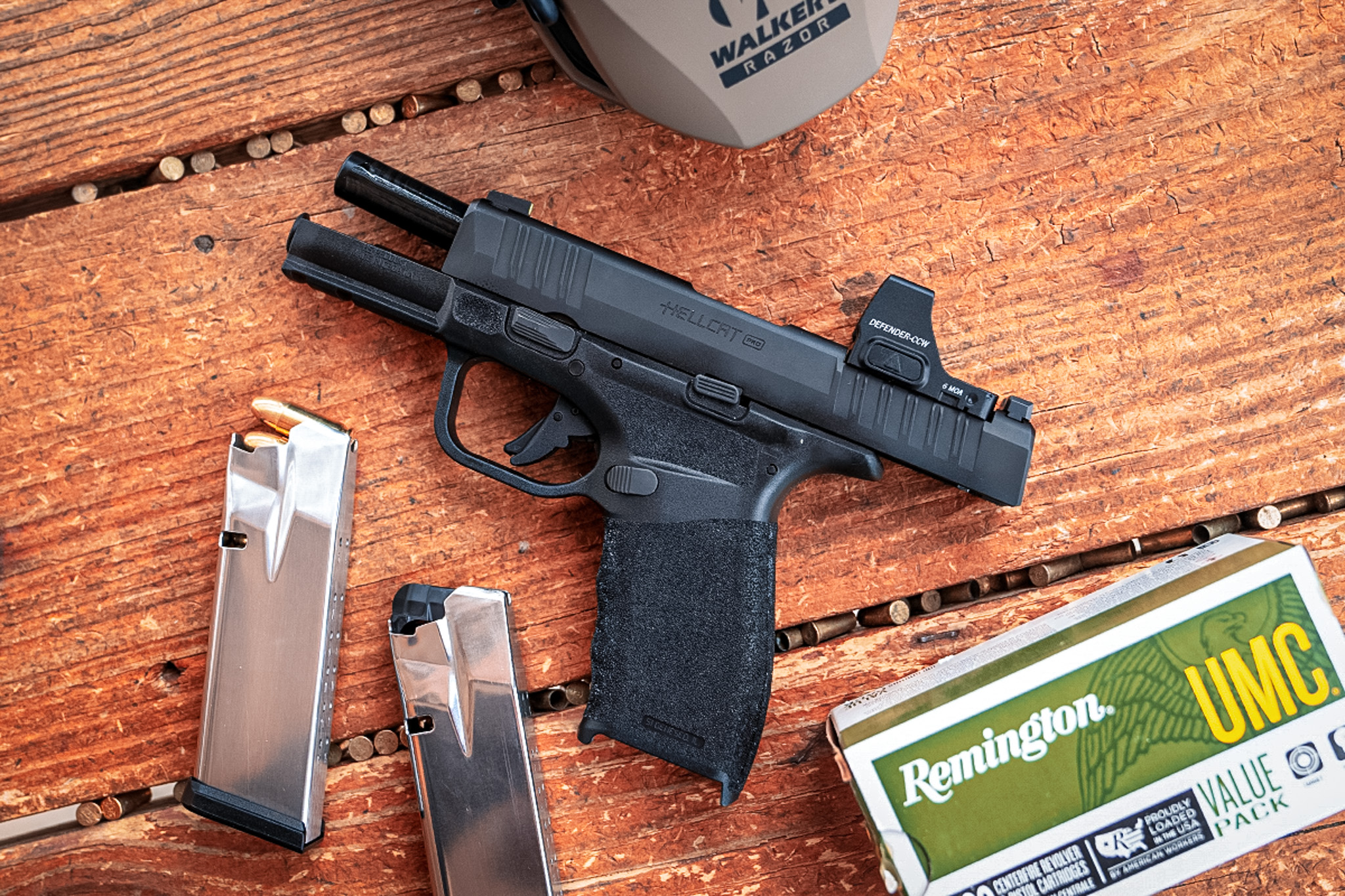 GOOD GEAR – Start Your Day With America's Coffee® With This Chalice of Freedom.
---
Setting Up the Quick Test: Vortex Defender-CCW
Vortex calls the Defender-CCW "compact and tough for everyday carry," so I mounted it to a Springfield Hellcat Pro for this test. The Hellcat Pro shares the Defender-CCW's Shield RMS footprint and excels as a carry gun, thanks to its 15-round magazine and slim profile. The pistol's slide width of exactly 1 inch rewards accessories that prioritize size, whether you're putting a red dot on the slide or a light on the frame's accessory rail.
Ammunition for the test was provided by Remington. The 100 rounds of UMC 9mm target ammunition are representative of what most people train with, even if they use hotter loads for everyday carry or home defense.
---
Mounting the Vortex Defender-CCW
As a general rule, pistol red dots are extremely easy to install. They can only go in one place, and the footprint won't let you screw it up. The only risk comes from over-tightening the screws or using the wrong length — both of which can cause serious problems.
Shipping red dots with compatible screws is standard practice. Vortex goes a step further by including multiple kinds of screws in individually labeled bags for specific firearm makes and models. Instead of matching up threads and wondering if the screws I chose were thousandths of an inch too long, I just sifted through the bags to find the one marked for the Springfield Hellcat Pro. The screws even come with a dab of blue thread locker.
That takes care of size, but how do you know if your red dot is secured properly? Too loose, and it'll lose zero and might even fall off. Too tight, and you're going to be shopping for a new slide. Vortex specifies that the Defender-CCW's screws be tightened to 10 to 12 inch-pounds (or 15 inch-pounds if you do not use thread-locking compound), which I'll admit is not something my wrist can accurately detect.
A while back, I purchased a torque wrench to make sure I do jobs like this correctly. Mine has clear markings at one-inch-pound increments down to 10 inch-pounds, which is far more precise than the other tools I've found.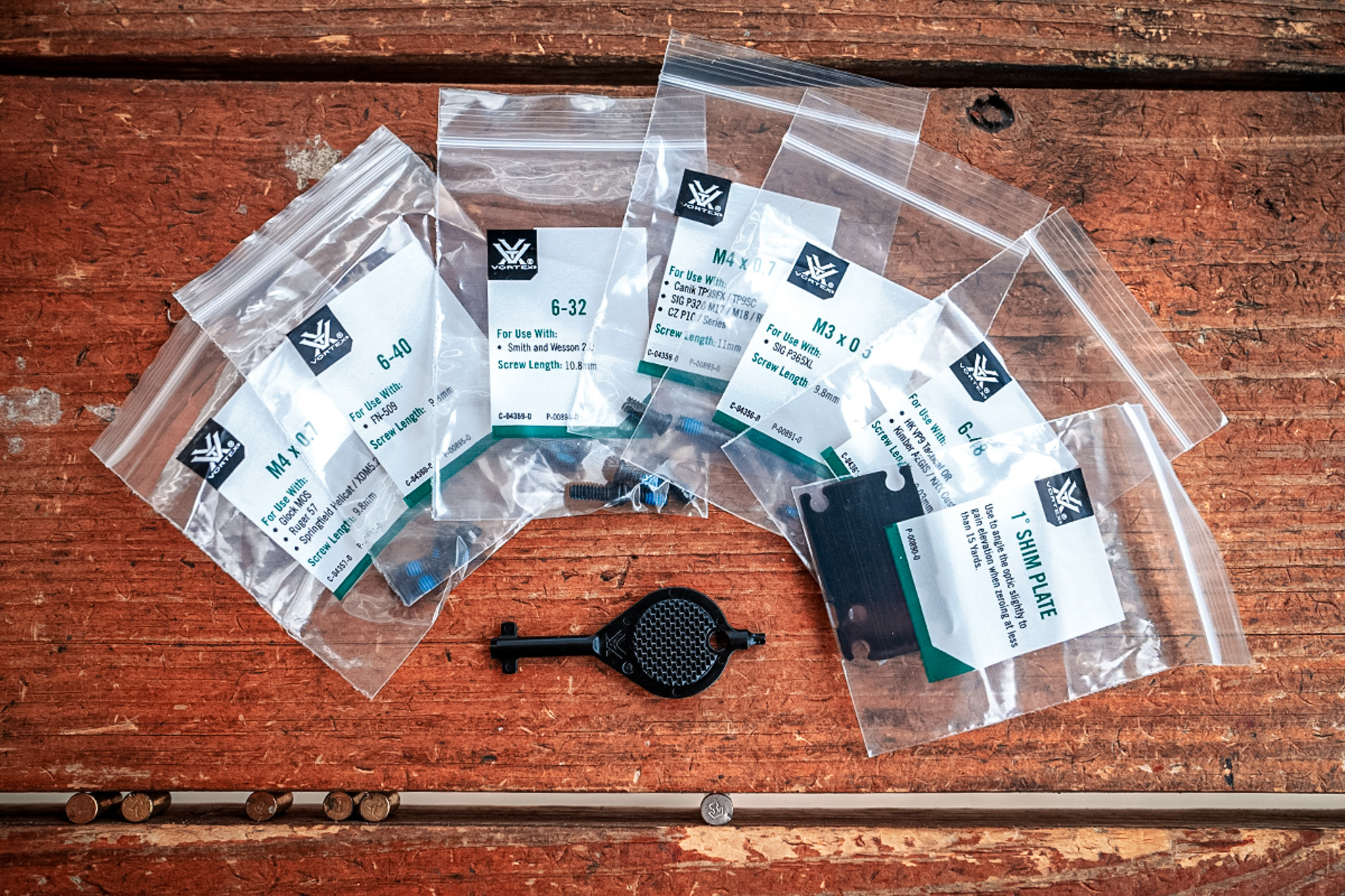 ---
Zeroing the Vortex Defender-CCW
With the optic securely mounted and tightened to spec, the next step was establishing zero. I braced myself against the shooting bench rest to take as much human error out of the process as possible. My initial group was low and left. I made small adjustments using the included tool and got it right where I wanted it.
One click of the adjustment screw moves the reticle one minute of angle. For pistol shooters, that equates to 0.25 inches at 25 yards, 0.15 inches at 15 yards, and so on. The red dot offers 30 MOA of adjustment per rotation and a total of 110 MOA in maximum elevation adjustment and 105 MOA in maximum windage adjustment.
In extreme cases, that much vertical travel may not be enough. A one-degree shim is included to raise the rear of the optic enough to overcome this.
READ NEXT – Bushnell RXC-200 and RXU-200 Red Dots: 100-Round Test
---
Carrying the Vortex Defender-CCW
To preserve battery life, you can either power down the Defender-CCW manually or let it go to sleep on its own, which it will do after 14 hours. If you let it turn off automatically, the optic will shake awake the next time you move it. I've never been able to catch it in this process; it's always awake by the time I get a look through the window — as it should be.
There are 10 brightness settings to choose from, and the Defender-CCW defaults to the last setting you used. The lowest two settings are for night vision, and the rest are for daytime use. Buttons on either side of the optic let you toggle through the settings, activate button lockout, and turn the power on and off manually.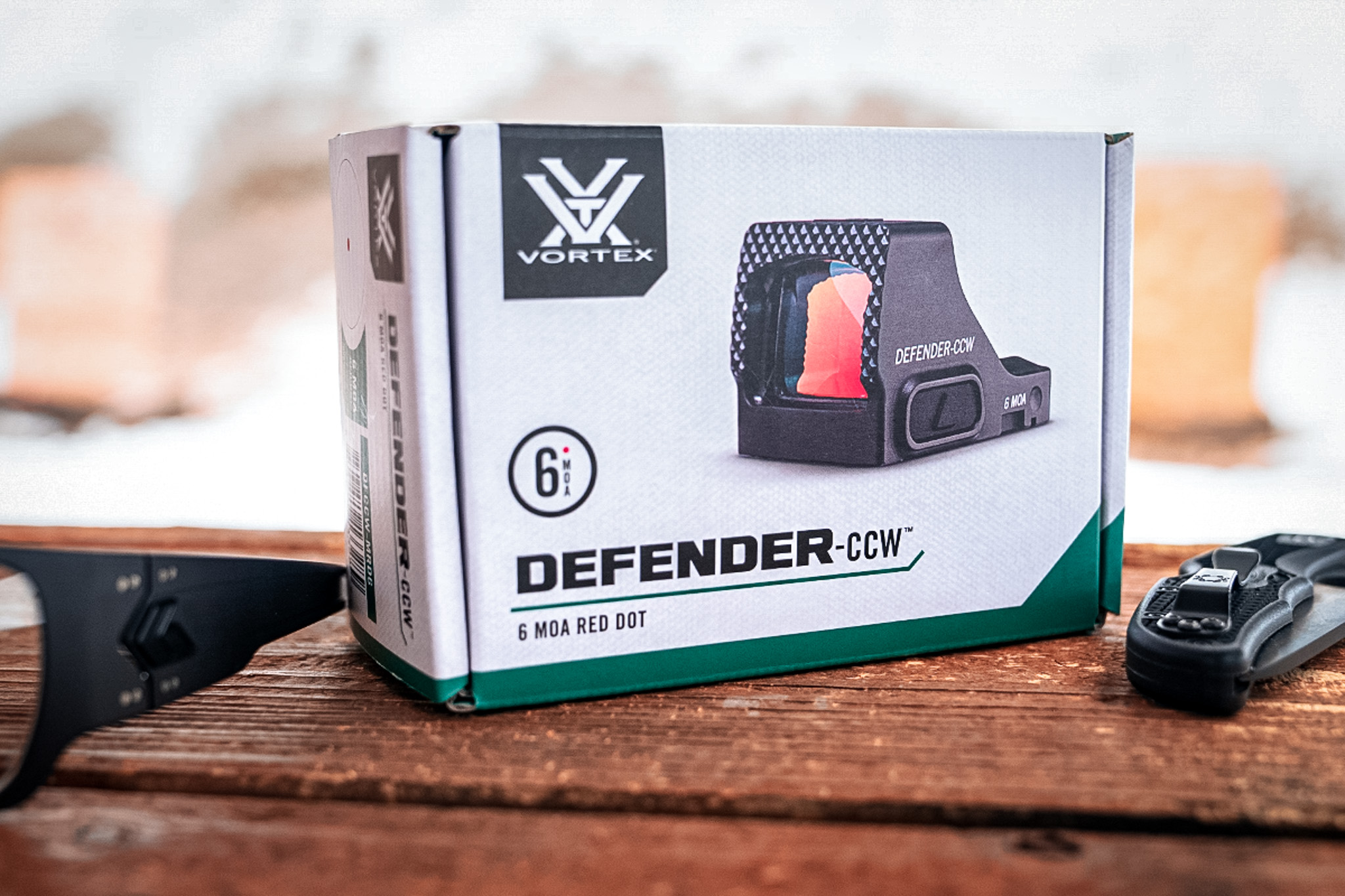 The Defender-CCW is also sized well for everyday carry. The width is just 0.1 inches more than the Hellcat Pro's one-inch slide, which should make it close to an exact fit on most carry pistols. Even here, it doesn't protrude enough to be an issue.
The field of view through the optic's window is bright with minimal tinting. The glass is very clear, and the dot is nice and sharp. The Defender-CCW I tested came with a 6-MOA dot, but a 3-MOA option is also available.
The battery compartment is easy to access and doesn't require the removal of the optic. A tool is provided to unscrew the waterproof cap. According to Vortex, using brightness level 6 and automatic shutoff should give you about 9,500 hours of battery life. Set a calendar reminder to replace the battery every few months (depending on how often you use it), and you'll be golden.
If you're wondering why battery life varies so widely from one optic to another, a lot of it has to do with glass. Clearer glass requires more power from the LED, which shortens battery life. Ultimately, you'll have to decide what you care about more: the view through your optic or the frequency of battery replacements.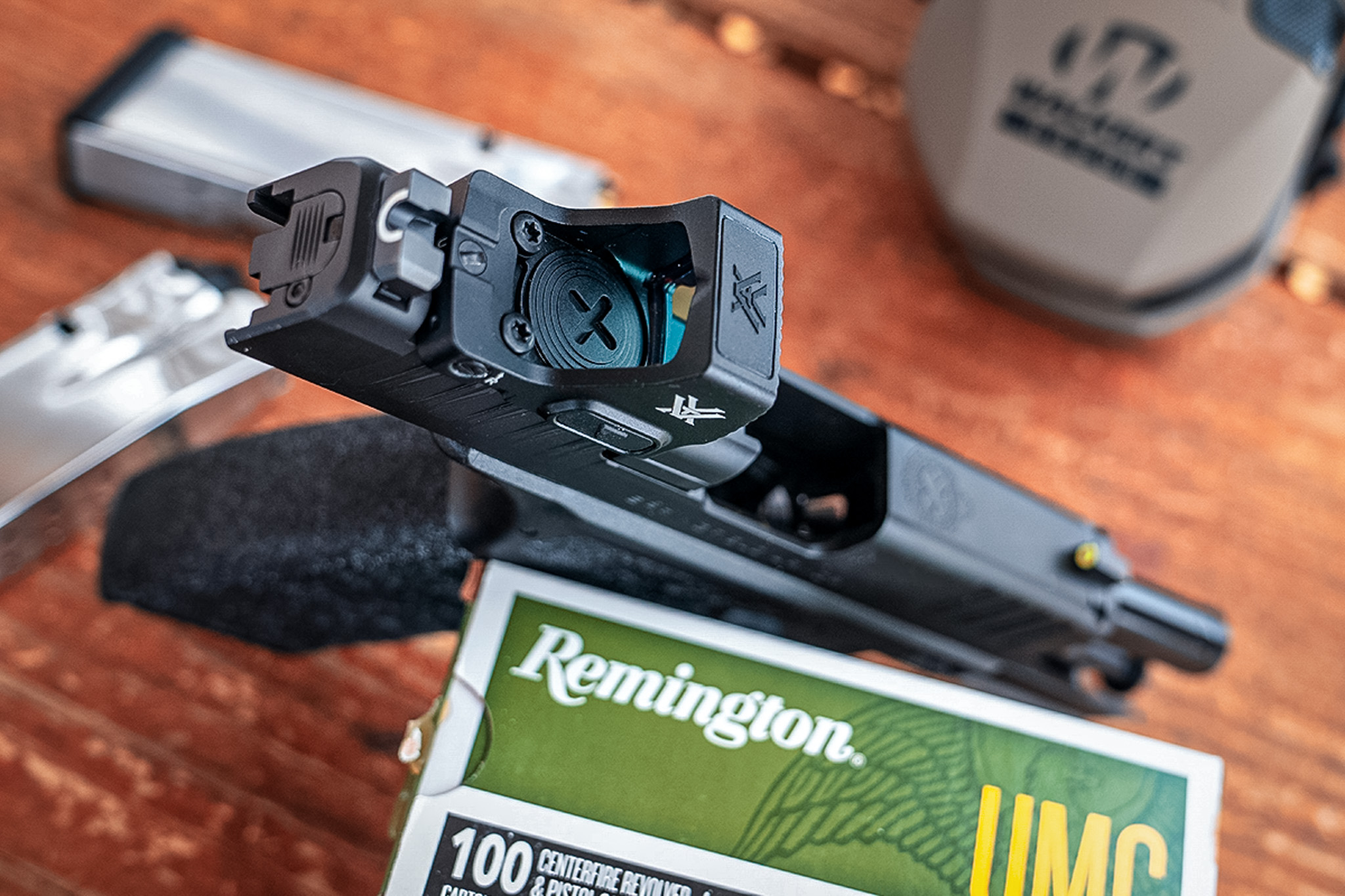 GOOD GEAR – Add a Little Snakebite to Your Coffee With BRCC's Bourbon-Infused Roast
---
Vortex Defender CCW Beat-Up and Drop Test: Pass
My range test consisted of slow fire and drills using 100 rounds of Remington UMC 9mm target ammunition. I always used the optic to rack the slide, either with my hand or the bench at the shooting range.
Since I had the benefit of winter weather, I quickly checked the optic's window for fogging after bringing it into the cold outside air. The sudden drop in temperature didn't cause any problems. I was able to fog the glass by breathing directly onto it, but even that dissipated within about two or three seconds.
After establishing zero, I tested the Defender-CCW's durability by dropping the unloaded and cleared pistol onto concrete, optic-first, from waist height. Obviously, you should take care to make sure this never happens, but a lot of shooters like to know that their gear can survive hard use before they'll trust it.
On initial inspection, I saw that a small chunk of aluminum was chipped off the corner of the optic where it first struck the concrete. That's cosmetic. The glass window was intact and unmarred. I took the pistol back to the bench to see if the zero had shifted during the impact. My next five-shot group was nice and tight — and, more importantly, right on target.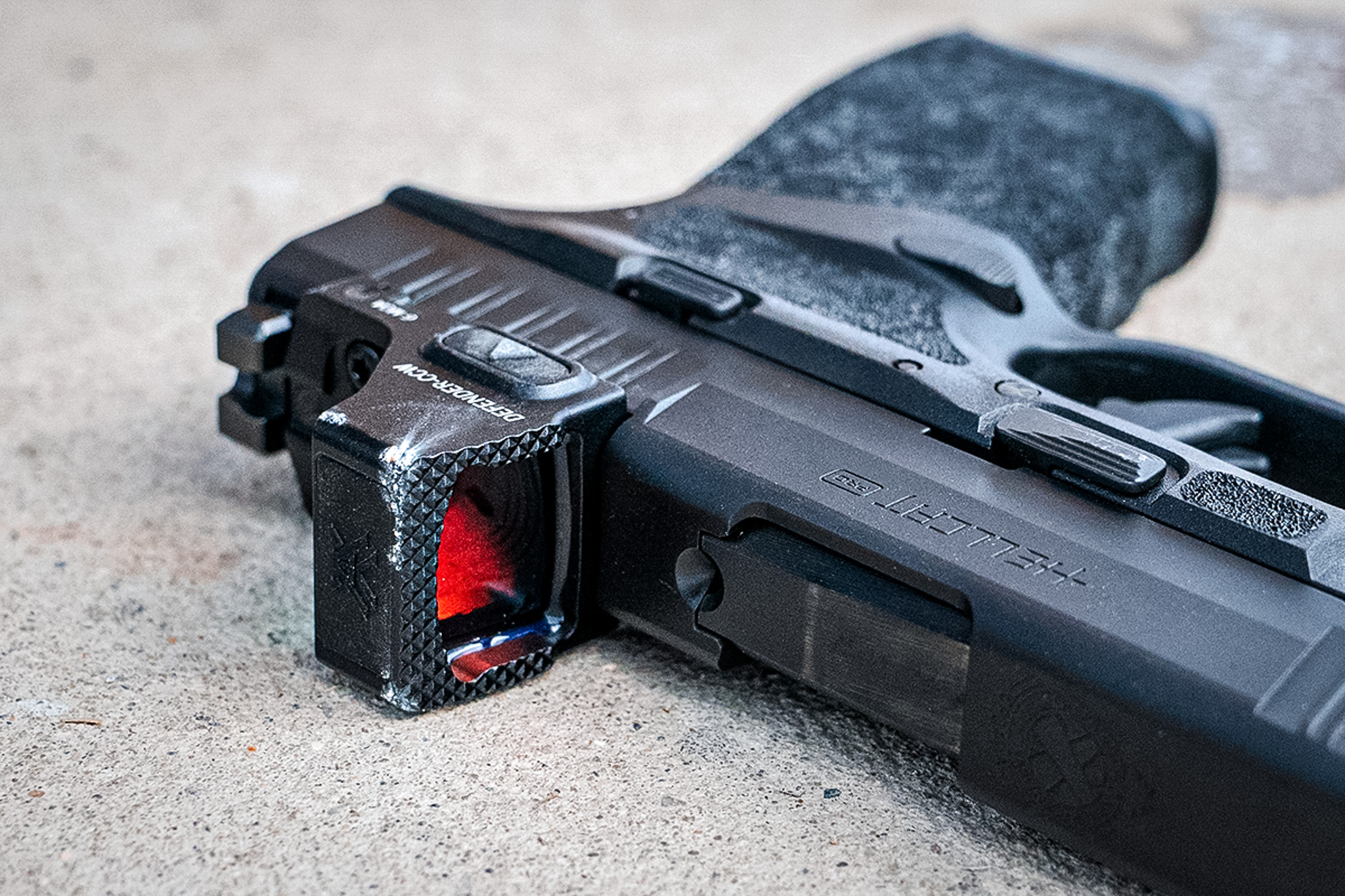 The Defender-CCW has a rubber pad embedded in the top of the housing, but I'm almost positive that's not what saved the glass from my drop test. I suspect that there's a bead of soft material between the glass and the metal on all sides, which would do a much better job of protecting it from all angles.
---
The Final Verdict
After the first 100 rounds and some abuse, the Defender-CCW is alive and kicking. This was no endurance test, but I learned enough to give this optic a thumbs-up. It's accurate and easy to use, and I cannot say enough about how useful the labeled hardware is for worry-free installation.
So, who's the Vortex Defender-CCW for? Because of its size, this belongs on something compact, if not smaller. It's a great option for carry guns that lean more toward being rugged than minimalist.
If you want something durable and effective but aren't ready to shell out $700 for a Trijicon RMRcc, the sub-$350 Defender-CCW is your huckleberry.
---
Vortex Defender-CCW Specs
Price: $349.99
Dot size: 6-MOA or 3-MOA
Battery: CR1632
Mounting footprint: Shield RMS
Weight: 1 ounce
---
Following Content Was Originally Posted on March 16, 2023:
Vortex Drops New Defender CCW Micro Red Dot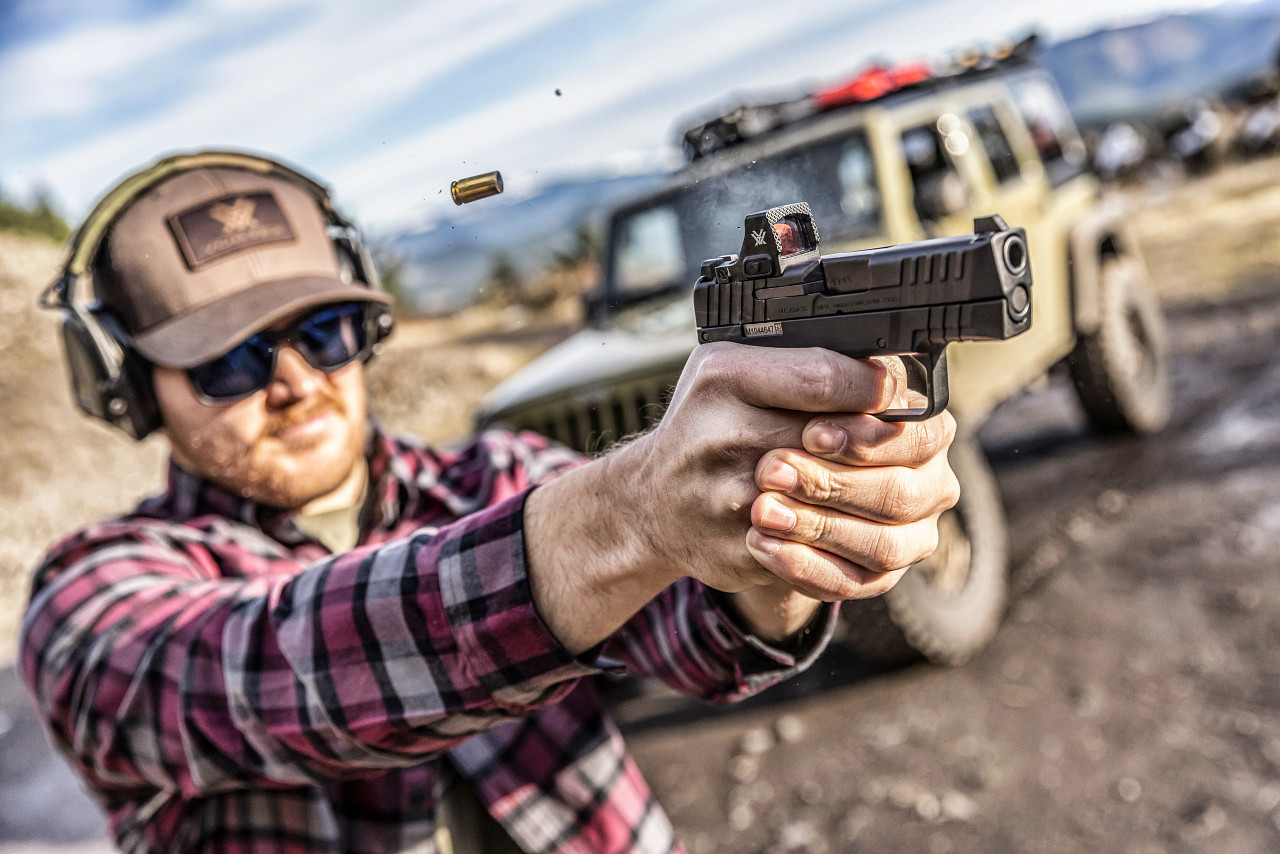 by Tim Cooper
Vortex has finally entered the concealed-carry red dot world with the introduction of its brand-new Defender CCW, made for micro-compact pistols with a Shield RMS footprint.
It's no secret that small pistols are in. One firearm sales survey from 2019 shows compact pistols like the Glock 19 and Sig Sauer P320 still rule the roost, accounting for nearly 40% of handgun sales. However, that same data shows the most dramatic changes in sales occurred in the micro-compact category, with overall market share increasing from 18% to 25% — a full quarter of all 9mm semi-automatic handgun purchases.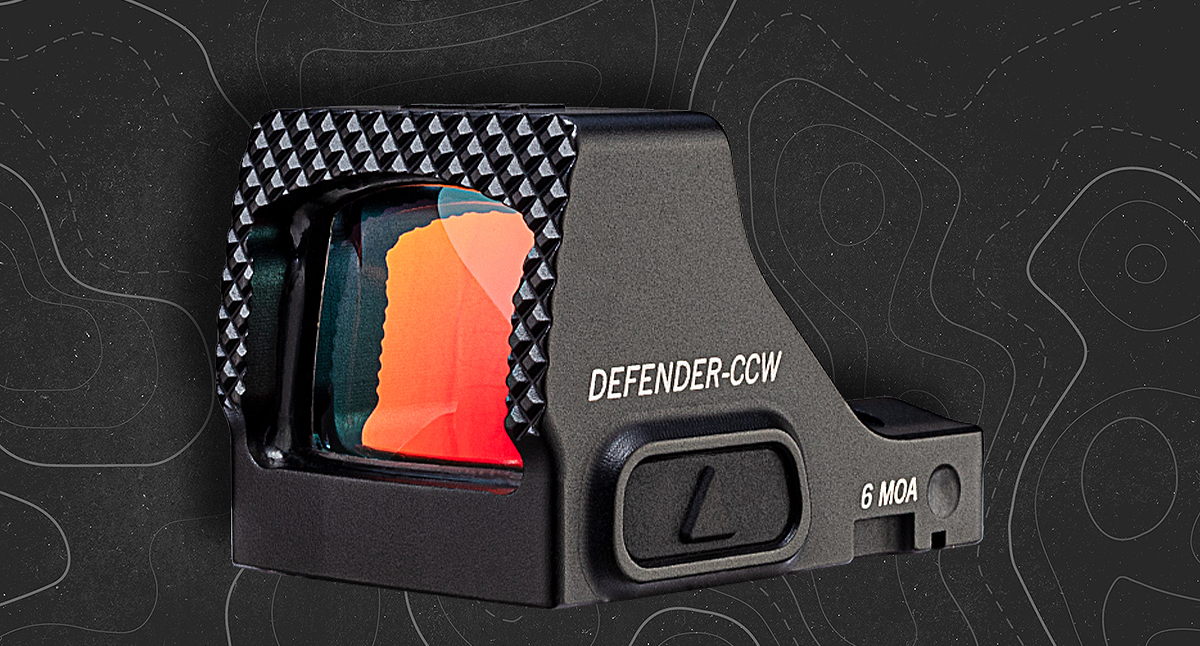 While pistol red-dot optics (also known as reflex sights) have been available for quite a while, many who carry concealed regularly have dismissed them for a variety of reasons — chief among them being the lack of holster options and resistance to "new" tech. Plus, a new sighting system requires retraining to one degree or another.
Enter the Defender CCW red dot from Vortex Optics, designed explicitly for the newest crop of micro subcompacts. Though it can really be mounted on nearly any optics-ready handgun regardless of size, this red dot is especially suited for concealed carry applications — its slim-and-trim profile minimizes printing and facilitates a smooth, clean draw without snagging on clothing.
READ NEXT – Sig P320 and P320 Spectre Comp: Breakdown and History
---
Built for Everyday Carry
A polymer insert bolsters the rugged aluminum housing at the top surface of the Defender CCW assembly, the most likely area to absorb impact. Illumination adjustment controls are located on either side of the base and slightly recessed into an extruded cavity, protecting them from damage.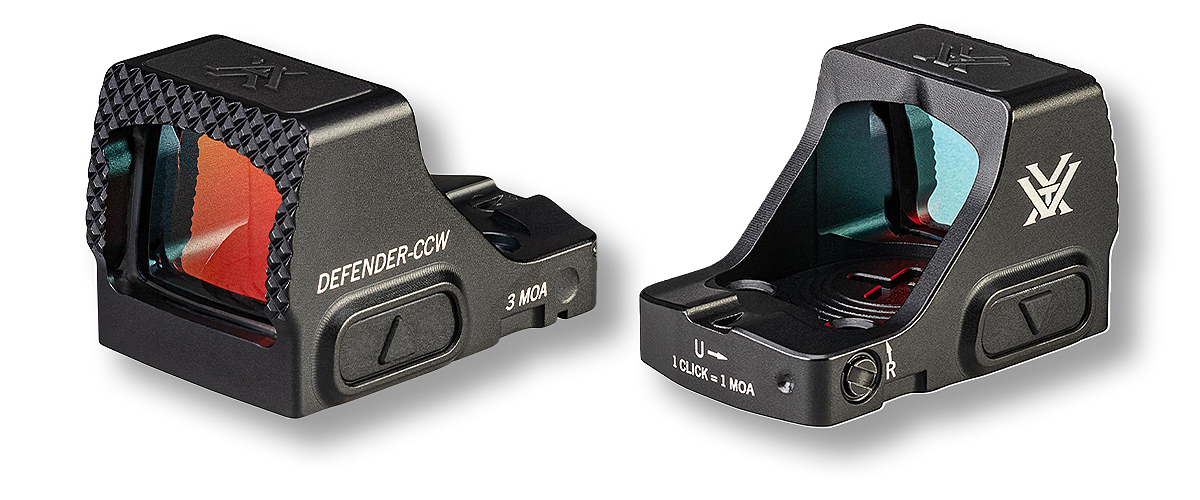 Just how rugged is this red dot? Don't worry about it. The legendary Vortex VIP unconditional warranty covers you for life, even if the sight goes to a different owner.
Another nice touch: The engineers at Vortex have incorporated a knurled texture into the front face of the optic for better purchase against a surface if you have to use the sight to rack the slide on a pistol one-handed.
RELATED – The New Hi-Point JXP10: A Yeetier 10mm Cannon
---
Clear. Bright. Smart.
Vortex has established a reputation for offering top-quality optics at reasonable price points, and the Defencer CCW is no different. It incorporates an aspherical lens, providing a surprisingly large sight picture that eliminates distortion artifacts and color anomalies.
The Defender CCW is available with a 3- or 6-MOA reticle. For this product drop, we evaluated the former. The up-and-down illumination controls step through 10 levels of intensity — eight daylight settings and two low-light settings.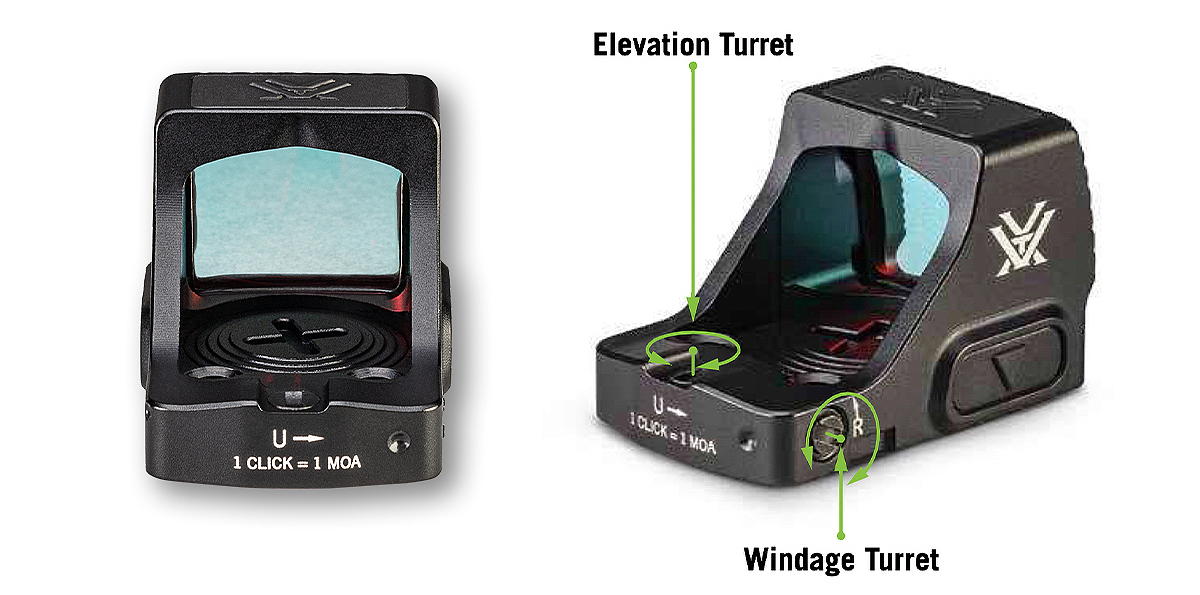 The product manual specs for this optic do not refer to the dot color as "red" but "bright red" — and for good reason! This dot may be the brightest I've ever seen. In fact, unless you plan to shoot a bird off a cactus in the Sierra Desert at high noon, I doubt you'd ever dial up the optic to its upper limit.
The smart power management features are also worthy of mention. The Defender CCW can be configured for automatic shutoff — when there is no activity for 14 hours, the dot turns off to prolong battery life. As long as auto-shutoff is active, the dot will "wake up" the next time motion is detected. As you'd expect, powering down the optic kills motion activation.
If desired, the user can also program the optic to lock button control, completely disabling the buttons to prevent accidental changes to the active settings. Changing all of these programmable settings is a piece of cake, with clear instructions provided in the product manual.
GOOD GEAR – Don't Forget to Zero in on the New Tacticock Premium Heather T-shirt
---
Mounting and Sight Alignment
The Defender CCW uses the Shield RMS footprint, which has become the de facto standard for handgun optics. An adapter is also included for mounting the red dot to optic Pic rails.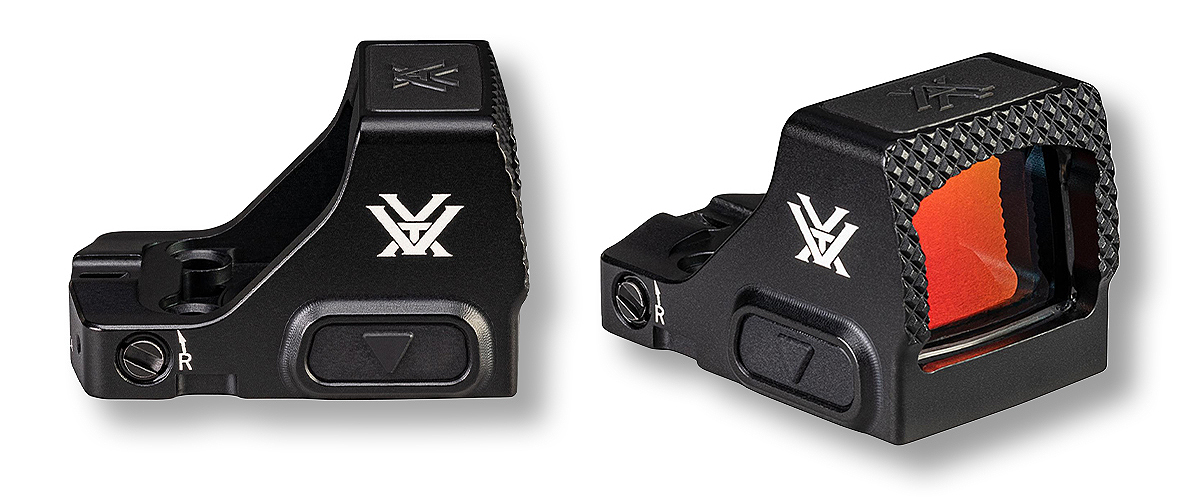 Mounting the optic couldn't be easier — the process takes all of two minutes. I chose to install this red dot on my Smith & Wesson Shield Plus. The most complicated part of the process was locating the correct mounting screws (which is actually not that complicated at all because the box includes six clearly marked baggies that cover all popular handguns). Apparently, for no reason other than "shit happens," each baggie includes an extra set of screws.
After locating the appropriate screws, simply remove your firearm's protective cap cover from the slide (if so equipped), place the red dot on top of the pistol slide, so the screw holes and recoil lugs align, insert the screws, then use the included custom tool to hand-tighten until the housing is flush to the slide. The other end of the custom tool fits the recessed crisscross pattern on the battery compartment lid and allows you to quickly remove and reinstall the lid.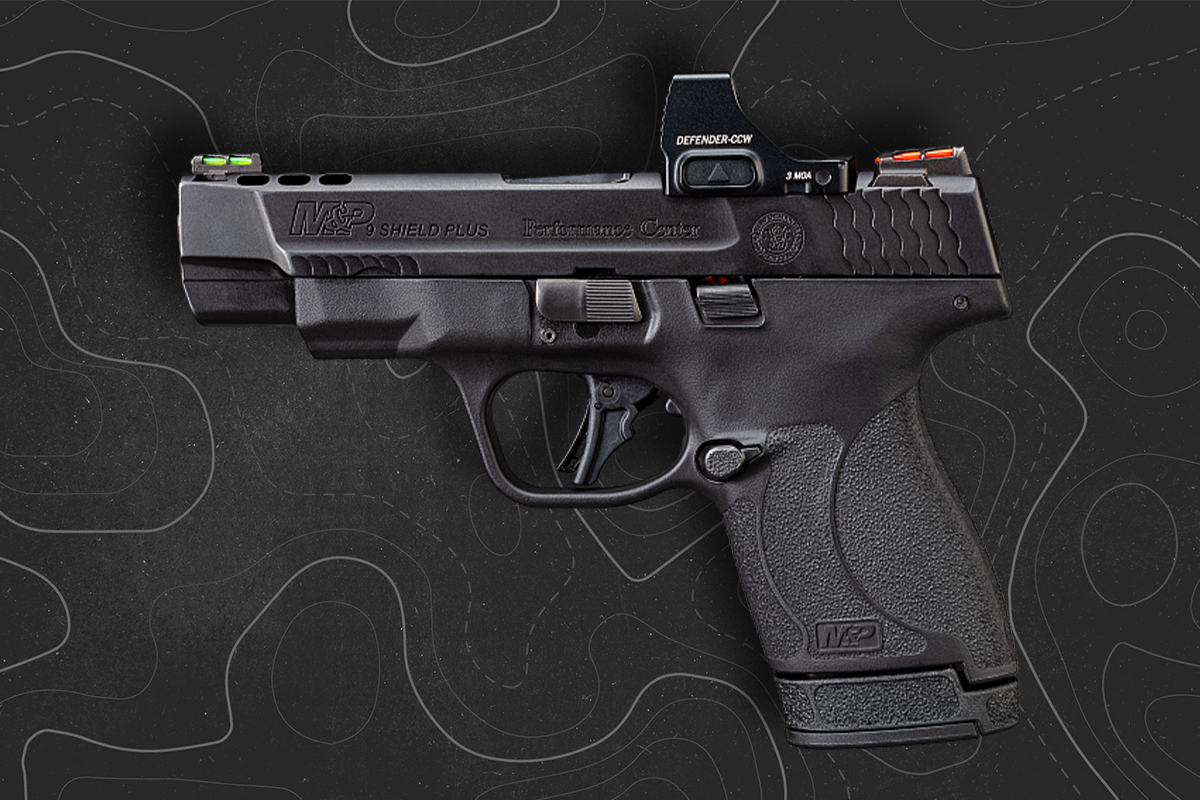 Recommended torque specs are 10 to 12 pounds with thread locking compound or 15 pounds without. Pro tip: I opted to complete the installation by tightening the screws with a torque wrench because the internal torque calculator in my brain has proven to be horribly inaccurate.
To align ("zero-in") the optic, place your target at 15 yards, aim at a fixed location on the target, and shoot a three-shot group. Adjust the elevation (up/down) and windage (left/right) turrets as necessary, then shoot another three-shot group. Repeat the process until your grouping is on target. Refer to the product manual for details.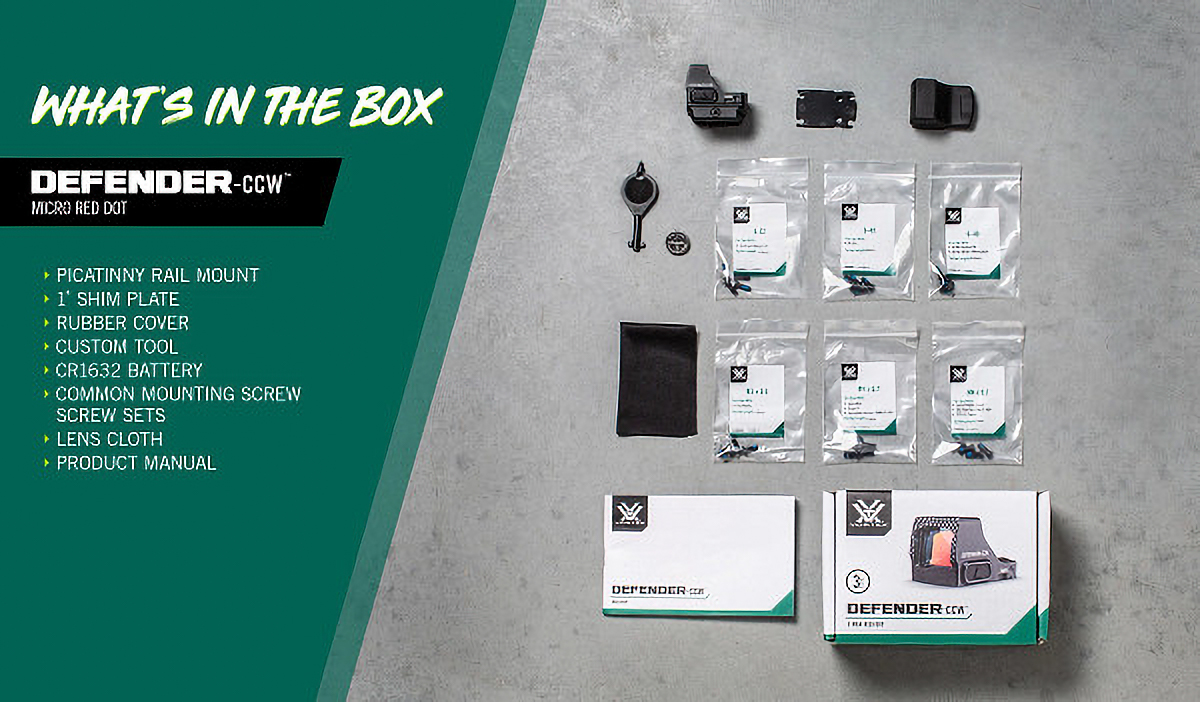 In addition to the optic, mounting screws, and custom installation tool, the box includes a protective rubber cover for the Defender CCW, a CR1632 lithium battery, a 1-degree shim plate (to overcome alignment issues at short distances and/or certain pistol installations), a microfiber cleaning cloth and of course, the product manual.
RELATED – FN Introduces 'Big-Bore' Pistols: New FN 545, FN 510
---
Takeaway
Calling to mind the Tueller rule (discussed in most concealed carry permit classes), a determined attacker can cover 21 feet in 1.5 seconds — the same amount of time it takes the average shooter to draw, aim, and shoot. In a defensive encounter, milliseconds can be the difference between life and death.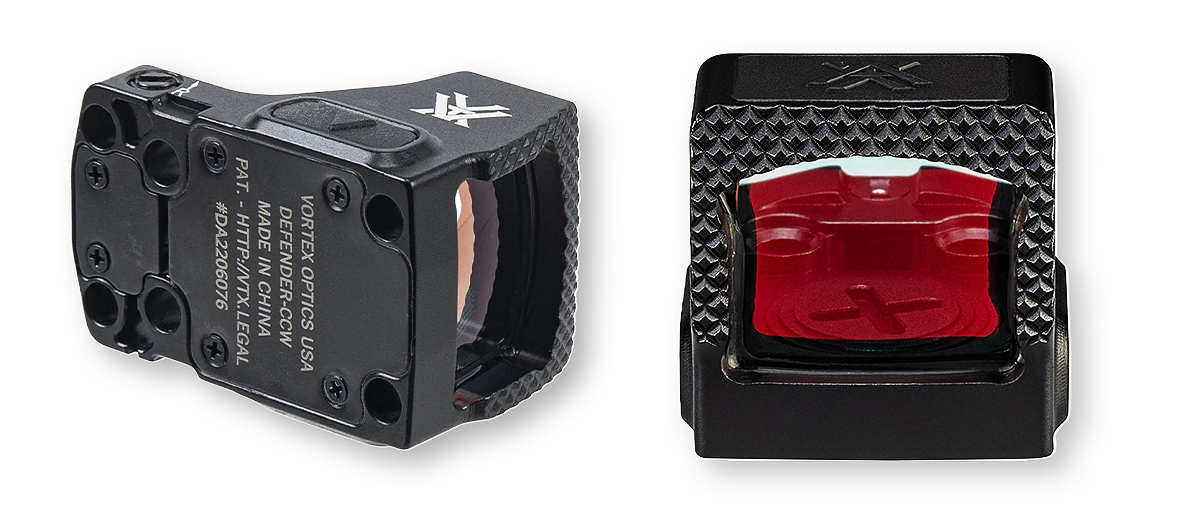 Many shooters who choose to carry find that a red dot optic can significantly enhance their ability to quickly acquire a target. If you're one of them, the Defender CCW is a solid choice. The trim form factor of this red dot uniquely accommodates most of the optics-ready, sub- and micro-compact pistols that are so popular today. These include (but are certainly not limited to) the Sig Sauer P365, Glock 43X MOS, Smith & Wesson M&P9 Shield Plus, and Springfield Armory Hellcat.
And because the Defender CCW comes from Vortex, you'll be making a low-risk purchase. This company has the best warranty and customer support in the business. With an MSRP that's less than $250, the Defender CCW is hard to beat.
STAY TUNED FOR OUR RANGE TEST OF THE DEFENDER CCW, COMING UP SOON
---
READ NEXT – Hottest New Guns and Ammo From the 2023 SHOT Show!