Long-range shooting is cool. Like, Willie and Waylon singing "Good Hearted Woman" level cool. You press the trigger, absorb the recoil, and, after a second or so, hear the steel ding from 1,000 yards away. It's some gratifying shit. But as someone who has built his own bolt-action precision rifle, I'll tell you that hearing the 1,000-yard steel ding can cost some serious ching. Long-range rifles get cost-prohibitive in a hurry. The Ruger Precision Rifle lifts that prohibition, allowing shooters to break into long-range shooting without borrowing from the kiddos' college fund or taking out a second mortgage. And it's badass.
With all the components necessary for accurate, repeatable long-range shots, the Ruger Precision Rifle comes out of the box ready to stack in factory ammo. But it's also customizable.
If you're considering getting into long-range shooting but don't yet have a rifle, read on. This might be the rifle for you.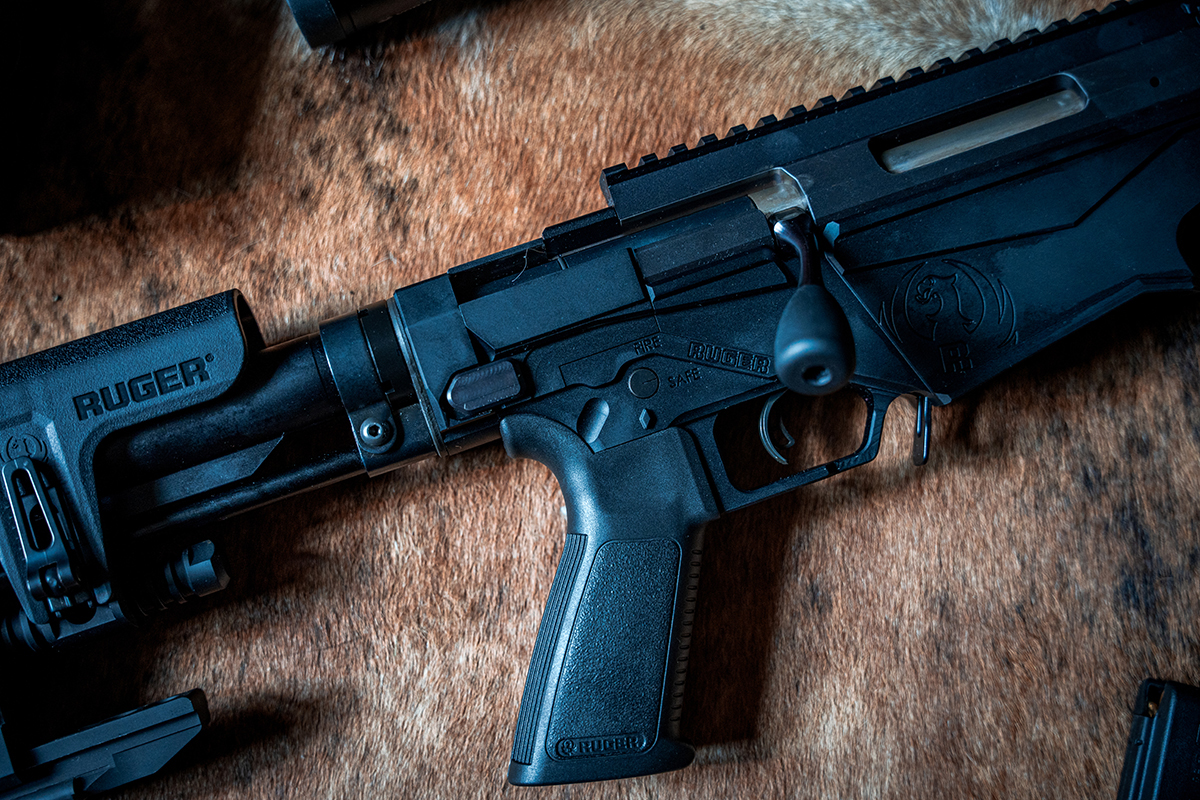 GOOD GEAR – Survive the Day With BRCC's Endurance Roast
---
Ruger Precision Rifle: Action and Receivers
Each rifle build begins with the action. Start with a solid action, and there's a higher likelihood that you'll have a true-shooting rifle.
The Ruger Precision Rifle is built on the classic Ruger American action. To minimize distortion, the upper receiver, and one-piece bolt are precision CNC machined from pre-hardened 4140 chrome-moly steel.
The action also features a three-lug bolt, which requires only 70 degrees of throw compared to the 90 degrees necessary for working a dual-lug bolt. That means easier operation for faster follow-up shots.
The bolt body is also nitrided to fight corrosion and maintain smooth operation. The rifle comes standard with an oversize bolt handle for easy manipulation, and it is threaded with a 5/16″- 24 thread pattern for effortless replacement. All very cool.
But what's really interesting is the recoil path. Unlike rifles bedded in a chassis system, the Ruger's recoil follows an inline path through the upper receiver and into the buttstock. The design makes recoil management much easier, so you're set up for improved accuracy and position maintenance for follow-up shots, provided you keep your face on the gun.
Shooting long-range also necessitates lots of room for scope elevation adjustments. Depending on the caliber, each Ruger Precision Rifle has a 20 to 30 MOA Picatinny rail secured to the upper receiver.
Many precision rifle shooters will tell you that having a Pic rail that's not integral to the upper receiver is undesirable. But the rail is fastened with #8-40 screws in this case. It's not likely to loosen on you. And, in the case that it does, retightening and securing with blue Loctite is no sweat.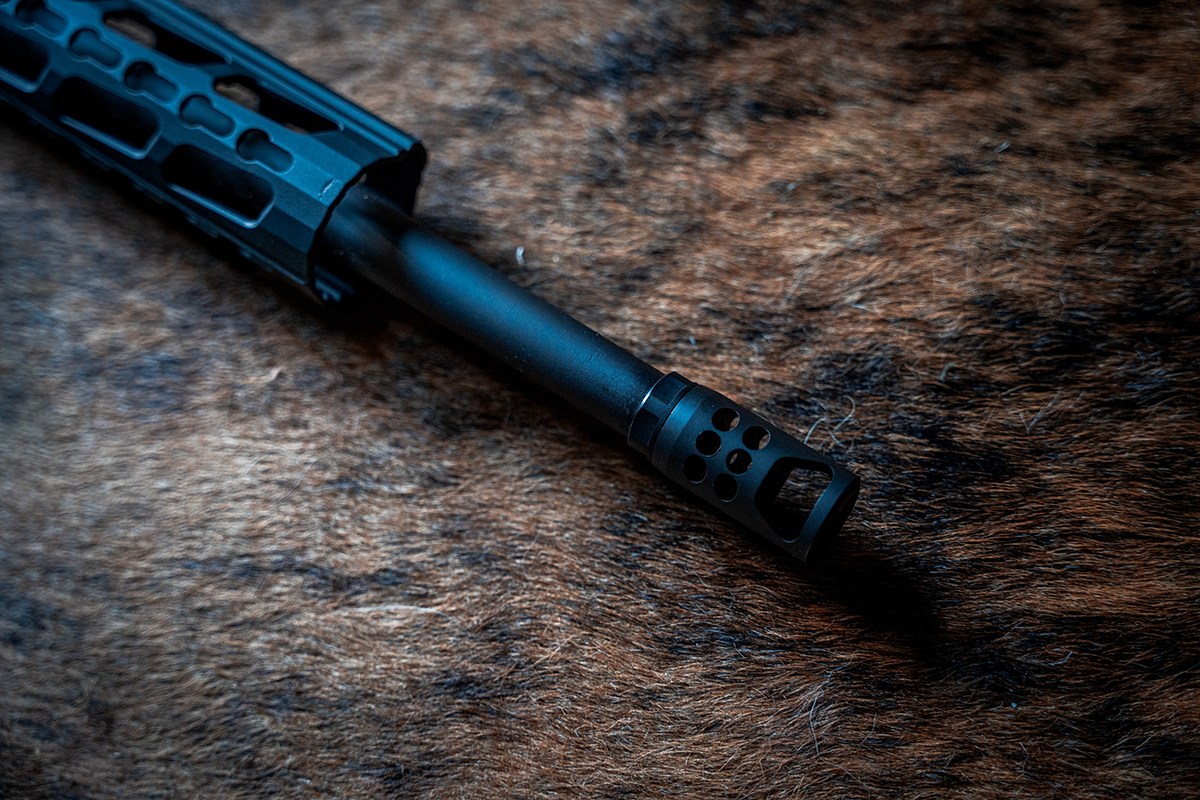 The lower receiver is machined from anodized aluminum. It accepts PMAGS and AICS mags without adjustment. Ruger went ahead and slapped a patent on that design. The mag well also features an AR-style grip for comfort and control.
READ NEXT – 338 Norma Magnum: Cheat Code for Snipers and Machine Guns
---
Trigger
A smooth trigger press is fundamental to precision shooting. Find the wall and press through it.
You can't get slaphappy and shotgun the trigger. You also can't squeeze it like you're trying to strangle it. You'll pull your shots.
"Shotgunning" and squeezing come from poor mechanics. Poor mechanics often come from a trigger that's too heavy or not adjusted to match the shooter's trigger press. A good trigger can save a lot of frustration and ammo.
Each model comes with the Ruger Marksman adjustable trigger, which ranges from 2.5 to 5 pounds. It's externally adjustable, meaning you can adjust it yourself. And the adjustment tool, an Allen key that also fits most precision riflescopes, is housed in the bolt shroud. Everything you need is onboard.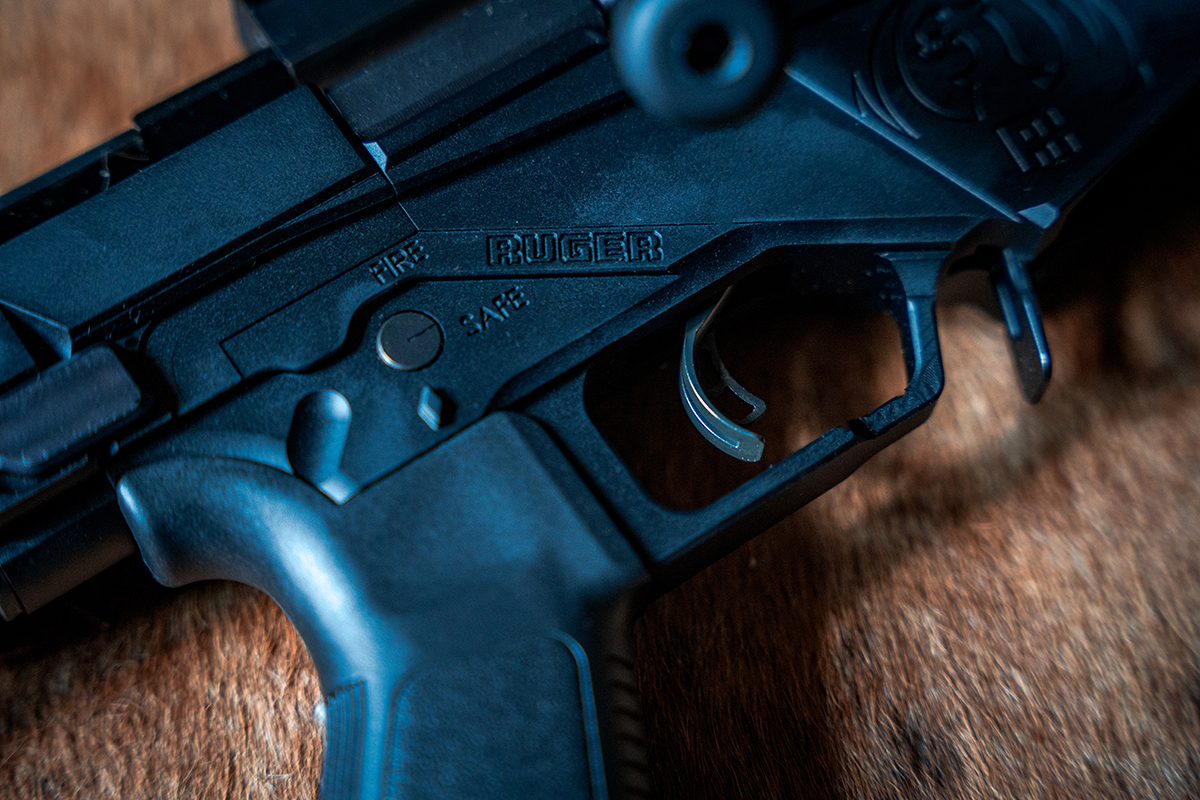 GOOD GEAR – Embody the Ethos of the Quiet Professional With BRCC's Silencer Smooth Roast
---
Barrel
Consistent accuracy requires lots of practice. That means dry-firing at home while avoiding the windows, so your neighbors don't think you're a crazy person. It also means lots of range time because you can't nail wind calls or lock in recoil management from your basement. You have to shoot, and shoot a lot.
High volumes of fire can quickly burn out a barrel, especially in a rifle chambered for a magnum cartridge. So, construction is a big deal for maintaining barrel life.
The Ruger Precision Rifle sports a medium contour cold-hammer-forged barrel ranging from 20 to 26 inches. Hammer forging is a barrel construction process by which a machine presses the barrel material onto a mandrel with the reverse imprint of the barrel rifling. After a rough hole is bored, the mandrel incrementally imprints the rifling into the barrel at the correct twist rate.
This process produces rugged barrels that better withstand heat, giving them longer service lives than a button-rifled or cut-rifled barrel. And, here's the deal: Even if you do burn out the barrel, it is easily replaced by a competent gunsmith.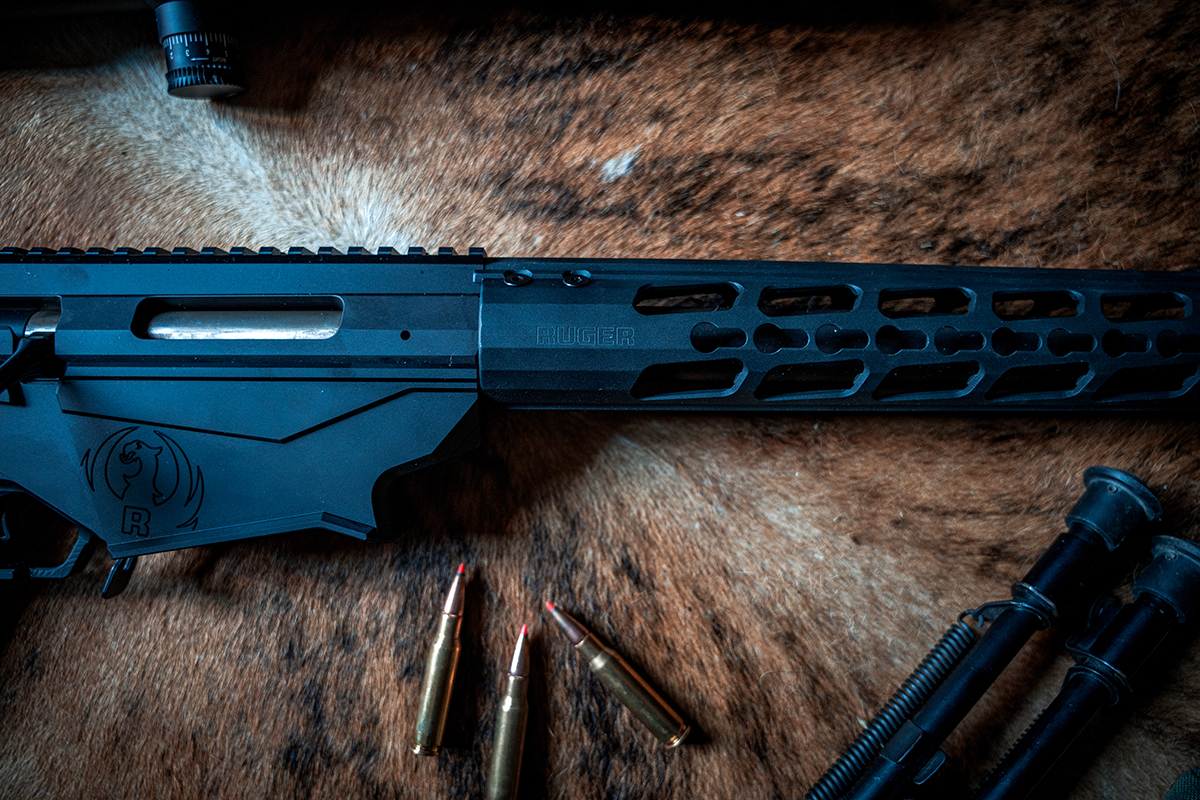 The barrel also features 5R rifling. Rifle barrels traditionally have six grooves, with lands opposing lands. 5R barrels have only five grooves, placing the lands opposite grooves. The result is less jacket deformation, meaning you get precision shooting from a barrel that's easier to clean.
Regardless of caliber, each barrel comes threaded and includes a Precision Rifle Hybrid Muzzle Brake. The brake aids in recoil management while sending the blast and noise to the sides of the shooter instead of into their ears and face.
READ NEXT – The Life and Death of the 4 Gauge Shotgun
---
The Ruger Precision Rifle Comes With a Great Buttstock
While the Monte Carlo stock on your hunting rifle is old-school cool, you just won't shoot the rifle as accurately as a rifle with an adjustable buttstock. Rifle fit for length-of -pull and comb-height matter a whole lot for accuracy and repeatability. So does building a stable shooting position.
A handguard-style forestock, with features like M-LOK, KeyMod, or a Picatinny rail, is essential for mounting bipods and tripods, so you can shoot with stability from multiple positions.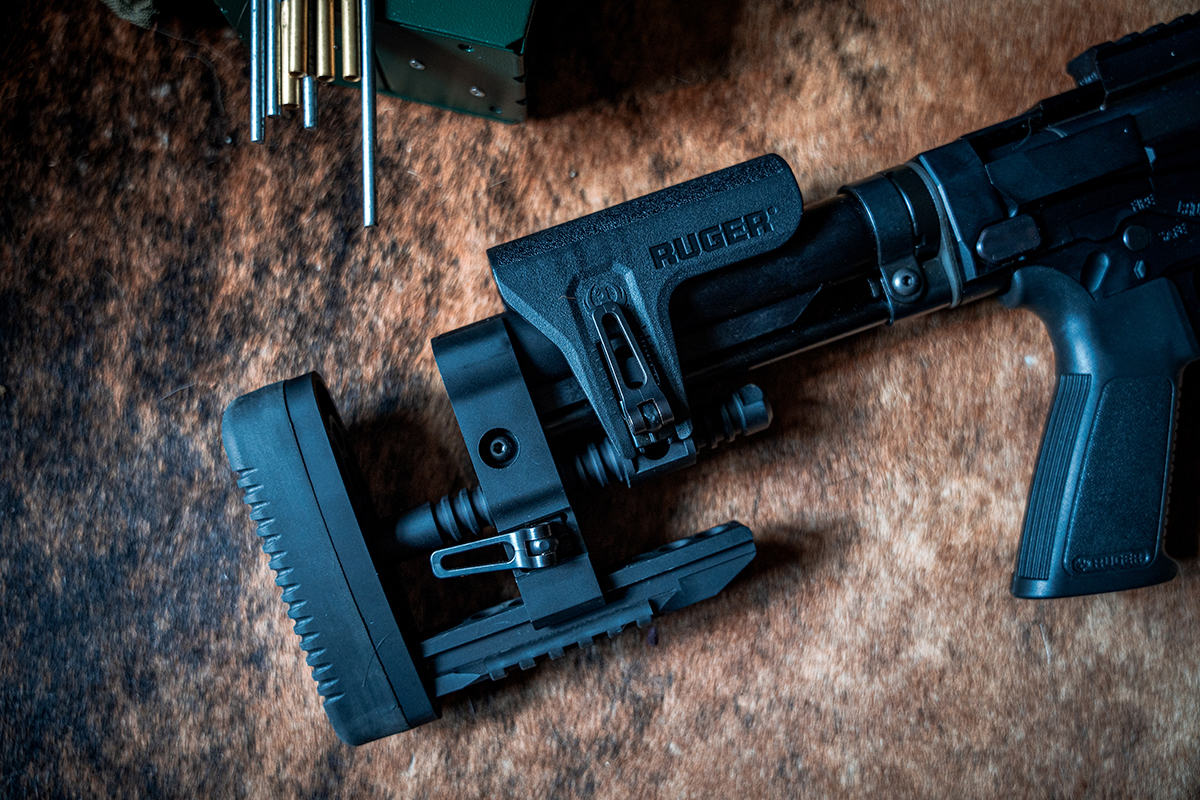 The Ruger Precision Rifle stock comes with all of those features standard.
The rifle's MSR buttstock is left-folding and attached via an AR-style buffer tube. The buffer tube offers the option to trade out the factory stock for any AR-style buttstock. It also comes with multiple QD sling attachments, so you can attach it even with a folded buttstock.
These features are great, but it's the adjustability of the buttstock that makes it ideal for accuracy. Two dual-acting cam levers give toolless adjustment for comb height and length of pull (LOP), offering an LOP between 12 and 16-plus inches, depending on the rifle model.
The butt pad also adjusts for up to 9 degrees of cant, so you can align the rifle as tightly as possible to your midline while fitting for comfort.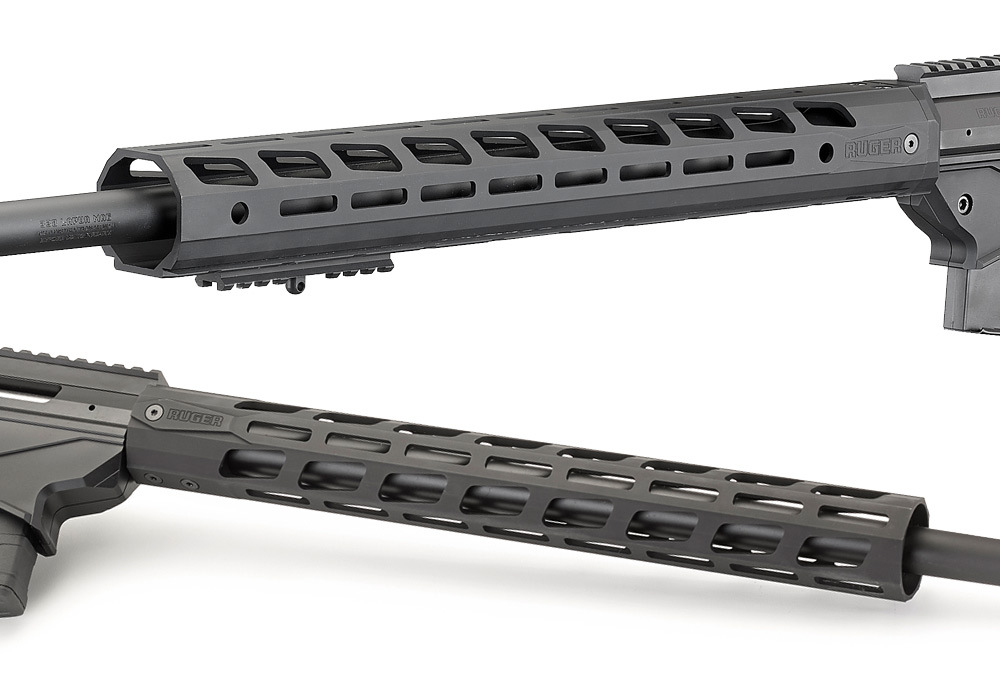 Some models feature the Samson Evolution handguard with KeyMod and a short Picatinny rail section for mounting a bipod. Others come with an M-LOK handguard.
Have another handguard you fancy? No sweat. You can pop off the factory handguard and swap in any AR-style handguard you wish.
GOOD GEAR – Conquer Your Taste Buds With BRCC's AK-47 Espresso Roast
---
Ruger Precision Rifle: Chamberings and Cost
The Ruger Precision Rifle has multiple variants, ranging from 6mm Creedmoor to .338 Lapua. It also comes in .308 Win, 300 PRC, and .300 Win Mag.
MSRP ranges from $1,929 to $2,539, depending on the model and cartridge chambering. For example, the model 18080 in .338 Lapua rounds out the top of the price range, whereas the model 18028 in .308 Win sets the bottom. Specialty models with different stock colors and magazines fill the price points in between.
These are killer prices for an accurate, long-range rifle. You'd typically spend a lot more for this level of adaptability and customization.

Most importantly, it shoots. Based on the reviews I've read on the variants chambered in 6.5 Creedmoor and .308 Win, the Ruger Precision Rifle is capable of consistent, sub-MOA performance.
READ NEXT – Falling in Love With the Winchester Model 94
---
Applications
This rifle is an excellent option for folks breaking into long-range shooting. It's affordable, and the customization potential allows a shooter to upgrade components as they grow in the sport. Whether you're considering trying out PRS or just want to stretch your shooting skills, the Ruger Precision Rifle is a solid starting tool.
Many folks wonder if the Ruger Precision Rifle makes a good hunting rifle. Well, that depends on your chosen model and how you intend to use it.
It comes chambered in popular hunting rounds, such as .308 Win, .300 Win Mag, and 6.5 PRC, but some models are exceedingly heavy for hunting.
Model 18081, chambered in .300 Win Mag, weighs 15.2 pounds without an optic. That weight is likely fine if you're set up in a blind waiting for a buck to walk a power line. It will be advantageous for building a stable shooting position. But carrying a heavy rifle wears you out in a hurry, so it's not ideal for hunts requiring a lot of movement.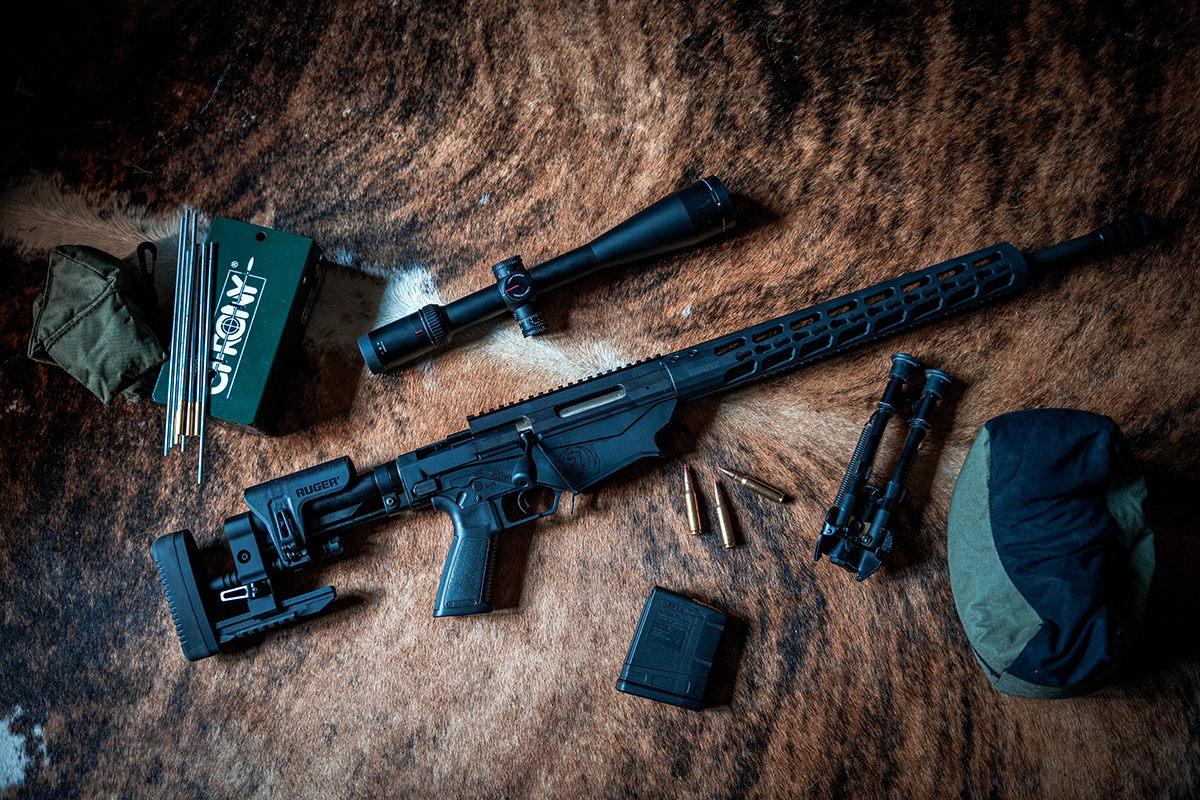 Thankfully, there are lighter models. Model 18028, chambered in .308 Win, is 9.8 pounds without an optic. Mount a long-range scope, and you're looking at a weapon that's between 11 and 12 pounds without ammo. That's heavy, but manageable for hunting.
Most Ruger Precision Rifle models work best as range and competition-style rifles. You could certainly hunt with them if you're sitting still and shooting far, but there are better tools for most hunting applications.
GOOD GEAR – Fuel Your Next PR With BRCC's Fit Fuel Blend
---
Ruger Precision Rifle: Accuracy, Durability, and Loads of Value
​
The action sets you up for success with an inline recoil path that helps you maintain position on target, and a 70-degree bolt throw that offers efficiency for follow-up shots.
The externally adjustable trigger allows you to dial in the right setting for your trigger press. And the hammer-forged, 5R rifled barrel is manufactured for accuracy and durability.
A customizable, adjustable AR-style stock improves accuracy, with the features necessary to fit the rifle to the shooter.
The Ruger Precision Rifle is an exceptional choice for shooters dipping their toe into the long-range precision shooting pool. It has solid components, adaptability, customization potential, and price points that won't put the shakedown on your wallet.
---
READ NEXT – Falling in Love With the Winchester Model 94