The market for striker-fired polymer pistols is a busy place, but the SIG P320 has carved out one helluva piece. SIG Sauer builds 25 different pistols (and a standalone fire control unit we'll get into later) in the P320 series, resulting in a product lineup that should be able to offer something for everyone.
Are you looking for a value-based carry gun? The affordable P320 Nitron Compact has you covered. Want a premium pistol that feels customized right out of the box? The SIG P320 Spectre Comp has your name all over it. The key to buying a SIG P320 lies in knowing what you need and where to find it.
Let's take a deep dive into this popular pistol to understand its history, current place in the market, and some of the key components that make it tick. Since the long list of models and options can be daunting, this should also help you find and buy a SIG P320 that works for you. We'll even get into some of that SIG vs Glock spiciness, too.
READ NEXT – Survival Gear Everyone Should Have, Plus Urban Survival Tips
---
SIG P320 History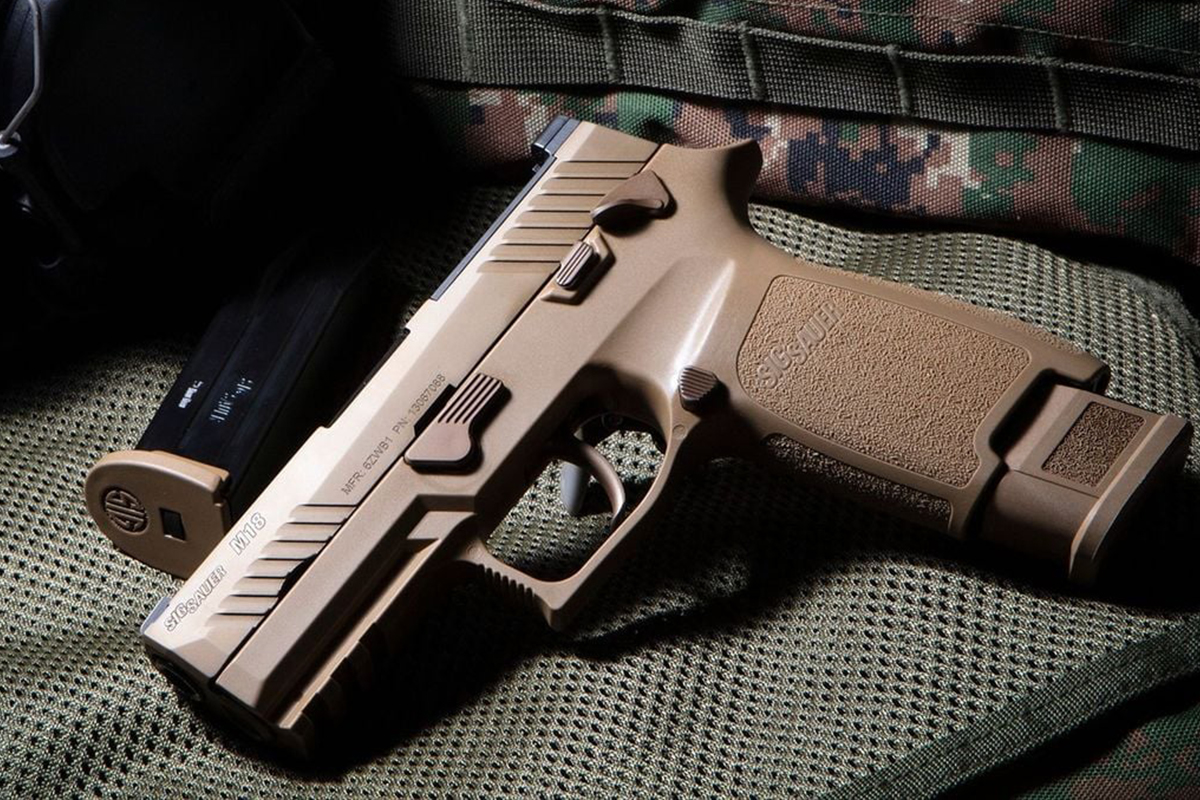 SIG Sauer can trace its history all the way back to a wagon manufacturing company that started in 1853, but the P320 didn't come along until 2014. Compared to Glock, SIG was late to the striker-fired polymer-frame game. Prior to the P320's release, all SIGs came with an external hammer — think of the iconic SIG P226 and its variants. A striker gun may have been new for SIG, but the way the P320 was (and still is) built is more significant than making the leap into striker-fired pistols.
Legally speaking, whichever firearm component carries a serial number is the actual "firearm." When SIG created the P320, it serialized the fire control unit (FCU) rather than the assembled lower receiver, or frame, the way most semi-auto handguns are serialized.
This choice allows owners to combine the relatively small FCU with an array of compatible frames (including grips), slides, and barrels to essentially create a custom gun without having to go through another transfer — unless they want an additional FCU.
This modular approach is great for supply chains, which is why the SIG became the new US military service pistol. And for civilian gun owners, it's a great way to stretch gun budgets further by building multiple pistols for different applications around a single serialized item.
In American Rifleman's initial review of the SIG P320, author Wiley Clapp rightly pointed out that one of the biggest questions surrounding the new platform was how it would compete with pistols from Smith & Wesson, Beretta, Heckler & Koch, FN, and Glock — particularly with regard to someday replacing the Beretta M9 as the US military service pistol. Not long after, SIG brought home the win with the M17 and M18.
Today, the P320 runs the gamut from compact to full-size in factory configurations. There are currently three chamberings available: 9mm, .45 Auto, and 10mm. Keep costs down with basic components and a basic front and rear sight, throw SIG's entire performance catalog at the P320, or strike a happy middle ground somewhere in between — the choice is yours, and that might be the P320's best feature of all.
GOOD GEAR – Follow George Washington With Beware the Delaware Roast
---
Breaking Down the SIG P320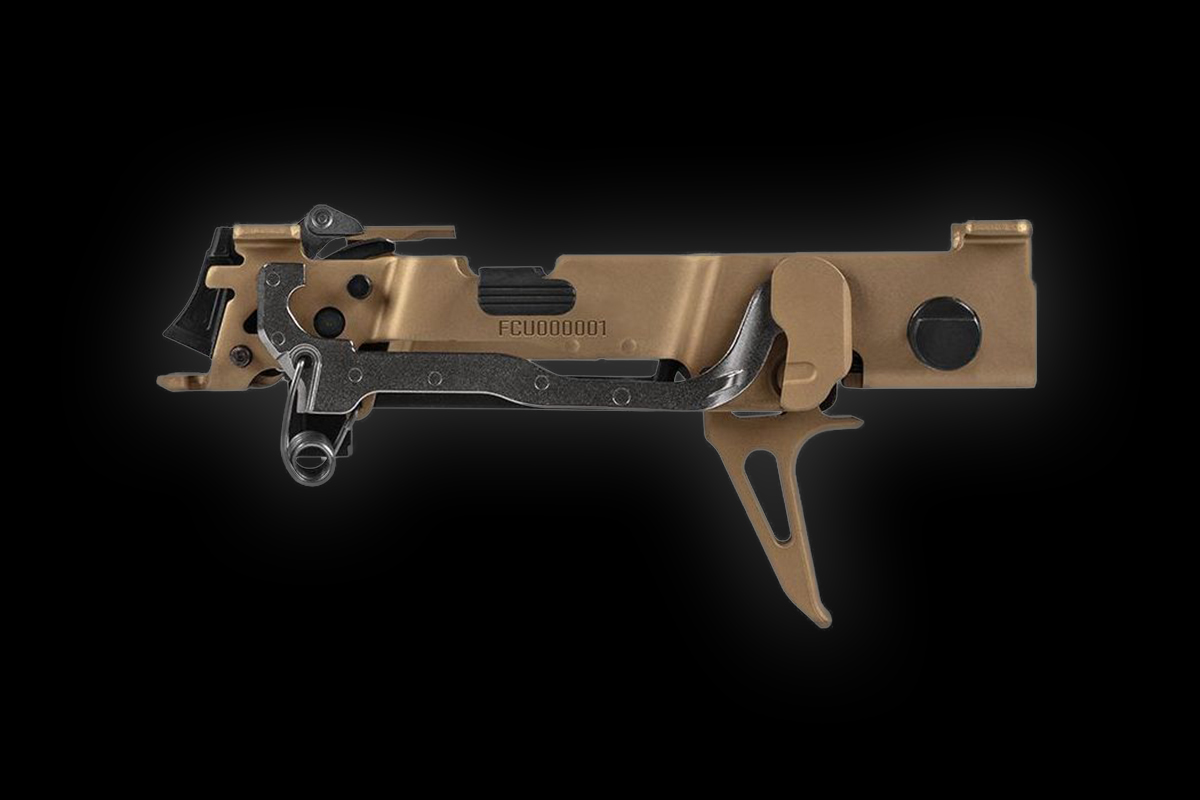 With so many options and the seemingly endless possibilities to mix and match components, not to mention a booming aftermarket of P320 parts, it's harder to nail down P320 specs compared with something like a stock Glock 19, which is very defined. It's easier to compare it to an entire line of similar guns, such as the Smith & Wesson M&P 2.0 series (which is not a modular design).
The standalone FCU is the foundation of the modular P320 platform. The action of the P320 is a striker mechanism, which has become a clear favorite in the pistol market if sales volume is any indicator.
This kind of action creates a consistent trigger pull every time and eliminates the need for an exposed hammer or for the shooter to become used to both a double-action and single-action trigger pull.
Safety mechanisms are typically built into the trigger or internal components of a striker gun. Only three P320s — the Nitron Compact, and the military's M18 and M17 models, along with the versions SIG sells on the civilian market — use a manual thumb-operated safety.
SIG P320 pistols come in three standardized sizes: compact, carry, and full-size. Capacity also varies based on frame size and mag type, but SIG offers flush mags for full-size frames that hold 17 rounds and extended mags with a 21-round capacity.
Compliant pistols that ship with 10-round magazines are also available for restricted states.
READ NEXT – Magpul Daka Grid: What Your Gun Cases Always Wanted
---
SIG P320 Spectre Comp: Icing on the Cake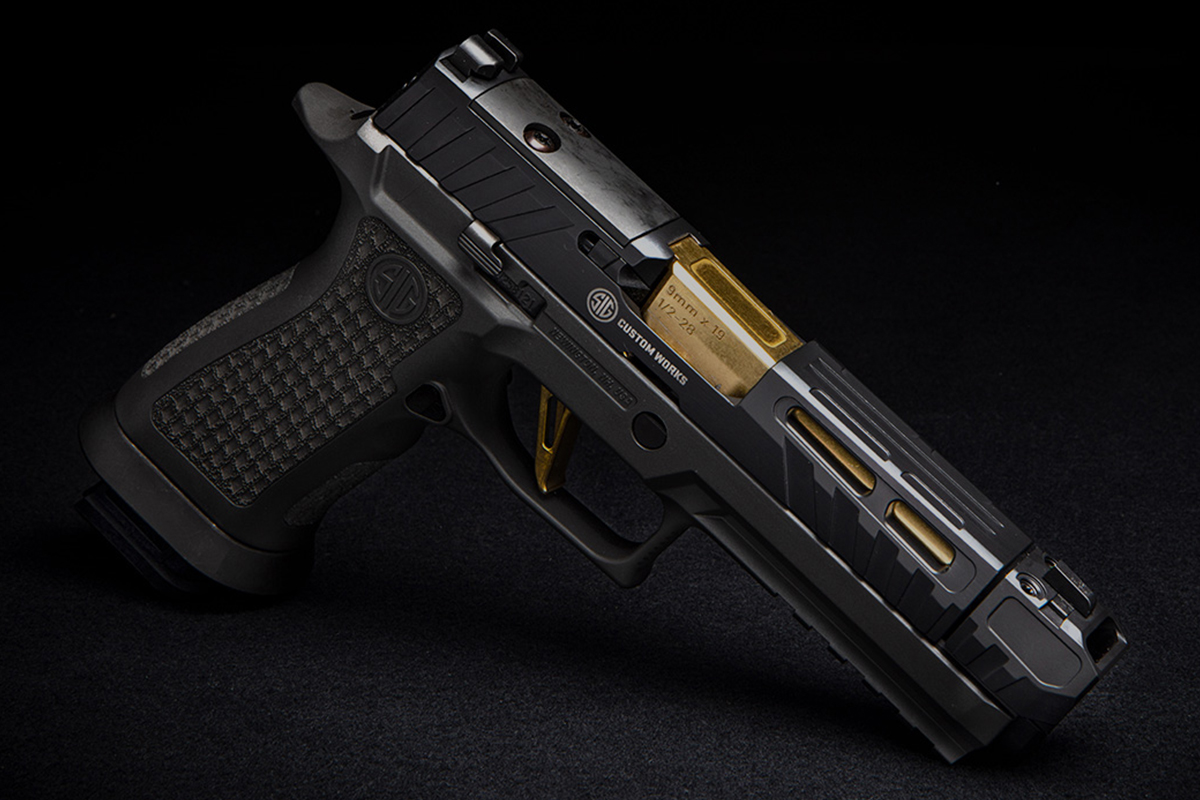 One of the best things about the current firearms market is the ability to customize your guns, usually without hiring a gunsmith. It's easy to get sucked down the modification rabbit hole and get in over your head. One way to get it right is to let the manufacturer do the customizing for you with premium models like the SIG P320 Spectre Comp.
The P320 Spectre Comp starts as a full-size P320, but almost every component gets finessed or upgraded by SIG Custom Works to shoot faster and more accurately. The polymer frame features SIG's laser-engraved TXG Tungsten XSeries grip module, which is, as it sounds, a tungsten-infused grip module.
The nitride-coated slide is heavily serrated, vented, mounted with XRay3 day/night sights, and cut for an optic. The threaded 4.6-inch barrel sports a bright titanium nitride coating. SIG upgraded the P320 Spectre Comp's trigger with a skeletonized and titanium-nitride-coated XSeries trigger that's extra smooth.
This model's crowning achievement, however, is recoil management. The compensator reduces muzzle flip by as much as one-third, according to SIG, so you can get back on target faster between shots. All of this comes with two 21-round magazines and a commemorative SIG Custom Works coin.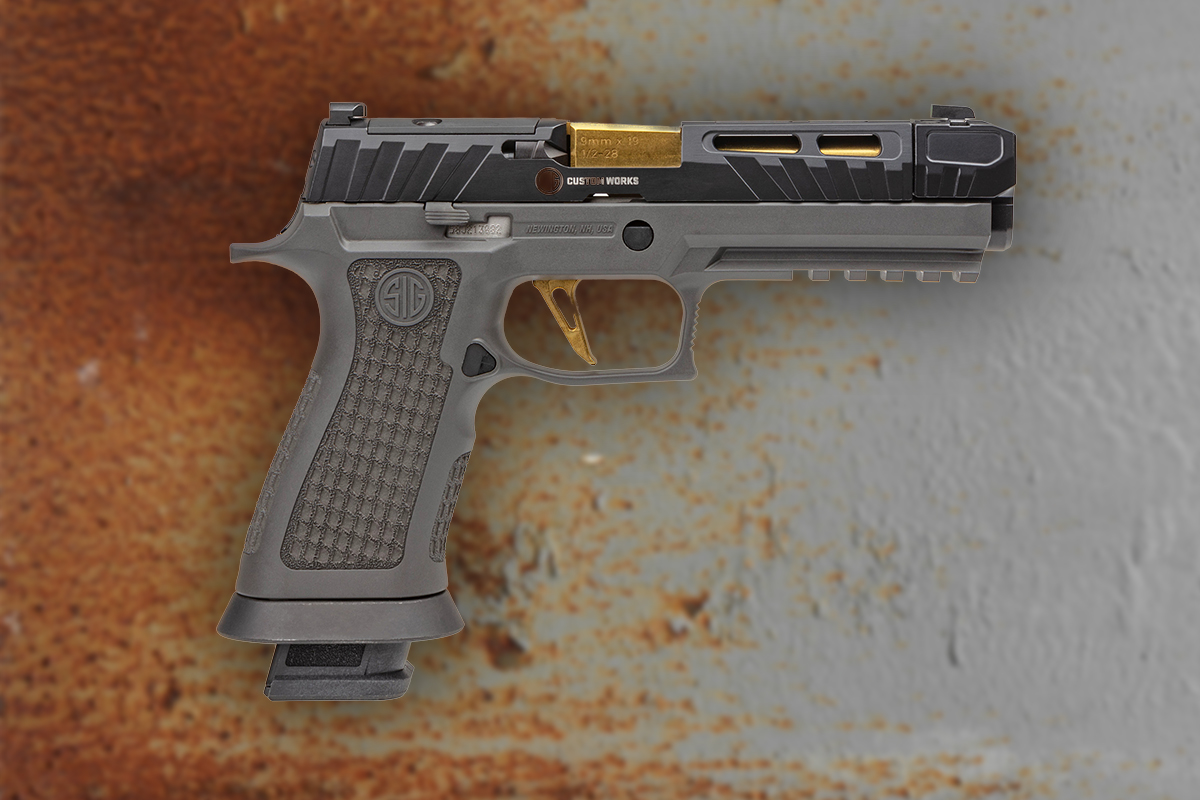 The Spectre Comp occupies an interesting place in the P320 lineup and appeals to shooters who prioritize exclusivity. It's not a service pistol slathered in flat dark earth Cerakote. It's not a functionality-first pistol like the Legion series.
It's also not a competition race gun like the X5 DH3. Spectre pistols offer usable performance upgrades, top-shelf components, premium touches, and just enough bling to set them apart at the range. Next time you spot a gold trigger in the wild, you'll know what you're looking at.
GOOD GEAR – Get Your Read on With Coffee or Die Magazine
---
How Much Does the SIG P320 Spectre Comp Cost?
The SIG P320 Spectre Comp isn't exactly a budget handgun. It's currently priced at $1,480 ($1,580 for the state-compliant 10-round model).
It's a premium pistol decked out with all the bells and whistles, so a significantly higher price than a base model is to be expected. You can always try to build your own version and see if you can hunt down parts for a better price. Gun nerds call that "fun."
READ NEXT – Barrett Firearms Acquired by Australian Group
---
How to Buy a SIG P320: So Many Choices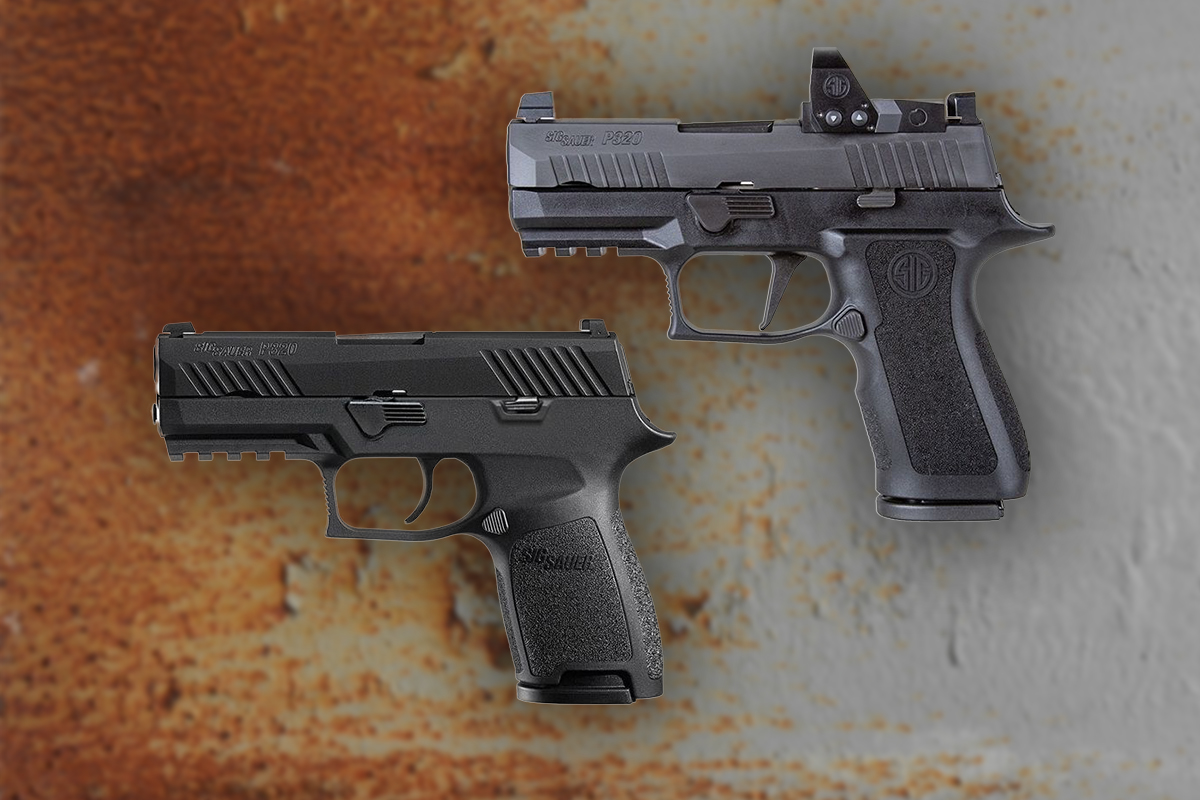 Which P320 is right for you? It depends on how you intend to use your pistol. Start by thinking about things like frame size, barrel length, caliber, and the laws regarding magazine capacity in your state. Once you have a basic idea of what you need from a handgun, you can consider the price and start to budget for upgrades, such as a flat XSeries trigger, more visible sights, optics compatibility, and even a TiN gold threaded barrel.
For ultimate portability, SIG offers six versions of the P320 Compact or XCompact. These pistols are a great option for your everyday carry because they prioritize physical size and lightness. The most cost-effective option is the P320 Nitron Compact, which you should be able to find for less than $500.
You can upgrade to features like a flat-faced trigger, suppressor-height XRay3 day/night sights, and a ROMEO1 PRO red-dot optic with the P320 RXP XCompact that SIG Sauer considers to be the brand's ultimate CCW pistol. It's an undeniably slick carry gun — as it should be at $1,000.
For a little extra size, go for a P320 Carry or XCarry. There are seven submodels to choose from. All fire 9mm and have a 3.9-inch barrel (except the P320AXG-Combat and P320 XCarry Legion, which have a threaded 4.6-inch barrel).
The Carry and XCarry versions of the P320 strike an excellent balance between size and utility. They're small enough to be an everyday carry gun, but with more surface area to hold onto and the ability to use up to 17-round magazines. Interestingly, the mil-spec P320-M18 is the most affordable at right around $650, and the $1,500 M18 Commemorative pistol is one of the most expensive.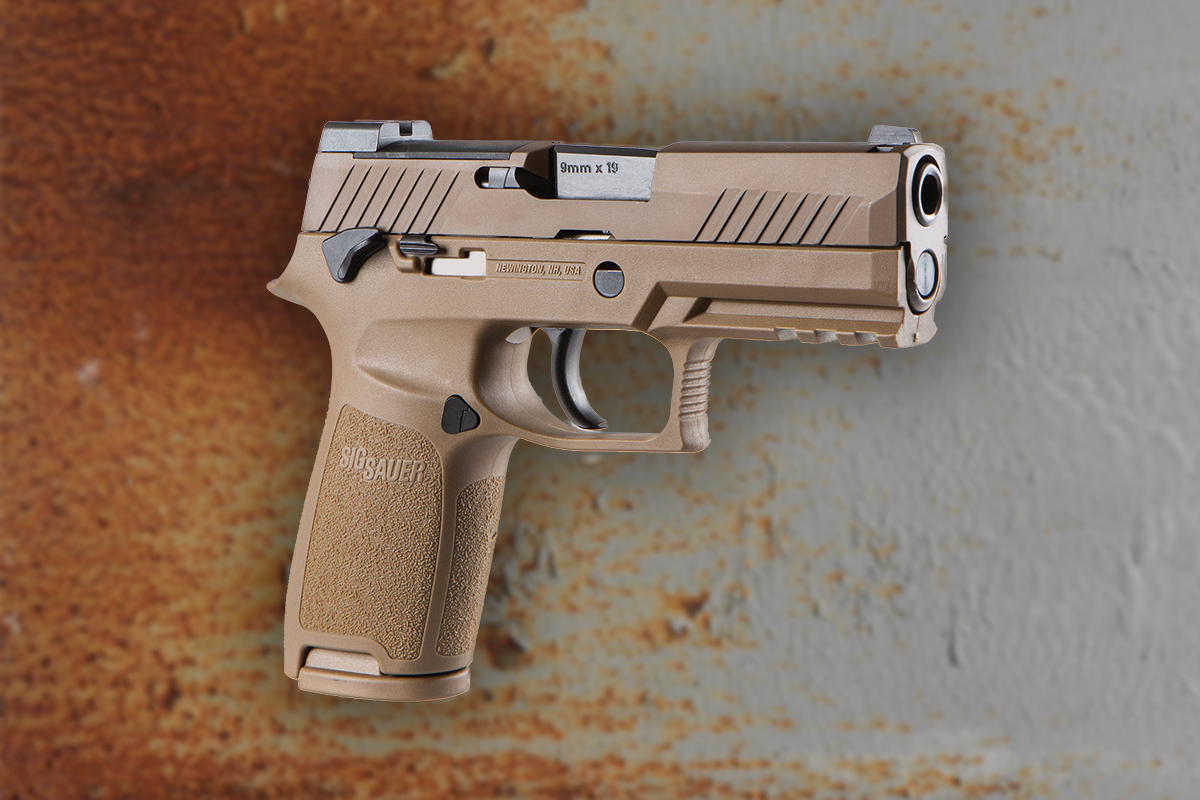 SIG Sauer builds 12 different full-size versions of the P320. The P320 Nitron Full-Size fires 9mm through a 4.7-inch barrel, offers basic iron sights, comes with two 17-round magazines, and costs less than $500.
The rest of the full-size models in the P320 series let buyers pick from upgrades like optic-ready slides, night sights, flared magazine wells, enhanced triggers, and slotted slides. Put it all together, and you have the competition-ready P320 X5 DH3 for a grand total of $1,400 and the exclusive P320 Spectre Comp for $1,480.
GOOD GEAR – Embody the Ethos of the Quiet Professional With Silencer Smooth Roast.
---
Parting Shots
The SIG P320 isn't great because of what it is — it's great because of what it can be. The long list of submodels provides a ton of options for everyday carry, competition shooting, home defense, combat, and everything in between. But the ability to mix and match individual components takes customization to another level.
The P320's modularity and removable FCU make it as much of a blank canvas as a Glock — if not more so. Want to swap out your duty trigger for a featherweight race trigger you can run in shooting competitions over the weekend? No problem. Go ahead and combine a full-size frame (and magazine capacity) with a compact slide to enhance your carry gun's firepower, while you're at it.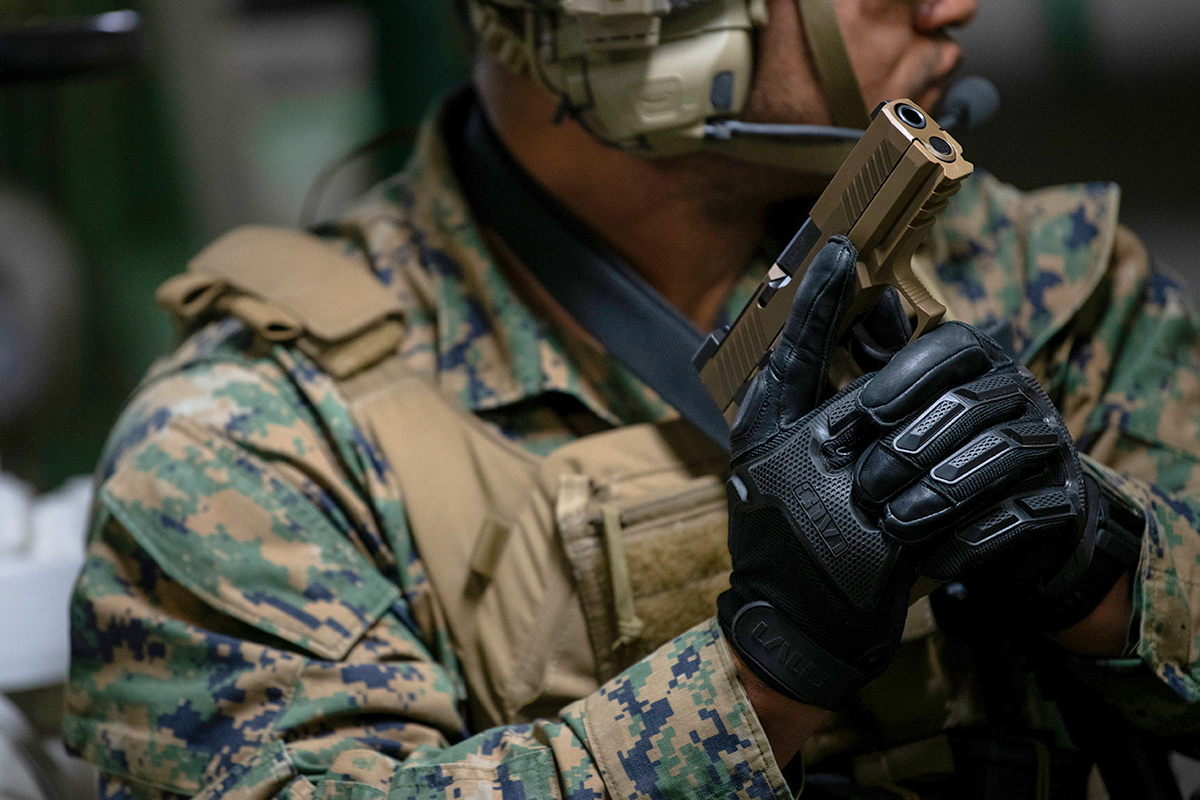 You can also save money by buying a used P320 and upgrading a few key components to essentially end up with a mostly new gun. Every single piece of the P320 can either be modified or replaced to get exactly what you want out of your pistol.
Because of the serialized FCU, you can do huge amounts of at-home customizing with one firearm. That's one benefit Glock can't provide at the moment. The breadth of aftermarket support isn't quite on par with that of Glock's just yet, but it's substantial enough in the US that you can reliably find what you need to turn your SIG FCU into an operational firearm.
Now, is the SIG P320 better than a Glock? There's no objective answer to that that won't piss off half the people reading this. The SIG Sauer vs Glock debate is nothing new. Both manufacturers make solid pistols ranging from entry-level to decked out with all kinds of performance goodies, and you don't have to search very hard to find ardent supporters of each.
Most shooters probably agree that SIG Sauer provides a better factory trigger. Being able to swap out modular slides and frames is nice, too. Glock's biggest advantage has to be the mammoth network of aftermarket support — the P320 just hasn't been around long enough yet to develop such a network, but it's getting there.
Regardless, the weakest aspect of either handgun platform is probably the human holding it, so pick whichever pistol fits your shooting style and personal needs best, then make it your job to build proficiency with it.
---
READ NEXT – Hottest New Guns and Ammo From the 2023 Shot Show!