Smith & Wesson is one of the oldest gunmakers in the United States, but exactly how old depends on who you ask.
According to Smith & Wesson's website and official story, the company began in 1852 when Horace Smith and D. B. Wesson decided to "form a partnership to manufacture a firearm that could fire a fully self-contained cartridge." So, the company as we know it today began in 1852. Case closed, right? Not so fast. The company actually started on today's date, Nov. 18, a few years later.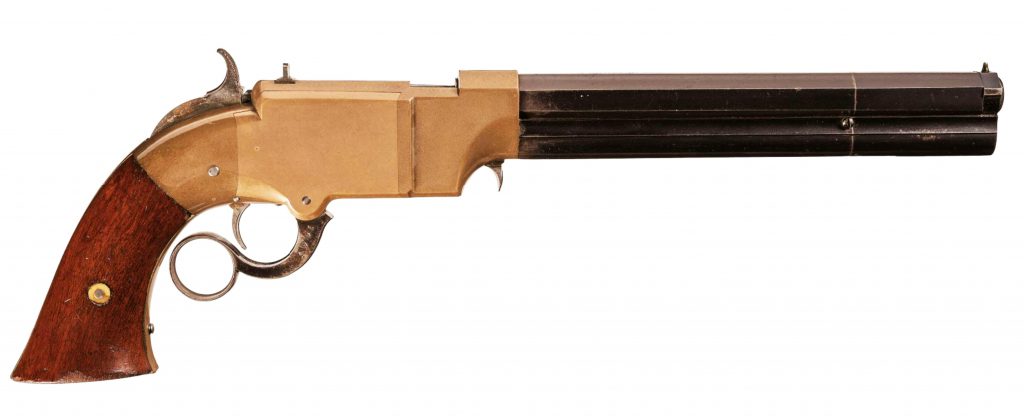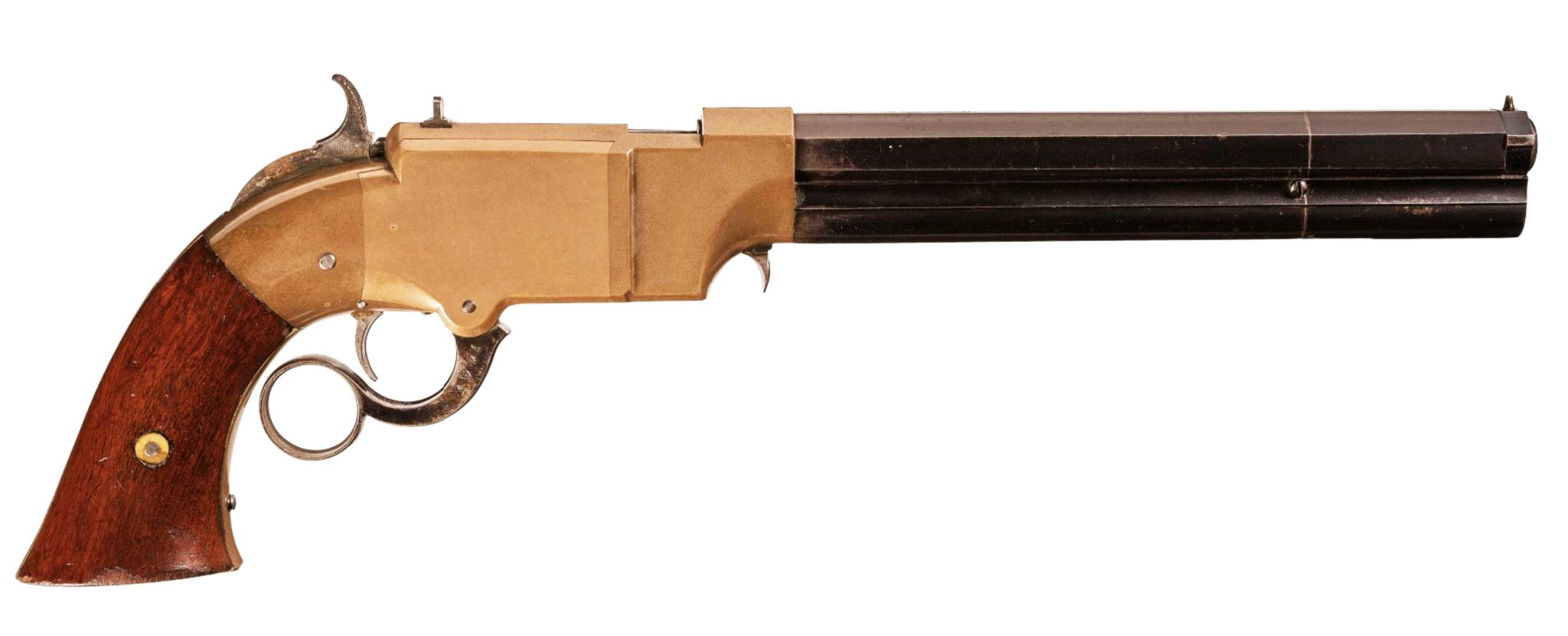 Here's how the company's beginnings actually took shape: In 1852, Horace Smith moved to Worcester, Massachusetts, to work for the tool company Allen, Brown & Luther. During this time, he met Daniel Baird Wesson while the latter was working on designs for what would become the wave of the future in gun design: repeating firearms. They didn't know it, but it would be the most critical meeting of both men's lives.
That same year, Smith and Wesson formed what would be the first of two eventual partnerships. They began producing the Volcanic line of repeating rifles and pistols as the Smith & Wesson Company. These guns were among the first functional repeaters that fired a primitive type of ammunition called the Rocket Ball.
RELATED: 1947 Texas City Disaster – The Deadliest Industrial Accident in US History
Like so many small 19th-century arms makers, the company soon succumbed to financial issues in late 1854. Smith and Wesson's first partnership was dissolved early the following year, but the company didn't go anywhere. It had a new owner by the name of Oliver Winchester, who reorganized the company and renamed it Volcanic Repeating Arms. That didn't change the fact that the Volcanic guns and ammunition were unreliable, underpowered, and unpopular.
Oliver would eventually rework the Volcanic company and create the ultra-successful Winchester Repeating Arms Company.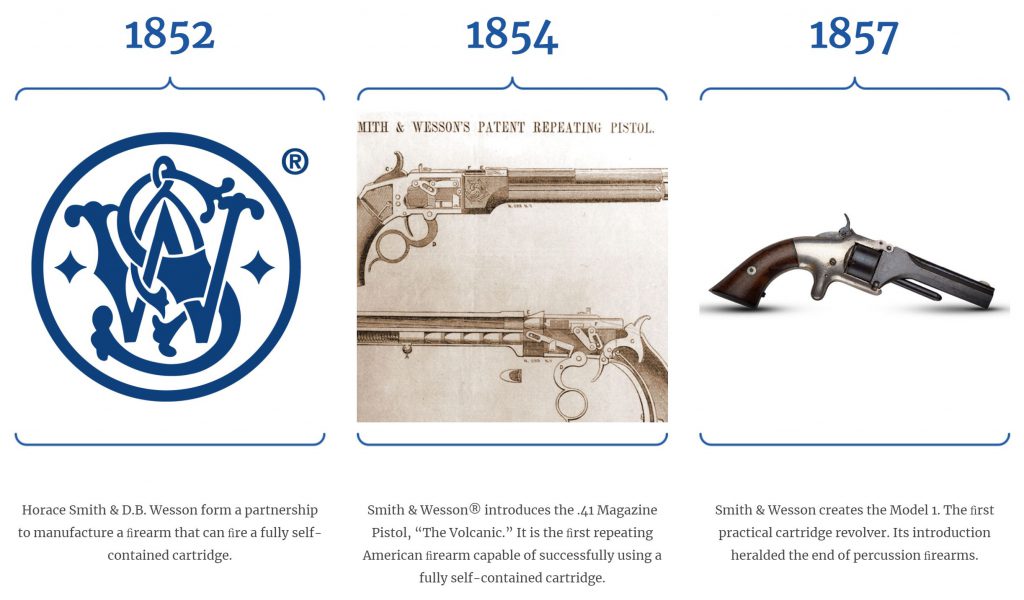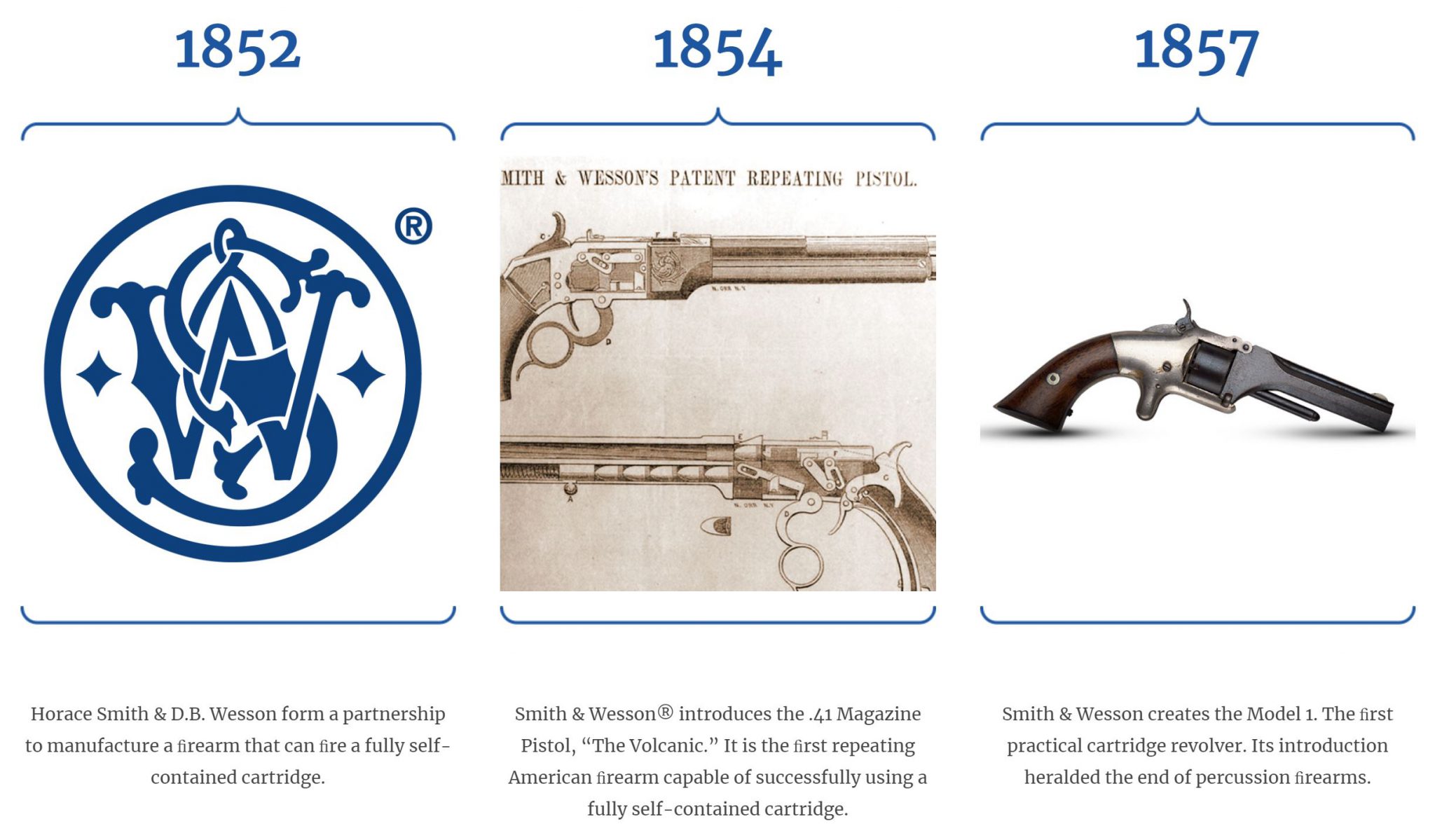 But what of Smith & Wesson? The real story is far more complex than the company's official history lets on. So much so that it doesn't even mention this next pivotal event.
S&W's Real Birthday
Smith and Wesson officially began the Smith & Wesson gun company as we know it on today's date, Nov. 18, in 1856.
That we know this information today is no minor miracle. When the City of Springfield prepared to raze the old Smith & Wesson factory in 1971, they first sold it to official Smith & Wesson historian Roy Jinks for $1. Before demolition, they gave him one week to rummage around and take anything he wanted. This included the original chestnut paneling in D. B. Wesson's office, which Jinks installed in his own home office, as well as a treasure trove of old factory documents, including the records of the company's actual founding.
The records in Jinks' possession revealed when the company really began and what it cost to get Smith & Wesson up and running.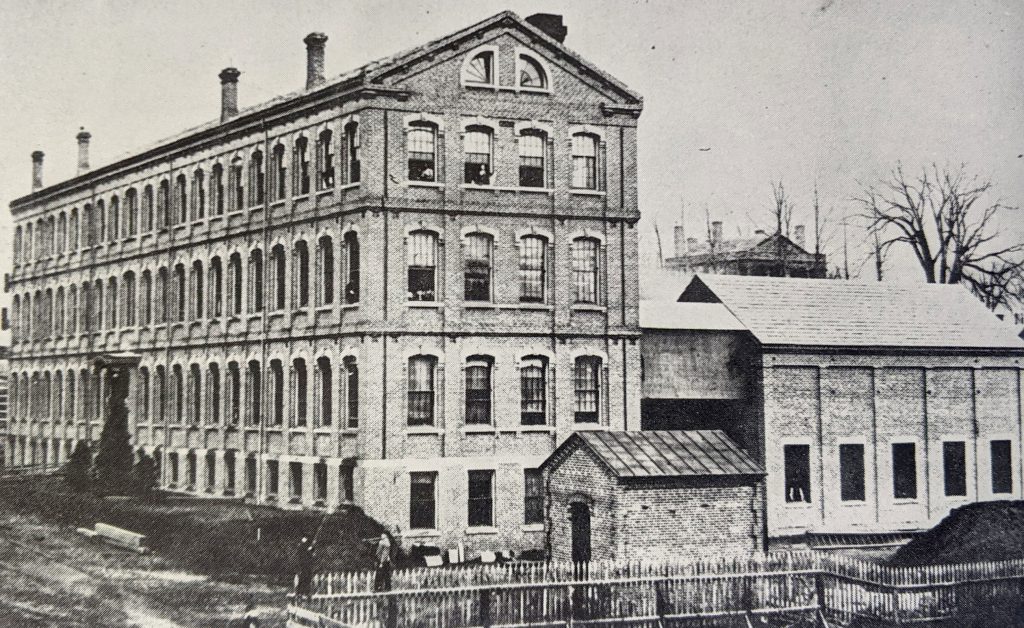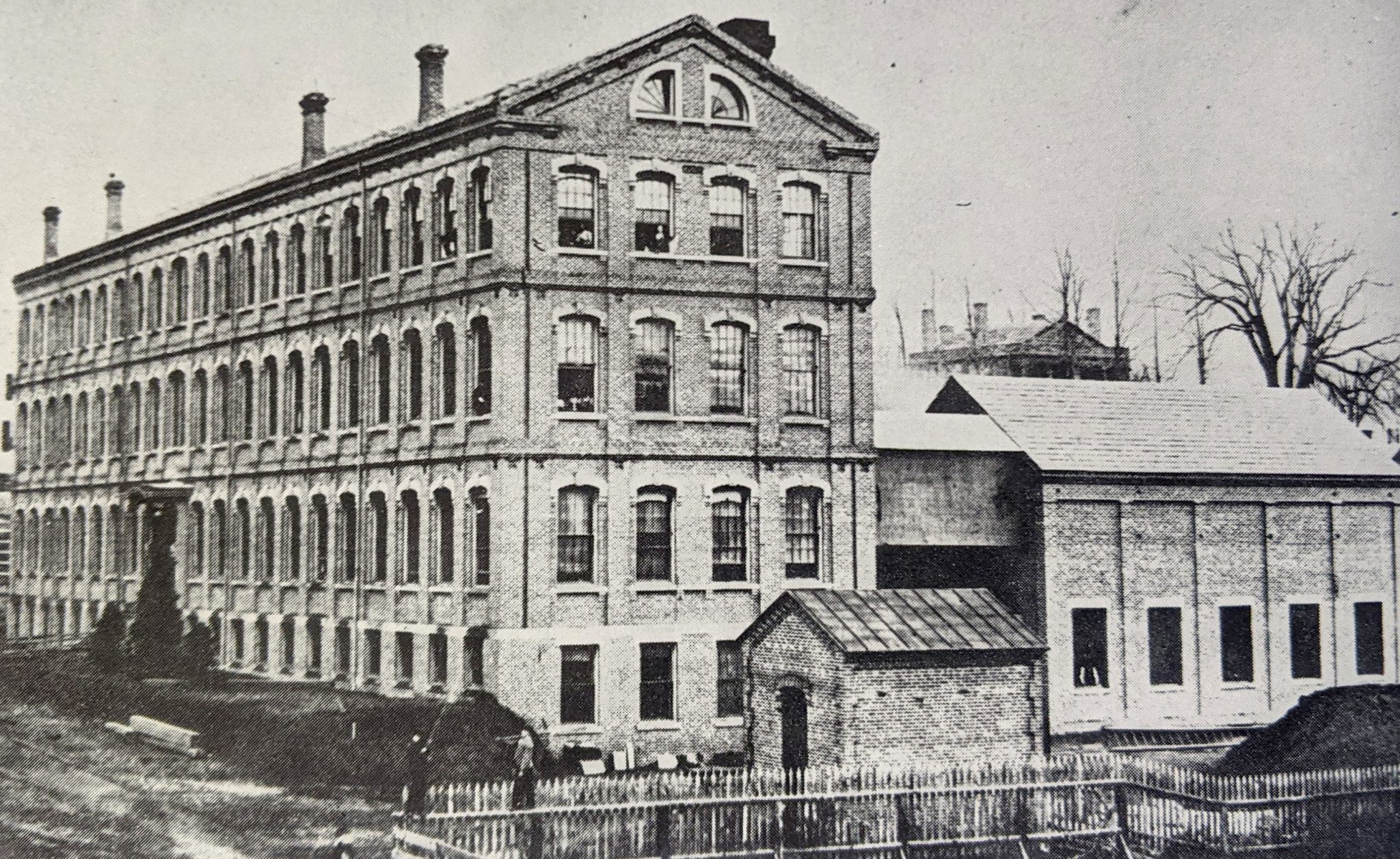 RELATED: Mountain Man Seth Kinman – Legendary Hunter With Presidential Pals
The two men pooled their money: Smith contributed $1,646.68, and Wesson contributed $2,003.63. They paid Rollin White $497 as a licensing fee for the use of his patent on the bored-through cylinder, with an additional royalty of 25 cents per gun (an innovation White's previous boss, Sam Colt, passed up).
All told, it cost $4,147.31 to start a company that would go on to become a true household name in the US that endures today. Adjusted for inflation, that's about $133,000.
The first home of Smith & Wesson was a small shop located at 5 Market Street in Springfield. At that time, they were one of four gun companies in the city, and they were by far the smallest. The demand for the company's new revolver and its cartridges would soon outgrow the capabilities of the 25-man shop, forcing Smith & Wesson to relocate to a new factory on Stockbridge Street in 1859. The factory was completed in 1860, and the move was well-timed, as the demand for arms would skyrocket with the beginning of the Civil War.
You don't have to be a brilliant economist to understand the correlation between an increase in firearms production and a wartime economy. Let's take a look at how this played out for Smith & Wesson during the Civil War (1861-65) and the impact it had on both their arms and ammo production.
Smith & Wesson During The Civil War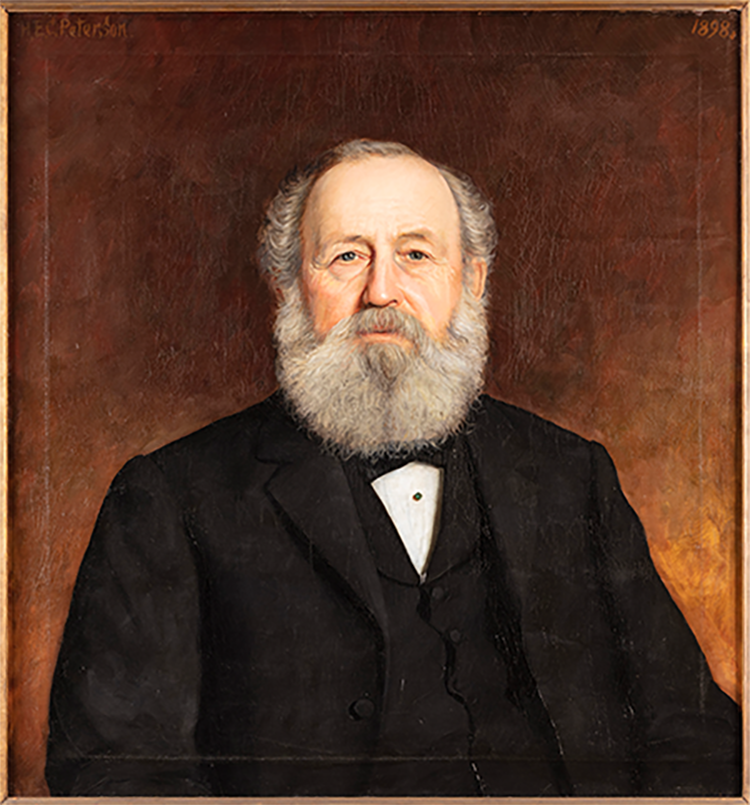 RELATED: What Happened to William Clark After the Lewis and Clark Expedition?
Smith & Wesson's first really successful firearm was a seven-shot revolver that fired .22 Short rimfire cartridges. With bullets weighing a mere 29 grains on the heavy end, it was an anemic round, even for the time. Nonetheless, plenty of Civil War soldiers carried the gun as a privately-purchased sidearm for one big reason: convenience.
They made up for what the rounds lacked in power with quick and easy reloading capability compared to their cap-and-ball counterparts. A .36-caliber Colt 1851 Navy was undoubtedly more powerful and effective, but it became nothing more than a small club if you don't have time to reload it.
That's why the Smith & Wesson Model 1 revolver sold like gangbusters. Between 1857, Smith & Wesson's first full year of production, and the end of the Civil War in 1865, the company produced 166,677 revolvers total; 86,823 were Model 1s.
That breaks down to 18,519 revolvers per year, or 50 revolvers per day if they were operating seven days a week.
Even more impressive than the number of revolvers Smith & Wesson made was the amount of ammo they produced for those guns. In the same period, they churned out a whopping 43,732,260 self-contained metallic cartridges!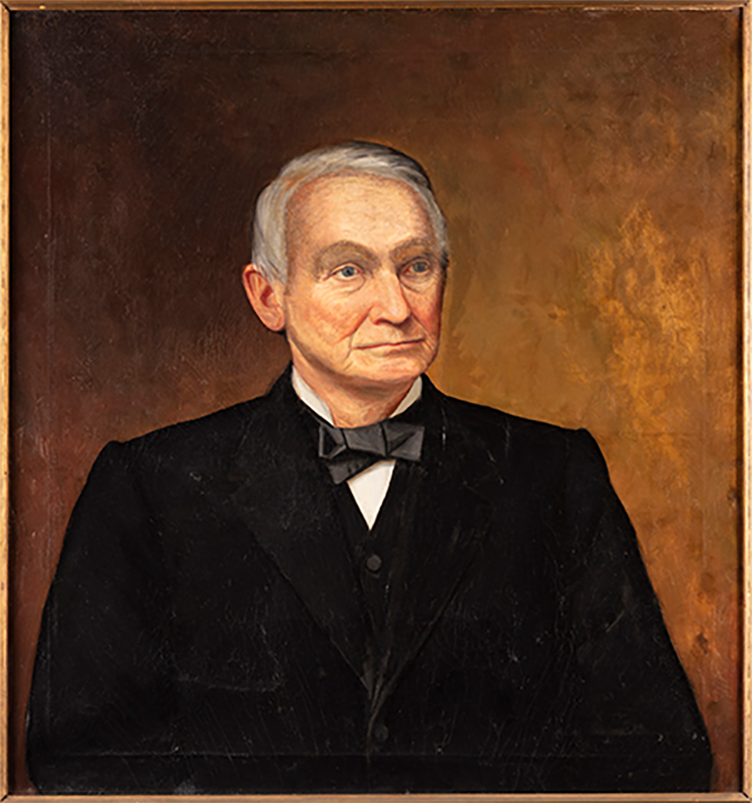 That's 4.8 million rounds per year, or 13,312 per day if they were operating 365 days a year!
By October 1865 — just under nine years after their company began — Smith and Wesson cleared $163,000 each. They were the only two residents in Springfield, Massachusetts, with six-figure incomes. Adjusted for inflation, that's about $2.7 million.
Of course, wartime production numbers don't last forever. When hostilities between North and South came to an official end in April 1865, there was considerably less need for arms of all kinds, and the Smith & Wesson Model 1 was no exception.
Demand for their revolvers dropped off dramatically in the years immediately following the war. The company went from 50 guns per day to 10-15 guns per month.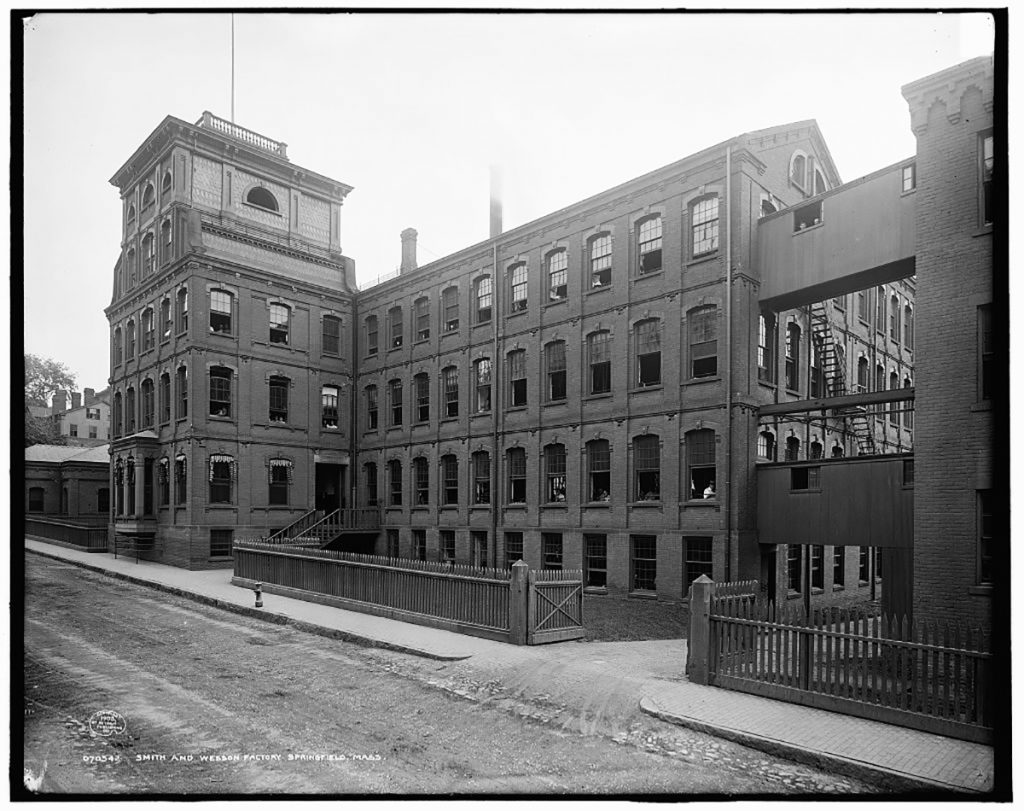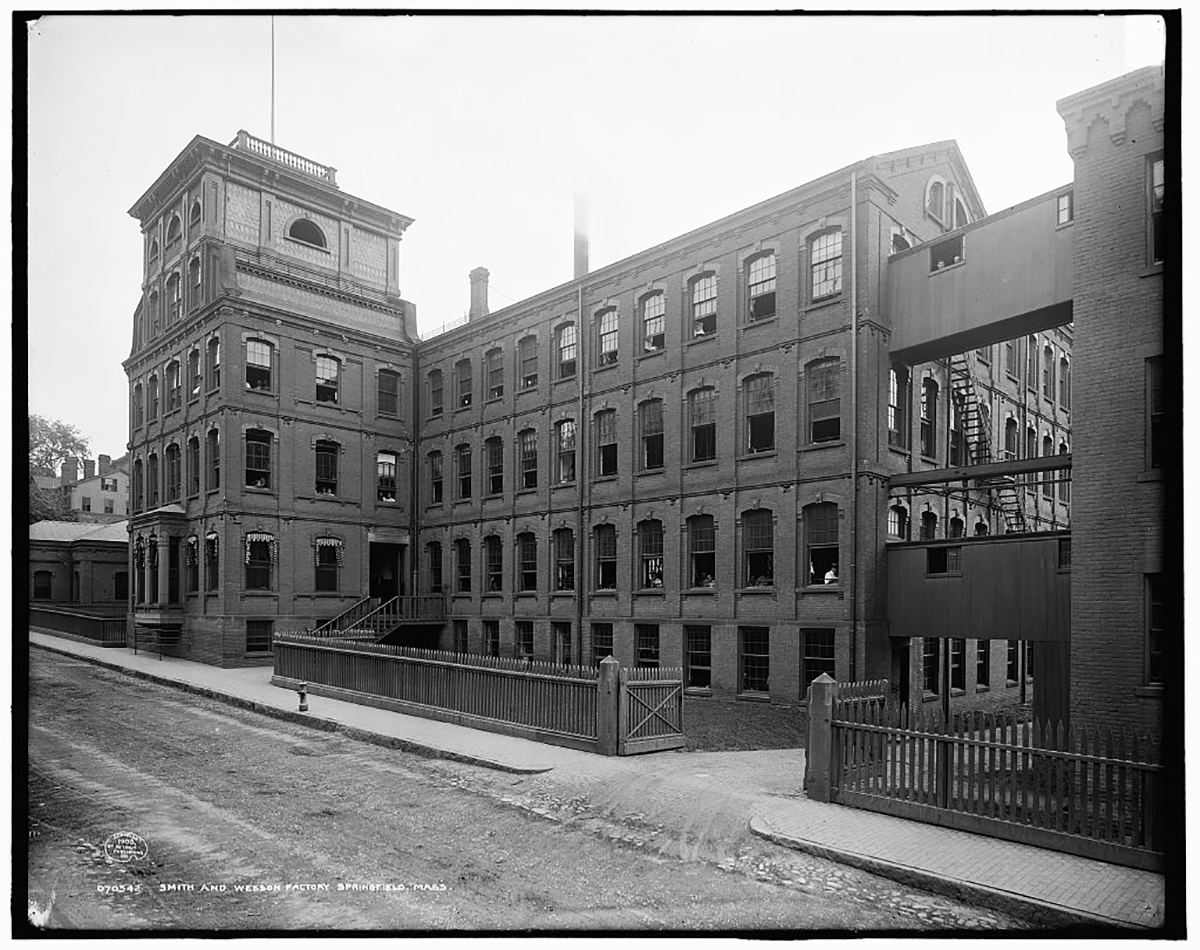 RELATED: The Famous Winchester Model 1894 Was Born 127 Years Ago This Week
Luckily for Smith & Wesson, there's always another conflict on the horizon.
The company soldiered on through the 1870s and their Model 3 top-break revolver competed directly with the Colt Single Action Army. (In my opinion, it's actually the better of the two designs.) The company then developed the first successful swing-out cylinder revolver at the end of the 19th century. Smith & Wesson came out swinging during the first few decades of the 20th century. The years leading up to World War II saw the introduction of the iconic Registered Magnum revolver and the .357 Magnum cartridge, among many others.
The war years saw more expansion and a move to their current (for now) headquarters on Roosevelt Avenue in 1949. Built from poured concrete with reinforced steel supports, it was exactly what you'd expect an arms factory to look like at the end of World War II as we headed into the Cold War.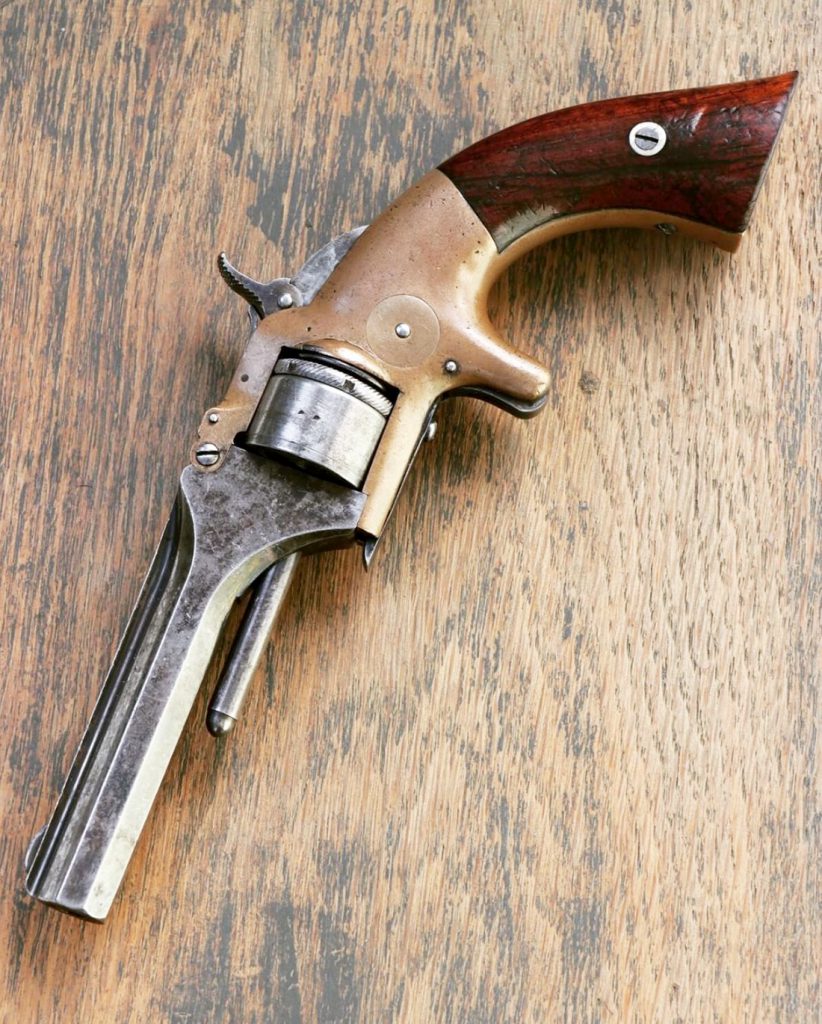 RELATED: How Western Legend Wild Bill Hickok Died in Deadwood
Showing no signs of slowing in the 21st century, the company is still going strong even after multiple rebrandings. Today, it is known as Smith & Wesson Brands, Inc. They saw net revenue of $1.1 billion in the fiscal year 2021 — the highest in the company's history and S&W guns still ride in the holsters of countless law enforcement officers and civilians.
The latest chapter of the company's story is one of the most historic. Smith & Wesson announced on Sept. 30, 2021, that they would be moving company headquarters out of Springfield, Massachusetts, the city it has called home since the very beginning. S&W will be heading for Marysville, Tennessee, in 2023.
The press release regarding the move said it's "due to [the] changing business climate for firearms manufacturing in Massachusetts," but they also noted that the company is not leaving its roots behind. While they will be moving the headquarters, some manufacturing, and a total of 750 jobs to Tennessee, they will still have a plant in Springfield where 1,000 people will remain employed.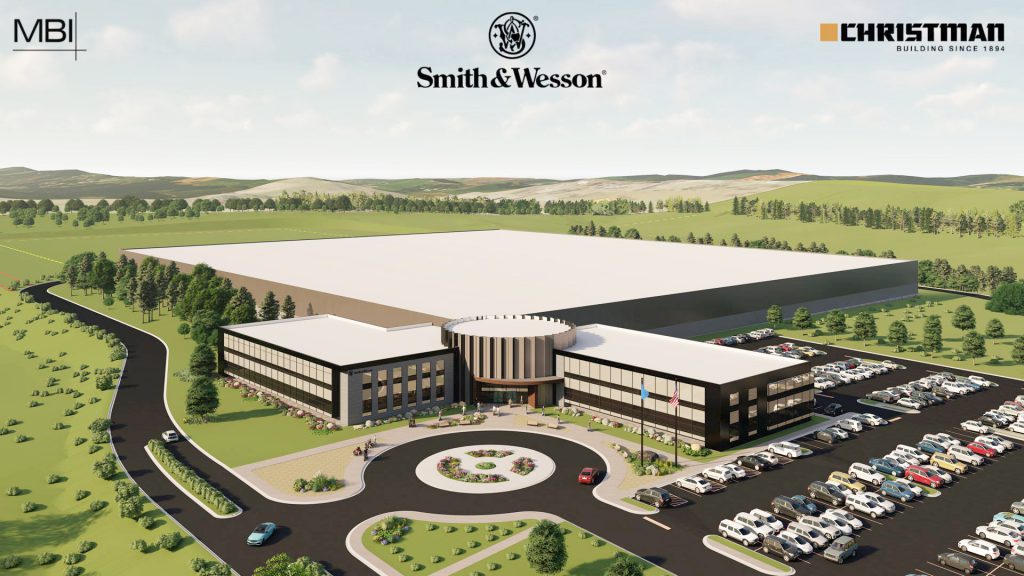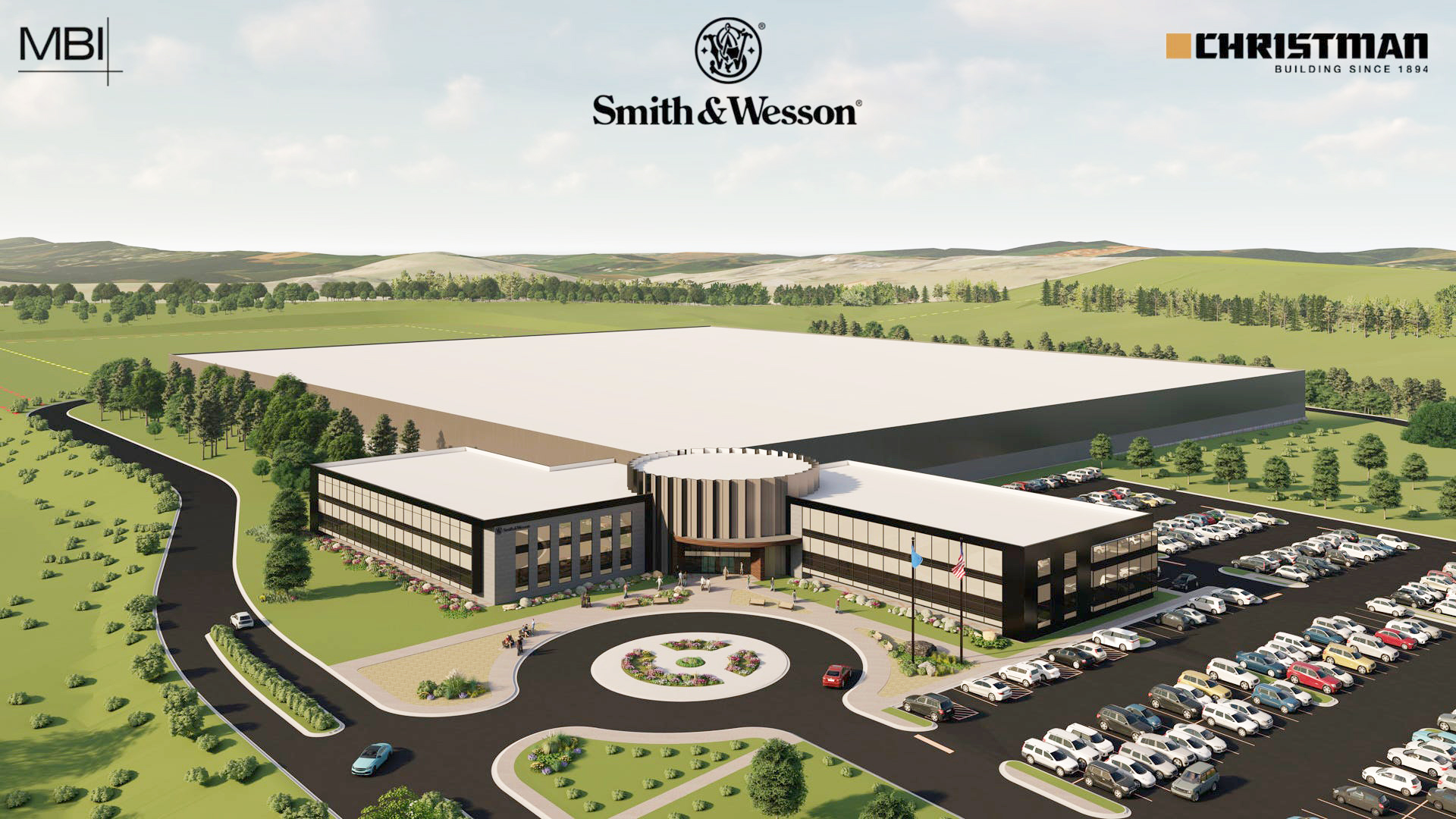 It's doubtful that Horace Smith or D. B. Wesson could have ever imagined the impact that their partnership would have on the world. They would have also probably been surprised that the company would remain in the same town for more than 150 years only to be driven elsewhere by the changing attitude toward guns in the state's business climate that they helped to shape.
Even so, both founders were astute businessmen, and I'd be willing to bet they'd have made the same choice if they were around today. They saw their first partnership fail, and there's no way they'd let what they started in November 1856 fall victim to modern-day politics.
Read Next: Horace Smith, Half of Smith & Wesson, Was Born 213 Years Ago