Springfield Armory Match Enhanced Trigger Assembly
Optics-cut slide, ambidextrous controls, and flared magazine well
Price: $695
If you don't offer pistols with flat dark earth finish, you're behind the times — Springfield Armory knows this, and the company is expanding its XD-M line of striker-fired polymer pistols to include the XD-M Elite OSP 10mm in FDE. This new pistol comes with an MSRP of $695.
"The XD-M Elite 10mm in Desert FDE provides shooters with a powerful pistol that will definitely stand out from the crowd," Steve Kramer, Springfield Armory's vice president of marketing, said in a statement from the company. "The popular Desert FDE color, combined with all the enhanced features of the XD-M Elite line, makes this newest variant an appealing option for fans of the powerful 10mm cartridge."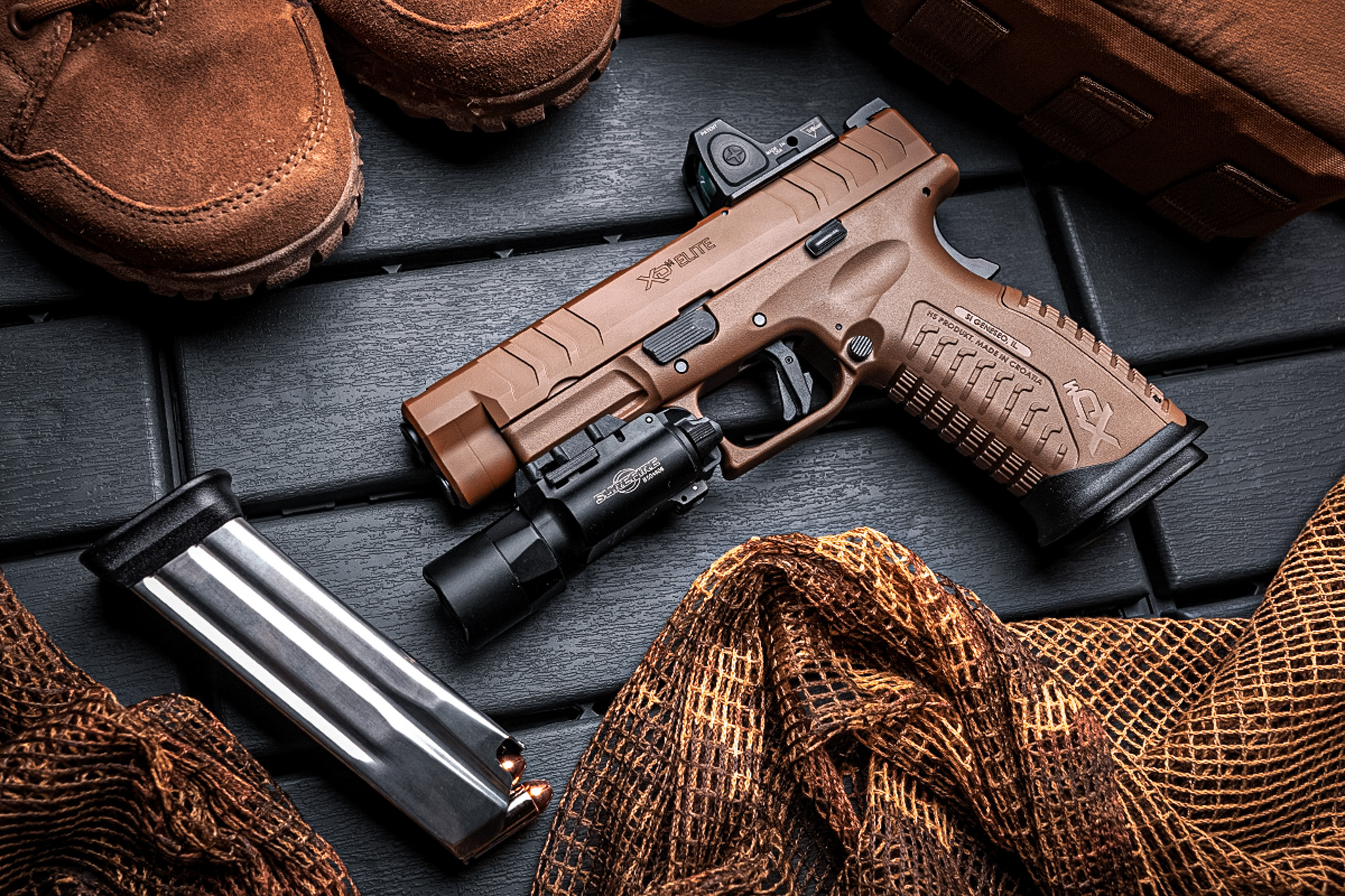 The official color of the War on Terror looks fantastic on the duty-ready XD-M, even if you never take it to the desert. The real appeal of this pistol is way more than skin-deep, though.
The XD-M Elite OSP 10mm comes with a 4.5-inch match-grade barrel made from hammer-forged steel and coated with a Melonite protective finish. The slide is cut for optics, so you can mount a red dot of your choice or use the fiber-optic front and Tactical Rack U-Dot rear sights. The pistol ships with two steel 16-round magazines and a soft case.
Springfield's Match Enhanced Trigger Assembly (META) offers a flat face, a clean break, and an overtravel stop to keep your shooting fast and accurate. XD-M pistols come standard with other factory upgrades, including a flared magazine well and a tactile loaded chamber indicator that you can check by hand in the dark. The magazine release and slide stop are both ambidextrous.
GOOD GEAR – Try Your Luck With BRCC's Fools Gold Irish Cream Roast
---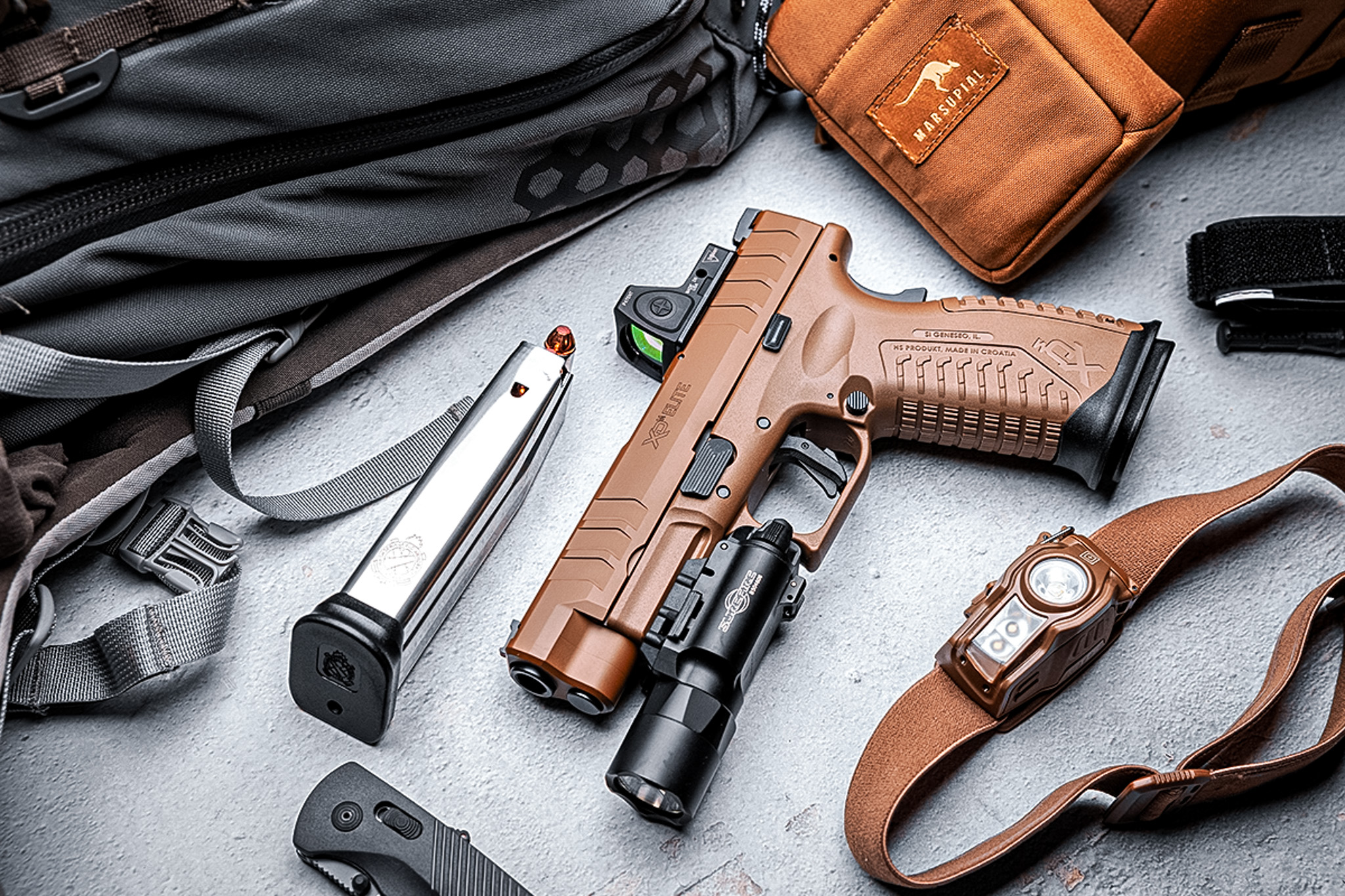 With an overall length of 7.6 inches, an overall height of 5.75 inches, and a weight of 31 ounces, the 10mm XD-M Elite is on par with other full-size pistols chambered for 10mm. That makes it very similar to a 9mm XD-M (albeit without the threaded barrel, for now) and about 10 ounces heavier than some comparably sized 9mm pistols.
According to Spinal Tap logic, 10mm is better than 9mm because it goes one step further to give you that extra push over the top. There are some holes in that thinking, but manufacturers are ramping up production in the 10mm market, and the cartridge definitely has its place.
If you can handle the increase in recoil, barrel wear, and ammunition cost over a 9mm pistol, the 10mm XD-M Elite offers better performance against things like barriers and heavily muscled predator animals. With a sub-$700 price tag, this is a serious candidate for a workhorse pistol that you can use as a duty gun or backcountry companion without feeling guilty about running it hard.
---
Springfield Armory XD-M Elite 4.5-inch OSP Specs
Caliber: 10mm
Capacity: 16+1
Action: Striker
Barrel Length: 4.5 inches
Grip: Polymer
Sights: Fiber-optic front, Tactical Rack U-Dot Rear
Optic Ready: Yes
Safety: Trigger Safety, Grip Safety
Frame: Polymer
Price: $695
---
READ NEXT – 327 Federal Magnum: The Little Loved Alternative to the .357