The .357 Magnum is a celebrity in the world of revolver cartridges. Like Jessica Simpson in the early 2000s, it gets showered with love and attention, and we're all convinced it can do no wrong. Most people just ignore the little sister — no, not Ashlee — the 327 Federal Magnum.
That's not to say that the .357's fame and adoration aren't deserved (because they are), but the alternative 327 Federal Magnum might warrant more attention than we give it. Where did the underappreciated 327 Federal Magnum come from? What's it for, and why don't we use it more often? It's high time we put this cartridge, which lets you fit six rounds in a compact revolver and retain the power of a .357 (mostly), in the spotlight.
Let's take a look at its history and performance, then compare it to the .357 Mag to see what this round is all about. Then, we'll check out some of the most popular firearms that shoot 327 Fed Mag and decide if you need to expand your collection.
---
History of the 327 Federal Magnum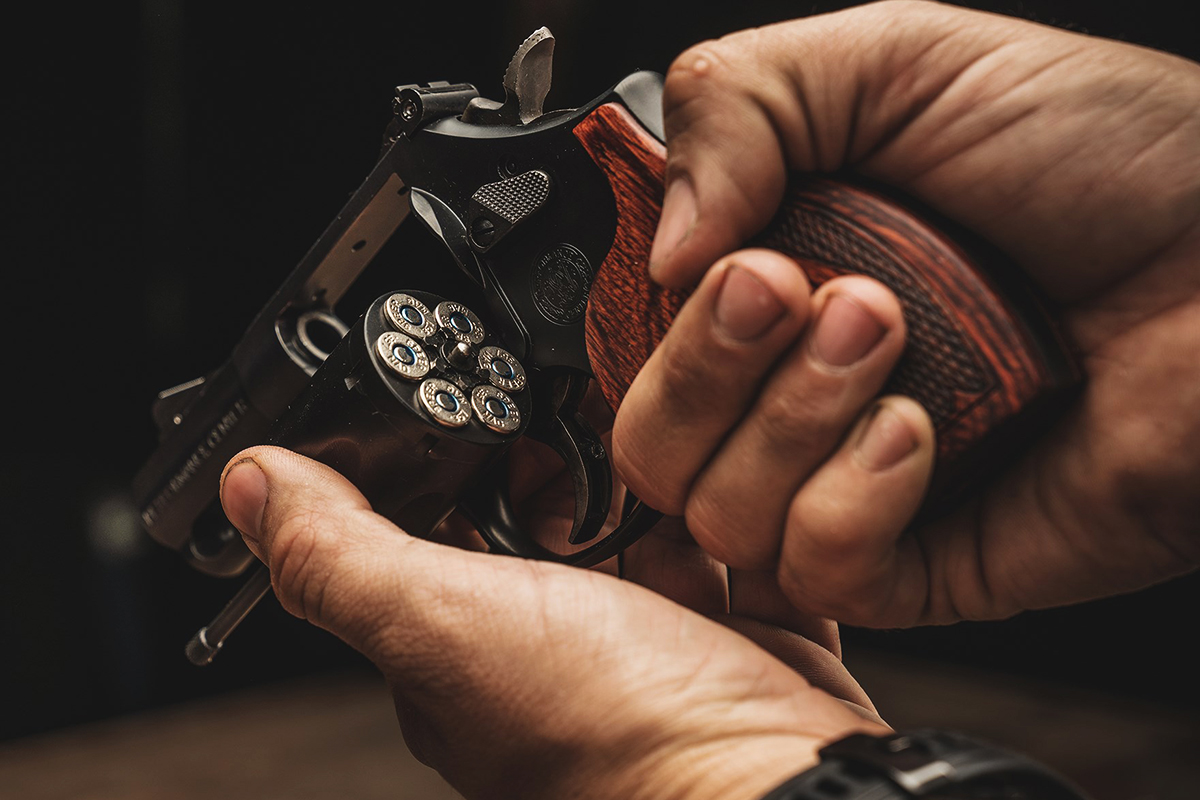 Compared to other straight-walled magnum cartridges, the 327 Fed Mag is new to the scene. The .357 made its debut as a hot-rodded .38 Special in 1935. The first .44 Magnum revolvers from Smith & Wesson and Ruger hit showrooms in the mid-1950s. The .454 Casull didn't get recognized by the Sporting Arms and Ammunition Manufacturers' Institute (SAAMI) until 1998, but even it saw use before 1960.
Meanwhile, the 327 Fed Mag didn't come along until people were making calls on the first-generation iPhone.
The 327 Federal Magnum can trace its roots back to the .32 S&W Short, a stubby, underpowered cartridge that fed snub-nosed concealed-carry guns starting in 1878. That cartridge led to the .32 S&W Long in 1896, which was a popular defensive load, but it lacked the power to compete with up-and-coming cartridges like the 45 ACP. The popularity of the .32 S&W Long declined throughout the 20th century, eventually falling out of mainstream use.
The people at Harrington & Richardson had a simple remedy — more gunpowder. The result was the .32 H&R (also called the .32 H&R Magnum or .32 H&R Mag), released in 1984. Even though the .32 H&R produced three times as much muzzle energy as its predecessor, it still couldn't hang with competition like the .357 and .44.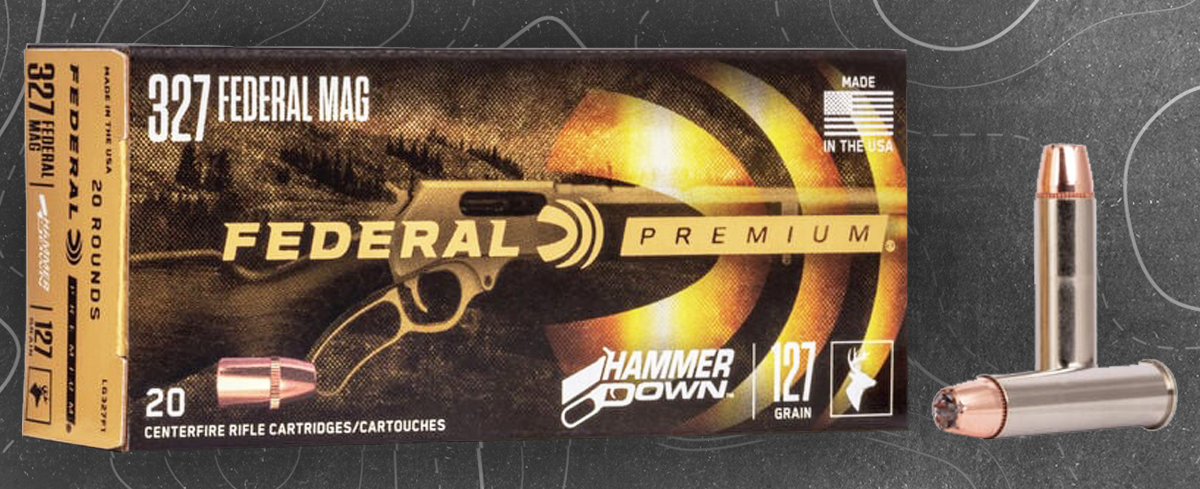 Federal finally gave the 32-caliber family of ammunition the power it needed in 2008, with the creation of the 327 Fed Mag. Its elongated case allowed the round to achieve massive amounts of pressure. Higher pressure ceilings enable ammunition manufacturers to chase higher muzzle velocity or add weight to the projectile.
Both result in more knockdown power at the receiving end, and manufacturers offer various bullet weights to suit different purposes. And the best part? Guns chambered for 327 Fed Mag can also fire .32 H&R, .32 S&W Short, .32 S&W Long, and .32 Auto ammunition.
Plus, the round was designed to provide power similar to that of a .357 while allowing for a six-round cylinder in compact revolvers, like the S&W J-frame, which can only hold five rounds of .38 Special or .357. A full-sized revolver in .327 Fed Mag can hold seven rounds or more.
RELATED – Mauser M18 Rifle Now Available in 2 Old-School Camo Patterns
---
How the 327 Federal Magnum Performs
When you compare ballistic data, it's hard to believe that the 327 Fed Mag has anything in common with its predecessors. The original .32 S&W Short can generate 17,000 psi of pressure, which is enough to fire an 85-grain bullet with a muzzle velocity of 700 fps.
SAAMI doesn't list a pressure figure for the .32 H&R, but its maximum average muzzle velocity using an 85-grain bullet is 1,120 fps. The 327 Fed Mag blows all its relatives clean out of the water; it generates 45,000 psi of pressure and a muzzle velocity of 1,535 fps — and that's using a 115-grain bullet, the same weight found topping many popular 9mm defensive rounds.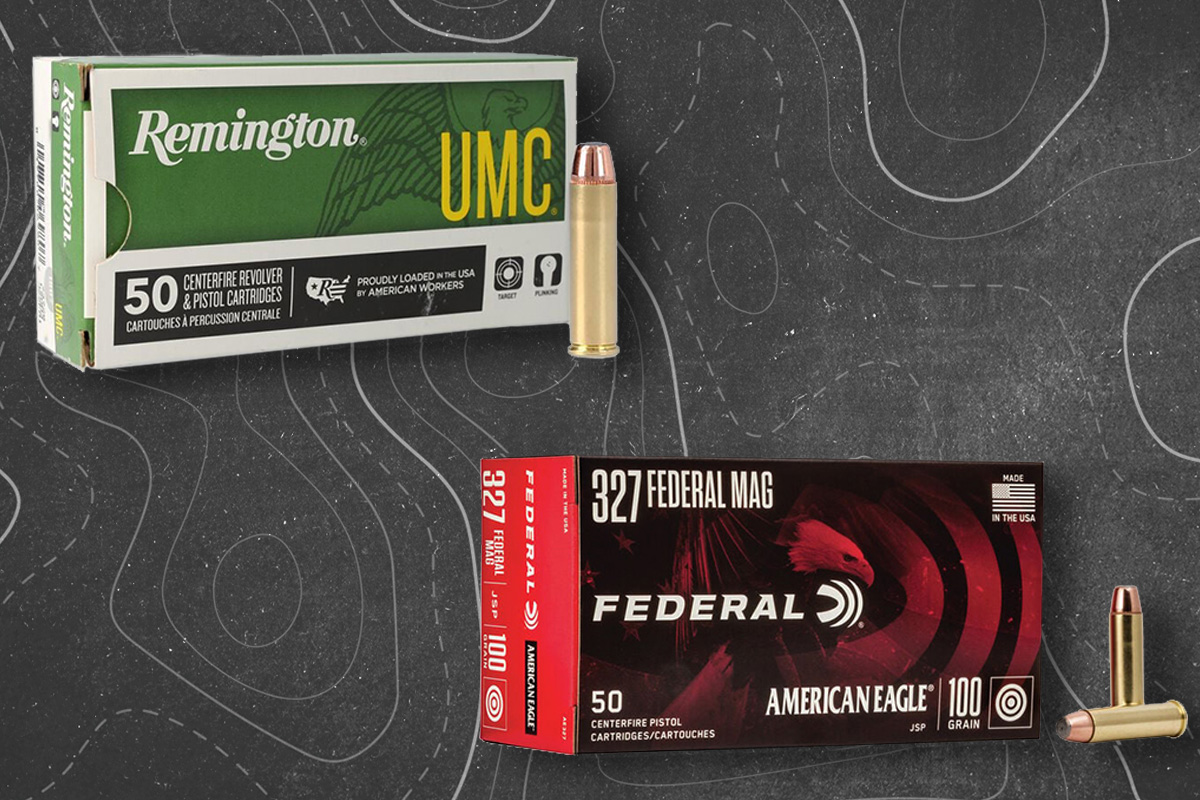 Specific figures will vary among different loads, so it's useful to check with manufacturers to see what you're actually getting rather than relying on SAAMI standards. According to the Hornady ballistic calculator, the 80-grain bullet used in the company's 327 Fed Mag defensive ammunition flies at 1,475 fps and carries 386 foot-pounds of energy as it leaves the muzzle. When zeroed at 25 yards, as many pistols are, you can expect 4.7 inches of bullet drop at 100 yards.
The ballistic data from SAAMI assume 5-inch barrels, and most manufacturers will likely follow suit. It's possible to improve the cartridge's performance with a longer barrel, and muzzle velocities can exceed 2,000 fps with a 20-inch rifle barrel.
Effects on target are critical, but so are the effects a cartridge has on the person behind the trigger. The .327 deviates from some magnum pistol cartridges by favoring speed over mass. Rather than pushing a large projectile like the .44 and .357 do — both of which can reach weights of 200 grains — bullets fired from a gun chambered for .327 generally weigh less than 100 grains.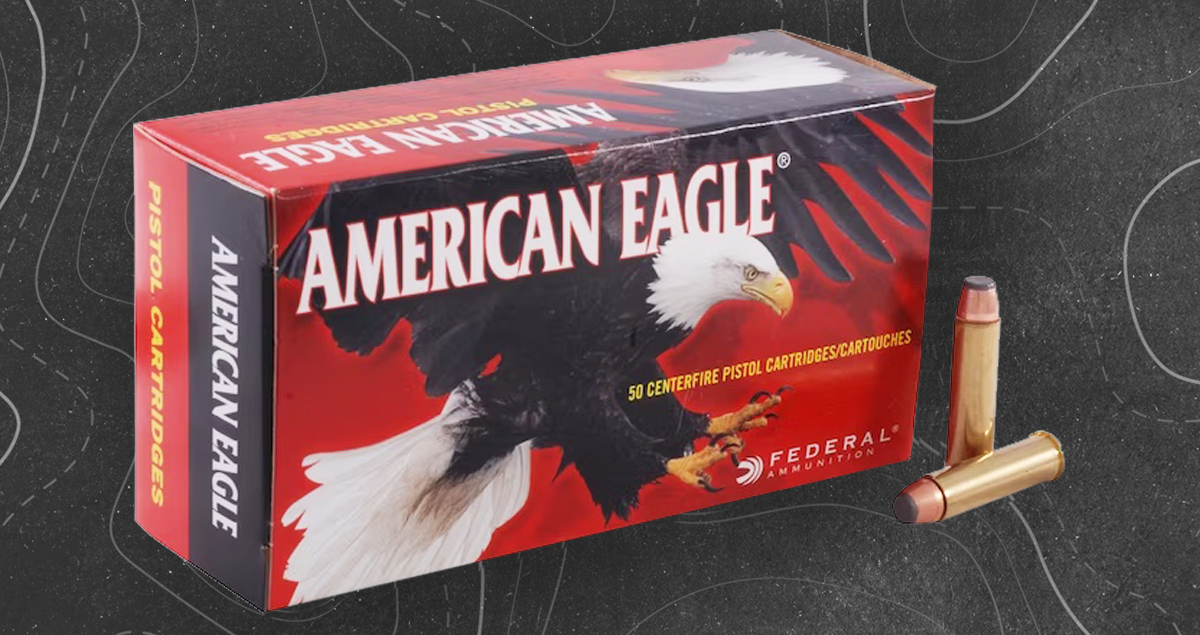 The 327 Fed Mag generates power by being light and fast rather than slow and heavy — think of it as the .223 of the revolver world. In that sense, on the handgun side, it's closer in performance to the 9mm than the .45 ACP, the epitome of heavy and slow.
As a defensive round, the 327 Fed Mag packs one hell of a punch. Revolvers chambered for the round generate more force than most handguns, but felt recoils is less than comparable .357 loads. Keep in mind that stopping power isn't the only factor to consider.
By choosing to shoot this cartridge from a revolver, you will generally have a higher capacity than you would with a .38-caliber wheelgun with most of the .357's power — having six rounds in a J-frame is pretty handy for a defensive gun. But still, even for a full-sized revolver, the ceiling is seven or eight rounds, which is good for a revolver but paltry compared to the capacity of today's semi-autos.
Even if you use a lever-action rifle for home defense, you're looking at a capacity of about 10 rounds. Recoil, noise, and muzzle flash are other considerations that tip the scales in favor of modern semi-automatic pistols with higher capacity.
GOOD GEAR – Show Your Support for the 2A With the BRCC Gun Club Mug
---
327 Federal Magnum v. .357 Magnum
According to ballistics charts, bigger is better. The .357 Mag produces more muzzle energy — typically between 550 and 620 foot-pounds, compared to the 327 Fed Mag's ballpark of 370 foot-pounds. The .357 has the potential to fly faster, too, with the right ammunition. This results in a serious advantage for the .357 when it comes to stopping large and dangerous game species.
Recoil and capacity are also important factors, and the 327 Fed Mag has the edge there. It's a much softer-shooting round that lets you get back on target faster to deliver accurate follow-up shots when necessary, which is also extremely important when shooting small, lightweight revolvers.
Again, there's the capacity comparison — a revolver chambered for .357 can likely fit another round of .327 in a cylinder of the same size.
Finally, you need to consider ammunition availability for any firearm you buy. Look up .357 Magnum on AmmoSeek or Lucky Gunner, and you'll get to sift through pages of results spanning a range of brands, bullet weights, and intended uses. The selection for 327 Federal Magnum is, in contrast, extremely limited.
Some shooters get around this by handloading, which may or may not be worth the hassle for you.
RELATED – The 500 Nitro Express: Definitely Not for the Faint of Heart
---
The Guns
---
Ruger SP101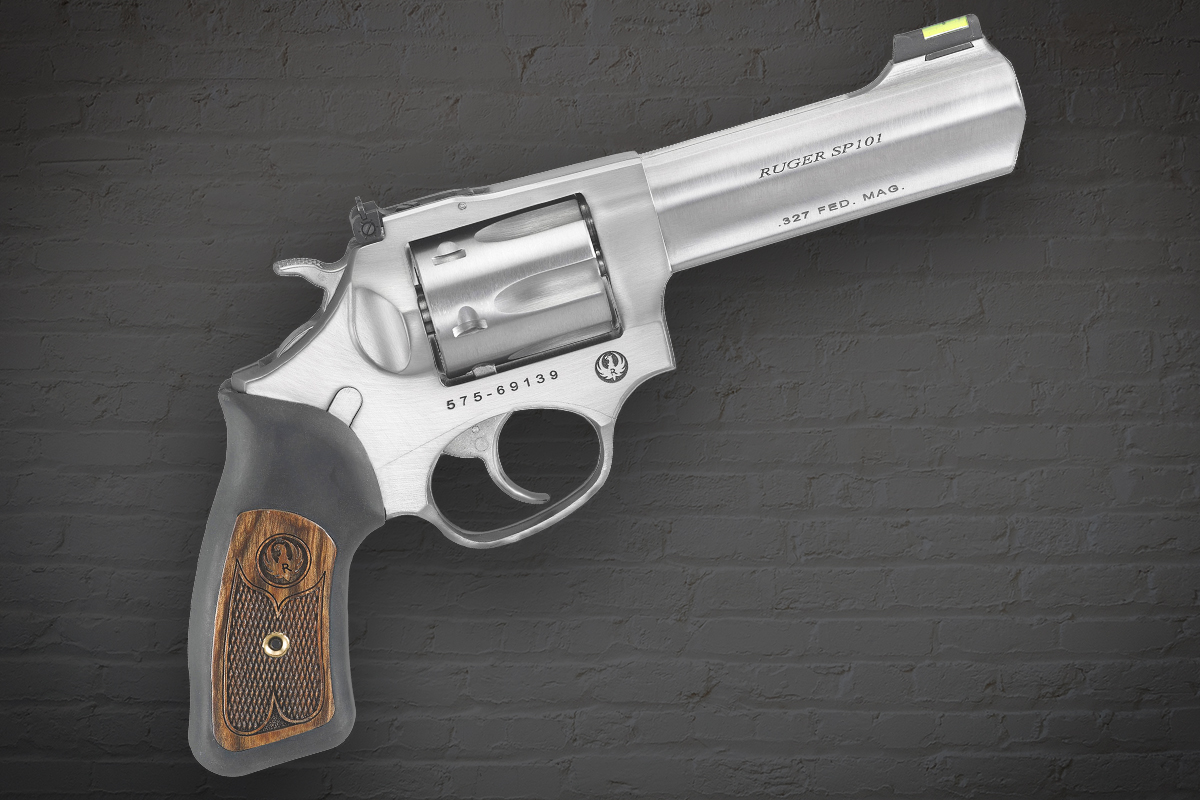 The Ruger SP101 is a modern 327 Fed Mag revolver with features that include a padded rubber grip, fiber-optic front sight, adjustable rear sight, and tool-free disassembly to make it as user-friendly as possible.
This capable defense pistol sells for right around $1,000. Ruger doesn't offer much in terms of options, so expect to get this revolver with a satin stainless finish and with whatever color rubber grip Ruger offers when you're ready to buy.
---
Taurus 327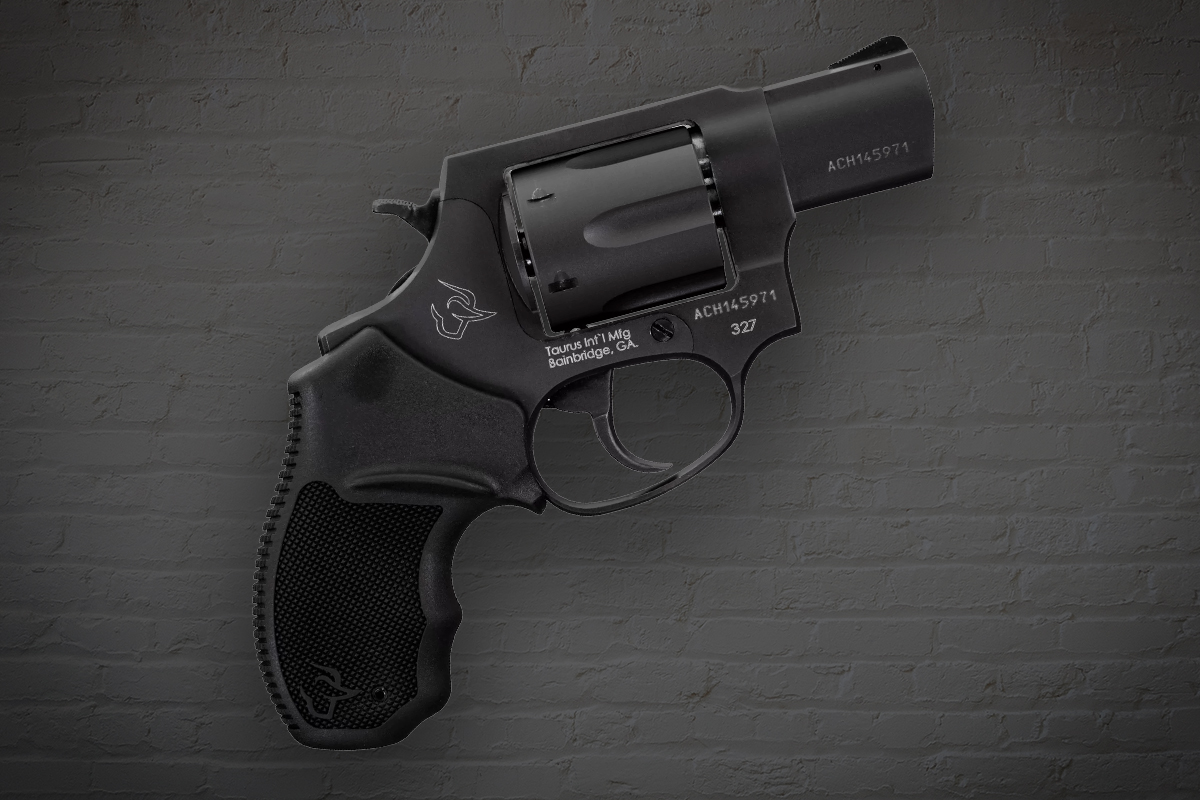 One of the 327 Fed Mag's best attributes is its performance as a self-defense round when loaded into a compact revolver, such as the Taurus 327. This snub-nosed revolver comes with a 2-inch barrel, a cylinder that holds six rounds, and your choice of a matte black or matte stainless-steel finish.
A handgun of this size certainly has its drawbacks, but stopping power is not one of them. With a retail price of around $400, neither is its price.
---
Henry Big Boy Carbine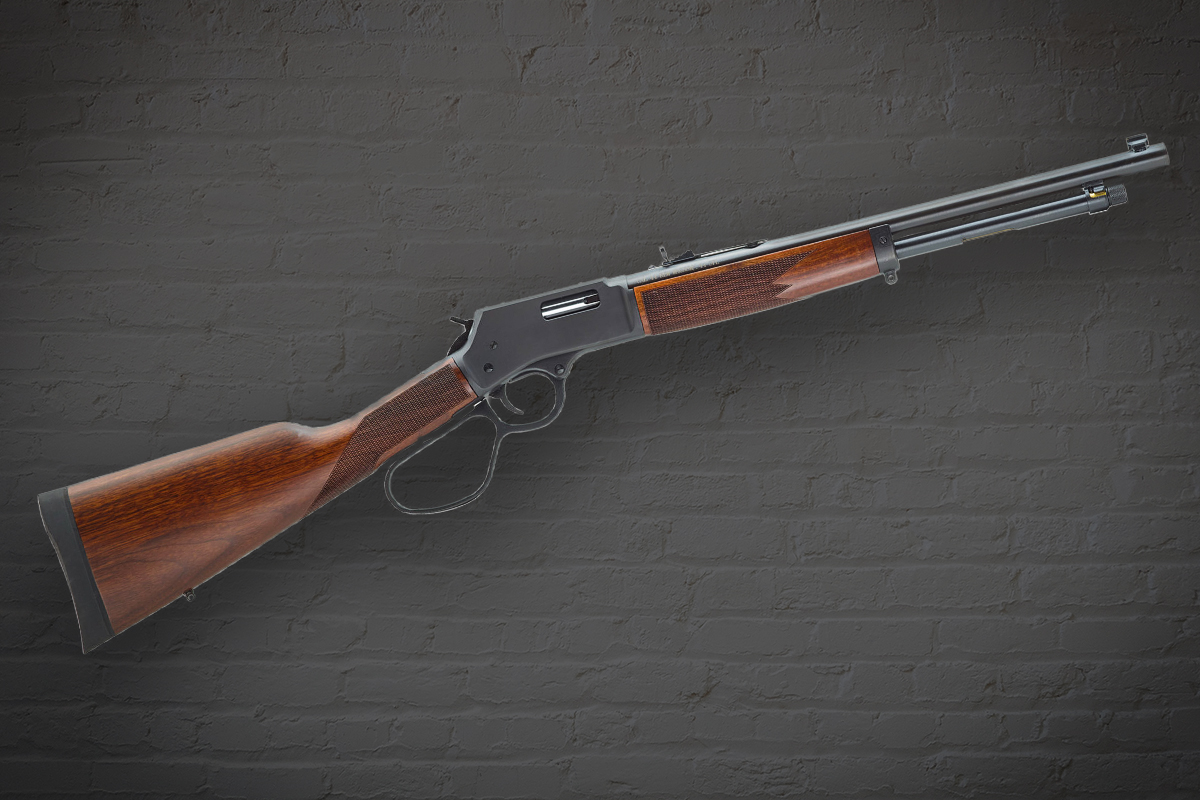 Revolvers have their charm, but one of the best ways to shoot 327 Fed Mag is with a Henry Big Boy. This classic lever action rifle uses blued steel for the receiver, barrel, and magazine tube and American walnut for the stock.
Henry offers the Big Boy Classic and the Big Boy Carbine with brass receivers and Big Boy Steel model in .327.
The Big Boy Steel model pictured here comes with a standard or large lever loop, a 20-inch barrel, and a 10-round magazine tube. The carbine gets an oversize loop, a 20- or 16.5-inch barrel, a seven-round magazine tube for the shorter barrel and a 10-round tube for the longer barrel. The receiver can accept scope mounts, but the sights are as old-school as sights get with a rear buckhorn paired with a brass front sight.
Currently, you can't add an accessory rail like the ones XS Sights sells for some other lever guns. Henry .327 models are also not available with side gates at this time.
This Henry Big Boy carbine version has an MSRP of $1,039. The brass receiver models are a bit more at $1,093.
GOOD GEAR – Conquer Your Taste Buds With the BRCC AK-47 Espresso Roast
---
Parting Shots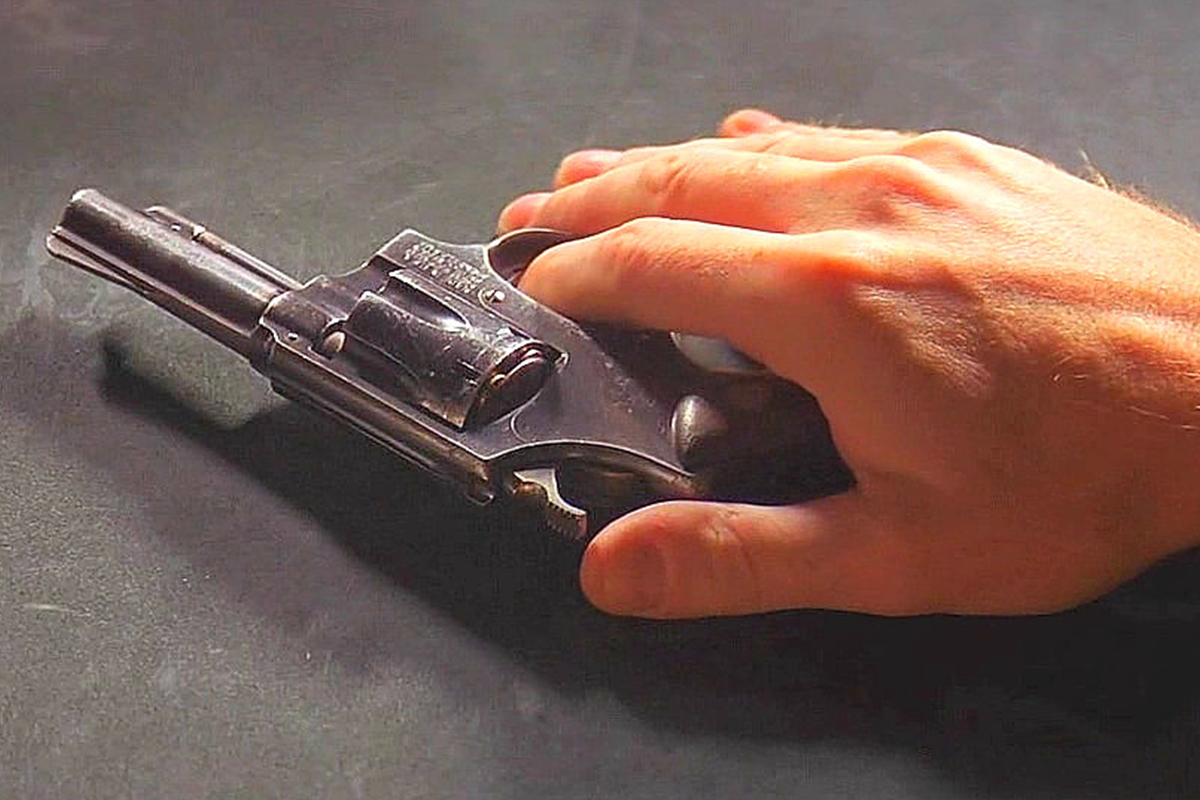 So, why did the .357 Mag flourish while the 327 Fed Mag slipped quietly into obscurity? It turns out that putting the .32 H&R — a round almost nobody was using in the first place — on steroids in 2008 created a bit of a self-licking ice cream cone. It was an answer to a question nobody had asked.
The 327 Fed Mag generates more energy than its predecessors and more common modern pistol cartridges. This cartridge is a good choice for hunting, but the .357 Mag and .44 Mag are better.
One of the most significant advantages of the 327 Fed Mag is the ability to have six rounds in a compact revolver with less felt recoil than a .357. The chambering allows the use of other 32-caliber cartridges interchangeably, except nobody uses those cartridges these days, either. There's just too much competition and not enough .327 options for it to be competitive.
Shoot the 327 Federal Magnum if it makes you happy. Go ahead and crank up that Ashlee Simpson song the next time you hear it. Remember that choosing the more popular alternative doesn't make you a sellout.
---
READ NEXT – Why People Love or Hate the 1911 Pistol