From the isolated and undeveloped barrier island of Cape Lookout to crowded tourist destinations like Nags Head and Kitty Hawk, North Carolina has hundreds of miles of spectacular shoreline. In summer and early fall, hundreds of sportsmen and women make the pilgrimage to North Carolina's Outer Banks (OBX) to fish right from the shore, catching everything from mullet to red drum, pompano to sharks. If you're new to surf fishing or the North Carolina coastline, here's what you need to know about casting from the shore.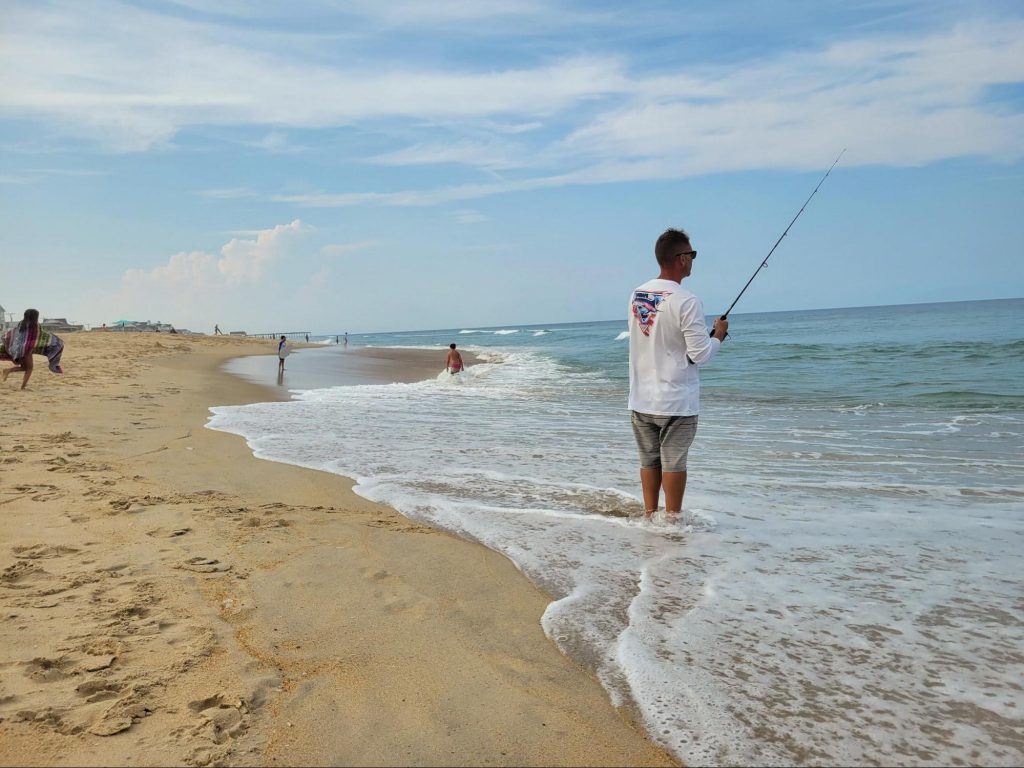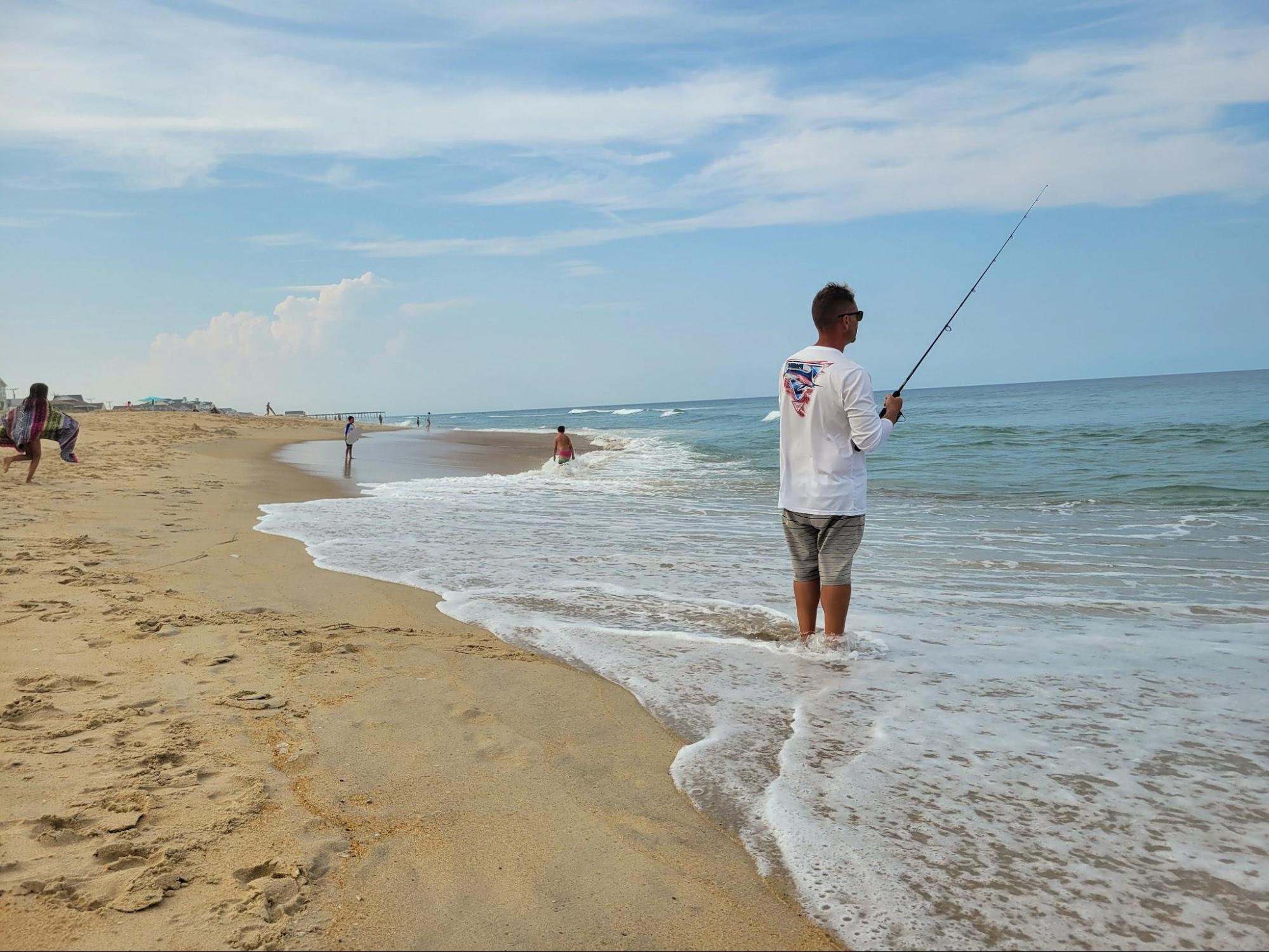 Not Just Summer Fun
Much of the state's coastline is a bustling tourist attraction from Memorial Day to Labor Day. Plenty of people head to the OBX to relax, hit the beach, hang out with friends and family, and take advantage of some of the best angling opportunities the East Coast has to offer. During this time of year, it isn't unusual to see anglers fishing the wash, sandwiched between frolicking children in water wings and dogs playing fetch in the waves. You'd think it would turn off the fish, but it doesn't.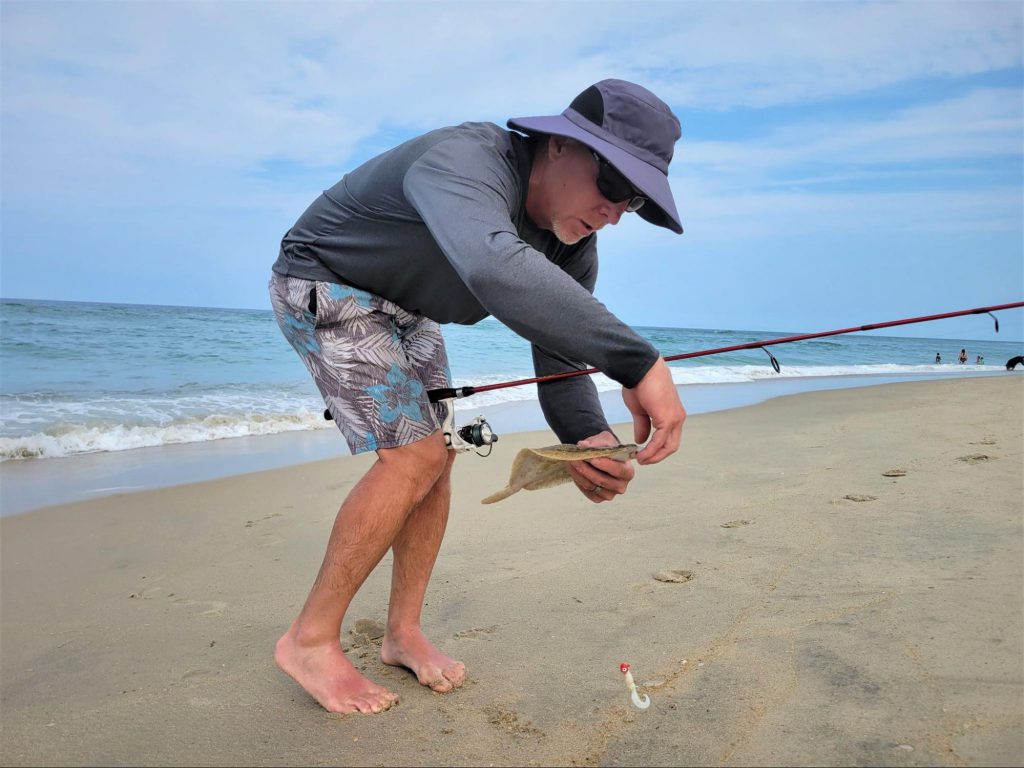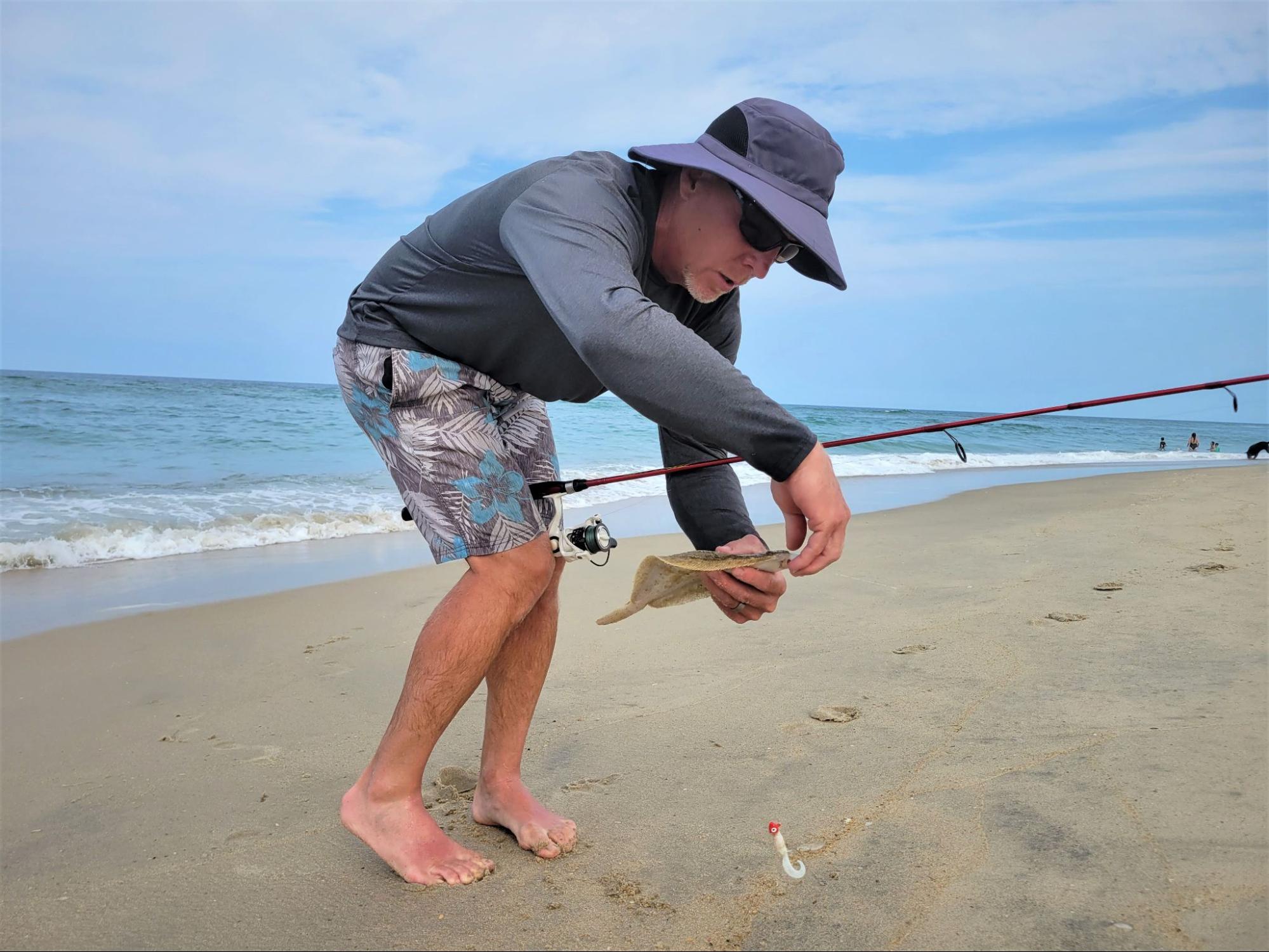 Spanish mackerel, bluefish, and mullet make for an action-packed surf fishing experience in the summer. Big cobia and king mackerel also cruise up and down the coastline, posing a challenge for anglers who enjoy a good fight. Pompano, flounder, and croaker are other common and tasty summer catches.
After vacationers head back home in the fall, the surf fishing action ramps up. Redfish, black drum, and striped bass headline a long list of possible autumn catches.
Red drum, called "redfish" by the locals, is a favorite of fall anglers. There's a reason these big boys are North Carolina's state fish. Most redfish hooked from the shore are on the smaller side, typically in the 4- to 8-pound range, and are called "puppy drum" by the locals. However, the state is known for its historically huge redfish, often dubbed "bull reds." The largest line-caught red drum on record was pulled in from the surf by David Deuel near Hatteras in November 1984. Deuel's bull red tipped the scales at a whopping 94 pounds, 2 ounces. North Carolina redfish also hold 10 of the 16 various tackle world records for the species. If you're seeking a duel with one of these hard-fighting sea monsters, the OBX is the place to be in the fall.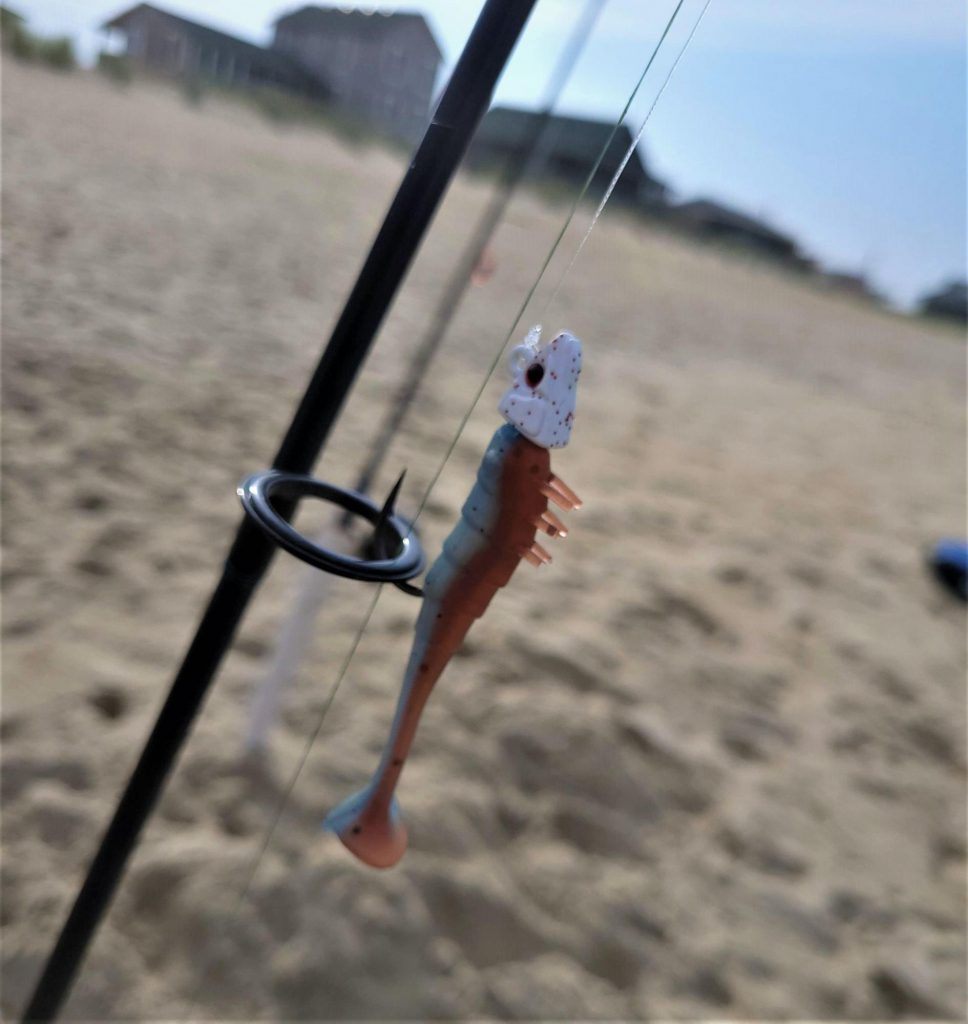 Terms To Know
If you aren't an OBX native, there's no use trying to pass yourself off as a local. However, most old salts are willing to share a few pointers with rookie anglers, especially if you offer them a beer. Knowing a few vital surf fishing terms will help you decipher the lilting rhythm of the High Tider accent, the unique Southern drawl of the area, and help you decode the advice.
Trough – Sometimes called the "slough" (pronounced like "slew"), a trough is the deeper water between a sandbar and the shoreline. Predator fish often use this feature as a corral for catching smaller baitfish.
Seam – Often called a "cut," a seam is an opening where water flows in and out of a trough. You can easily identify this feature from the shore as waves break over the sandbar but don't break over the seam. The seam is like the gate to the trough and it typically hosts high fish traffic.
Wash – The area close to shore where the waves break is called the "wash" because it is the area where the water washes back out, stirring up sand as it pulls away from shore. The ocean bottom usually drops off just past the wash, and fish like to hang out near that ledge.
Point – A natural sand formation that extends from the shore like a finger into deeper water is called a point. These sand fingers pop up at low tide, and anglers wade out onto them to cast beyond the wash. But don't get stuck there after the tide comes in, or you may have to swim back to shore.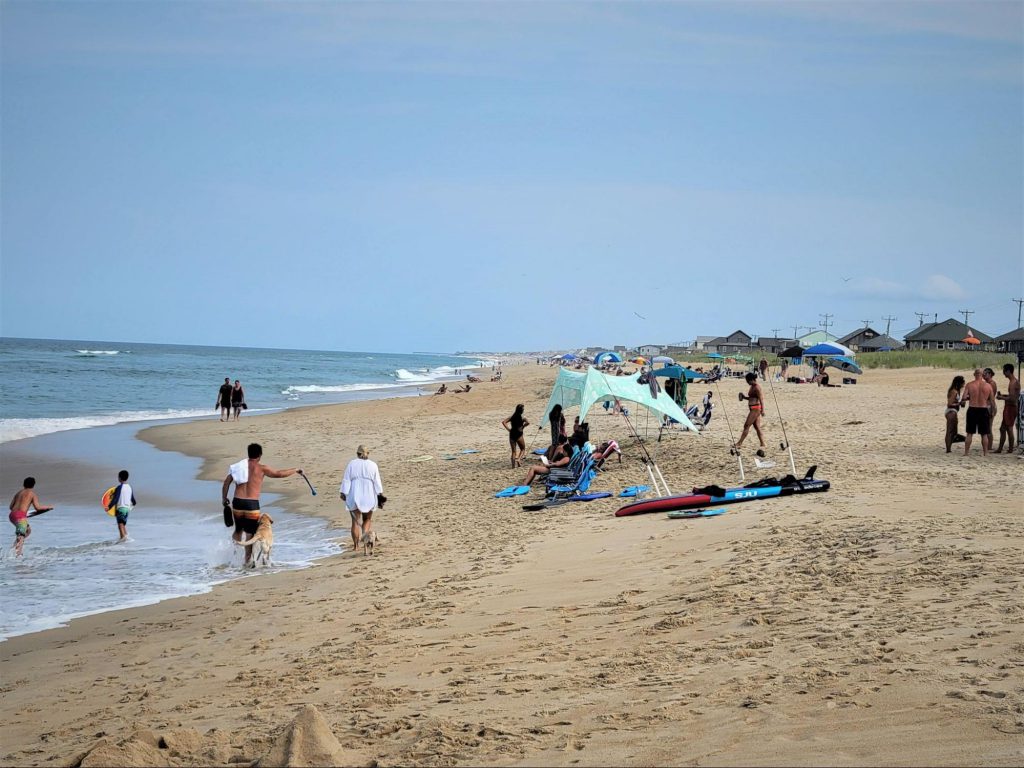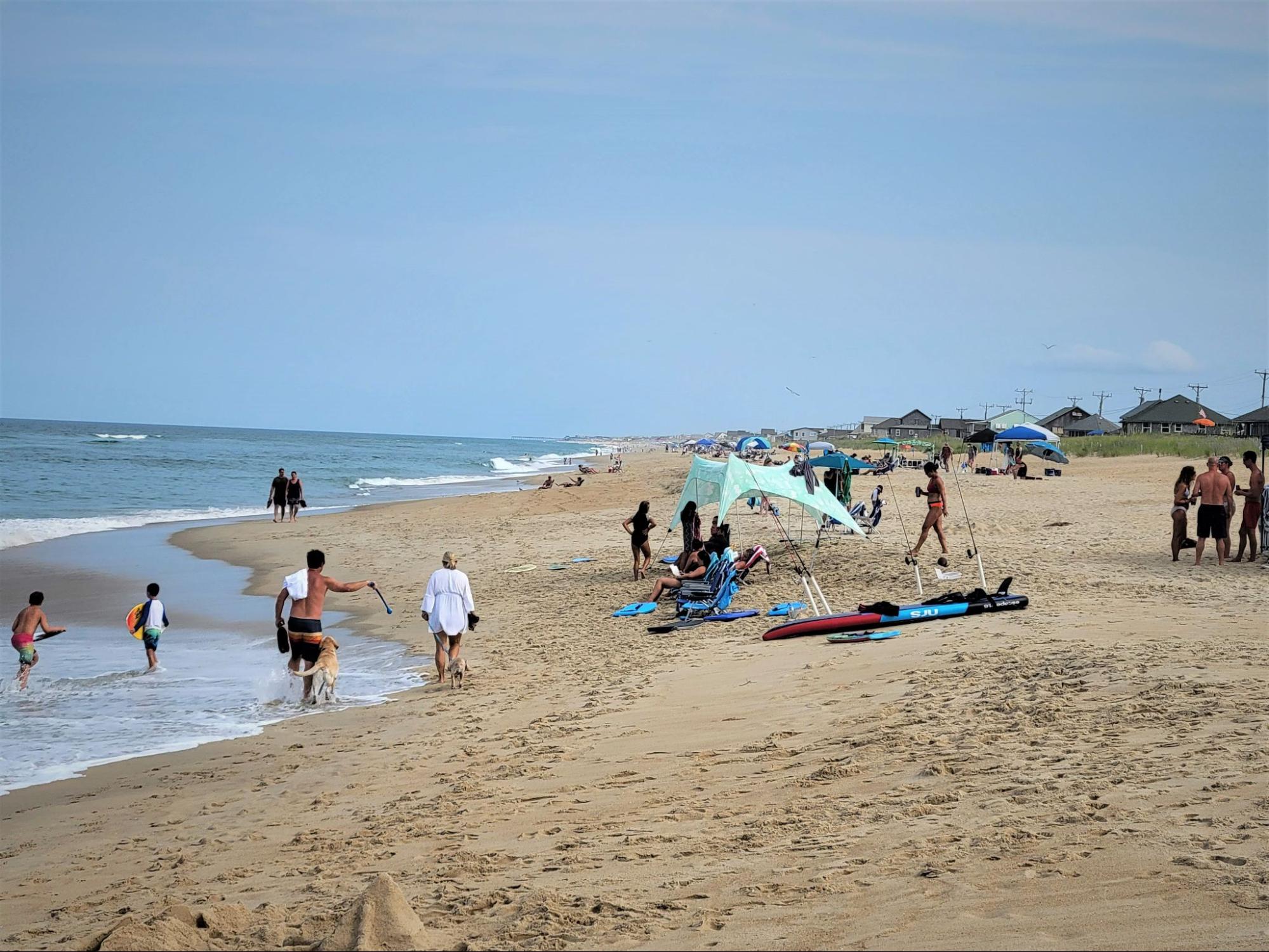 Surf Fishing Gear You Need
Successful surf fishing requires specialized gear:
Saltwater Fishing License – Surf fishing without a license can land you a hefty fine. The good news is, North Carolina uses these fees to fund conservation efforts, so you can feel a little less salty about the expense. Permits can be purchased online or at any bait and tackle shop along the coast.
Rod and Reel – A longer rod will help you cast beyond the wash and get out to where the fish lurk beneath the waves. Most locals recommend a rod 9 to 16 feet long with a medium-fast action and a fairly stiff tip. This construction helps the rod handle the weight of a hefty sinker and live bait. If you're keen on fishing the surf with a lure, a rod with a medium-fast or fast action will help you whip lighter lures out past breaking waves.
Pyramid Sinkers – Pointed pyramid weights work best on the sandy ocean bottom along the North Carolina coast. The shape lets the sinker dig into the sand and helps prevent your rig from getting tossed frantically around in the waves.
Hatteras Style Storm Sinkers – These hefty sinkers were named after one of the many barrier islands that make up the OBX, so you know this one feels right at home in the surf. A sort of modified pyramid weight, storm sinkers hold their spot in heavy currents and rough Atlantic surf and in any and every surf fishery.
Rod Holders – The most straightforward rod holders are pieces of PVC pipe. Some serious surf fishermen upgrade to sturdy, noncorrosive aluminum pipes. A rod holder is an essential piece of gear unless you want to spend every second holding your rod, which isn't the best way to enjoy the beach.
Bait – The best bait for fishing the OBX surf depends on what type of fish you're aiming to catch. Live sand fleas (or mole crabs) are excellent for surf-riding pompano. For spot and croaker, use bloodworms or squid. If speckled trout strikes your fancy, try baiting your hook with shrimp or peeler crabs. Black and red drum, big bluefish, cobia, and stripers have a taste for cut bait, especially mullet and menhaden. When in doubt, stop at a local bait shop and ask them what's working.
Cooler – In the hot sun, a cooler will quickly become your best friend. A quality cooler is an essential piece of OBX fishing gear, not just for keeping your beverages cool but also for keeping your fresh bait fresh. Leave your bait in the sun, and it will quickly attract every fly and seagull within 10 miles.
Lures – Although baited hooks are the most popular way to catch a fish dinner in the OBX surf, some anglers prefer artificial lures. Spoons, soft plastic flukes, and bucktail jigs work for a variety of the state's coastal fish. Again, check with the local bait shop for lure recommendations.
Gear Cart – A solid cart with sturdy wheels lets you pull all your essential gear across soft sand with relative ease. It's also a great way to pack out your catch at the end of the day.
4WD Truck – There are plenty of places along the OBX where, with the proper permit, you can drive your truck right onto the sand, but remember, you'll need to deflate your tires a bit to keep from getting stuck. A truck allows you to cover more ground faster and is a more efficient way to get you and your gear to the fish. A trusty 4WD is also the only way to reach some of the hottest remote fishing spots on Hatteras and Ocracoke Islands and along Cape Lookout.
Surf fishing is one of the most popular recreational activities in North Carolina. Before you head out over the dunes on the OBX — or anywhere where sand meets salt — check state regulations regarding seasons and catch limits for specific species.
Read Next: Meth Trout: Fish Are Getting Hooked on Crank From Our Poop