Theodore Roosevelt is one of those historical characters who is almost too big, too badass to have been real. Usually, you find out someone's reputation outshines their real exploits — it's mostly tall tales and historical embellishments. But T.R. was everything people said he was and more. The wild stories about him — well, he actually did damn near all of it. That's why he is the most badass president in U.S. history and why his iconic visage is front and center on BRCC's newest Exclusive Coffee Subscription (ECS) roast, Teddy Roastevelt!
T.R. was a sickly, weak kid who beat asthma in the days before inhalers and became a cowboy, soldier, adventurer, hunter, conservation champion, fighter, explorer, assassination survivor, and — oh yeah — President of the United States.
Aside from his many political accomplishments, he was the first president to drive a car, fly a plane, and ride in a submarine. He was also the first occupant of the Oval Office to regularly refer to the U.S. as "America." It kinda stuck. The dude kept a bear and a lion as pets in the White House. Think John F. Kennedy was the youngest U.S. President? Nope. It was T.R. He was 42 when first elected to the office; Kennedy was 43.
He created a set of unified rules for football so it could become a legit sport — without him, there likely wouldn't be an NFL today. The list goes on.
He even started his own political party: the Bull Moose Party, as a big FU to the Republicans of the day. While campaigning under that party's banner during the 1912 presidential election, the photography firm Underwood did some prehistoric Photoshopping for a Sept. 8, 1912, issue of the New-York Tribune.
GOOD GEAR – Enjoy Big Savings This Holiday That Would Make Nixon Proud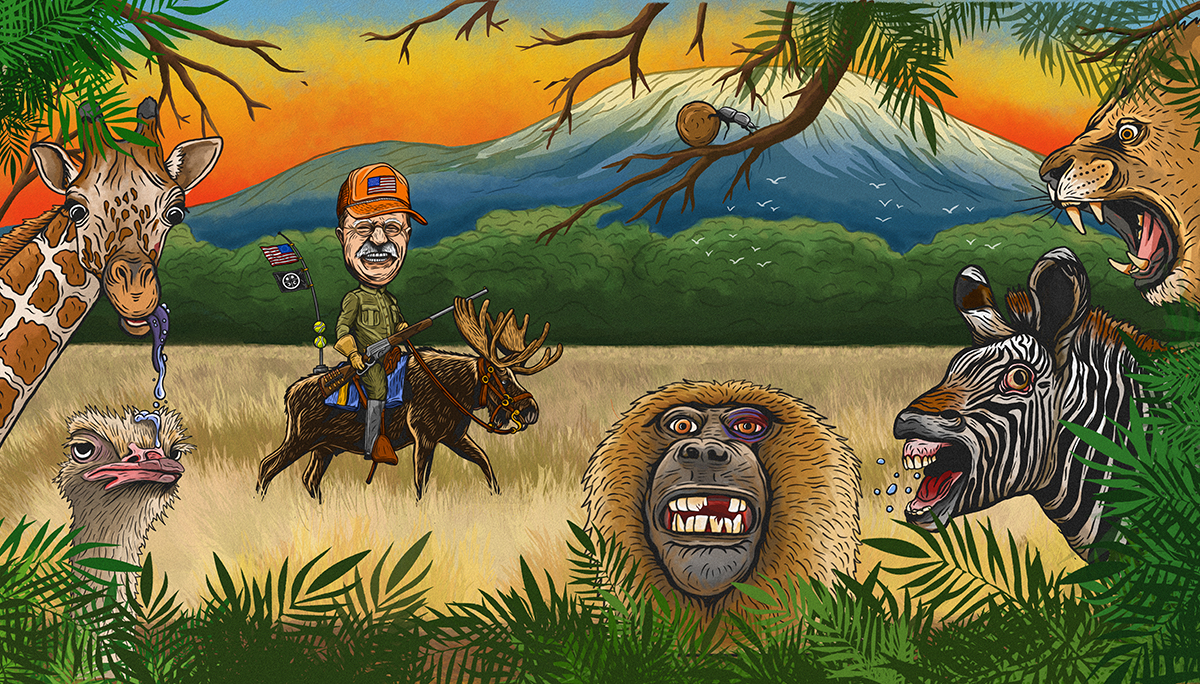 The paper featured three of the four presidential candidates riding their related animals: the incumbent and Roosevelt's presidential successor William Howard Taft was shown riding an elephant, Woodrow Wilson was on the right riding a donkey, and in the center was Roosevelt riding a bull moose.
Apparently, Underwood cut out a photo of Roosevelt riding a horse and pasted it onto an image of a moose walking through some water. Knowing T.R., many believed the photo was legit.
Unfortunately, according to the folks at Harvard, it's definitely a mockup. But Black Rifle Coffee Company illustrator Johnathan Griswold used the iconic photo as inspiration for the company's newest ECS coffee bag, which pays tribute to the great T.R.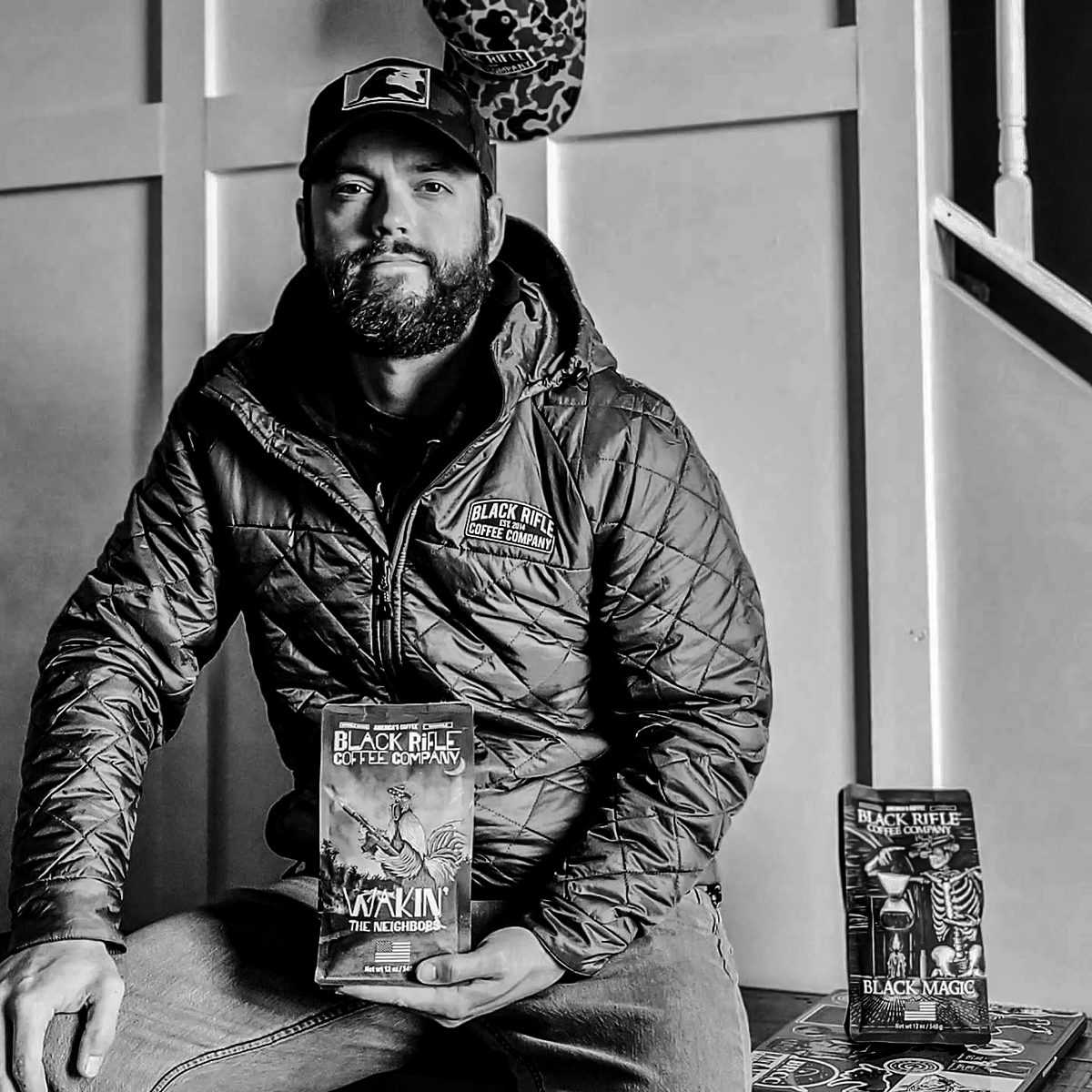 RELATED – Roosevelt's Legendary Double Rifle, the 'Big Stick,' Up Close
---
Griswold is the self-taught artist behind many of BRCC's most iconic bag designs and characters. He created the famous BRCC Tacticock, which was recently on display as a 20-foot inflatable at the annual Army-Navy Game in Philadelphia last December (see below). To say he's prolific would be an understatement. He designed 12 bags for the company last year and created 80 BRCC apparel and sticker designs.
All that effort cost him at least a million pen strokes. How does Griswold know that? Because while he started out drawing using pens and paper, these days, he almost exclusively draws digitally on a tablet.
Griswold came across the old photo of T.R. on the moose and just drew his own version on a whim. When Roosevelt was chosen as the subject for the January 2023 ECS, Griswold says he fleshed out the idea.
"I started working on the whole background layout to go with it, and I was playing around with ideas of him hunting in North America, and that's represented by the moose," Griswold told Free Range American. "I read a lot about him hunting game in East Africa, so I added bits of that and thought I could have this scene where he's riding in the open with all these kind of funny-looking animals all around the bag. That's just how it happened. Even the little dung beetle made it in there."
Griswold always manages to add a few Easter eggs in every drawing — some are throwbacks and references to other bag illustrations, but the Teddy Roastevelt bag features a little regional nod that's near and dear to his heart.
"This one is probably my favorite. I live in the South, and in the South, this giant antenna with tennis balls and a flag that's on the back of T.R.'s moose is a pretty common item you see on redneck trucks," he said. "Some of the guys I work with didn't understand what this was, and I was like, 'What?!'
"It's kind of goofy. I think it's funny," he added. "You know, it's kind of obtuse, but that was just kind of a little redneck nod there." In keeping with the origins of the moose-riding photo, Griswold used a photo of T.R. riding a horse and tweaked it.
Everything on the Teddy Roastevelt bag is based on actual photo references or places, with a little Griswold twist. The mountain in the background is Mount Kilimanjaro since Roosevelt conducted his epic African safaris mainly in East Africa on the legendary hunting grounds at the foot of the mountain. Roosevelt's face is based on a famous photo of the president issuing a hearty laugh.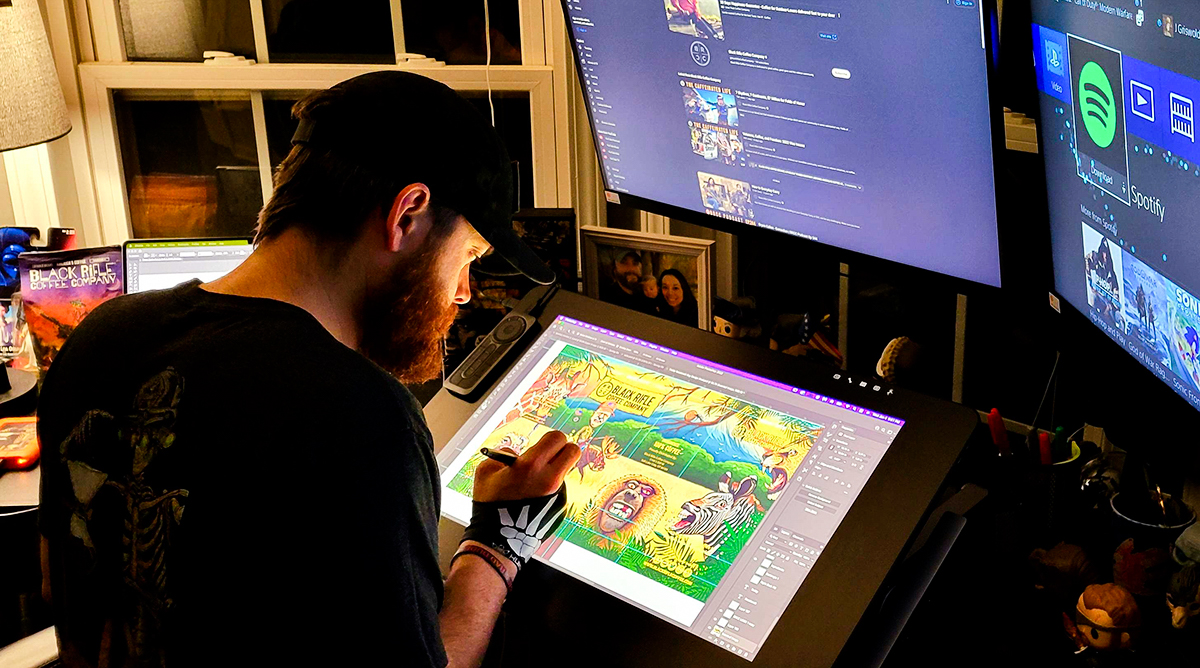 RELATED – Why Theodore Roosevelt Was the Most Badass President Ever
---
All the animals are residents of the continent, but they've all got a bit of goofiness to them that helps complete a full picture as you rotate the bag. The monkey started out smiling like he was taking a selfie with T.R. in the background, but Griswold said his dad visited while he was working on the illustration and suggested he make the monkey busted up like he'd been in a fight, and it clicked.
The zebra came from a photo of a real zebra with a scared look on its face, and that gave Griswold the idea to position the lion's head as if he might be pouncing on the zebra out-of-frame.
"It's kind of like that cereal box nostalgia thing when you were a kid," he said. "You're getting ready for school, and you're sitting at the kitchen table eating breakfast, and you've got your cereal box, and you're spinning it around while you eat, and it has puzzles on it and things to read, and it's interactive.
"That's something that I kind of wanted to really push for in our coffee bags — for the whole bag to be interactive, so when people are making their coffee, they turn the bag over and around and look at it from all angles," he added.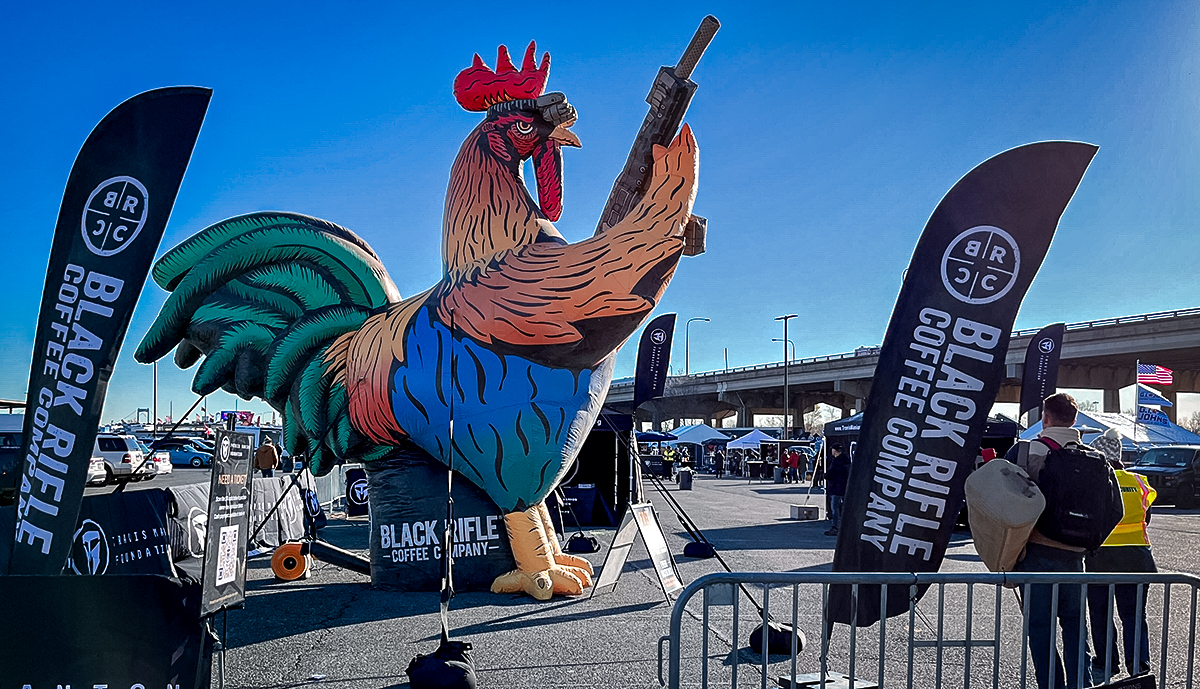 While Griswold does plenty of research for every bag to make sure his illustrations are firmly grounded in reality before he starts adding his signature goofiness, he says he mostly completes the artwork in his head before making the first stroke with the stylus.
"Most of the time, I usually have the concept in my head. I want to get something out of it," he said. "I have this kind of uncanny ability to visualize stuff in my mind. When I draw, most of the time, it turns out kind of the way I see it.
"That's the only difference between somebody who's not an artist and someone who is an artist. We all have imagination; it's just having that ability to put that imagination in your hands and translate it to drawing on paper or a screen or whatever."
We can't wait to see what he comes up with next. You can get your own bag of Teddy Roastevelt here while supplies last!
---
READ NEXT – Roosevelt's Rough Riders Era Custom S&W Sells for $910K