Veteran mental health statistics in the U.S. are sobering. The rate of major depression is five times higher than it is among civilians, and the suicide rate is 57% greater. Many face more difficult battles than the ones they fought when they served.
Transitioning from highly structured, mission-focused military life to the civilian world can be tough even for the resilient, and some struggle for years after their discharge.
When traditional therapy and pharmaceuticals fail to help, many veterans turn to more unconventional methods, like psychedelic therapies and nature therapy.
Research shows outdoor recreation can help veterans cope with the transition to civilian life. Time spent in nature improves psychological well-being, increases social functioning, and gives veterans a more positive outlook on life, and wilder settings seem to have more profound healing effects.
However, getting out into untamed spaces isn't always easy, especially for veterans with mobility issues or limited financial resources. Thankfully, there are several organizations that are making it happen for those who have faithfully served their country.
Here are just a few of the fantastic organizations that are improving the lives of veterans by getting them outdoors.
---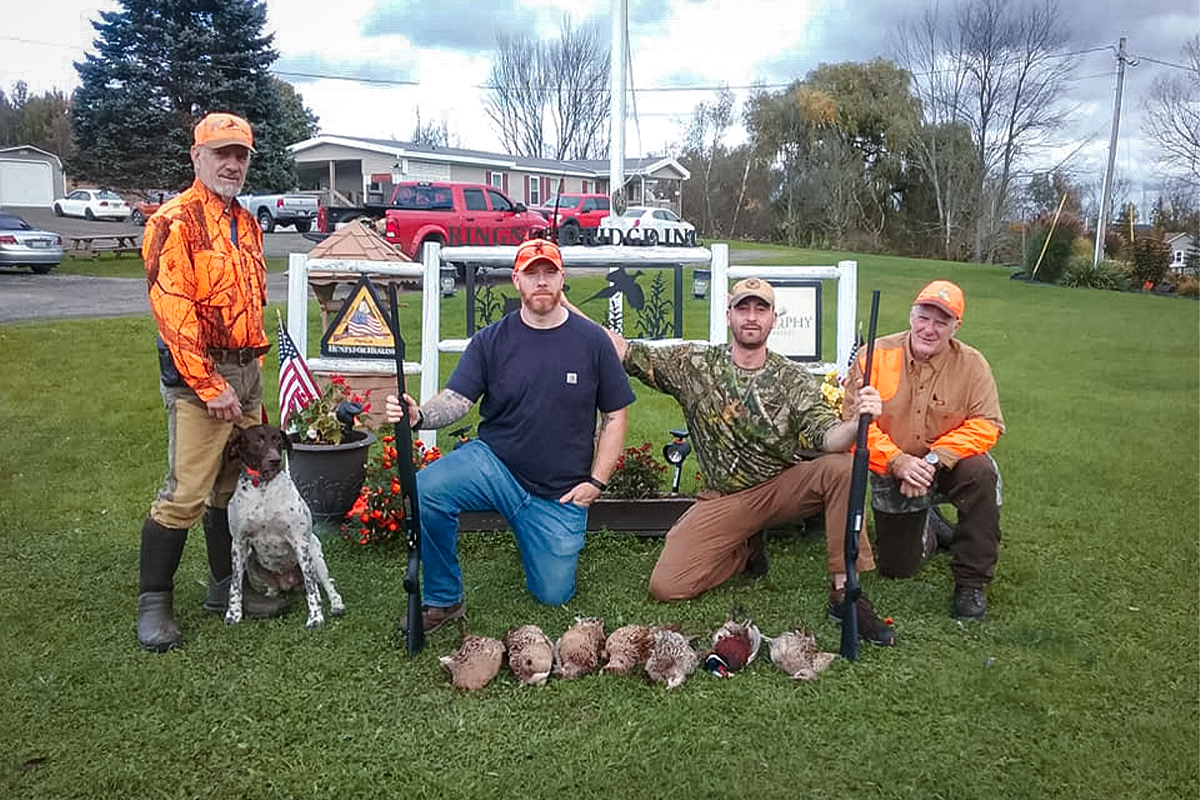 Hunts for Healing primarily focuses on serving post-911 combat-injured veterans. Founded by sportsmen and -women who grew up during the Vietnam era, one of the organization's main objectives is to ensure veterans returning home from modern conflicts are treated with more dignity, respect, and gratitude than previous generations.
The organization is a small nonprofit, wholly volunteer organization composed of veterans from all walks of life.
Veteran events are funded mainly by private donations and include everything from pheasant hunting to flintlock deer hunting. Groups are kept small — usually, no more than six participants and their volunteer mentors. Outings focus on what president Pete Hatton calls the "small squad experience."
"It's a key part of what we do. They lodge together, hunt together, and eat together. The healing takes place after that when they gather around and share their service experience," Hatton told Free Range American. "All of a sudden, it dawns on them that they're not alone, that other people have experienced a lot of what they are going through, and they form lasting bonds."
GOOD GEAR – Making the Perfect Pour Is Now Easier With the Hario V60 Digital Coffee Scale and Timer
---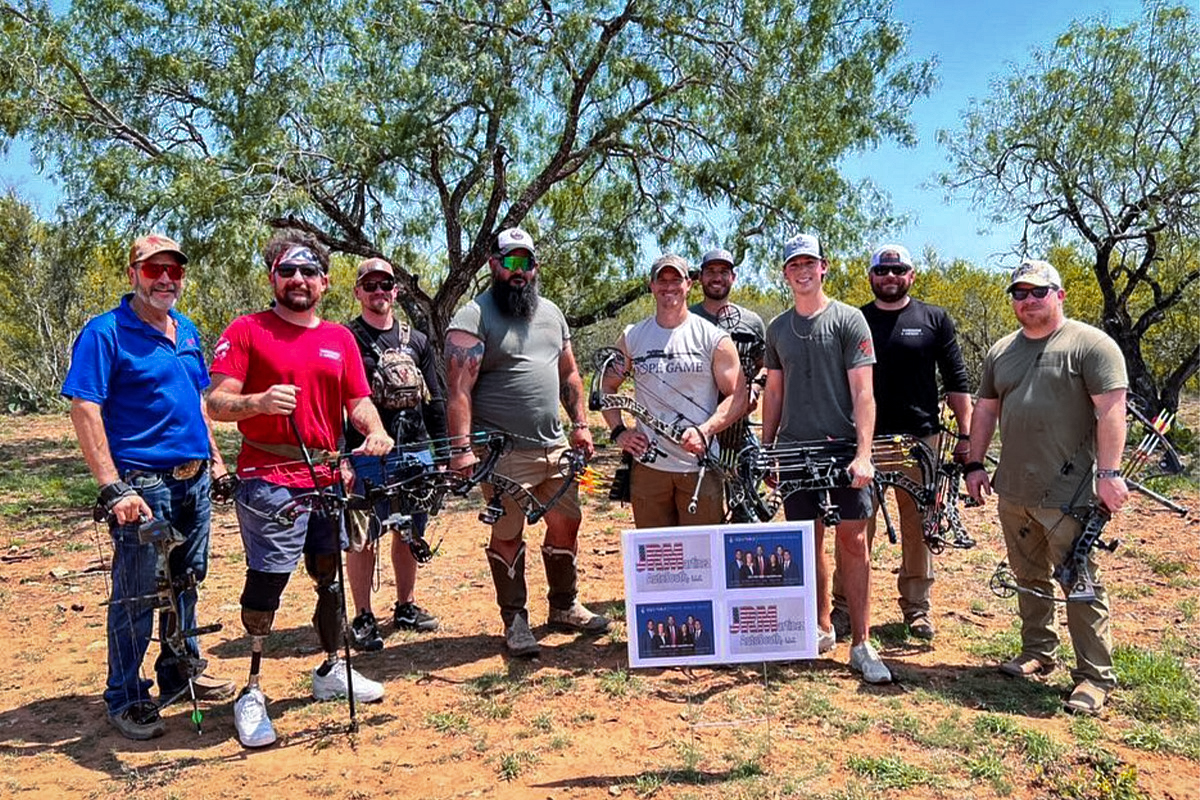 U.S. Marine veteran Justin Rokohl founded Darkhorse Archery to honor the memory of his childhood buddy Lt. Cpl. Colton Rusk, a dog handler for the "Darkhorse" 3rd Battalion, 5th Marine Regiment, who was killed by a sniper in Afghanistan in December 2010.
Rokhol wanted to find a way to give back to the veteran community while also paying tribute to his best friend.
"I went to the Veterans Adaptive Archery Shoot last year, and I just saw how many vets were loving it," Rokhol said.
Rokohl and Darkhorse Archery provides veterans with a complete archery set-up.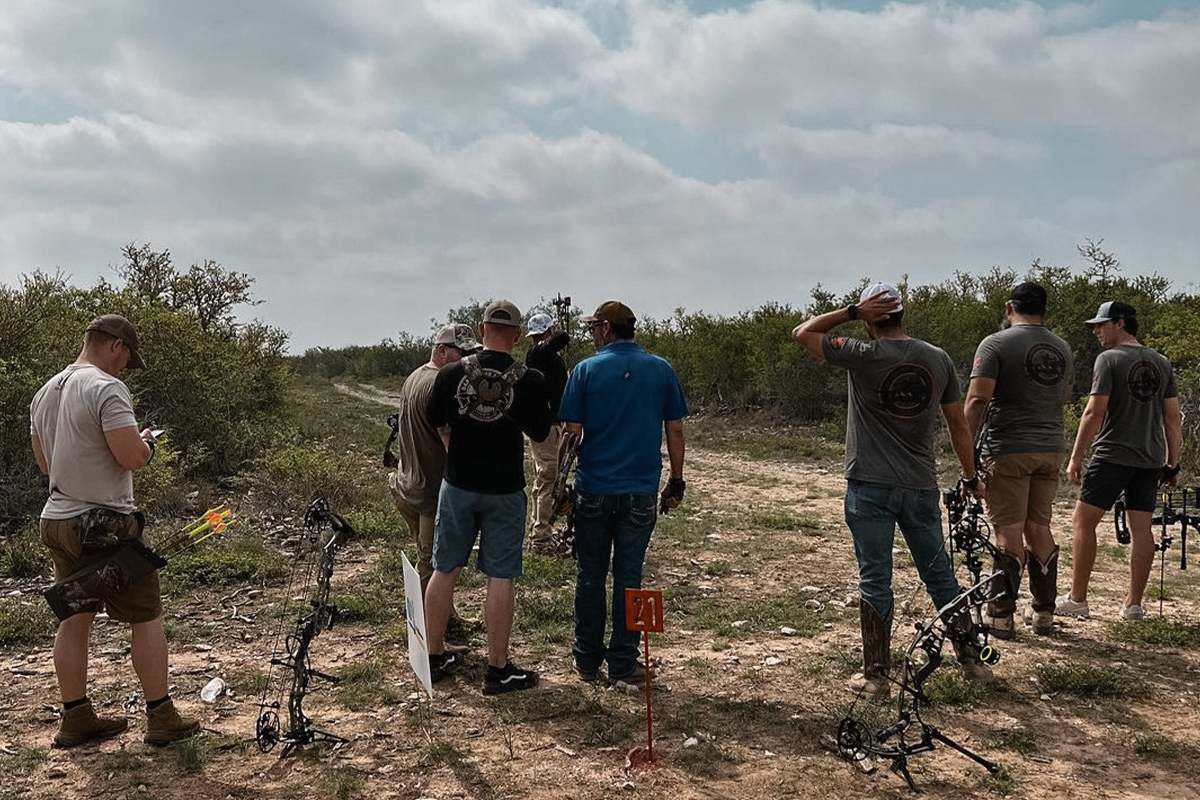 "My goal last year was to do one bow a month, and we ended up doing 42. There's no red tape. You don't have to be disabled. You just contact me, and if we have the funding and the bows, we'll get you a bow."
When a veteran receives a bow from the organization, that veteran has to provide another name of someone they think could benefit from an archery set-up. The process creates small pockets of veteran archers who can have fun and support each other.
Rokohl himself is a Purple Heart recipient. While serving in Iraq in 2008, his Humvee was hit by an IED. He lost both of his legs in the explosion. Although Rokohl is a double amputee, it hasn't dampened his passion for hunting and the outdoors. A dedicated bowhunter, Rokohl also enjoys chasing hogs through thick brush with the help of some brave, faithful hounds.
RELATED – Nosler Donates 22 Highly Customized Rifles To Support At-Risk Veterans
---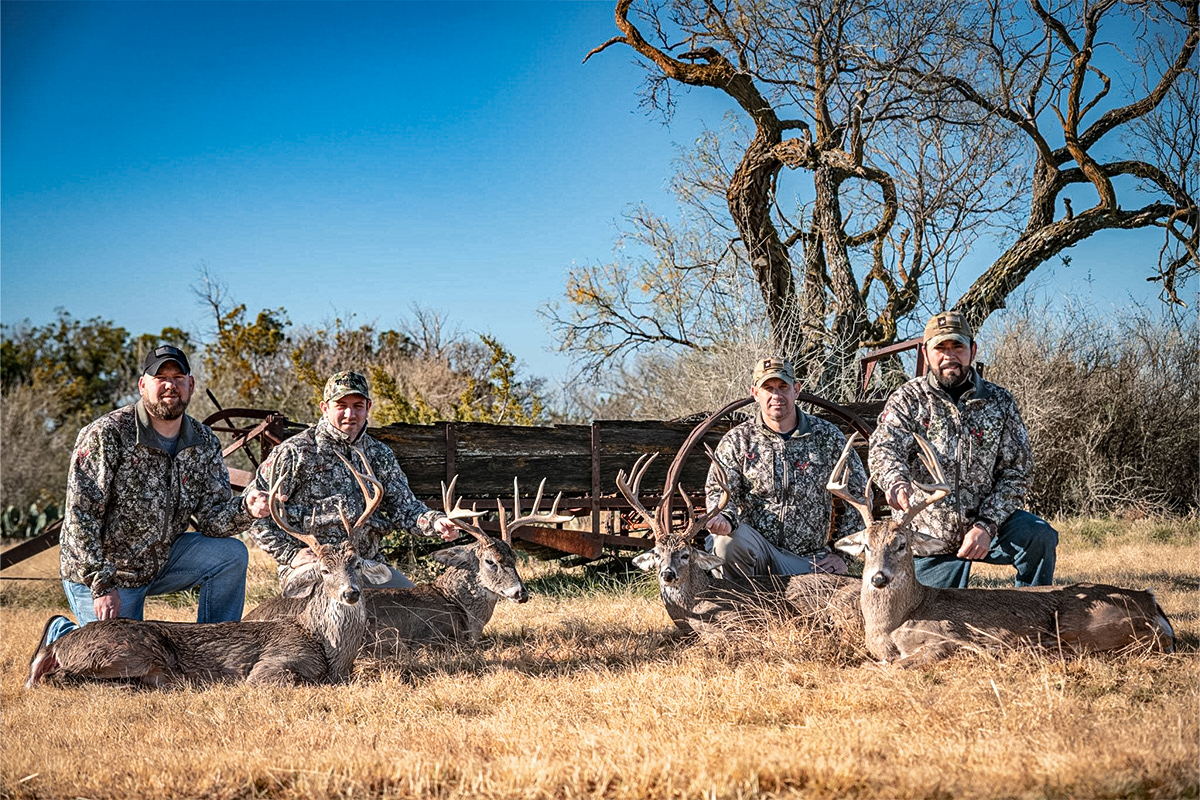 Retired Army veteran Chris Gill founded Lone Star Warriors Outdoors to provide combat-injured veterans with all-expenses-paid hunting and fishing excursions. The organization's primary focus is to provide memorable, often life-changing outdoor experiences to help with "PTSD recovery and veteran suicide prevention."
LSWO has no paid staff members. With only a five-member, all-volunteer board of directors, the organization uses 99% of donation dollars to get wounded veterans out in the field or on the water.
The organization hosts several hunting and fishing events throughout the year, including an annual whitetail hunt held at several ranches near San Angelo, Texas. Past participants of the hunt are invited back the following year as alumni to help forge the types of bonds created through shared outdoor experiences.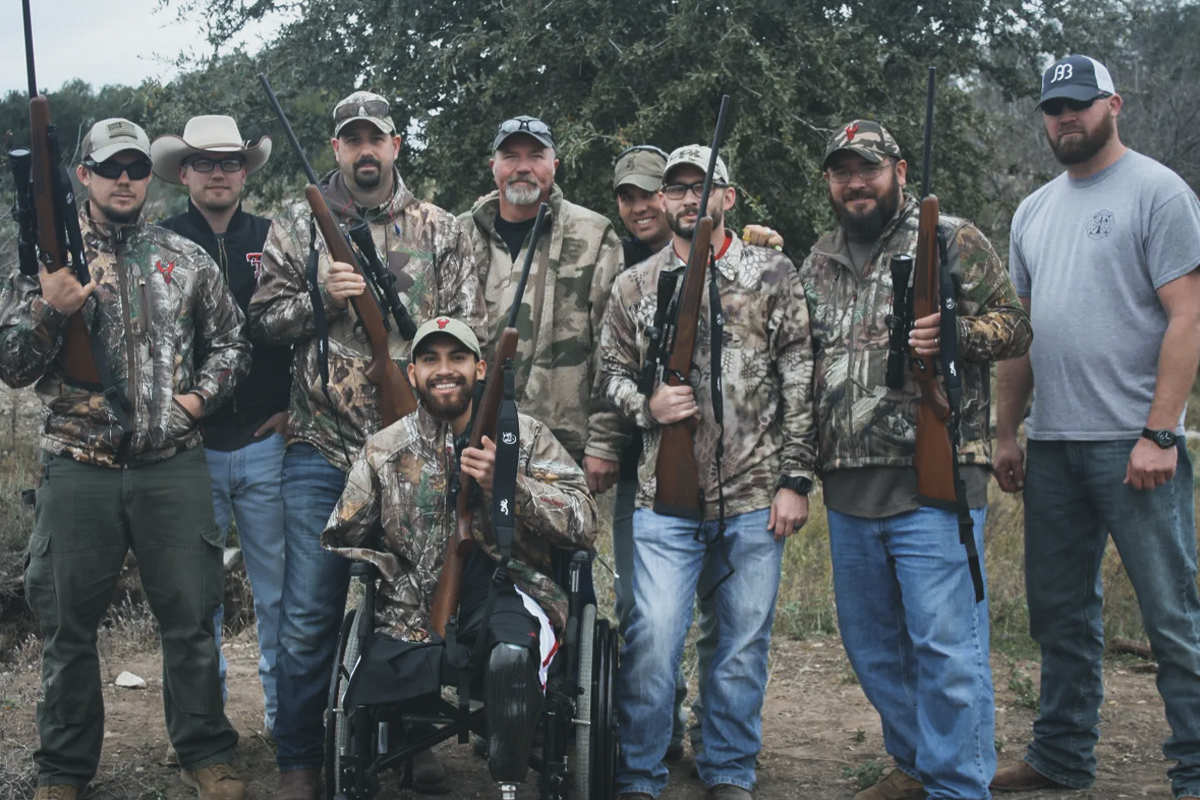 "We aren't a one-and-done organization — alumni are a critical part of helping the warriors feel comfortable and enjoying themselves," Gill said.
"This may sound selfish, but I do this for me just as much as I do for the guys," Gill explained. "Being around these guys is part of my healing process. I'm lucky because I get to spend time with and meet new brothers and sisters multiple times a year."
GOOD GEAR – Pour Yourself Your Favorite BRCC Roast in This BRCC New Surf Vietnam Mug
---
Founded in 2008, the Sportsman's Foundation for Military Families is a non-profit organization based in Lorida, Florida. The organization helps military veterans improve coping skills and gain confidence outside their military roles through outdoor sports.
"The number-one best coping skill is the ability to maintain and put forth a positive attitude, especially in the face of adversity. SFMF hunts nurture that attitude and subsequently help combat veteran hunters cope during the ups and downs of life."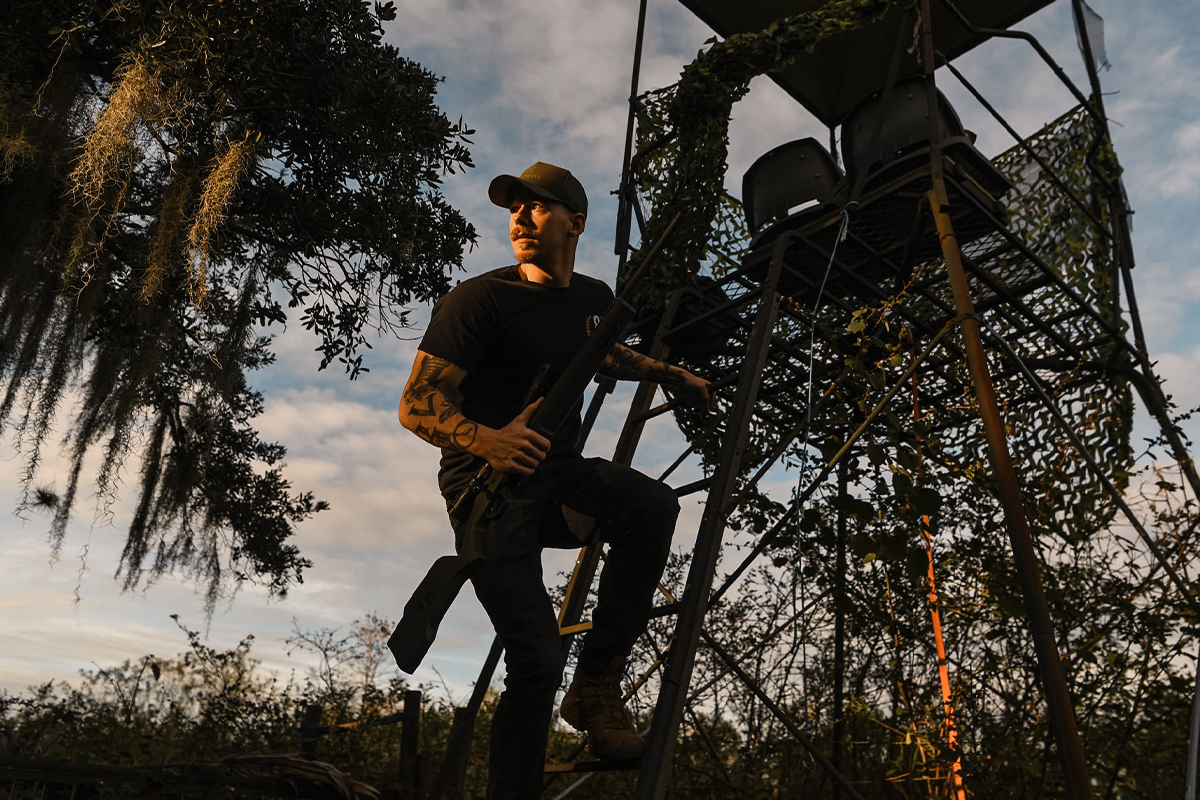 Unlike many veteran-focused hunting and fishing organizations, SFMF serves the entire military family. At least one family member, such as a spouse, parent, or child — must accompany the veteran on every sponsored hunt. Because a veteran's family is usually their primary source of support, SFMF hunts are designed to strengthen those bonds and improve short- and long-term communication among family members.
RELATED – Reel Warriors Reconnects Veterans Through Offshore Fishing
---
Evan Hafer, Black Rifle Coffee Company CEO, Logan Stark, Vice President of Media, and John Dudley of Nock On Archery planned the first Veteran Adaptive Athlete Archery Shoot after witnessing double amputee triathlete Sidney Smith dominate the Total Archery Challenge course in Park City, Utah, in 2019.
"I was like, man, we do not do enough for our buddies that have been fucked up," Hafer explained. "That was the genesis of this. We have to build these courses and have a social event where we can all essentially play golf because that's what you're doing. You're just walking around together. You're having fun. You're making fun of each other. You're talking shit. And you can do it from one of those four-wheel-drive chairs. You can do it from an ATV. You can do it on your prosthetics. You can do it."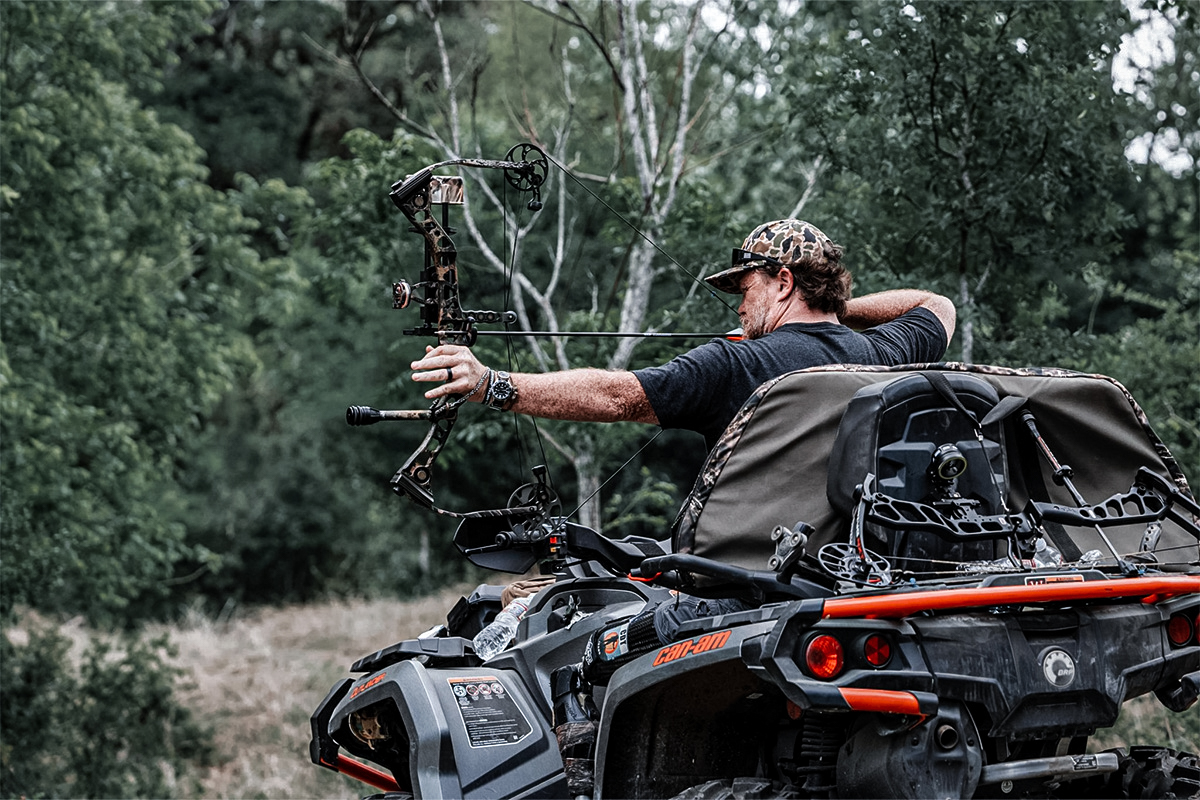 The first VAAS was held in 2020 in Salt Lake City. Nineteen wounded veterans participated in the event, where they were outfitted with archery gear and given a day of training with some of the world's finest archery coaches before hitting the course.
The third annual VAAS was held in Boerne, Texas, in May 2022 and hosted 144 archers, guests, and friends.
"This is that proof that BRCC does what it says," said Clint Trial, a retired Marine M. Sgt. who lost his legs to an IED in Afghanistan in 2019. "This is the proof these guys don't just spout out hot air but put their money where their mouth is. And not just cash dollars, but what they created is a community to come together and hang out and enjoy each other's company. That has a price tag you can't just buy or replicate."
GOOD GEAR – Fill Your Empty Velcro Spots With the BRCC Blackbeard's Flag Patch
---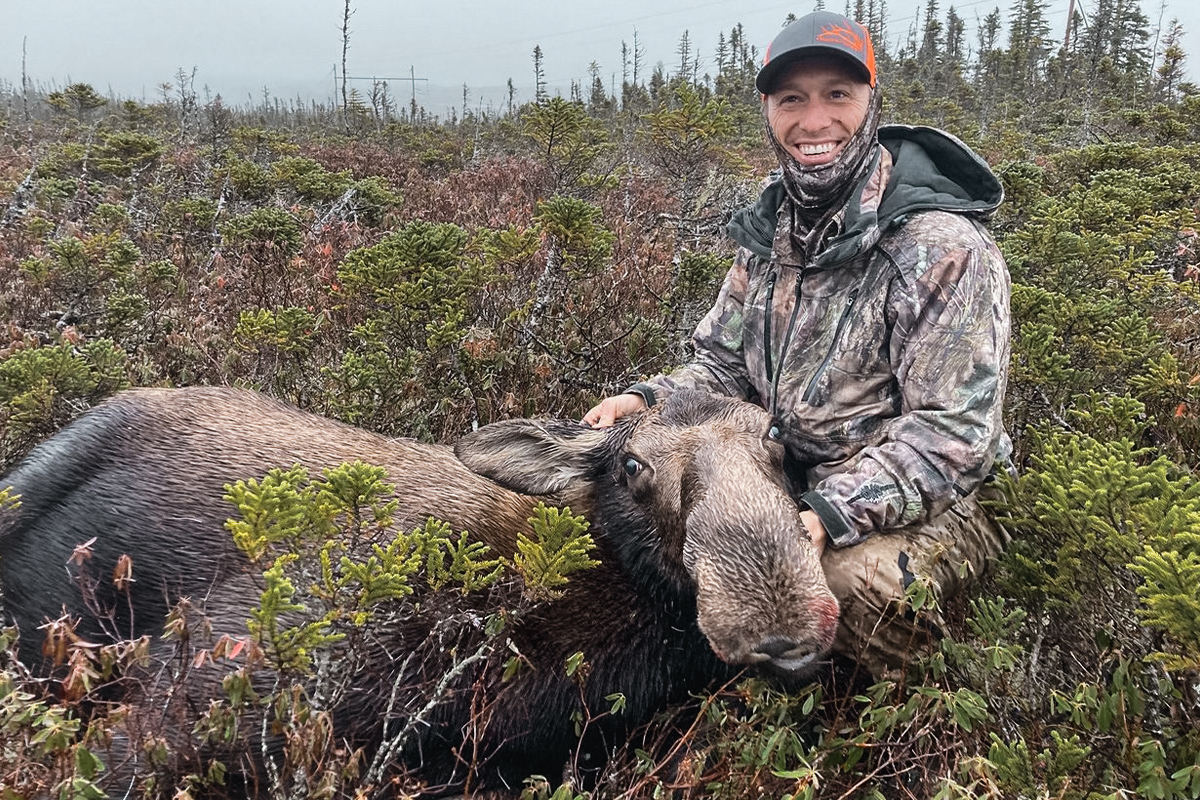 Freedom Hunters receives help and funding from conservation groups, outfitters, landowners, private businesses, and government organizations to take active duty military, combat veterans, families of fallen heroes, and children of deployed military on unique hunting and fishing expeditions. More than 11,000 veterans have enjoyed amazing outdoor adventures thanks to the organization and its supporters.
RELATED – Ride Hard, Shoot Straight: A Veteran Discovers Cowboy Mounted Shooting
---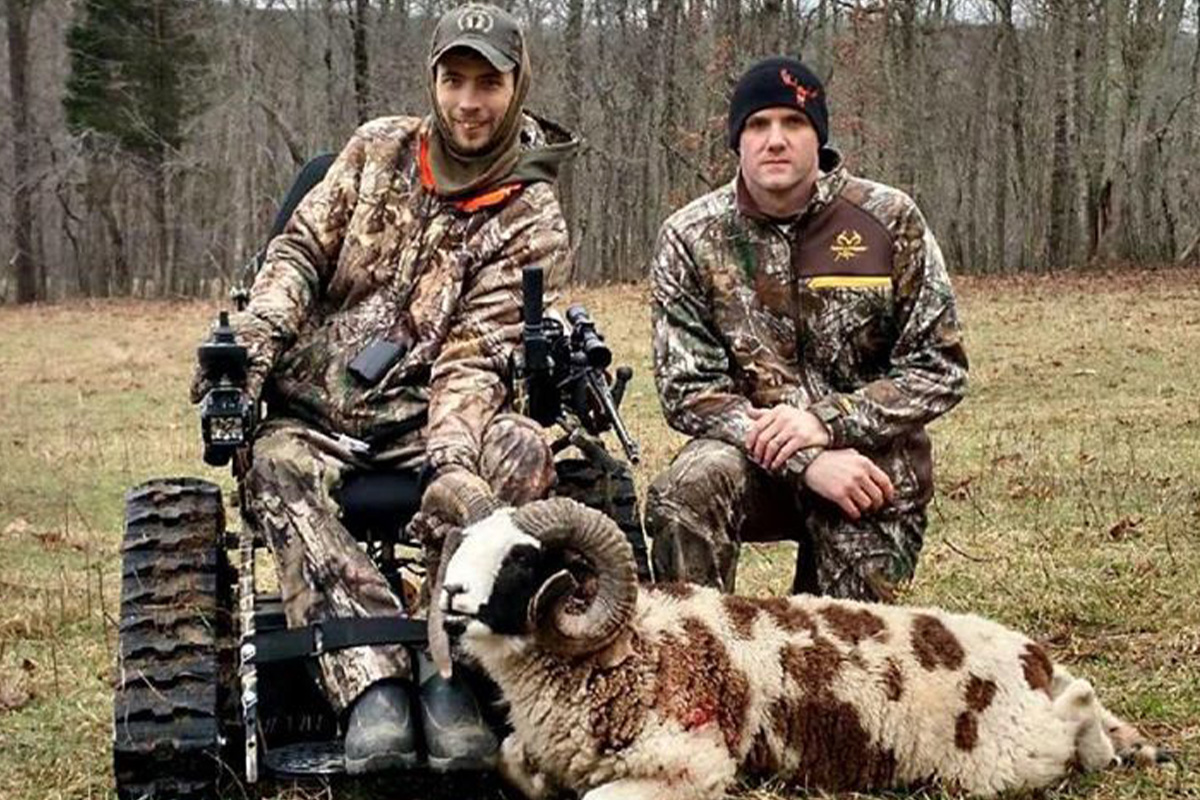 A veteran-operated and federally registered 501(c)3 nonprofit organization, the Heroes Hunting Foundation focuses on providing formerly deployed veterans with duck, deer, hog, elk, and turkey hunting experiences. The Foundation covers all the veterans' costs, including gas, food, lodging, tags, and licenses.
GOOD GEAR – Wear a Hat With Lethal Simplicity With the BRCC Keystone Hat
---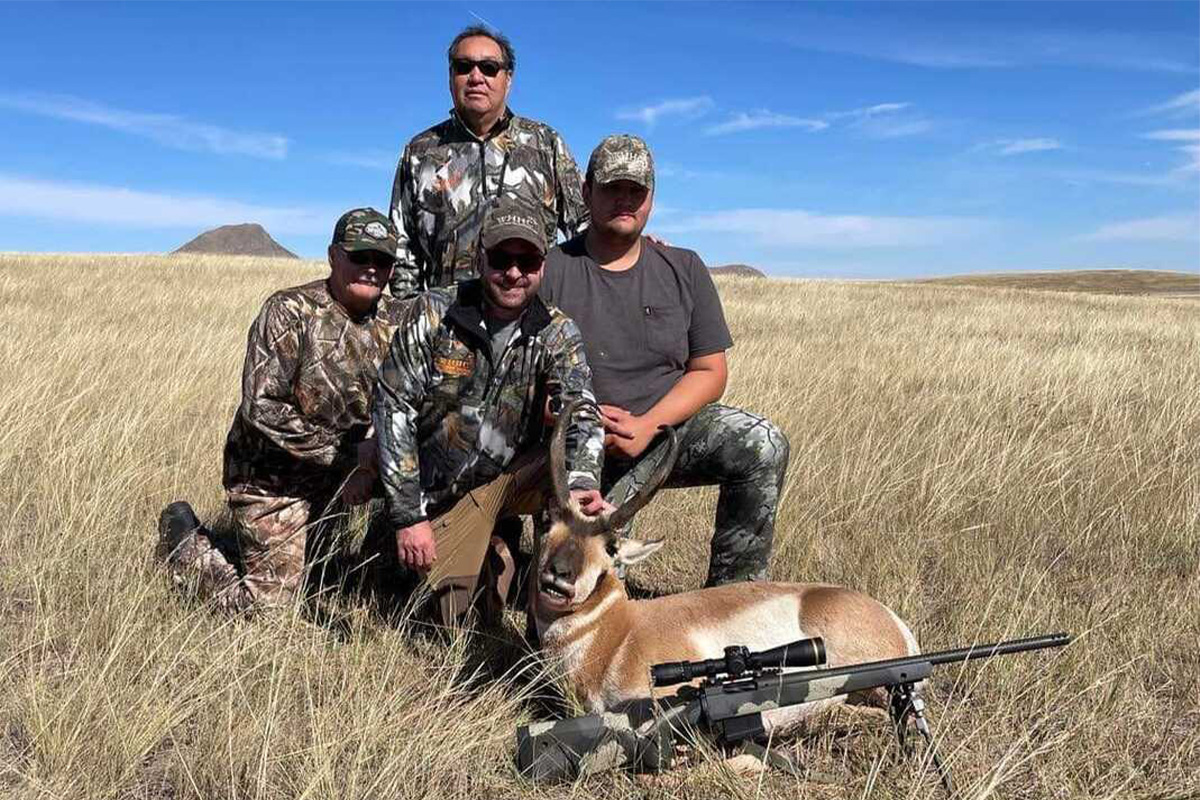 Wounded Heroes Hunting Camp was founded in 2012 by former Marine Corps officer Jeremy Harbaugh and avid outdoorsman Zachary Bower. The organization strongly believes that wounded veterans "can find a passion for the outdoors that will help them overcome their injuries by uniting them with fellow service members who understand their struggles."
The organization hosts events across the U.S. and Canada. The organization also uses Action Trackchairs to get veterans with limited mobility into the outdoors with almost no limitations.
RELATED – Hunting Trip for Veterans Could Be a National Model for Better Health
---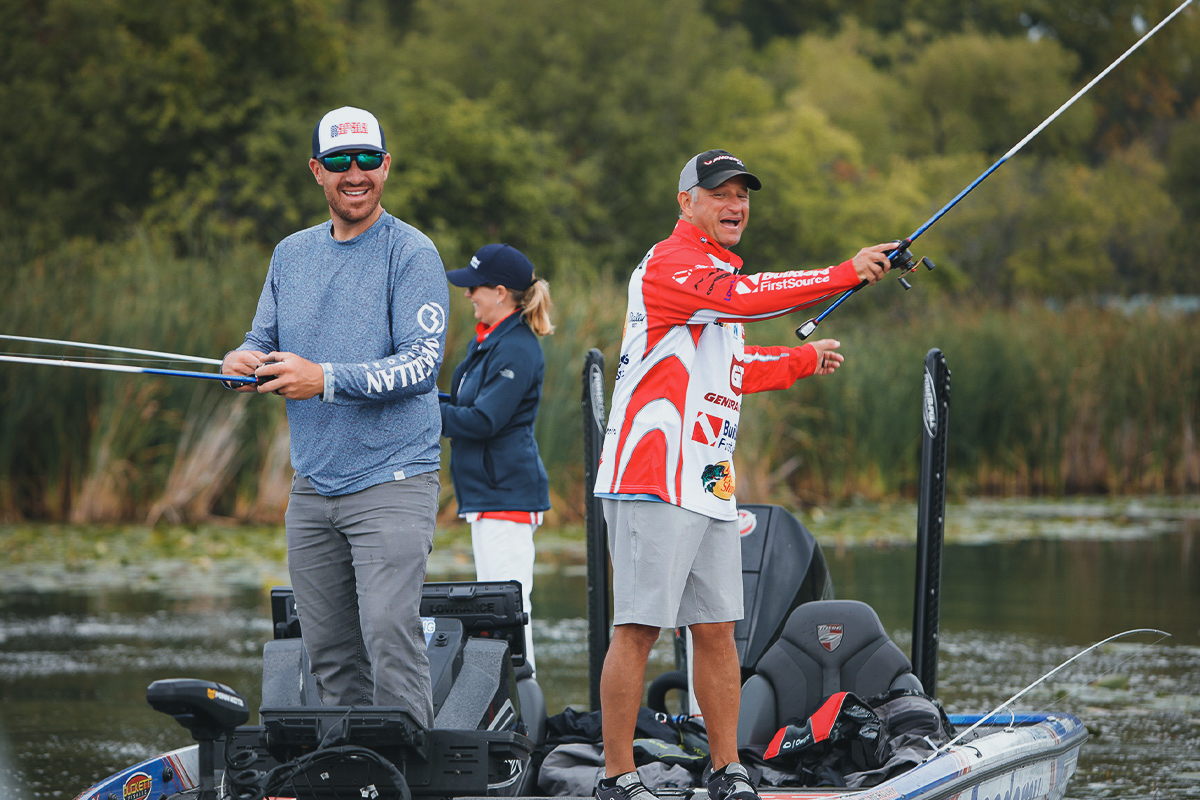 Since its birth in 2012, Take a Vet Fishing has partnered with more than 400 fishing guides to get more than 900 military veterans out for a relaxing day on the water. The organization provides veterans with fishing experiences to show our nation's gratitude for their service. The organization goes one step beyond a thank you and a handshake by handing them a fishing rod and providing an experience they won't forget.
GOOD GEAR – Do Epic S**t In The Tacticock T-Shirt
---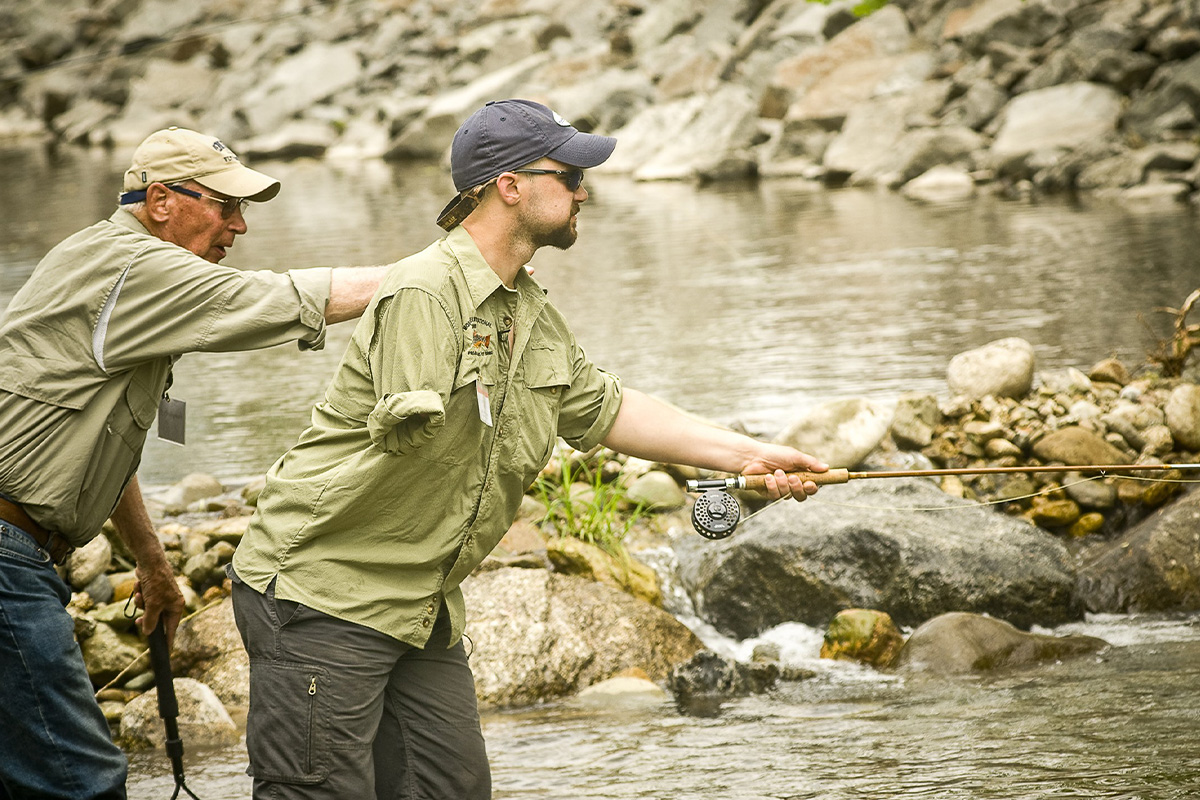 Project Healing Waters Fly Fishing began in 2005, serving wounded military service members returning from combat at Walter Reed Army Medical Center in Bethesda, Maryland.
Project Healing Waters' experienced fly fishing guides and volunteers teach ongoing classes at Department of Defense and Department of Veterans Affairs facilities across the U.S. The program allows participants to learn the art of fly fishing and build camaraderie with other like-minded veterans.
RELATED – Inside Black Rifle Coffee's Veteran Adaptive Athlete Archery Shoot
---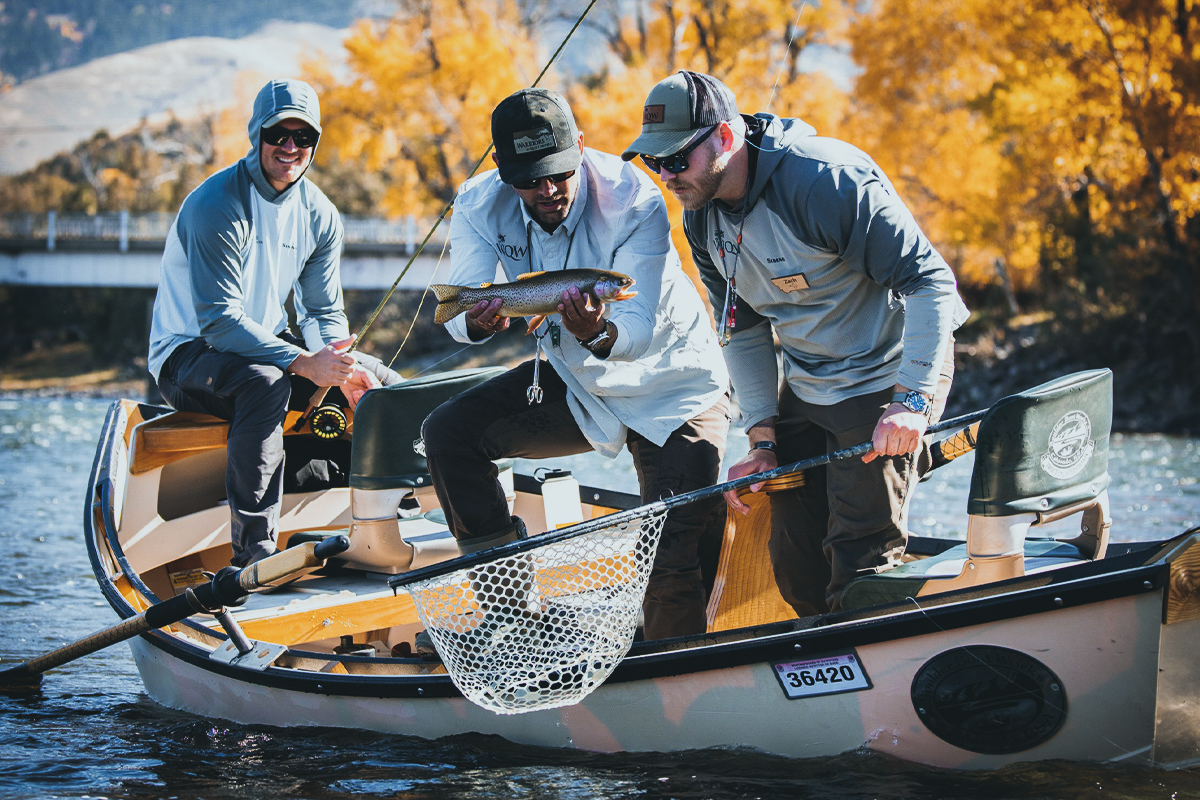 Many veterans, especially those who have experienced combat, have difficulty transitioning from service to civilian life. Through immersive outdoor experiences, Warriors & Quiet Waters allows struggling veterans to be still and ponder the big questions about their lives after military service.
The organization goes beyond giving veterans a single, memorable outdoor experience. It teaches veterans and their loved ones valuable outdoor skills like fly fishing, archery hunting, conservation ethics, and backcountry survival.
GOOD GEAR – Embody the Ethos of the Quiet Professional With the BRCC Silencer Smooth Roast
---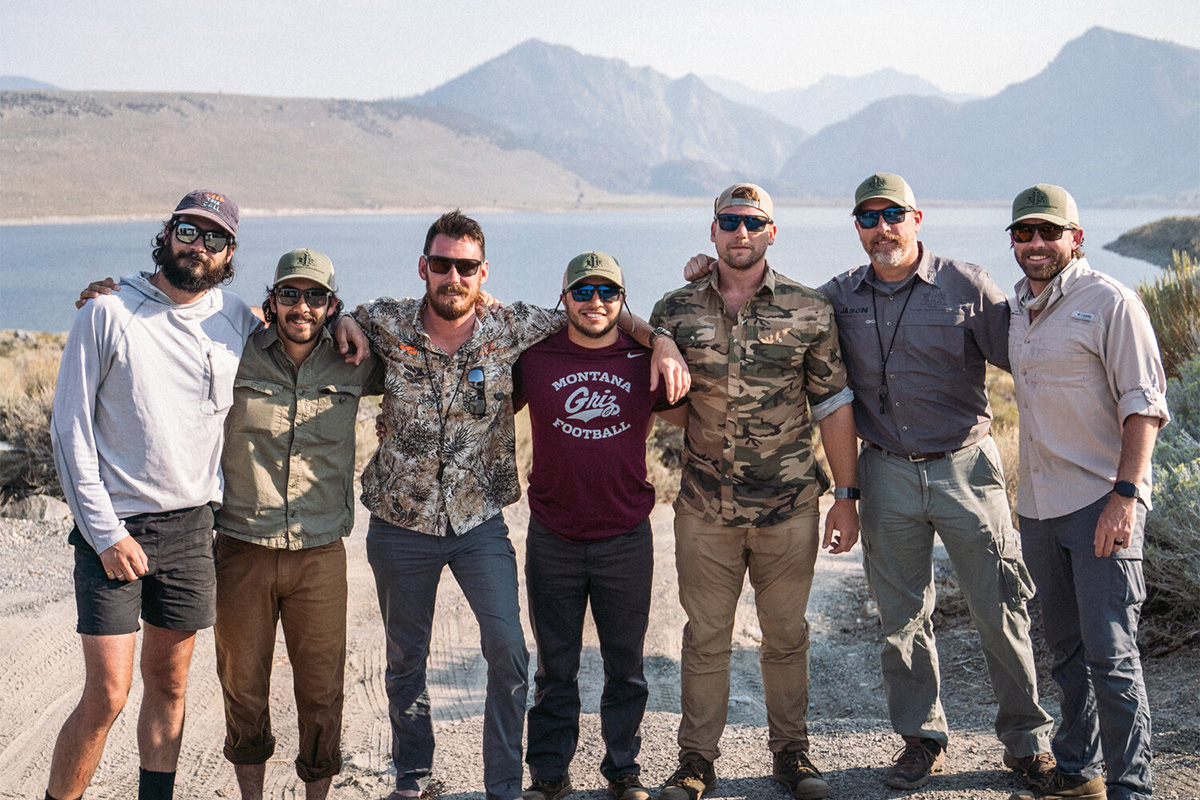 The Iron Freedom Foundation boosts veterans' confidence and well-being through outdoor activities like hunting, fishing, and kayaking. Their primary mission is to provide veterans with a support network of like-minded outdoor enthusiasts.
Based on the "teach a man to fish" philosophy, Iron Freedom supplies all the necessary gear and provisions for participants to complete their outdoor programs. Veterans keep all the provided gear after their experience, giving them full autonomy to pursue outdoor recreation independently
---
READ NEXT – Marine Veteran Promotes Healing for People, Planet Through Fly Fishing