Annie Oakley learned how to shoot young. She developed it as a practical skill to help feed her family when she was 8 years old in 1868 and she was still known as Phoebe Ann Mosey. Oakley often repeated a story about that very first shot outside her family's log cabin in western Ohio.
"I saw a squirrel run down over the grass in front of the house, through the orchard, and stop on a fence to get a hickory nut," Oakley would say, as recounted by biographer Shirl Kasper. Oakley took a rifle from her house and set her sights on her target.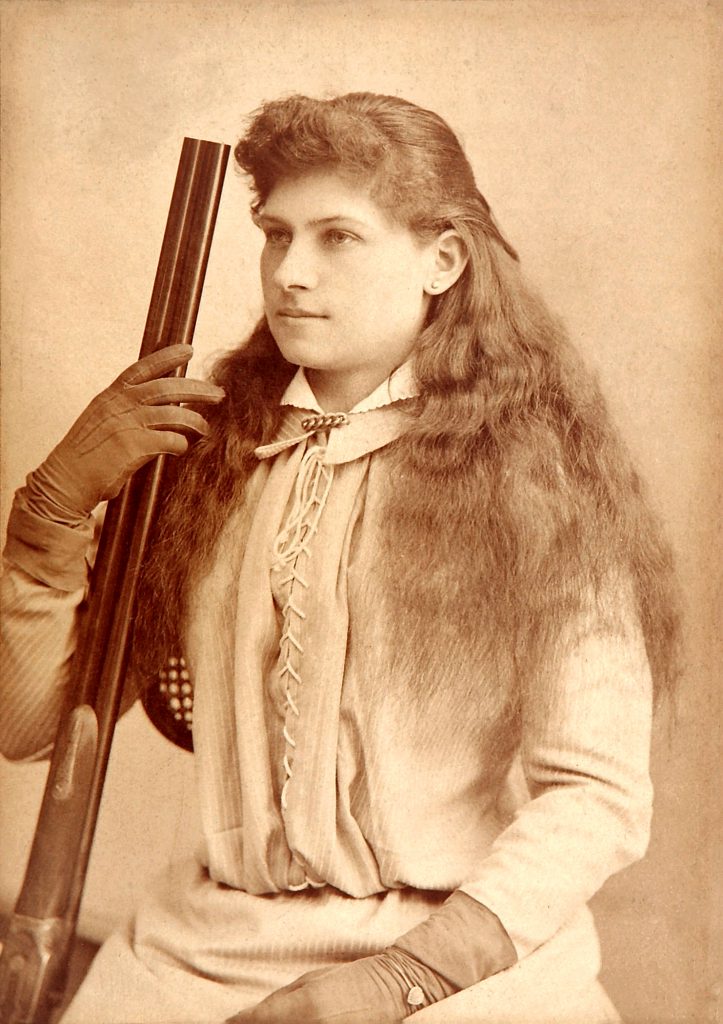 Related: Teddy Roosevelt Ran a Suppressor on Three of His Hunting Rifles
"It was a wonderful shot, going right through the head from side to side."
Within a few short years, the world would find out she was more than just a good shot and a skilled hunter; she possessed an uncanny natural accuracy, and she attained a level of skill with firearms that was truly remarkable.
In the following years, she honed her craft, adopted her now-famous stage name, and earned the nickname "Little Miss Sure Shot" for her unrivaled shooting prowess.
Shooting led Annie to her husband and global fame as she traveled around the world for two decades. She would go on to teach thousands of women to shoot while carving out a legacy in pop culture and gun history that spans three centuries.
Annie Oakley: Expert Marksman, World Traveller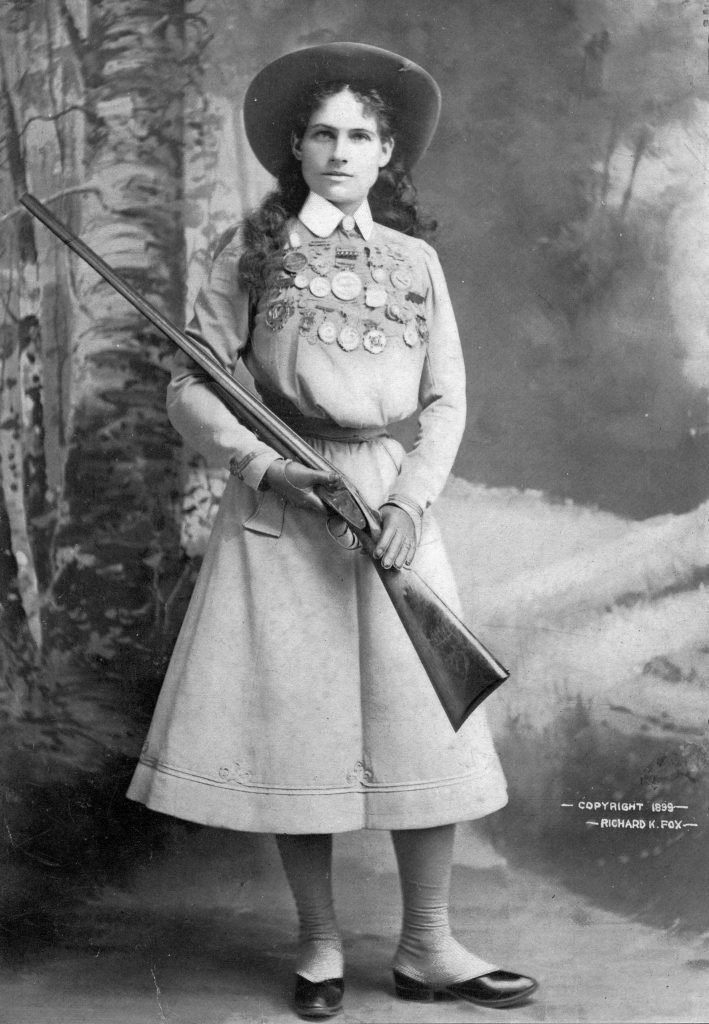 Where, exactly, Oakley got her stage name is still debated to this day. Hell, biographers can't even completely agree on her real surname (was it Mosey, Mosie, Moses, or maybe Mauzy?). There are lots of uncertainties and vagaries in the details surrounding Oakley and her life, as is the case with many famous people from the eras of the American Frontier and Old West.
One famous Annie Oakley legend recounts how she met her future husband, Frank Butler when she beat him at a shooting competition. Butler was already a professional exhibition shooter who found himself in Ohio on Thanksgiving Day in 1875 for a show. While there, Butler placed a $100 bet that he could beat any and all comers. He wasn't expecting a five-foot-tall, 15-year-old girl to step up to the firing line. Butler lost the competition and the bet, but he won Annie's heart.
Her skills were so advanced that she became one of the few expert trick shooters in gun history and a living legend among exhibition shooters. She toured the world for more than 15 years putting those skills on display for the public as part of Buffalo Bill's Wild West Show. In her travels, she rubbed elbows with fellow show members and western icons, including Wild Bill Hickok, Geronimo, Sitting Bull, and others.
Related: How Western Legend Wild Bill Hickok Died in Deadwood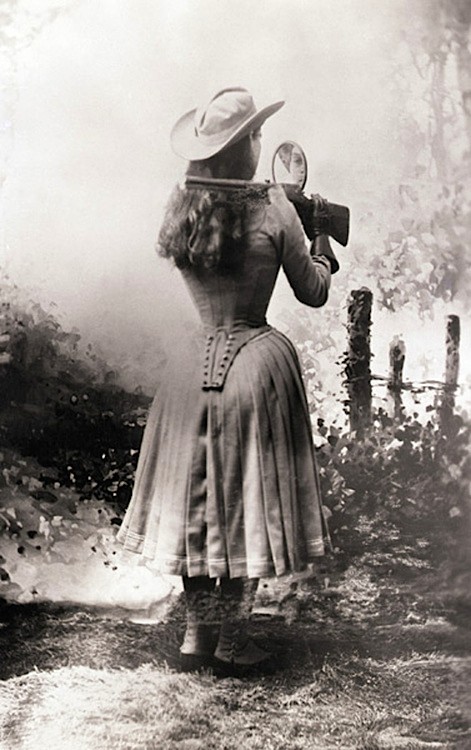 It was said Oakley was one of the highest-paid performers in the show, which made sense; Annie's act was a major draw wherever the spectacle went and it was often front and center in the show's promotional materials, contributing to her overall fame. "Annie Oakley," as they say, became a household name.
She traveled overseas with Buffalo Bill's show and performed for royalty in England, France, Italy, and Germany. She even shot the ashes off a cigarette held by then-prince and future-kaiser Wilhelm II! One of history's great "what if's" will always be how the 20th century would have played out had she missed that shot in 1890.
Buffalo Bill knew a lot of people, including famous inventor Thomas Edison, who built the largest electrical power plant in the world at the time for his Wild West Show. In 1894, Oakley and Butler appeared in one of the earliest "movies" ever made, and by early I mean the 11th film ever shot for commercial showings. The couple starred in Edison's Kinetoscope film The Little Sure Shot of the Wild West, an exhibition of rifle shooting at glass balls, etc. Thankfully, they got better at titling movies as the years went on.
Annie's Famous Shots and Her Stock Guns
Annie was known for making some truly astounding shots. She could hit dimes in midair and 10-ring targets while aiming backward, over her shoulder, through a mirror.
She was known for splitting playing cards held with the edge facing her at 30 yards. She would routinely shoot a cigarette from her husband's lips and could put several holes in a playing card tossed in the air before it hit the ground.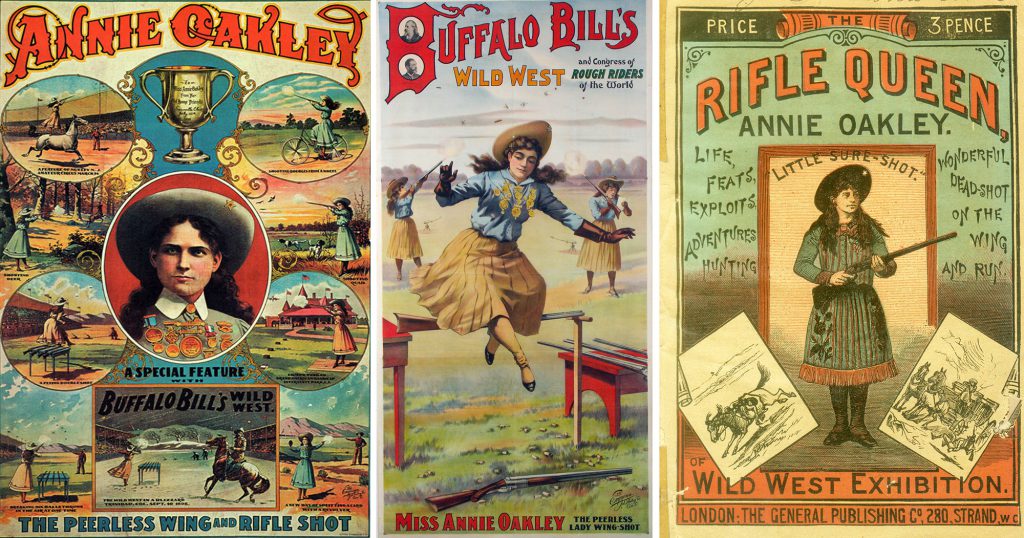 In 1884, Oakley performed with Chief Sitting Bull in the audience. She snuffed a burning candle with one bullet, shot the corks off bottles without breaking the glass, and put a round through a cigar Butler had clenched in his teeth.
Plenty of souvenirs were sold featuring solid evidence of her shooting ability, including cards with hearts on them that she'd shot through and coins that had been dented or pierced by her bullets that were then stamped, "OAKLEY."
Her feats would be impressive no matter what kind of guns she shot, but the equipment she used to accomplish them made them all the more remarkable. Annie favored basic, commonly available firearms. She didn't need expensive or heavily modified guns to make her shots; no custom stocks or elaborate sights here.
Related: What Happened to William Clark After the Lewis and Clark Expedition?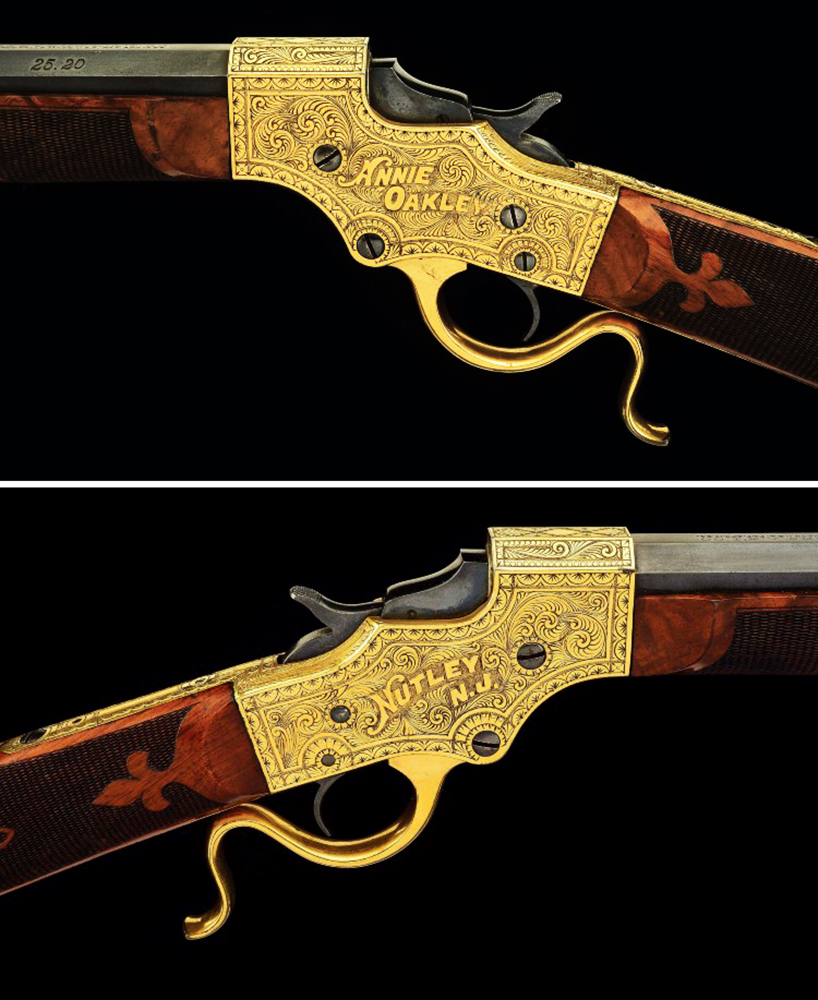 She enjoyed shooting her Parker Brothers double-barrel shotgun, but it wasn't fancy. It had a standard grade stock and, aside from the factory scrollwork on the locks, it was just a normal gun with no embellishments.
She also owned a Smith & Wesson Model No. 2 revolver. The gun was a little fancy with a shiny nickel finish and mother-of-pearl grips, but those were options any S&W customer could order at the time.
Oakley also owned a Stevens single-shot tip-up pistol that was gold-plated and had mother-of-pearl grips, but it wasn't modified or accurized in any way to improve its performance. Annie simply didn't need the help.
While the guns she used for her shooting performances may not have been modified for trick shooting, Oakley did own several one-off special firearms. She owned one of the 800 Remington Beals rifles made between 1866 and 1888, and it's the only known example with factory engraving.
Of course, many gunmakers saw Annie's fame as a way to promote their products. As a result, gun companies made several ornately engraved guns, gold-plated and otherwise, as gifts for her, a custom Winchester Model 1892 carbine and Stevens Model 44 rifle among them.
Related: The Real-Life Outlaws Behind 'Butch Cassidy and the Sundance Kid'
Oakley's Rough Life On The Road
Annie Oakley's public appearances necessitated lots of travel, which was slow, arduous, and presented various hazards.
In 1901, Oakley was injured in a train accident while traveling with the Wild West Show. As a result, she underwent five spinal surgeries and two years of rehab; the injury ultimately prompted her retirement from the show. She was only 41 but had been touring with Buffalo Bill Cody for 20 years.
After leaving Buffalo Bill's show, Annie toured on and off with a few other Wild West shows in the early 20th century, but by 1913 she was officially retired.
She performed at a benefit shoot in 1922 and shot so well that rumors of a comeback began to circulate. Unfortunately, the rumors ceased when she was injured in a car accident later that year and had to wear a steel brace on her leg.
Oakley didn't stay down for long; she got back to performing and continued to set records through 1924 at the age of 64.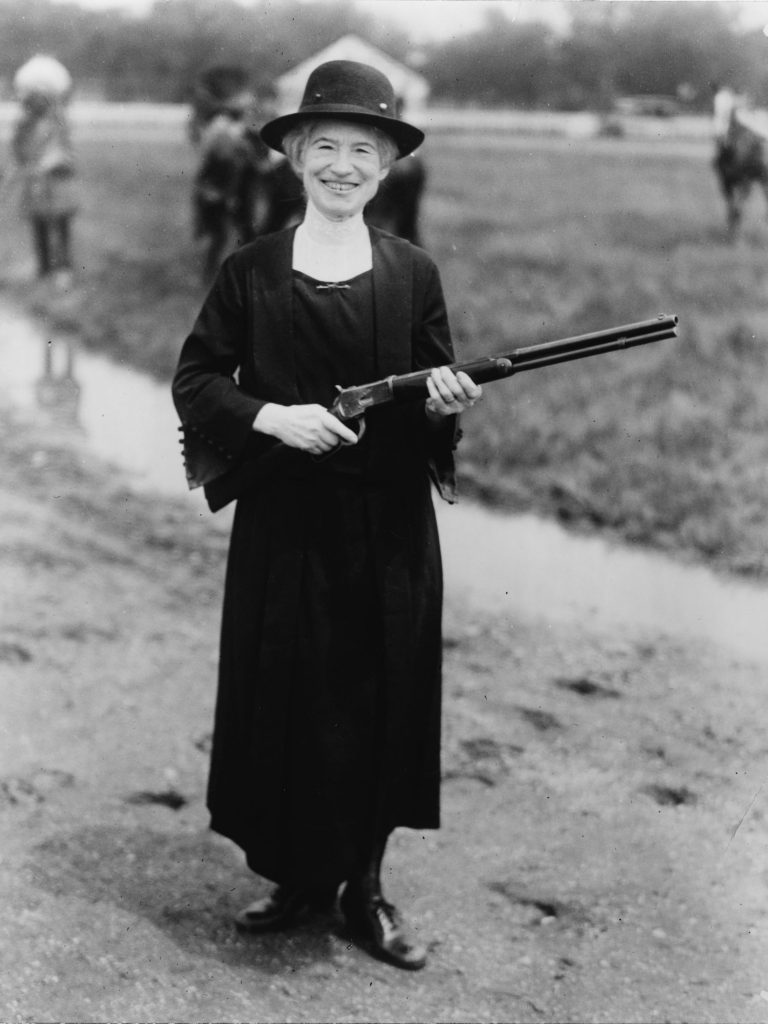 Related: The Famous Winchester Model 1894 Was Born 127 Years Ago
A consummate performer, Annie wowed crowds even as her craft took its toll on her body. Recovery from the 1901 train accident is said to have turned her hair white. A lifetime of exposure to a large amount of gunpowder residue and smoke, much of it from old-school black powder, led to frequent eye infections.
By the mid-1920s, Oakley's health began to decline. She died on Nov. 3, 1926, at the age of 66. In a darkly romantic epilogue to her legendary life, Annie's husband, Frank Butler, was so fraught with grief over her death that he stopped eating and died of starvation just 18 days later.
The Enduring Legacy of Annie Oakley
While most of the world remembers Annie for her accomplishments with a firearm, she used her fame to advance causes she believed in while she was alive. She was a staunch advocate for women's rights and shooter education.
"I would like to see every woman know how to handle guns as naturally as they know how to handle babies," she once said.
It's believed that she taught some 15,000 women how to shoot during her lifetime, but she left the handling of babies to others; she and Frank had no children.
Today, educational shooting experiences geared towards women often invoke her name. After all, what shooter wouldn't want to be as well regarded as Annie Oakley?
Read Next: Mountain Main Seth Kinman – A Legendary Hunter With Presidential Pals