For many of us, squirrel hunting was the gateway drug, a fuse that ignited a deep-seated passion for the outdoors and an unquenchable urge to pursue larger game.
Like many dedicated big-game hunters, my initiation into the sport came in the form of a fat gray squirrel. Ten-year-old me had finally persuaded my father to let me tag along with him as he headed into the woods. Clad in flat-soled sneakers and a puffy purple coat, I toted Daddy's Remington Wingmaster 870 like a sacred artifact.
After a long, miserable day of chilly drizzle, I finally connected a few pellets of No. 6 shot with a plump, limb-perched nut-grabber. Despite my soaking wet shoes and the resulting bout of bronchitis, I was hooked the moment that squirrel hit the ground.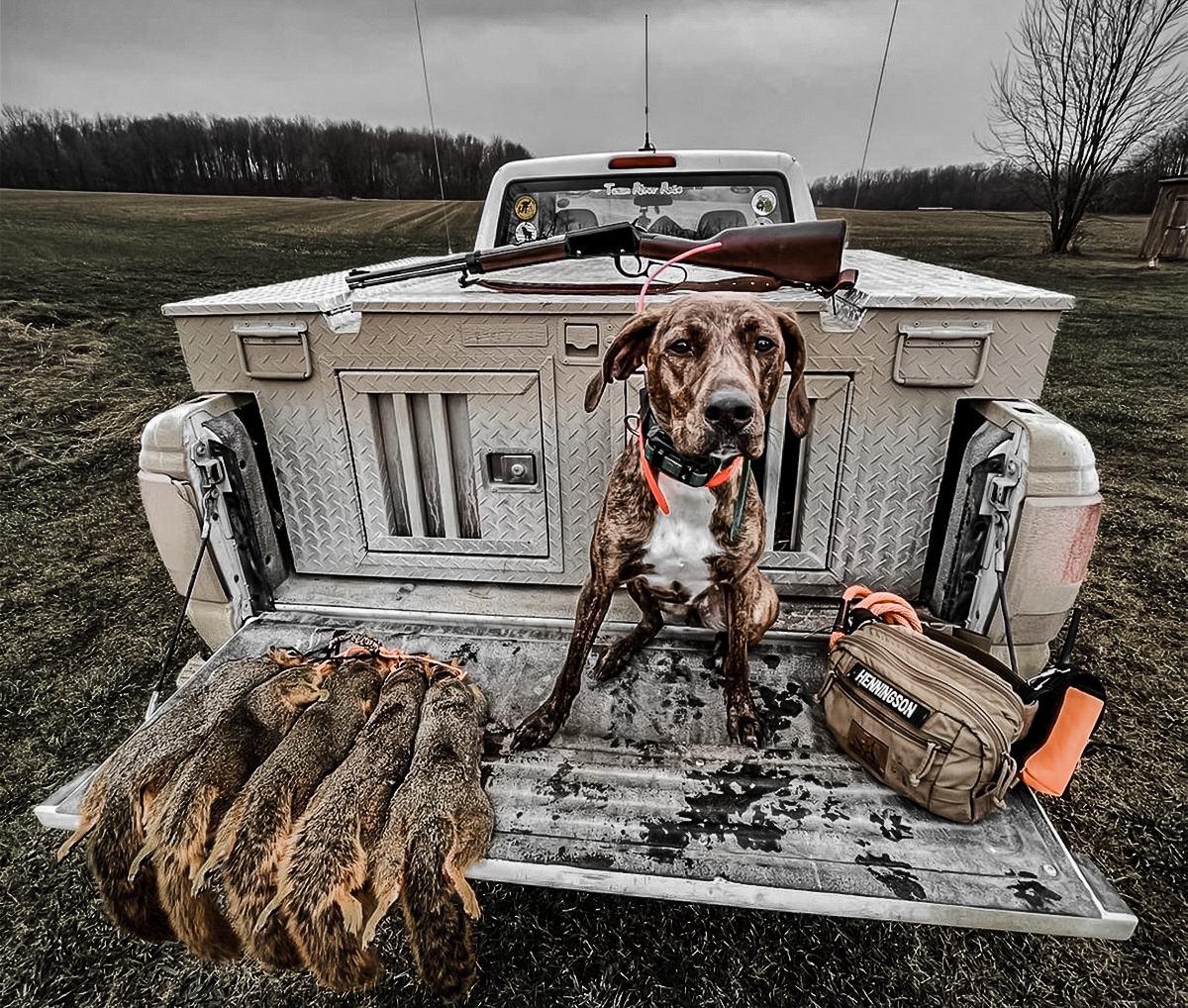 The fast-paced, quick reward of squirrel hunting is a great way to introduce youth hunters to the sport. However, squirrel hunting isn't just for kids and it has more to offer seasoned hunters than pure nostalgia.
Squirrel hunting is also a fantastic way to hone essential hunting skills that transfer to practically every other form of hunting with a firearm except, perhaps, wingshooting. If you want to fill your whitetail, mule deer, or elk tags, squirrel hunting is one fun and easy way to become a better big game hunter. It will make you a good shot while you get better at being quiet and stealthy in the woods.
GOOD GEAR – Make the Best Cup of Coffee With the BRCC Fellow Clara French Press
---
Squirrel Hunting Builds Practical Marksmanship
Pegging gray squirrels or fox squirrels in their walnut-sized brains with a .22 LR requires serious marksmanship skills, even when the setup is picture-perfect. Hunting squirrels provides real-world opportunities to practice shooting, often at weird angles, from every shooting position imaginable — prone, sitting, kneeling, standing, and even some creative spur-of-the-moment positions that may or may not involve wrapping yourself around a tree while aiming up.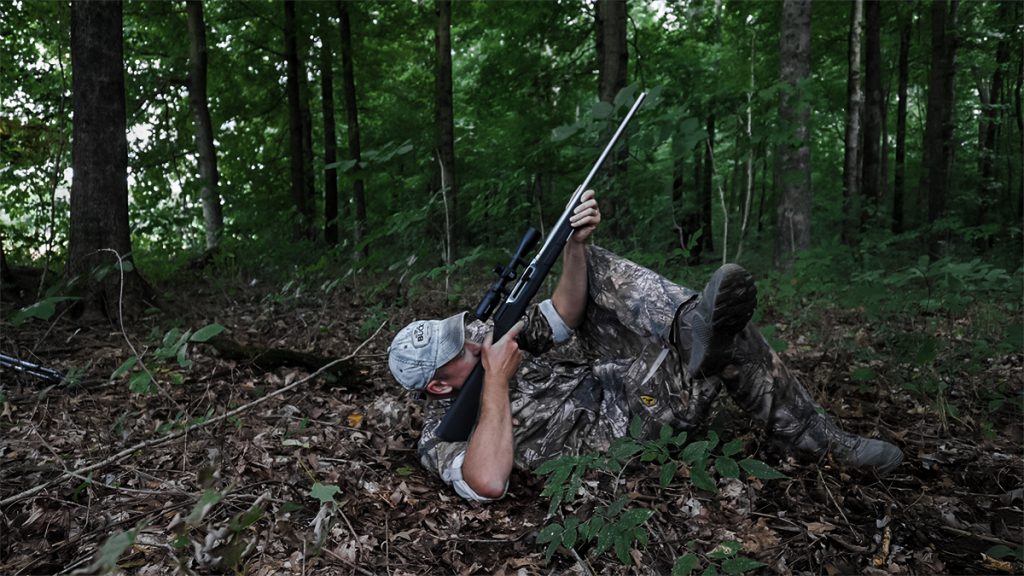 It also offers ample opportunity to shoot off-hand without the support of a rest or shooting sticks, or you can seize the moment to grab a nearby branch, stump, or large tree to use as an improvised rest.
Plenty of once-in-a-lifetime big-game shot opportunities have been squandered because a hunter couldn't make the shot from an odd shooting position. Small game hunting provides plenty of fun, real-world target practice and trains the body to shoot accurately when the setup isn't ideal.
Plus, popping squirrels is far more satisfying than punching paper targets. It also provides immediate feedback on your shooting performance. Watching a bushy tail either drop from a branch or make a beeline for shelter lets you know PDQ exactly how effective your shot execution was.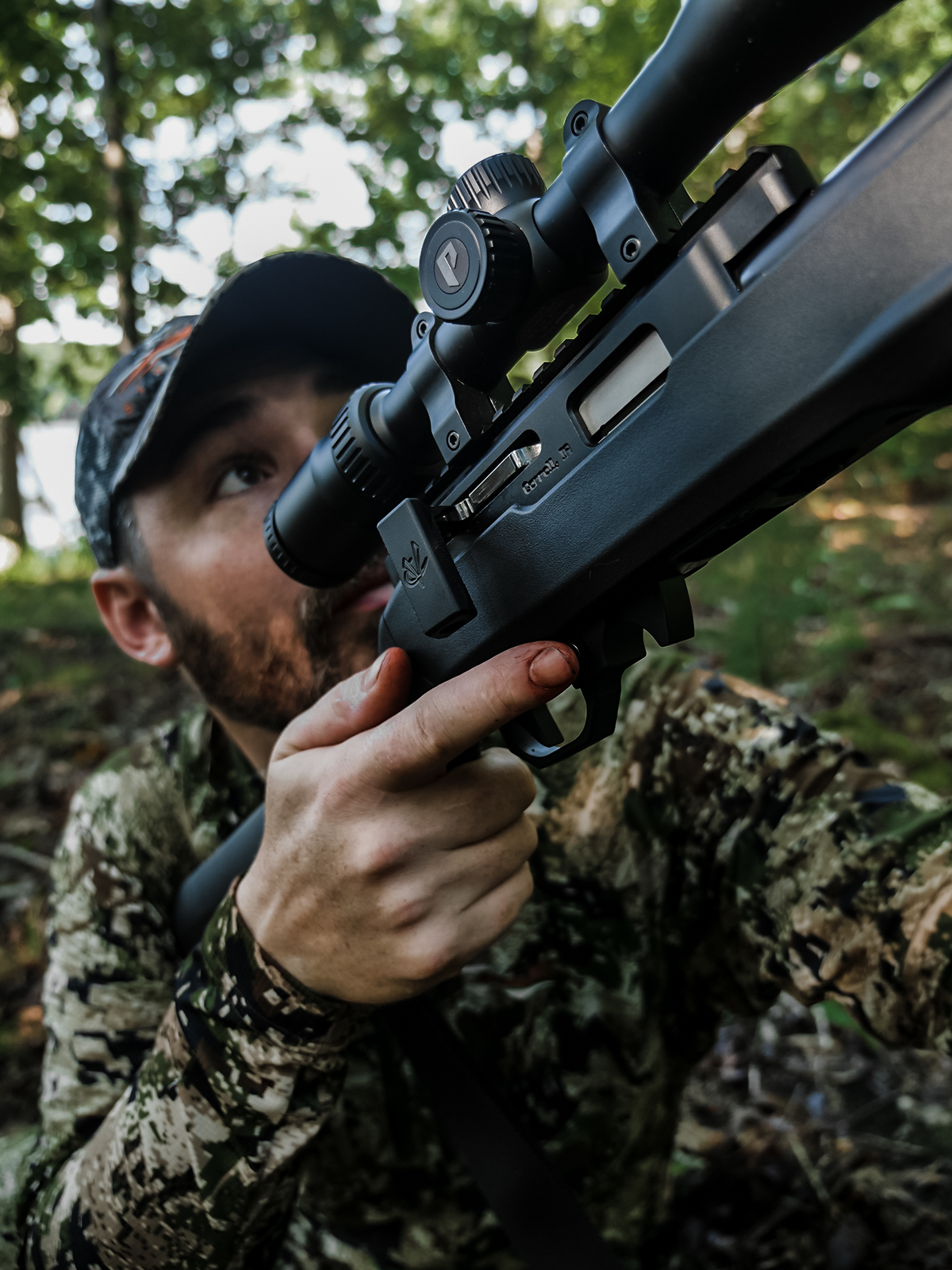 That immediate feedback can help reinforce solid shooting form and technique, paving the way for muscle memory in high-stress shooting situations with booner bucks and big bulls.
We can practice bench rest shooting until the cows come home, but few things build real-world shooting confidence like hunting squirrels. Put in the reps on some tree rats, and you'll reinforce sound marksmanship skills that transfer to big game season.
RELATED – How To Make a Rabbit Snare: A Simple Survival Skill You Should Have
---
Nothing Builds Woodsmanship Skills Like Squirrel Hunting
You can learn a lot about handling yourself in the woods while you're squirrel hunting, and that basic woodsmanship will serve you year-round, from chasing spring gobblers to tracking late-season whitetails.
Modern hunters often obsess over gear, especially when it comes to cutting-edge optics, the latest greatest cartridges, and state-of-the-art hyper-aerodynamic projectiles, all designed to stretch the limits of our effective shot range.
Hunters often offer heaps of praise for a shot that drops a buck across 400-plus yards of open cropland. Meanwhile, many hunters dip their heads in embarrassment when they mention the "easy" 25-yard shot on a buck of the same caliber.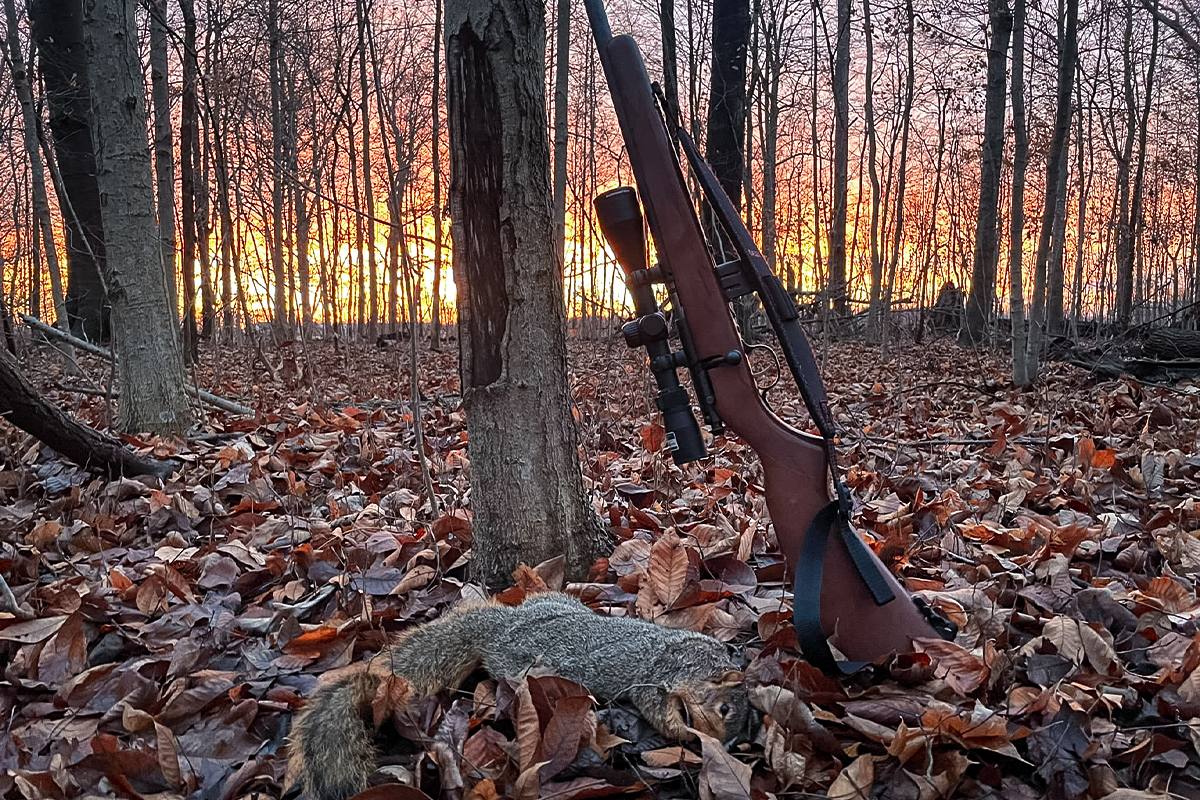 A sniper-like, long-range shot is impressive, but getting within sniffing range of a game animal with some of the best eyes, ears, and noses on planet Earth is the mark of an exceptionally skilled hunter. After all, this was the mark of a great hunter for millennia when the maximum effective range was that of a primitive bow or how far someone could throw a spear. Long-range shooting skills are nice, but basic woodsmanship will help get you in close for easier, more ethical shots on big game.
While the squirrels that frequent college campuses and raid backyard bird feeders might make us believe the critters are nearly as tame as the neighbor's Shih Tzu, wild woodland squirrels are altogether different from their overfed suburban counterparts.
The typical squirrel is less skittish than the average cervid, which means wiggly kids and loudmouthed adults can still luck out from time to time.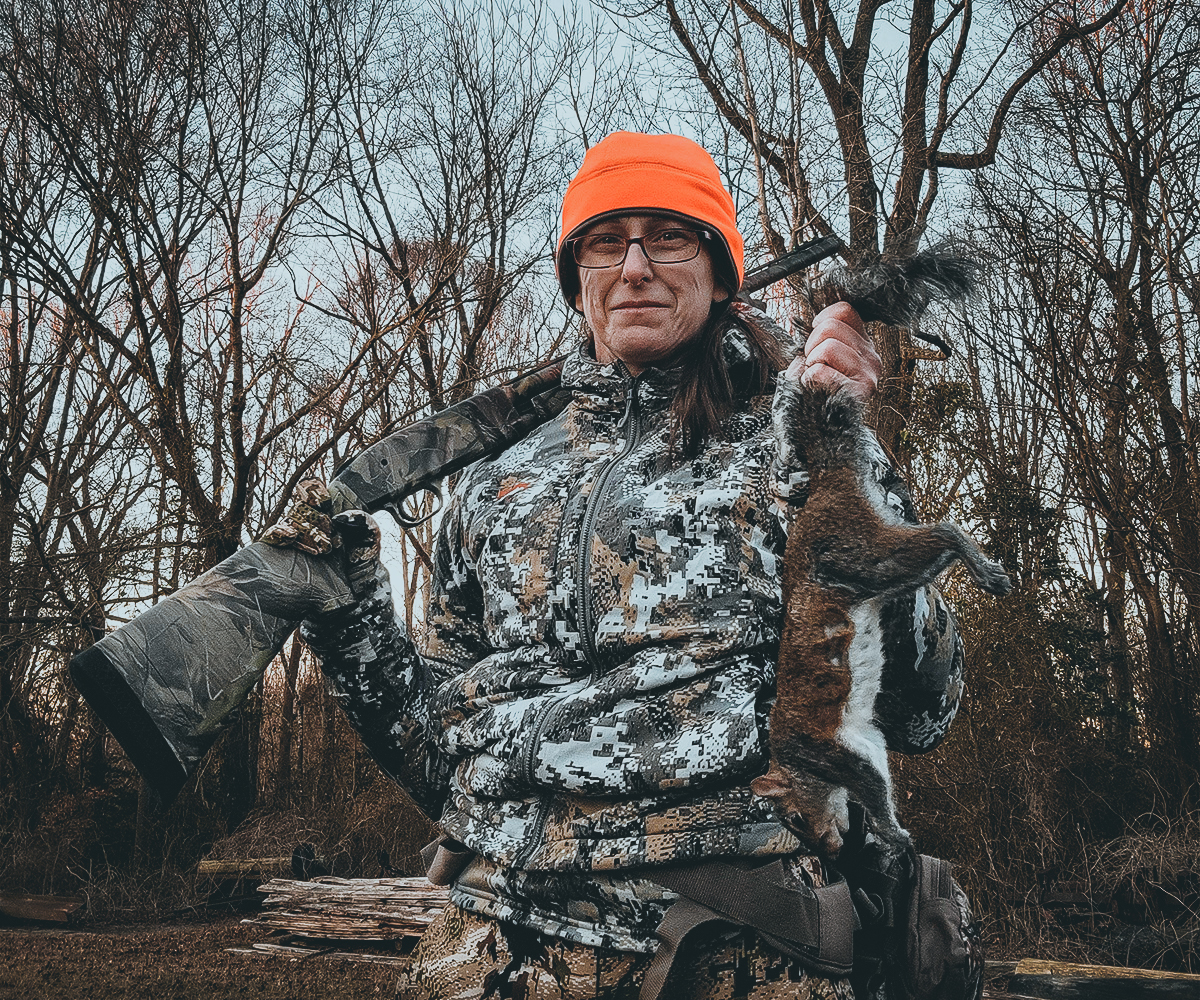 However, to reach maturity, a squirrel must successfully dodge canny predators attacking from both above and below. That means tree rats have to be constantly on the lookout for danger, and if you want to bag more than the occasional bushy tail, you'll need to learn how to handle yourself in the woods like a predator.
You'll need to move through the woods with quiet, calculated steps, eyes steadily scanning ahead to catch the flick of a tail or an erratic scurry from one tree trunk to another. Pausing every few steps will let you soak in the sounds of the woods and zero in on telltale chatter or that signature scuffle through fallen leaves.
Serious squirrel hunting will force you to listen and train your eyes to pick up slight flickers of movement, skills vital to successful big game hunting.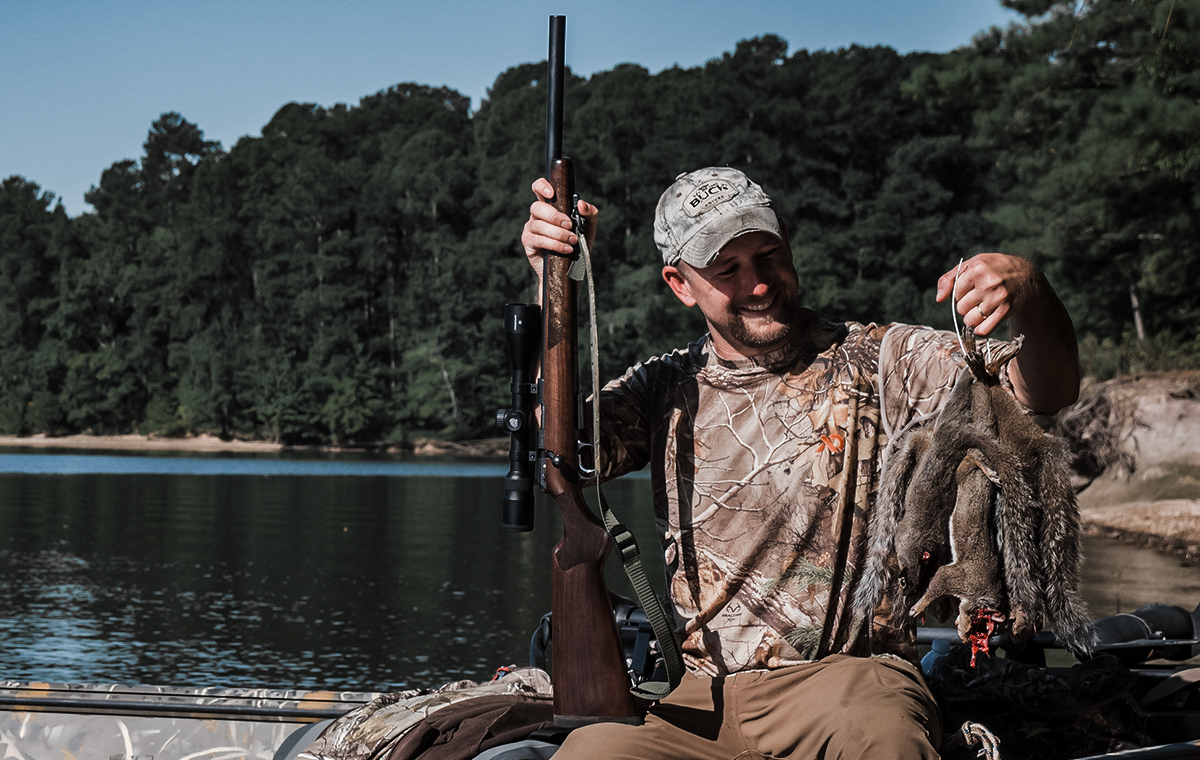 A big deer moving through the woods makes a different cadence than a squirrel rummaging for acorns. However, it's admittedly easy for an imagination to run wild in the woods and imagine every faint crackle is an approaching booner.
The more you become familiar with the sometimes spastic rustling of squirrels, the more likely your ears will be able to key in on a deer's early-season ghostlike padding.
There's a trick to tuning out unnecessary background noises, such as the wind whispering through treetops, and focusing on the sound and location of an approaching animal. It's a trick that can only be learned in the field. Squirrel season is a great time to develop that skill.
GOOD GEAR – Power Your Adrenaline-Fueled Days With the BRCC CAF Roast
---
An Opportunity to Scout for Big Game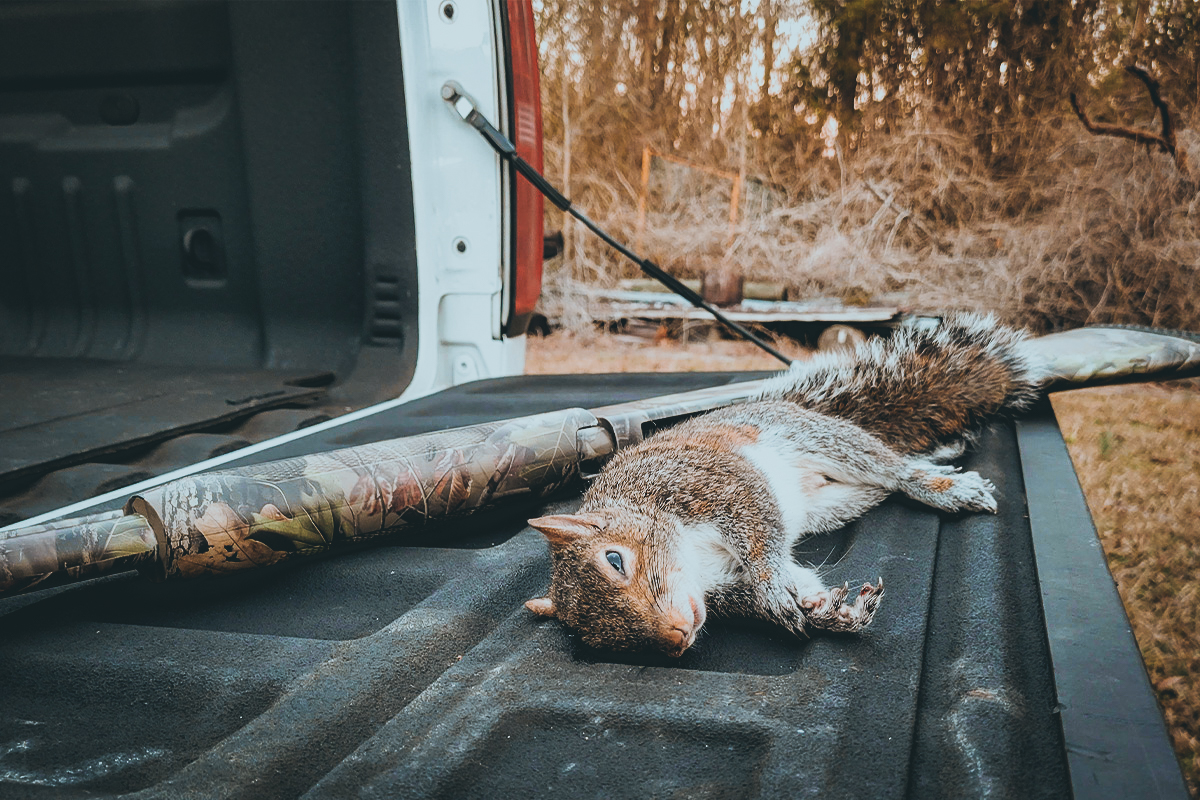 Easing through hardwoods in search of bushy-tailed bastards provides ample opportunity to observe big game travel patterns; search for deer, bear, and turkey sign; and maybe stumble across a random shed antler, all while becoming intimately familiar with the lay of the landscape. Squirrel hunting season is the perfect time for big game reconnaissance.
RELATED – Recipe for Rabbit: Spice up Wild Game Meat Tandoori Style
---
Squirrel Hunting Teaches Patience
There are about as many tactics for hunting squirrels as there are squirrel hunters. Stalking, sitting still, and hunting with a good squirrel dog can all yield results. No matter which method you use to fill the stew pot with limb chickens, squirrel hunting takes skill, patience, and persistence.
Squirrels make tiny targets. Add on their often erratic behavior, and making ethical shots becomes tricky. As with big game hunting, rushing the shot rarely ends with a squirrel on the stringer. It takes patience and discipline to wait for a good shot opportunity, and it's much less heartbreaking to learn that when you're chasing tree rats than when you're trying to line up crosshairs with a Boone and Crockett trophy.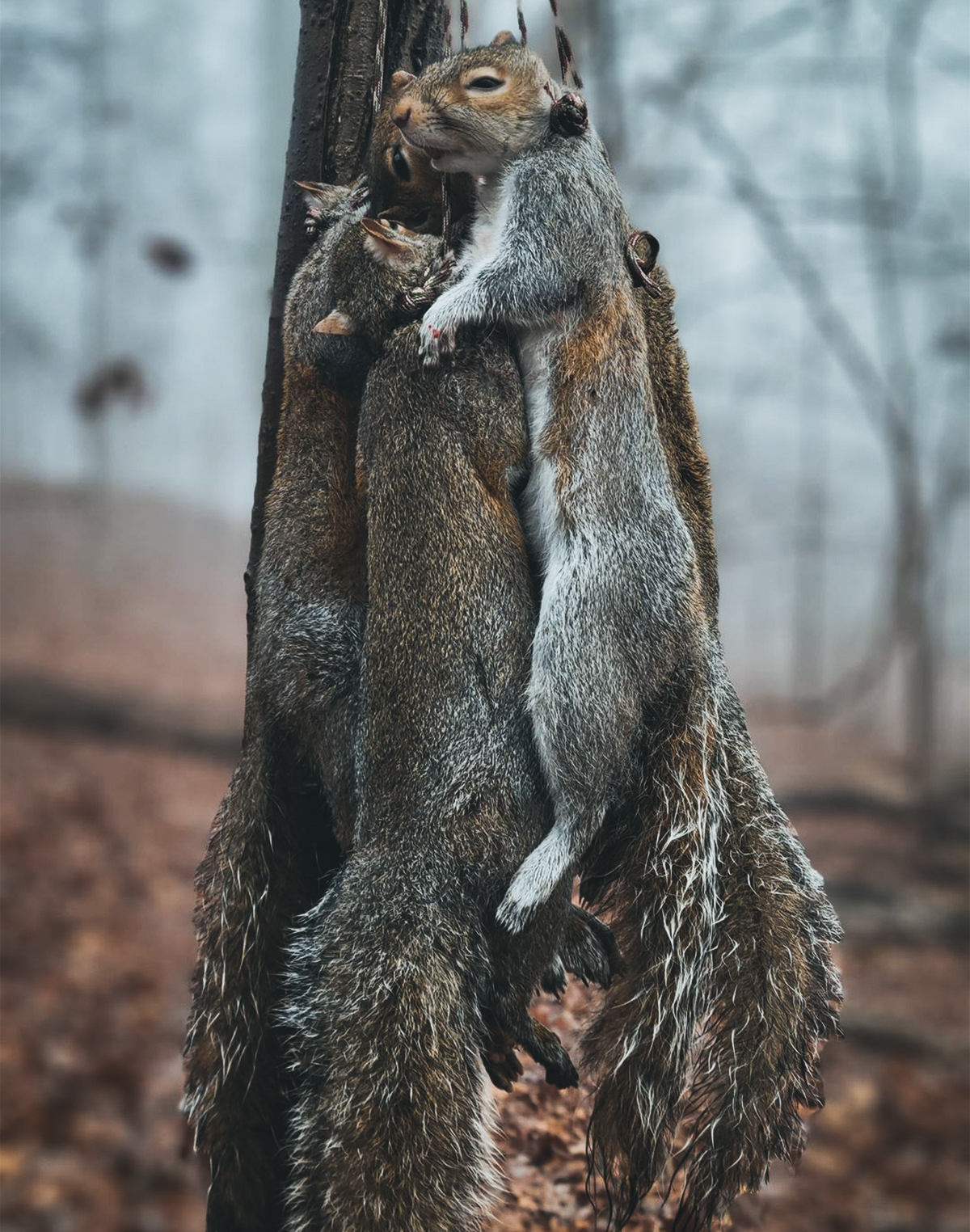 GOOD GEAR – Be Protected in the Rain or Snow With the BRCC Tactisquatch Blanket
---
More Reasons to Hunt Squirrels
When properly prepared, squirrel meat is pretty darned tasty, and that's not just my hillbilly roots talking. Lean and mild, with hints of nutty flavors, squirrel makes delicious table fare. Almost like a less gamy version of rabbit, squirrel rarely gets the culinary attention it deserves. From fried squirrel to squirrel pot pie, the possibilities are plentiful.
If you're a deer hunter, there's also something profoundly satisfying about heading back to your favorite deer stand after the season closes to exact revenge on the local Rodentia that tormented you all season. I like to make mental notes of their rodent escapades while shivering in an early-morning treestand, knowing I'll be back later for vengeance and a squirrel dinner.
That bushy-tailed booger that somehow managed to sound exactly like a shooter buck every morning, albeit one wearing flip-flops and toting 17 plastic Walmart bags through a carpet of dry leaves? That sucker's days are numbered.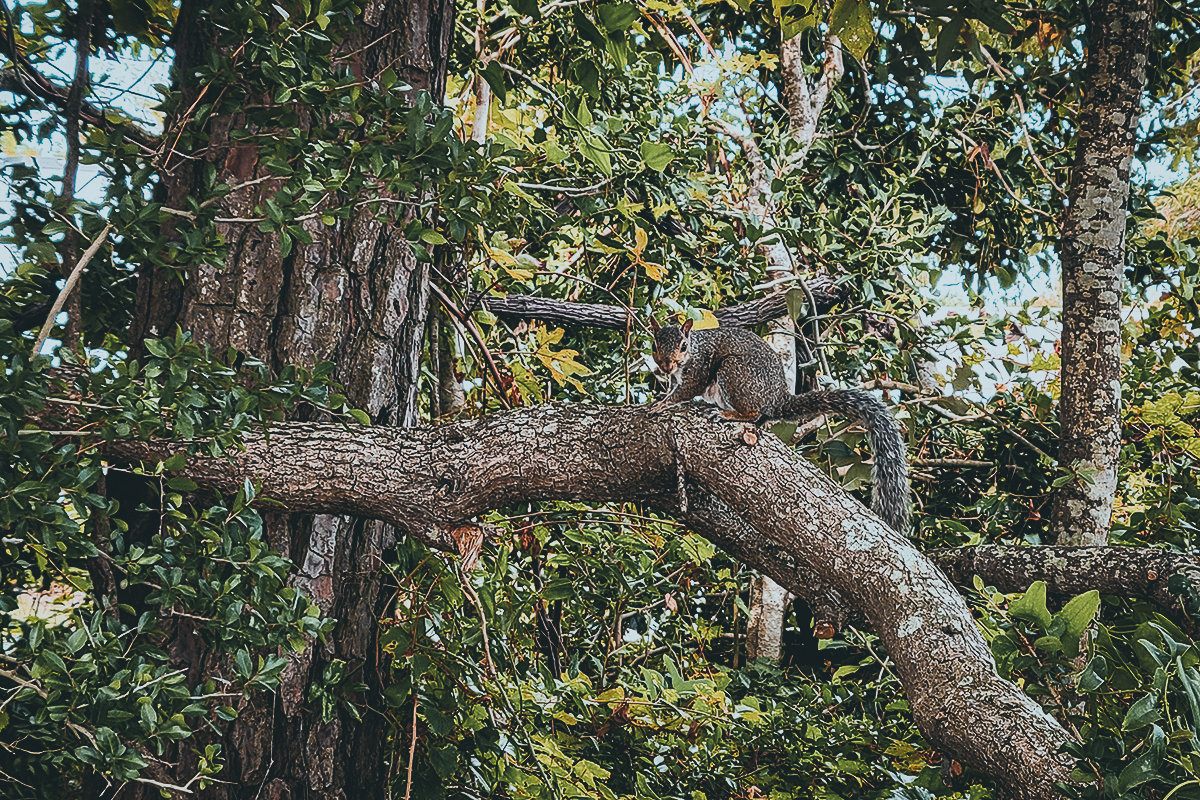 RELATED – The 8 Greatest Hunting Dog Breeds of All Time
---
Gearing Up for Squirrel Season
Part of the beauty of squirrel hunting is its simplicity. It doesn't require a ton of expensive, specialized gear. If you're already a hunter, you probably have everything you need.
You don't need cutting-edge camo to hunt squirrels, but if you have it, there's nothing wrong with wearing it. If you don't, plenty of squackers have been shot by someone wearing blue jeans and a red flannel shirt. I pegged my first tree rat wearing a puffy purple coat.
I suggest ditching the flat-soled sneakers for something more habitat appropriate. Footwear can make or break any hunt, no matter what species you're pursuing.
Rimfire plinkers are traditional squirrel getters. If you're a rifle hunter, the fundamentals honed with a .22 LR transfer to big game calibers. Top your .22 with a decent optic, zero it at 25 yards, and you'll be set to bust bushy tails out to 50.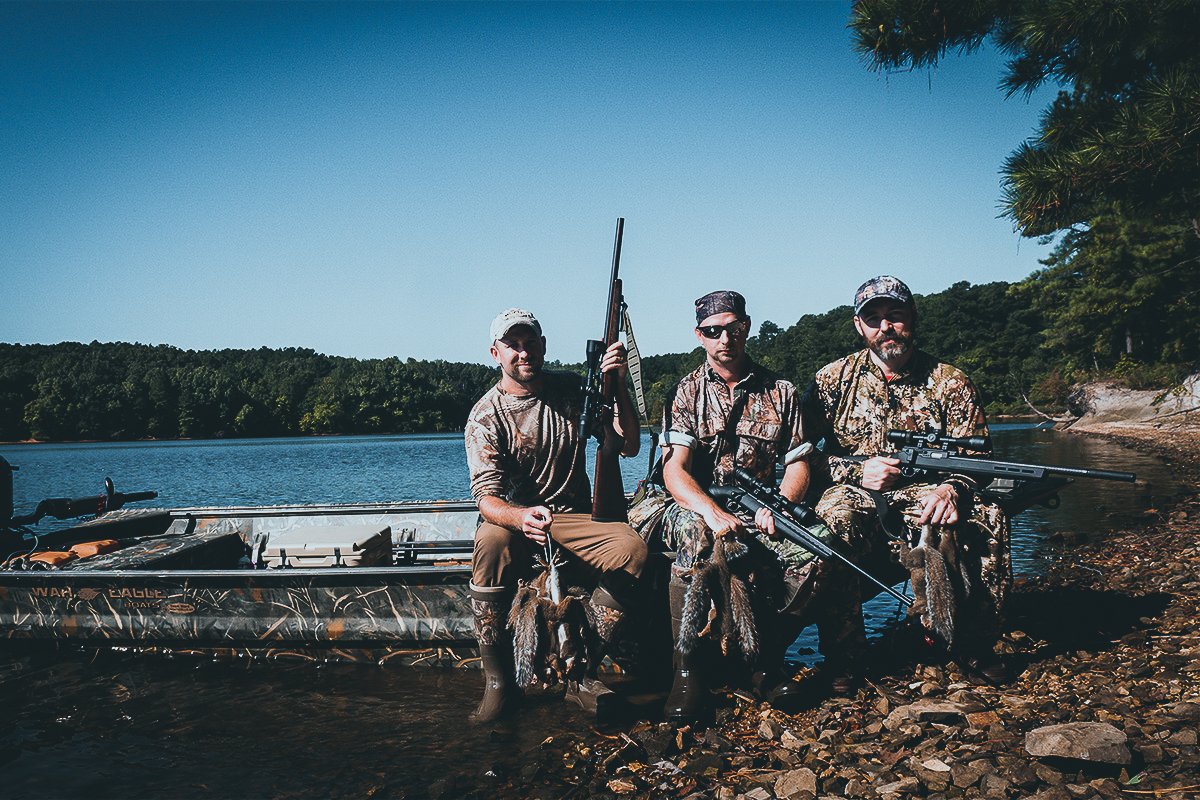 Scatterguns and birdshot (No. 4 and No. 6 make capable squirrel loads) are great combos for new hunters. The shot spread makes it a smidge easier to hit the target, and the shot does minimal damage to the meat. Your favorite turkey gun is perfect, and you don't even need to change the choke.
If you want a serious challenge or you're aching for a good dose of humility, you can opt for a bow or an air rifle. Just be sure to check local regulations before you head into the squirrel woods with your air rifle.
GOOD GEAR – Wear a Hoodie Perfect for the Duck Blind With the BRCC Reticle Duck Camo Pullover Hoodie
---
Squirrel Hunting Is a Worthy Pursuit On Its Own
Packing out a passel of squirrels might not seem like it would be as exciting as gripping a buck's ample antlers, but I've done both, and I assure you they are each profoundly satisfying.
Although squirrel hunting is good practice for those seeking larger game, it is worthwhile in its own right. Sure, it makes a great excuse to spend more time in the woods and scout for the coming season. But there's also something deeply satisfying in the quest for these keen critters.
Drifting through the woods with senses thrumming like live wires, fooling keen animals right in their own living room, and then heading back home with enough meat to fill the stew pot is a tradition worth keeping, no matter how many birthdays you have under your belt.
---
READ NEXT – How To Cook the Perfect Fried Squirrel