Born Primitive, a veteran-owned fitness apparel company from Virginia Beach, Virginia, is launching an all-new outdoor collection. Like the company's workout apparel, the outdoor line follows Born Primitive's mantra of "athlete driven, patriot inspired" and has been developed and field tested by some of the leading experts in the tactical, hunting, and outdoor space.
Free Range American got some of the new Born Primitive Outdoor gear before its official launch (today), and it's fucking RAD.
---
Who Is Born Primitive?
BP was founded in the spring of 2014. Owner and CEO Bear Handlon was at the tail end of his college career, playing football and getting ready to join the Navy. Handlon designed a pair of compression shorts for Olympic weight lifting and thought, "I might be able to make something out of this."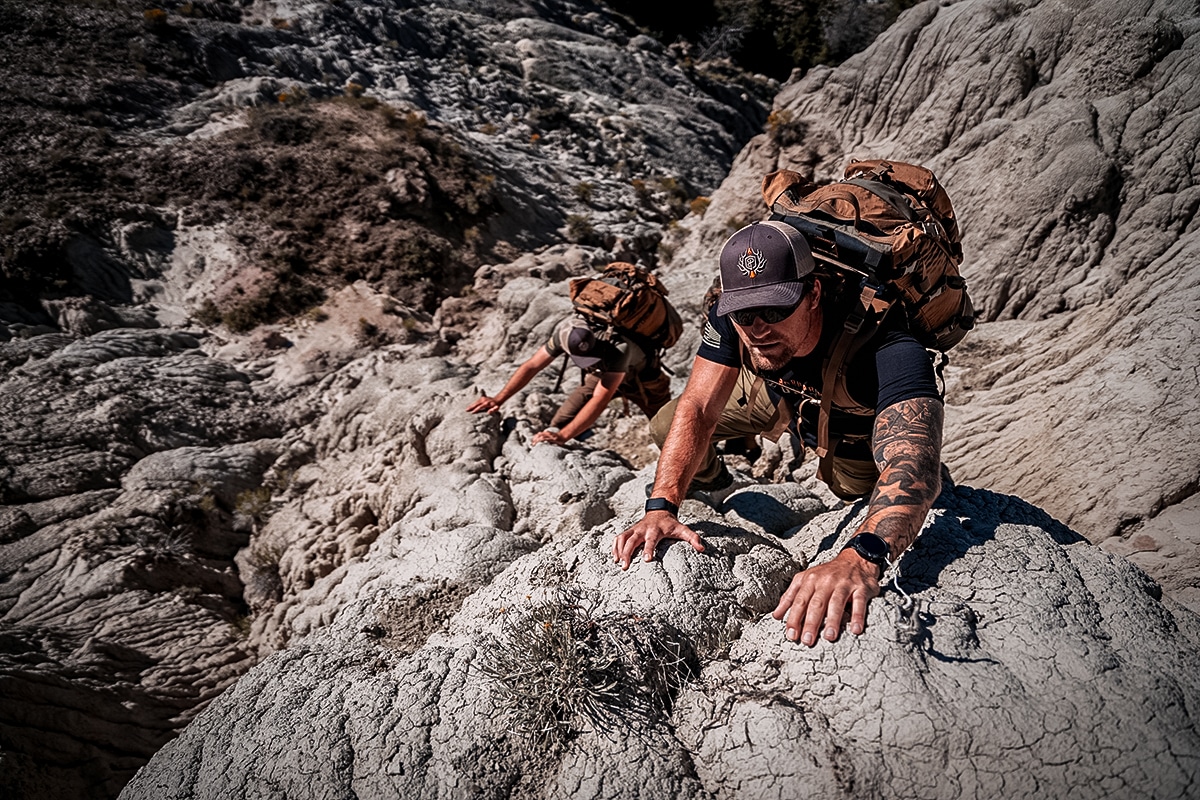 He continued to grind in the following years while balancing an active-duty Navy career with spending his free time traveling to weight-lifting events and selling products out of booths at shows. Fast-forward to 2022 and BP has grown from selling screen-printed t-shirts and shorts to producing a complete line of quality athletic apparel for both men and women.
From the beginning, the company wanted to be more than just another apparel brand. BP deeply loves and respects the military, first responder, and veteran communities; that love is shown through giving back to organizations like the Navy Seal Foundation, Concerns of Police Survivors, the Tunnel to Towers Foundation, and others.
"When I was in the military, we frequently got issued subpar gear from companies that do not support the military and definitely don't support hunting," Handlon said. "That is one thing we set out to change. Born Primitive Outdoor was created by dudes who live this every day and by a brand that isn't afraid to be patriotic."
RELATED – Chene Gear: Great Waders and Giving Back With Free Duck Stamps
---
The Outdoor Collection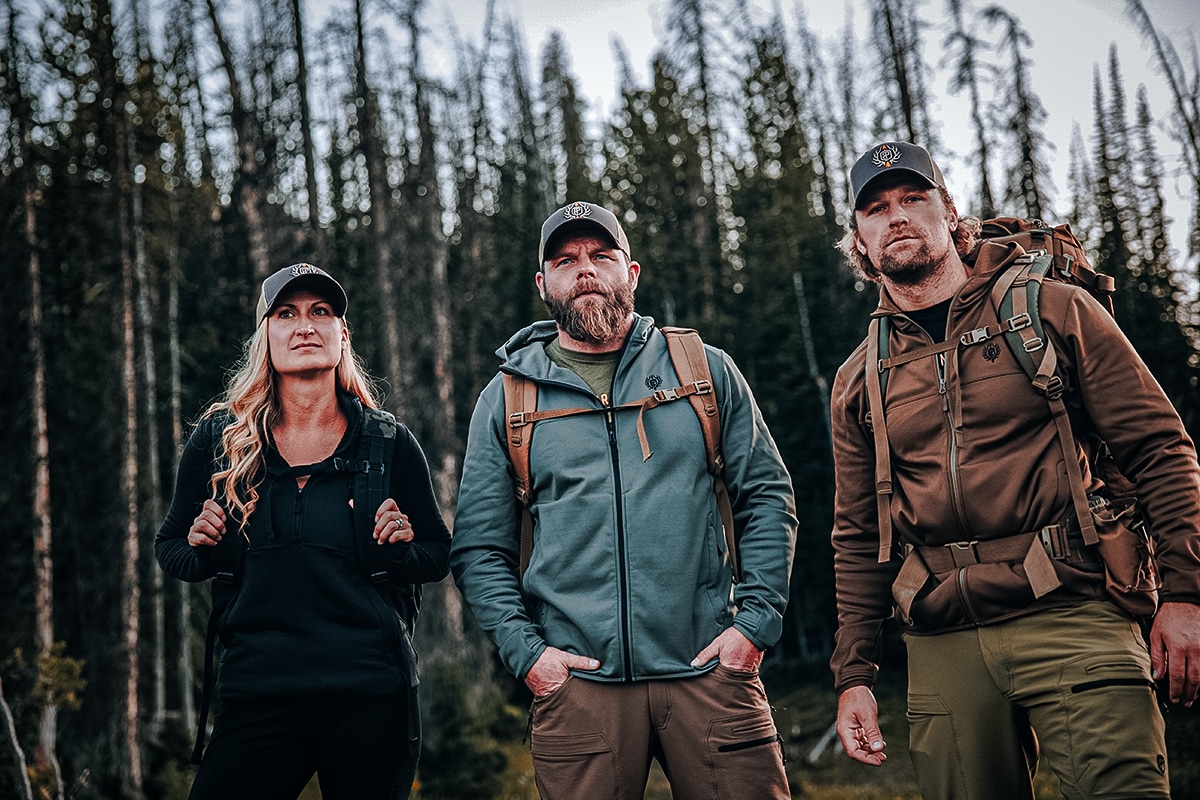 Using the athlete-driven model, BP set out to create an outdoor line that would be multifaceted. The gear had to be useful to special operators, hunters, and people who want quality solid-color outdoor gear alike. Our friend Aron Snyder played a large role in designing and field testing the products.
"Aron spends more than 150 to 200 days a year in the field, so he was a perfect fit for helping test and design the gear," Handlon said.
Due to the nature of their work, many of the folks who helped design and test the gear must remain anonymous.
"There's no way a dude who walks around the woods with a belt-fed machine gun designed this," said one field tester about a brand of clothing his organization was issued. BP set out to change that narrative and provide a product that would be useful across multiple applications.
RELATED – Gatorz Marauder: SOF's Favorite Shades Get a New Look
---
Price: Frontier Pant: $209; Frontier Pant Light: $189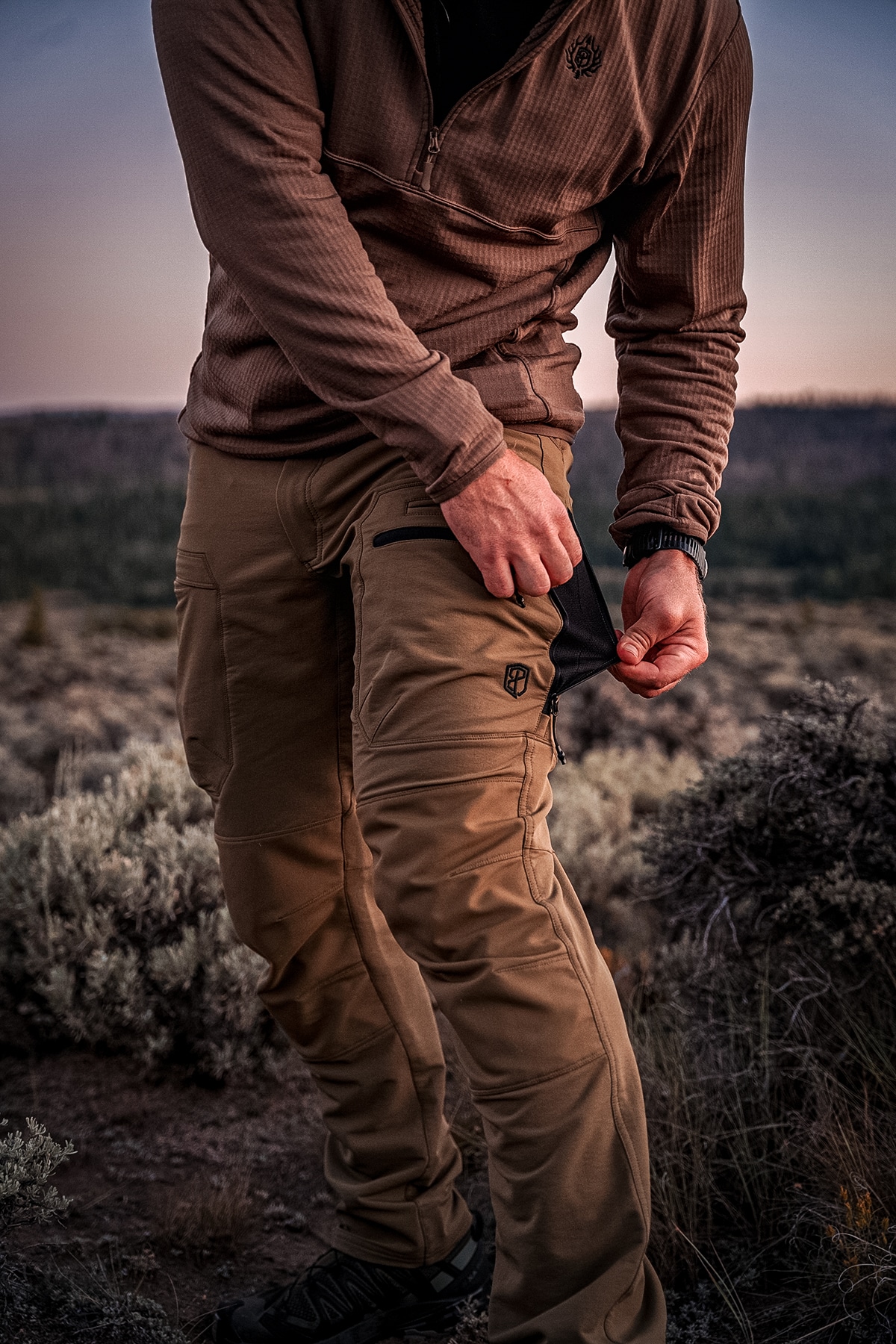 These pants are badass — I predict them to be the collection's flagship product. Both pairs I tested fit true to size. I was skeptical about the lack of inseam options at first; there are only two options: a 33- or 36-inch inseam, and I'm a 30-inch inseam. But, even though they're a little long when I'm barefoot, the cuffs don't fall below the heel of my boots or shoes when walking.
Both versions of the Frontier pants have the most useful and functional pockets of any pants I have worn. The standard front pocks are cut with a more horizontal than diagonal opening and are located closer to the front of the thigh. This positioning and cant make it super easy to get stuff out of these pockets when you need it, and preventing it from falling out when sitting on the ground.
When it comes to hunting or hiking pants' cargo pockets, almost all I have encountered suck. They're either too baggy, getting hung up on shit, or they're too tight and produce a bulge when using them to carry even the smallest items. The Frontier pants have effectively stopped my bitching. The cargo pocket is sewn just right. There's enough room to store items without looking like an Oompa Loompa, but they're not so loose that they're flopping around and constantly getting snagged on everything an anything.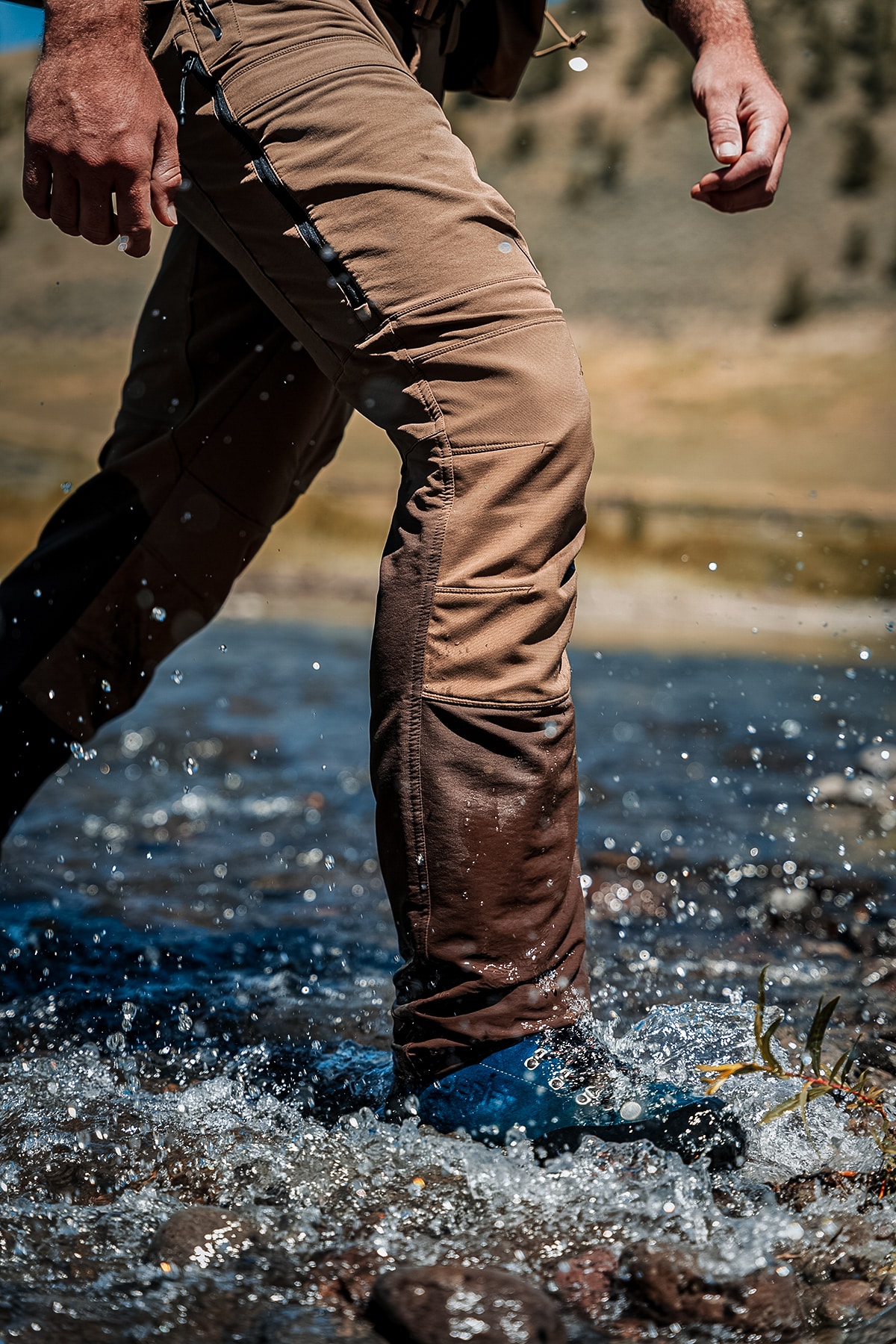 These attributes aren't only useful in the field, they're critical when entering and cleaning rooms with a rifle or playing American Ninja Warrior in the backcountry.
The pants also include a ballistic-nylon-reinforced seat and knees. This is important because, contrary to many YouTube videos, most hunting involves a lot of time sitting on your ass to glass, watch, and wait. From hanging out at midday while the elk aren't bugling to sitting in a treestand, I have had pants wear holes in the ass in one elk season. The extra protection is also nice for keeping things like pine needles and small sticks from poking your booty, which is a common issue I have found with pants made from both lightweight and heavyweight stretch materials.
The last thing I love about both versions of the Frontier pants is the belt loops. Maybe it's my military background, but I hate tiny, weak belt loops. I wear a lot of different belts, depending on what I'm doing — from pistol work on the range to elk hunting. These pants accommodate a sturdy leather gun belt, smaller nylon tactical belts, and everything in between.
I wore the light Frontier pants for the first half of my elk season, during which I covered miles of blown-down trees while hiking up and over a major mountain range off the trail. They performed extremely well.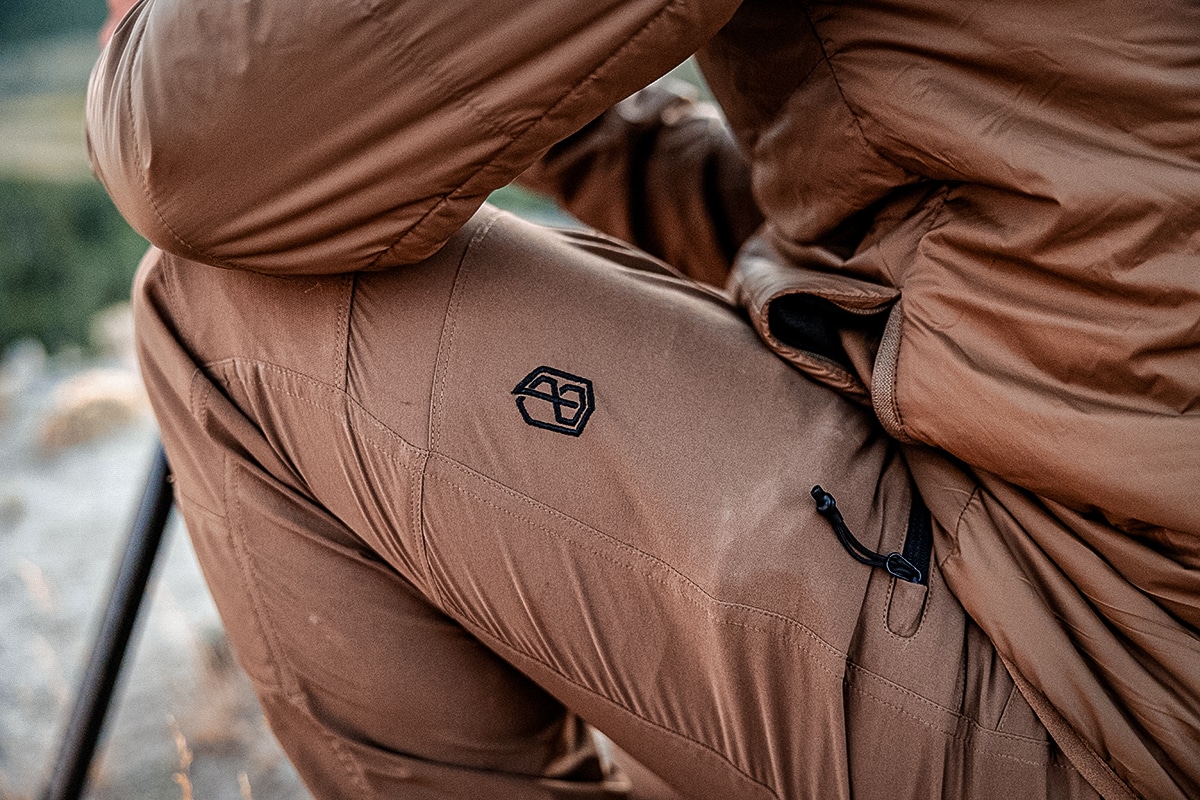 They're made from a lightweight blend of polyester and spandex that dries quickly after getting caught in rainstorms or hiking through meadows soaked with morning dew. The light pants sustained minimal damage after crossing miles of downed trees. These pants are as durable or more durable than any other lightweight pants I have worn.
Likewise, I rocked the heavier standard Frontier pants for a day on the range, running and gunning, shooting everything from machine guns to Glocks. It was 80 degrees, and I was a little concerned about wearing them in the heat.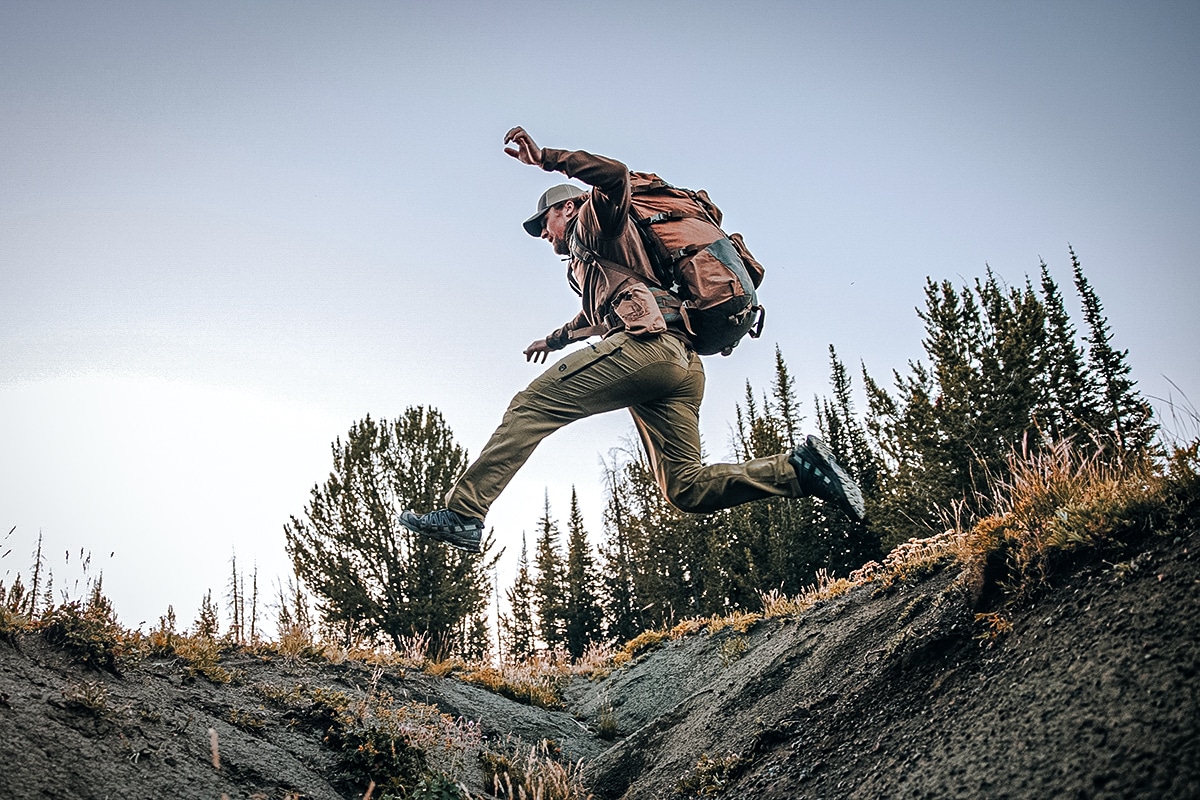 This version of the Frontier pants are thick and made from a stretchy nylon-polyester blend, and using the zippered side vents helped dissipate heat. Despite the temperature, I was fairly comfortable in them. I'll wear these for hunts and range days when the temperatures are 60 degrees and below, for sure.
Both versions re offered in OD Green or Coyote Brown with a 33- or 36-inch inseam and a waist range from 28 to 42 inches. The pants are only available for men at this time, but I have it on good authority that a women's version will be available once they get the fit and function right.
RELATED – The Essential Gear List for Bowhunting Pronghorn Antelope
---
The Rest of the Born Primitive Outdoor Collection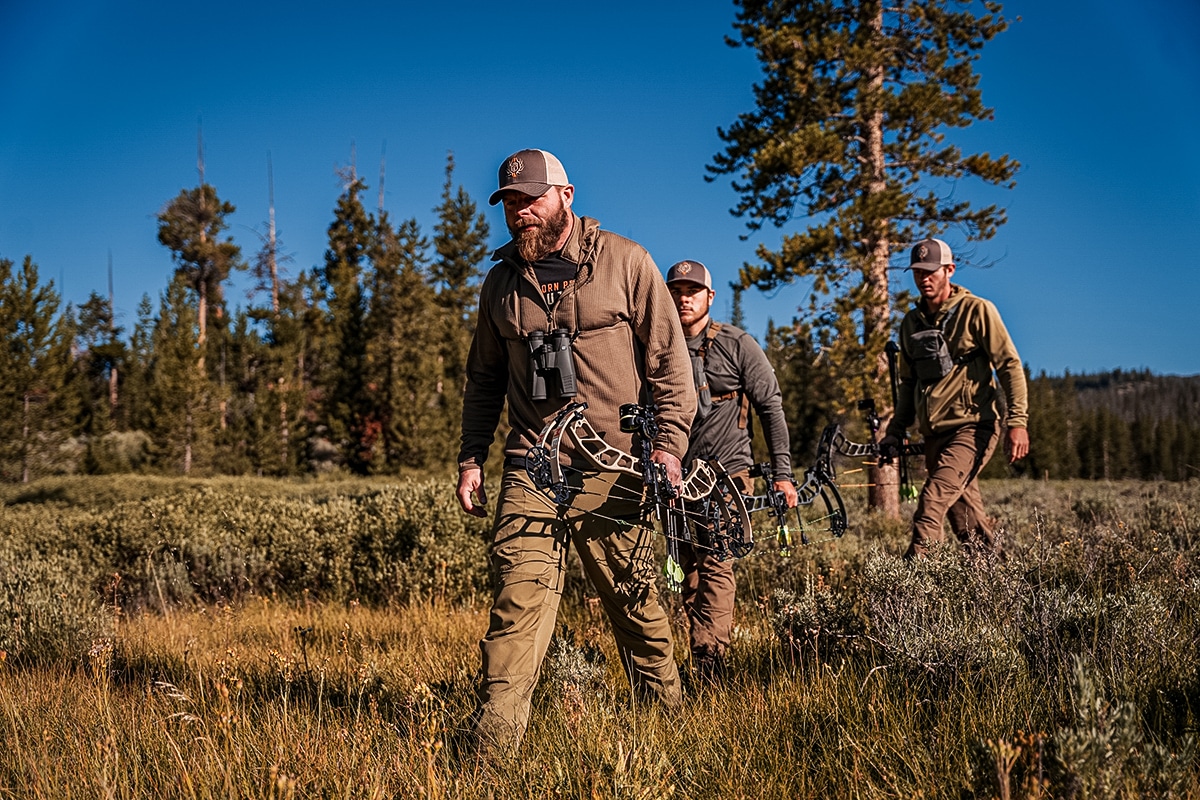 Born Primitive didn't stop at pants; its new outdoor line includes a complete lineup of men's and women's gear; the only thing missing is rain gear.
The collection includes the Tundra Jacket, a synthetic puffy jacket complete with pit zips — it's the first puffy I've seen with this particular feature. So far, I've only worn the Tundra in the evening around camp; it's warm and comfortable, but I haven't gotten to beat it up enough to give a full report just yet. The Tundra Jacket is offered in Black, OD Green, and Coyote Brown with a retail price of $229.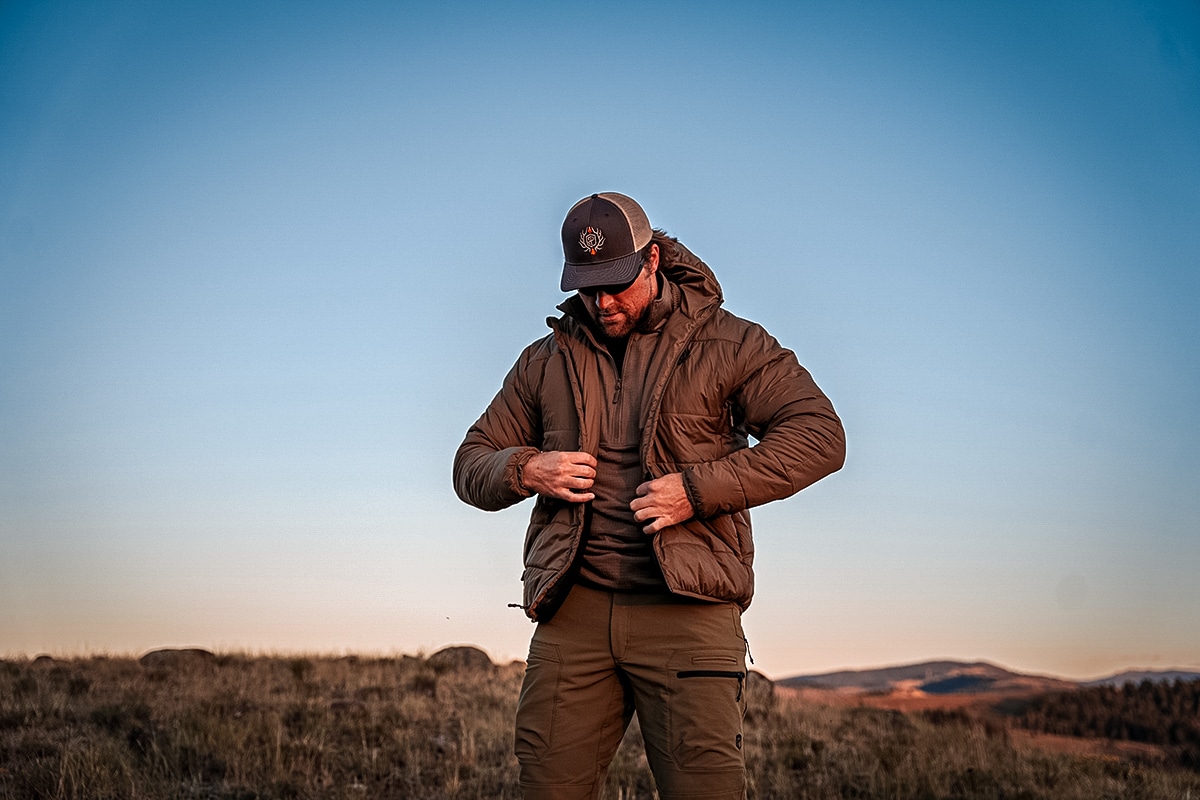 The Tundra Jacket Light is, as you may have guessed, a lighter-weight version of the puffy Tundra jacket with similar features, except for the pit zips. This is a great intermediate layer for early September evenings. You can wear it on its own or underneath another layer for extra warmth. It's also perfect for taking the chill off during early morning hikes to the glassing knob. This jacket model is also offered in Black, OD Green, and Coyote Brown and retails for $169.
The remainder of the collection includes the Quiver Half Zip Hoodie, Sentry Full Zip Hoodie, and the Outdoor Ridgeline base layer top and bottom. The Quiver is a grid fleece-style intermediate insulation layer with a hood. I'll be rocking the Quiver when chasing elk in the fall and later in the winter, hunting powder turns with my snowboard.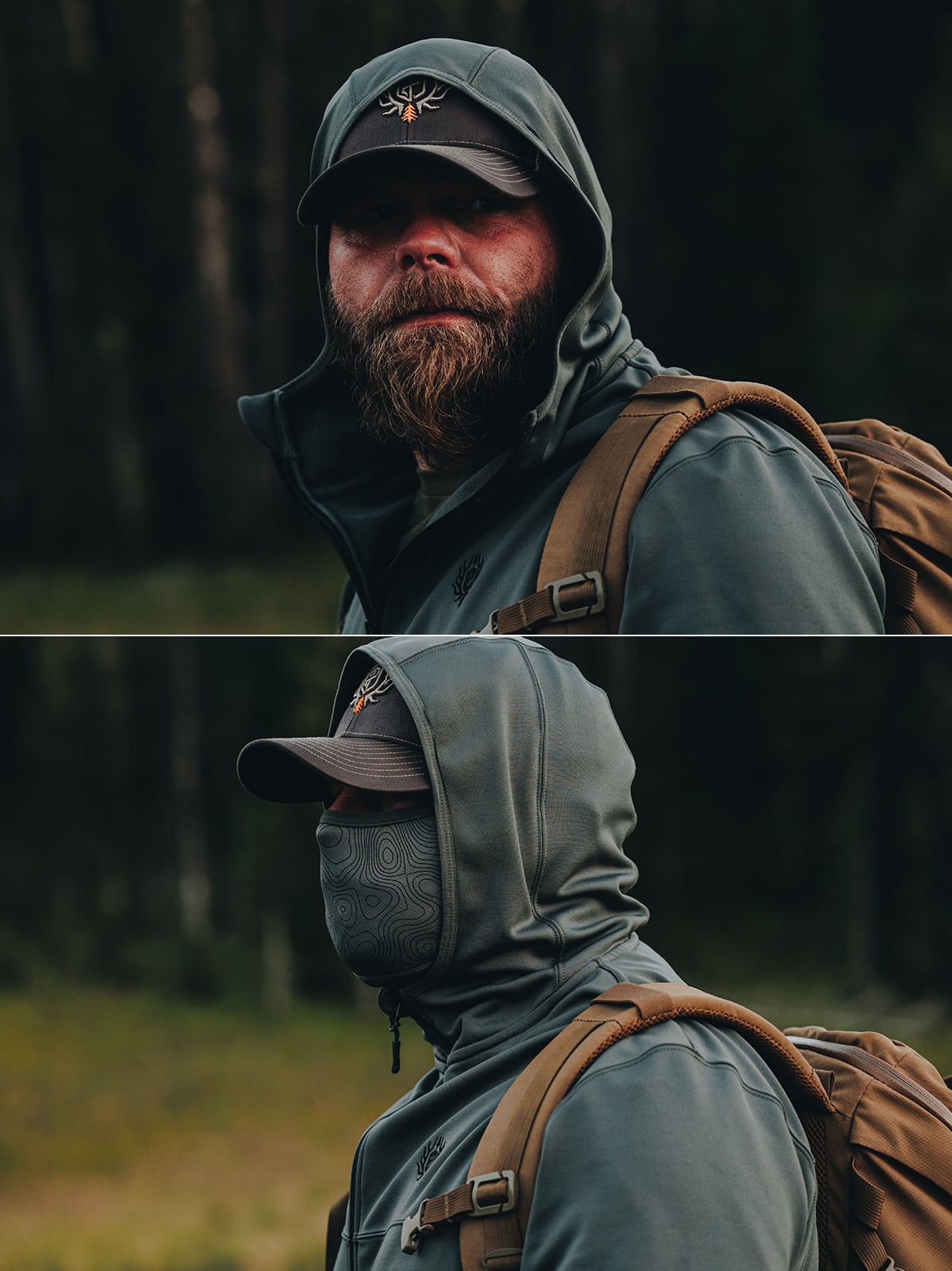 The Sentry is a softshell-style jacket with a hood, complete with a built-in face mask. The Ridgeline top and bottom are made from 50% merino wool and 50% spandex.
The Ridgeline top and bottom also come in a heavy version for those times when you need a bit more insulation. All of these pieces are available in men's and women's cuts.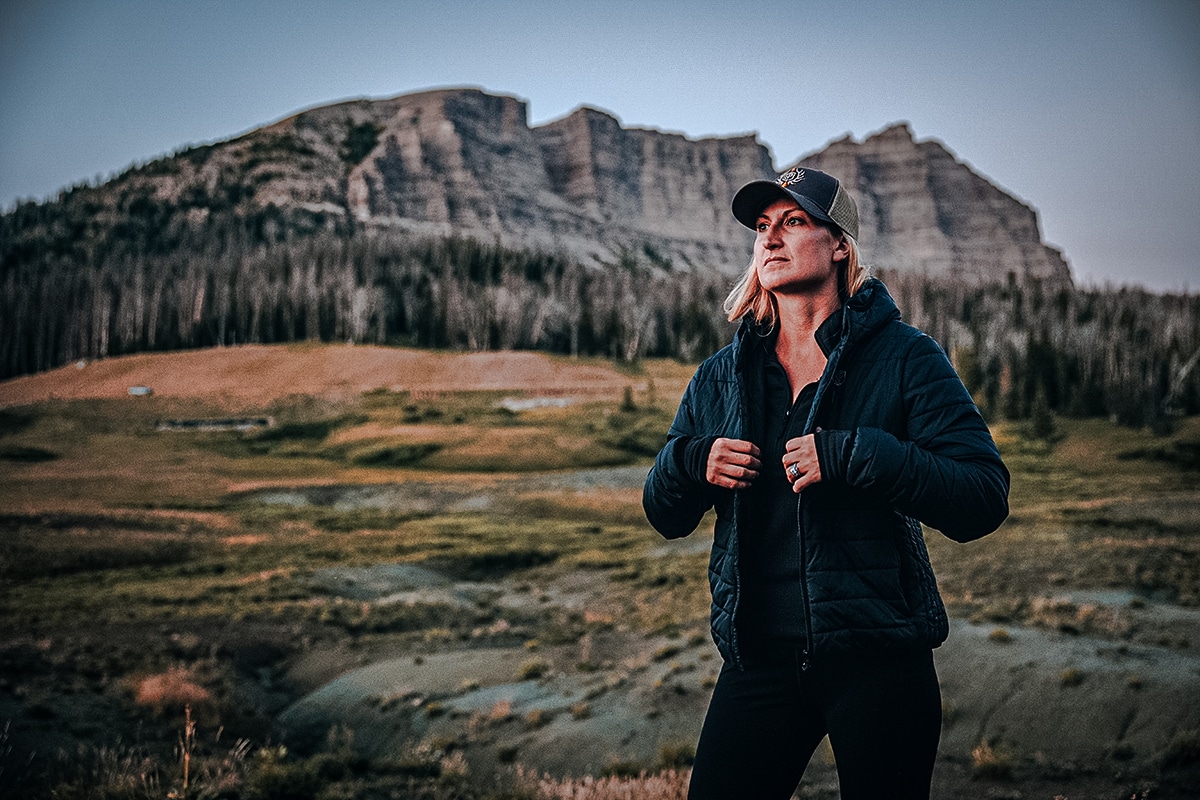 Although I haven't had the opportunity to beat it all up in the field, this gear appears durable and badass. The pants are by far some of the best I have worn and tested. I will definitely be incorporating pieces like the Quiver half-zip into some of my later season hunts and am excited to see how the rest perform once the temps drop.
The time put into design and field testing is apparent in every piece. It's hard to tell this is a company new to outdoor clothing. If someone didn't say, "Test this new company's gear," I would have thought BP had been making this stuff for years.
---
READ NEXT – Springfield Armory Prodigy: New Double-Stack 1911 With a 26-Round Mag