When I first started whitetail hunting, being cold was the No. 1 thing that'd get me out of a stand early. It didn't matter how heavy or warm my clothing was; I still froze during November and December hunts. Every Hunter's Ed test has the same question: "What is the hunter's most important item of clothing?" The correct answer is a blaze orange hat plus a blaze orange shirt vest or jacket.
Daylight fluorescent orange clothing is essential when gun hunting, wherever you're hunting, and the right answer for passing the test. But knowing that isn't going to help much in a treestand in November or December if you don't also pack in warm layers.
What matters when it comes to staying warm are the textiles clothing is made from and how it's layered. That's what it all boils down to: You need the right clothing with the right properties, and you need to layer it correctly.
Most whitetail hunts unfold the same way; energy is exerted hiking into your hunting spot, climbing into, or setting up and climbing into a treestand. Then, you sit. And sit. And sit. Hunters get warm and body heat builds on the walk-in, then it dissipates as they sit. And they get cold. If the base layer is soaked with sweat from the hike, they get even colder.
Hunters can avoid this awful cycle by choosing the right pieces of clothing and layering them correctly.
Related: Hunting History – How Firearm Tech Changed the Way Americans Hunt
Pick the Right Clothing
Base Layer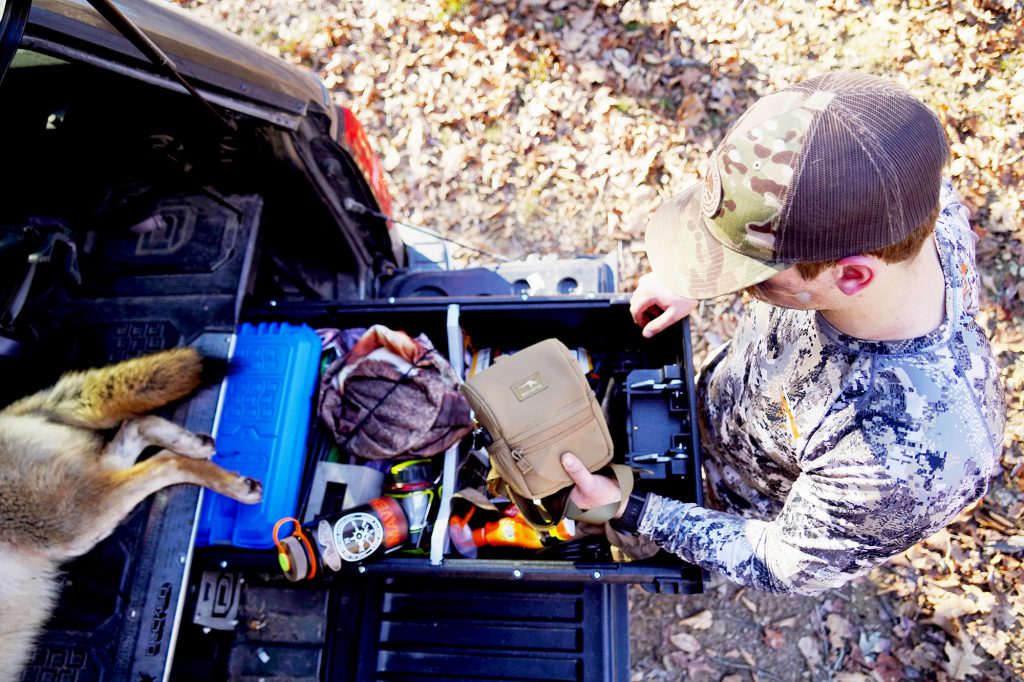 The base layer is the foundation of every hunting clothing system, and it cannot be overlooked. Base layers are meant to wick moisture away from your skin and push it into your outer layers — they absolutely should not collect moisture and hold it.
The first rule: Cotton kills. Cotton dries very slowly, and wet cotton up against your skin will make you cold quickly once you quit moving. Yes, this includes your cotton underwear.
Synthetic and merino wool options are better alternatives because they dry quickly and wick moisture away from your body. Synthetic layers dry faster than merino wool but don't have the odor-resistant properties that woold possesses.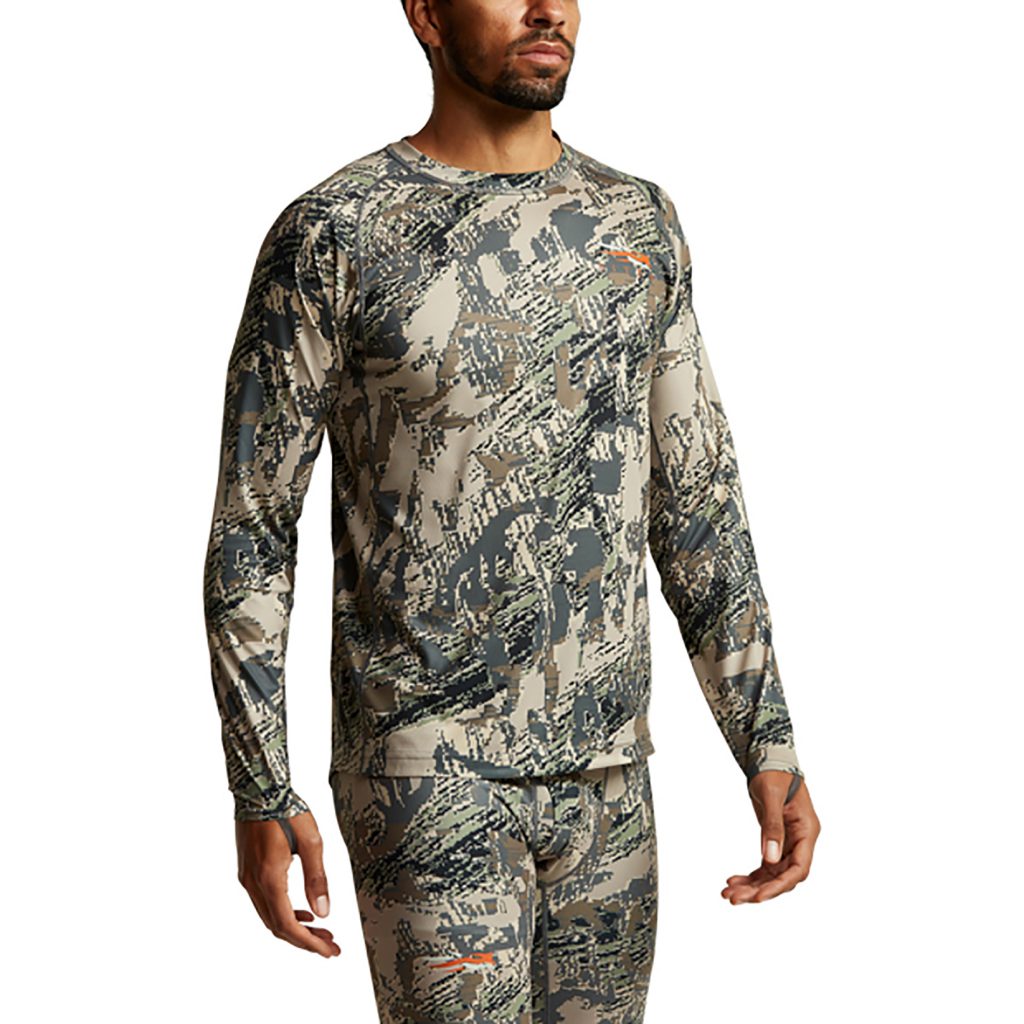 Merino does a great job regulating temperature and has natural odor resistance, and it's certainly better than cotton, but it can take a while to dry completely once wet. Either option will work great as a base layer. While some hunters prefer a heavy base layer in cold weather, others, like me, always prefer to wear a lightweight base layer, no matter the season, and wear additional layers according to the conditions.
The Sitka Gear Core Lightweight Crew LS is an excellent upper body option that will cover you from early to late season, and Sitka's Core Lightweight Bottom will cover the rest of your body. Do yourself a favor and don't defeat the effectiveness of your base layer by wearing a cotton T-shirt under it or over it.
Active Insulation Layer or The Mid-Layer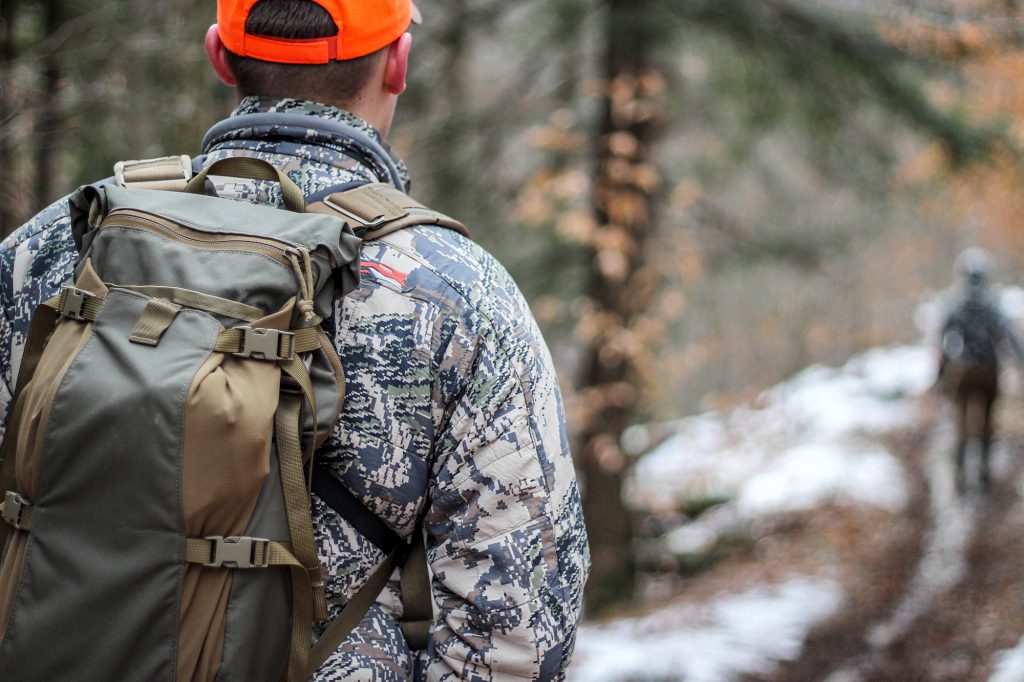 An active insulation layer should wick moisture away from the skin and base layer during high activity and retain heat when a hunter settles in for a sit.
Two of the top active insulation textiles include grid fleece and Polartec Alpha insulation. You will find these textiles in the Sitka Gear Kelvin Active Jacket and Fanatic hoody.
A common mistake hunters often make is wearing a cotton hoody as a mid-layer, resulting in the moisture wicked away from the body by the base layer soaking into the hoodie and giving you the chills.
Soft Shell Pant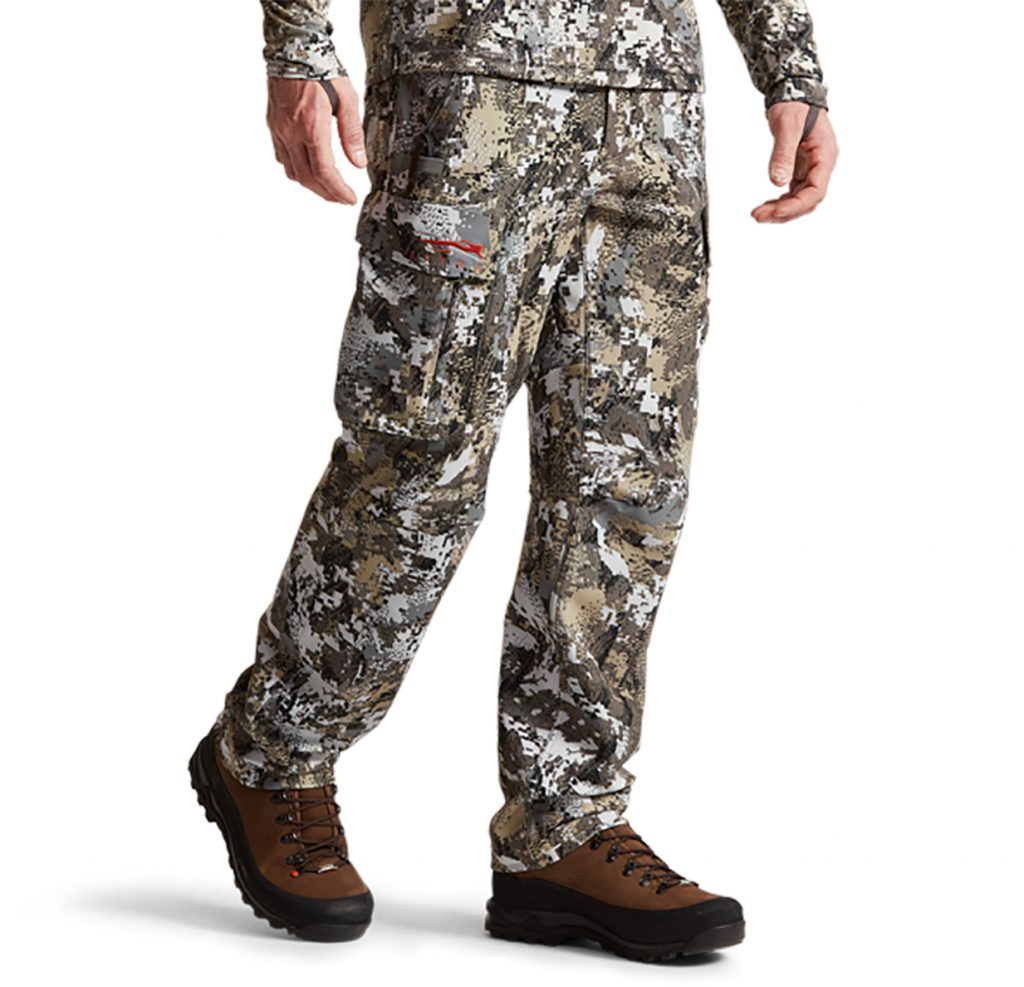 An ideal pair of softshell pants for hunting should be made from synthetic materials that dry quickly and have some flex to them for comfort. Lightweight pants with four-way stretch capabilities are best, but make sure they're durable enough to bust through the brush.
The Sitka Gear Equinox pant is an example of the ideal softshell pant for whitetail hunting. There's just the right amount of stretch to allow you to ascend your climbing sticks with ease, and it includes a waterproof seat to keep your ass dry when you sit on a wet log or treestand seat.
The softshell pant will be your outer layer for your bottom half on early-season hunts and will be underneath the next layer on colder hunts.
Windproof Outer Layer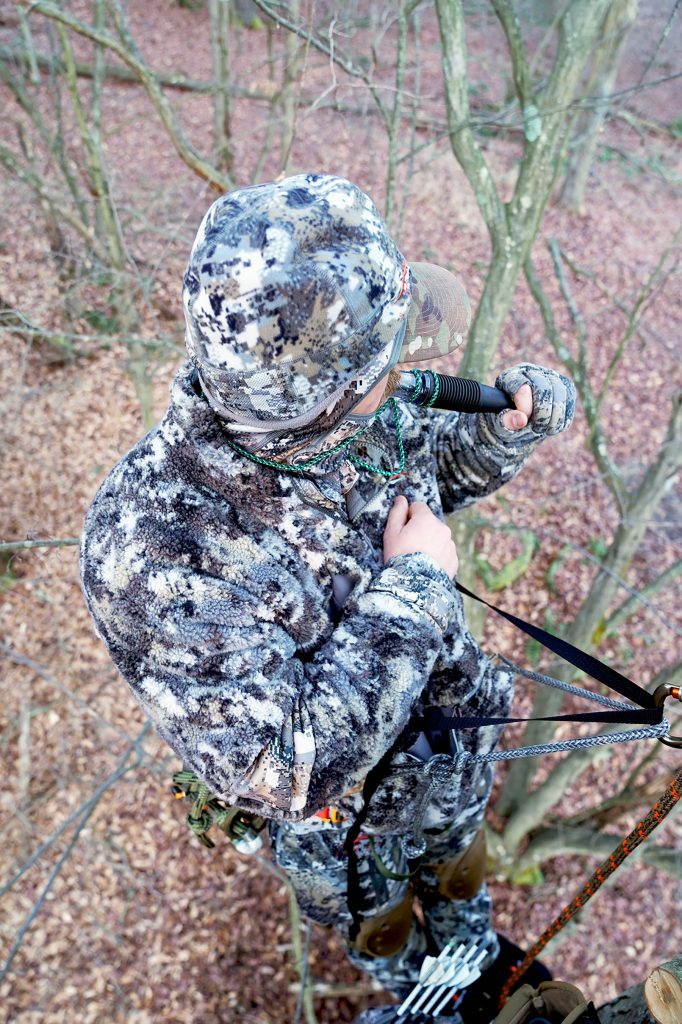 Long sits require an outer layer system that retains body heat, blocks the wind, and offers a measure of water resistance, if not completely waterproof.
A windproof jacket combined with outer-shell pants or bib overalls is ideal. Even an ultra-lightweight windproof jacket over your other layers will keep you warmer than a heavier jacket that doesn't cut the wind.
Sitka Gear's windproof layers contain GORE-TEX Infinium technology with Windstopper. These windproof layers will keep you 2 1/2 times warmer than traditional fleece in 30 mph winds and will also do a great job at keeping you dry in the snow and rain. The Stratus jacket and bibs are the most versatile windproof pieces with a medium amount of insulation, while the Fanatic system is heavily insulated for the coldest temperatures.
Insulation Accessories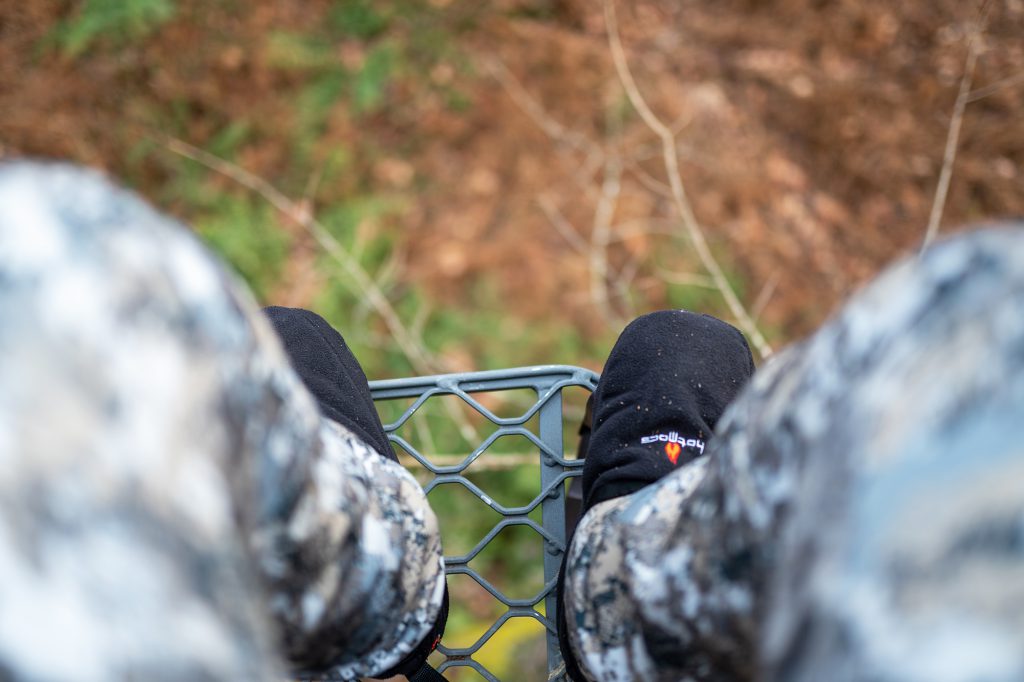 A windproof beanie and an insulating hand muff will help retain heat and keep your digits from going numb. The thickness of the beanie will not impact its windproof abilities but can add insulation. The Sitka Gear Stratus beanie is a lightweight windproof option, while the Fanatic beanie will keep you warm well into the single digits.
Heavily insulated boots are less critical. If your feet sweat on a long walk because the boots are so well insulated, they'll quickly become blocks of ice after you settle into the stand, regardless of insulation.
For long hikes in, a less insulated leather or synthetic boot generally works better than the rubber knee boots so many hunters swear by. They breathe much better, which means less sweat build-up.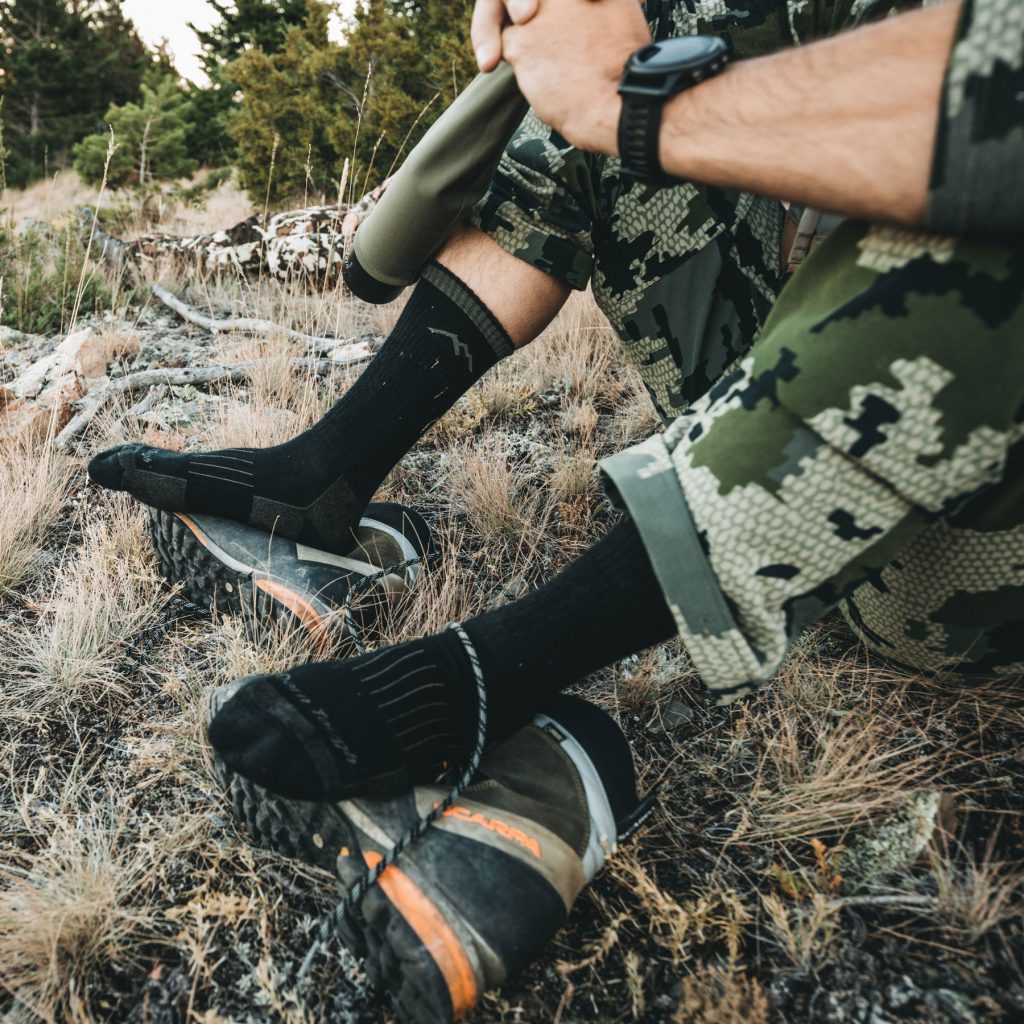 You can get the same breathability in the Crispi Wild Rock GTX boots with some additional insulation, as well. Pair the boots with a Darn Tough Hunter Boot midweight merino wool sock, which will regulate the temperature of your feet due to the material's natural properties.
You can keep your feet warm in lightly insulated boots during a sit by putting on some insulated boot covers to top it off.
Full Kit Breakdown:
Synthetic or Merino Base Layer Top and Bottom
Active Insulating Layer
Soft Shell Pants
Windstopper Outer Layers
Insulation Accessories

Merino Wool Socks
Lightweight Synthetic or Leather Boots
Gloves
Windstopper Beanie
Related: Where Have All The Side-by-Side Shotguns Gone?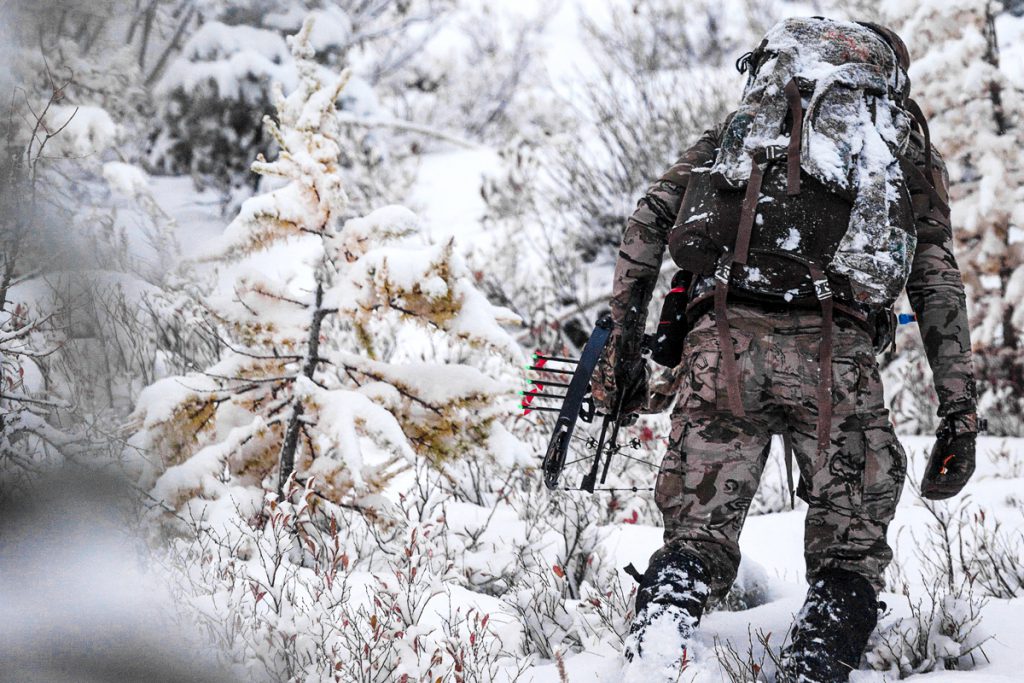 Knowing When to Layer and Unlayer
You might have all of your clothing components figured out and on your body, but that doesn't necessarily mean that you'll stay warm. The most critical part of any clothing system is understanding the demands of a hunt and layering accordingly.
I hunt the big woods — mountainous regions of the Appalachian Mountains where I may hike three miles to my stand. When doing so, I only wear my base layer, an active insulation top, and softshell pants with my additional layers stowed in my pack. I would rather be cold at the beginning of the walk than be overheated when I get to my stand.
Once I arrive at my tree, I pull on additional layers to capture the body heat I produced during the hike.
It is critical that you understand the concepts of building a performance layering system to stay warm because it will allow you to stay in the whitetail woods longer and increase your chances of success. If you're taking a hunter's ed test, the most important item of clothing is blaze orange. If you're trying to bowhunt all day during the rut, the most important item of clothing is the layering system that will keep you in the tree.
Read Next: Airgun Cleaning 101 – How To Remove Rust