A bull elk in Pine, Colorado, found himself in a tight spot when he somehow got his head stuck in a car tire, leading wildlife officers on a two-year chase that ended with an unusual elk rescue.
Colorado Parks and Wildlife officers first observed the unfortunate 5×5 bull in July 2019 when wildlife officer Jared Lamb glimpsed him through a spotting scope during a population survey of Rocky Mountain bighorn sheep and mountain goats in the Mount Evans Wilderness, a national elk refuge.
No one knows exactly how long the big bull was tangled in the tire or how long he had been stuck that way. The unlucky bull proved elusive, evading fish and wildlife officers for more than two years.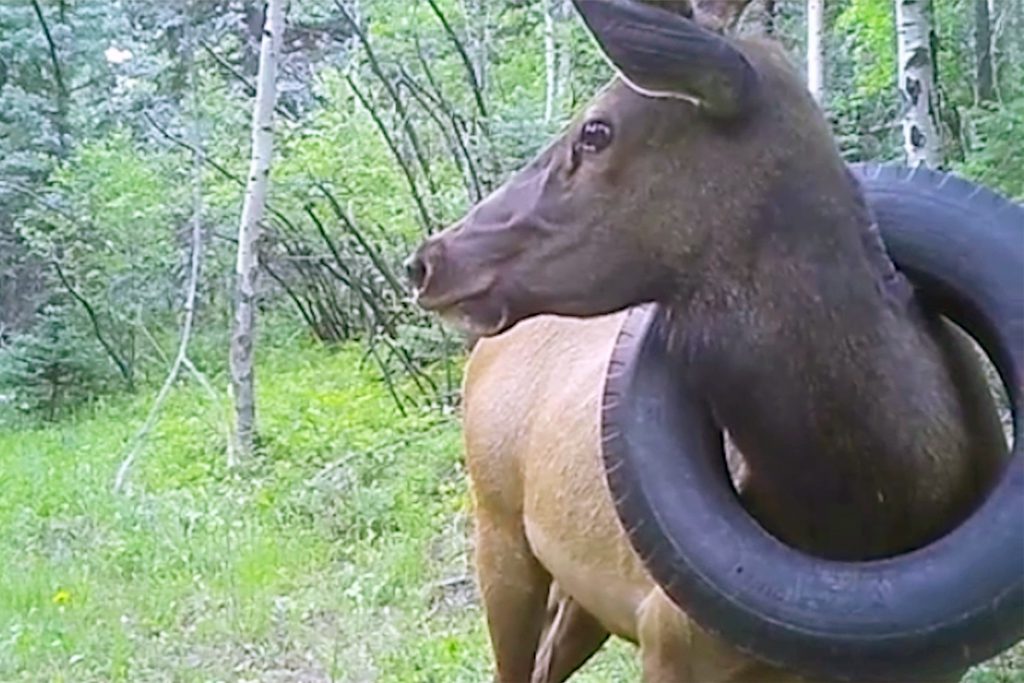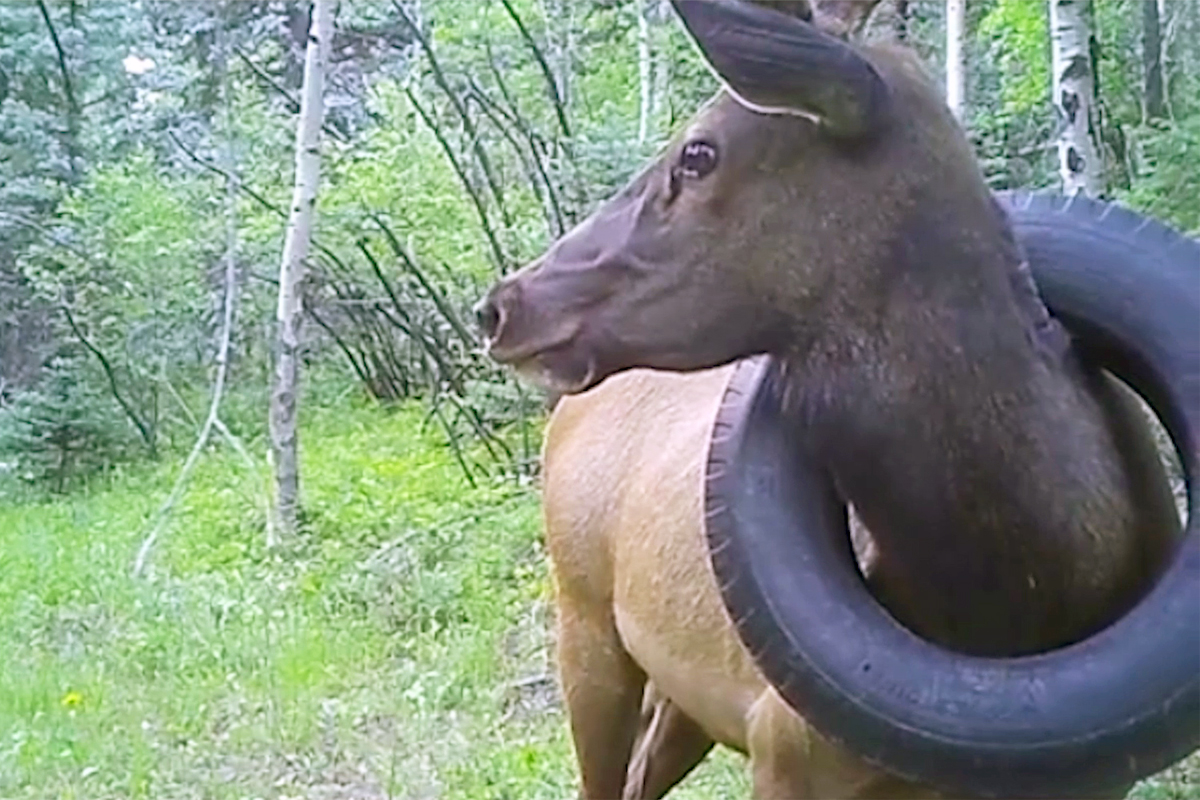 Related: How To Speak Elk, Lesson 2: Understanding Every Funky Sound
"Being up in the wilderness, we didn't really expect to be able to get our hands on the elk just because of the proximity or the distance away from civilization," said officer Scott Murdoch in a news release. "It is harder to get the farther they are back in there, and usually, the farther these elk are away from people, the wilder they act. That certainly played true the last couple of years; this elk was difficult to find and harder to get close to."
Since the initial sighting, the animal was spotted only a handful of times. A trail camera near Conifer snapped two pictures of him in the early summer of 2020, and a separate trail camera captured his image in August the same year.
After he was observed several times in mid-October 2021 in a neighborhood south of Pine Junction, the bull ended up in the sights of officer Dawson Swanson's tranquilizer gun on Saturday, Oct. 9.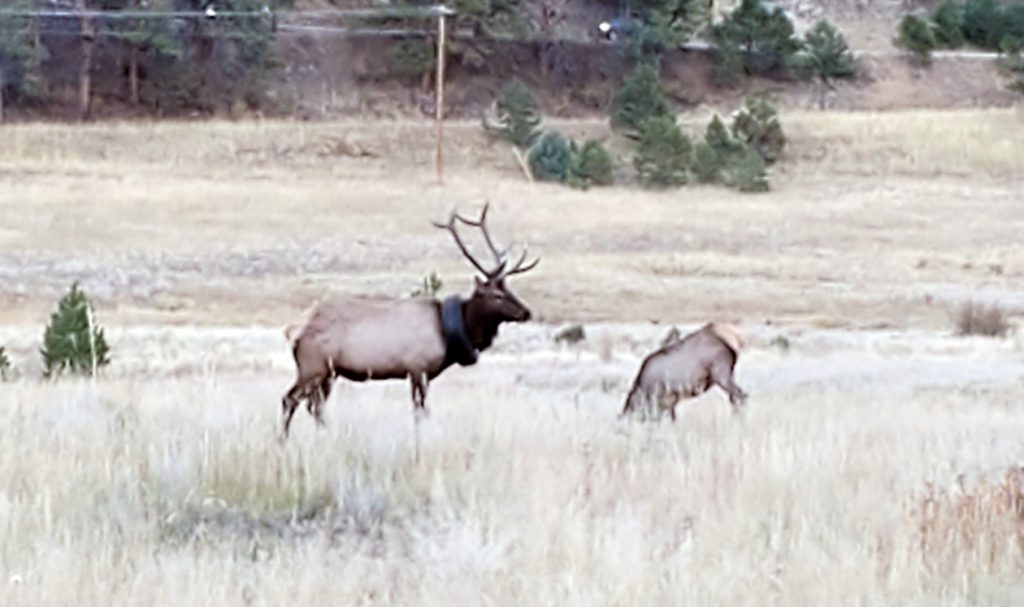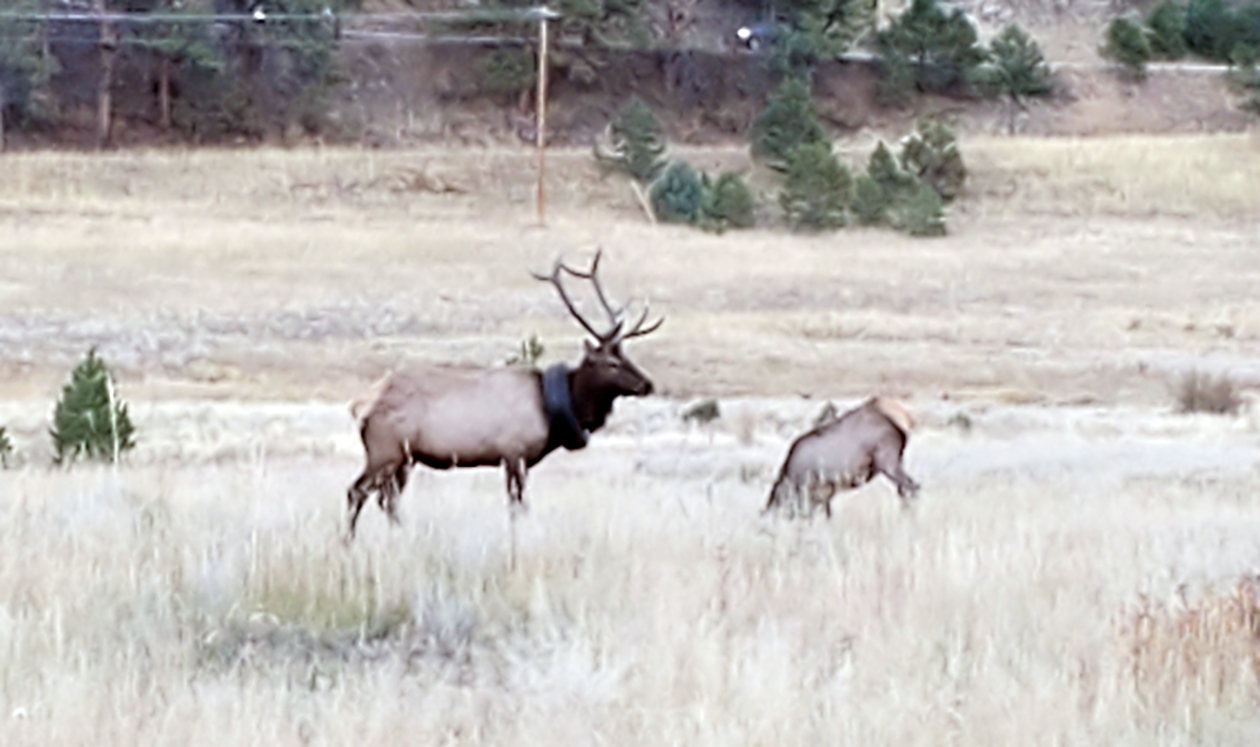 Related: Photo Essay: Elk Hunting Sucks, or The Life of an OTC Archery Hunter
With the onset of the rut, the bull focused his attention on chasing cows and became slightly less wary of human contact.
"The rut definitely made him more visible. There was a bigger bull in the group he was with on Saturday, but he is getting to be a decent size bull," explained Murdoch.
Although the bull had made several appearances in recent weeks, getting within tranquilizer range proved tricky.
"Tranquilizer equipment is a relatively short-range tool, and given the number of other elk moving together along with other environmental factors, you really need to have things go in your favor to have a shot or opportunity pan out," Swanson said. "I was able to get within range a few times that evening. However, other elk or branches blocked any opportunities. It was not until shortly before dark that everything came together, and I was able to hit the bull with the dart."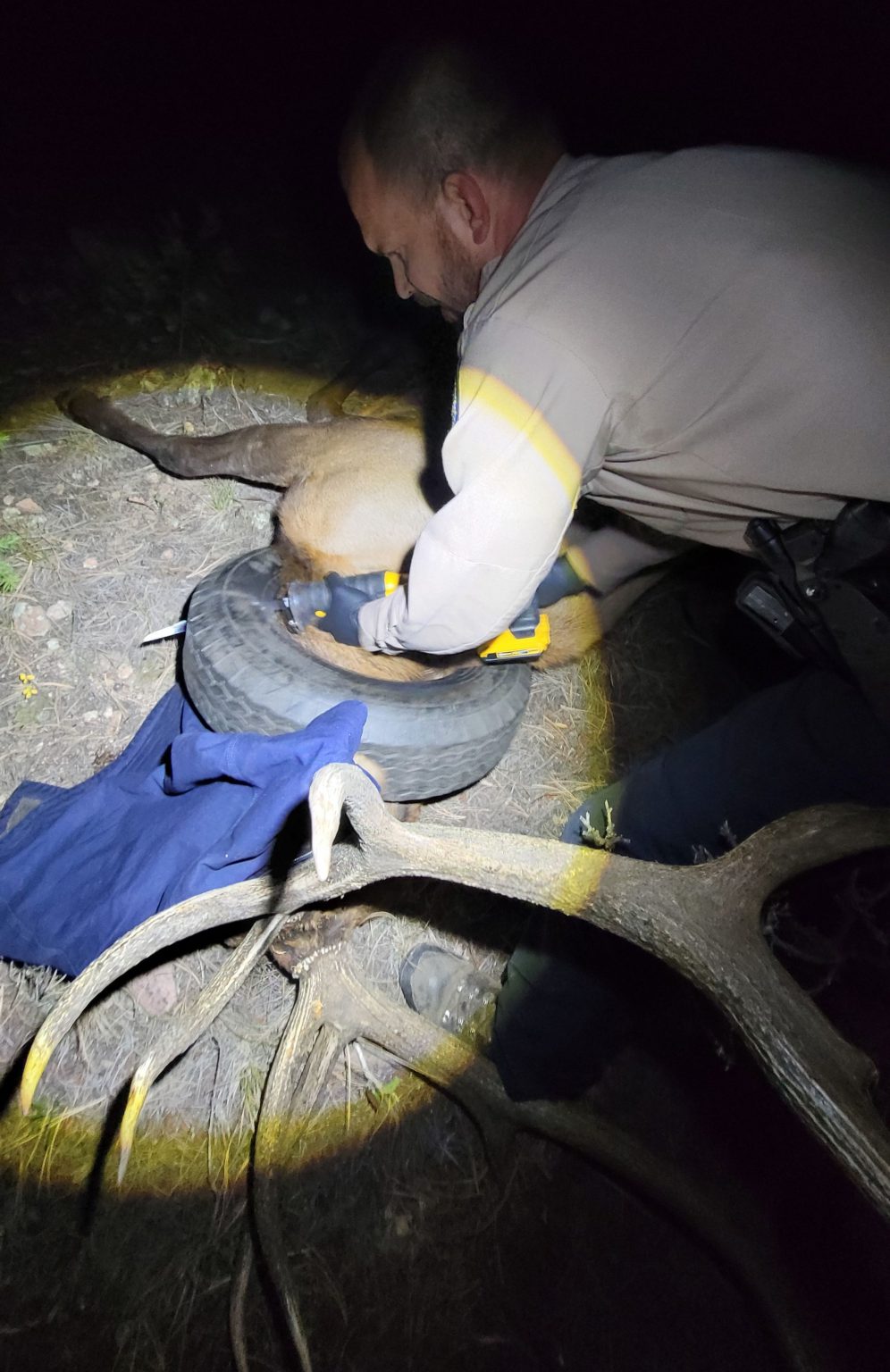 Related: 455-Inch Bull Set to Crush the Pennsylvania State Elk Record
"Due to a number of factors, including the bull's physical condition related to the rut, the tranquilizer effectiveness was minimized."
Once the elk rescue was underway, wildlife officers determined the bull was 4 1/2 years old and weighed over 600 pounds. Unfortunately, the animal's rack had to be cut off before the tire could be removed. With the help of several local good Samaritans, Swanson and Murdoch got the tire off and had the bull back on his feet within a matter of minutes.
The elk woke from his tranquilizer-induced nap 35 pounds lighter and missing both of its majestic five-point beams.
"We would have preferred to cut the tire and leave the antlers for his rutting activity, but the situation was dynamic, and we had to just get the tire off in any way possible," explained Murdoch.
They found the bull had been toting more weight on its neck than just the tire.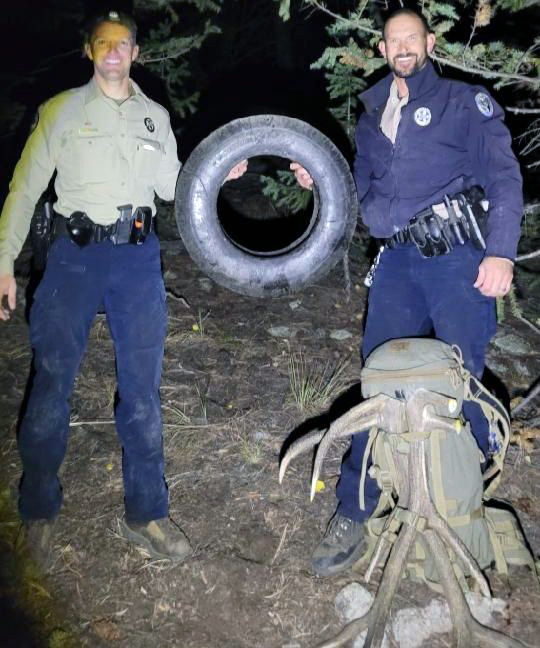 Related: Tule Elk Hemmed in by High Fence Are Languishing in California Drought
"The tire was full of wet pine needles and dirt," Murdoch said. "So the pine needles, dirt, and other debris basically filled the entire bottom half of the tire. There was probably 10 pounds of debris in the tire."
Despite being stuck inside a steel-belted radial for more than two years, the bull's neck suffered only minimal damage.
"The hair was rubbed off a little bit; there was one small open wound maybe the size of a nickel or quarter, but other than that, it looked really good," Murdoch said of the bull's neck. "I was actually quite shocked to see how good it looked."
Exactly how the elk acquired his rubber choker is a mystery. Fish and wildlife officers speculate the bull either shoved his head through in his youth or after he shed his antlers in late winter. The tire probably slid down the elk's neck, became stuck, and then was locked into place as his antlers branched and broadened in the spring.
There is no word yet on how the bull's missing antlers and lack of rubber bling will play out with the ladies this breeding season.
Read Next: World Record Bulls: The Top 5 Typical Archery Elk