Before I even touched the trigger, I knew exactly what I was going to do with the hog in my crosshairs. In my mind, I was already in my kitchen back home, whipping up a batch of pork tamales. I've made tamales a handful of times using venison, but these were the first pigs I'd hunted, and as I butchered and learned about their meat, I knew their shanks would make a kick-ass tamale filling.
While I'm by no means the first person to put wild game and tamales in the same sentence, tamales made with feral hog meat from Texas seemed like the perfect combination to bring the whole idea together.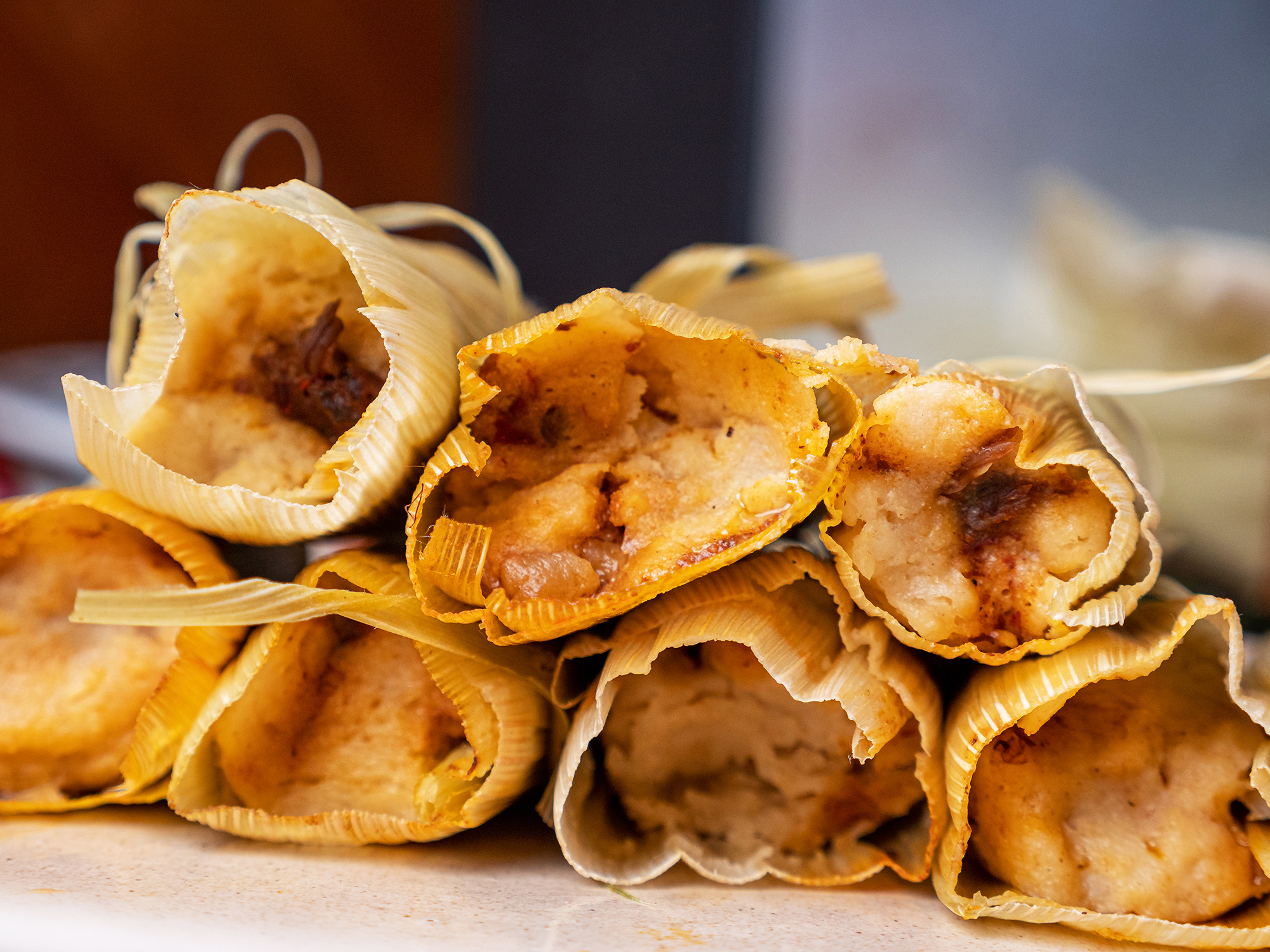 An authentic Mexican tamale is sort of like a dumpling made of masa harina (corn flour) and steamed in a corn husk. The masa harina is mixed with whipped fat (usually lard) and a liquid such as stock, water, or even milk until it forms a dough. The dough is usually stuffed with shredded meat that's been cooked in chilis, but a variety of fillings such as beans, cheese, and other ingredients can also be used.
The whole thing is wrapped and tied into a tidy corn husk bundle and then steamed until the dough is cooked through. It's a similar idea to Chinese lotus leaf-wrapped sticky rice (zongzi) or how some cultures steam food in banana leaves. 
Pork tamales are easy to make and are great to eat any time of day. They are an awesome breakfast, on-the-go lunch, or the perfect late-night munchie.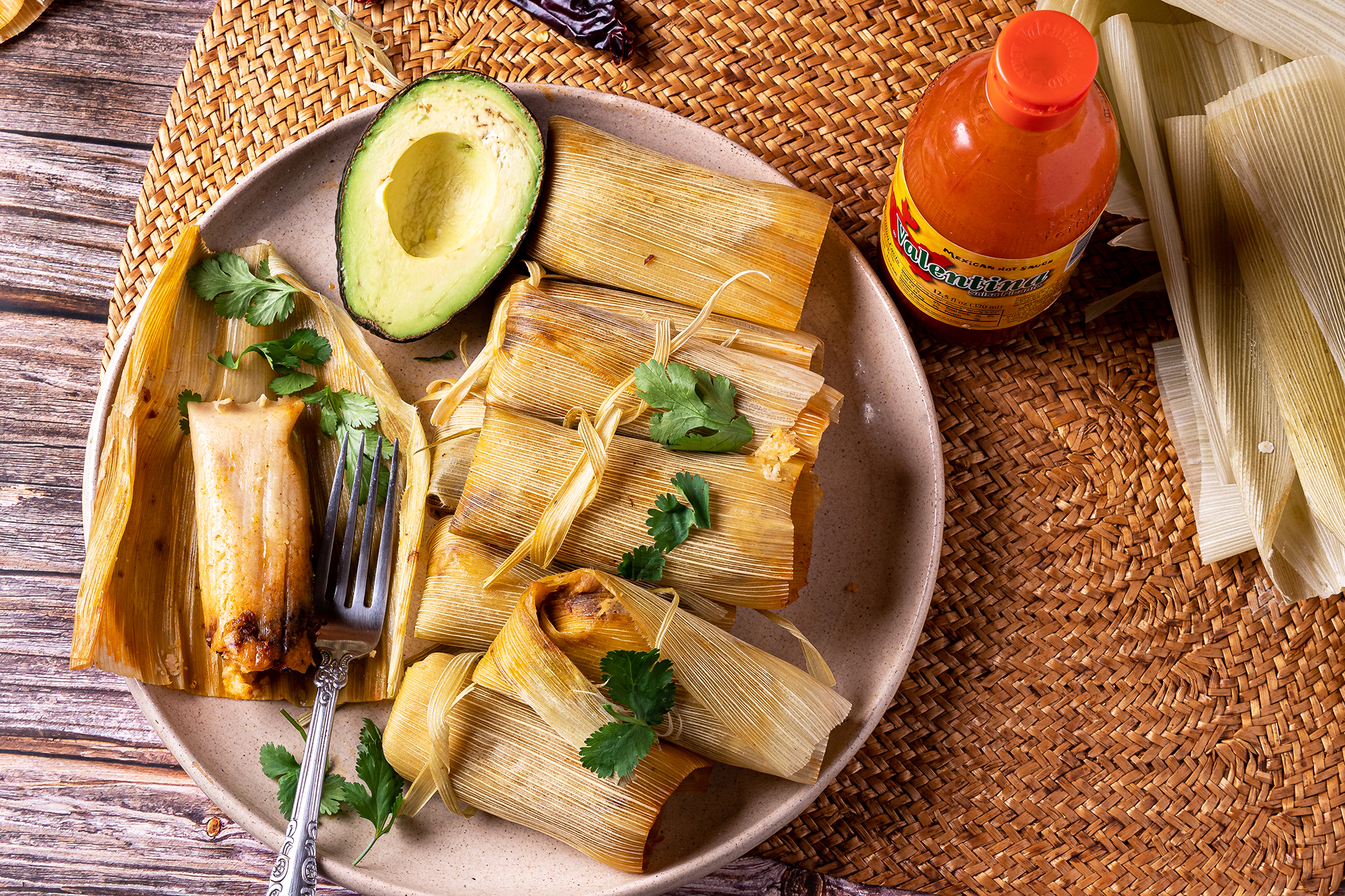 Traditional tamale fillings are made with pork, beef, or chicken, but wild game meat can be used in pretty much any recipe. Slow-cooked shanks and leg and neck roasts, in particular, make amazing fillings. 
Tamales can be eaten plain or with a variety of sauces and toppings. I usually eat mine with a little hot sauce, fresh salsa, or with some of the sauce from the tamale filling spooned over the top. I have friends who insist that a tamale must be toasted in a hot pan before serving, but I'm rarely patient enough to wait any longer than it takes for the damn things to steam.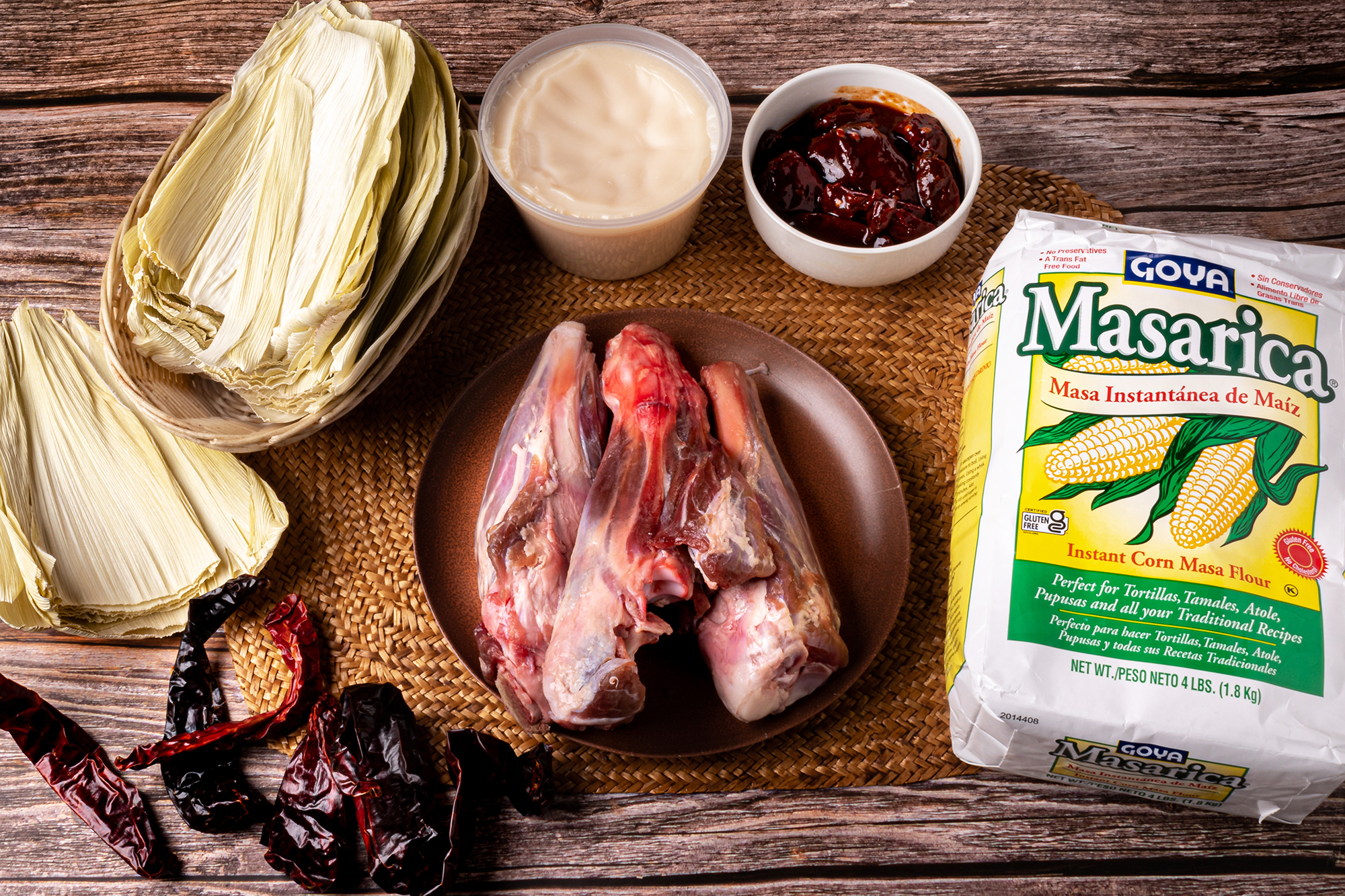 If you love them as much as I do, here's a simple tamale recipe you can make yourself. Hopefully, I don't offend anybody's abuela with my gringo adaptation, but I'll supply the wild game if they ever want to show me how it's really done. 
Until then, this recipe more than holds its own. It calls for feral hog, but pretty much any wild game or farmed meat can be substituted. I used bacon fat for this particular batch of dough, but lard or butter are also great options.
RELATED – How to Make Country-Fried Deer Heart
---
Ingredients for Feral Hog Shank Pork Tamales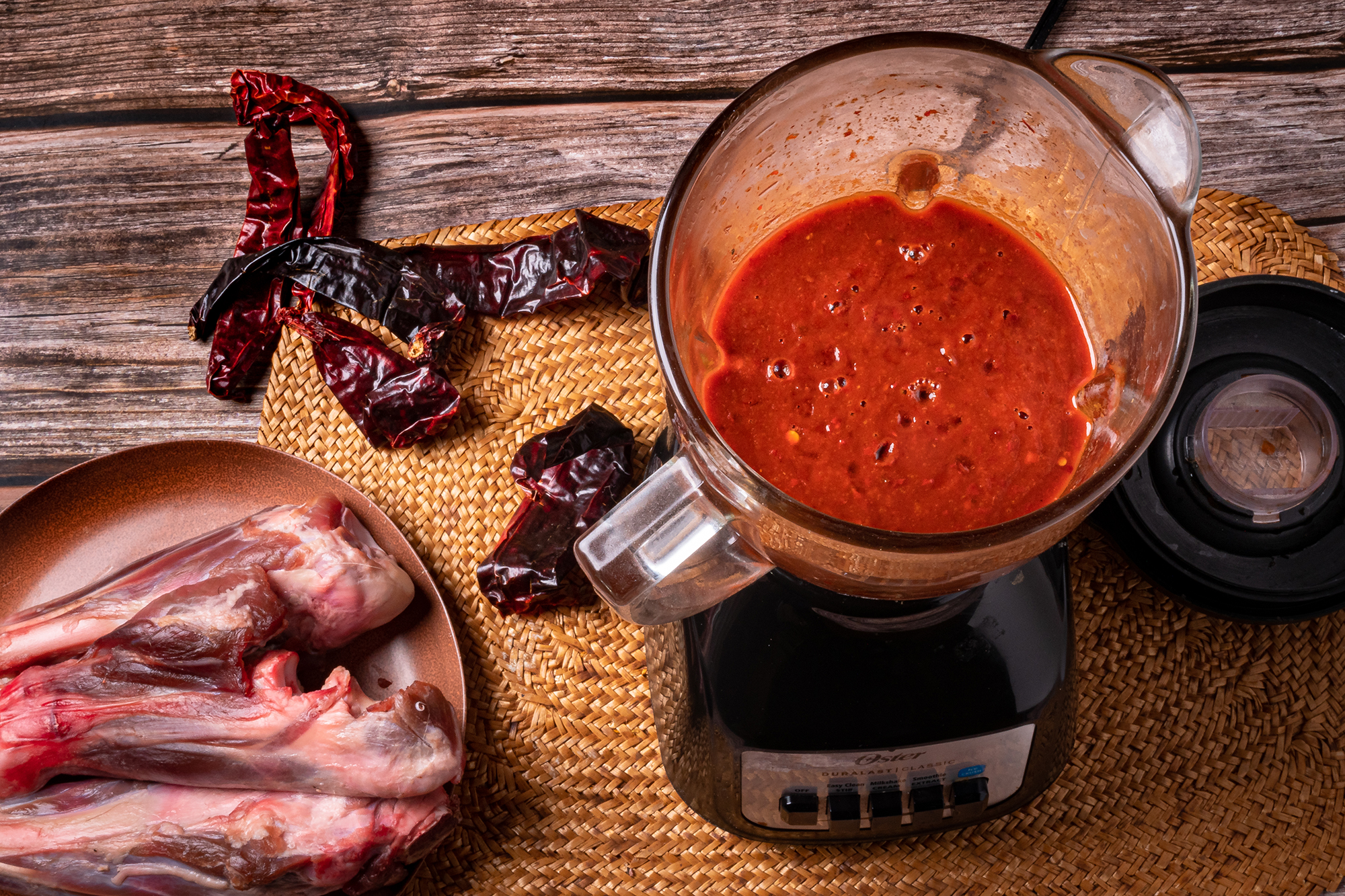 15 Corn husks
2-4 guajillo chiles, dried
1 cup water
7-ounce can chipotle peppers in adobo sauce
2 teaspoons salt, divided
1 teaspoon cumin
1/2 teaspoon cinnamon, ground
2-4 wild pig or venison shanks
1 cup lard, bacon fat, or butter
2 1/2 cups masa harina
1 teaspoon baking powder
3 cups chicken or game stock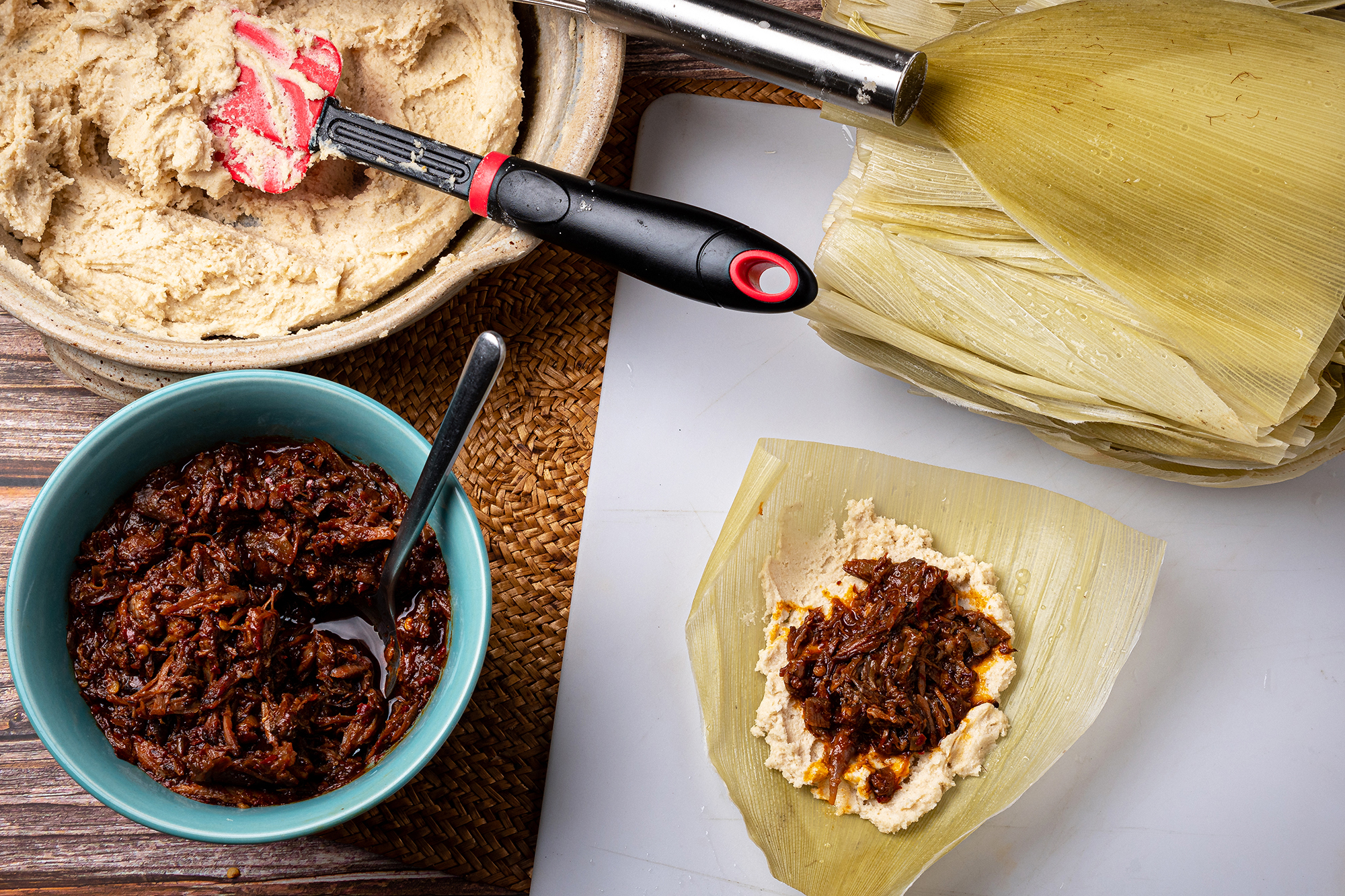 RELATED – The People's History of Barbecue
---
Directions
Place a stack of corn husks in a large bowl or large pot and cover completely with warm water. Soak for a few hours, until they are malleable.
Place the dried guajillo chiles in a separate bowl and cover with water for a few hours, until they rehydrate and soften.
Transfer the chiles to a blender with a splash of the soaking water, then add an entire 7-ounce can of chipotle peppers in adobo sauce. Blend until smooth.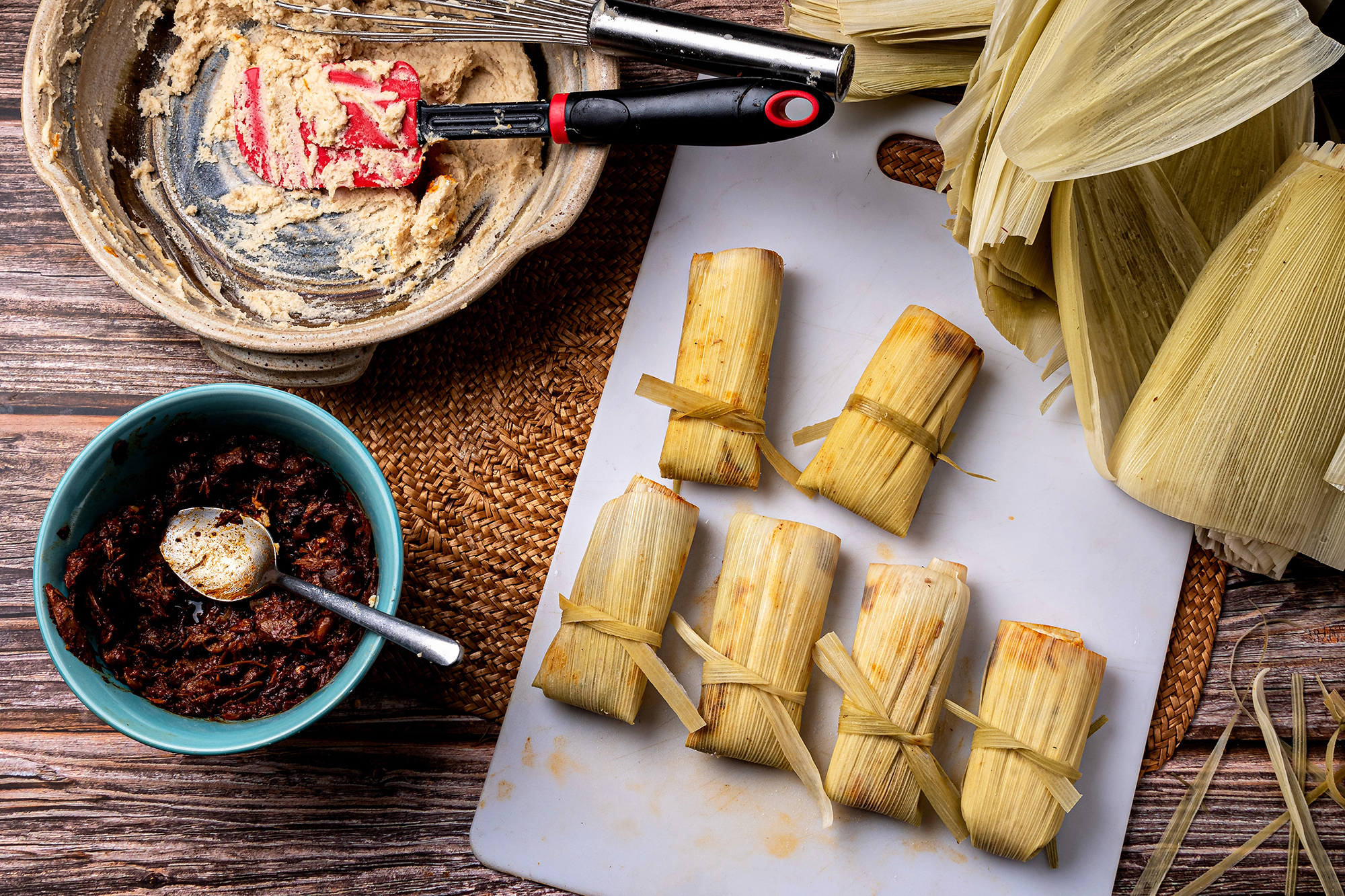 Place the hog shanks in a crock pot and cover them with the blended chile mix. Add a pinch of salt, cumin, and cinnamon. Cover and cook on high for 4 to 6 hours.
Pull the meat off the bones, and discard any remaining tendons and cartilage. Mix the shredded pork back into the sauce.
Whip the bacon fat, lard, or butter in a stand mixer with a whisk attachment until fluffy. Alternatively, you can whisk the fat by hand in a mixing bowl.
Mix about 1/2 teaspoon of salt and a teaspoon of baking powder into the masa harina. Slowly and incrementally mix the masa harina and stock into the whipped fat until a slightly sticky dough forms.
Lay a soaked corn husk flat on the table with the inside facing up, and spread about a tablespoon worth of dough down evenly on the wide end of the husk.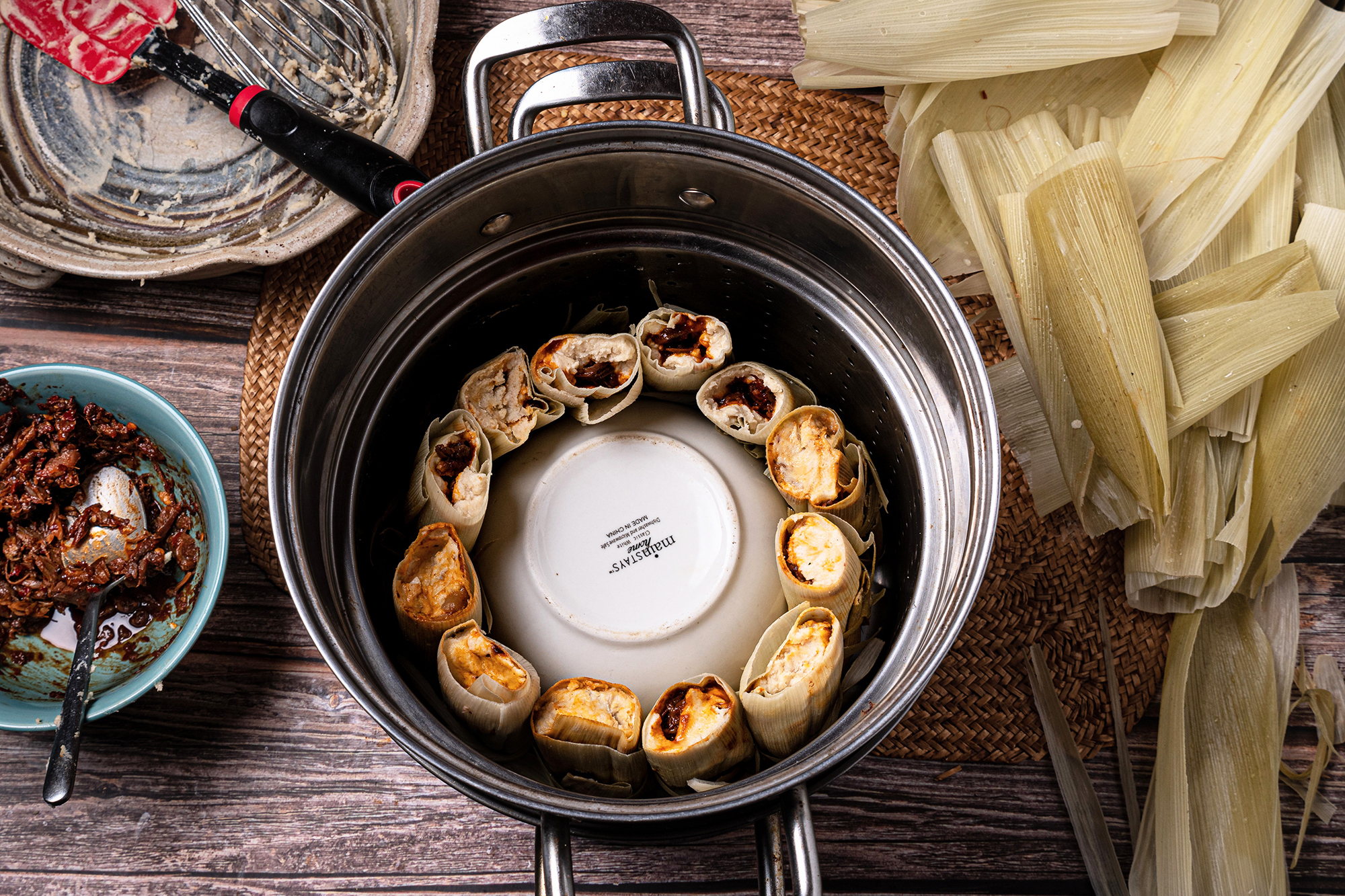 Place a dollop of the pork filling in the center of the dough, then wrap the edges of the husk inward and fold the bottom flap up. Wrap the tamale into a tight, open-topped bundle and tie it around the center with strips of corn husk. Repeat until all the dough and filling are used up.
Place the tamales in a steamer basket and steam for roughly an hour until the dough has cooked through.
Toast the tamales (in the husk) in a pan, if you desire. Serve with hot sauce or your favorite accompaniments.
Yields roughly 12 tamales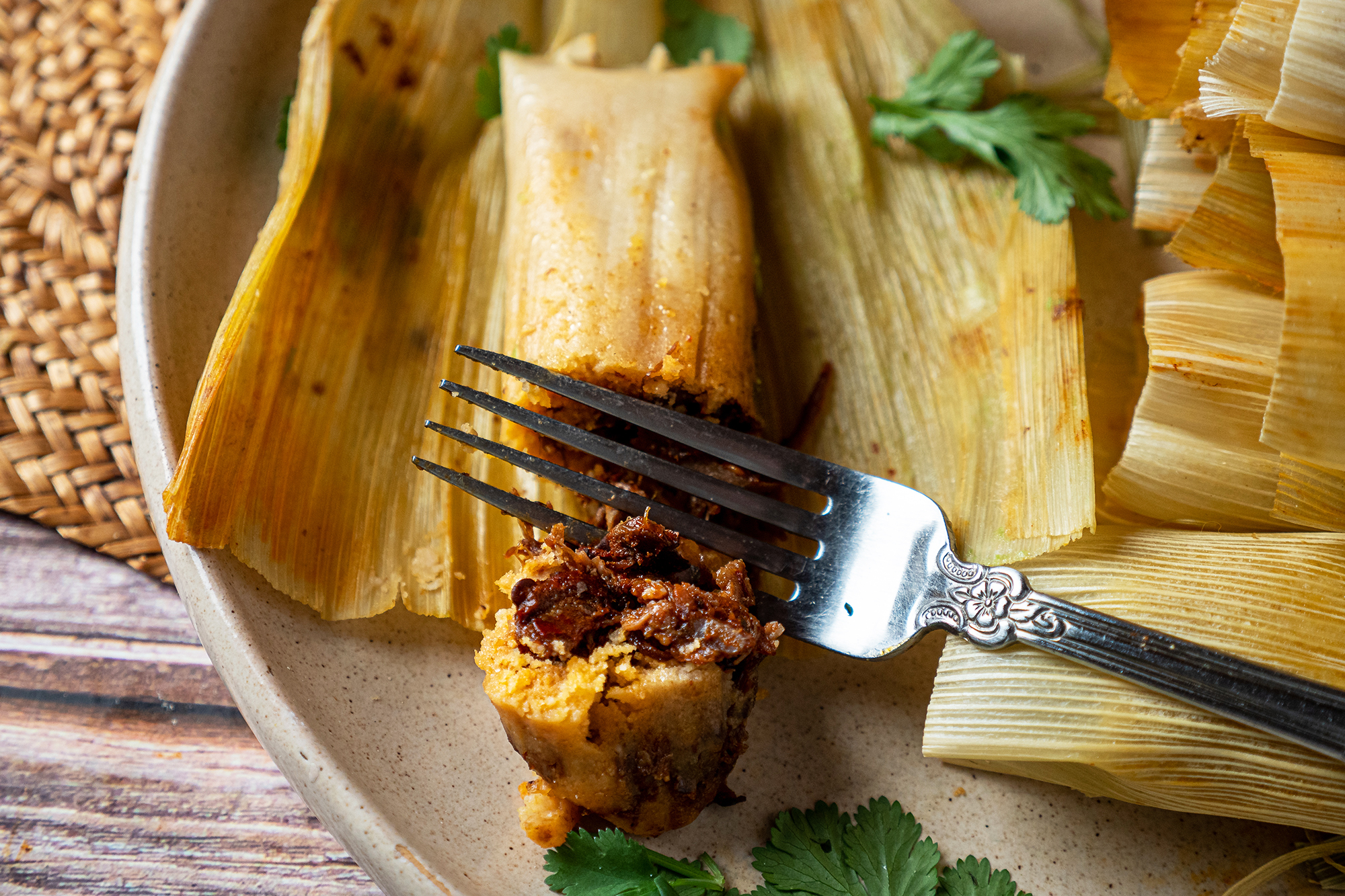 ---
READ NEXT – Recipe for Rabbit: Spice up Wild Game Meat Tandoori Style