Among the many, many Star Wars films, TV series, limited series, animated shows, and games that have been introduced since Disney took ownership of the franchise and all its associated media, The Mandalorian has stood out as one of the best, and one of the most beloved among even the most hardcore Wars fans. It feels more like the oldest film entries in the series than anything that has come since, and that goes for the guns of The Mandalorian, too.
This space Western with some fantasy quest elements thrown in has everything: borrowed themes and tropes from classic films, tons of easter eggs and major callbacks to the original trilogy for established fans to gorge themselves upon, resurrected characters youngified with CG that borders on creepy but still induces crippling waves of nostalgia, a badass main character who gets all the great lines and almost never shows his face so anyone can pretend to be him, and — of course —the most adorable little green-skinned, giant-eared, force-wielding, alien-frog-eating creature ever that Mando carts around everywhere like he's Clint Eastwood in Every Which Way But Loose.
And, like the original Star Wars trilogy before it, the various guns from The Mandalorian, which we shall refer to as blasters from here on out, are largely based on real firearms, which gives them a bit more character than a prop thought up from scratch by a designer.
When George Lucas was creating the original Star Wars (now known as Star Wars Episode IV: A New Hope), he shot most of it on sets in England to save money. Also, to save money, instead of creating props and weapons from imagination alone, he and the people who would eventually inhabit the earliest iteration of Industrial Light and Magic took existing objects and guns and turned them into space stuff.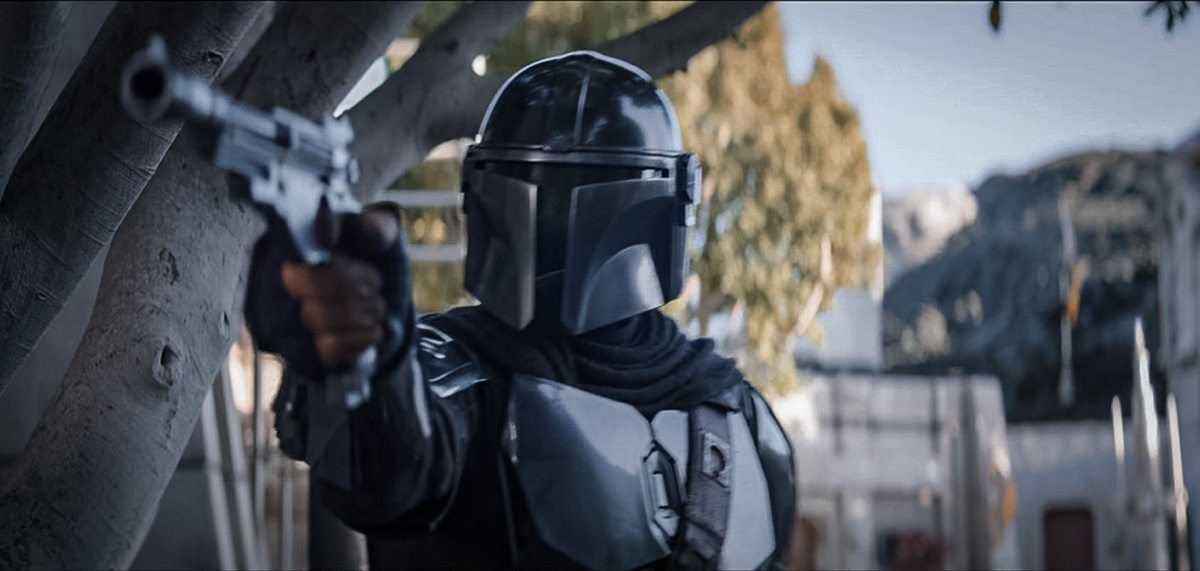 The original lightsaber hilts were made from various things, mostly camera parts — Luke Skywalker's first lightsaber, inherited from Anakin Skywalker, had a hilt made from a camera flash handle. The "blades" were British tank antennas.
In 1970s Europe, there was still a ton of World War II — and older — surplus gear and firearms kicking around for cheap. So Lucas and his prop people got what they could find and afford and proceeded to cut down barrels, hack off stocks, glue parts from one gun or piece of machinery on another, and they almost always added a scope to the top, even if it was facing the wrong way on a pistol.
That's how a Mauser M96 Broomhandle pistol became Han Solo's famous blaster and how Sterling L2A3 submachine guns became the famous E-11 blaster carried by every Imperial Stormtrooper.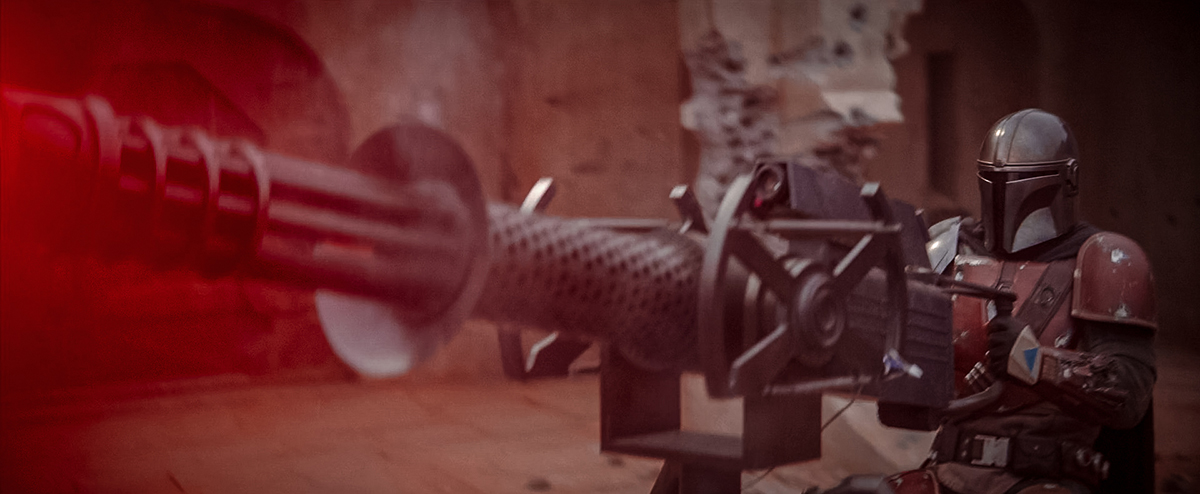 Also, for the first film, the real guns were still functional for most scenes and fired blanks. It made it easier for the actors to act, and the slight recoil made it easier to add the blaster bolts with the right timing post and have it look real.
Since The Mandalorian takes place just after the original trilogy, it had to maintain the same feel as the first three films and to do that, the showrunners made Mando's signature pistol from an actual firearm design — and they did the same with a lot of other weapons in the series. They tried to focus on WWI – WWII era European firearms and flare guns in many cases (especially for weapons intended to be older in the show), with several notable exceptions.
RELATED – Proof Research: Carbon Fiber Barrels for the Average Shooter
---
Din Djarin's Blastech IB-94 Blaster
Real Gun: Bergmann No. 1 / Model 1894
"Weapons are my religion."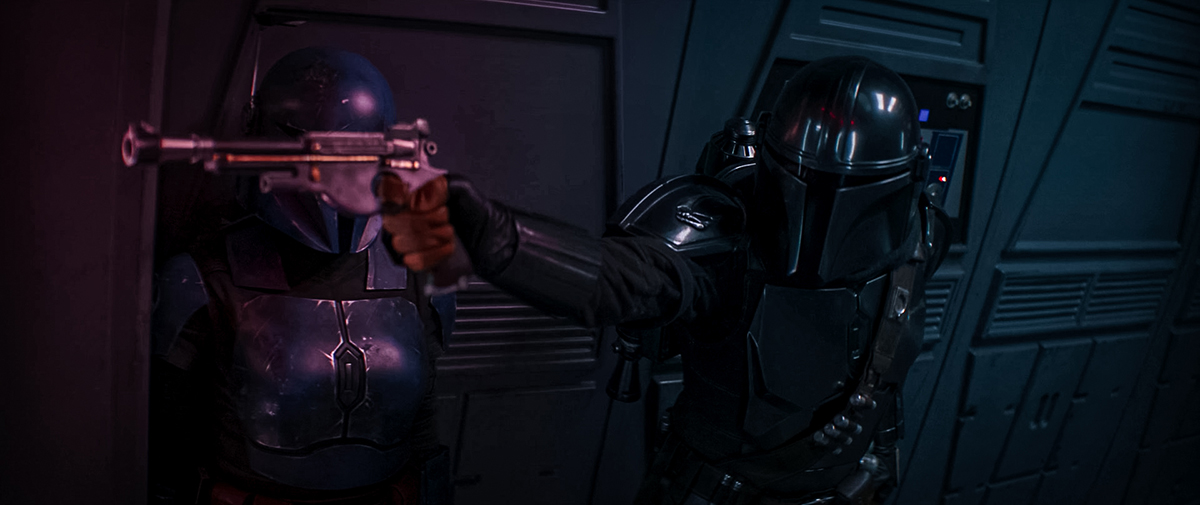 The Mandalorian, aka Din Djarin (Pedro Pascal), carries a blaster that never leaves his side, and he regularly deploys it with Wild Bill alacrity. When all else fails, Mando always leans on his accurate blaster, as long as he doesn't drop it.
Known in-universe as the Blastech IB-94, the blaster has a unique look for the franchise and was built on one of the earliest commercial semi-auto handguns: the Bergmann No. 1 or the M1894.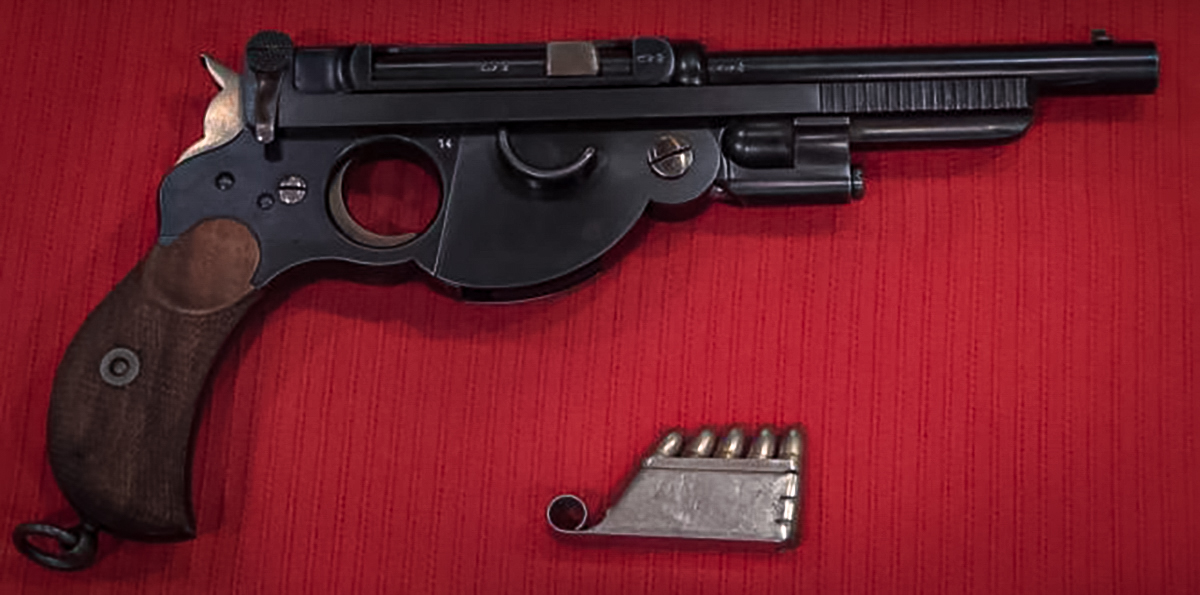 The pistol was introduced to the public as the M1894, which is what the prop gun is based on. It was followed by the Model 1896, which was made in far greater numbers (about 2,000). An improved version was released later as the M1897. It competed with the more famous Mauser M96 Broomhandle pistol for military contracts of the day but always lost.
Not many people alive today have handled them, but word is they were fragile, difficult to load, and underpowered.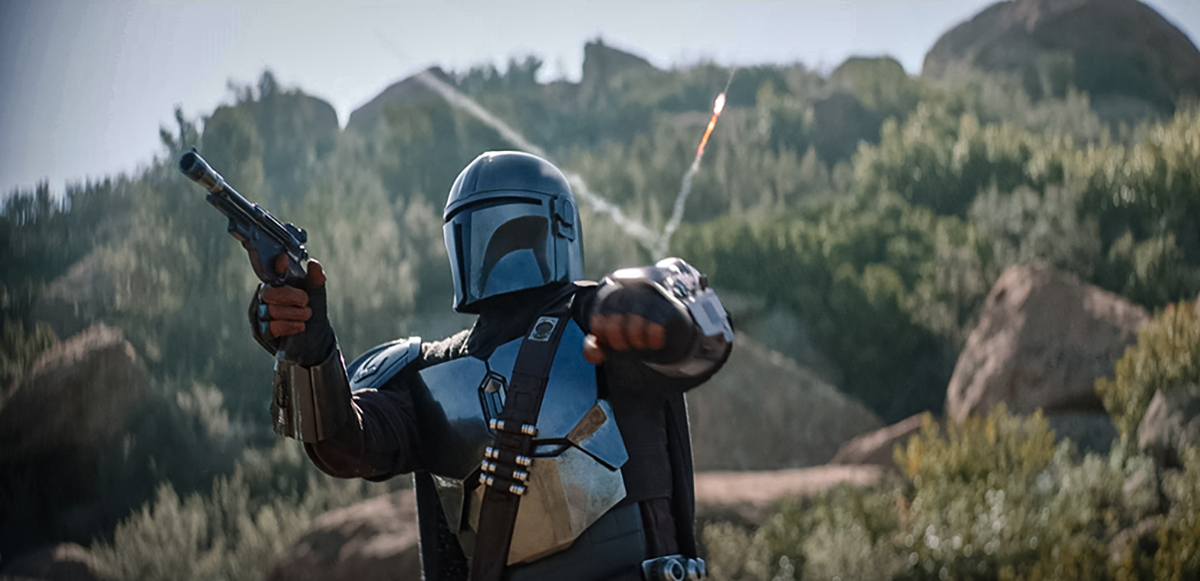 The Bergmann 1894 used a simple direct blowback mechanism and was loaded by swinging down the magazine cover plate on the right side of the gun so a five-round clip could be inserted. A spring-loaded follower finger in the internal magazine would then push the cartridges up toward the chamber.
When the last cartridge was chambered, the now empty clip would fall out of the gun through an opening in the bottom of the magazine — in theory.
Its ergonomics were questionable at best, but they sure make for some interesting and striking lines on camera, which are mostly preserved despite the usual Star Wars embellishments. The blaster is incredibly cool and almost looks like it was designed to be a part of the Star Wars universe from the beginning.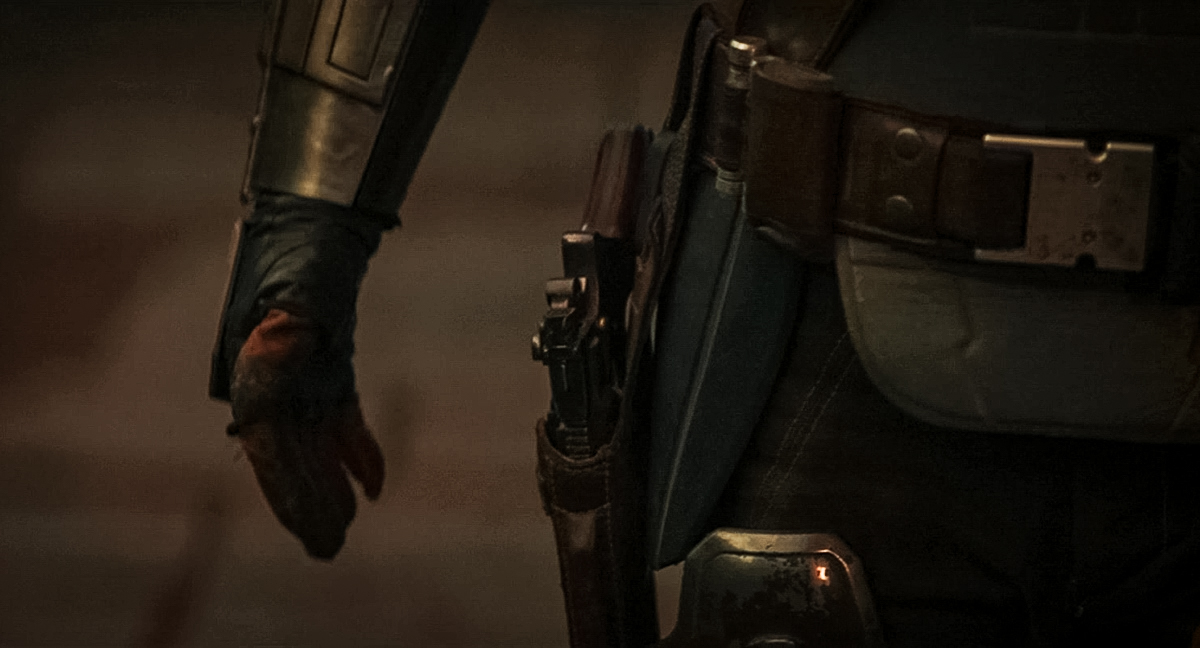 Since real Bergmann 1894 pistols are extremely rare, the show built IB-94 props from the ground up, emulating the Bergmann and adding some space stuff.
It has custom iron sights, a slightly conical muzzle device as so many SW guns do, a modified but similar grip, a rounded Mauser-style hammer instead of a spur hammer, and a smoothed-out magazine cover with the circular handle removed. A drill bit replaces the Bergmann's cleaning rod on the side of the gun for the show.
So far, after several seasons of adventures, Mando hasn't lost his trusty sidearm — at least for long. And if someone ends up face-to-face with him and his hand hovers near his holster, it usually doesn't work out well for the other guy. Yes, again, this is basically a space Western with some fantasy quest elements thrown in.
GOOD GEAR – Explore the Unkown With BRCC's Beyond Black Roast
---
The Mandalorian's Amban Sniper Rifle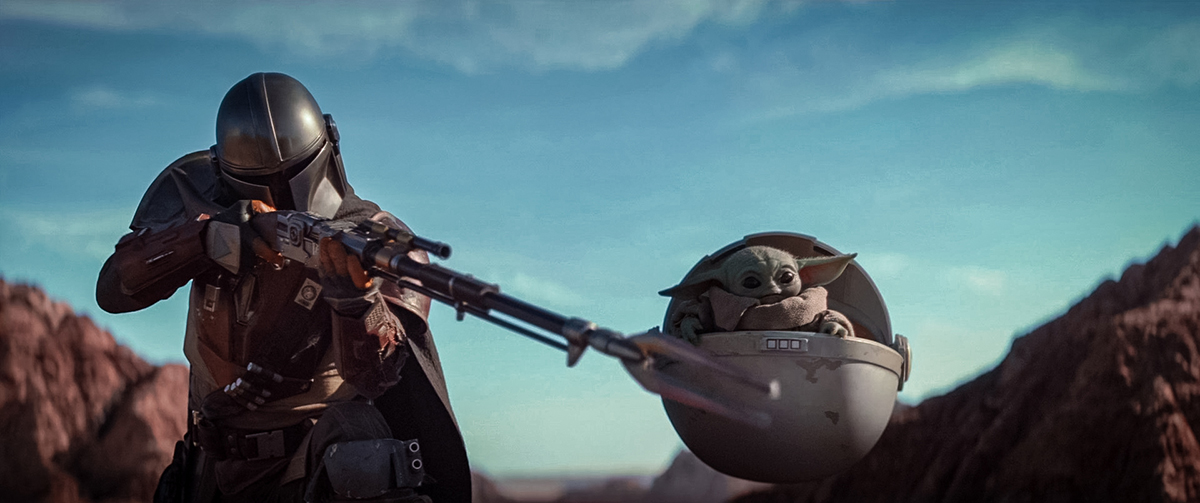 While it hasn't gotten any love in the latest seasons, Mando relied heavily on his extremely powerful and accurate blaster rifle in the first couple of seasons. It's one of the coolest guns to come out of any Star Wars property, and yeah, that includes Han's blaster and Boba Fett's EE-3 blaster. Fight me.
The single-shot rifle is nearly as long as a spear and is made even longer by an extended two-pronged blade-like muzzle device that also acts as a sort of TASER when the rifle is used like a bow staff in hand-to-hand combat.
Each blaster cartridge is loaded from the breech, so it's slow to fire but devastatingly powerful. Mando keeps ammo for it on a band around his leg and a few more on his belt. Any biological target that the rifle hits is completely disintegrated, and it does some serious damage to hardware, too.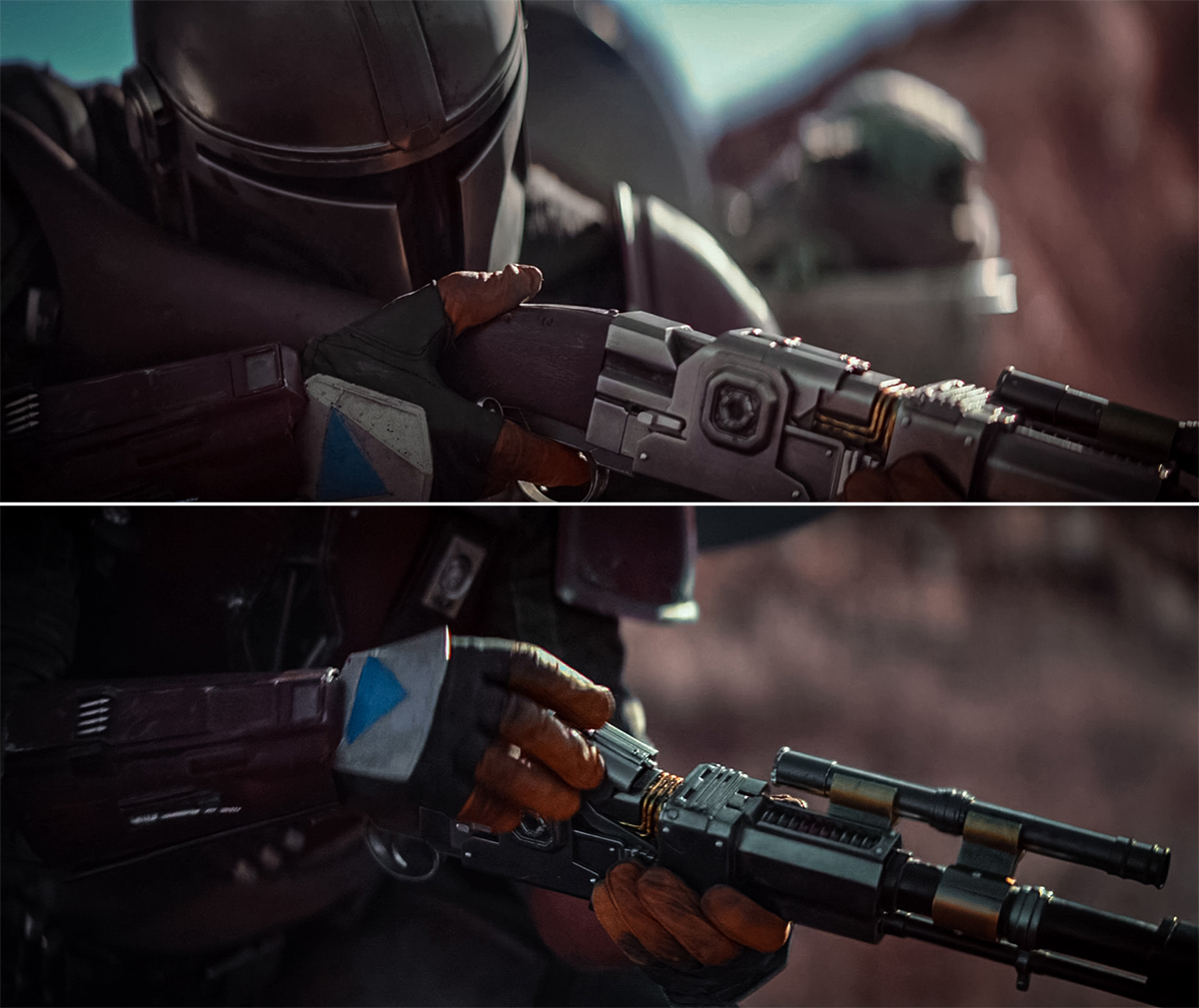 A hero with a breech-loaded, single-shot long-range rifle as a primary weapon definitely stirs up some Quigley Down Under vibes, which is absolutely a good thing.
It's not really based on any single firearm, but it has an old-fashioned wooden buttstock that's shaped like a stock from an old Kentucky long rifle.
RELATED – .45-70 Govt: One of the Few Black Powder Era Survivors
---
Other Guns of The Mandalorian Based on Real Guns
---
Cara Dune's Blaster
Real Gun: Nambu Type 14

Cara Dune (Gina Carano) is no longer part of The Mandalorian cast — because of Twitter reasons — but when she was, she got to use some cool hardware. Her go-to pistol was a small blaster pistol with a backward scope on top, à la Han Solo's blaster.
Underneath, it's a pre-WWII pistol like some of the others, but not from Europe this time.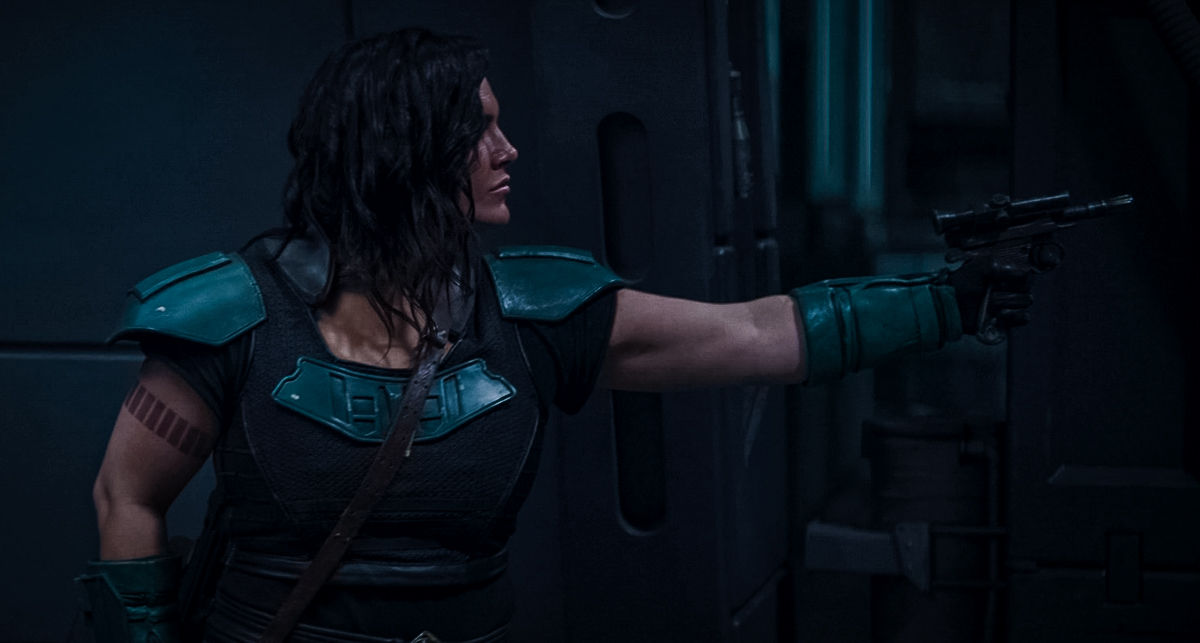 This blaster is based on the Type 14 Nambu pistol out of Japan. It gets its name because it was introduced during the 14th year of the Taishō era: 1926. It was the standard issue sidearm for officers, and it is believed around 400,000 were produced, but nobody knows for sure.
They were in service through WWII, and the ones made before 1937 are considered reliable, but quality took a dive after that.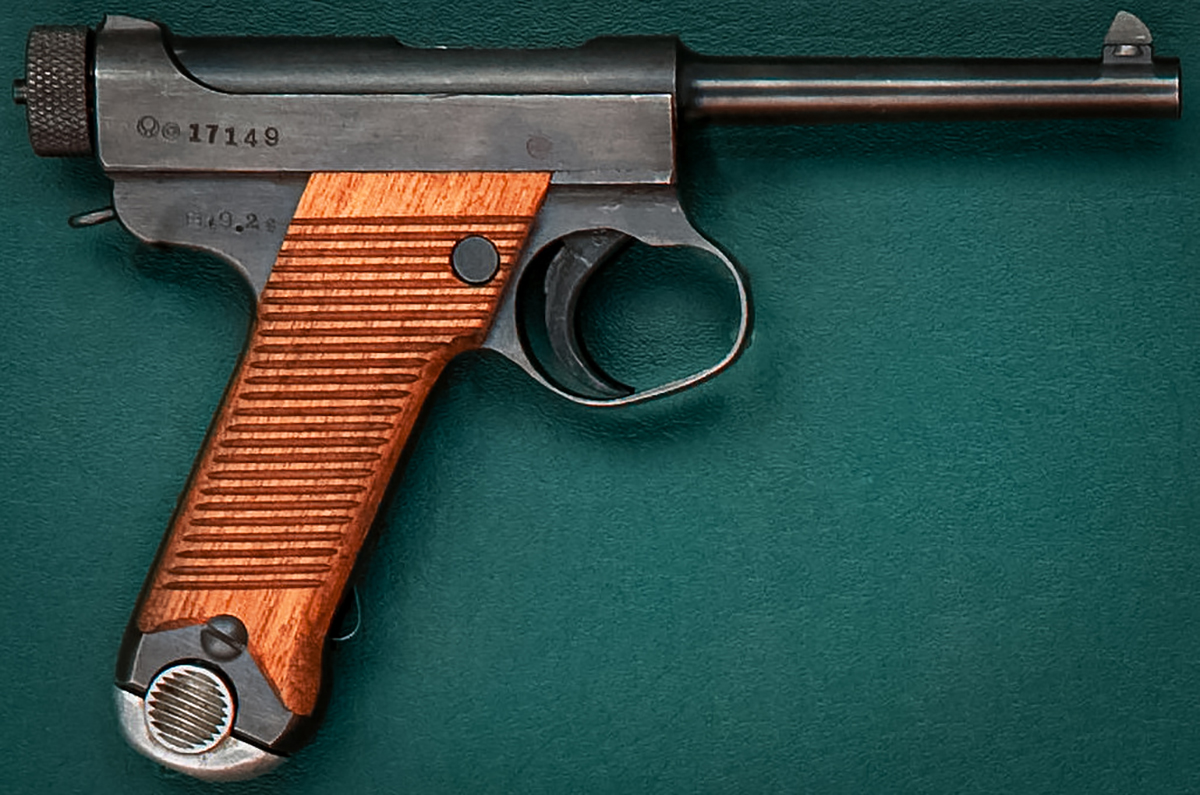 GOOD GEAR – Fuel Your Next PR With BRCC's Fit Fuel Blend
---
Marshal Cobb Vanth's KA74 Blaster Rifle
Real Gun: PP-19-01 Vityaz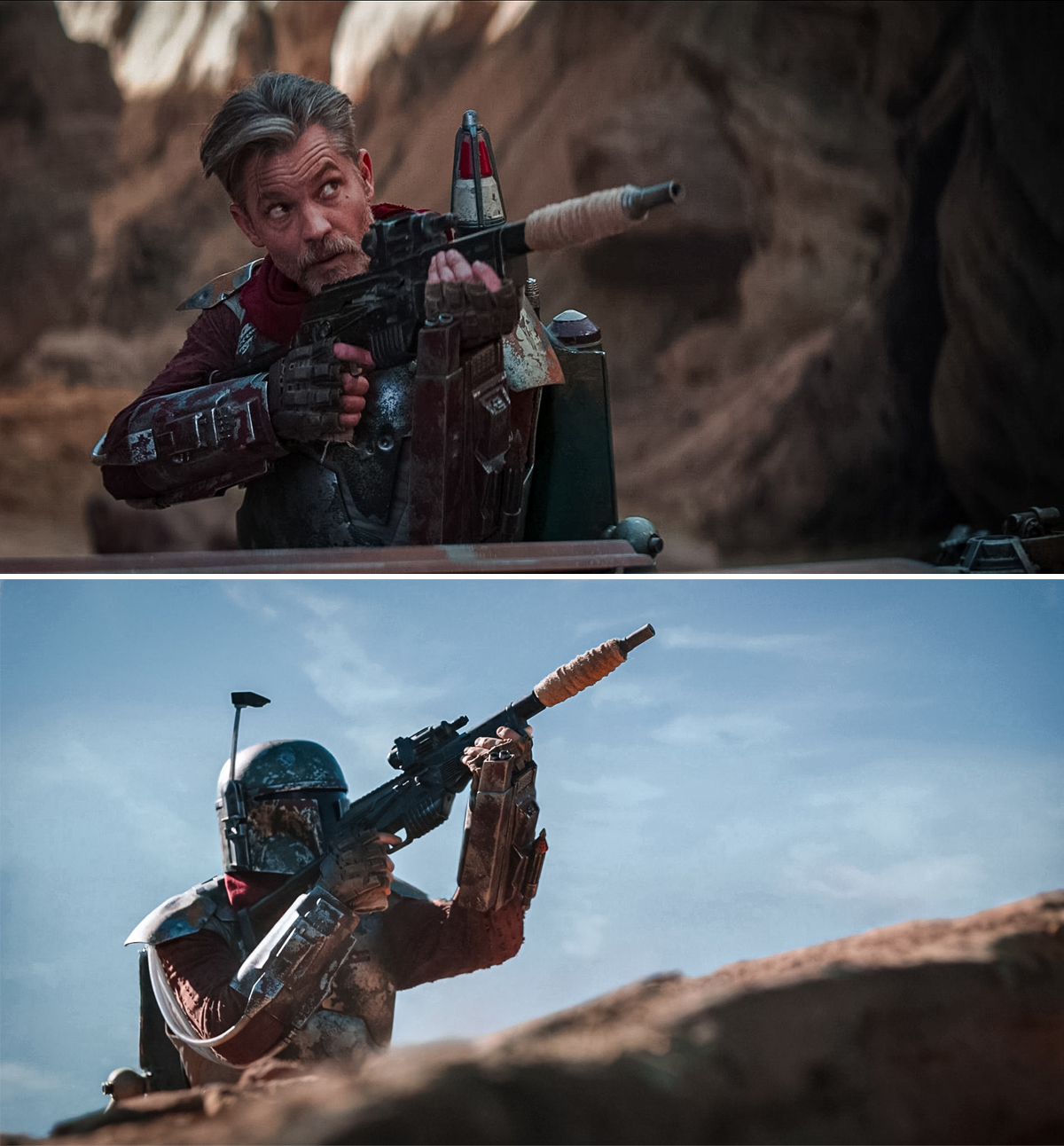 One of the cooler characters from the show, Cobb Vanth (Timothy Olyphant), who may or may not be dead, has a blaster that appears to be of Soviet origin.
The KA74 name for the blaster not so subtly hints that it's based on the AK74 pattern. Specifically, it looks to be based on the PP-19-01 Vityaz, a 9mm submachine gun based on the AK74 and manufactured by the Russian company Izhmash starting in 2004. It shares a number of parts with the AK74, and the word Vityas means "knight" in Russian, just in case you wanted to know

Cobb's rifle has no magazine, some kind of optic, a long barrel, and a slim handguard wrapped in cloth — but the distinctive AK-style safety lever on the side of the receiver is still present.
When we meet Cobb in Season 2, he's wielding the blaster rifle while wearing Boba Fett's legendary armor, which fans hadn't seen since Fett was allegedly eaten by a pit-dwelling creature called a Sarlac at the top of Return of the Jedi.
Eventually, Vanth trades his armor to Mando for his help, who eventually returns it to Fett himself, who is very not dead.
RELATED – Springfield Releases Drop-in Threaded Barrels for Hellcat, XD-M
---
Mandalorian WESTAR-35 Pistols
Real Gun: STI Perfect 10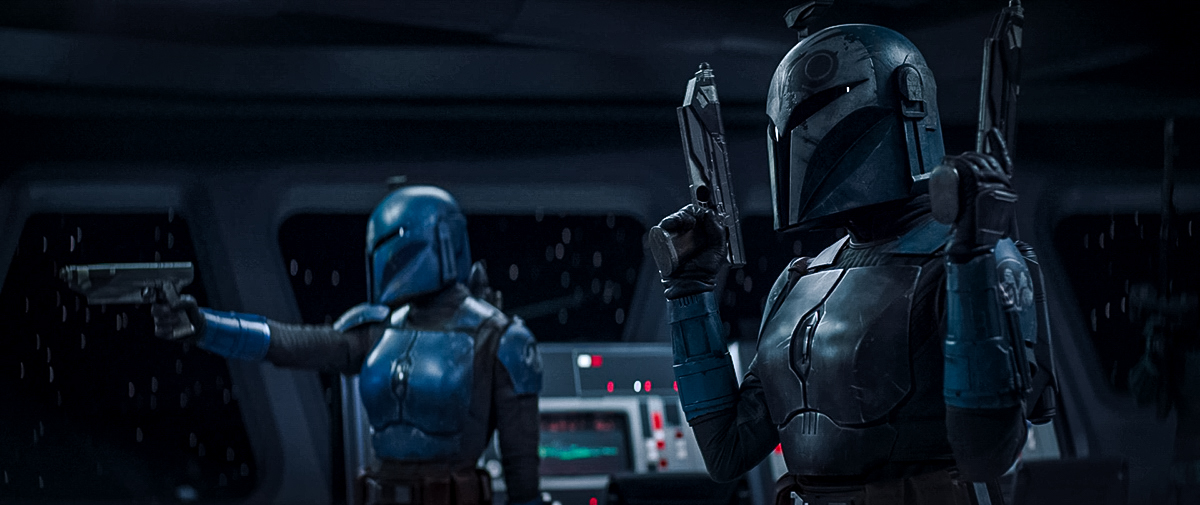 In the first season, we see the Mandalorian clan spring into battle for the first time in a huge shootout with the Bounty Guild. We also get a look at their WESTAR-35 blaster pistols, which are skinned on STI Perfect 10 handguns.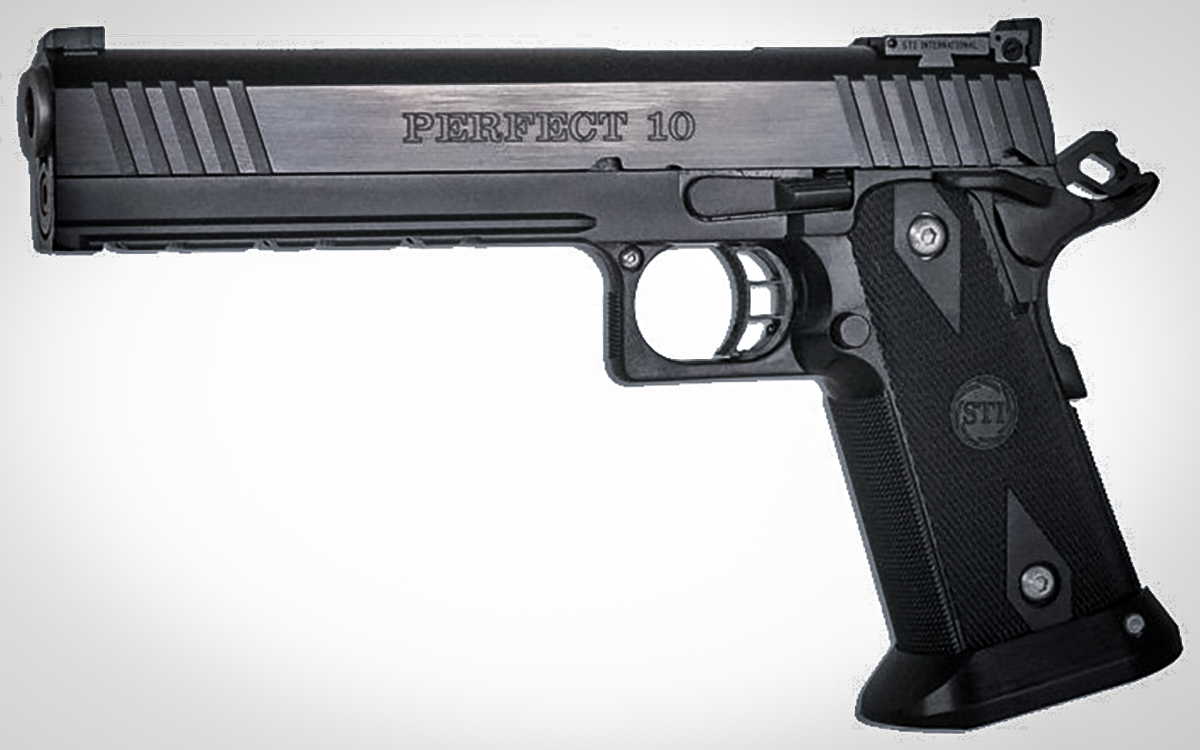 A prop shell covers most of the slide and the front of the frame, but it still has a distinctive shape that's more 2011-y than many other Star Wars blasters; though, without the hammer and the beavertail, the slide gives off heavy Glock vibes.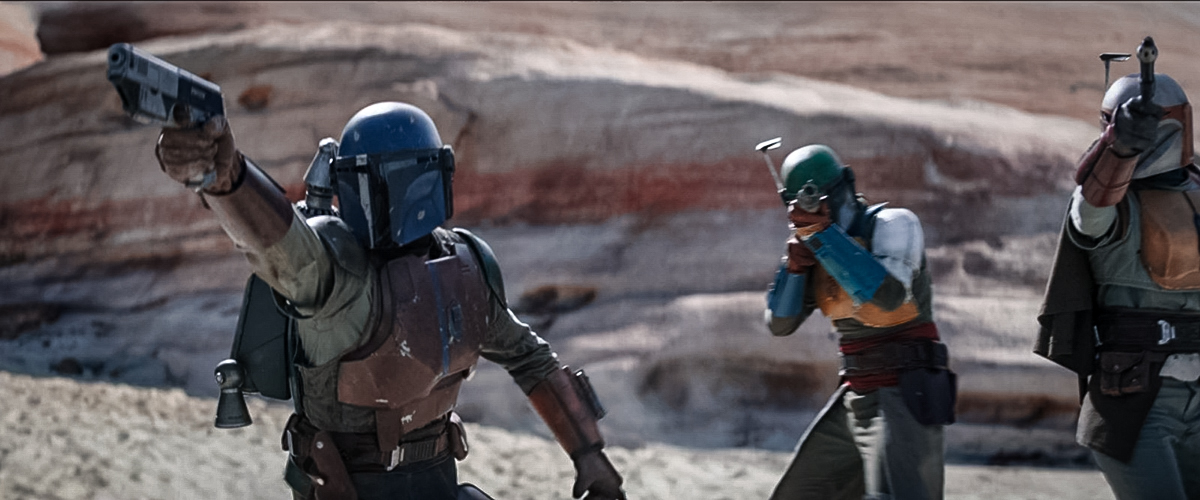 We see more of these blasters in the second and subsequent seasons — Bo-Katan (Katee Sackoff) and her two Mandalorian compatriots carry twin WESTAR-35s.
GOOD GEAR – Embody the Ethos of the Quiet Professional With BRCC's Silencer Smooth Roast
---
Moff Gideon's Blaster
Real Gun: Walther P38 Pistol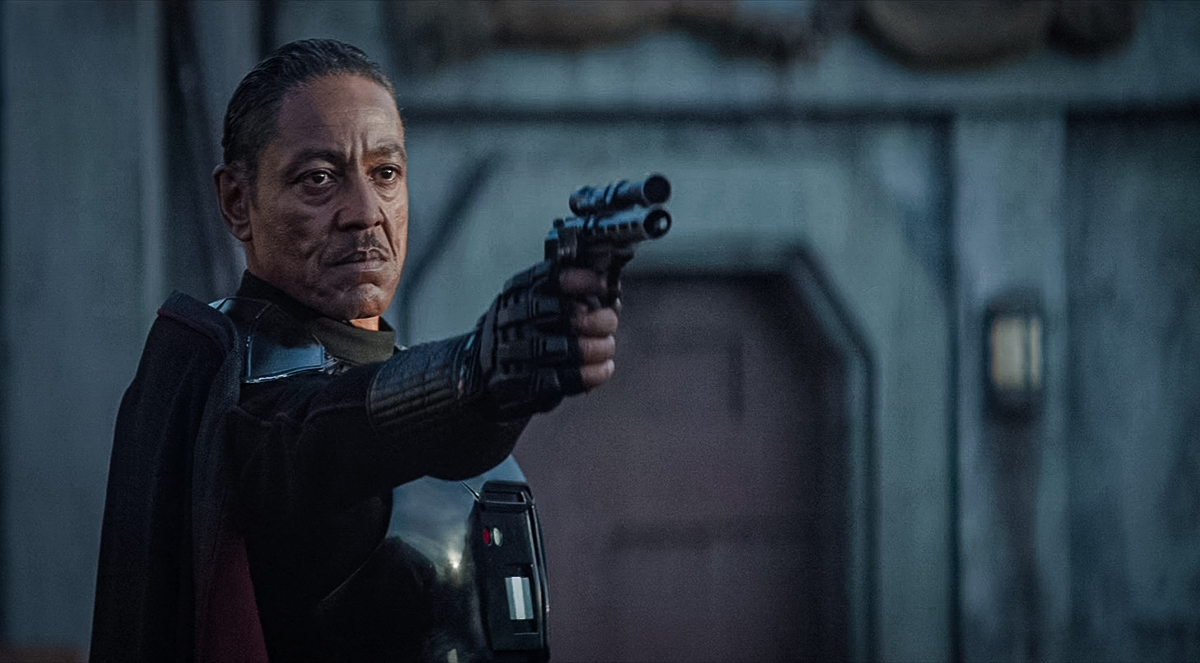 Moff Gideon (Giancarlo Esposito) is the Big Bad of the series who gets very little screen time (and may or may not still be alive). The first time we meet him — well before he has his epic meeting with none other than Luke Skywalker himself — he's sporting a compact little blaster pistol — again, with a scope on top — that gets very familiar if you focus on the grip and the back of the slide.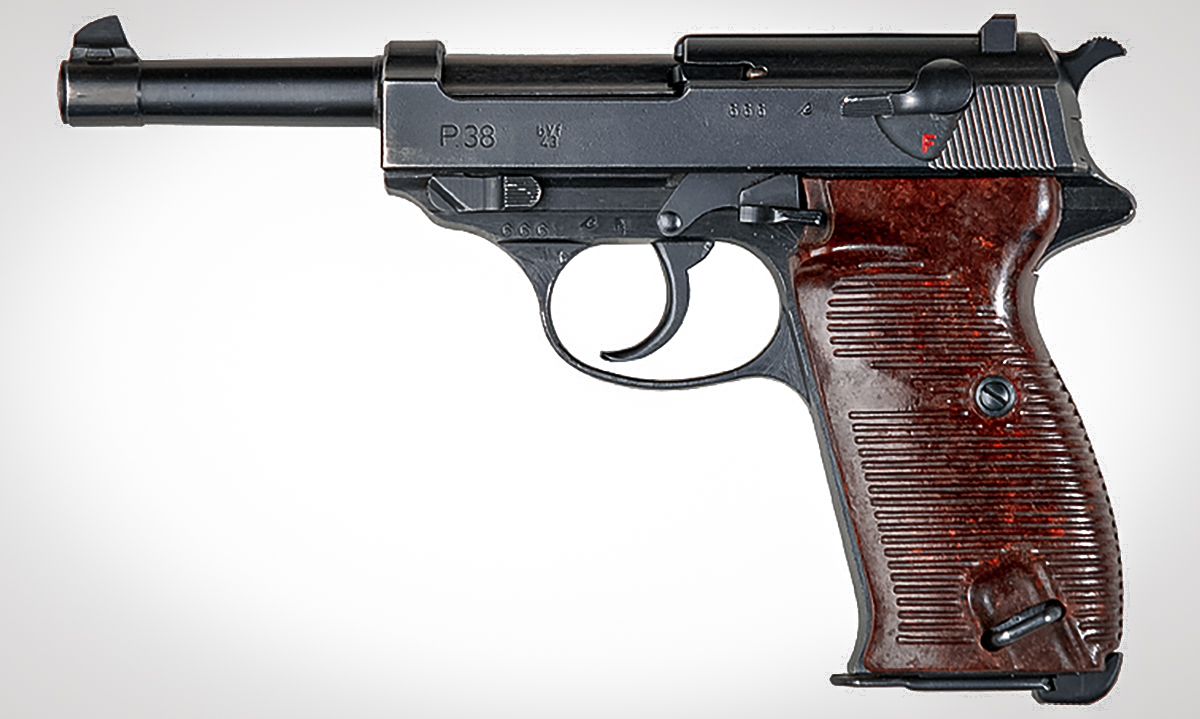 This blaster was most likely built on the Walther P38 design. The pistol was issued in WWII by the Germans to replace the intricate and expensive-to-produce Luger P08.
RELATED – 450 Bushmaster: A Semi-Auto Hunting Powerhouse
---
Fennec Shrand's MK Blaster Sniper Rifle
Real Gun: SVD Dragunov Sniper Rifle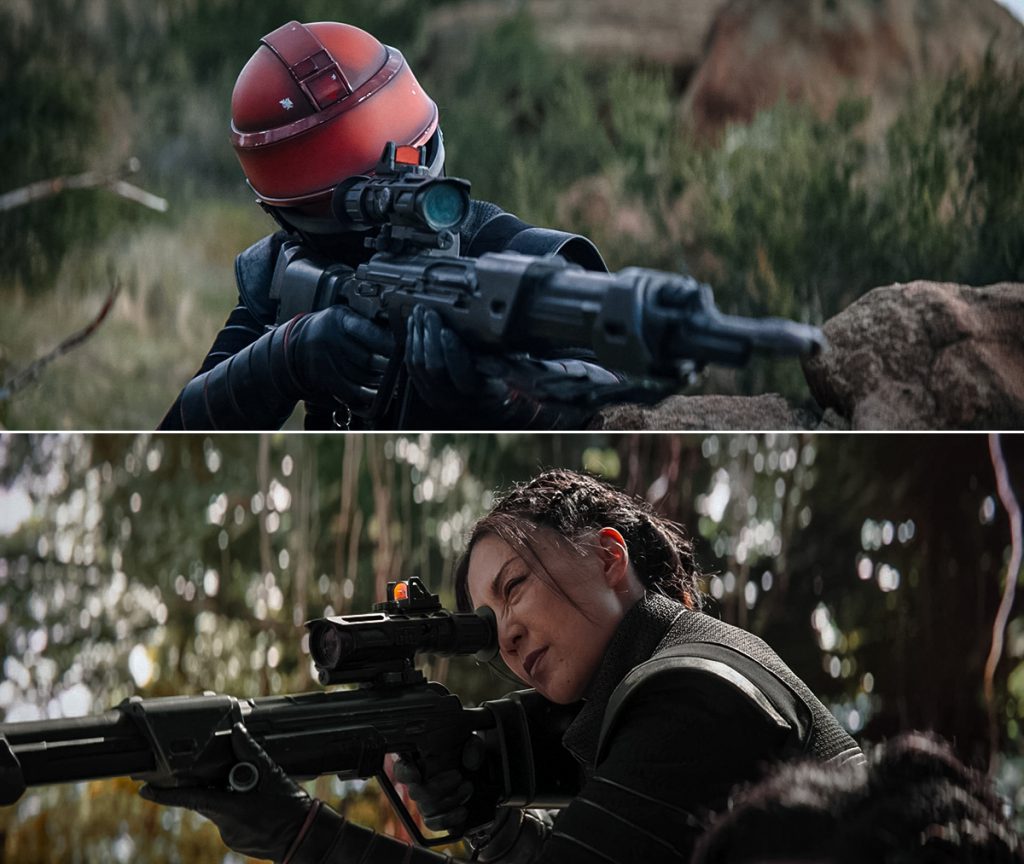 In the first season, Fennec Shand (Ming-Na Wen) displayed her prowess as a space sniper using a fancy scope that seemed capable of physics miracles and possibly worked with her helmet display.
The rifle may look familiar because it's got that AK-looking gas system and ejection port going on. This rifle was likely based on the SVD Dragunov, the semi-auto Soviet sniper rifle that bears a resemblance to the AK family chambered in 7.62×54mmR.
While this rifle looks like it's an AK variant, it's not. Its appearance and control layout was to simplify the manual of arms and make it more like the common AK, but the similarities end there.
GOOD GEAR – Conquer Your Taste Buds With BRCC's AK-47 Espresso Roast
---
Mayfield's Twin Blasters
Real Gun: Ruger Mark Series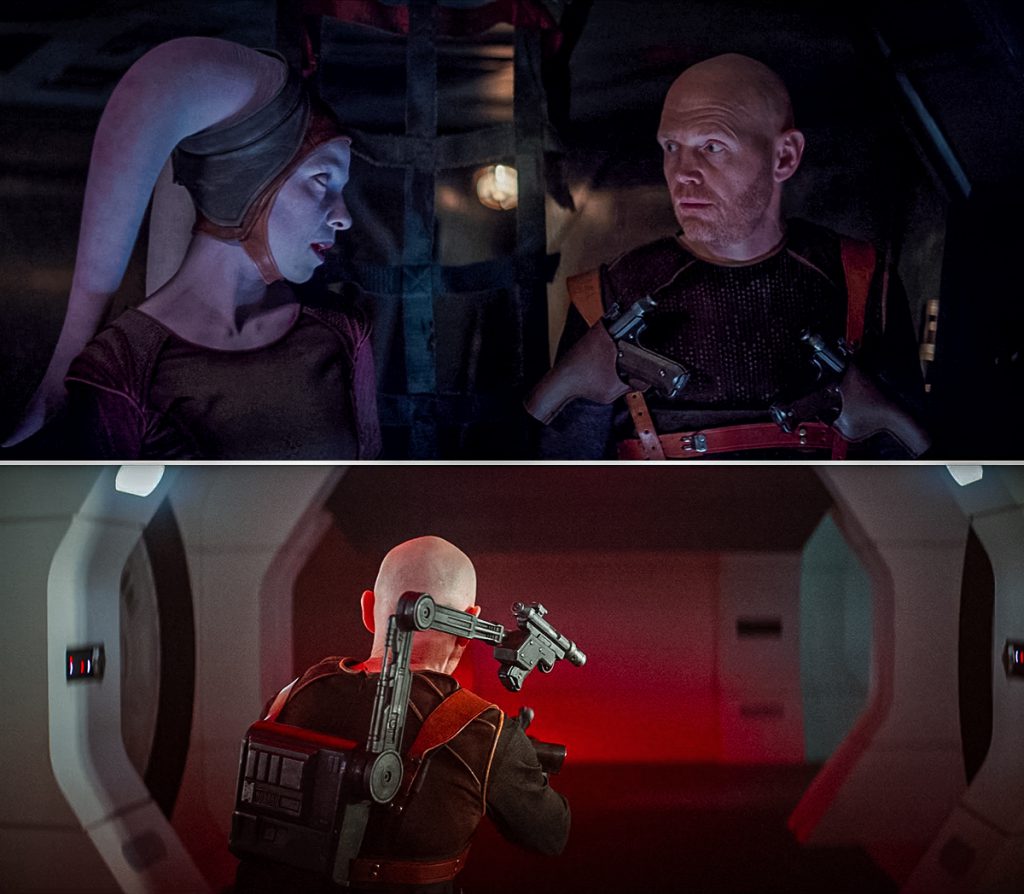 Bill Burr's surprisingly excellent turn as the mercenary Mayfield came with some unique weapons in his first episode. He carries two blaster pistols in high chest holsters and a backpack with arms that can hold and fire a blaster on its own.
If the guns look familiar from the grip and the rear of the pistol, it's because they're almost certainly built on the Ruger Mark series of .22LR pistols that evolved from the original Ruger Standard pistol. The circular bit at the rear of the receiver looks like the old-school bolt handles target shooters would install on their Rugers, and the grips and magazines are unmistakable.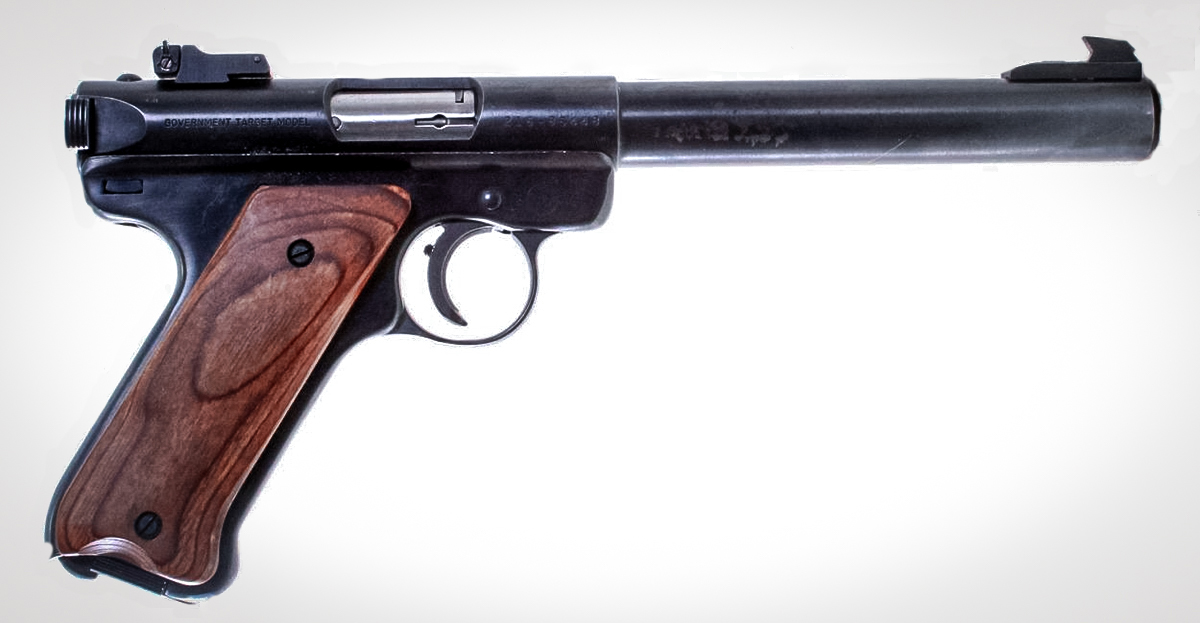 There are many more guns from The Mandalorian that are based on real firearms that get a little and a lot of screen time, not to mention all the models from the original films that were recreated for the show. Part of the fun, at least for gun nerds, is constantly pausing episodes to see if you can tell what kind of powder-and-propellant gun is under that blaster from a galaxy far, far away.
---
READ NEXT – Mother's Day Gear Guide: How To Be Mom's Favorite