It has been a century and a half since shooters got their hands on the now-legendary 45-70 Govt cartridge for the first time in 1873. Somehow, despite its limitations, the 45-70 has evolved and overcome staggering odds in the intervening years. What began as a straight-walled, black-powder cartridge has survived — and is still popular — all the way into the first quarter of the 21st century.
There have been tremendous technological advancements in the past 150 years that both helped and hindered the design and even though the cartridge's popularity has waxed and waned during the past 15 decades, there's no denying that it currently enjoys a loyal following of modern shooters.
---
Big Year for Gun History – 45-70 Govt and the Trapdoor Springfield
If you're into science fiction, you could make a case that the year 1873 was sort of a nexus of firearms development — a watershed year that saw inventions introduced that would change the course of firearms development forever.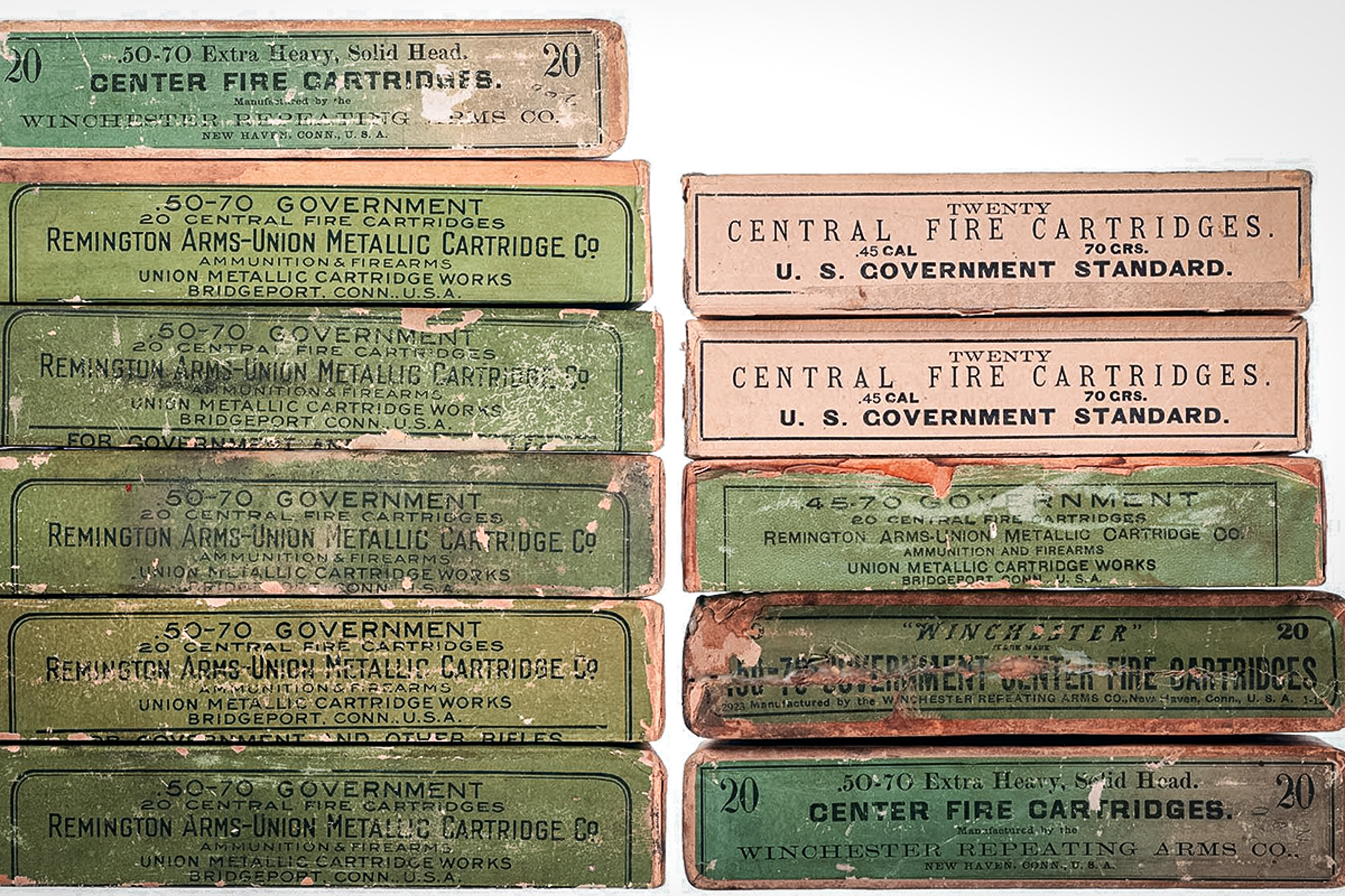 Both the Colt Single Action Army revolver (aka Peacemaker) and Winchester's Model 1873 lever-action rifle — the gun that won the West — were both introduced that year, along with the 45-70 Govt (short for 45-70 Government). The 45-70 was developed in conjunction with the Springfield Model 1873 "trapdoor" rifle, and it was the first gun chambered for the new cartridge — but it certainly wouldn't be the last.
Like the 45-70 Govt cartridge, the Peacemaker and the Winchester Model 1873 have withstood the test of time. But a classic firearm design surviving beyond its antiquation is one thing — plenty of people want a Colt SAA or a replica because they just want a "cowboy gun." A cartridge pulling off the same trick is quite something else.
So how the hell did the 45-70 make it to 2023?
READ NEXT – Q Honey Badger AR: The Gun Industry's Biggest Troublemaker
---
Bigger Isn't Always Better
First, let's get the explanation for the name out of the way. Officially, the cartridge was known as the 45-70-405 when it was introduced. Naming conventions for black-powder metallic cartridges, which were still fairly new at the time, included a first number that indicated bullet diameter, followed by a number indicating the powder charge, and a final number for the projectile weight.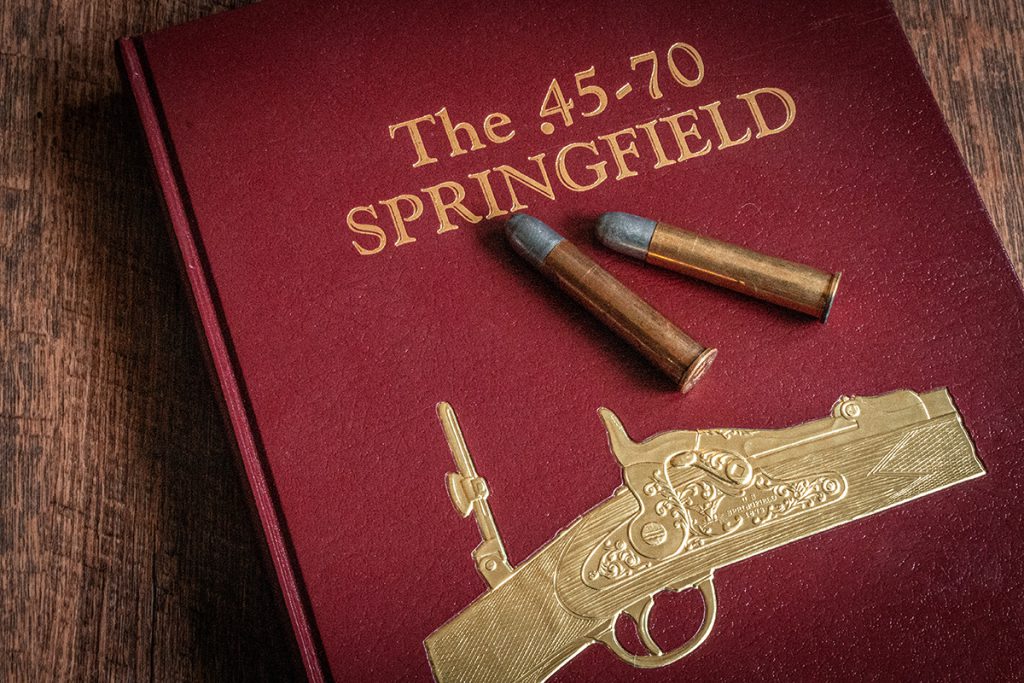 ---
So, the original cartridge had a .45-caliber bullet that weighed 405 grains and was loaded with 70 grains of powder.
When more bullet weight options became available, the final number was dropped, but the 70 grains of black-powder measurement stuck around even after smokeless powder became the norm, just like the .30-30 Winchester.
In 1873, black powder was the only game in town when it came to rifle propellant, just as it had been for centuries.
The invention of smokeless powder was still 11 years away, and the United States military wouldn't adopt a smokeless cartridge for another eight years.
Black powder had a ceiling when it came to chamber pressure, which meant velocity was therefore limited. Once smokeless took hold, the need for cartridges like .45-90, .45-110, and others with exceptionally large powder charges simply wasn't necessary since you could get better velocity from less powder.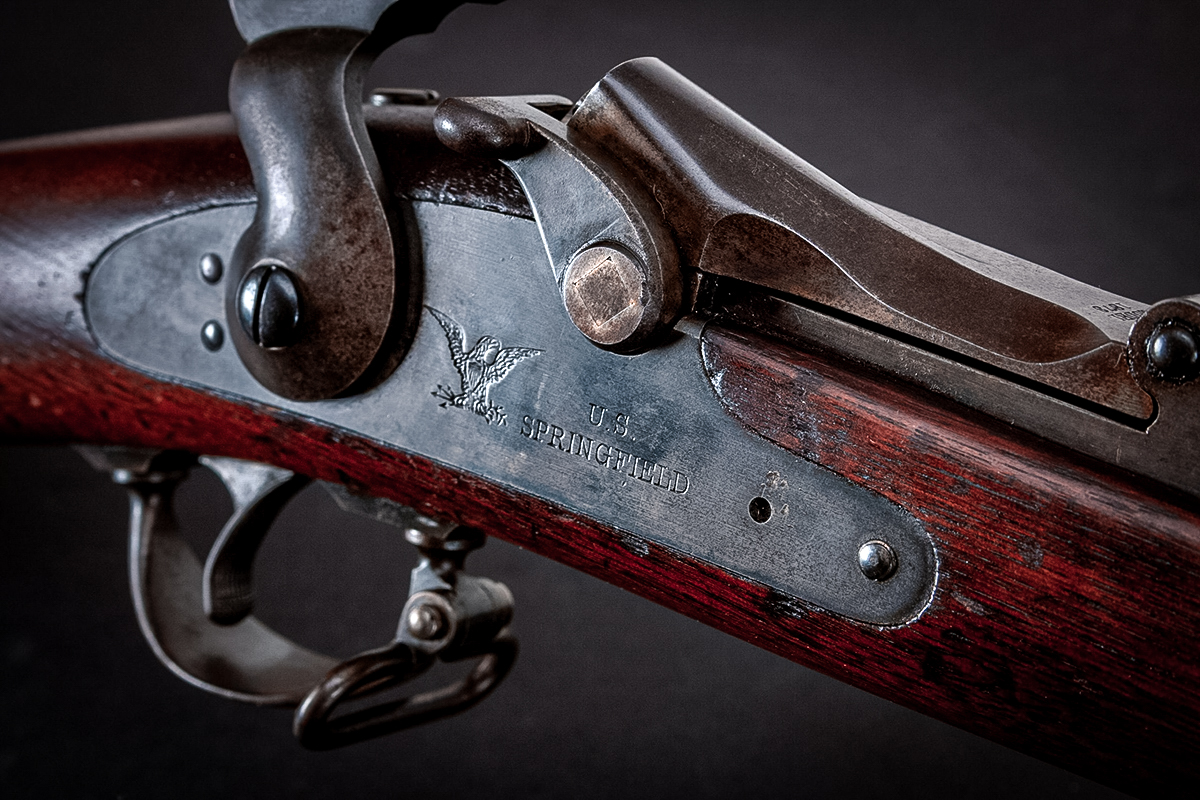 So, the solution for creating powerful rounds in the early days of metallic cartridges was "bigger is always better." That meant bigger bullets, bigger cases, and bigger powder chargers. Except when it wasn't.
The 45-70 Govt cartridge replaced the larger .50-70 Govt cartridge that the U.S. military had adopted as a standard rifle cartridge in 1866. The .50-70 was a heavy hitter, but its overall ballistic performance was lackluster. In short, it was great for hunters but not for the military, who desired something with better long-range performance.
Designers went back to the drawing board, and the result was the 45-70 Govt, which could deliver solid hits by skilled shooters on 6 X 6-foot standard Army targets out to 600 yards.
GOOD GEAR – Kick Start Your Workout With BRCC's Fit Fuel Blend
---
Riding the Rainbow: 45-70 Govt Ballistics
Even though shooters could put hits on targets out to 600 yards, it was by no means easy due to the 45-70's so-called "rainbow trajectory." The name comes from the extreme arc in the 45-70's flight path, which resembles a rainbow when you look at it on paper. It's common with heavy, lower velocity rounds.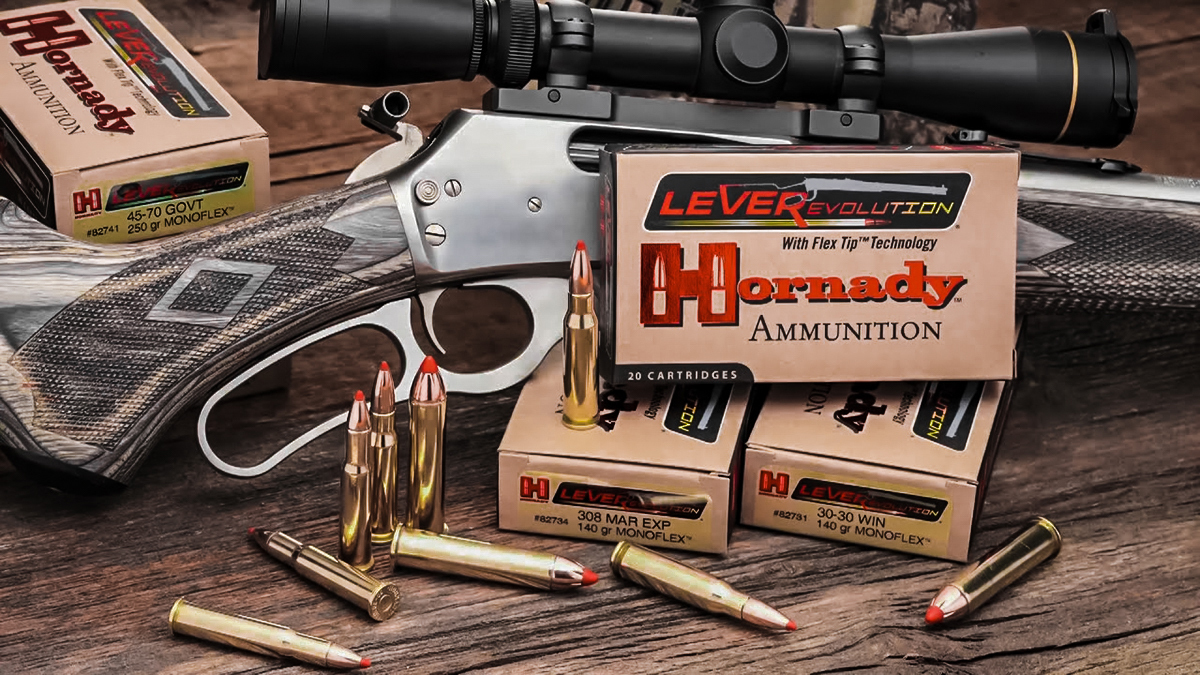 ---
The standard 405-grain projectile that topped the 45-70 when it was new will drop approximately 23 inches at 200 yards with a 70-grain black-powder charge. At 500 yards, the drop is a dramatic 289 inches — 24 feet.
By comparison, a modern 150-grain .30-06 projectile will drop 50 inches at 500 yards.
READ NEXT – 405 Winchester: T.R.'s Famous Medicine Gun for Lions
---
Military Mishaps
The adoption of the Model 1873 Trapdoor Springfield single-shot rifle by the United States military also brought along the adoption of the 45-70 Govt as the new rifle and carbine cartridge. Unfortunately, the gun's cartridges had a few serious shortcomings.
First of all, their cases were incredibly thin, and the earliest cases were made of copper, which is a whole lot softer and weaker than brass. Even when the switch to brass was made, the case wall remained thin. This limited the amount of pressure they could withstand before rupturing. For safety's sake, the original 45-70 black powder loads had to be kept relatively anemic.
Ruptured brass and black powder fouling sometimes combined and royally jammed up a gun, but for all its faults, the 45-70 Govt remained in primary military service for 19 years.
GOOD GEAR – Get Stealthy With Tactisquatch Ceramic Mug
---
A Hunter's Delight: The 45-70 and Buffalo Hunters
While the military abandoned the 45-70 Govt in under 20 years, it remained popular with hunters at the end of the 19th century — especially when loaded with (relatively) lighter projectiles in the 300-grain range. That's still a heavy bullet, but shaving off approximately 100 grains of weight helped its ballistic performance tremendously.
Professional hunters stepped up to feed expanding Western settlements and meet demanding fashion trends back East and in the Old World. They also stepped up to collect government bounties for killing bison.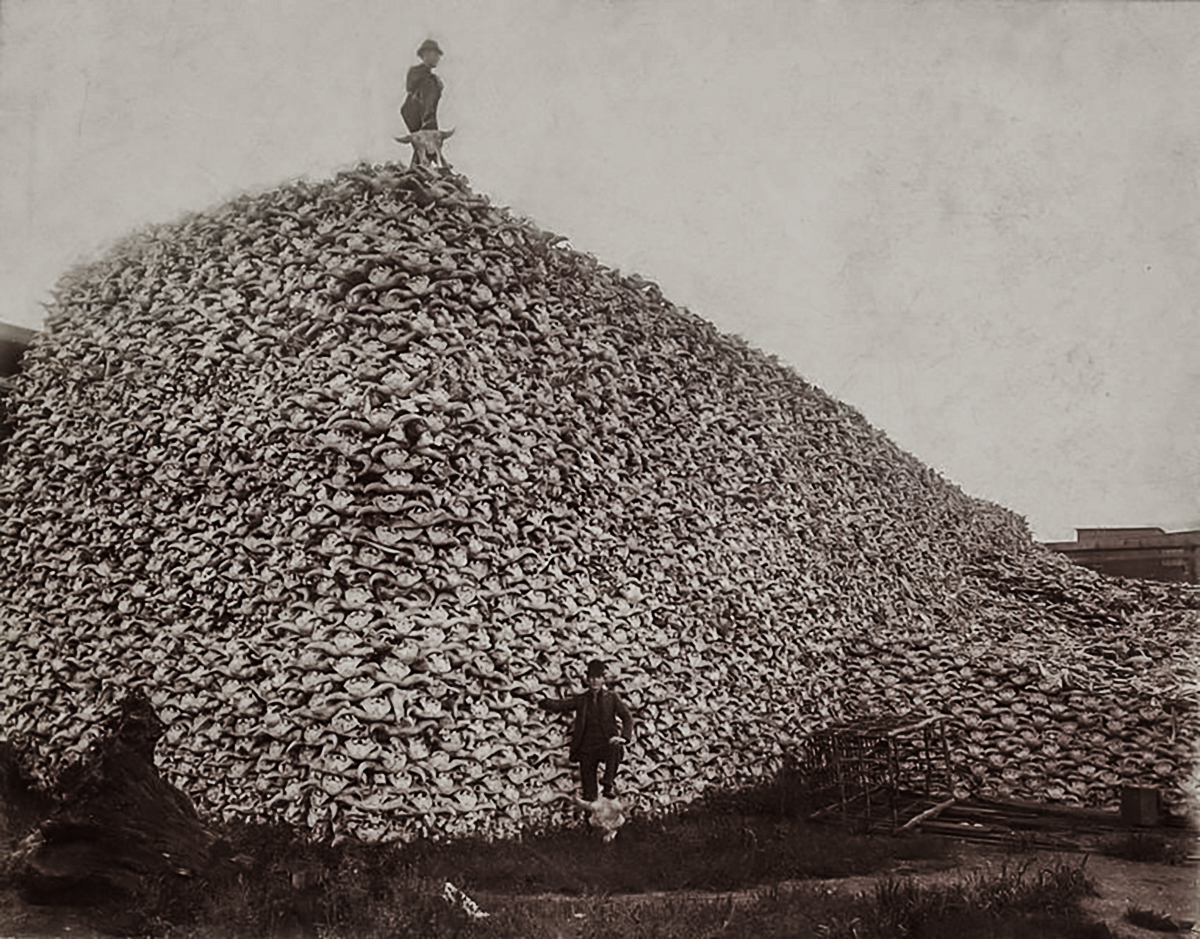 Many of those professional hunters preferred the 45-70 for its cost-saving ability to drop a bison with one shot with felt recoil that was stout but more manageable than dangerous-game rounds of the day and the expensive rifles that fired them.
It also made an excellent overall large-game round that could run in a repeater and was responsible for taking down untold numbers of moose, elk, and bears. It was also dramatically effective against two-legged threats.
READ NEXT – The Marlin 336 Is Back! Ruger Reintroduces a Classic Lever Gun
---
Keeping Up With the Joneses
The invention of smokeless powder and advancements in metallurgy were game-changers for firearms and ammunition, including the 45-70 Govt. These major technological advancements helped the once-anemic cartridge to remain relevant in changing times.
While the 45-70 was easily eclipsed by more powerful and better-performing rounds early in the 20th century, both hand-loaders and commercial manufacturers have used modern components and manufacturing methods to improve the rounds capabilities.

Cartridge cases are far more durable today than they were 150 years ago. This is because smokeless powder generates more energy than black powder, so the cases need to be more robust to withstand the extra pressure. As an added bonus, it means that modern-day reloaders can get multiple firings from individual cases before they need to be retired due to the risk of rupture.
Companies like Hornady, Federal, and others offer excellent factory 45-70 loads today. Businesses like Barnes and Swift, which specialize in bullets, offer modern projectiles for reloaders and custom hand-loaders.
While that's great news for people shooting modern firearms designed to handle modern pressures, shooters who prefer to pull the trigger on a century-old vintage firearm can still safely do so with brand-new, clean-burning ammo loaded to lower pressures. These also work well with suppressors.
GOOD GEAR – Conquer Your Taste Buds With AK-47 Espresso Roast
---
45-70 Govt: A Straight-Walled Survivor
The 45-70 Govt has outlasted all of its contemporaries. Rarely do you hear of people shooting .45-90, .45-110, .50-70, .50-90, etc., and when you do, it definitely comes as a surprise, with most people learning for the first time that such rounds even existed. That's simply not the case with the 45-70.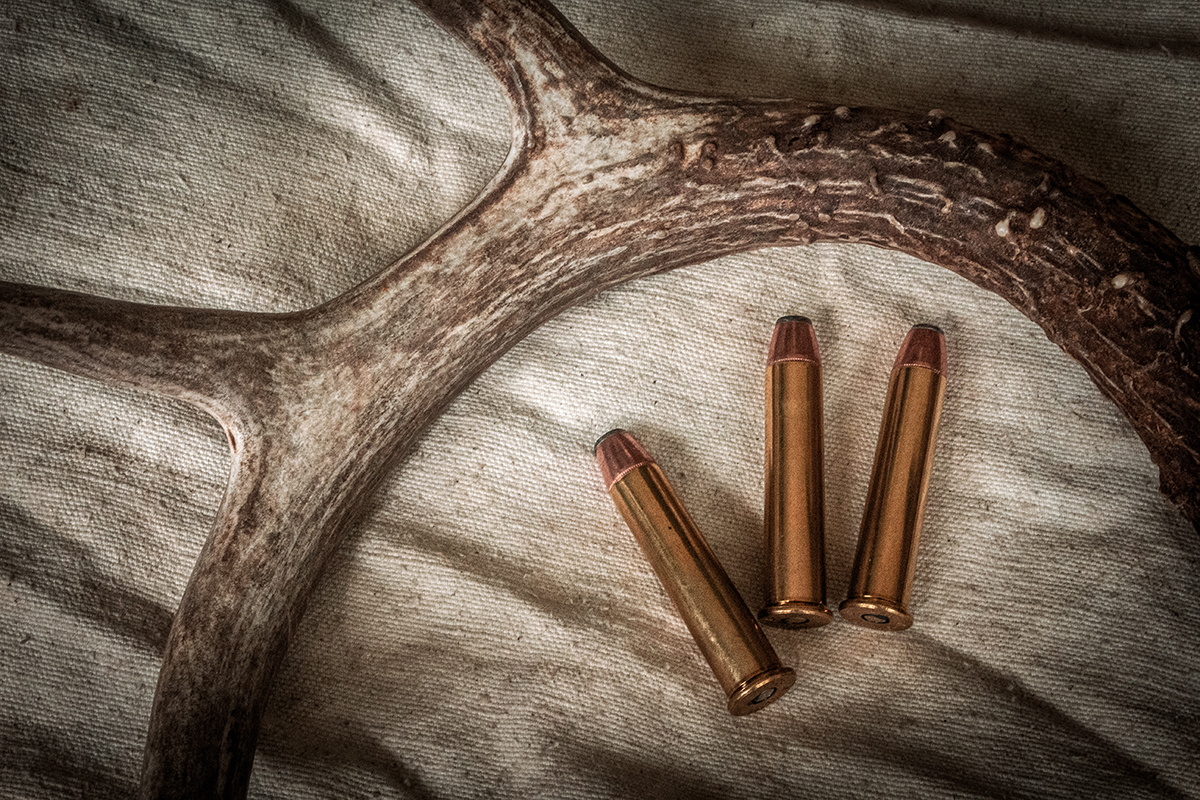 ---
Despite straight-walled cartridges being technologically old, they're still being made today in old and new designs. This is because some states only allow rifle hunting with straight-walled cartridges. Generally, this is in states where certain hunting zones had previously only allowed muzzleloaders or shotgun slugs due to population density.
Muzzleloaders and slugs don't have the range that more powerful bottleneck cartridges do. Straight-walled cartridges trail behind bottleneck cartridges, too, but they still deliver enough punch to ethically and humanely harvest game animals during hunting seasons. Essentially, modern straight-walled cartridges give hunters in restrictive states more options.
Even with more modern straight-walled cartridges, such as the .450 Bushmaster in 2007, the .350 Legend in 2019, and the .360 Buckhammer in 2023, the 45-70 has maintained its relevance. In fact, it's safe to say that there are more modern guns on the market right now offered in 45-70 Govt than there are in newer straight-walled options, such as the .450 Bushmaster, the .350 Legend, and the .360 Buckhammer.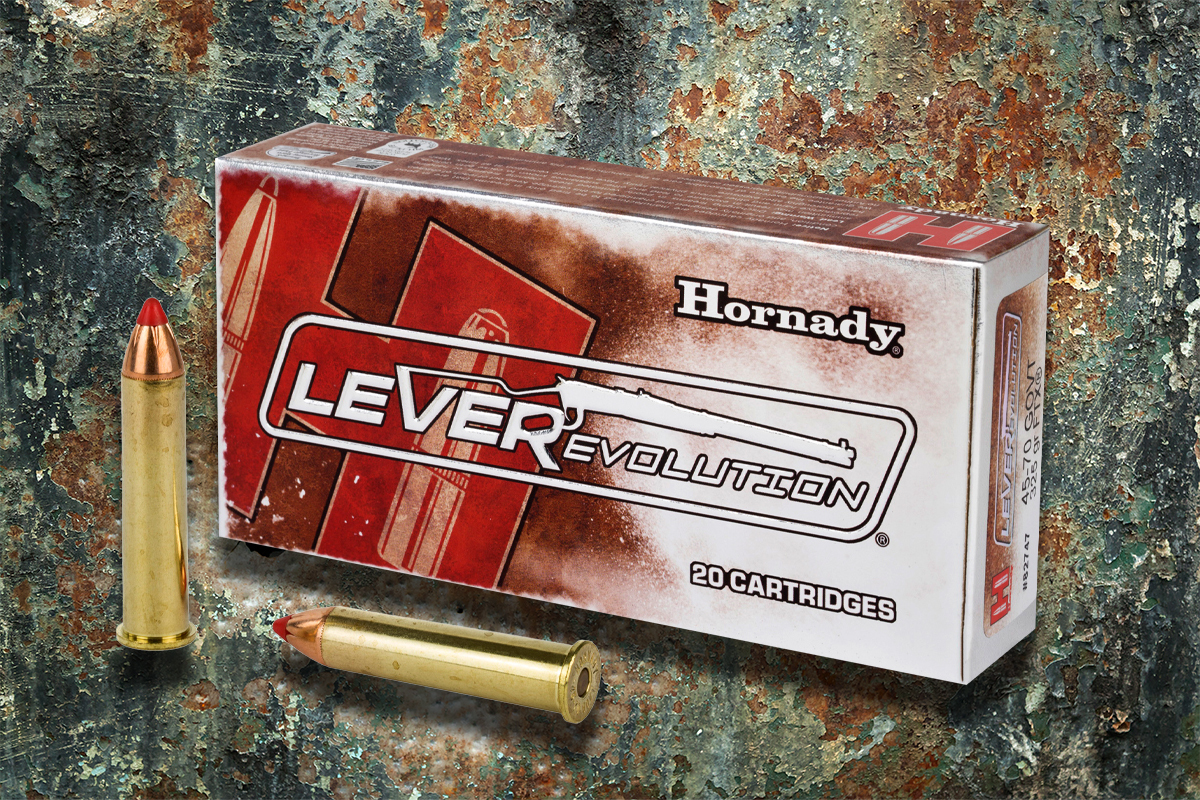 This is easily seen in the variety of brand-new firearms available in 45-70 Govt. Winchester makes a Model 1886 lever-action. Traditions and CVA offer single-shot break-actions. Italian reproductions of trapdoors, rolling blocks, and falling blocks abound for those wanting to channel the history side of the cartridge. Magnum Research has BFR single-action revolvers if you absolutely hate your wrists.
---
And, of course, if you want to channel your inner cowboy, Marlin has the 1895 lever-action, and Henry offers the X Model, Big Boy, and All Weather lever-actions in 45-70, among others.
In short, there's simply no denying that the 45-70 Govt is a straight-walled survivor. It has stood the test of time, overcoming the challenges and limitations of its heyday and keeping up with a variety of modern advancements to become an iconic cartridge that has captured the hearts and minds of shooters for the past 150 years.
---
READ NEXT – The Turkey Shotgun: What You Want in a Dedicated Gobbler Getter