The 405 Winchester was a beast of a cartridge in its time, suited for the absolute most dangerous, tear-your-guts-out big game on the planet. Mere months after leaving the White House and Washington politics behind him (for the time being) in 1909, President Theodore Roosevelt took off on an ambitious African safari that was partially funded by the Smithsonian Institution.
His group crated up many different rifles with a variety of action types chambered in a variety of calibers — everything from multiple bolt-action rifles in .30-03 all the way up to a double rifle in .500/450.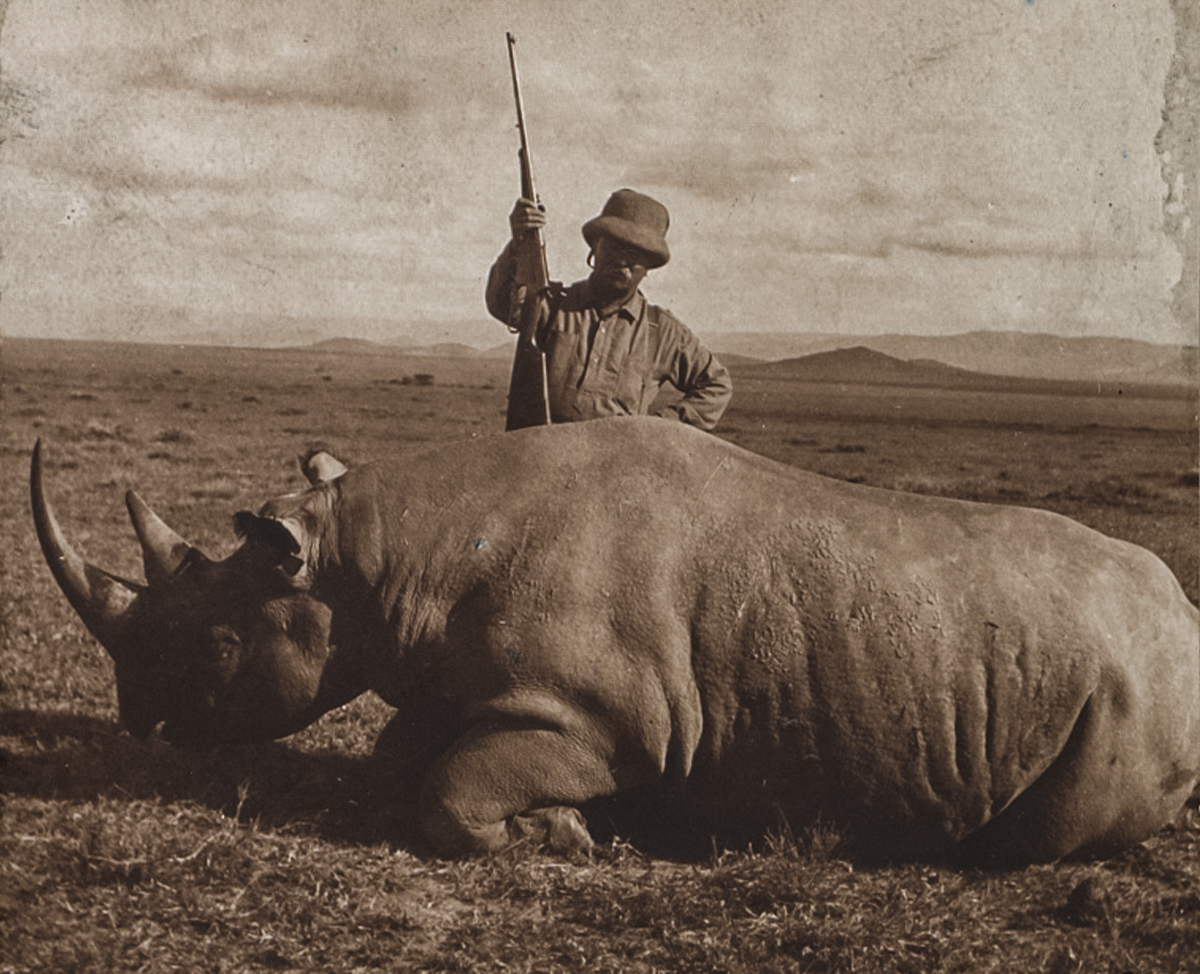 Even with all that variety of firepower, Roosevelt favored the 405 Winchester so much so that he brought more than one Winchester Model 1895 lever-action rifle chambered in the big caliber to Africa.
Twelve elephants and more than 100 rhinos fell to Roosevelt's mighty .500/450 double rifle, but when hunting lions, he opted for the lever-action 405 Winchester, even as others in his party recommended that he take the bigger double rifle.
Roosevelt insisted that the 405 Winchester was "for me personally, the 'medicine gun' for lions." That statement led to the nickname for that rifle chambered in .405: Big Medicine — but more on that later. T.R.'s enthusiasm and regard for the .405 was one that few, if any, other African game hunters shared, but why?
RELATED – Montana Wolf Hunting Is Back On, District Judge Says
---
North American Game
Introduced in 1904, the 405 Winchester is a straight wall, smokeless cartridge loosely based on the earlier .40-72 Winchester black powder cartridge. Universally agreed by hunters to be suitable for all game in North America, most found it wanting against African dangerous game.
Within half a century, the 405 Winchester was effectively obsolete and eclipsed by far more powerful bottlenecked cartridges. Despite this, one man propelled the cartridge to cult-like status that has persisted for more than a century.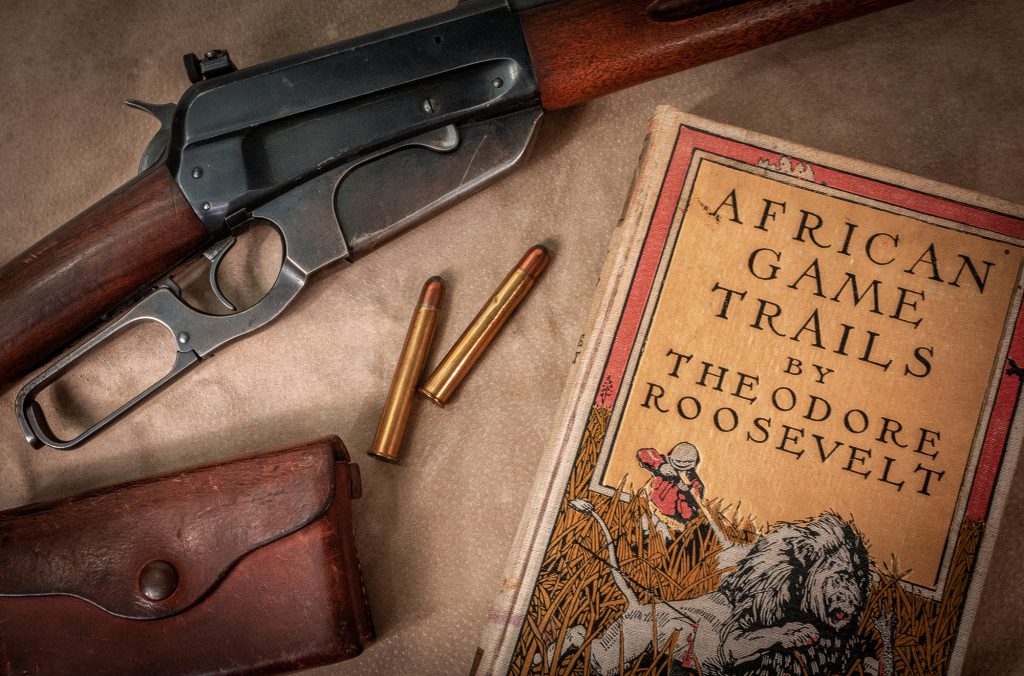 Dangerous game hunters of Roosevelt's day may have regarded it as underpowered, but the 405 Winchester is no slouch. The load could propel a 300-grain, jacketed, solid-point bullet at 2,200 fps at the muzzle. It has a reputation for heavy recoil, but it has plenty of ass for even the largest of North American game, including bison and moose at distances of 100 yards to 150 yards.
There's the rub.
Unfortunately, things drop off quickly for the .405 as it travels beyond 150 yards. At 200, the bullet loses a third of its velocity and drops 8 inches from a 100-yard zero. Beyond the 200-yard mark, it can be difficult to get the 300-grain bullet to retain enough energy to penetrate the thick skin of large animals, including that of dangerous game.
GOOD GEAR – Embody the Ethos of the Quiet Professional With BRCC Silencer Smooth
---
Medicine Gun for Lions
Roosevelt wasn't just some rich guy who liked to have lots of guns and hunt all sorts of animals with them. True, he was that guy, but he wasn't just that guy. He truly understood the limitations of the various arms and ammunition he used.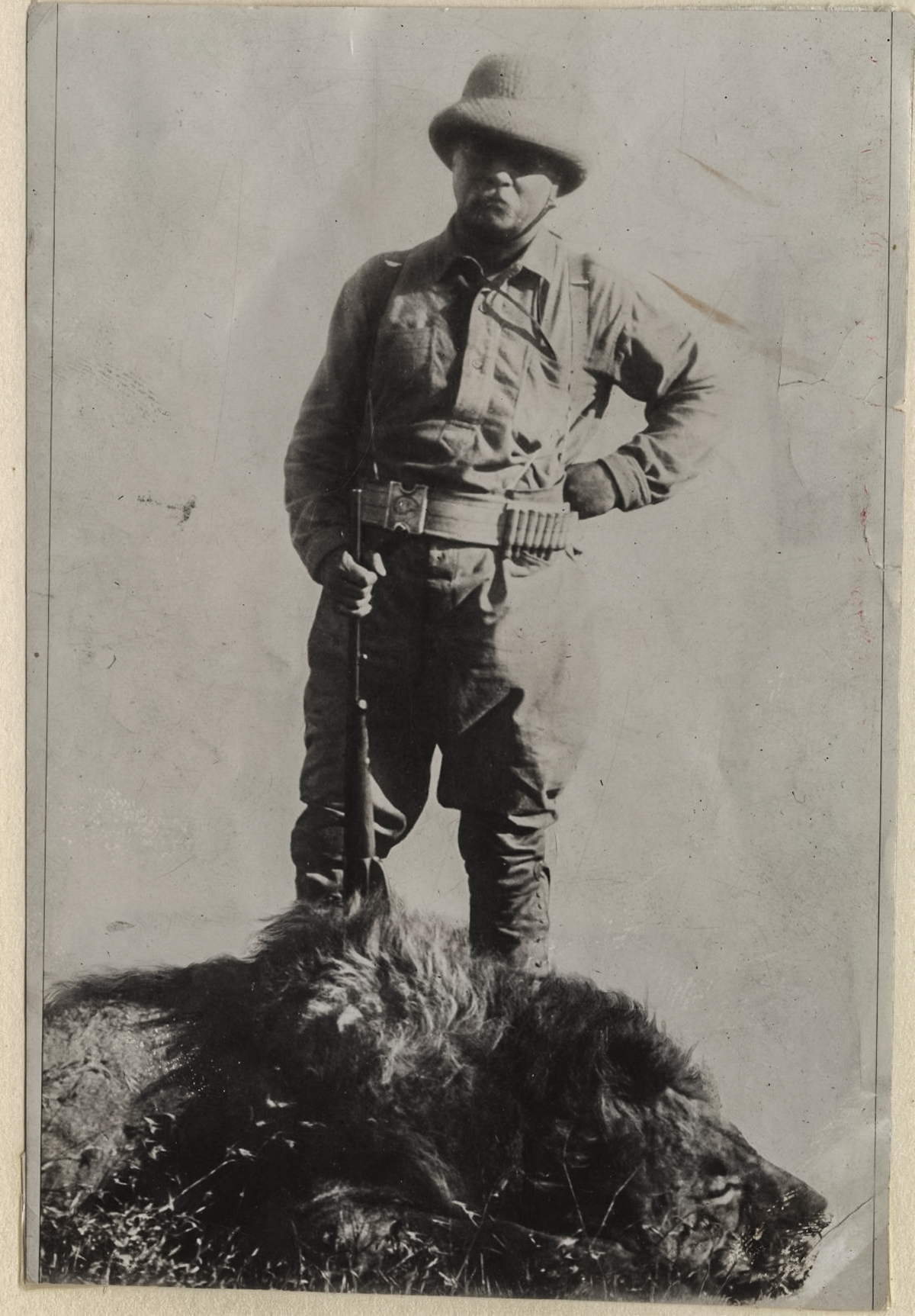 This is likely why he rebuffed his comrades when they pointed to the .500/450 double barrel and advised him to use that for lions. Compared to a rhino, elephant, or Cape buffalo, a lion is relatively thin-skinned. Plus, the probability of him shooting a lion at the distances where the 405 Winchester starts to falter were slim — hunting lions was typically close work.
In short, he knew what he was doing. After all, that safari claimed a total of 18 lions. But it's worth noting that photos from the safari show that Roosevelt used a Model 1895 in 405 Winchester to kill at least one rhino. Apparently, he wanted to push even his own perceived limitations of the round, and it didn't disappoint.
GOOD GEAR – Give Back to Gold Star Families With BRCC Triple Seven Expedition T-shirt
---
Big Medicine, Big Stick, or Medicine Gun?
The 405 Winchester is often referred to as the "Big Medicine" cartridge — a moniker that is erroneously attributed to Theodore Roosevelt. In truth, Roosevelt never called the 405 Winchester "Big Medicine." Instead, as previously mentioned, he referred to it as his "medicine gun" in his 1910 book, African Game Trails.
The confusion may be a mash-up of terms, the first half being related to his "big stick diplomacy" and the latter half being related to the medicine gun. Put them together, and you get Big Medicine.
While there may not be a true "Big Medicine" rifle, there is a "Big Stick," which is the moniker that has stuck to his .500/450 Holland & Holland double rifle.
---
The Winchester Model 1895 Rifle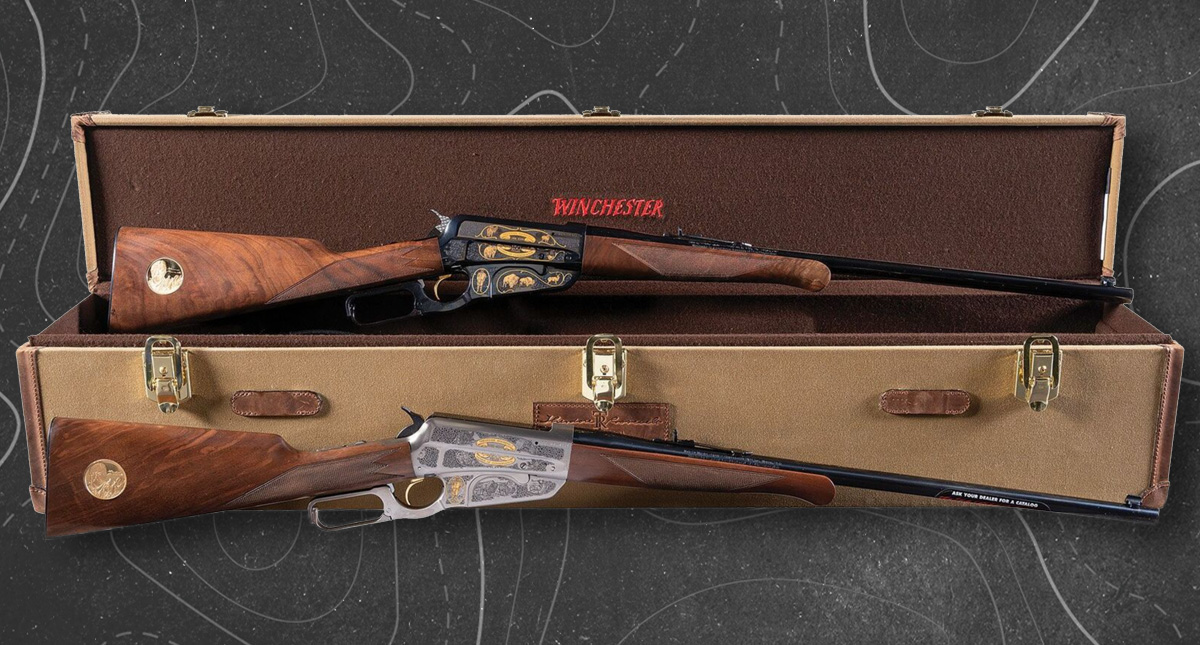 John Moses Browning is hailed as the greatest firearm designer of all time. Winchester's lever-action rifle lineup would have never taken off were it not for John Browning's brilliant mind, and the Model 1895 is no exception.
Unlike previous lever-action offerings from Winchester that used a tubular magazine running underneath the barrel, the Model 1895 fed from an internal box magazine loaded from the top of the action. This box mag could be loaded relatively quickly with a stripper clip, but the design also offered greater advantages.
A product of its time, the Model 1895 was designed for new and more powerful smokeless military cartridges loaded with far more aerodynamic, pointed Spitzer bullets — something that could not be safely loaded into a tubular magazine where the bullet of one cartridge is in contact with the primer of another. (Under recoil, they tend to go boom.) The fixed box magazine stacked the cartridges and eliminated that concern, allowing lever guns to fire cartridges with pointed bullets for the first time.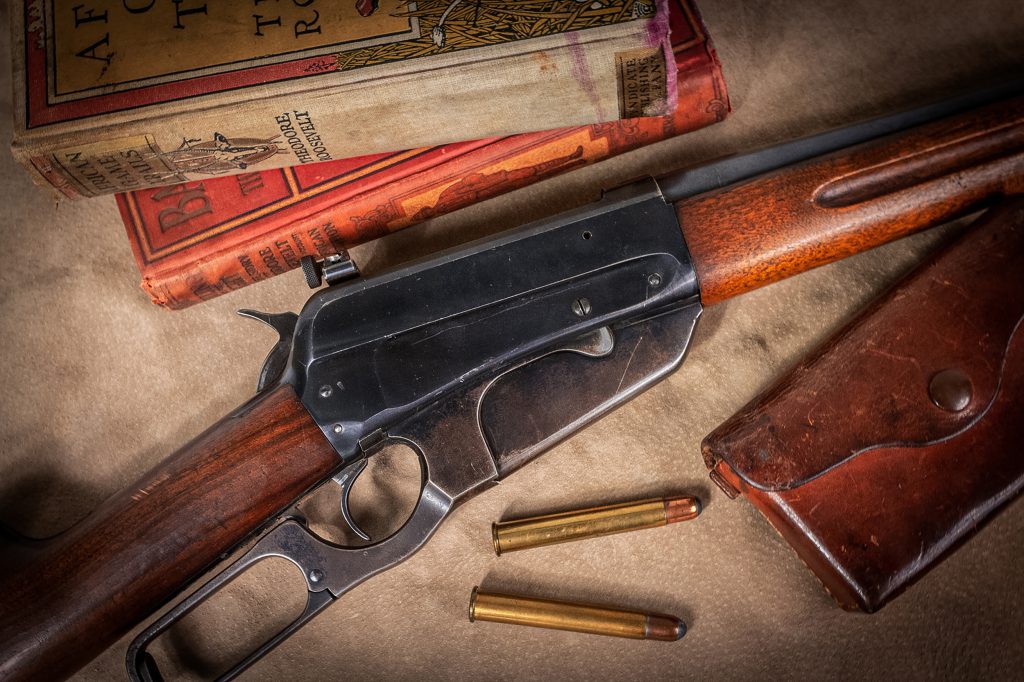 Even though the 405 Winchester cartridge was never offered with a Spitzer bullet, it still benefited from the Model 1895's overall beefier design. It could handle the energy and recoil generated by the 405 better than any other of Winchester's lever-action rifles, including the Model 1886, which was historically the company's go-to gun for powerful cartridges.
Other iterations of the Model 1885 were chambered for Spitzer-tipped rounds, like the nearly 300,000 that were made for the Russian Empire from 1915 to 1917 chambered in 7.62 x 54mmR. Unfortunately, the Model 1895 was soon eclipsed by popular and affordable bolt-action rifles, and lever guns, in general, began to take a back seat for the early part of the 20th century.
RELATED – New Vortex Strike Eagle 3-18×44 Rifle Scope Is Incredibly Versatile
---
405 Winchester Factory Loads
The unique .4115-inch diameter of the bullet didn't lend itself to any degree of versatility. It could be loaded into the 405 Winchester cartridge and the .405 cartridge alone. This meant that companies were hamstrung with the bullets and were unable to diversify their lineup. Failure to diversify is a death knell for a company's bottom line.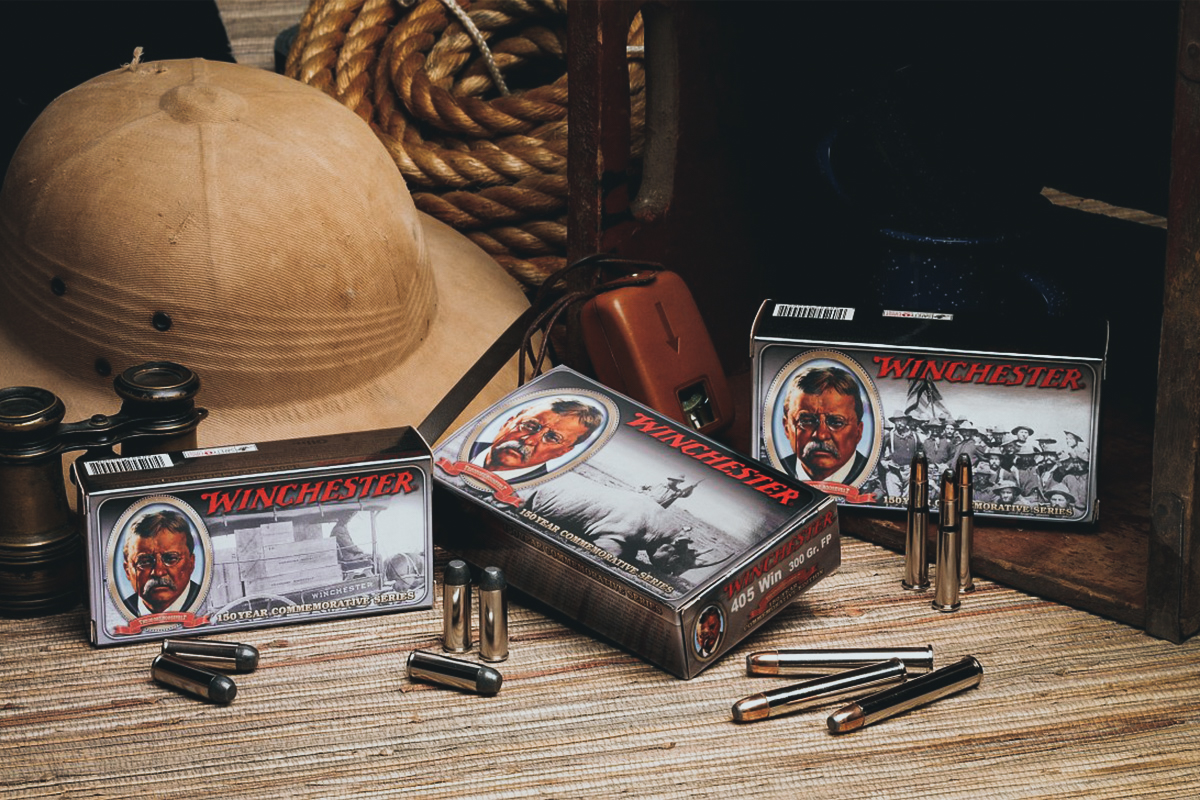 Despite Roosevelt's high praise and the effectiveness of the 405 here in the States, the cartridge simply couldn't hold up to new designs and technology. Winchester stopped offering the Model 1895 in 1936 and by 1955, all major manufacturers had stopped loading factory ammo in the caliber.
GOOD GEAR – Speak Softly and Carry a Big Stick With BRCC Teddy Roastevelt Roast
---
A New Prescription
The dawn of the new millennium also ushered in the centennial of Roosevelt's presidency, which ran from 1901 until 1909.
To celebrate the occasion, Winchester reintroduced the Model 1895 and the 405 Winchester cartridge in 2001. Bringing back the iconic duo proved to be a smart move, as the cult-like following of the gun and caliber combination led to ballooning prices of the original guns on the market.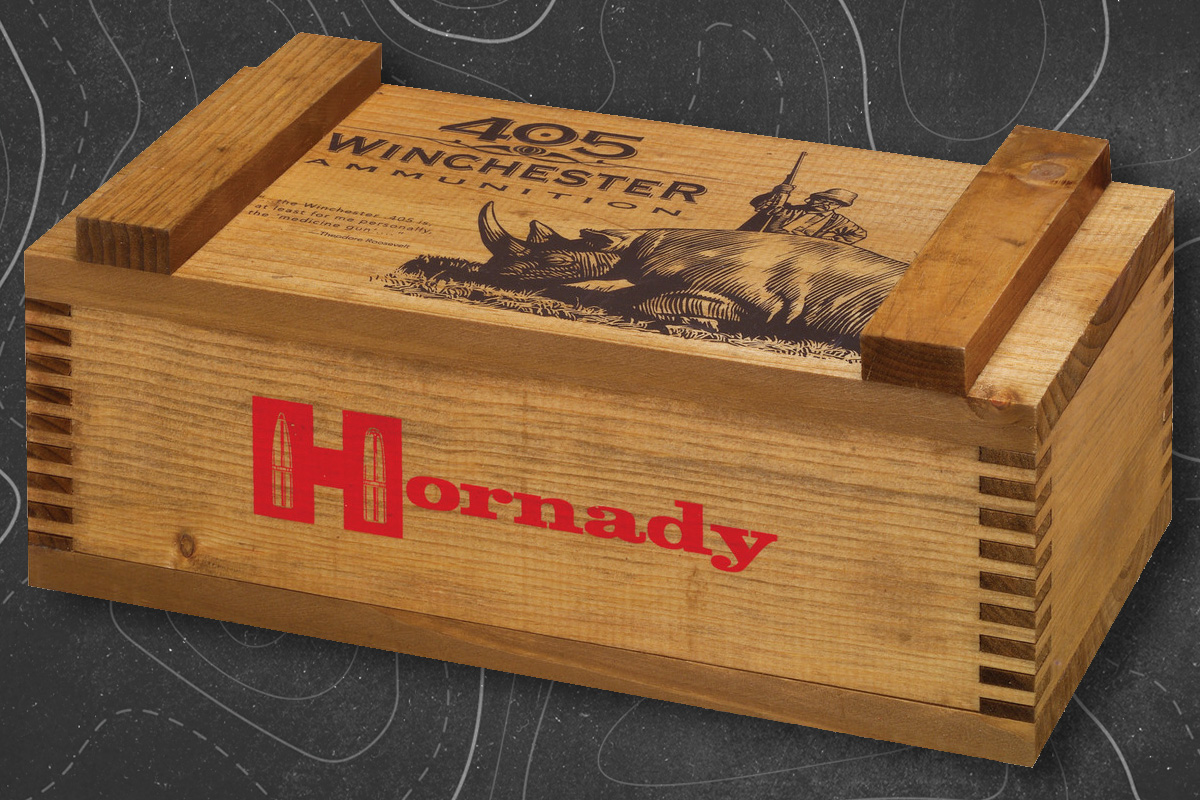 Today, you can expect to pay a 50% premium for an original Model 1895 in 405 versus other calibers if it was made between 1899 and 1936. An antique model — made before 1899 — will fetch a 75% premium if chambered in 405 Winchester.
Thankfully, the Model 1895 in 405 Winchester is a standard catalog offering, so you can pick up a brand-new one for a fraction of the cost of an original.
Still, finding ammo may be difficult. The .405's bullet size and brass are unique, leading to few mainstream offerings with even fewer in stock. When you do find the ammo in stock, be prepared to pony up a pretty penny and, though it may hurt to do so, buy all of it that you can find since you may not see it on shelves again any time soon — especially in today's strapped ammo market.
---
Staying Power of the 405 Winchester
History has shown that just about anything and everything associated with Theodore Roosevelt has developed a sort of mystique, and the 405 Winchester is proof positive of this. The cartridge is functionally obsolete, hard to find on shelves, and only commercially available in the Model 1895.
So long as Roosevelt's African escapades continue to fascinate and enthrall future generations, so, too, will the 405 Winchester continue to capture the imagination of hunters, shooters, and, yes, even writers.
---
READ NEXT – Military Shotguns: The History of Scatterguns Issued by the U.S.