Fishing waders exist because the biggest trout are always on the other side of the river, and it's too far to cast from the bank. To get to those fish, we need to stand in ice-cold water without getting wet and developing hypothermia. We can get closer to the fish with waders, and if we don't spook them, our odds of catching said fish go up.
In case you're in doubt, hypothermic conditions make it incredibly difficult to concentrate on fishing. Try it sometime. That's why we need waders.
Today, a wide range of waders are available for anglers — maybe too many. It can get confusing fast, especially for newbies looking to purchase their first pair of fishing waders. That's where we come in.
This article will examine the keys to success, wader types and styles, under-wader wear, and wading accessories. Buying your first or next pair of waders with this informational foundation will be easier than falling in the river.
---
Keys for Success
When preparing to purchase a new pair of waders, there are three key elements to consider: comfort, durability, and function. Check all three boxes, and you'll find yourself in a pair of waders that make long days on the water feel short.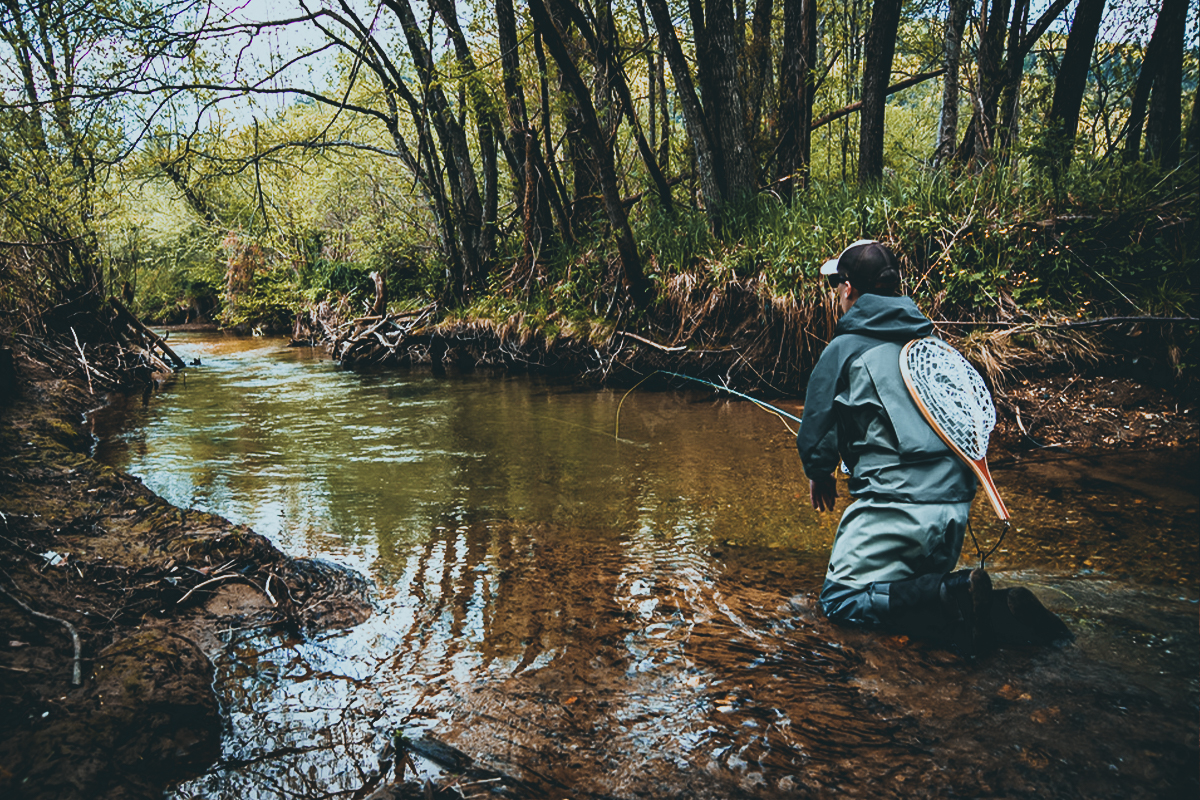 Comfort
When chosen properly, waders can be worn from pre-dawn till dark-thirty. At the end of the day, you think about food and a cold or hot beverage. After that, "Oh yeah, maybe I'll take off my waders, too."
The factors that create this winning scenario are breathability and proper fit. Understanding these variables in terms of the fishing conditions you encounter will bring it all together.
Breathability
I still remember my first chest waders — a pair of brown 3mm neoprene stockingfoot waders from Cabelas — great in the late fall, winter, and early spring. But during the heart of trout season, I'd lose weight with each outing. They were not breathable.
Things changed in the 1990s, with the application of expanded polytetrafluoroethylene (ePTFE) membranes to wader design. With holes small enough to keep water molecules out but large enough to allow heat and moisture to pass through, breathable waders made anglers exhale a sigh of relief.
Today, all reputable wader manufacturers offer some form of breathable wader. Though this material goes a long way toward comfort, it needs to be combined with a proper fit.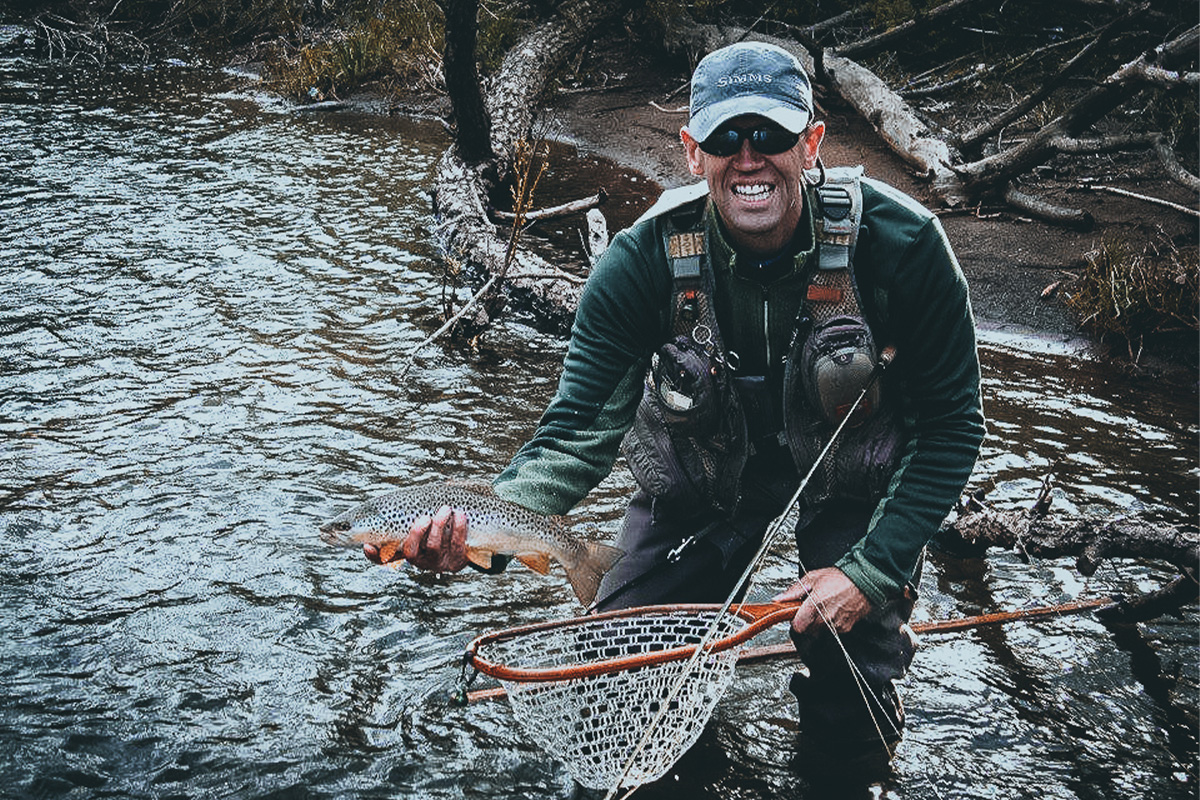 Wader Fit
Go to a credible fishing shop or outfitter to try on waders. Their guidance will go a long way in the fit-for-comfort department.
If that's not an option, pay attention to the sizing chart provided by the wader manufacturer — each brand will have its own. These size charts utilize three measurements: largest girth (chest, waist, or hips), inseam, and stockingfoot or shoe size. A few, such as Patagonia, also include height. These charts work reasonably well for online purchases.
Proper fit of fishing waders is about your under-wader wear needs and movement. I spent years working in fly shops and always told wader customers to think about the heaviest layers they'd likely wear. The waders have to be big enough to accommodate those layers comfortably.
Once allowance is made for the under-wader wear, you need to think about movement.
My favorite in-store exercise was the chair step-up to simulate leaving the stream and stepping onto a high bank. If the waders are too formfitting, you won't be able to manage this move. If the waders feel a little baggy, don't worry — they're supposed to be like that so you can move.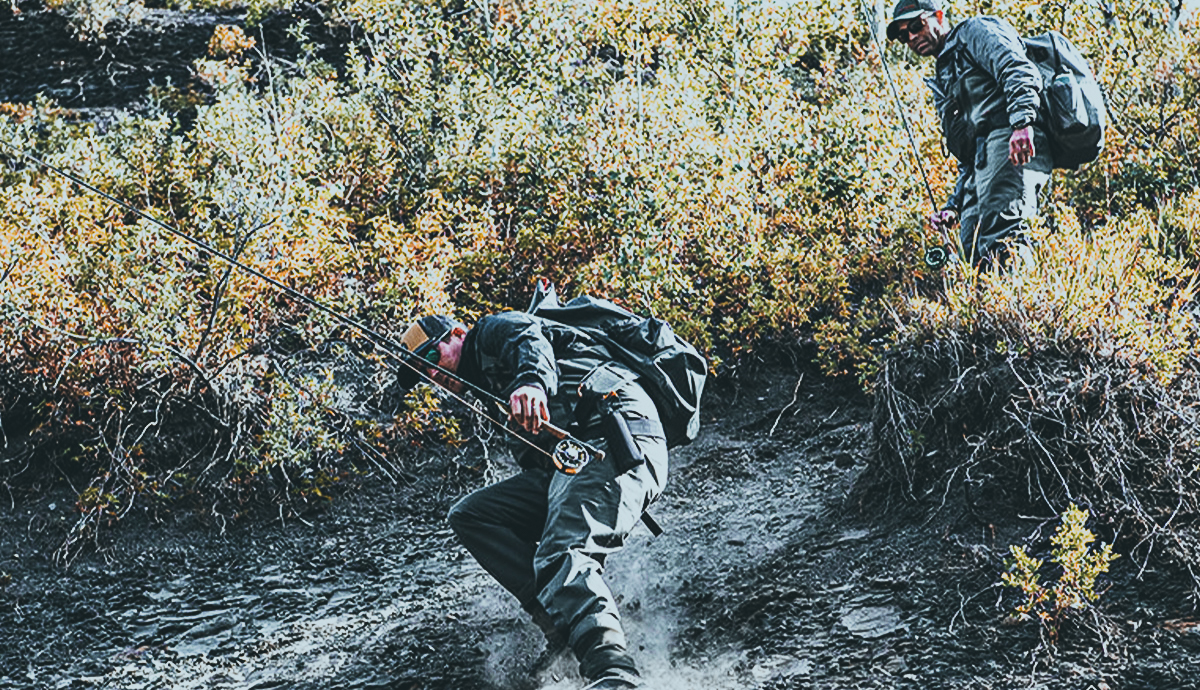 READ NEXT – Watch Spearfishing Champ Justin Lee in 'by Way of Black Sands'
---
Wader Durability
Materials
I have yet to meet a pair of waders I couldn't tear a hole in while fishing, though I've put two solid seasons on my Patagonia Swiftcurrent waders and haven't torn them yet. (Writing that guarantees it will happen on the coldest day I fish this winter.)
Perhaps one exception to this would be the rugged PVC-coated foul-weather gear worn by commercial fishermen, but I'm fairly certain no one wants to walk a mile in those.
That leaves either the ePTFE breathable materials or neoprene. Breathable materials were once somewhat puncture-prone, but two decades of user experience and reports and lots of research and development have benefitted wader durability, making breathable waders the predominant favorite. Cooler during warm weather and, with the proper layers, very comfortable during the winter, they're the best option for most anglers.
Neoprene waders, however, still have a following with some anglers (and hunters) who do a lot of extreme cold-weather winter fishing.
Construction
Look at any of the best wader companies' breathable chest waders, and you will find a combination of materials. This usually takes the form of breathable uppers and legs bonded to a neoprene lower leg and foot bootie.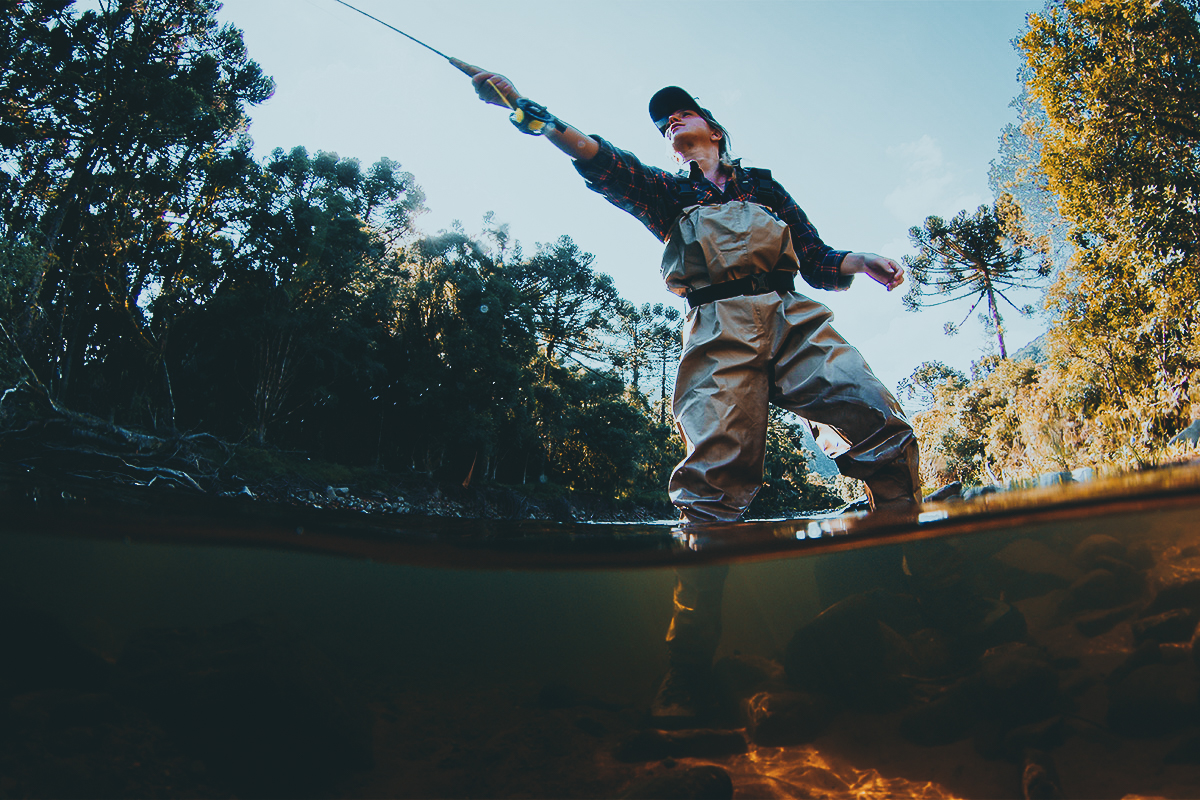 ---
A reinforced layer of material in the areas most prone to tearing — the legs, knees, and seat of the wader — is a feature that equates to longer wear without punctures.
Functionality
Where and when do you fish the most with your waders? If you're fishing only small mountain streams, you might consider hip boots rather than chest waders. If the streams and rivers you fish would easily go over the top of hippers, you need chest or waist-high waders. I prefer chest waders because most can be worn as either full-chest or waist-high.
As mentioned previously, it's important to consider seasons. Though many steelheaders use breathable waders, neoprene's warmth is undeniable. It's why breathable waders are now designed with the lower leg and feet made of this material.
If the bulk of your fishing is done during winter conditions and you get cold easily, neoprene is probably the way to go.
GOOD GEAR – Fuel Your Next PR With BRCC's Fit Fuel Blend
---
Types of Fishing Waders
Wader types are best broken down according to coverage. Think about where you'll use your waders most, and that will guide you to one of these three types.
Hip Waders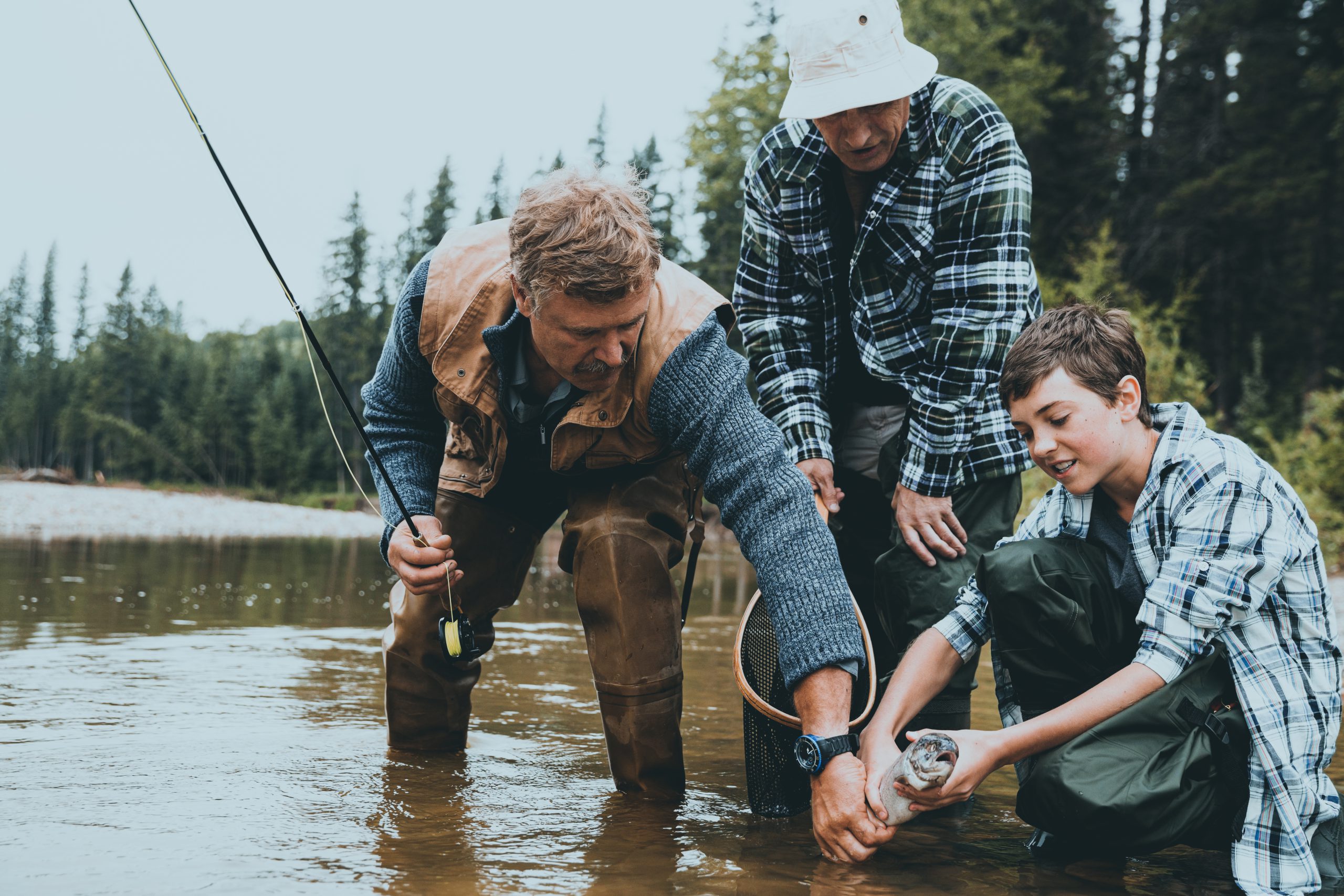 Hip boots, or hippers, were my first waders. I fished small trout streams where the water I wanted to wade was no more than knee-deep. The deeper water was where I wanted to fish, not wade. Hip waders were ideal.
Lighter than other waders, hip boots allow your upper body to stay cool while your legs stay dry. Hip waders are a good choice for the small stream and creek enthusiast.
Waist-High Waders
These are the "tweeners" of the wading world. As the name implies, they provide more coverage than hip boots, but allow your upper body to stay cool. Imagine slightly beefed-up rain pants with a neoprene booty or built-in boot, and you have waist-high waders. Wading depths up to mid-thigh in small to medium-sized streams and rivers are the sweet spot for waist-highs.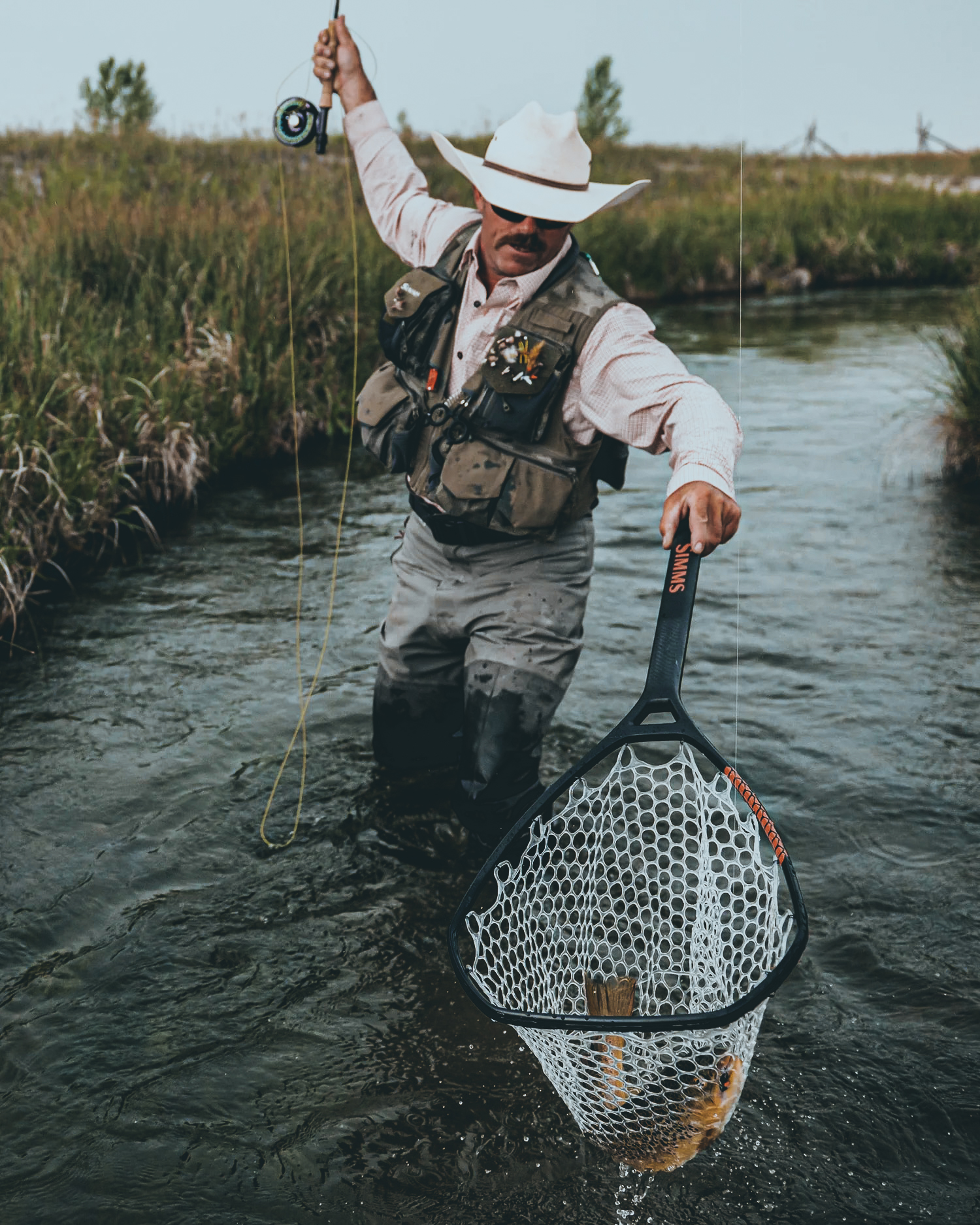 Chest Waders
"Chesters" offer maximum coverage, a water- and wind-proof shell in colder weather, and overall comfort. With a proper fit, they offer freedom of movement and space for whatever layers the season dictates.
Chest waders are also the best insurance in most unexpected fishing scenarios, from unseen potholes to fighting strong fish and having the ability to follow them.
Lastly, chest waders also offer an excellent protective layer for when you're out of the water. Good layers, high-quality breathable waders, and a good rain jacket are the core of my foul-weather fishing gear.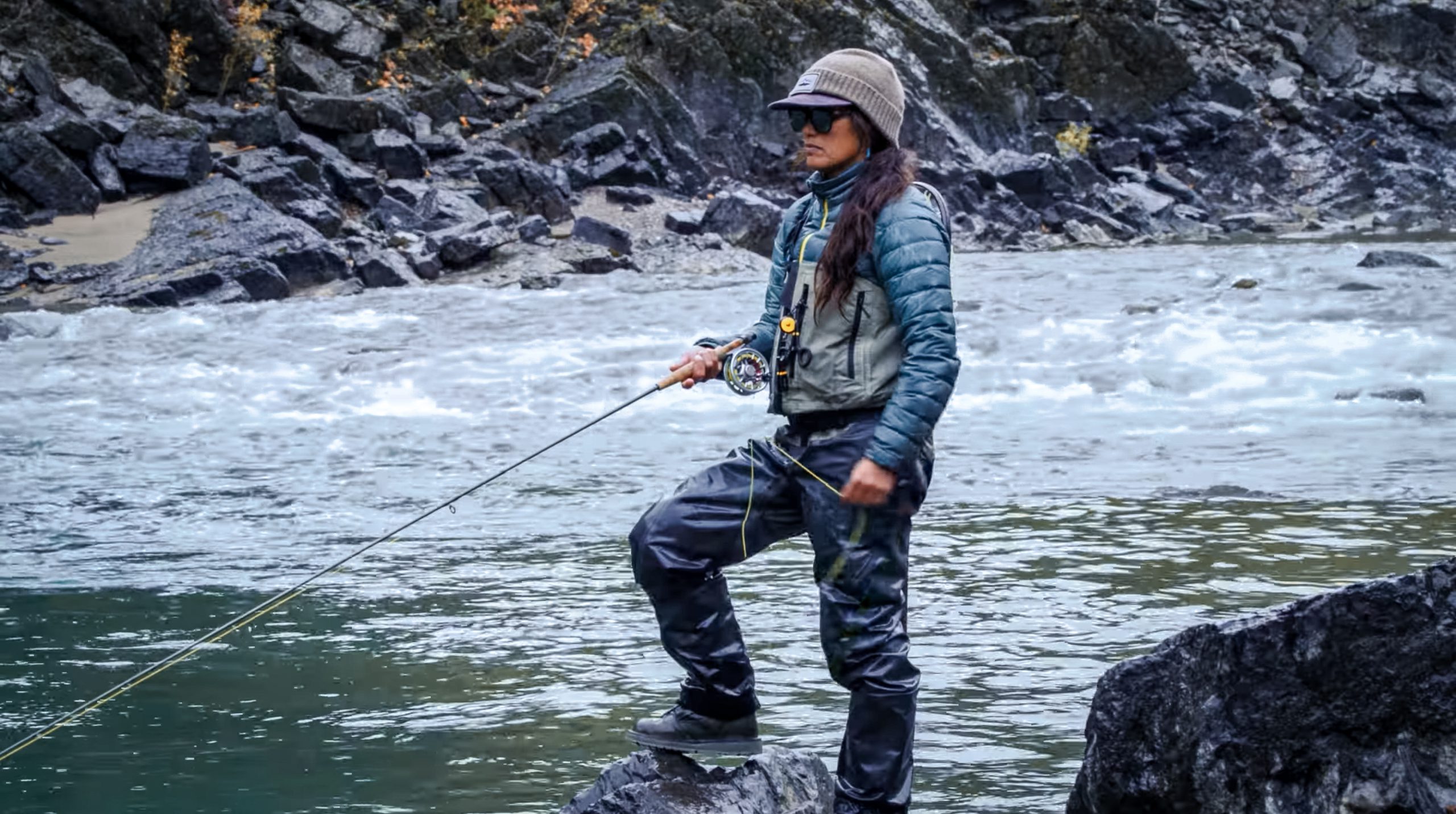 READ NEXT – The Life and Death of the 4 Gauge Shotgun
---
Fishing Waders: The Different Styles
Bootfoot Waders
Whether hip boot or chest, this style has the hard wading boot built into the wader. Some die-hard cold-weather anglers prefer this style because the boot has a bit more space for a pair (or two) of heavy socks and still has some wiggle room to allow for better circulation.
Coastal surf fishing is another environment where bootfoot waders get the nod. Sand can and does get into every possible opening. Even with a gravel guard, sand will get inside the most snugly laced wading shoe and abrade the stockingfeet of the waders. Bootfoot waders eliminate this potential problem.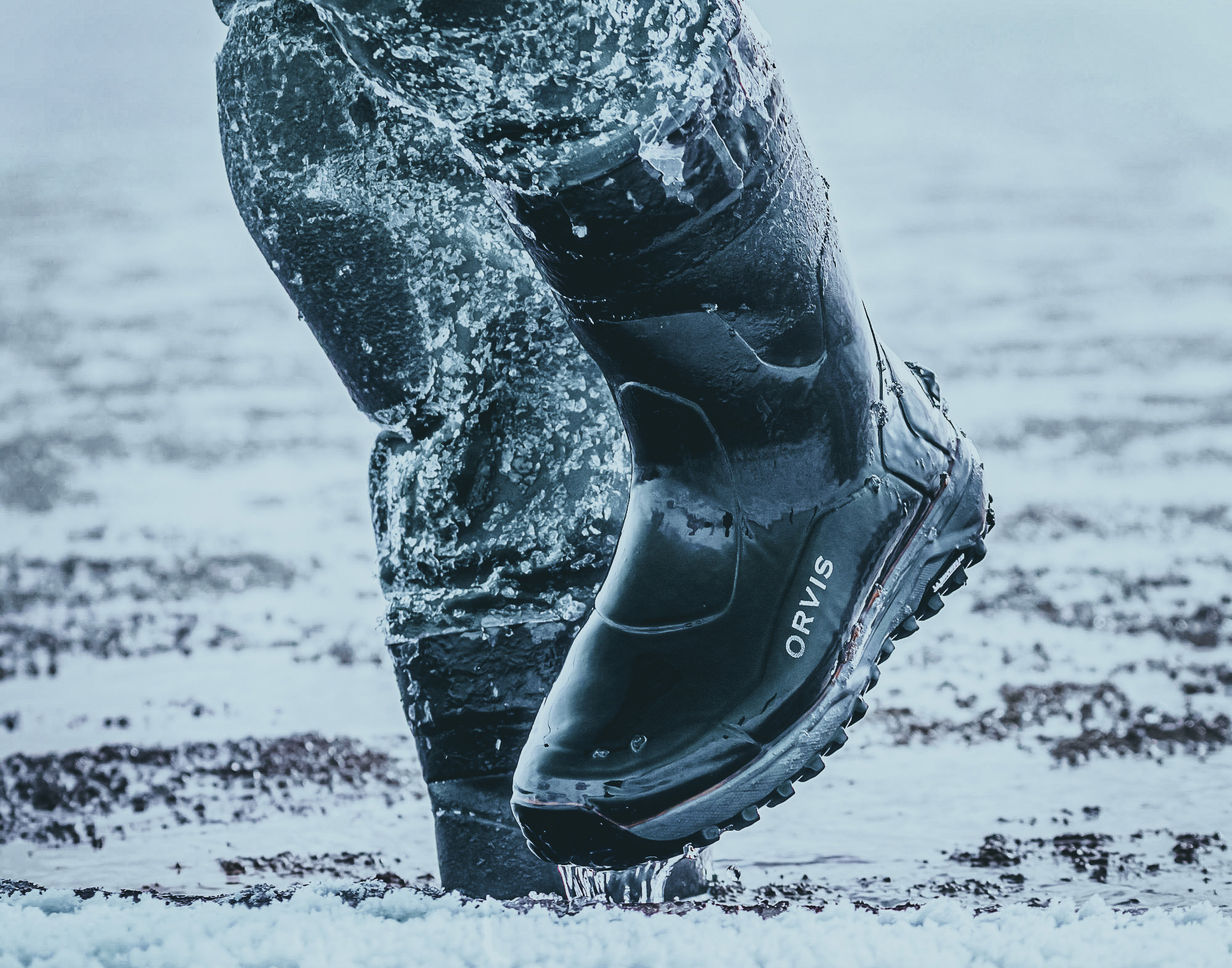 The biggest benefit of a bootfoot style is the built-in simplicity and convenience. Slip them on, and you're ready to fish. At the end of a cold day, there are no frozen laces to untie with numb fingers. The downside is less ankle support as compared to stockingfoot waders with a wading boot.
Stockingfoot Waders
As the name implies, the lower legs of these waders have a soft foot "stocking," usually constructed from neoprene. To use them, you'll need a wading boot or shoe designed to fit over these neoprene feet.
Though there's a bit more involved, the added comfort and support are worth it. The best wading boots fit like a good hiking boot, provide excellent ankle support, and improve wading agility.
GOOD GEAR – Survive the Day With Brcc's Endurance Roast
---
Brands of Fishing Waders
When delving into the world of waders for the first time, new anglers rightfully ask the question, "What is a good brand of fishing waders?"

First, you have a handful of tried-and-true companies that have been outfitting anglers for decades. These include Orvis, Simms, Patagonia, and Redington. I've worn waders from each of these manufacturers, and did so happily. These companies provide quality waders and stand behind their products with excellent customer service.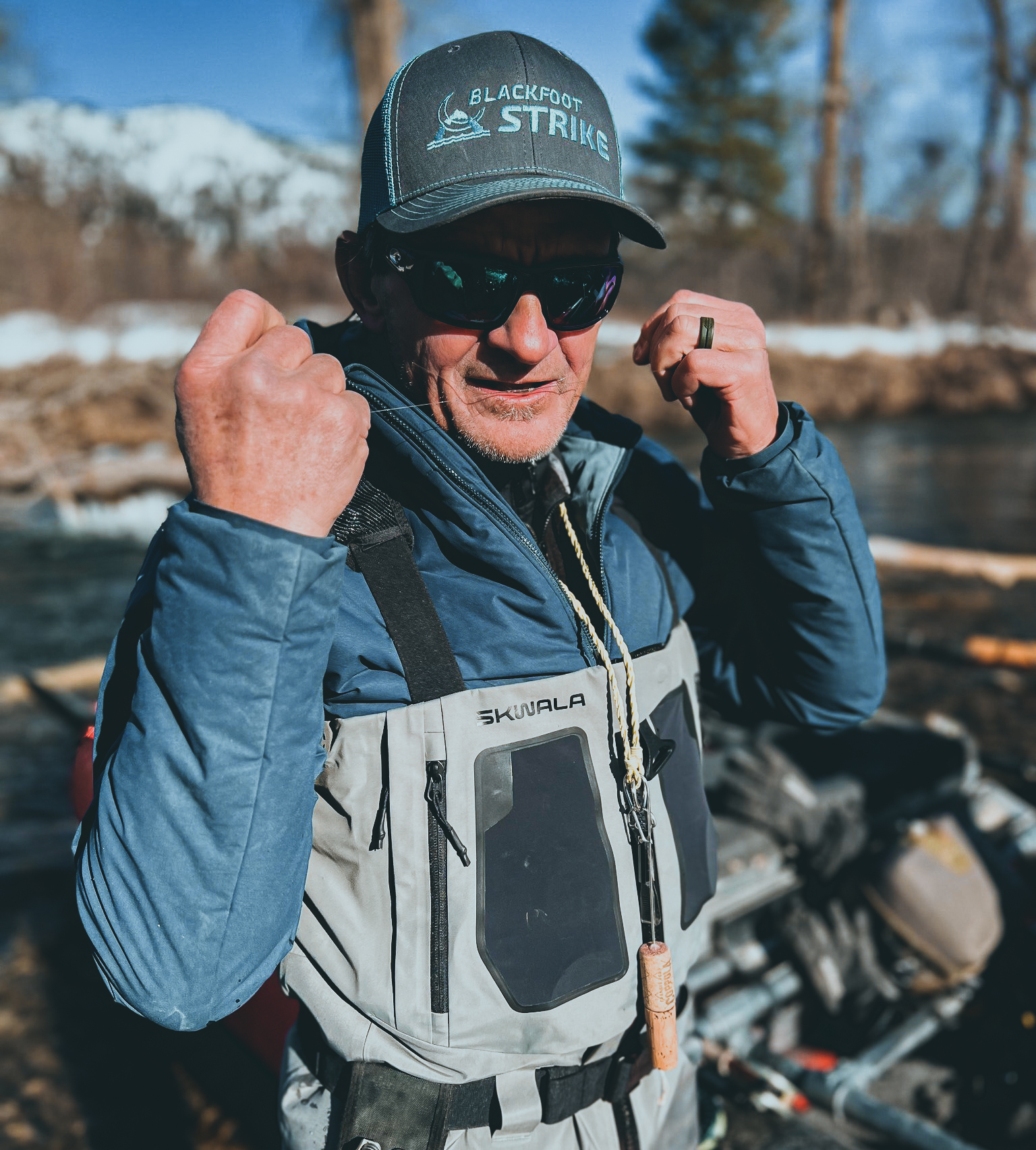 There have also been a few promising newcomers to the breathable-wader market in recent years. The most notable is Skwala.
Skwala launched its operation in March 2022, and did so by first gathering top-notch talent from industry leaders (Simms, Patagonia, Orvis . . . sound familiar?) with decades of experience. Based in Bozeman, Montana, this company is shaking up the wader business by providing another great option for anglers to consider.
READ NEXT – Crappie Fishing: Fast Action, Good Eatin'
---
Under-Wader Wear
Once you've selected the right waders, choosing what to wear under them will make or break your overall comfort. Though there's a bit of overlap, I think in terms of summer, winter, and the shoulder seasons of fall and spring.
Summer
I spent this past summer fishing mountain streams in Colorado. My kids and I wet-waded a couple of times, but after an hour in the water, we were ready for the campfire and cups of hot chocolate. During most of my outings, I happily wore waders — despite air temperatures in the 80s and low 90s, the water was always between 50 and 60 degrees.
Shorts and a good pair of Simms wading socks covered me below the waders. The socks, coupled with the neoprene booties, kept my lower legs and feet comfortable. Meanwhile, I wore a T-shirt and sunscreen to take care of my out-of-water comfort.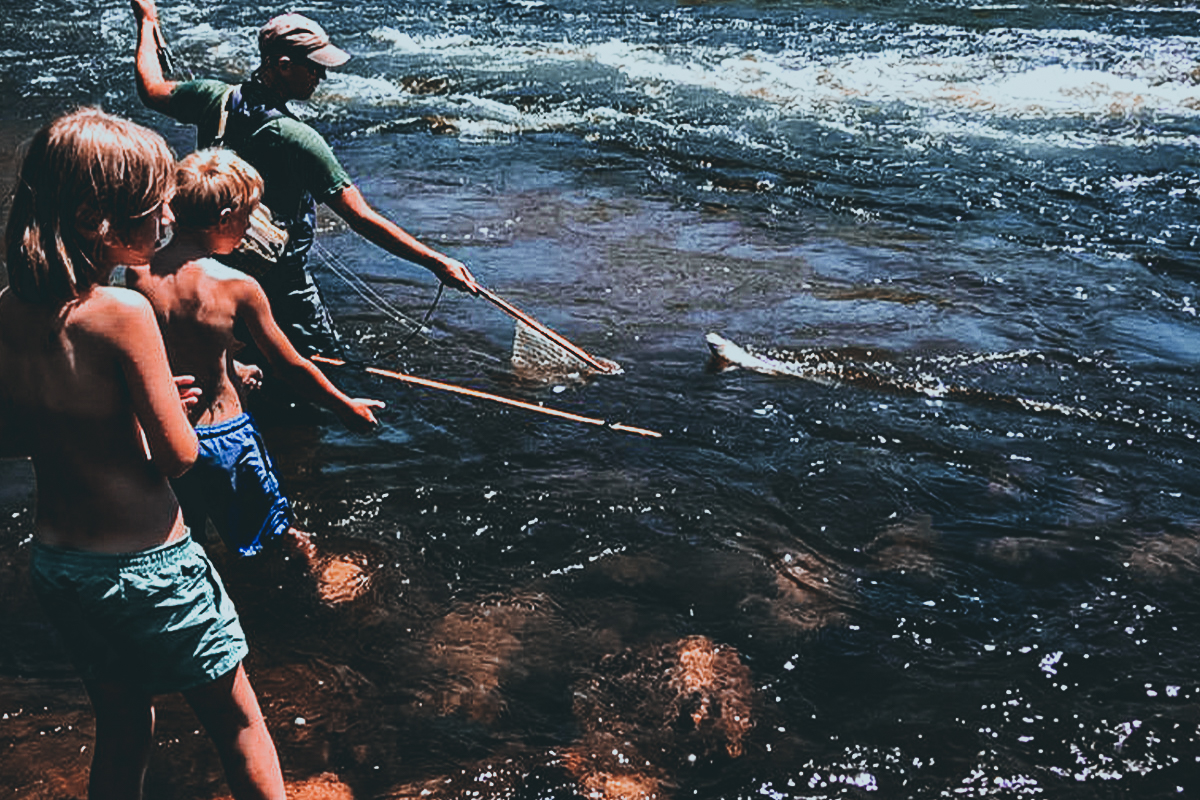 In the Eastern United States, humidity can make waders in summer a bit less comfortable. Wear a moisture-wicking T-shirt and shorts to minimize body heat accumulation and make the long days of summer pleasant.
On the warmest days, wet-wading might be the most comfortable option. I like to wear a pair of neoprene socks with my wading boots and a pair of quick-dry pants or shorts.
Winter
Winter fishing in my world often involves some trekking. No matter how cold it is out, a substantial hike increases body heat, and that leads to sweat. Arrive at the fishing hole, step into 39-degree water, and the cool-down begins.
For cold weather, layering is the key. If your base layers aren't made from moisture-wicking materials, perspiration gets trapped, and the shivering you feel is your body trying to compensate for your choice of materials.
Moisture-wicking layers allow condensation to transpire through the fabric and away from your skin. Sometimes I find a bit of moisture hanging beneath my outer jacket, but the layers close to my body remain dry.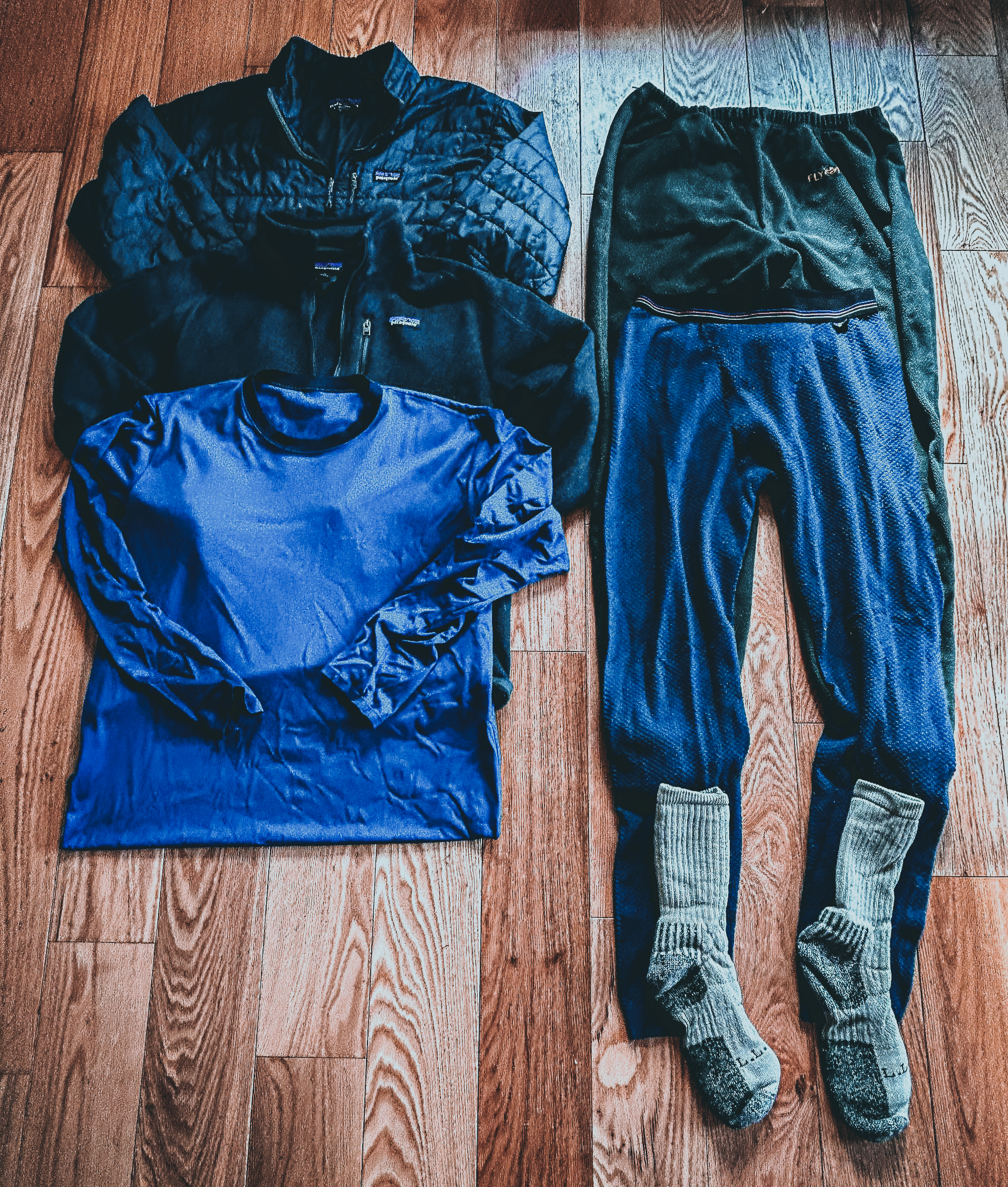 My standard winter layers begin with a top and bottom Capilene or Merino wool base layer. To keep my feet warm, I wear a pair of heavy synthetic or wool wading socks. For the coldest months, I cover my Capilene bottoms with a pair of fleece pants. Above the waist, I wear a fleece or wool mid-layer and a Nano Puff–style pullover.
Fall/Spring
During the shoulder seasons, what to wear under your waders is really just a blend of what you'd wear during the summer or winter. If the day looks to be milder, I begin with a moisture-wicking T-shirt on top, maybe the Capilene base layer on the bottom, and, of course, warm socks. I usually cover these with light or mid-weight fishing pants and a fleece top. For all-day outings, I carry a daypack and shed layers as needed.
If, on the other hand, the day looks to be leaning more toward winter-like conditions, I shift my layers in that direction.
GOOD GEAR – Embody the Ethos of the Quiet Professional With BRCC's Silencer Smooth Roast
---
Wading Safety Gear
Wading Belt
Drowning is a very real possibility when an angler wades deeper than their waders allow (especially chest waders) and they fill with water. The simplest safety precaution with chest waders is a wading belt. For some reason, many people don't want to be bothered with this simple device. Don't be one of those people.
A wading belt, properly adjusted to fit snugly around your waist, can provide the extra time needed when an unplanned dunking occurs. Notice I said "when" and not "if." If you spend enough time on the water in your waders, it will happen.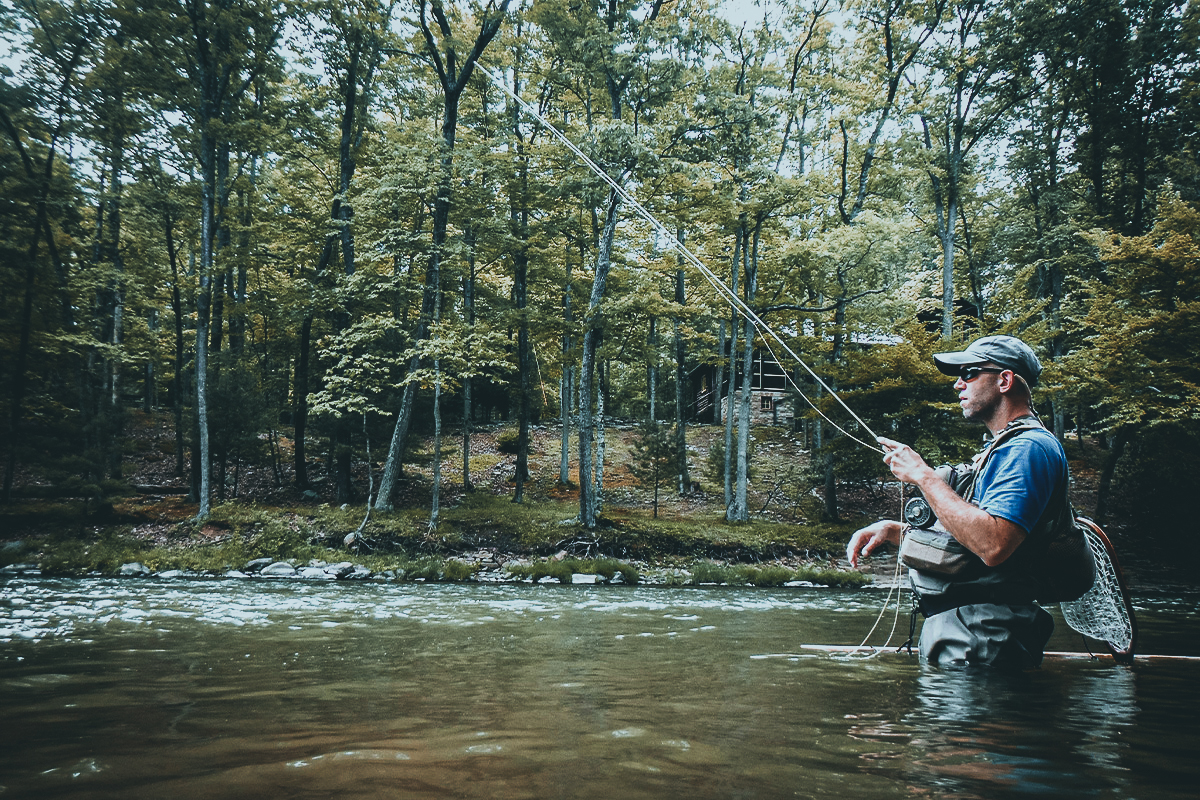 A wading belt won't keep you dry, but it will delay water from reaching into the legs of your waders — a slow trickle instead of immediate leg weights. That extra time allows you to react to the fall, get your feet underneath you, and then move to dry land.
An added bonus of a good wading belt is that it can carry a water bottle and a folded/collapsible wading staff or trekking pole. For thoughts on a wading belt system, check out Dom Swentosky's article, "Let's Rethink the Wading Belt."
In the "for what it's worth" column, always keep an extra change of clothes in your vehicle. I keep one bag there and have a separate set in a dry bag in the drift boat.
Wading Staff
For more years than I care to admit, I considered a wading staff to be a crutch that got in the way. And I paid the price each season.
When I finally gave in and started using a staff, I was amazed by how much it helped. Not surprisingly, the number of unplanned swimming events went down dramatically. For some additional insight, check out What About the Wading Staff?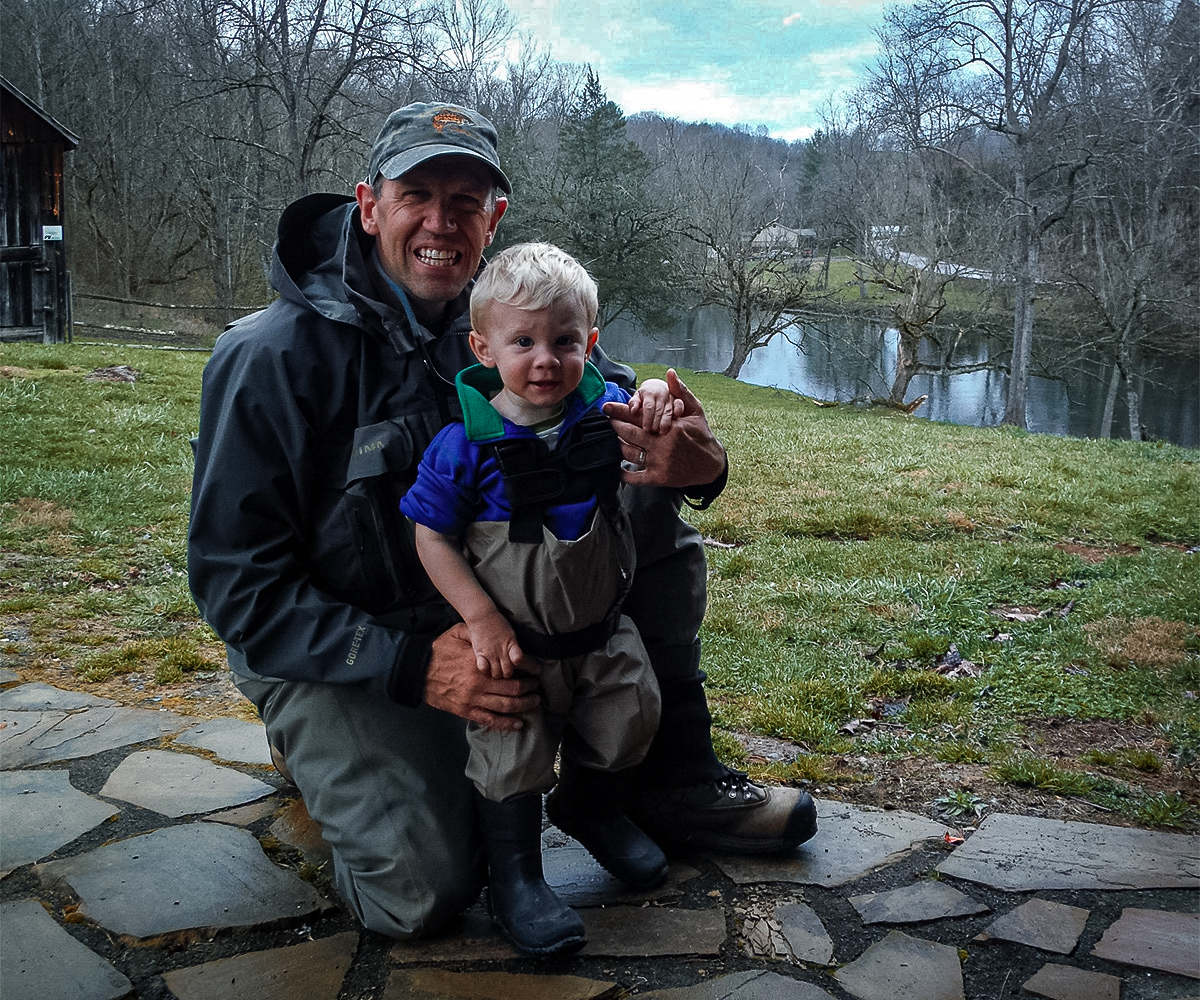 ---
Wading In
Buying new fishing waders is an investment in time and money, and there are a lot of quality options available on the market today. Consider your needs in terms of comfort, durability, and function.
A little online research will spotlight which manufacturer has the type and style of waders that fit your needs. When possible, go to a reputable outfitter or a fishing or fly fishing store to actually try on the waders you're interested in.
If that's not an option, look at the return and exchange policies for online retailers that carry the waders of interest. As soon as you get them, be sure to try them on for fit with the bulkiest layers you might wear. And don't forget to do the step-up test.
When you're satisfied with your new waders, go find some open water, string up a rod, and enjoy.
---
READ NEXT – Crappie Fishing: Fast Action, Good Eatin'