The Rio Grande turkey is a hard-gobbling aggressive subspecies of wild turkey (Meleagris gallopavo) that inhabits a wide range of habitats. If I had to choose one wild turkey subspecies to hunt for the rest of my days, the Rio Grande would top my list.
My reasons for favoring Rios are many, but their vocal nature is definitely one of them. Rio flocks can be quite large during the latter part of March and the first few weeks of April, and on-the-roost gobbling is deafening.
The birds respond well to calling and decoys, and if you play your cards right and don't bump a good roost, you can have excellent hunting in a relatively small area for most of the season.
---
Rio Grande Turkey Distribution and Population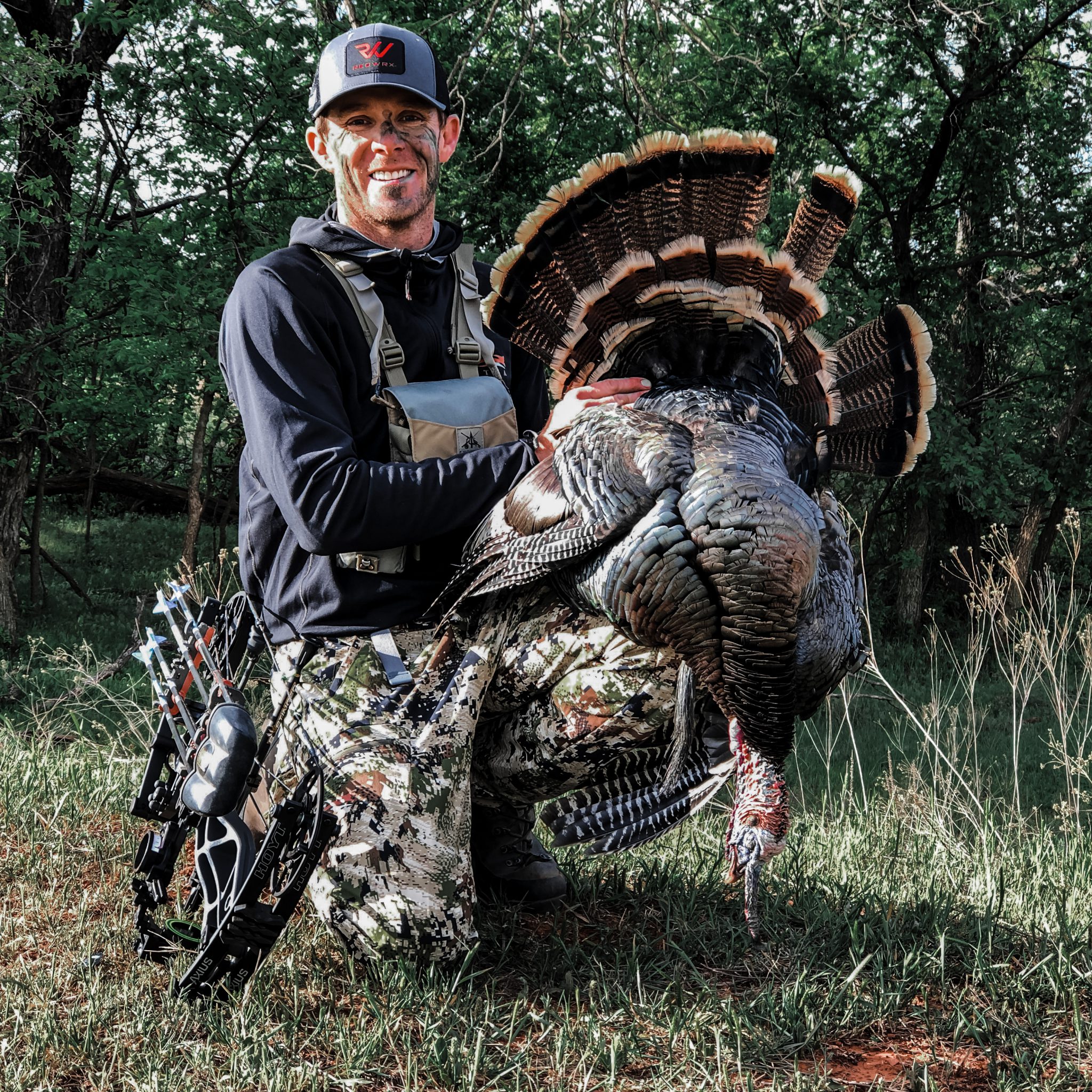 RELATED – Starter Kit: Gear Up for Turkey Season
Wild turkeys are huntable in 49 of the 50 states (Alaska doesn't have a wild turkey season), and the Rio Grande inhabits 14 of them. Named after the snow-fed Rio Grande River, this subspecies is an opportunistic feeder, similar to the Merriam's turkey.
Studies have shown that Rio Grande birds migrate more than 10 miles from winter-flock areas to spring breeding and nesting grounds. Once Rios arrive at their springtime home, but their range shrinks dramatically unless pressured.
Texas leads the Rio Grande turkey charge due to the state's massive size, management model, and ideal habitat. Currently, the Lone Star State has an estimated 600,000 birds. That big number is a big reason why spring bag limits in the state are liberal in most areas. Other top-notch Rio states include Oklahoma, Kansas, Nebraska, Oregon, Idaho, Hawaii, and South Dakota.
Hunters planning a Rio adventure should know that winter mortality mixed with poor hatches has caused some Rio states to reduce tag numbers. Oklahoma is a prime example. The state has reduced the Rio bag limit for 2022 from two birds to one statewide. There are currently well over a million Rio Grande turkeys in the United States.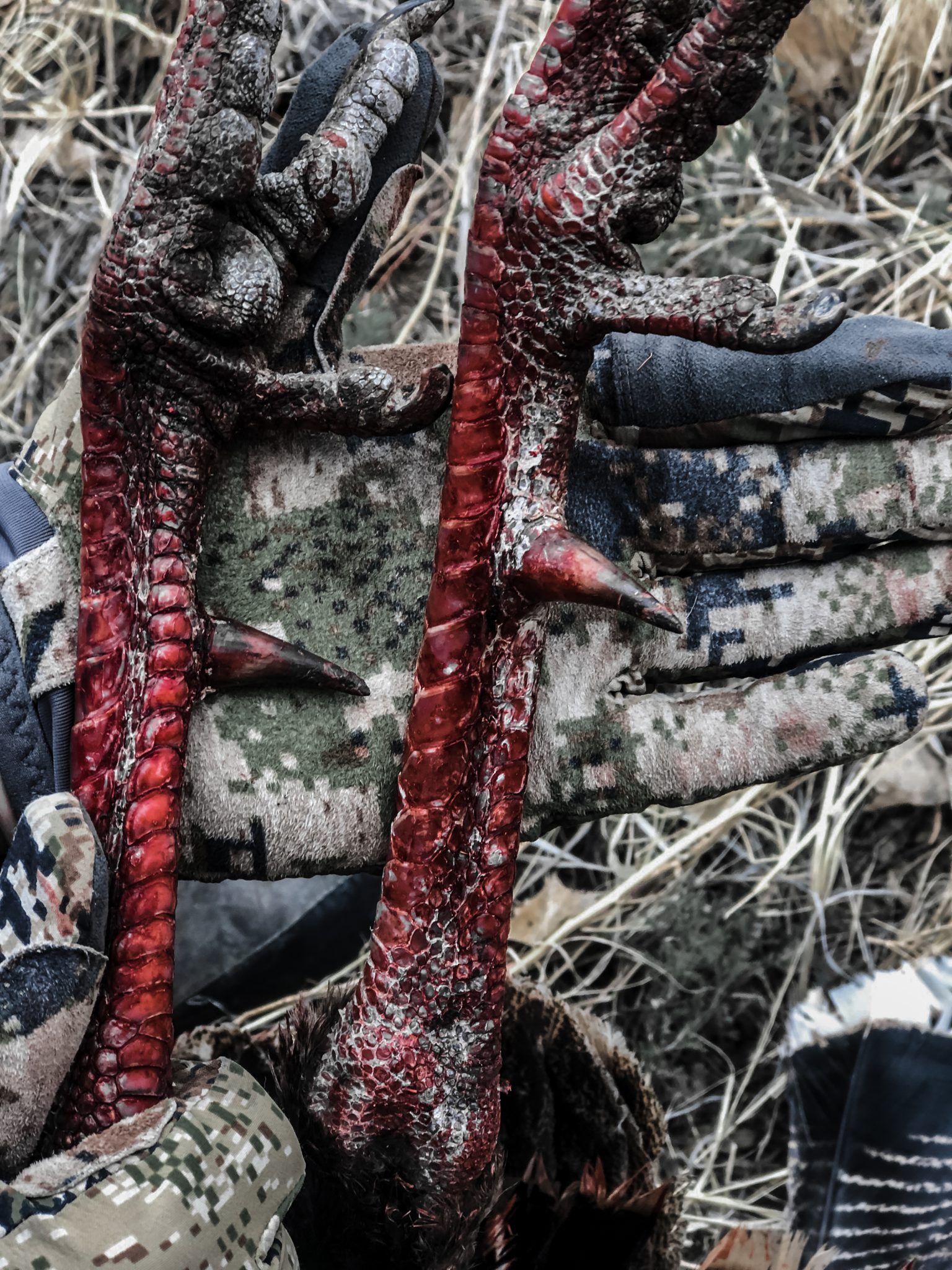 Rio Grande birds are highly adaptable, and I've hunted them from the mountains of Idaho mountains to the plains of Oklahoma. The subspecies' adaptability is a big reason why, in many states, hunters see hybrid birds. Rio toms are aggressive, and when their range mixes with other subspecies, the Rio doesn't play favorites; they will breed with any willing hen.
The Rio prefers to roost in the tallest trees it can find (keep this in mind), and if that tree happens to be along a brush-choked waterway, all the better. While Rios thrive in pine forests and mountainous regions, the subspecies do best in mesquite, scrub oak, sage flats, and along any river or creek system.
RELATED – Turkey Hunting the Pandemic, This Year and Last
---
Rio Grande Description
The Rio Grande is the second smallest of the wild turkey subspecies. Hens weigh between 8 and 13 pounds, and a mature tom will have a fighting weight of more than 20 pounds.
Not nearly as dark as the Merriam's turkey, the Rio has longer legs, and its most distinguishing feature is an iridescent coppery hue. Tail feather fan tips are stained and showcase a yellowish-brown creamy coloration. The tips are much lighter than an Osceola or Eastern but darker than the snow-white ends of a purebred Merriam.
Rios don't often get the paint-brush beard, but beards are typically longer and thicker than those found on a Merriam's. The spurs of a Rio can be daggers; I took a bird with an 11-inch beard and 1 3/4-inch spurs two years ago in Oklahoma.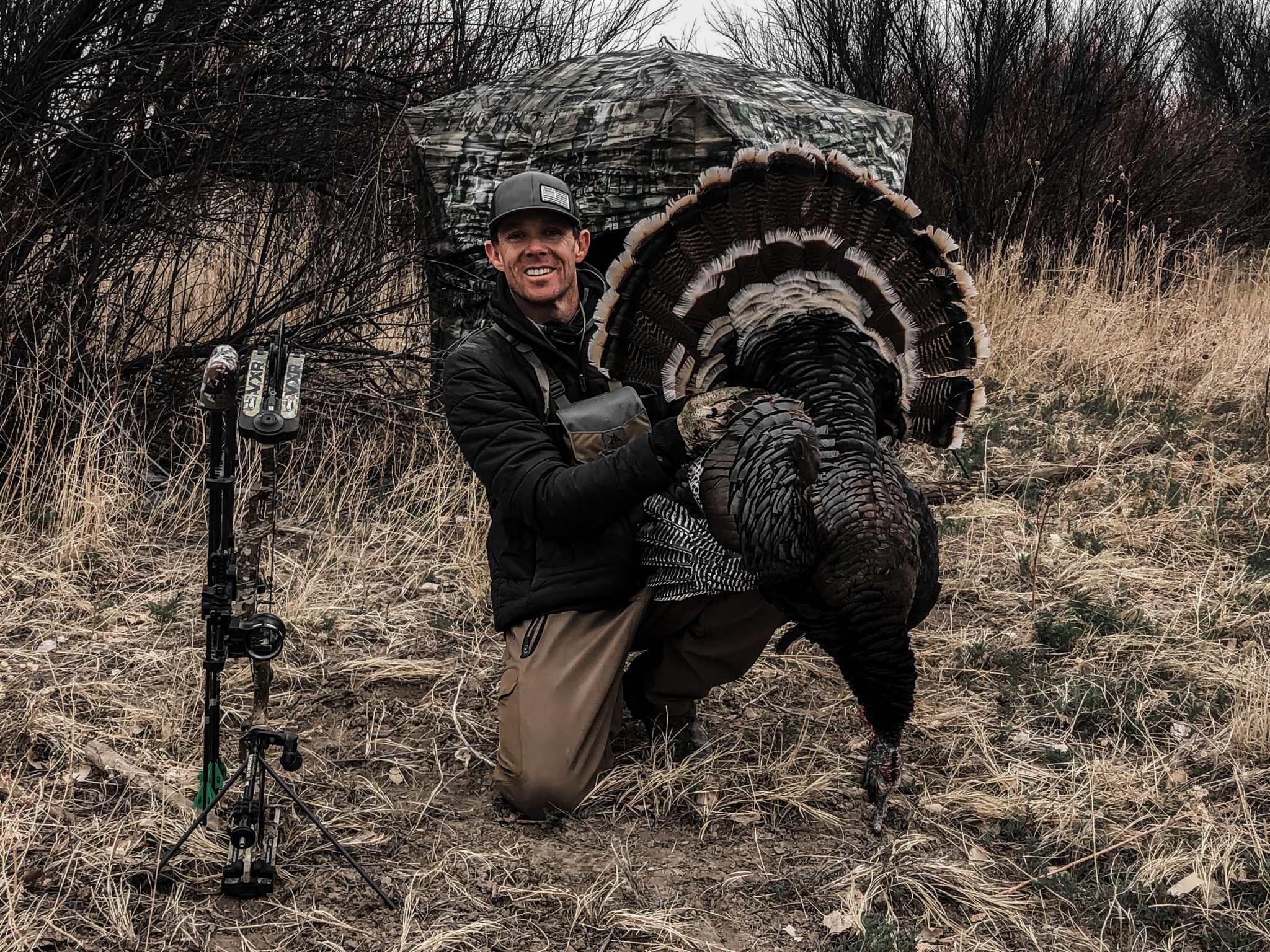 ---
Waterways Are a Win
Rio habitats vary significantly by state and area, but if you can find a river, creek, or stream system near agriculture, you will discover gobs of birds. Rios love waterways, which funnel their daily movements. Be sure to add a good set of binos to your Rio Grande turkey hunting gear loadout. River and creek systems in many Rio-populated states have limited trees and cover. After pinning habitat hotspots on a digital-mapping app, my favorite method for finding birds is driving perimeter roads and letting my glass do the walking.
Of course, waterways aren't always a guaranteed landscape feature. Ponds and natural springs are great places to locate roost trees. Remember, Rios like tall trees, and several times in Texas, Oklahoma, and Kansas, I found 40-plus birds using a single ancient cottonwood with limbs stretching out over a spring you could spit across.
Vast sage, cactus, and mesquite flats are also great places to find birds. Rio Grande boy birds love to make themselves visible for hens and seek open areas where they can blow themselves up with air and strut around. Ninety percent of my favorite Rio Grande turkey spots have been found by burning gas and using my optics.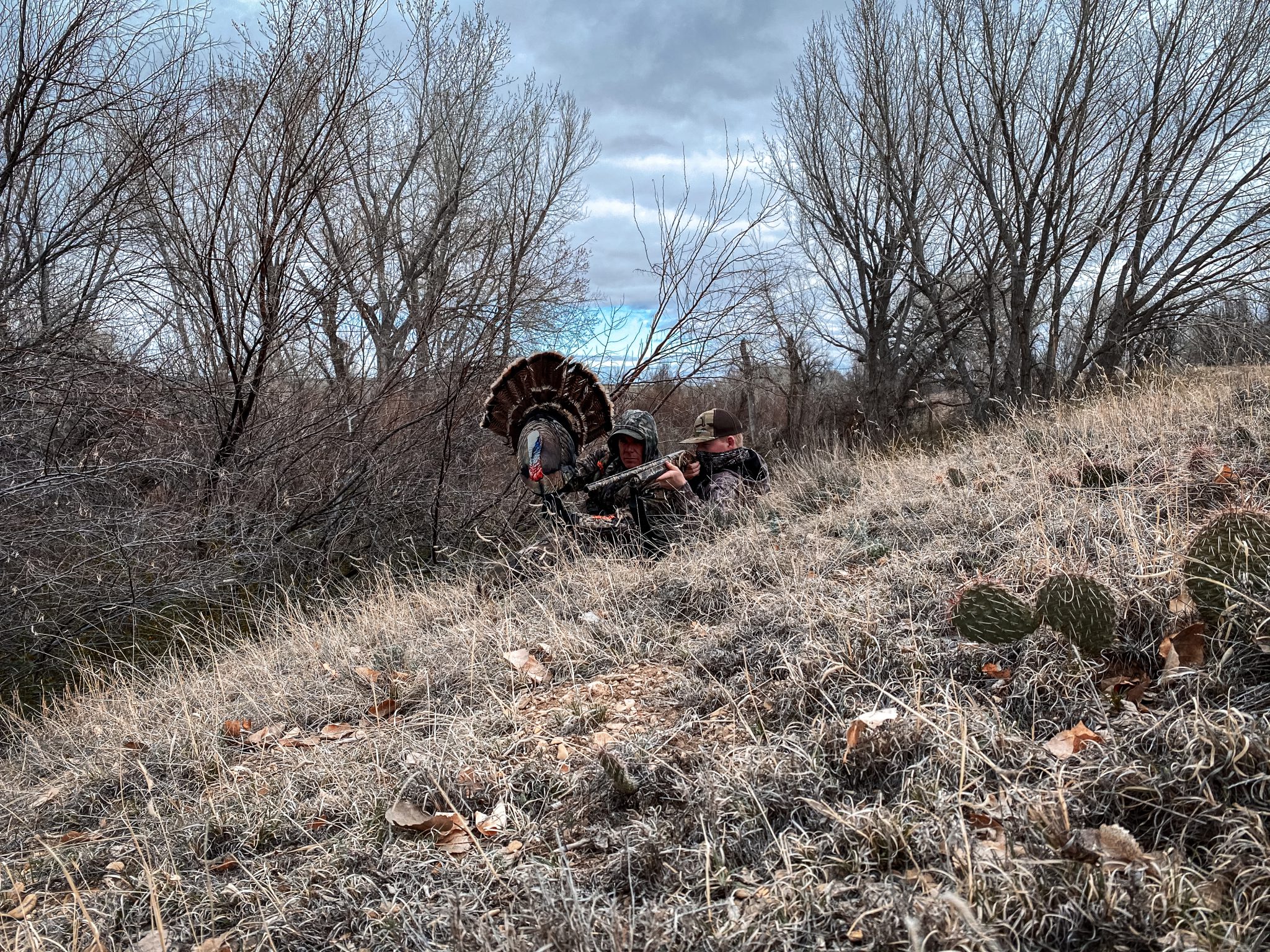 RELATED – Wild Turkey Banh MI: An Outdoorsy, American Spin on a Vietnamese Classic
---
Get 'Em Killed
Rio birds, especially during the early season, are highly predictable, and they establish a daily routine and stick to it like glue. One Rio hunting mistake is creeping in too close to an early-season roost. The cover is sparse in most Rio landscapes, and you don't have dense hardwoods and multiple ridges to disguise your approach. If 50 birds are using a pair of cottonwood trees over a pond in the middle of a cattle pasture, chances are good they will see you if you try to creep too close. You can't beat the nose of a whitetail, and you can't beat the eyes of a wild turkey.
Leave the roost alone and spend time learning what the birds do after they fly down. I like (where legal) setting out trail cameras to monitor strut zones and scratching and dusting areas. A few days of trail cam reconnaissance mixed with glass-and-drive efforts will reveal an away-from-the-roost pattern. Exploit the birds' patterns, and getting one to flop on the ground is pretty straightforward.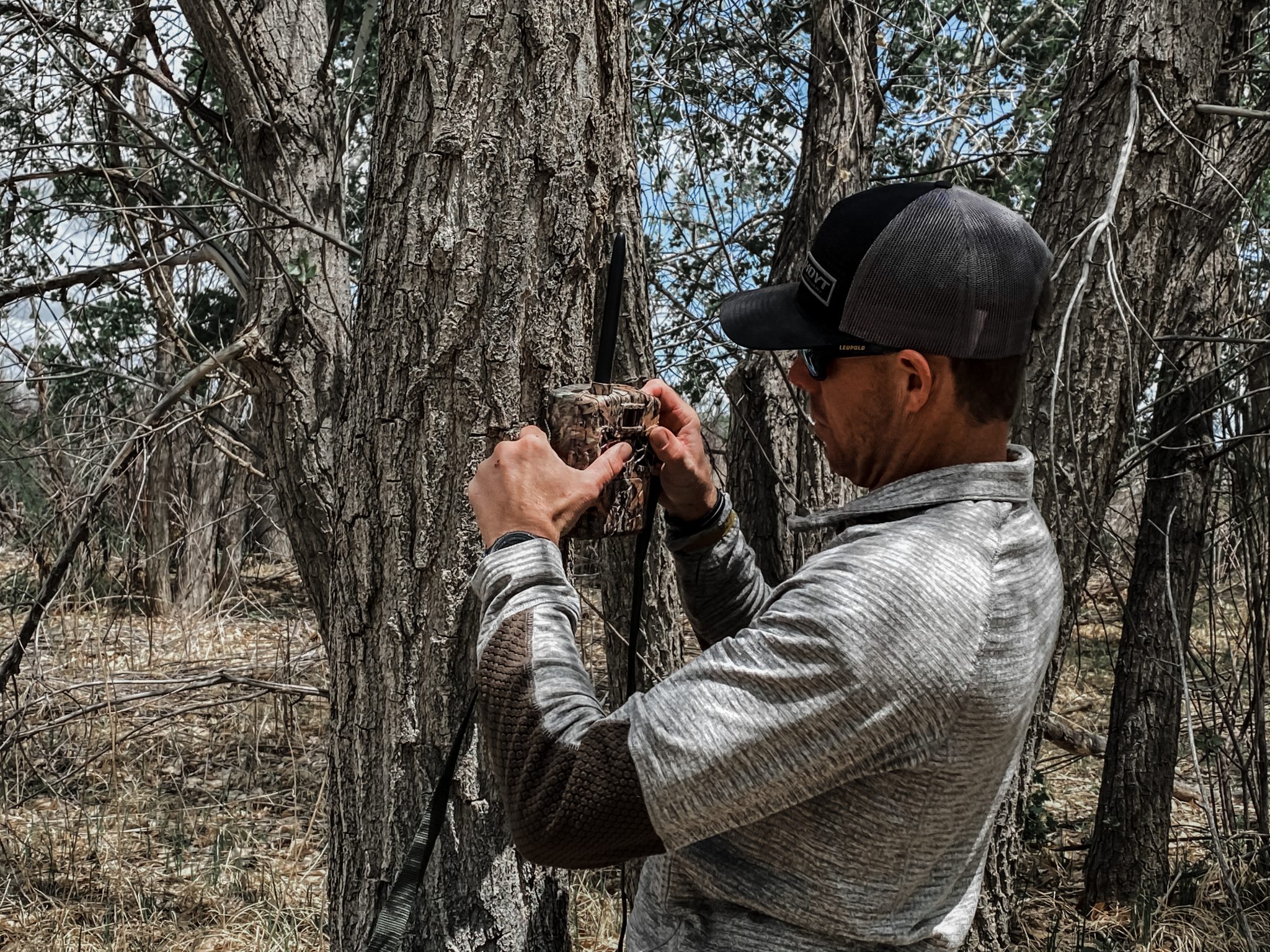 Flocks will break up later in the season, and hens will start sitting on nests. If top roosting sites have been left unmolested after the breakup, Rio locales will still retain a lot of birds, and the hunting can get flat-out silly. My favorite mid- to late-season Rio tactic is to get in the woods around 11 a.m. and take a little walk to look for areas littered with strut marks and tracks.
Once a good calling site is found, I set out a Dave Smith 3/4-Strut Jake over a Laydown Hen and start calling. The key to calling is not getting overly aggressive from the get-go. Let out a soft two-note yelp. If you get a response, mimic the same two-note yelp. If the bird hammers again, go quiet and see if he will gobble on his own. If he does, start yelping and cutting. You own him.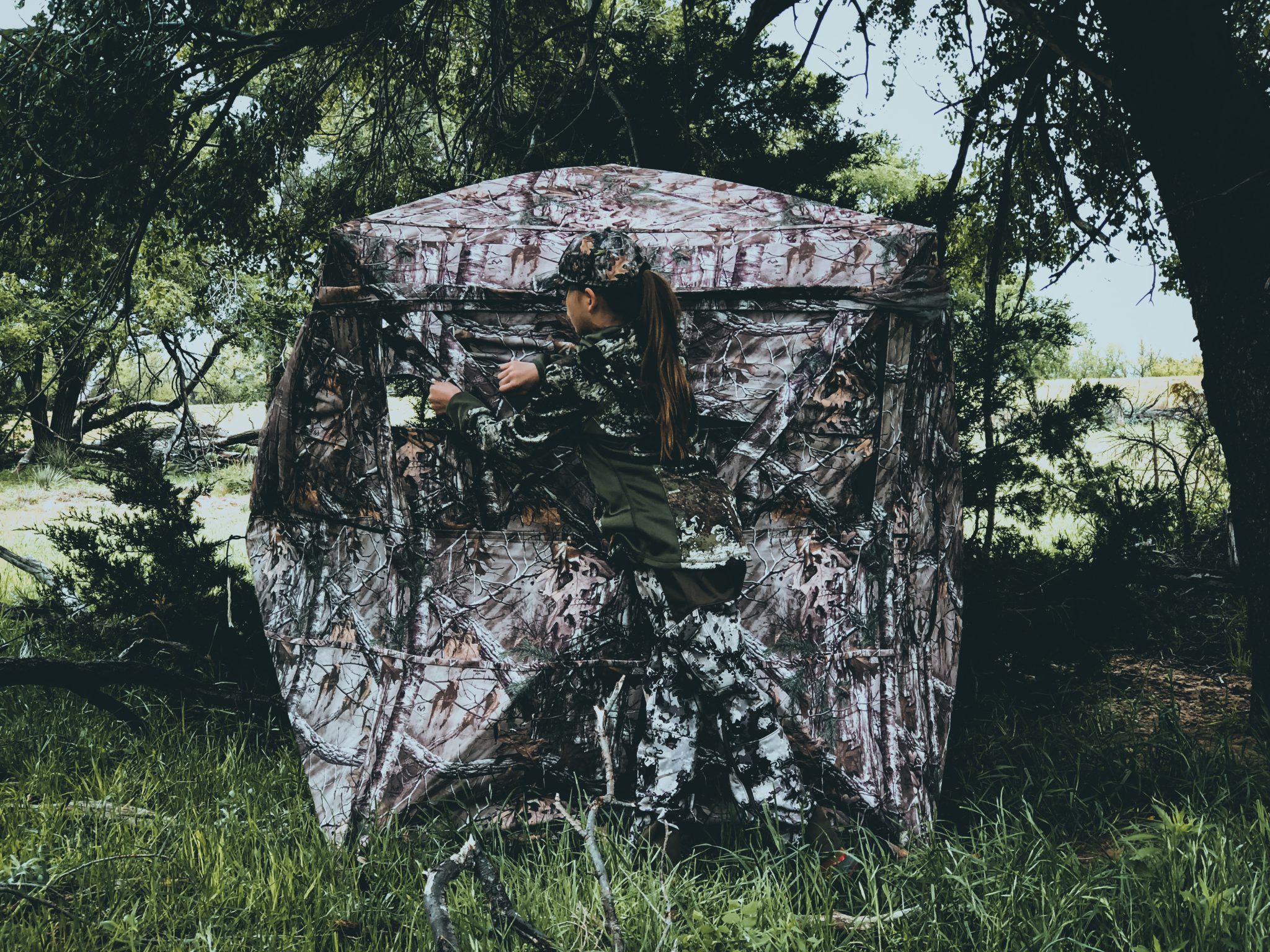 My absolute favorite way to hunt Rios, though, is reaping. I recommend using this tactic only when hunting private land. I have reaped my fair share of public-land birds, but I do so only when I'm 100% certain I'm the only hunter in the area.
Reaping is easy. Get a cloth-style decoy from Ultimate Predator Gear or Heads Up Decoy. When reaping, you are the decoy, and you go looking for a fight. Most Rio landscapes are incredible for this style of hunting. You can glass birds out in the open and then use the cover to disguise your approach.
When you show a tom a reaping-style decoy, try to show him only bits and pieces of it. Use a creek bank or vegetation to break up the decoy's outline. Be ready once you show the bird(s) the decoy. If the bird(s) is in the right mood, he will come on a dead run.
---
READ NEXT – DIY Public Land .410 Turkey Slam in the First 2 Weeks of Turkey Season