This post contains affiliate links. We may earn a commission if you buy through these links.
I first hit the turkey woods in the mid-1980s, trudging along in too-big boots and mismatched camo, trying to keep pace with my dad as he moved through the predawn fog of a soggy river bottom, hell-bent on getting to the spot where he knew a big gobbler had roosted the night before. I didn't have a turkey vest back then because I wasn't really a turkey hunter. I stuffed a hand-me-down face mask in my pants pocket while Daddy toted the dekes, his calls, and the ever-essential TP.
Back then, I thought my father was a turkey-hunting god.
I still do.
Because he was.
That man could work a bird like nobody's business — even back then, when turkey populations in the Southeast were just beginning to swing in the right direction but were nowhere near the healthy numbers we appreciate today.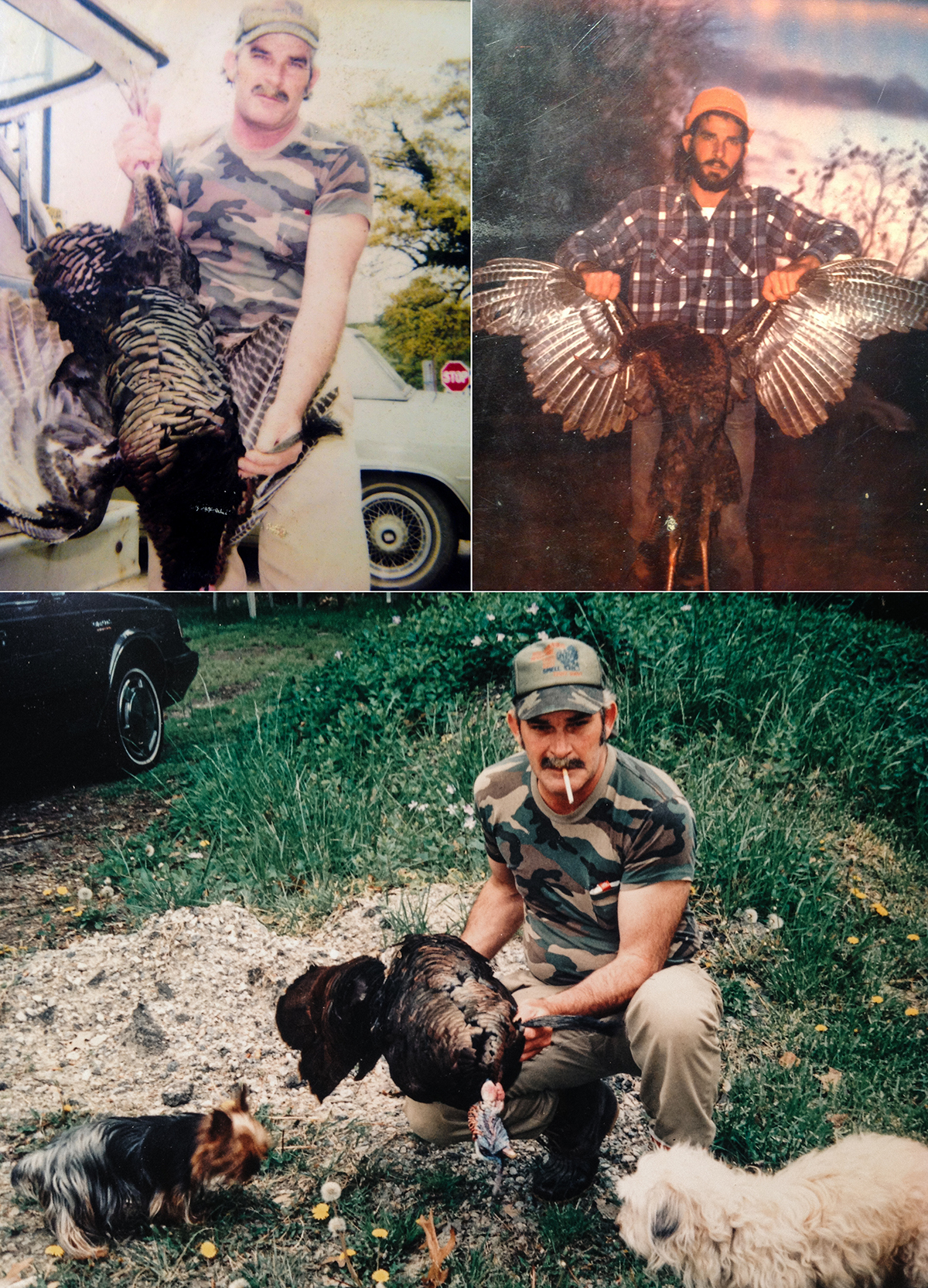 My daddy could even sweet-talk those tough lockjaw longbeards on public land, the too-stressed, too-pressured birds that nobody could hunt. My dad could make music with a mouth call that even the most stubborn gobblers couldn't resist.
I connected with my first bird at the tender age of 14. The No. 5 shot from my dad's Remington 870 Wingmaster peppered him in the head and neck just above a 10-inch beard as he came racing hot off his overnight tree limb toward my father's yelping calls.
My dad carried a photo of me and that bird in his wallet until the day he died.
That he carried that picture — not high school graduation, college, or my wedding day — says everything that needs to be said.
One of the things I remember most about that day is the four snack-sized Snickers bars Daddy pulled from the pocket of his turkey vest. Smiling a mile-wide grin, he tossed two my way. We unwrapped them and pretended to clink them together like wine glasses, toasting our turkey-hunting success.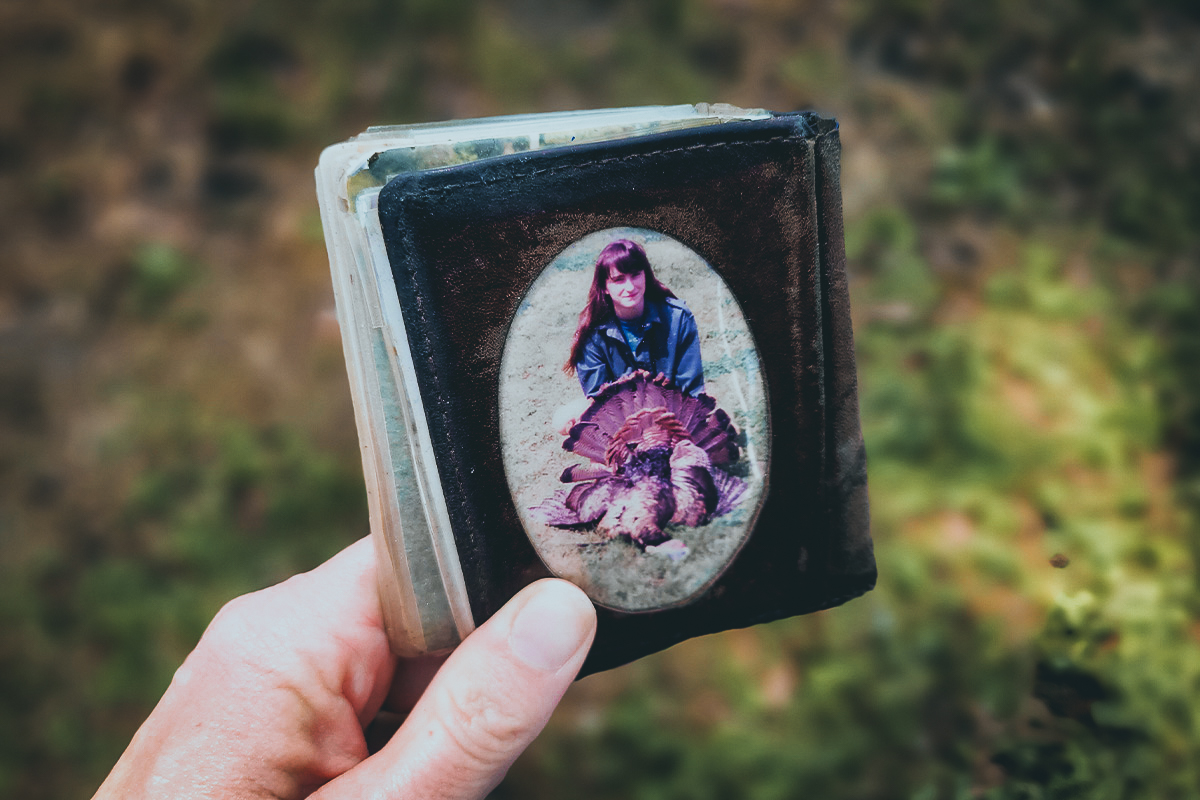 RELATED — U.S. Turkey Super Slam: How a Hunter Bagged Mature Toms in 49 States
---
More Than Gear
For passionate, hard-core turkey hunters, a good turkey vest is more than just a piece of gear. It holds far more than box calls, face masks, and Snickers bars.
After my father passed, when my mother was sorting out his hunting gear, the first thing I asked for was his turkey vest.
Unfortunately, it wasn't that OG vest. It wasn't the one he wore that day when I was 14, pulling mouth calls and chocolate bars from hidden pockets like the turkey-hunting magician he was. That vest had long since been worn threadbare, tragically retired to the garbage bin decades before.
But his most recent vest was just as special. Its well-worn, fading camo still held a few spent hulls, dry, crusty blood stains, and heavy nostalgia.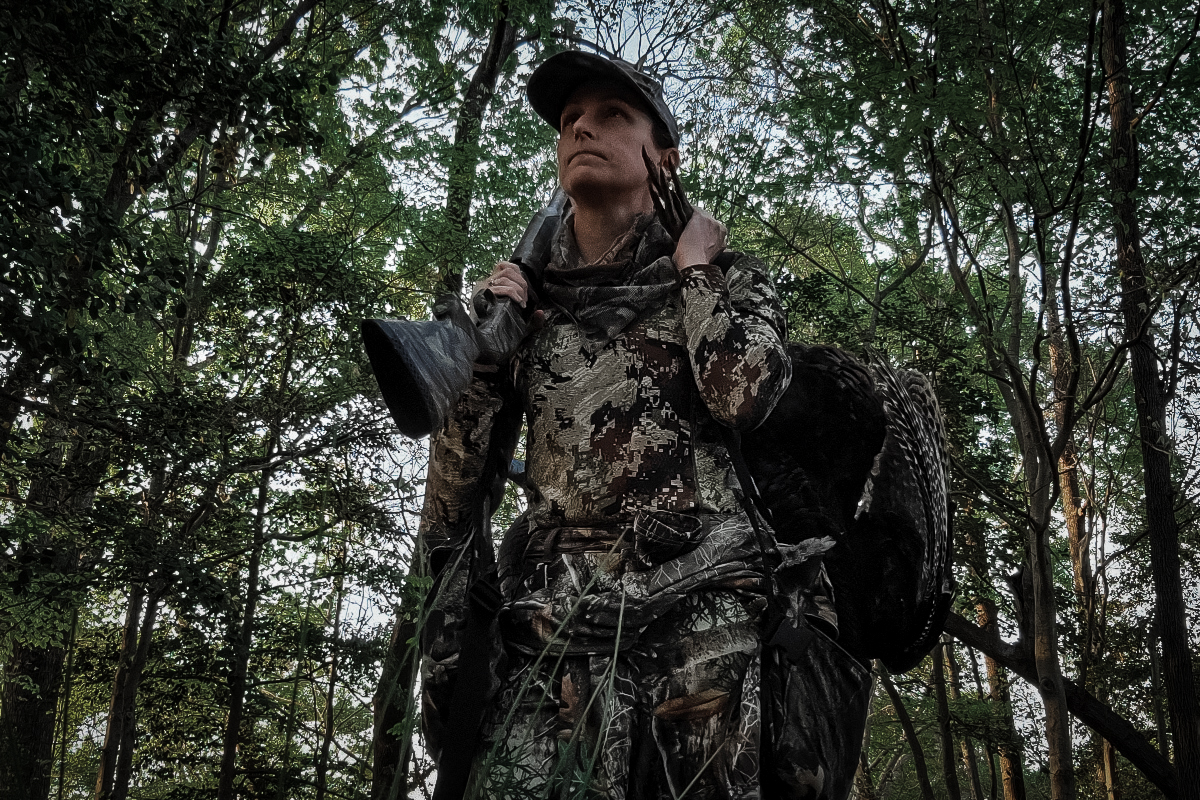 Although his vest was far too large for my small-framed body, I wore it into the woods that first season without him, cinching up the adjustable straps in a vain attempt to make it fit. And while I haven't quite grown into it, literally or figuratively, that vest was wrapped around my body when I called in my first gobbler all on my own.
GOOD GEAR — Solve Most of Your Morning Problems With The BRCC Coffee Saves Roast
---
Why You Need a Turkey Vest
Turkey hunters have been successfully bagging birds for far longer than specialized turkey vests have been peddled to the masses.
Do you absolutely need a turkey vest to fill a turkey tag?
Need is a strong word. But, boy, can a good turkey vest make your season a whole helluva lot easier.
Plus, your kids will probably want to wear it into the turkey woods that first spring hunt without you.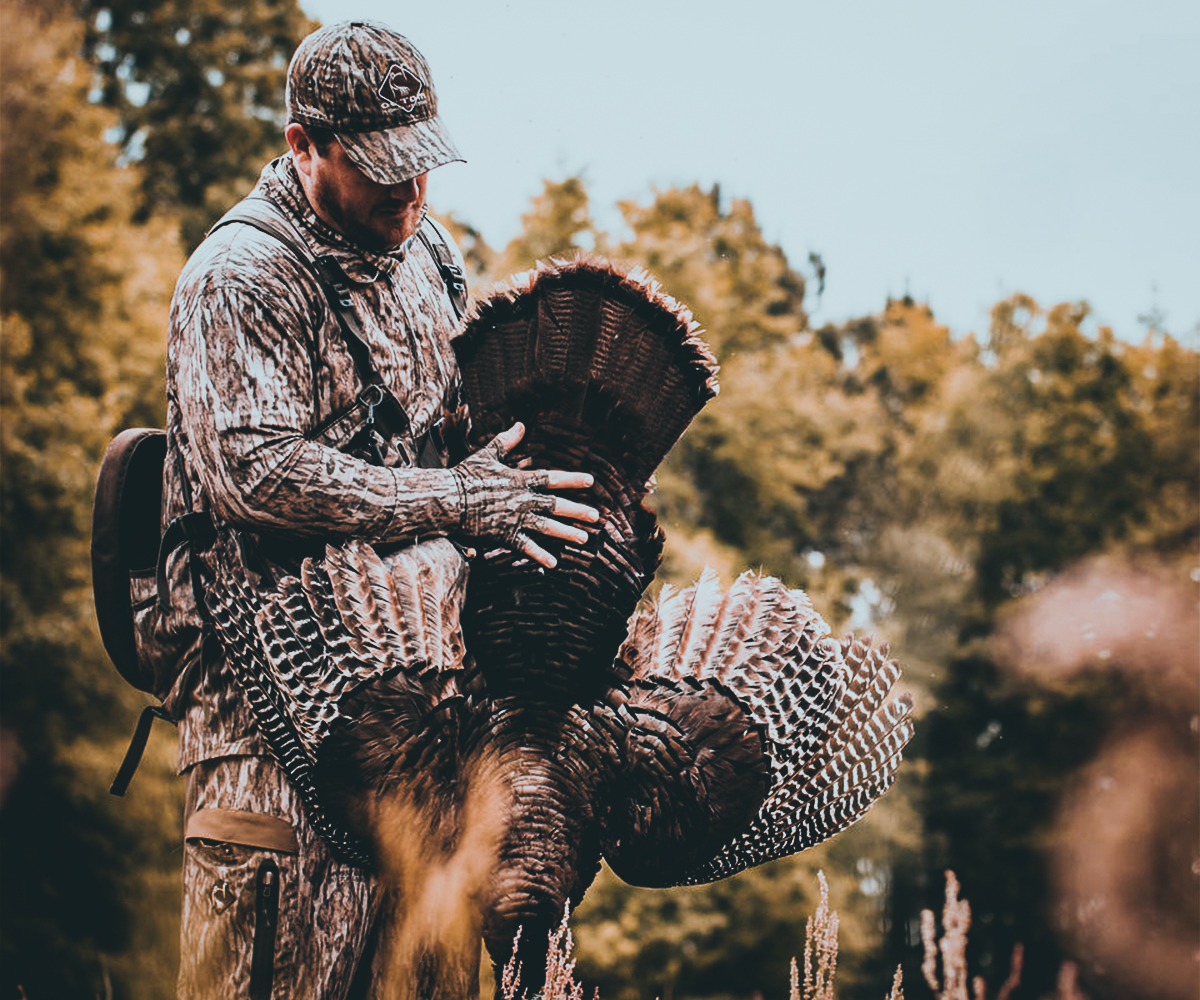 GOOD GEAR — Keep That Freedom Engine Running With the BRCC Freedom Fuel Coffee Roast
---
Mossy Oak Scores Big With the Mr. Fox Turkey Vest
One great example of how turkey hunters value their turkey hunting vests is the story of Mossy Oak's limited-run turkey vest.
The Mossy Oak Mr. Fox Turkey Vest is named after Fox Haas, the father of Mossy Oak founder Toxey Haas. This special-edition, limited-run vest is chock-full of features any turkey hunter would appreciate — such as top-notch call pockets, quick-release buckles, old-school Mossy Oak camo, and a roomy foam seat cushion.
However, the real value of this turkey hunting vest isn't in the materials, construction, or features — it's in what the vest represents.
Mr. Fox, now 92, has killed at least one turkey for 75 years running. While the man certainly has some major hunting prowess, he also started pursuing these noble and humbling birds when wild turkey populations were struggling.
Sound management strategies helped turkeys make a major comeback, expanding beyond their historic range. However, over the past two decades, flocks have been gradually thinning, causing concern among conservationists and hunters nationwide.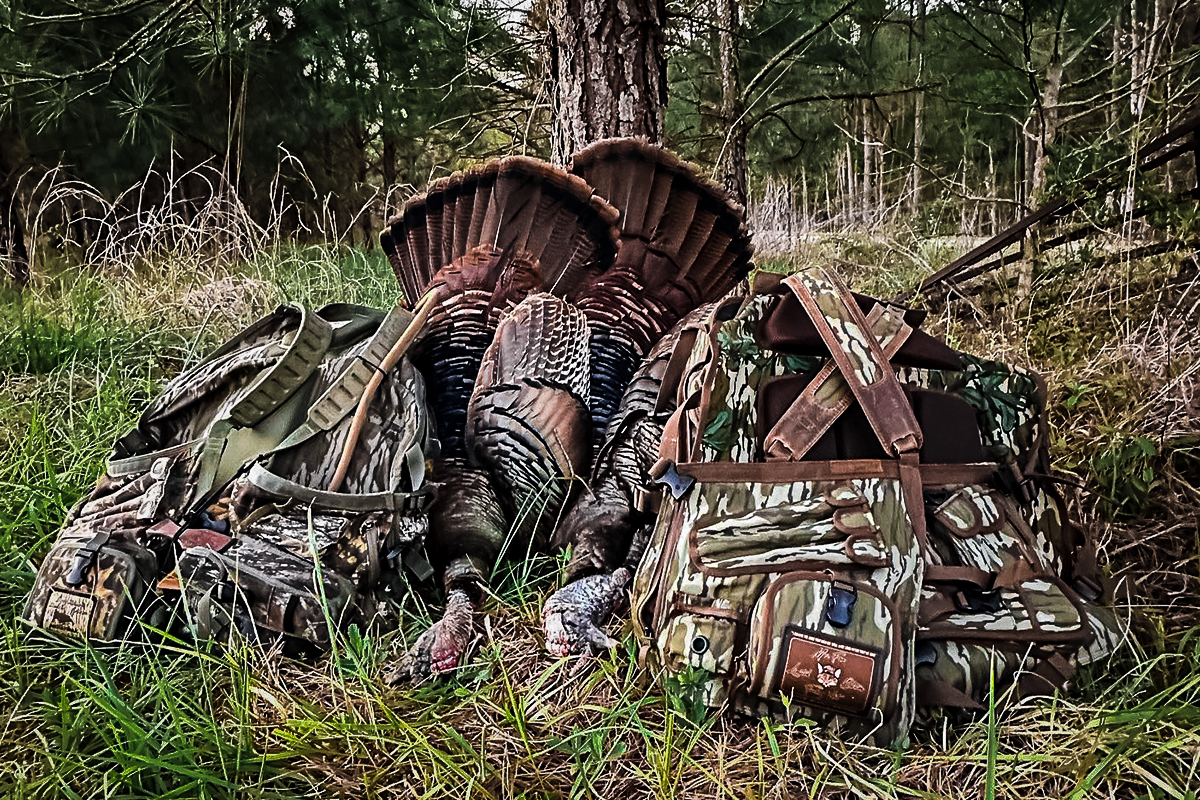 The wild turkey decline is inspiring many hunters to look back at the early days of successful management, borrowing old-school tactics from our dads and granddads. This vest is a hat tip to those seasoned hunters who helped bring the wild turkey back from the brink so we could feel the thrill of hearing those heart-stopping gobbles echo through the early-spring fog.
It's also a nostalgic salute to a man who values family, has made hunting memories spanning decades, and inspired a brand that completely changed how Americans hunt.
Although this turkey vest is super-cool, Mossy Oak sold out of these special-edition turkey vests before they even hit the general market, despite their $450 price tag.
If you had your heart set on one for the 2023 season, you're SOL. Only 1,944 numbered vests were made (1944 was the year Mr. Fox killed his first turkey).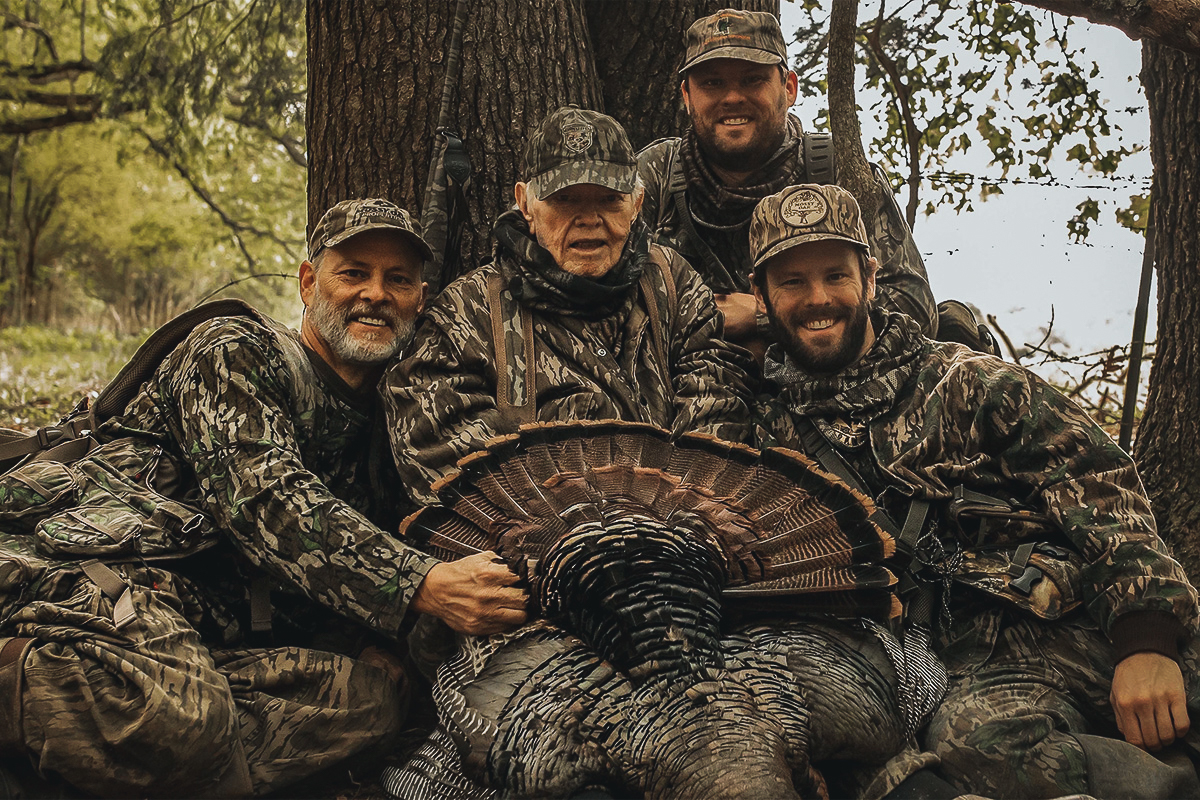 The number-five Mr. Fox vest auctioned at the National Wild Turkey Federation Convention held earlier this year in Nashville, Tennessee, sold for a whopping $31,000, a hefty chunk of cash for turkey conservation.
Mossy Oak plans to run an extended edition of unnumbered Mr. Fox vests, with preorders shipping before the 2024 opener.
RELATED — Getting Gobblers: Hunting the Rio Grande Turkey
---
Finding the Perfect Vest
Modern turkey hunting is big business. While whitetail deer hunters are responsible for the biggest chunk of the hunting-dollar pie, turkey hunters more than pay their way, pushing an average of $76.9 million annually into the sport since 1985 in New York State alone.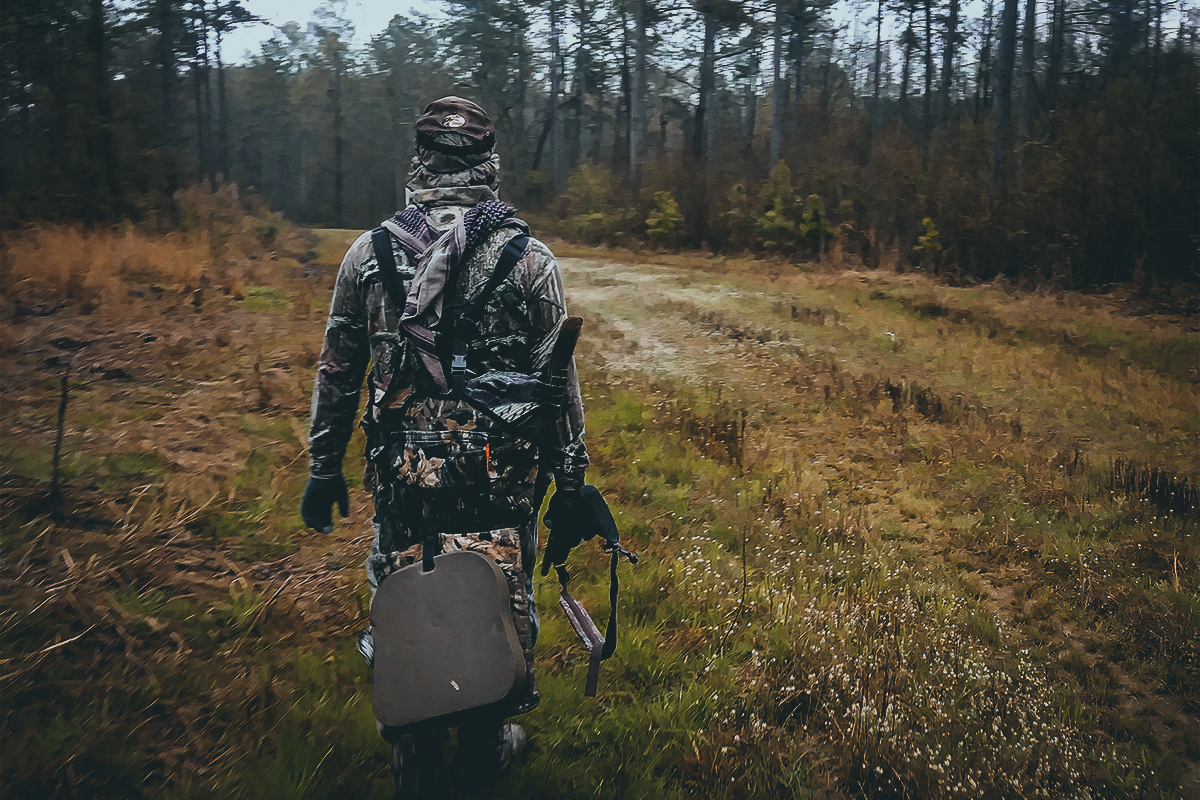 Because turkey hunters have money to spend, manufacturers have flooded the market with turkey-specific gear. Walk down the aisles of a big-box sporting goods store (aka the promised land), and you'll find about a bazillion different turkey calls, decoys, blinds, locator calls, choke, tubes, and dedicated shotguns, all optimized for your turkey-hunting needs.
If you've chased gobblers for more than a season or two, you know that no two birds are exactly alike. While one may come in all hot and bothered to a 10-note mouth call cackle, another will hightail it for the next county at the first tone.
Like the birds they pursue, no two turkey hunters are exactly alike, either. While some tote turkey vests so well-stocked they look like pack mules staggering through the woods, others prefer a more minimalist approach, choosing to stuff calls in pants pockets or opting for an ultra-low-profile chest rig or fanny pack.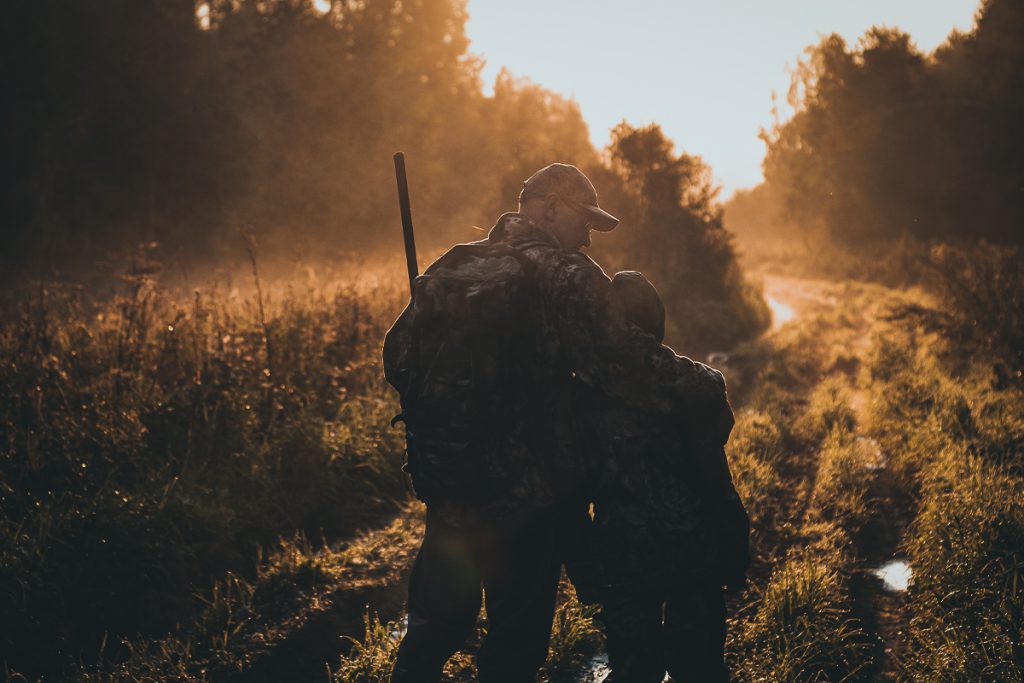 With so many super-cool products on the market, it's easy for turkey hunters to turn into gearheads. So, if you want to invest in several turkey vests, that's perfectly acceptable. Some are better suited for long sits, while others are tailor-made for running-and-gunning, so you probably need more than one anyway.
Need help deciding where to start? Here are a few of my favorites to get you going.
Just make sure to stuff a few candy bars in one of those extra pockets.
RELATED — Turkey Hunting Gear: New Stuff You Just Have To Have for the Spring
---
Turkey Vest Buying Guide
Sitka Gear Equinox Turkey Vest
Price: $249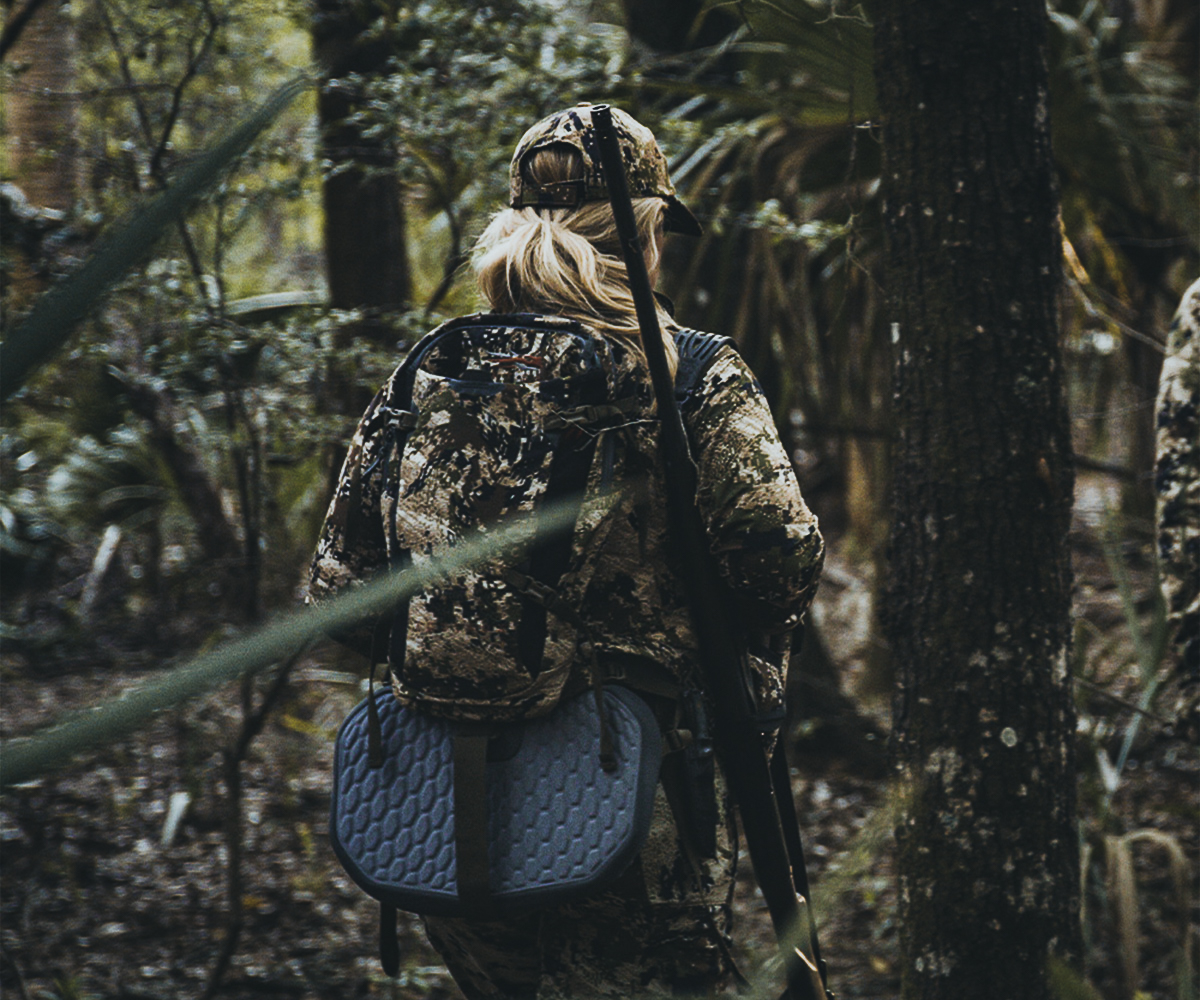 If there is a Rolls Royce of turkey vests, this is it. Sitka's Equinox turkey vest is uber-comfortable, and packed with whisper-quiet magnetic-close pockets and a removable seat cushion that quickly deploys and cinches back up for active hunts.
The Equinox Turkey Vest is built like a pack, with breathable panels, adjustable straps, and an ergonomic design. Its clamshell pockets are the stuff of turkey-hunting dreams, each perfectly shaped to fit your box calls, pot calls, and strikers like a glove, keeping them dry, secure, and quiet while you move through the woods.
Four internal mesh pockets are the perfect place to tuck snacks, tags, licenses, gloves, and face masks, and the large zippered back pocket fits most hydration bladders for those times when calling turns into thirsty work.
While this one doesn't have a game pouch, it does feature a removable fowl slip noose that attaches to the shoulder strap. It's the perfect way to pack out a hefty longbeard after a successful hunt.
---
Ol' Tom Time & Motion Easy Rider Turkey Vest
Price: $129.99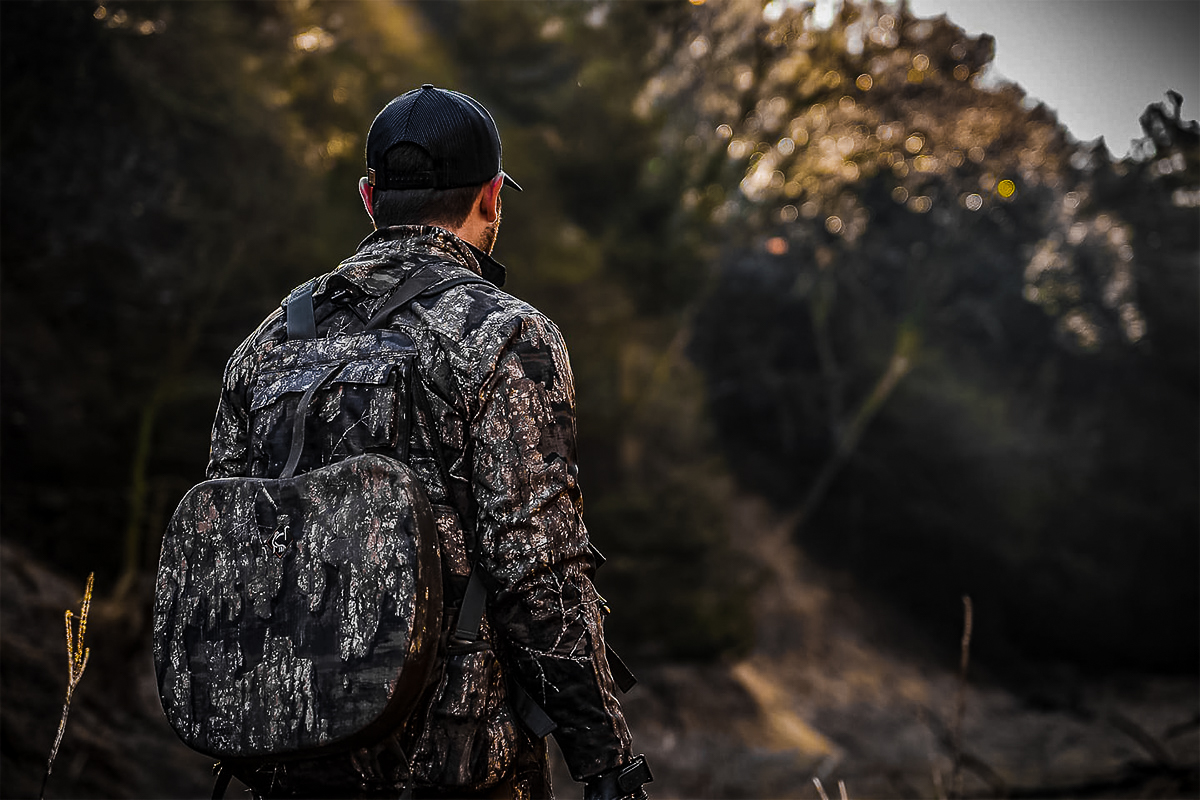 This one is lightweight and has plenty of functional pockets. How many pockets? All the pockets.
The Easy Rider turkey vest comes with three outer striker sleeves plus four more on the inside, two mesh mouth call pouches, a mesh pot call pocket, a flashlight pocket, a vertical storage pocket, a pouch for your locator call, and five more pockets on the inside.
It also has a fast-deploy seat cushion and a comfy T-beam back pad. Your butt and back will thank you when you're leaning against a gnarly old oak tree and trying not to shift in those early-morning minutes as the birds fly off the roost.
One of the handier features is the roomy blood-proof game bag. It's plenty big enough for toting in your decoys or hauling out a mature longbeard.
---
ALPS OutdoorZ Super Elite 4.0 Turkey Vest
Price: $139.99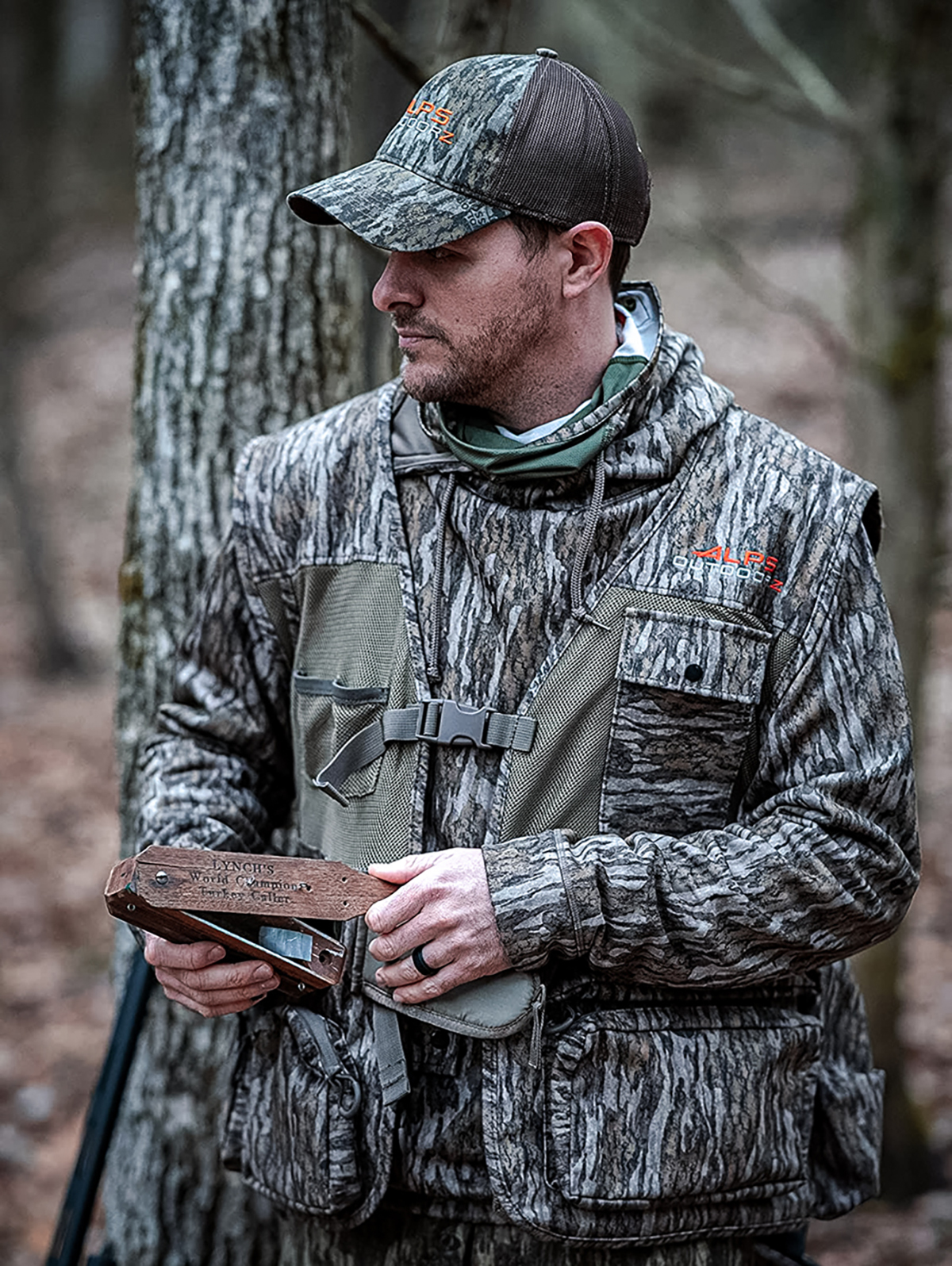 The Super Elite 4.0 is an updated version of an old-school turkey vest. The original ALPS OutdoorZ Super Elite was a go-to vest for plenty of turkey hunters back in the day, and this one is even better than its predecessor.
It has a ninja-quiet cotton liner, an easy-access cell phone pocket, a super-cushy fold-away seat, and a handy game bag. With a whopping 22 pockets, there's plenty of room for all the calls.
---
Will Primos Signature Series Turkey Vest
Price: $199.99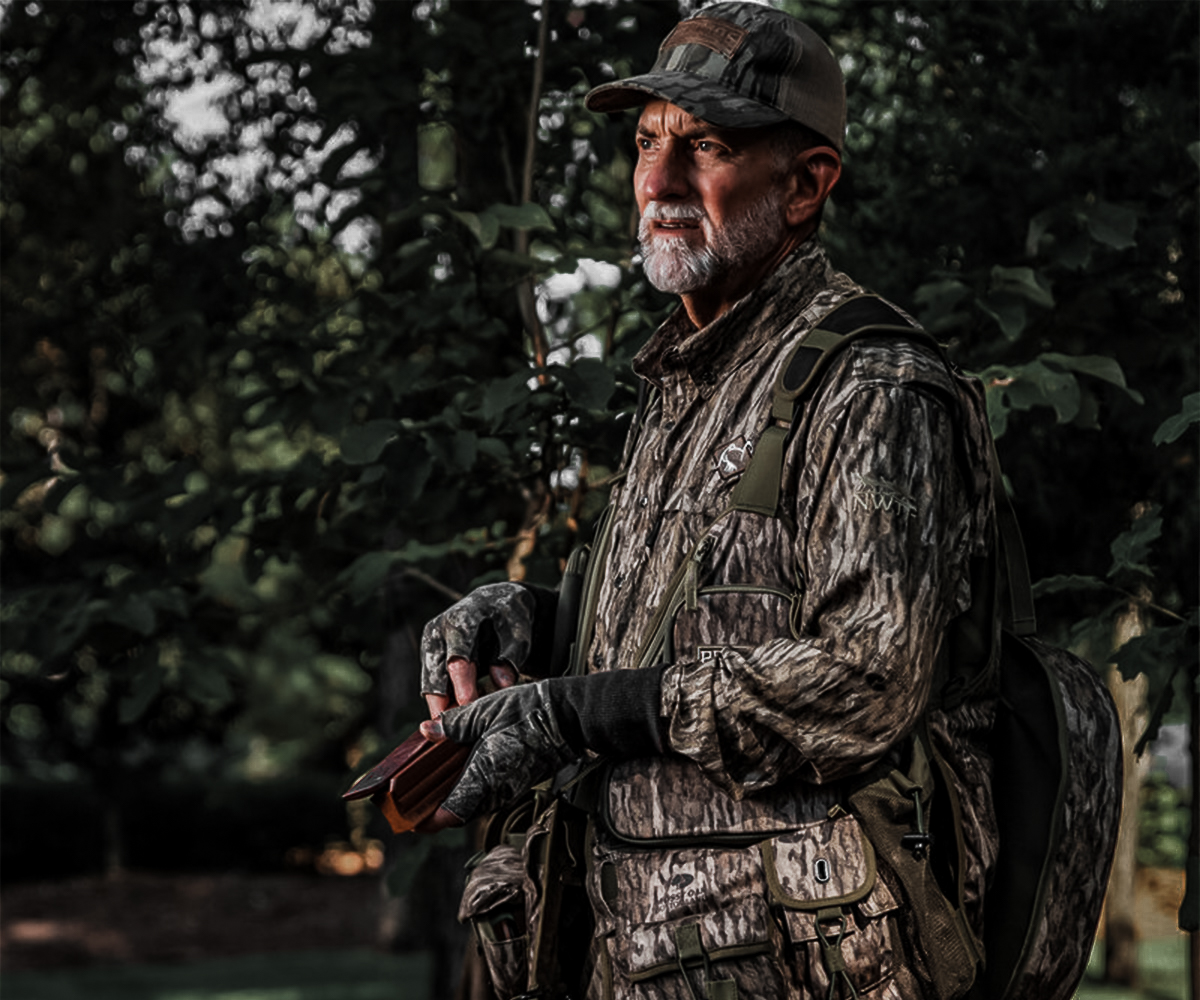 Designed by celebrity turkey hunter Will Primos, this hunting vest has plenty of pockets, and each one was planned with a specific purpose in mind. It comes with a silent box call holster that keeps the box and lid separate to prevent accidental noise when you're moving through the woods, two pot call pockets, and a butt ton of interior pockets for face masks, gloves, and other accessories.
There are even pockets engineered to hold your Thermacell, butane cartridges, and replacement pads. It also holds a hydration bladder and a 3-inch, extra-soft removable seat pad.
---
Knight & Hale Run-N-Gun 100
Price: $59.99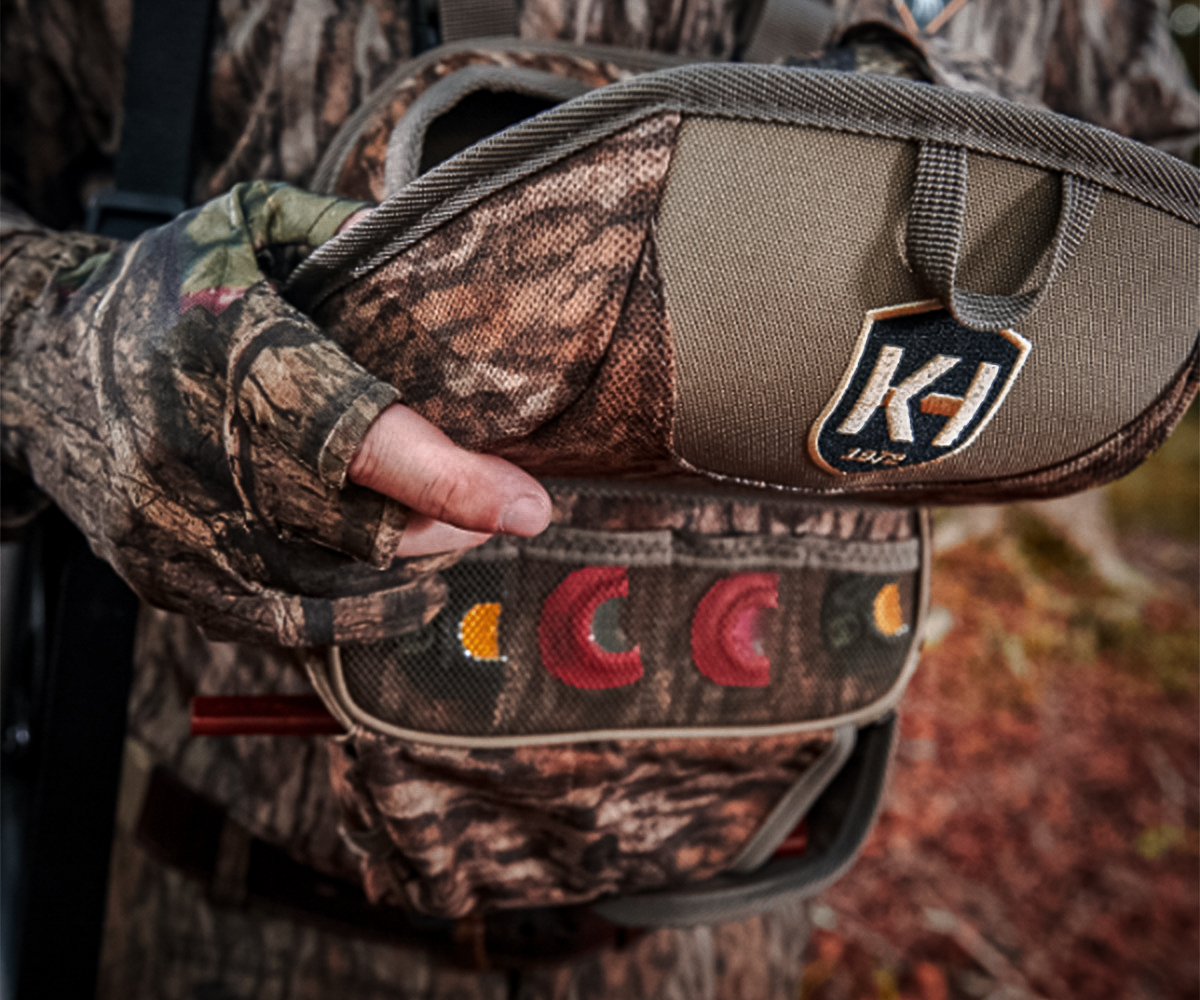 If you rely on speed and stealth and don't want to be weighed down with a well-stocked turkey vest, this super-simple, compact, lightweight chest rig from Knight & Hale is an excellent option for run-and-gun turkey hunters. This baby won't snag you up if you have to crawl your way into shooting range.
The Run-N-Gun 100 takes a giant leap from the standard turkey vest, which typically positions pockets low on the torso. Instead, the Run-N-Gun 100 keeps all your turkey-hunting essentials front and center, right in the middle of your chest.
The rigid front flap conveniently flips forward so you can quickly access the rig's internal pockets. With its strong magnetic flaps, you can open and close the compartment like a turkey-hunting ninja — no zippers, snaps, or Velcro to frighten wary birds.
When it comes to organizing your calls, the Run-N-Gun 100 has plenty of space for such a compact rig. It has four external mesh pockets for diaphragm calls, an internal striker holder, and a pot-call pocket. There's also plenty of room to stow your gloves, face mask, candy bars, and TP.
---
READ NEXT — The Turkey Shotgun: What You Want in a Dedicated Gobbler Getter