Richard Bryson always takes two weeks' vacation during Virginia's early muzzleloader season, which gives him so extra time to work on filling his deer tags every year. He never expected to use one of those tags to check a bull elk, but that's exactly what happened this season. This experienced whitetail hunter executed a plan on short notice, spurred by trail-cam info, that won him a home-state Virginia elk.
"On Halloween, I checked my trail cameras to see if any shootable bucks were showing up near my pastures," said Bryson, a 48-year-old Navy veteran from Tazewell County, Virginia. "I was stunned to see a nice bull elk on my farm."
Although Bryson has been deer hunting in the Old Dominion for more than 35 years, the impressive 5 x 6 bull in those trail camera images was the first he had ever seen in the Virginia mountains. He almost couldn't believe it.
"It was very shocking," he said. "The animal stood as tall at the shoulder as my fence. I thought, 'What's this doing on my camera?'"
Although elk are usually associated with states west of the Mississippi, a subspecies of these large Cervidae once roamed the eastern United States, ranging from southern Canada to as far south as Georgia. Although the last known Eastern elk was killed in Pennsylvania in 1877, the Rocky Mountain Elk Foundation has helped reintroduce elk to these native historical ranges as part of its wildlife conservation efforts via its Eastern Elk Initiative.
The organization successfully relocated 75 elk from southeast Kentucky to Buchanan County, Virginia, between 2012 and 2014. A thriving elk herd has since grown from those initial animals. Today, there are more than 250 elk in southwest Virginia, enough for the state to implement a lottery hunt for the 2022 hunting season.
RELATED: DIY Alaska Caribou Hunt Checklist – How To Hunt the Dalton Highway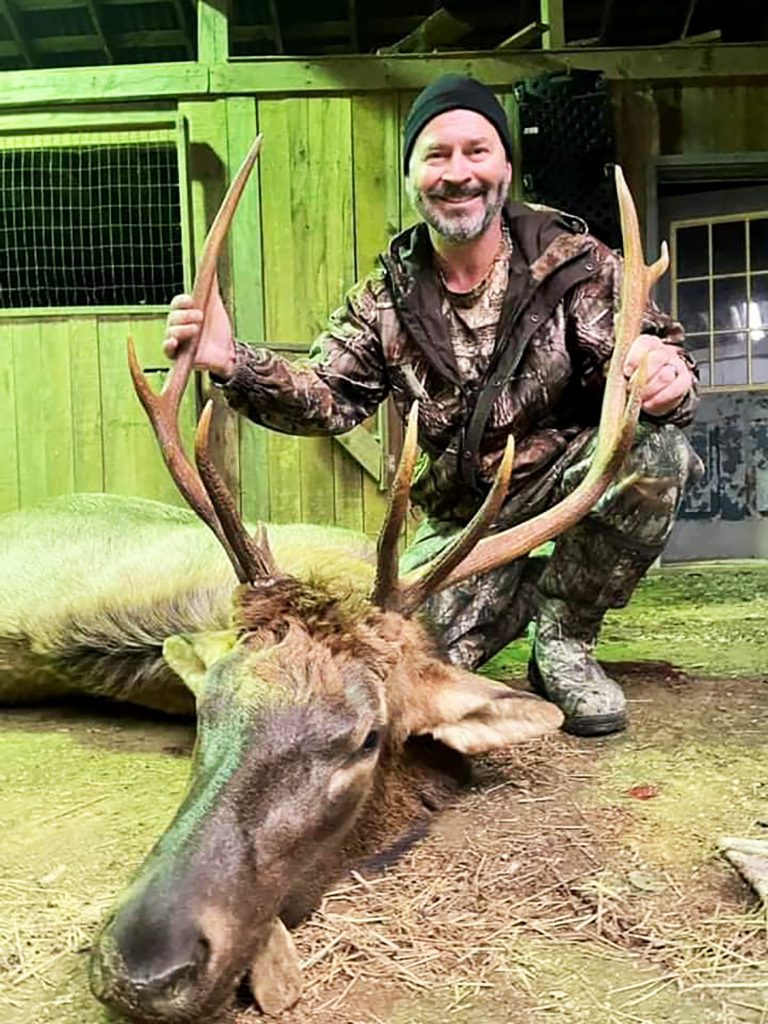 Five other eastern states are home to huntable elk populations: Kentucky, Tennessee, Pennsylvania, Michigan, and Wisconsin.
It is possible that the substantial bull Bryson killed was an offshoot of the Buchanan County herd. However, it could also have traveled from McDowell County, West Virginia, a primary site for that state's elk reintroduction program. Despite being in separate states, McDowell and Tazewell counties share a border.
An Impromptu Virginia Elk Hunt
Bryson checked the Virginia Department of Wildlife's website to see if he could legally shoot the elk in his trail cam photos and learned that, although elk hunting is prohibited in Buchanan, Dickenson, and Wise Counties, elk can be legally hunted in the rest of Virginia. Taking an elk simply counts toward the hunter's bag limit for whitetails, and the tagging and checking process is the same.
RELATED: Watch – Hunter-Gatherers and the Meaning of Life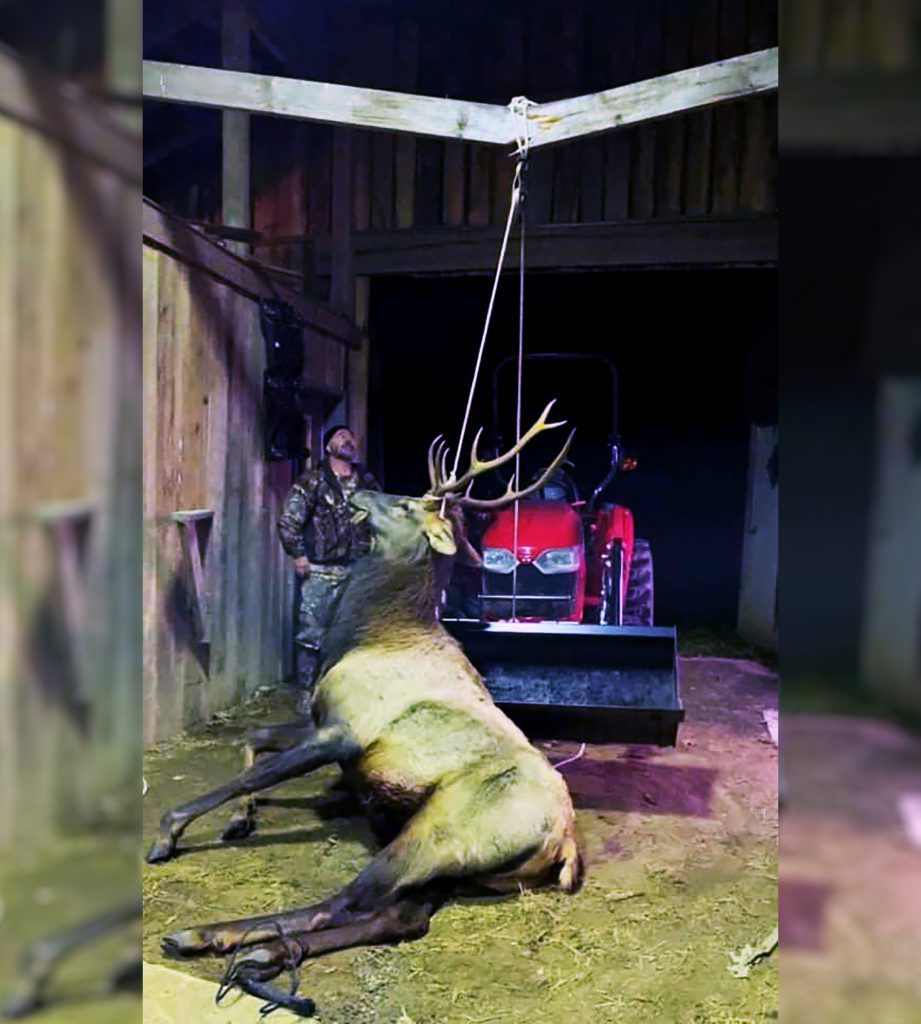 On Nov. 6, a full week after the bull first popped up on his trail cams, Bryson set up for an evening hunt on the west side of his property. Once he was settled into his treestand he decided to check the cellphone camera set up on the other side of his farm. When he opened the app, he had elk pictures. 
"That's when the adrenaline dumped. I realized he was in my field during legal shooting hours and this might be my only chance," Bryson said. "It was instant. I grabbed my stuff and down the tree I came."
He immediately started moving toward a hayfield on the other side of his property, where pictures showed the bull was casually grazing.
"I had terrain to completely and totally obscure my movements for about the first 250 yards," he added. "Once I got to a point I was going to be silhouetted on a ridgeline, I had to get down and crawl slow and methodically to cover that last 150 yards."
Fortunately, Bryson already had a treestand set up in a spot where he felt he could get a clear shot on the feeding bull.
RELATED: Rogue Red Stag Looking for Love in Georgia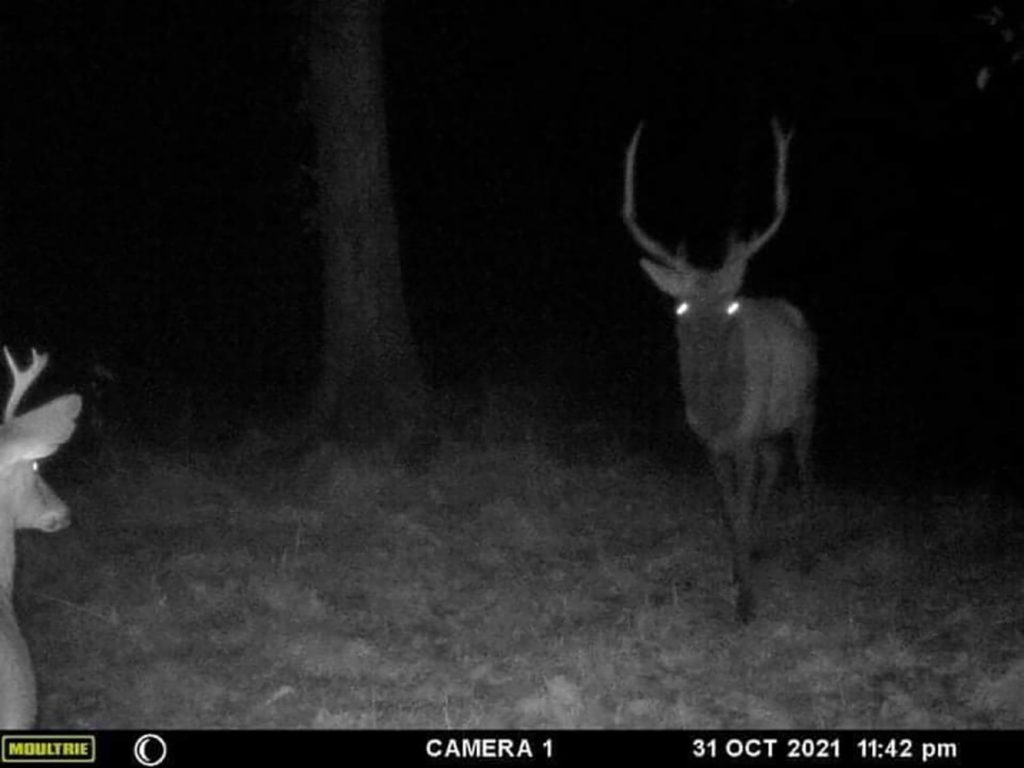 "I was hoping I would run up on him before I got to the treestand because if you can see something, you can kind of deal with it better. If you can't see anything, you don't know what to do. Since I didn't see him, I figured the next best thing was to sneak up into this treestand," he said.
Bryson eased himself slowly into the stand; several tense minutes later, the bull finally wandered into view.
"I still had about an hour of legal shooting time left. I was trying to calm myself down, saying a prayer here and there to bring my heart rate down so I could get an accurate shot off," he said.
The deer hunter was also busy Googling proper shot placement for an elk.
"I wanted to make sure, because elk are so much bigger, and I just wanted to make sure things were comparable to a deer," he said. "The last thing I wanted to do was wound this animal."
RELATED: 5 Keys to Pulling Off an All-Day Sit During the Whitetail Rut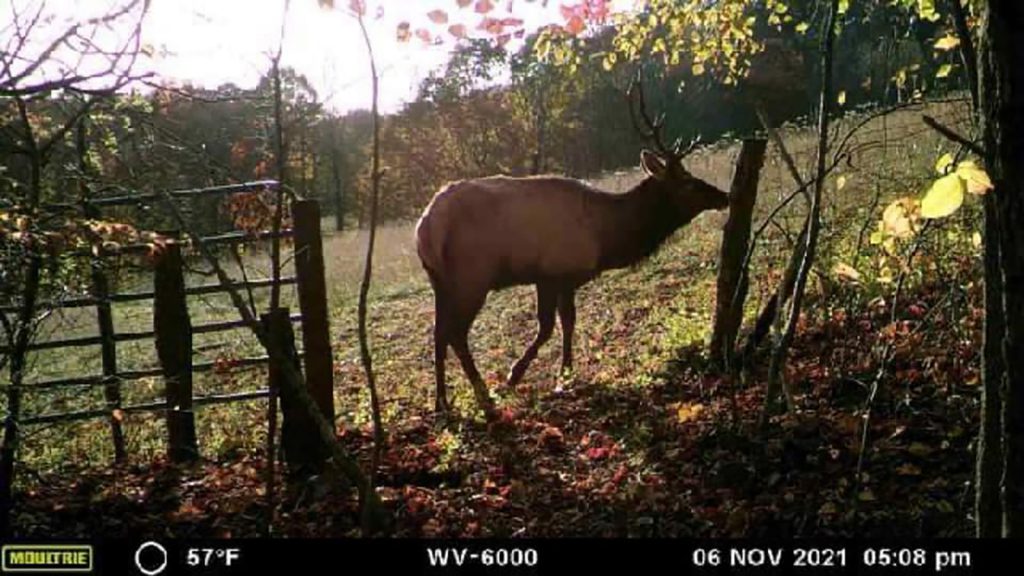 Bryson watched the bull graze through his scope for some time, waiting for a good shot opportunity.
"I had him at between 150 and 200 yards, but there were some tree limbs between me and him, and I wasn't confident my load had enough energy at 200 yards to take him," he said. So he waited.
"Then the shooting light started running out, and I got antsy over that. I had about 15 minutes left and I was just like, 'Come on! You're not going in the right direction!'"
Then, with time running out, the odds turned in Bryson's favor.
"All of a sudden, it was like a switch flipped. He just quit feeding and came trotting toward one of my shooting lanes."
With the bull rapidly approaching him, Bryson suddenly had another concern.
RELATED: Father Shot, Killing While Elk Hunting With Son – Importance of Gun Safety
"Then I was like, is he going to stop? I didn't want to shoot him on the move, so I was ready to whistle or yell," he said. "But I didn't need to. He was dead straight in front of me when he just locked up broadside."
Bryson took a 50-yard shot, slowly squeezing the trigger of his CVA Accura MR .50-caliber muzzleloader while trying to keep his breathing calm and even. It paid off. The 250-grain Hornady SST low-drag bullet plowed through both of the bull's lungs.
"After the shot, he didn't move, so I was shocked. When you shoot a deer, usually they fall. At least, that's been my luck with my muzzleloader," he said. "I usually do a high shoulder shot and they just topple over."
However, the bull didn't behave like a whitetail from Bryson's experience.
"He just turned his head a couple of times. I thought he might just be confused by the noise. I didn't want to reload, because I didn't want him to pick up on my movements and then run off. I would rather he stood right there and bleed out."
RELATED: Three Late-Season OTC Western Hunts You Can Do Right Now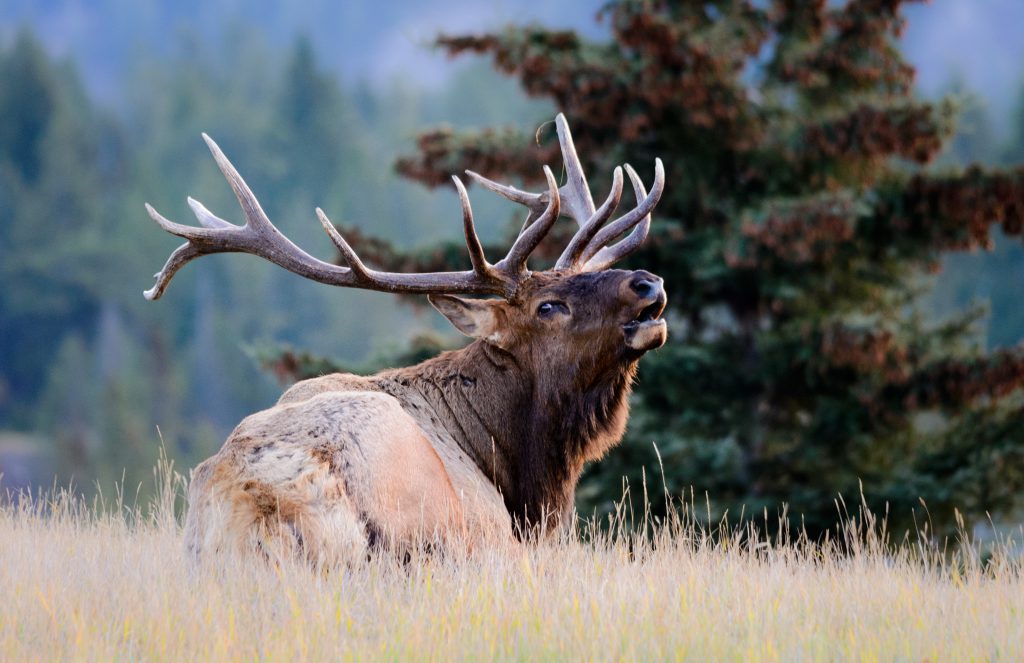 After what felt like forever, the bull turned his head away, and Bryson said he was able to reload and get his scope back on target. A follow-up shot was not necessary.
"He took about four or five steps, and then he just fell over. He made kind of a whistle, and I figured that was his last gasp," Bryson said.
After giving the bull plenty of time to expire, Bryson got a chance to inspect it up-close for the first time.
"When I walked up to him, I was just blown away. Oh god, this really happened. This elk is dead," Bryson said. "I got him. He's down. Now, what do I do?"
700 Pounds of Bull
Bryson used his tractor to get the big bull back to his barn where he attempted to string it up. He estimated the elk to be about 700 pounds and the barn beam he regularly uses to skin whitetails couldn't stand up to the heft. It snapped right quick, so he used his tractor to skin the huge ungulate instead.
RELATED: Russian Bear Attack – Boxer Shoots, Stabs Brown Bear to Death in Siberia
"My tractor bucket wouldn't lift him high enough, so I had to actually get his head and antlers all the way up above the bucket. That was the only way I could get his hind feet up off the ground. It was a lot of work," Bryson said. "It was about 2 a.m. before I finished up."
He said it was well worth the effort and that elk tenderloin tastes far better than venison.
"There's also a lot more of it," he said. "The inside tenderloins probably weighed about three pounds each."
Biologists came to Bryson's farm to inspect the carcass and gather tissue samples to test for signs of disease. They estimated the bull to be 3 1/2 years old. Test results have not yet been released.
Meanwhile, Bryson is still reeling from the experience and is thankful to Star City Whitetails for first picking up his story.
"It's just been my year. What are the odds? I have one tiny little 43-acre farm over here in Virginia and an elk wandered over," he said. "This is a once-in-a-lifetime thing. Maybe I should buy a lottery ticket."
Read Next: Colorado Elk Hunting – Herds are Thriving on the Plains Once Again