My dad was a Green Beret back in the day, and he had some pretty cool experiences jumping out of planes and helicopters. When I told him I was going to be hunting coyotes from a helicopter to manage the predator population on a ranch that was losing livestock, he told me to have fun but to be careful. Even though I am 54 years old, I guess dads will always be dads.
I thought about his warning as I was cinching up my safety vest inside the helicopter while Jess, the pilot, told me I could feel free to put a foot outside on the skid when I leaned out to shoot.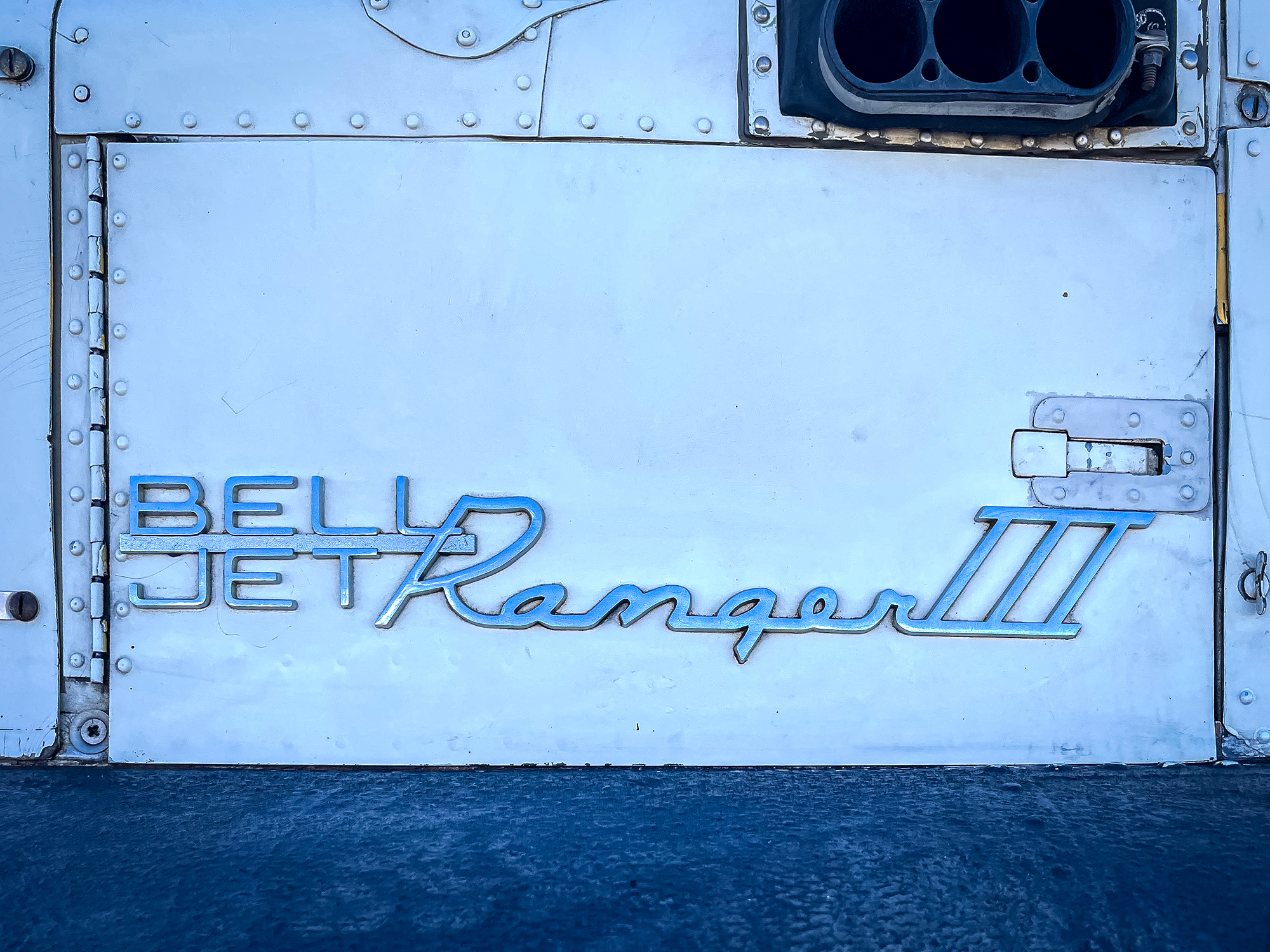 He also went through the safety brief, which included making sure I kept the gun pointed down at all times — because if I happened to shoot the big spinny thing on top, we would come out of the air and meet the ground in a real hurry. My son, Trent, and another shooter, LT Jessie, who is in the National Guard, were strapped in with me.
RELATED – Coyote Hunting: Intense Scouting and Planning Pay Off
---
The Helicopter and the Stakes
Our carriage for the trip was a Bell 206 JetRanger III. We had the two back doors off so the shooters could move freely. Since the morning temps were in the low teens, we left the front two doors on and had the little cabin heater cranked up as high as possible.
I enjoy hearing coyotes howl at night as much as anyone. Shooting 98 coyotes in two days of flying proves there are too many coyotes. The damage they were causing livestock and wild game here was noticeable — and costly to the wildlife and the cattlemen. This was not a sporting hunt. We were managing a predator that has become so overpopulated that the matter needed to be addressed. And it was fun.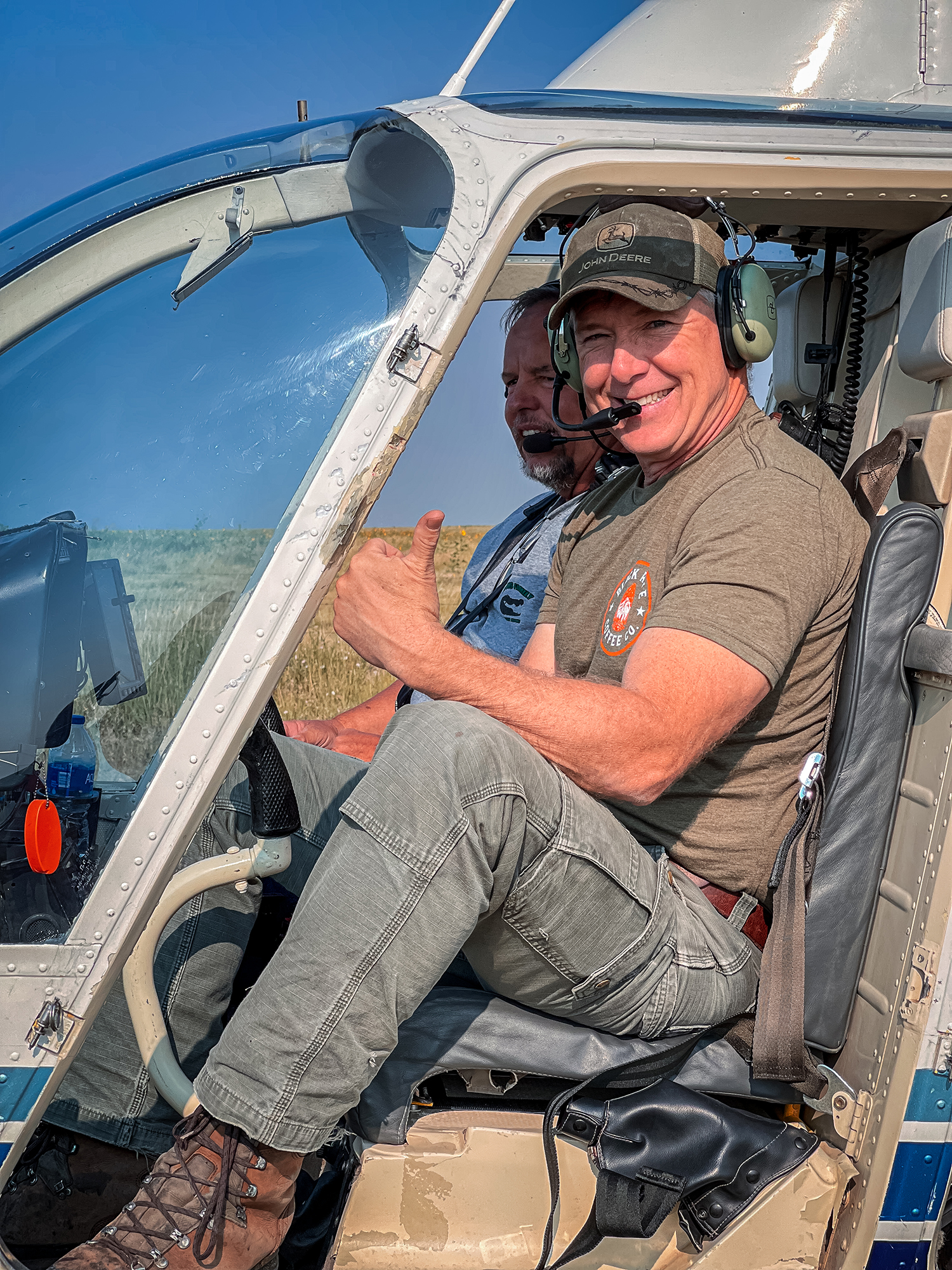 Ranchers in the area had quite a few of their calves killed, and a helicopter is simply the most effective way to manage the population. Part of the fun was that I directly observed the difference we were making.
We spotted several dead cows and calves from the air. The coyotes were around every pregnant cow, waiting to take advantage of the newborn and the mother while it was down giving birth. Sometimes, if only a few coyotes are in an area, they will just slip in and eat the afterbirth. This isn't as bad as losing a calf, but it still robs the cow of much-needed nutrients as most will eat their afterbirth shortly after giving birth. Too many coyotes, however, do much worse.
As a cattleman myself, I have witnessed firsthand the damage coyotes can do.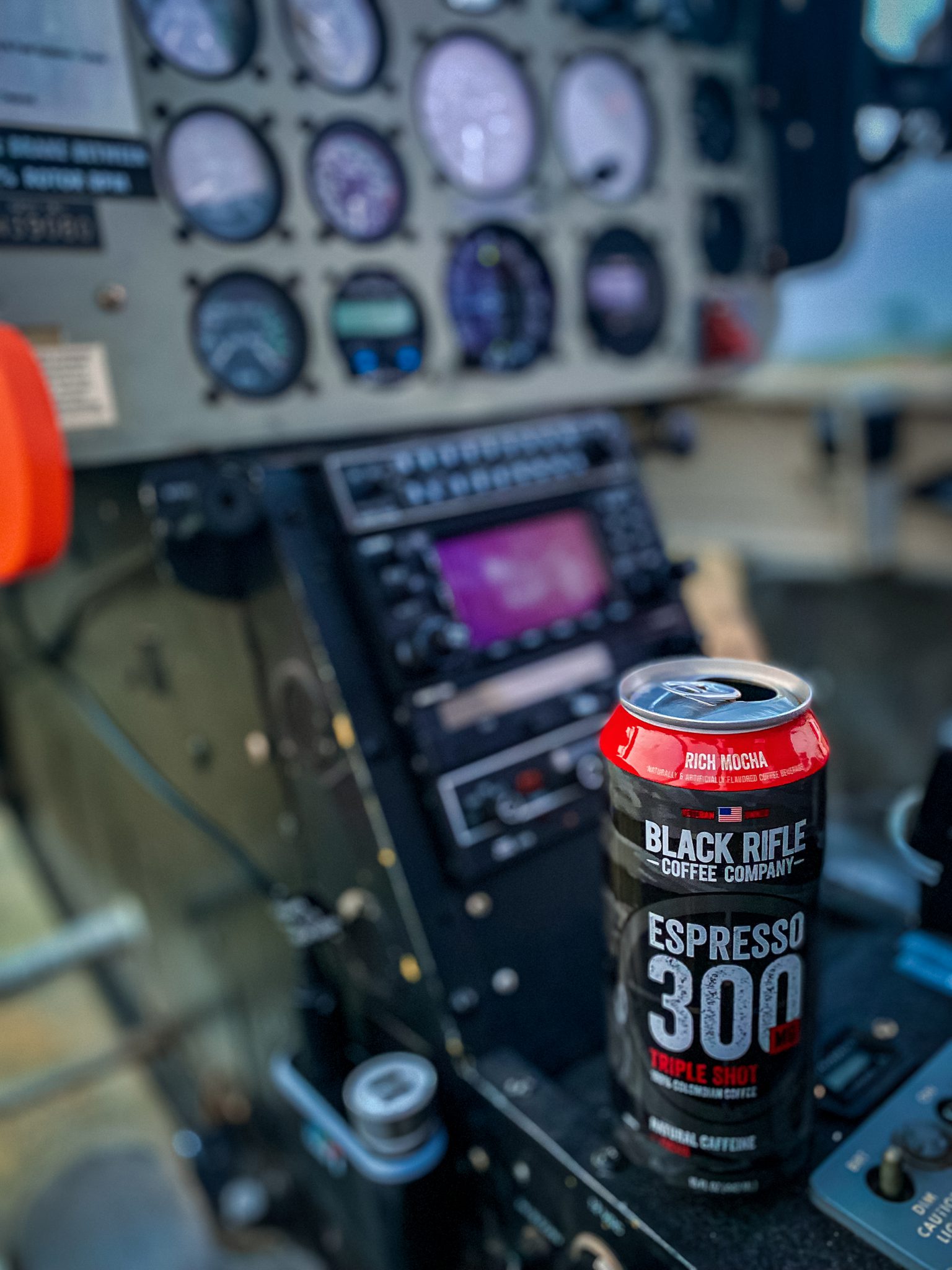 The worst thing to witness is when coyotes come in on a calf as it's being born and kill it. Not only that, but they'll then eat the back end out of the cow and continue to feed on her while she's still alive.
If it is still alive, that cow must be put down, and the cost for just one cow/calf pair can be around $3,000 to $4,000. Once you see something like that, you never feel bad about thinning out yote packs.
For a guy who usually prefers being inside an aircraft, I was surprised how quickly — once the shooting started — I was stretching the tether holding my vest to the helicopter as far as I could. I was hanging out of the door and having a blast hitting difficult running targets from a moving helicopter.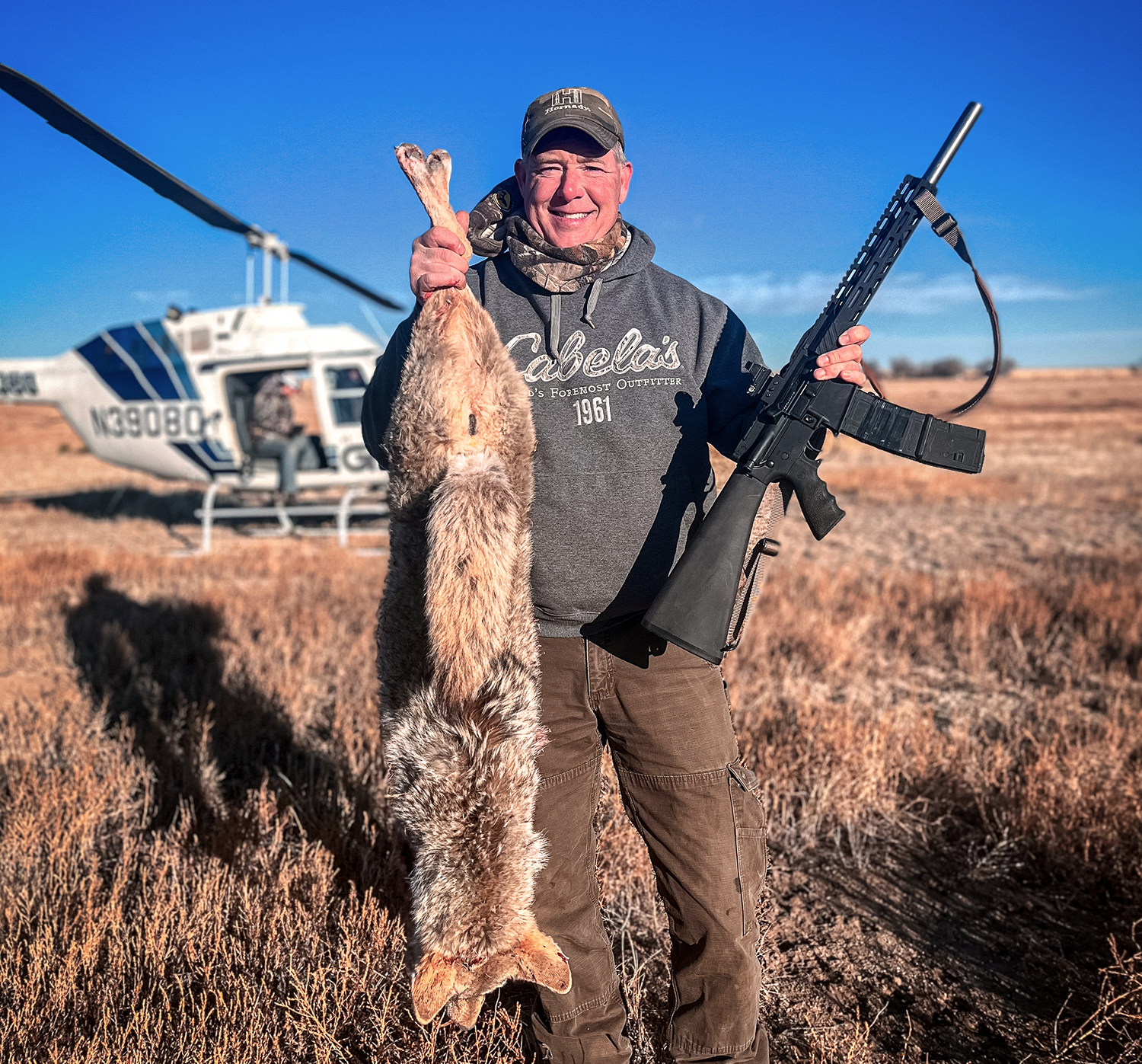 RELATED – Wild Hunting Tactics: How 7 Apex Predators Do What They Do Best
---
The Loadout for Hunting Coyotes
I brought two Mossberg shotguns for the day, both with extended tubes for extra firepower. One shotgun was a semi-auto Model 940 JM Pro that holds 9+1 shells. The other was a 940 Pro Snow Goose model with a longer mag tube that holds 12+1 rounds. I used 3-inch Fiocchi Flyway BB loads; they were perfect for hitting coyotes out of a helicopter. I was 100% with the shotgun and wished I had an unlimited supply of shells. However, shotgun shells are at a premium these days and are hard to come by.
I also brought two Rock River Arms ARs chambered in .223 Remington, topped with Leupold DeltaPoint Pro red-dot sights. The adjustable brightness on the red dot made it great for quickly acquiring a sight picture in crazy conditions and at odd angles leaning out of a helicopter.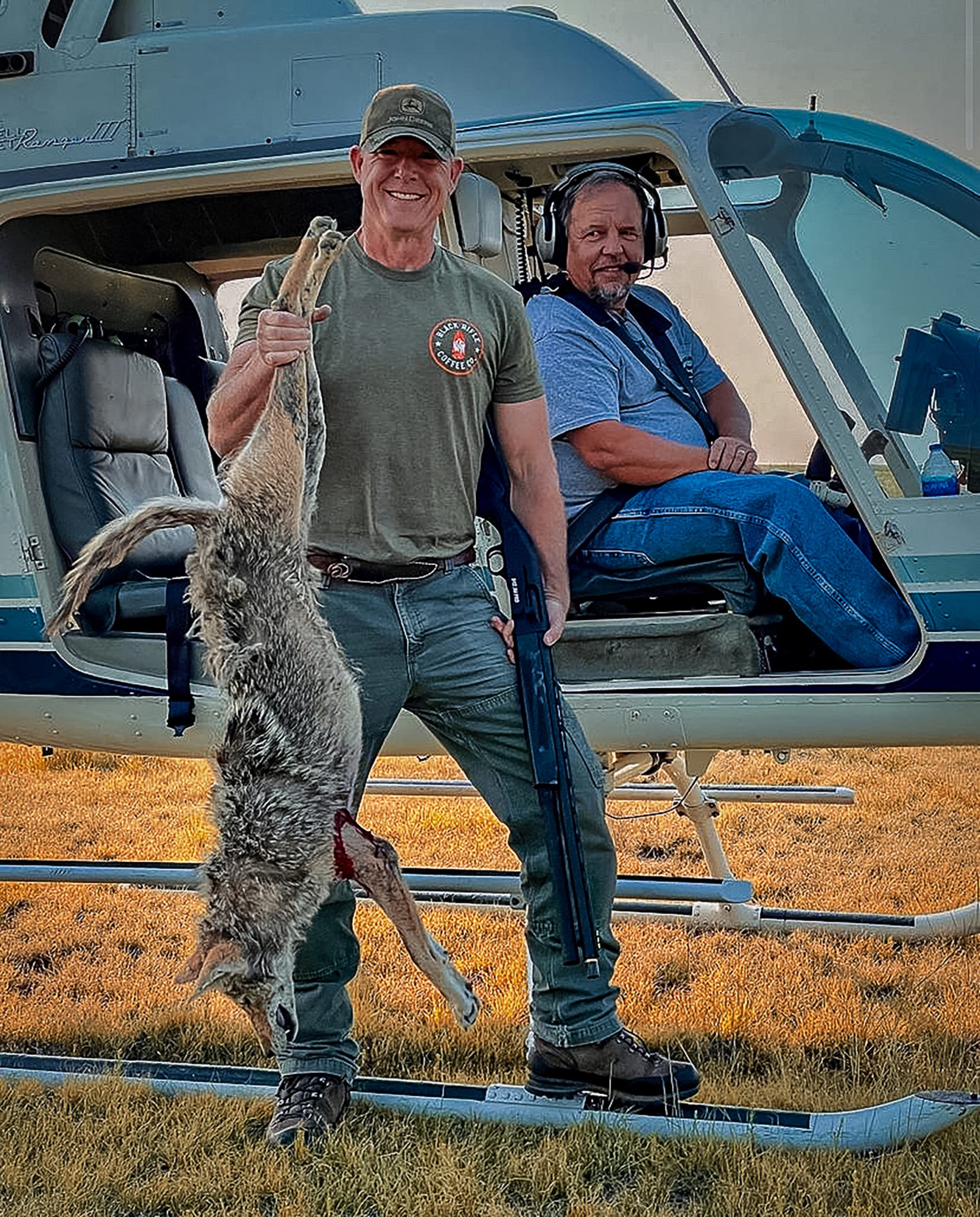 One AR was outfitted with a suppressor, and the other was just a stock barrel. I was shooting Hornady Superformance with 55-grain V-Max bullets designed for predators. These quick-expanding bullets made one-shot kills the norm, even from a helicopter.
RELATED – Predator Calling Contests Under Attack From Virginia Lawmaker
---
Resorting to Handguns
The craziest and luckiest shots we made were with handguns. My son used his 9mm Taurus 1911 to drop three running coyotes, which had us all impressed. On the second day, we were totally out of ammo and headed back to refuel and resupply when the pilot spotted another coyote.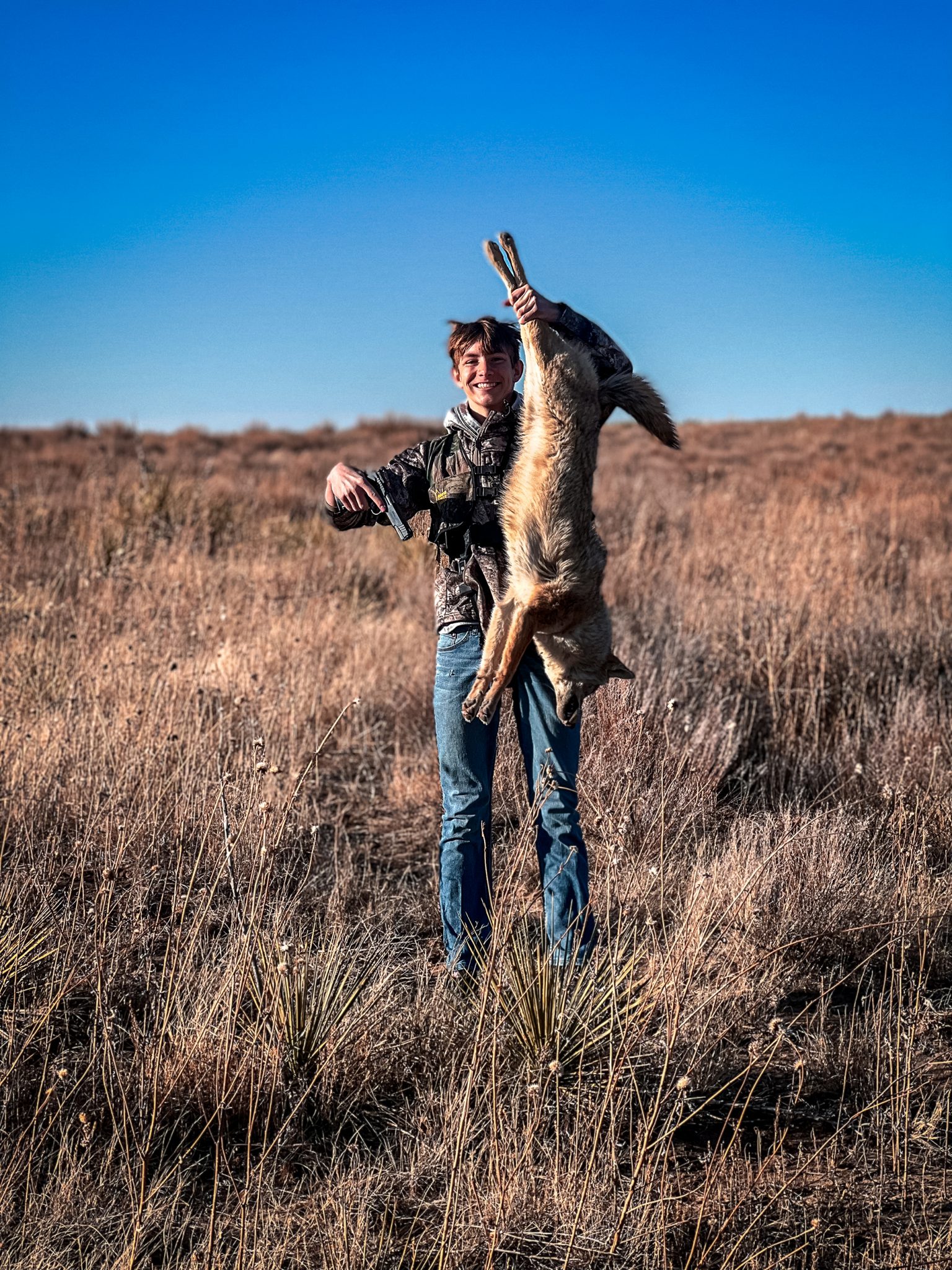 While my son confirmed we had no .223 and no shotgun shells left, the pilot told me he had his carry SIG Sauer pistol on him. With no other options, I grabbed it and decided to give it a try.
I was in the front seat, which still had the door attached. I grabbed the pilot's SIG and propped the door open with my foot while the pilot turned to give me a clear shot. My first shot hit way behind the running coyote, so I adjusted and kept firing. My second and third shots were dangerously close. My fourth shot was right on. It hit the coyote and rolled it, and I heard triumphant yelling in my headphones.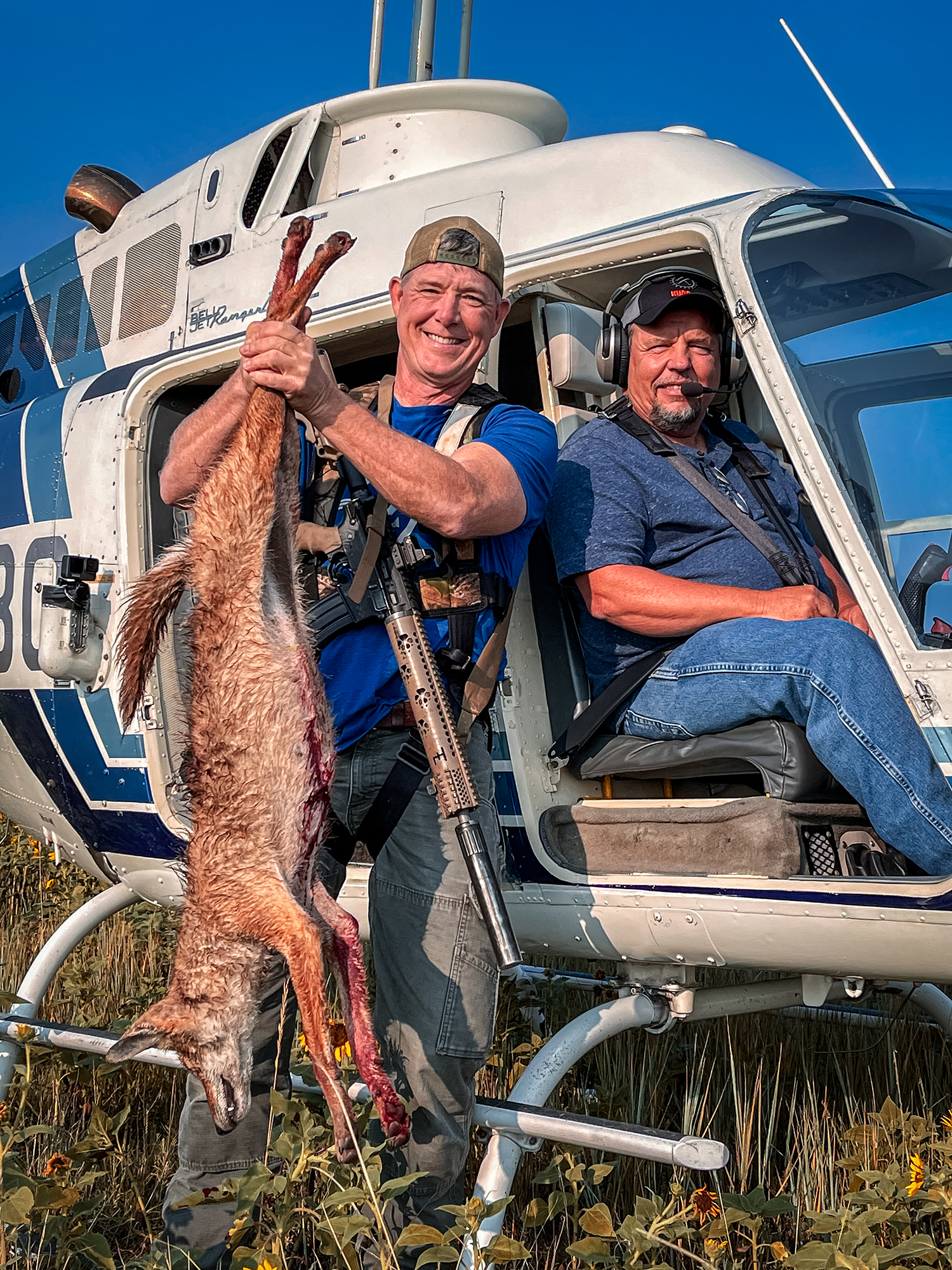 I have flown two different times now for coyotes, and each time was exciting. More importantly, I felt I was doing a service for the ranchers by helping them protect their livestock. Trapping and calling predators is one way to help control the coyotes, but the helicopter can't be beat when it comes to controlling them when numbers get out of hand.
For information on shooting coyotes out of a helicopter, check out jmdeathfromabove.com and my YouTube channel to see some videos of some shots from a helicopter.
---
READ NEXT – Coyote Calling: Match Prey Sounds to Kill More' Yotes