The 2023 NRA Annual Meeting was held last week in Indianapolis. In addition to a lot of speeches, the event gives gun companies a chance to exhibit their new models and debut new products that weren't ready for SHOT Show in January.
About 80,000 people attended the event (tickets are free for NRA members), according to the NRA, with 800 vendors, and a roster of speakers that included politicians, industry professionals, competitive shooters, and social media personalities from within the firearm community. 
Manufacturers like Beretta, CZ, FN, Rock Island Armory, SIG Sauer, Springfield Armory, and Stoeger attended NRAAM 2023 to show off some of the models announced at SHOT Show 2023 and drop a few new releases, too. Here are some of the best.
GOOD GEAR – Explore the Unknown With BRCC's Beyond Black Roast
---
New Guns from the 2023 NRA Annual Meeting
Beretta A300 Ultima Sporting

While at NRAAM 2023, Beretta announced the all-new A300 Ultima Sporting. This competition-ready shotgun comes with the super-soft Kick-Off recoil system, an optic-ready receiver, and oversized controls. Choose from a 30-inch chrome-lined 12-gauge barrel or a 28-inch chrome-lined 20-gauge barrel, each topped with a 7-millimeter stepped rib, a mid bead, and a white front bead.
"This new soft shooting shotgun will help you improve your scores, become a standout on the range, and stand on the podium this season," Logan Killam, Beretta's shotgun product manager, said in a company statement.
You can customize an A300 with a range of color options and start knocking down clays for $1,149.
SPECS:
Caliber: 12 gauge, 20 gauge
Barrel length: 30 inches (12 gauge), 28 inches (20 gauge)
Weight: 7.6 pounds (12 gauge), 7.2 pounds (20 gauge)
Choke: MC3 Extended
Chamber: 3 inches
Overall length: 50.5 inches (12 gauge), 48 inches (20 gauge)
Price: $1,149
READ NEXT – Triple Barrel Shotgun: Novelty or Practical Firearm?
---
Beretta APX A1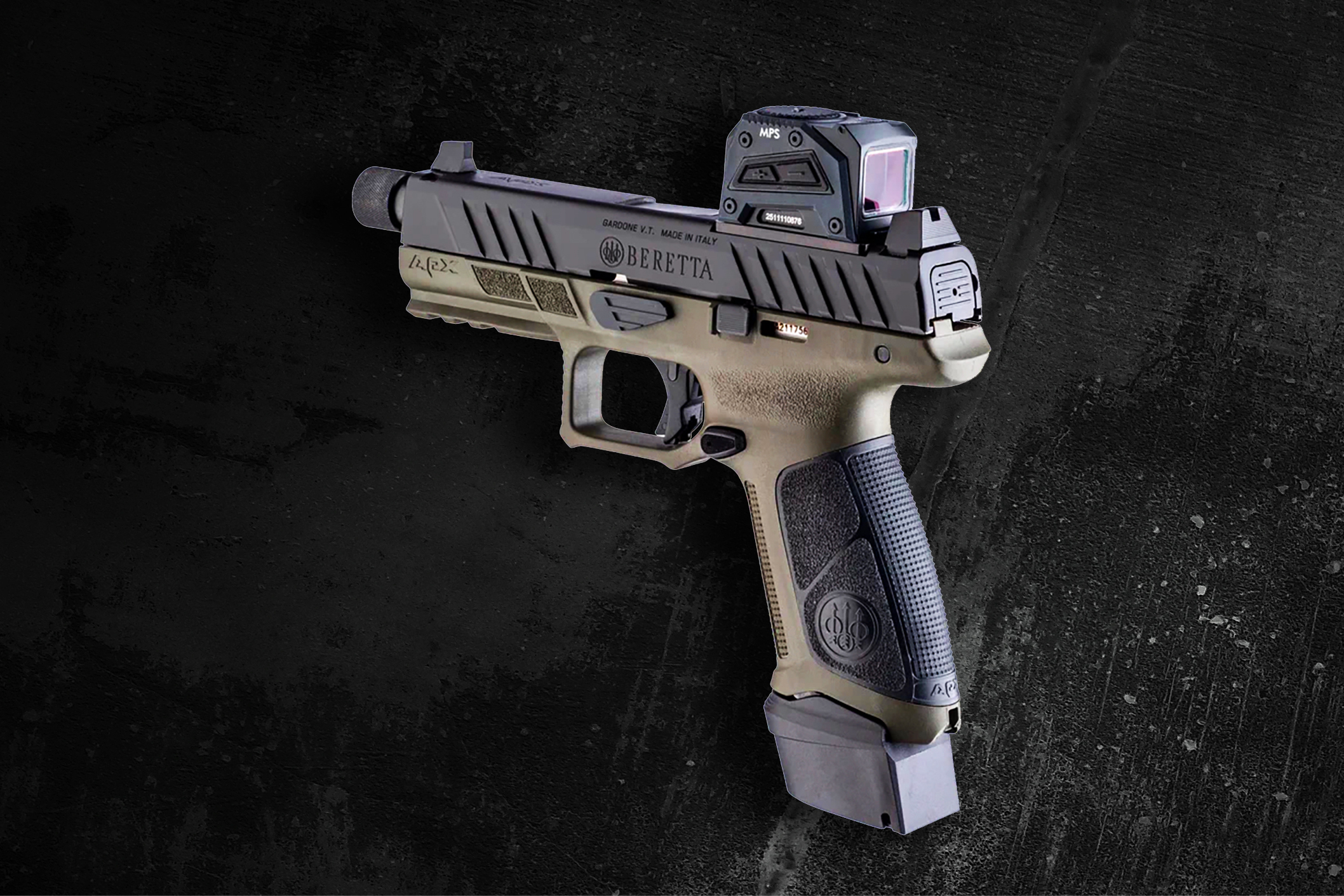 Not content to let the shotgun team have all the fun, Beretta's pistol department announced a new variation of its full-size APX A1 pistol, the APX A1 Tactical. This upgraded riff on the company's striker-fired 9mm pistol comes with a threaded barrel, suppressor-height sights, an optic-ready slide, and a green frame that's reshaped for better grip and recoil management.
For $549, you can get an APX A1 Tactical with all the trimmings and three 21-round magazines. It's a hell of a deal.
SPECS:
Caliber: 9mm
Action: Striker-fired
Barrel length: 4.8 inches
Weight: 1.9 pounds
Capacity: 21+1
Optic ready: Yes
Price: $549
GOOD GEAR – Support Gold Star Families With BRCC's Triple Seven Expedition T-shirt
---
Beretta PMXs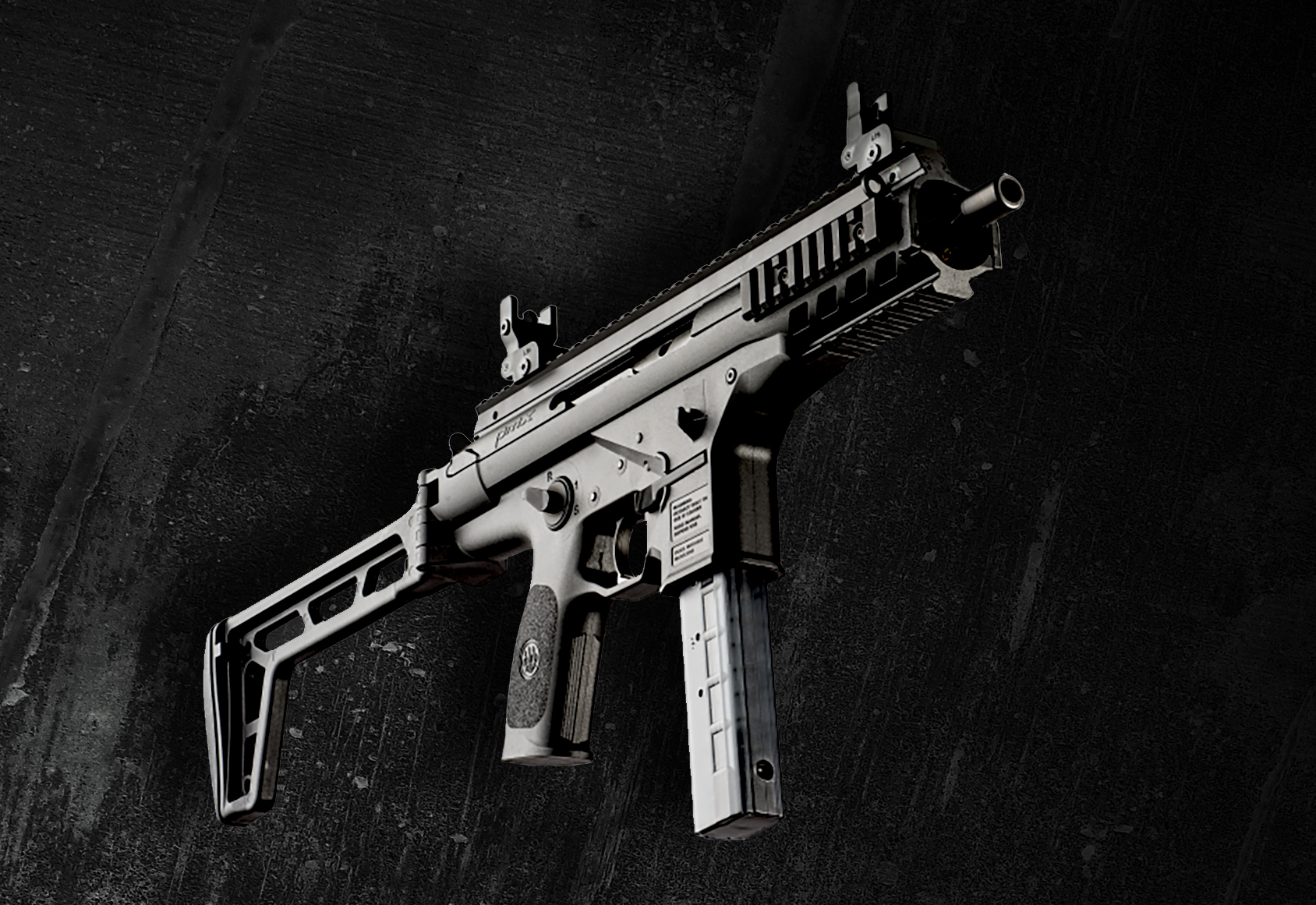 The Beretta PMX 9mm submachine gun from the 2021 James Bond film No Time to Die is now available as a semiautomatic civilian model, the PMXs (first unveiled at SHOT Show 2023). No, it can't deliver that same automatic thrill, but the PMXs still comes with ambidextrous controls, a QD plate, a threaded 6.9-inch barrel, and the same reliable gas blowback system from the original.
"Beretta USA is excited to introduce the PMXs to the US market finally," Nicola Lorenzi, Beretta's pistol product manager, said in a company announcement. "The PMXs represents the evolution of the legendary PM12, widely adopted by military and law enforcement agencies around the world, and one of the guns used by the US Marines Corps to guard the US Embassy during the Tet Offensive in Vietnam. The PMXs inherits the reliability and durability of Beretta SMG platforms, being one of the few such platforms to be NATO Certified."
Pick up a PMXs and two 30-round magazines for range day clout or home defense for $1,499. Just remember that adding a buttstock makes this an SBR and will require additional licensing from the ATF.
SPECS:
Caliber: 9mm
Barrel length: 6.9 inches
Weight: 5.5 pounds
Capacity: 30+1
Optic ready: Yes
Price: $1,499
READ NEXT – Florida Constitutional Carry Adopted, Creates CCW State Majority
---
CZ Scorpion 3+ Carbine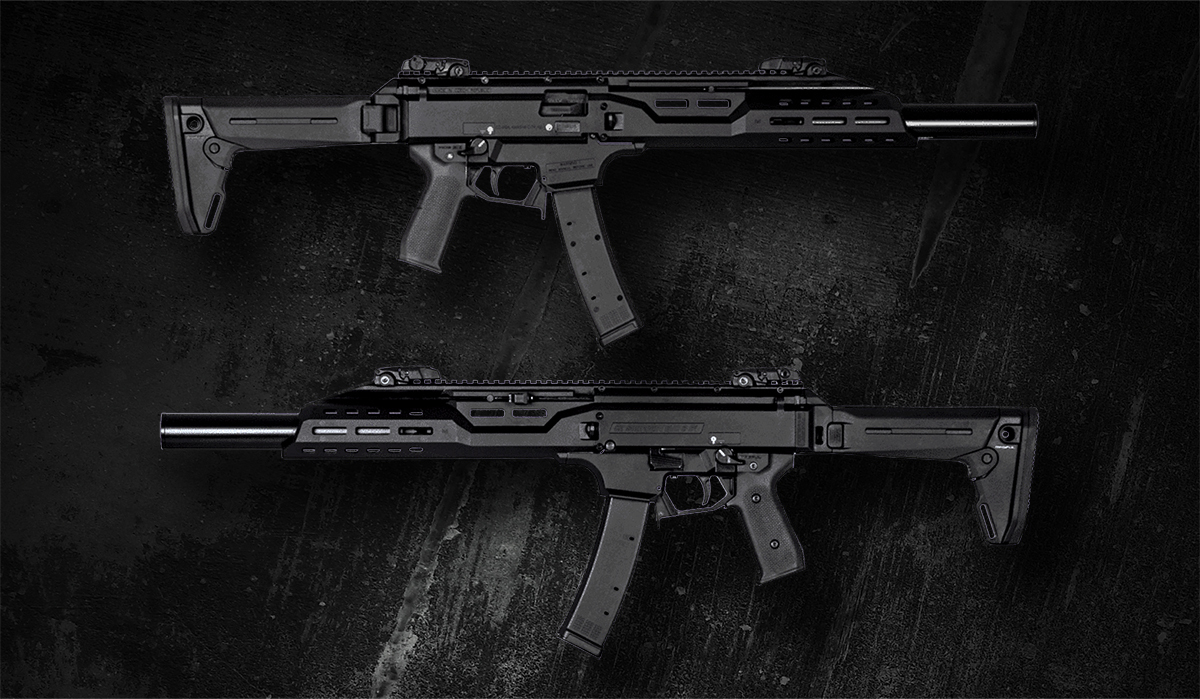 With all the confusion over exactly what is and is not a buttstock these days, manufacturers have a few options to keep things simple for their customers. If a firearm's barrel is shorter than 16 inches, they can either remove any form of brace altogether or extend the barrel to make it a carbine. CZ is taking both paths with the Scorpion, resulting in the new CZ Scorpion 3+ Carbine.
The new PCC carries over updates from the CZ Scorpion 3+ announced last year, like ambidextrous controls, a polymer M-LOK handguard, and better ergonomics. The new carbine-length version also comes with a 16.3-inch barrel and a folding stock to remove a few legal hurdles from purchasing and owning one.
SPECS:
Caliber: 9mm
Barrel length: 16.3 inches
Handguard: Polymer M-LOK
Weight: 6.9 pounds
Capacity: 20+1
Optic ready: Yes (adjustable aluminum sights included)
Price: $999
GOOD GEAR – Fuel Your Next PR With BRCC's Fit Fuel Blend
---
FN 15 Guardian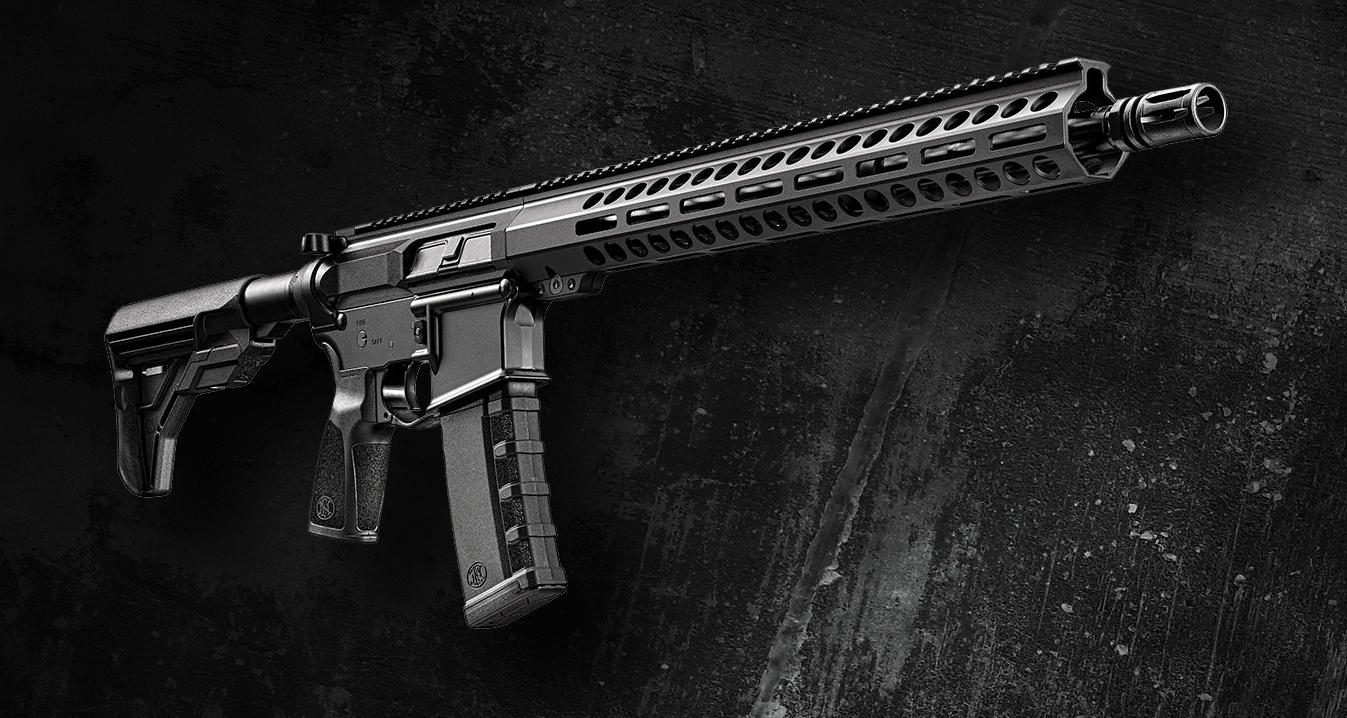 FN firearms are good at a lot of things, but keeping prices down isn't always one of them. The manufacturer clearly understands that there's money to be made in the midgrade AR market, and it's making hay while the sun shines with the new $999 FN 15 Guardian.
The recipe — one that's been used by plenty of other manufacturers with great success — is simple: put money into select components that make the biggest difference and cut costs everywhere else. What we're left with is a sub-$1,000 AR with a military-spec barrel, a free-floating aluminum M-LOK handguard, a nitride-coated bolt carrier group, and a stout mid-length direct impingement gas system. One noticeable absence is the forward assist, which was presumably left on the cutting board to keep weight and cost to a minimum.
"High quality and affordability don't typically go hand-in-hand, but today's buyer deserves to have the best of both worlds when they're investing their hard-earned money into a rifle," Chris Cole, vice president of sales and marketing for FN America, said in a company statement. "That's why we chose to develop the FN 15 Guardian."
SPECS:
Caliber: 5.56 NATO
Barrel length: 16 inches
Twist: 1:7
Handguard: 15-inch free-floating aluminum M-LOK
Weight: 6.6 pounds
Capacity: 30+1
Optic ready: Yes
Price: $999
READ NEXT – 38 Super: The Semi-Auto .38 That's Slipping Into Obscurity
---
Rock Island Armory 5.0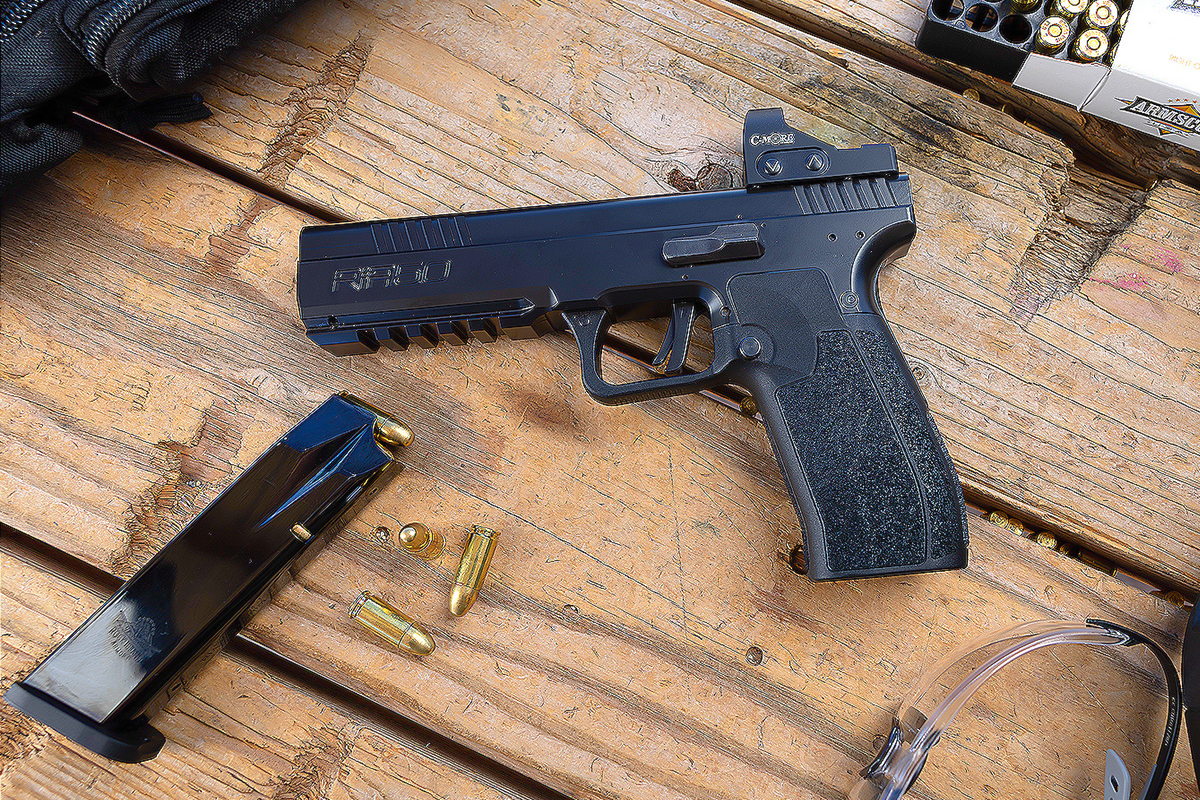 Rock Island Armory pulled the curtain back on the RIA 5.0 back in January, but the company trotted it out again at NRAAM this weekend. Attendees got to check out the 9mm pistol's proprietary RVS recoil system, low bore axis, 4-pound trigger, and two-piece grip.
You can order the full-size RIA 5.0 with iron sights or a C-More RTS II red dot on an optic-cut slide that interestingly omits iron sights altogether, and 17+1 capacity. The standard version costs $999 and the SP version with the red dot comes in at $1,299.
SPECS:
Caliber: 9mm
Barrel length: 4.9 inches
Weight: 2.5 pounds
Capacity: 17+1
Optic ready: Yes (SP model)
Price: $999 for the standard 5.0, $1,299 for the 5.0 SP
GOOD GEAR – Embody the Ethos of the Quiet Professional With BRCC's Silencer Smooth Roast
---
SIG Sauer P320-AXG Legion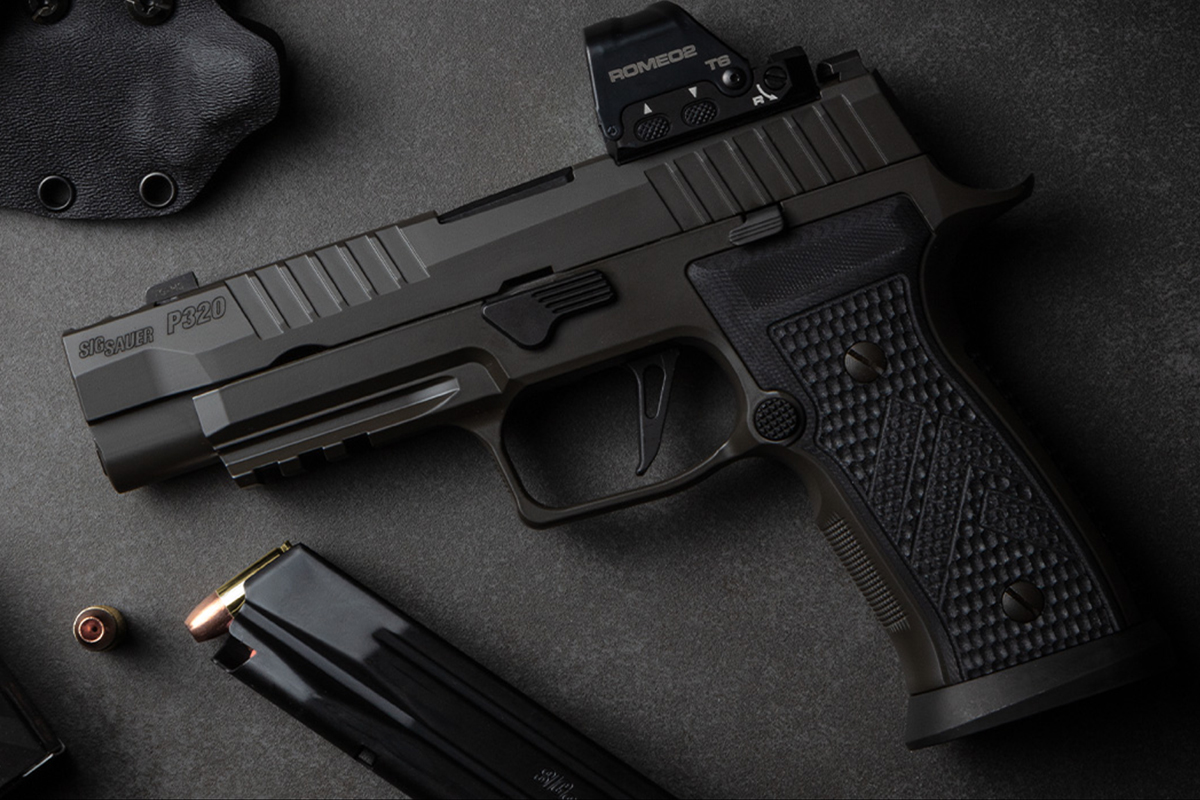 If anyone was lamenting the number of SIG Sauer P320 submodels available, they're in luck because we got one more at NRAAM 2023. The P320-AXG Legion combines SIG's aluminum frame and a suite of Legion upgrades to create a pistol that should be extremely soft-shooting.
The P320-AXG Legion's all-metal construction adds recoil-absorbing weight, as does a twin-ported expansion chamber on the optic-ready slide. Like other Legion pistols, which prioritize functional performance, this one gets an upgraded trigger, XRay3 day/night sights, and a flared magazine well that you can remove to keep a lower profile if you choose to make this your EDC gun.
"Featuring the strength and weight of the all-metal AXG grip module and the patent-pending slide-integrated expansion chamber, the P320-AXG LEGION delivers on significant recoil reduction for a shooting experience like no other pistol in its class," Tom Taylor, chief marketing officer and executive vice president of commercial sales at SIG Sauer, said in a statement.
SPECS:
Caliber: 9mm
Barrel length: 3.9 inches
Weight: 2.3 pounds
Capacity: 21+1, 10+1
Optic ready: Yes
Price: $1,399
READ NEXT – Henry Big Boy Revolvers Mark New Territory for U.S. Gunmaker
---
Springfield 10-Round Hellion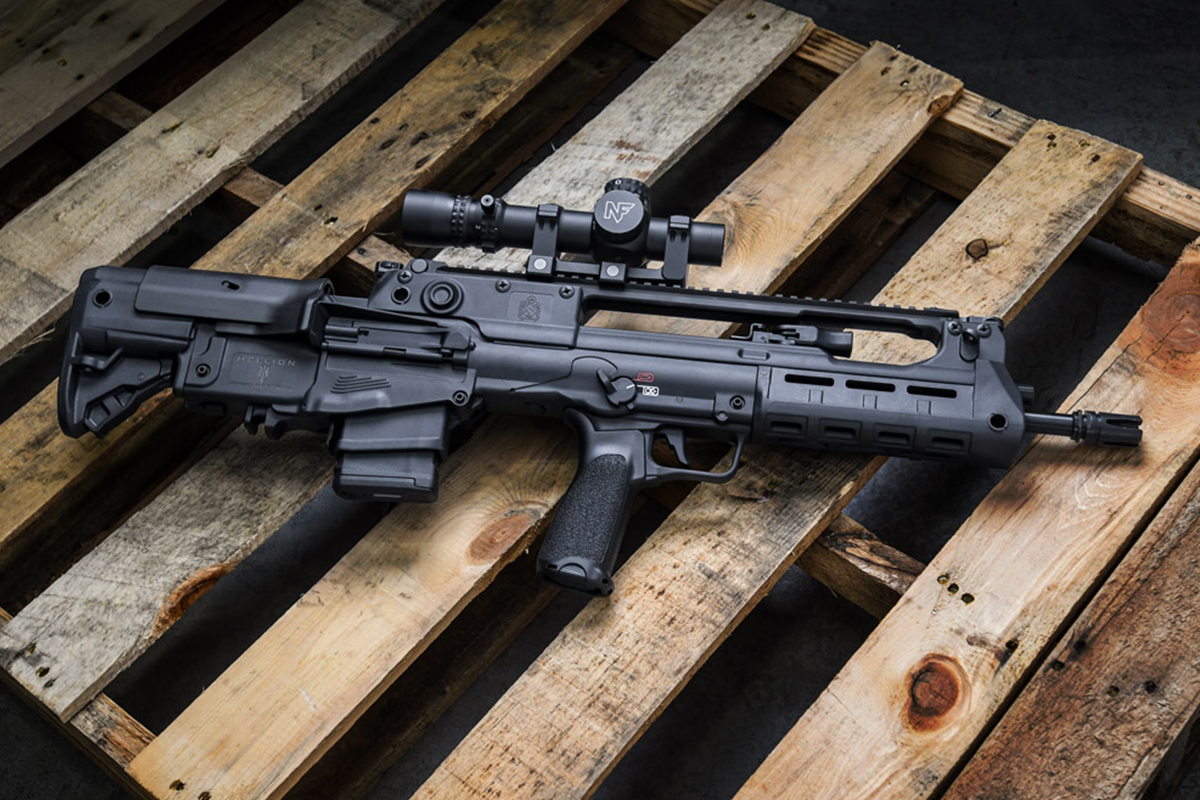 As more states enact bans on standard-capacity magazines, manufacturers are working hard to keep popular models available to as many customers as possible. Springfield Armory is doing just that with a state-compliant 10-round version of its Hellion bullpup rifle.
By positioning the rifle's action and magazine to the rear of the trigger inside the buttstock assembly, bullpups manage to use a 16-inch barrel with a much shorter overall length than a conventional rifle or carbine. The Hellion measures just 29.75 inches from buttstock to muzzle.
The only change here is that the gun now ships with 10-round .223 magazines instead of standard capacity mags. This will help gun owners in some restricted states get their hands on a new Hellion, but it's not a truly compliant version — the barrel is threaded with a removable muzzle device, and the stock is adjustable, making it a banned "assault weapon" in most restricted states.
SPECS:
Caliber: 5.56 NATO
Barrel length: 16 inches
Twist: 1:7
Handguard: Polymer M-LOK
Weight: 8 pounds
Capacity: 10+1
Optic ready: Yes
Price: $1,999
GOOD GEAR – Conquer Your Taste Buds With BRCC's AK-47 Espresso Roast
---
Stoeger STR-9MC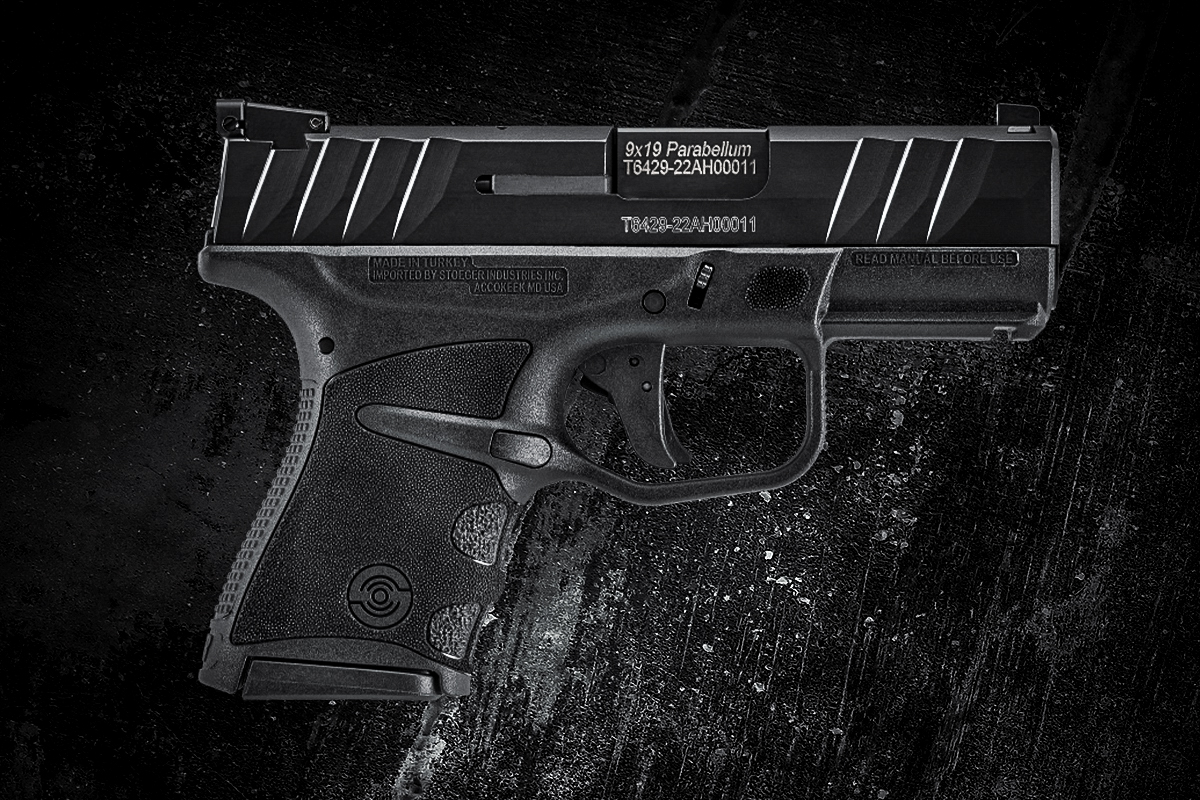 After launching the micro-compact STR-9MC at SHOT Show earlier this year, Stoeger gave NRA members another chance to see it in person at NRAAM 2023.
The STR-9MC comes standard with a loaded chamber indicator and both flush and extended magazines. You can get the base model with adjustable iron sights for $399 or pay $479 to get tritium night sights and a Shield RMS/SMS footprint for a red dot of your choosing.
You don't get a lot of bells and whistles with the STR-9MC, but it offers decent value for the money. The low cost of entry and the option to add or omit certain features will appeal to new gun owners (of which there are many) and shooters on a budget.
SPECS:
Caliber: 9mm
Barrel length: 3.3 inches
Weight: 1.2 pounds
Capacity: 13+1, 10+1
Optic ready: Yes (optional)
Price: $399 (iron sights), $479 (tritium night sights)
---
READ NEXT – Vortex Razor HD 4000 GB: High-Tech, Tough, and Precise