The Winchester name is one of the best-known firearm brands in the world. Its namesake, Oliver Winchester, oversaw the evolution of the lever-action rifle and its rise to fame as "The Gun That Won the West." When the company's patriarch passed away in December 1880, he was a multi-millionaire, and his gun company was in the midst of unprecedented growth. And yet Winchester himself wasn't a "gun guy." Instead, he was thoroughly a businessman who hired expert gun guys to make Winchester repeating rifles.
Winchester didn't spend endless hours tinkering with prototypes of the Model 1887; he hired John Moses Browning to do that. In fact, Winchester's own website describes the founder as a man of "innovation and solid business sense."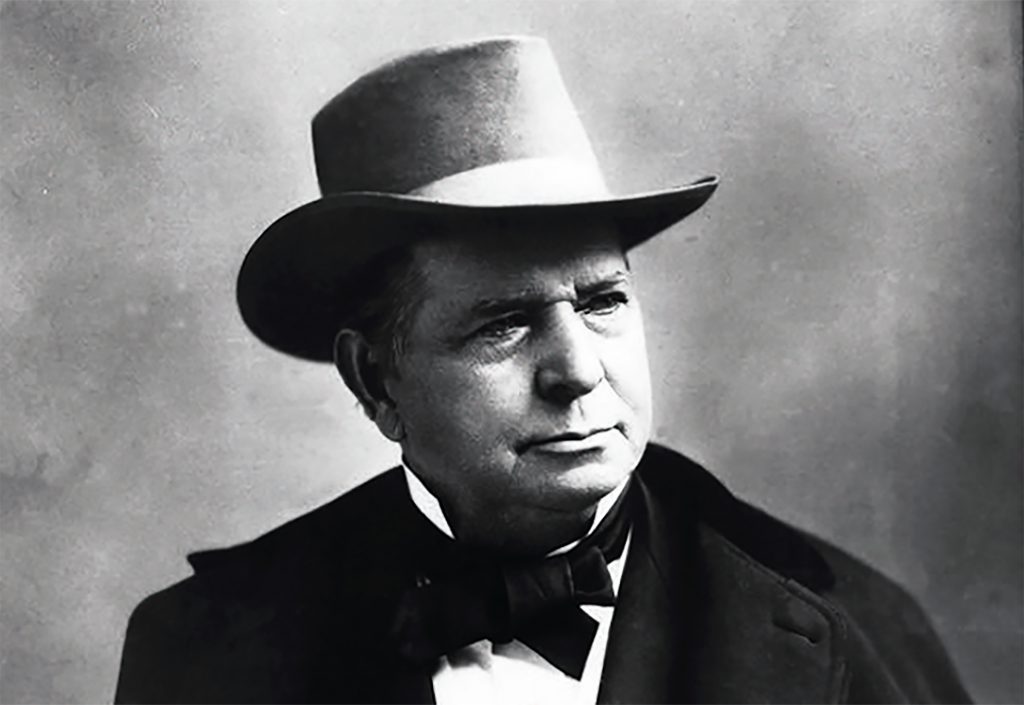 RELATED: Photos – What Old West Life Was Really Like in Tombstone, Arizona
Men like Browning, Horace Smith, and Daniel Wesson were gun designers. Sam Colt and Oliver Winchester were gun innovators. The first three were intimately involved in designing the arms that bore their names. The same can't be said for Colt and Winchester, who were more like each other than any of those men.
Sure, Colt came up with his early revolver designs, but the gun that became the iconic pistol of the American West and made his company famous the world over — the Single Action Army, aka the Colt Peacemaker — was invented more than a decade after his death. The way things were going, somebody would have brought a feasible revolver design to market if the Colt Paterson hadn't been developed when it was.
Sam Colt's most significant accomplishment was bringing modern production methods to the gun world. His factory created complex guns with truly interchangeable parts, which revolutionized the business. Gun making evolved from artisan production to mass production.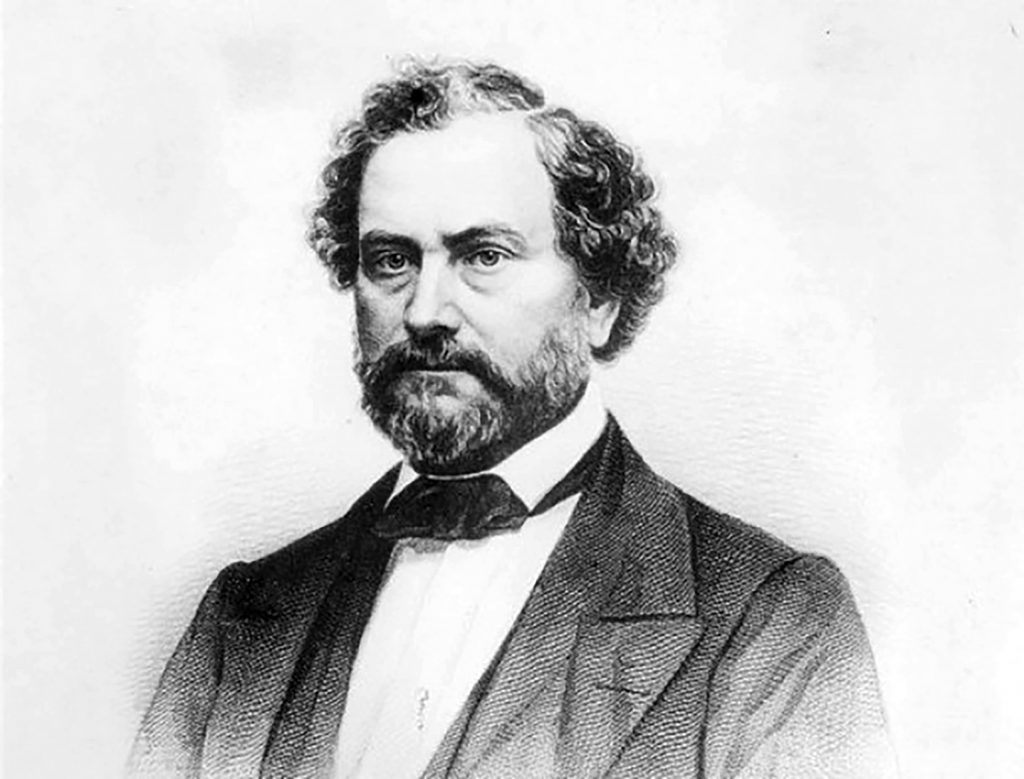 RELATED: Annie Oakley – A Legend Who taught Thousands of Women to Shoot
He only built a few guns with his own hands as a young man. They occasionally exploded and were more proof of concept than anything else. Sam Colt's name and his gun company became far more famous after his death than it ever was while he was alive.
In that same vein, Winchester never invented or built a single gun in his entire life. To say that both men were innovators and not gunmakers is accurate and not a detraction in any way. They both built two monoliths of gun manufacturing with long-lasting legacies. But if you hear their names and think of men toiling away at workbenches, it just isn't so.
Oliver Winchester – From Shirtmaker to Gunmaker
When it came to business, Oliver Fisher Winchester (born Nov. 30, 1810) had a knack for seeing potential. Smith and Wesson formed their first partnership to refine and produce Volcanic repeating firearms. When that stalled and the partnership dissolved in 1854, the company didn't actually go anywhere; it was purchased by Winchester, who was a company stakeholder.
At the time, Winchester was a clothing manufacturer, a shirtmaker to be specific, with no background in firearms. He reorganized the company and renamed it Volcanic Repeating Arms Company and later, the New Haven Arms Company. The Volcanic guns and ammunition were unreliable, underpowered, and unpopular, but Oliver wasn't going to throw the baby out with the bathwater. Instead, he hired expert gunsmiths to refine the Volcanic designs and eventually created the Winchester Repeating Arms Company.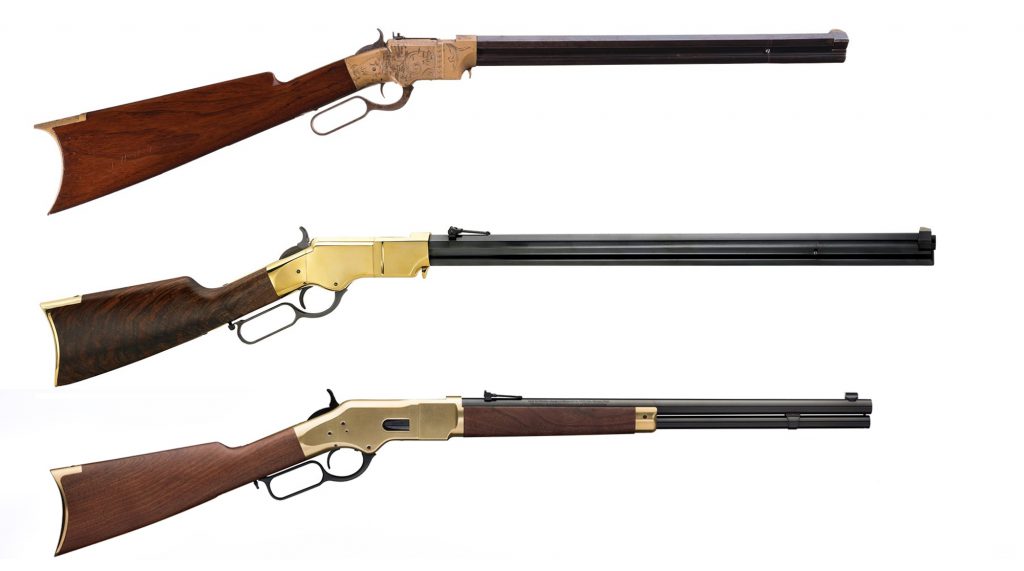 RELATED: Horace Smith, Half of Smith & Wesson, Was Born 213 Years Ago
The first successful offering from Winchester's new company was the Model 1866 lever-action rifle, nicknamed the "Yellow Boy" because of its brass frame. While the gun was a Winchester, its design wasn't exactly original.
Instead, it was an improved-upon variation of the earlier Model 1860 lever-action rifle invented by Benjamin Tyler Henry, better known as the Henry Rifle. The design was a huge step in firearms development, but the Henry was far from perfect, and the design proved fragile and prone to failure in the field.
By 1866, the production of Henry's rifle came to an end, with only 14,000 made. Oliver saw the gun's potential and obtained the rights to the rifle. Multiple new designs were floated for an improved version before the final configuration was adopted. With a loading gate designed by Nelson King and the addition of a wooden handguard, Henry's rifle was reintroduced and became Winchester's first commercial success.
The subsequent two guns that the company introduced were the Model 1873 and Model 1876 lever guns. With these models, Winchester really hit its stride, racking up impressive sales numbers and big-name endorsements. William "Buffalo Bill" Cody said the Model 1873 was "the boss," and Theodore Roosevelt, before he was president, said the Model 1876 was "by all odds the best weapon I ever had."
By far, the company's biggest success was its partnership with John Moses Browning, who came to the attention of company president Thomas G. Bennett in 1883. For the next 19 years, Winchester bought everything Browning designed, whether they actually produced it or not, just to keep it out of their competitors' hands. Its most successful and enduring rifle and shotgun designs came from Browning's mind and workshop.
Mistakes, They Made a Few
Unfortunately, money eventually clouded better judgment; Winchester and John Browning went their separate ways in 1902. Winchester even went so far as to publish a letter stating: "[W]e shall be perfectly able to get along without the Brownings, and shall probably be better off without them than with them. On the other hand, we do not believe they will get along as well without us as they did with us."
RELATED: The Famous Winchester Model 1894 Was Born 127 Years Ago
Of course, that wasn't true at all. Browning went on to even greater success with his Auto-5 shotgun, a host of semi-automatic pistols, and several machine guns during his post-Winchester career.
This can be considered one of the biggest missteps taken by Winchester as a company that cost it untold amounts of money, but it happened in 1902 after Oliver had been dead for 22 years.
The biggest Colt screw-up, however, was made by Sam Colt himself in 1855.
Rollin White was a gunsmith who once worked for Colt. After he left the company in 1854, he patented the design for a revolver with completely bored-through cylinder chambers, which would allow a wheelgun to use brand new self-contained metallic cartridges instead of cap-and-ball loads. Since White developed the invention while working for Colt, he offered Sam Colt the right of first refusal on the new design.
Sam Colt passed on White's invention and on his company becoming the absolute dominant force in revolvers for the foreseeable future. This also allowed a relatively new gun company, Smith & Wesson, to become a major competitor.
Exactly why Colt turned down exclusive use of White's patent is unknown, but legend has it that Colt was incensed that White had come up with the invention on company time.
Undeterred, Rollin White approached Smith and Wesson, who had formed a new company dedicated to working with and perfecting metallic cartridges and guns that used them. The two gun designers recognized the importance of White's invention and signed the deal that Colt refused.
With that, Smith & Wesson now held the exclusive right to manufacture cartridge revolvers until 1869 — that's a decade and change — while Colt was sidelined with his cap-and-ball black powder wheelguns.
RELATED: How Western Legend Wild Bill Hickok Died in Deadwood
It certainly didn't kill Colt, but the company's history, and Smith & Wesson's, would be quite different if Sam hadn't dismissed White's invention.
Likewise, Browning's departure from Winchester wasn't the end of the world for the company, but it did signal a big change.
Like many companies, Winchester experienced exponential growth during World War I. Unfortunately, Winchester was cash-poor and had financed much of the capital needed for its expansion during the war. When WWI ended in November 1918, the company was left with a lot of debt and considerably shrinking demand for its products during peacetime.
To help remedy this financial issue, the company branched out into an array of manufacturing markets. Winchester produced flashlights, roller skates, tennis rackets, and large household appliances. Today, those items are sought after by collectors, but the expansion efforts weren't enough to keep the company afloat at the time.
RELATED: The Death of Big Jake, The World's Tallest Horse
John Olin, head of the Western Cartridge Company, bought Winchester in 1931, and the Winchester-Western Company was formed in 1935. In 1944, it became known as the Winchester-Western Division of Olin Industries.
By the 1960s, raw materials and labor prices were up, and profit margins had to be maintained somehow. The biggest change for the Winchester brand in terms of quality came in 1964 when production methods were significantly altered to reduce costs. The changes were so significant that today, Winchesters are divided into two categories of quality: pre-64 and post-64.
In 1980, another big change came when Olin sold the company to its employees and granted a license for the new U. S. Repeating Arms Company to make Winchester guns. Bankruptcy followed in 1989, and the company was ultimately acquired by Herstal Group, a Belgian company that also owns FN, Browning, and Miroku.
The plant in New Haven, Connecticut that Winchester called home for more than 140 years closed its doors in January 2006. By December of that year, Browning was contracted to produce Winchester-branded guns manufactured by Miroku in Japan.
Today, Olin still retains the rights to the Winchester designs, but the guns are all licensed out to FN and Browning, which manufacture them overseas and then import them for commercial sale in the US.
Over the past 150 years, Colt has also undergone repeated expansions and contractions. There have been multiple bankruptcies, and the company also attempted to extend its reach beyond firearms to produce other household goods. It has also been owned by larger parent companies. Most recently, Colt was acquired by CZ, a Czech gunmaker, earlier this year.
There are many parallels between Winchester and Colt, both the men and the gun companies they founded. Both men had similar personalities and management styles, and their companies both soldiered on through the centuries in a changing world to maintain their identities as some of the most revered names in gun history.
Read Next: Smith and Wesson Founded Their Gun Company 165 Years Ago, Not 169