This post contains affiliate links. We may earn a commission if you buy through these links.
A tactical flashlight is an often-forgotten component in any loadout, and many people consider it an afterthought. Whether for duty use or everyday carry (EDC), it's not uncommon to see someone with a $700 SIG Sauer, a $250 Holosun optic, a $90 holster, and an $80 weapon light that's known for exploding in the user's hands.
So, what is a tactical flashlight? At its most basic, a "tactical" flashlight is built of rugged material — think aluminum, not plastic — and has a water-resistant or waterproof construction with a reliable activation switch that is also protected from the elements. The Maglite was the OG tactical flashlight, so think of that as the bare minimum.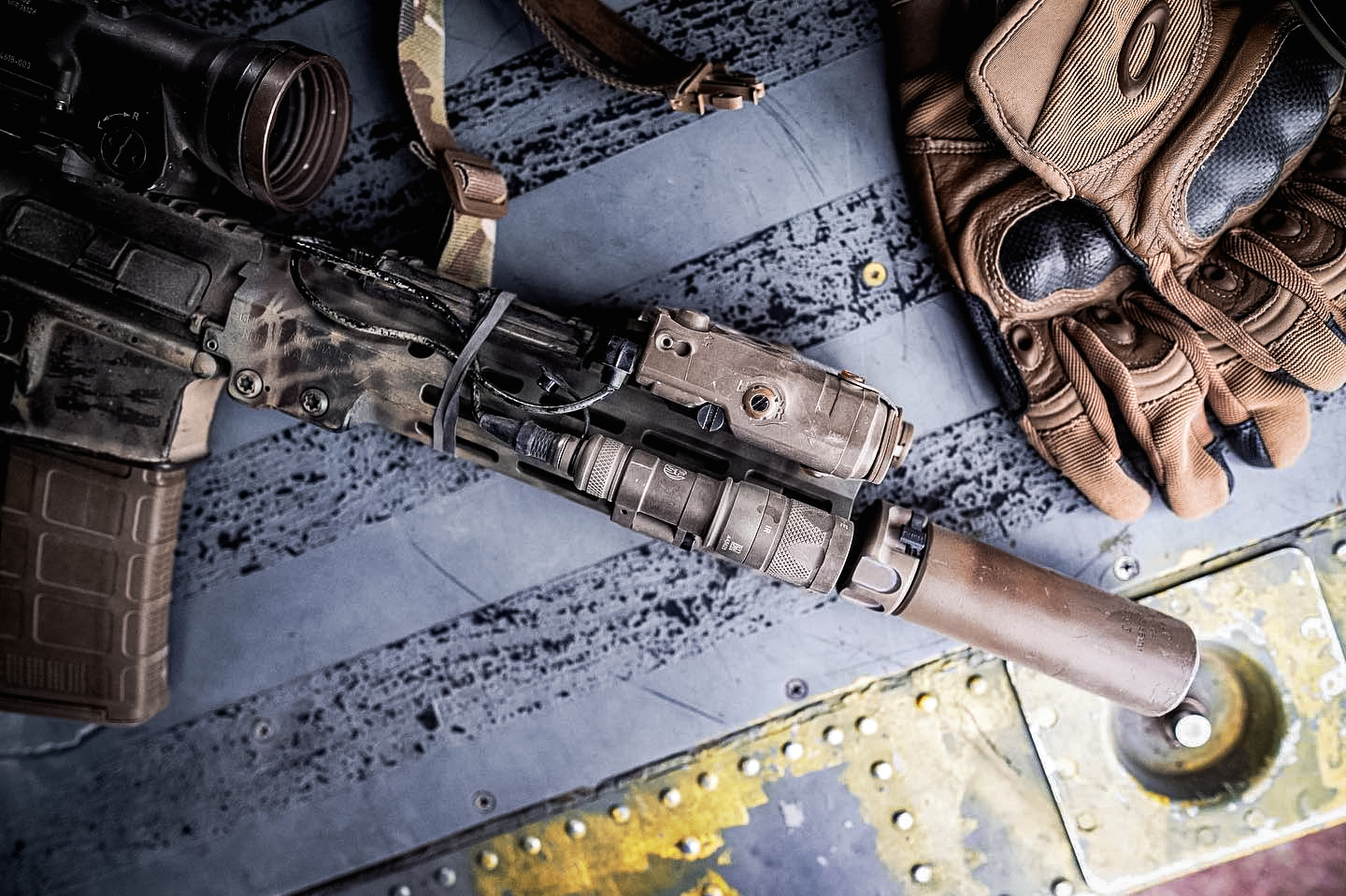 Another class of tactical flashlights are those that can be attached to a firearm via an accessory rail, and the same rules apply, though there is a little more leeway for high-strength plastic parts here. These may include an option to use a tape activation switch if it's made to be mounted on a long gun.
Some are made specifically for handguns, and some are tailored for specific handgun models. And still, there are universal mounts for long guns that let you mount any flashlight with the correct tube dimensions.
People can argue about extra features and lumens all day, but those are the base requirements. But, a tactical flashlight generally should be brighter and have a greater throw than the old flashlight you keep in the cabinet for power outages. It has a job to do, and it should be able to do it well.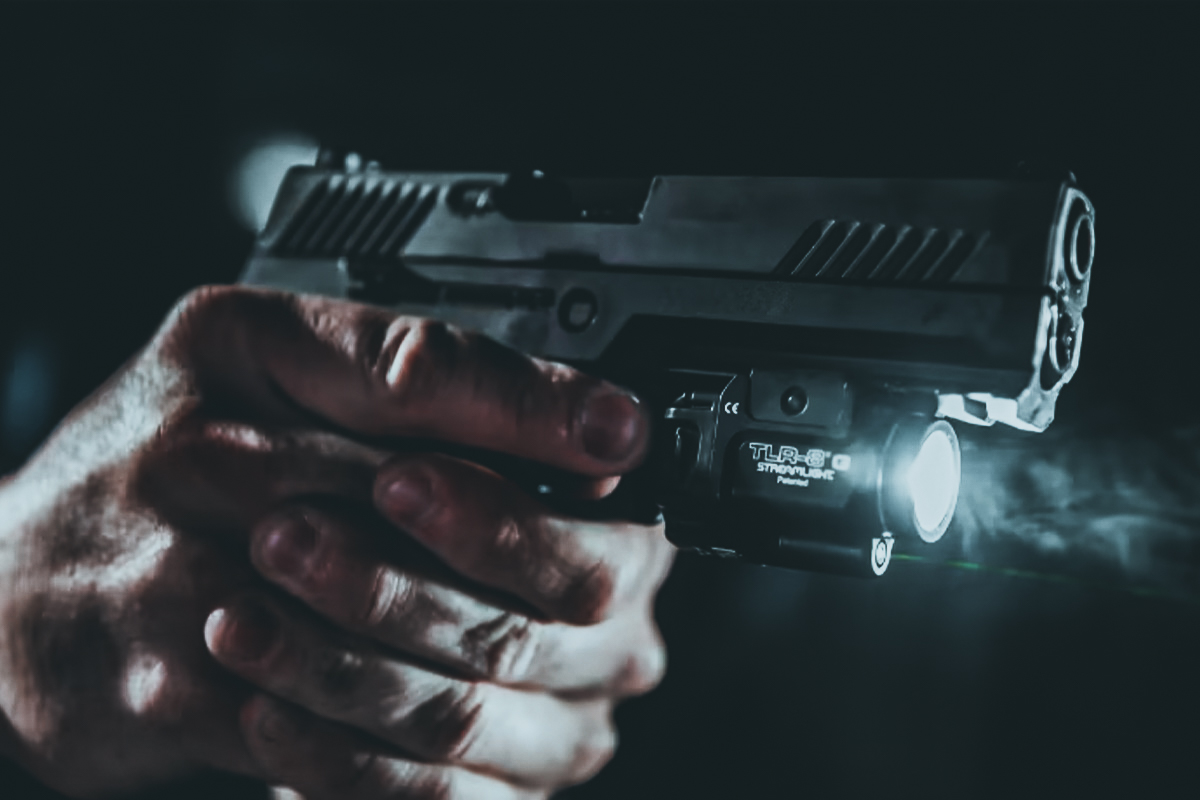 That said, tactical flashlights are something that less-than-reputable companies can replicate out of cheap materials with relative ease, so there are a lot of fakes and substandard lights out there.
To help you navigate the misinformation, shady advertising, and unreliable options on the tactical flashlight market, we've assembled a list of general tips to follow, as well as some of our recommendations for buying a tactical flashlight.
READ NEXT – The Life and Death of the 4 Gauge Shotgun
---
Know the Anatomy of a Tactical Flashlight
Modern tactical flashlights have some standard features that you'll see on most of them, and many parts are interchangeable, with companies like Malkoff, Arisaka, and Modlite making their name producing improved aftermarket parts for SureFire flashlights. From front to rear, the parts of the flashlight are:
The head (or portion of the light that houses the lightbulb and lens) — The head can sometimes be rotated to deactivate the flashlight for light discipline purposes or switch to infrared or red lens modes, like with some SureFire models.
The body — This is usually where the batteries are stored.
The mount (only on weapon-mounted lights) — This is used to attach the light to an M1913 Picatinny rail or M-Lok rail.
The tail cap — This usually houses the tail switch, a plug for a tape switch, or both.
The tape switch — This allows you to activate the light with your thumb from a more comfortable location rather than manually activating the button on the tail cap. This feature is especially handy for use on longer-barreled rifles.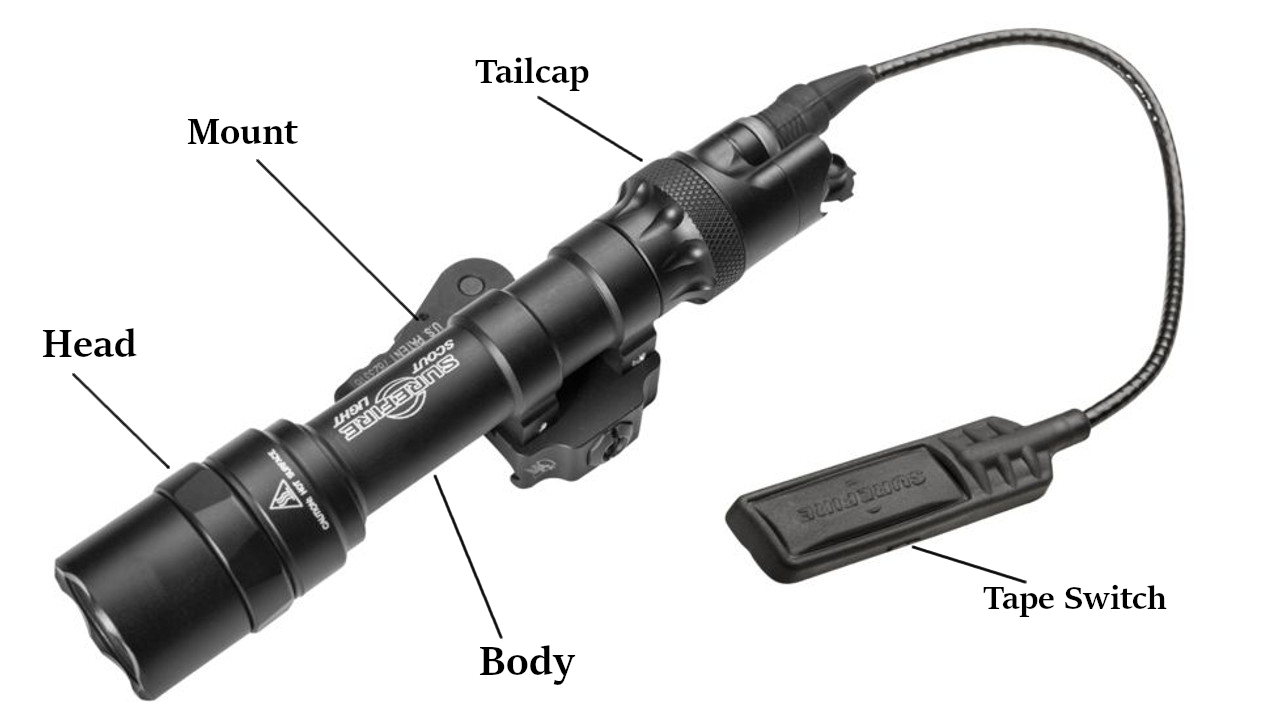 GOOD GEAR – Embody the Ethos of the Quiet Professional With BRCC's Silencer Smooth Roast
---
Lumen Output Isn't Everything
More and more full-size tactical flashlights are available in 1,000-lumen intensity levels. Still, this figure may be less important than it seems. To the uninitiated, seeing Surefire release their X300 Turbo with 650 lumens for almost the same price as their X300 Ultra, which has 1,000 lumens, probably seems ridiculous.
However, candela is an essential measurement as well. Lumens is the measurement of a light's raw output in any direction, but candela measures the intensity of the beam on a specific point, usually referred to as the "hot spot" of the beam.
Higher candela lights can illuminate objects farther away and have a "spotlight" effect, allowing the user to overcome "photonic barriers," which refers to ambient light between the user and their target.

RELATED — What Makes a Tactical Shotgun 'Tactical'?
---
A Tactical Flaslight's Power Source Matters
The power source is one of the most important features of any tactical flashlight. Which battery a manufacturer chooses to use has a lot to do with a system's output, reliability, and cost. Rechargeable tactical flashlights that use lithium batteries enable higher lumen and candela output levels, while traditional alkaline batteries are easily swapped in a hurry and are generally cheaper.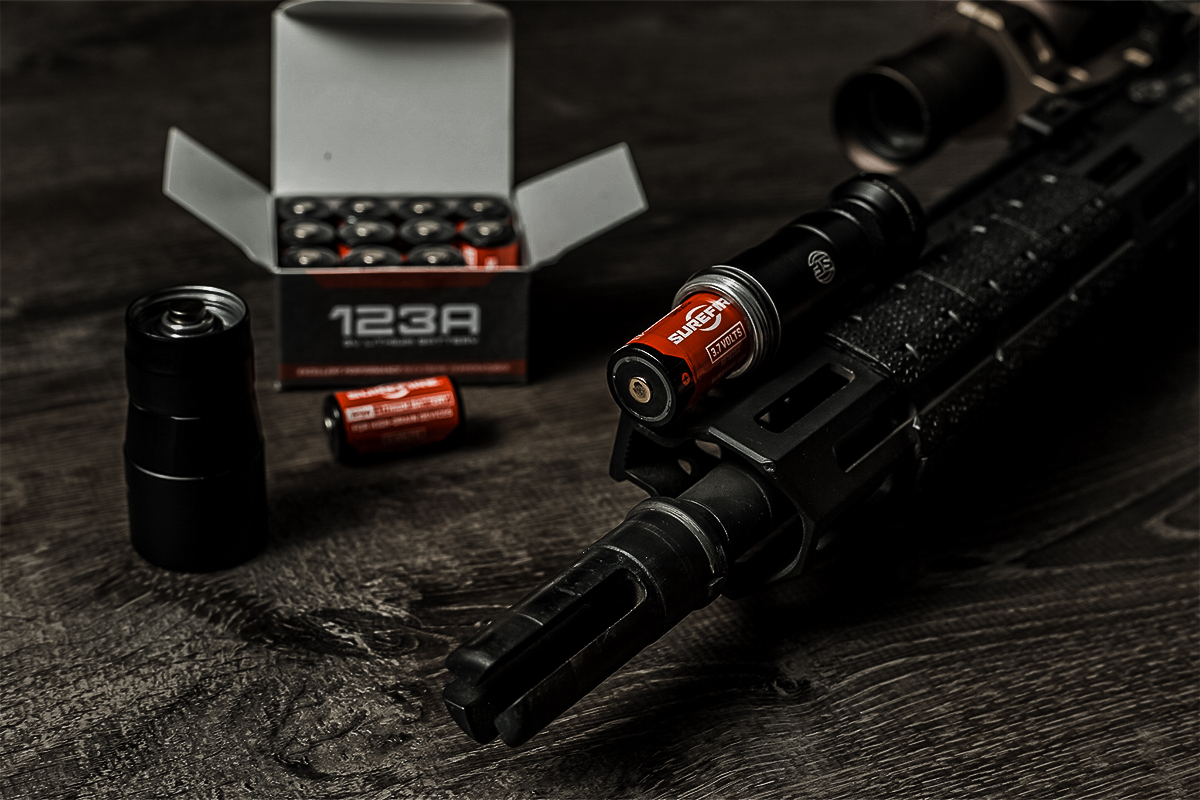 Some companies offer "dual fuel" lights, which use rechargeable batteries with dimensions similar to alkaline batteries. While your rechargeable flashlight is charging, you can swap in other batteries in a pinch, usually at the expense of reduced power output.
READ NEXT – Falling in Love With the Winchester Model 94
---
Watch Out for Olight Products
None of the other items on this list call out any company for bad behavior, but the popular, heavily advertised brand Olight deserves special mention.
Despite their constant use by YouTubers and heavy social media presence promoting their products as an affordable alternative to brands like Surefire and Streamlight, Olight's use of questionable components could seriously injure the user. There's plenty of online testimony about failures like this, and famously, in 2019, Olight was sued when one of their flashlights exploded in a user's mouth, killing him.
As recently as December 2022, the Detroit Police Department issued an advisory against the Olight M1T Raider after the battery in that model exploded while the light was attached to a pistol in an officer's holster, causing third-degree burns to their leg.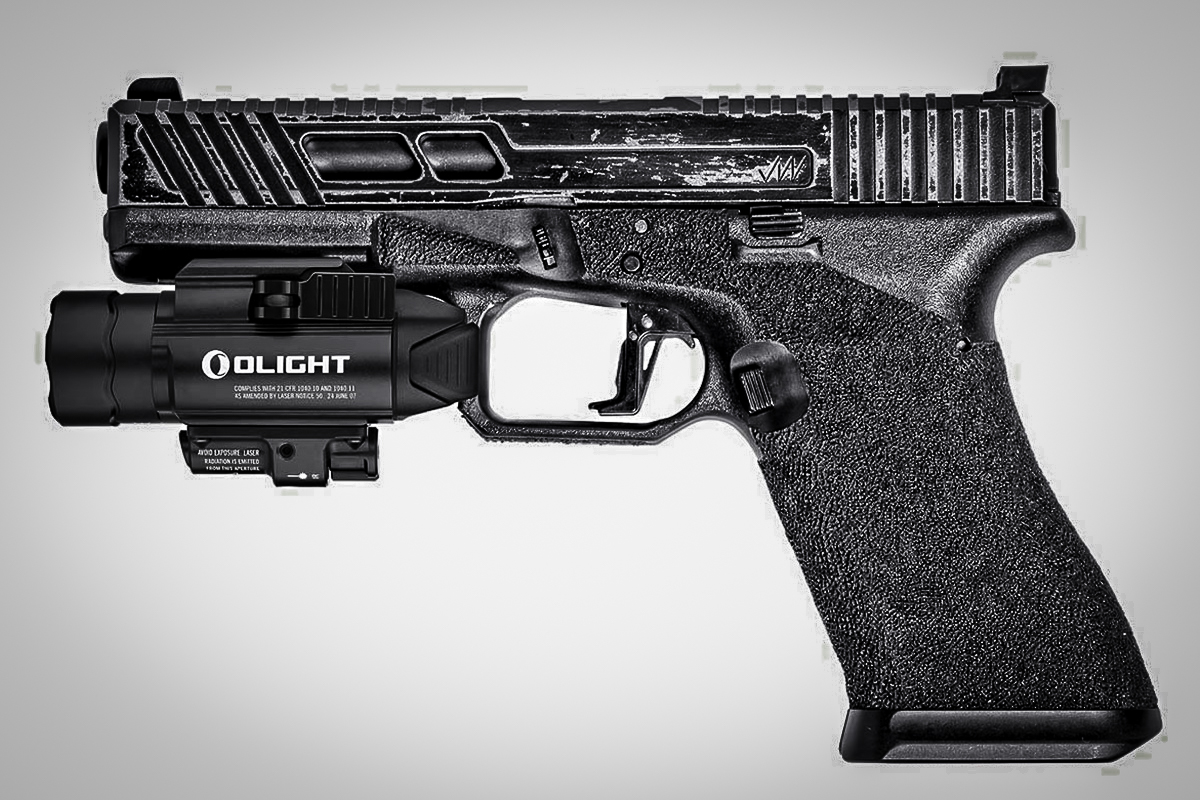 ---
Mind the Heat
Although most flashlights won't explode, even if abused, extremely bright tactical flashlights will get hot if left on for a long period. Make sure not to touch the lens or head of the light if it's been on for an extended period to avoid getting minor burns.
Some higher-output flashlights, such as the Acebeam X75, will even have dedicated cooling systems.
GOOD GEAR – Conquer Your Taste Buds With BRCC's AK-47 Espresso Roast
---
Know the Big Names in Tactical Flashlights
SureFire, Streamlight, Modlite, Cloud Defensive, and Arisaka are well-regarded names in the world of tactical flashlights, and that's because their lights have seen heavy use worldwide by professionals. They're not the brands you'll see hawked on social media or pushed to the top of listings by bots, so knowing these names is essential for a discerning customer.
Some companies do things better than others, such as Streamlight holding down the budget market, SureFire making visible-and-infrared combo flashlights, and Modlite making high-candela rifle and pistol lights and modification parts for SureFire.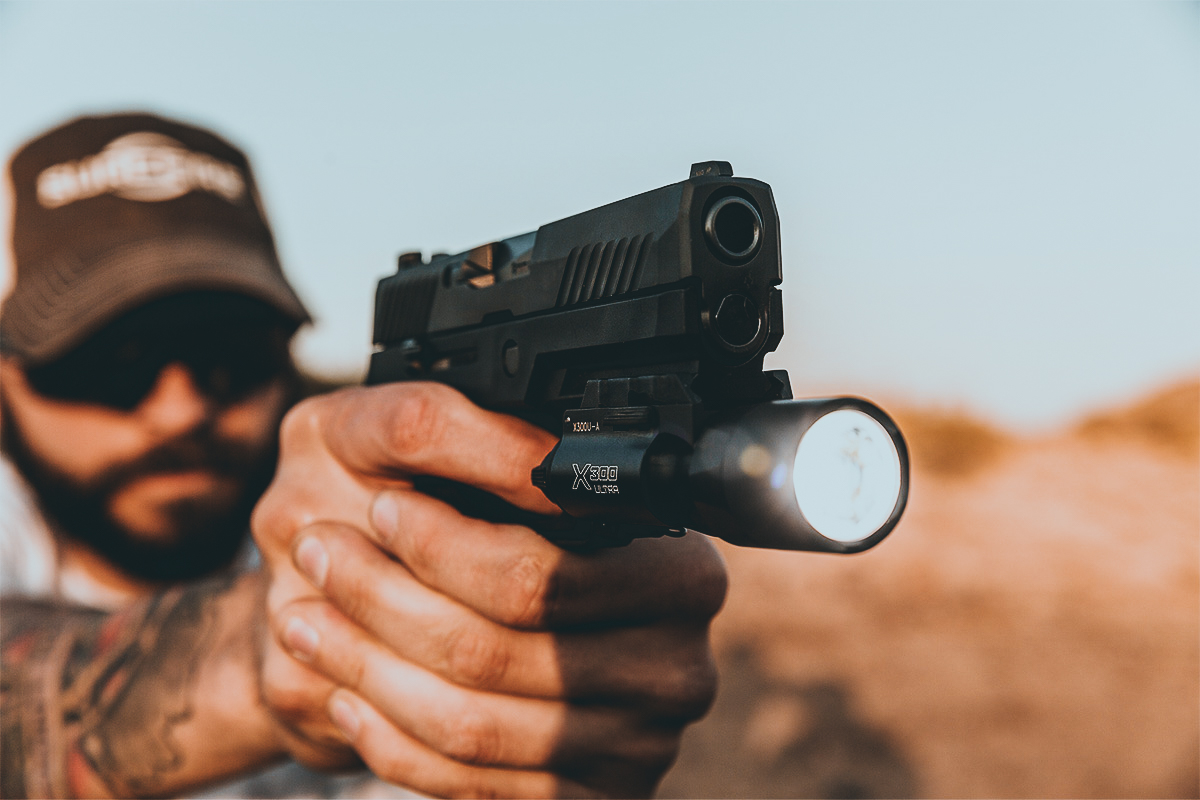 ---
Avoid Having to Dress Around Your Tactical Flashlight
Some extremely bright tactical flashlights are huge. Large batteries, emitters, and durable cases will add bulk. While this may be fine for lights designed to be worn on the belt of a police officer, they make carrying in civilian clothes awkward without resorting to being that person who goes everywhere in cargo pants.
Small tactical flashlights, such as the SureFire Stiletto Pro and the Streamlight Wedge, are designed for pocket carry.
READ NEXT – Rifle Backpack Guide: Buy One That Doesn't Suck
---
With Weapon Lights, the Farther Forward, the Better
Weapon-mounted flashlights are a must-have accessory for positively identifying targets in low-light situations — and they are getting cheaper, more accessible, and brighter every day.
When mounting them on your pistol, make sure they're far enough forward so that your slide doesn't get pushed backward out-of-battery if it gets caught on something.
The light should protrude past the muzzle slightly. For rifles, ensure the light is mounted far enough forward to prevent excessive "barrel shadow," which is when the barrel protrudes far beyond the head of the flashlight, casting a shadow that can obscure your vision.
---
Keep the Lens Clean
Weapon-mounted lights will inevitably get dirty from the carbon in muzzle gasses, which will obscure the lens of the light. Use a mild solvent to dissolve the carbon, dab the liquid off the lens, rinse with soap and water to clean off any leftover solvent or carbon, and dry with a paper towel.
GOOD GEAR – Survive the Day With BRCC's Endurance Roast
---
Buying Guide: Get the Best Tactical Flashlight You Can Afford
Not everyone has the budget for a SureFire X300 Turbo or needs a dual visible-and-infrared head to use with night vision. Still, quality flashlights that will last will cost you. Don't cheap out on a light you need to work every time, especially for any hard use outdoors, in a self-defense situation, or professionally.
Tactical flashlights are valuable tools and need to be just as durable and hardworking as the people who carry them.
Ensuring you have the right tools for the job at hand is crucial, and that requires being honest with yourself about your needs, what you can afford, and how much you value the rugged reliability of higher-end flashlights. To this end, we've compiled a quick selection of tactical flashlights.
---
BEST BUDGET POCKET TACTICAL FLASHLIGHT
Streamlight Wedge
Price: $85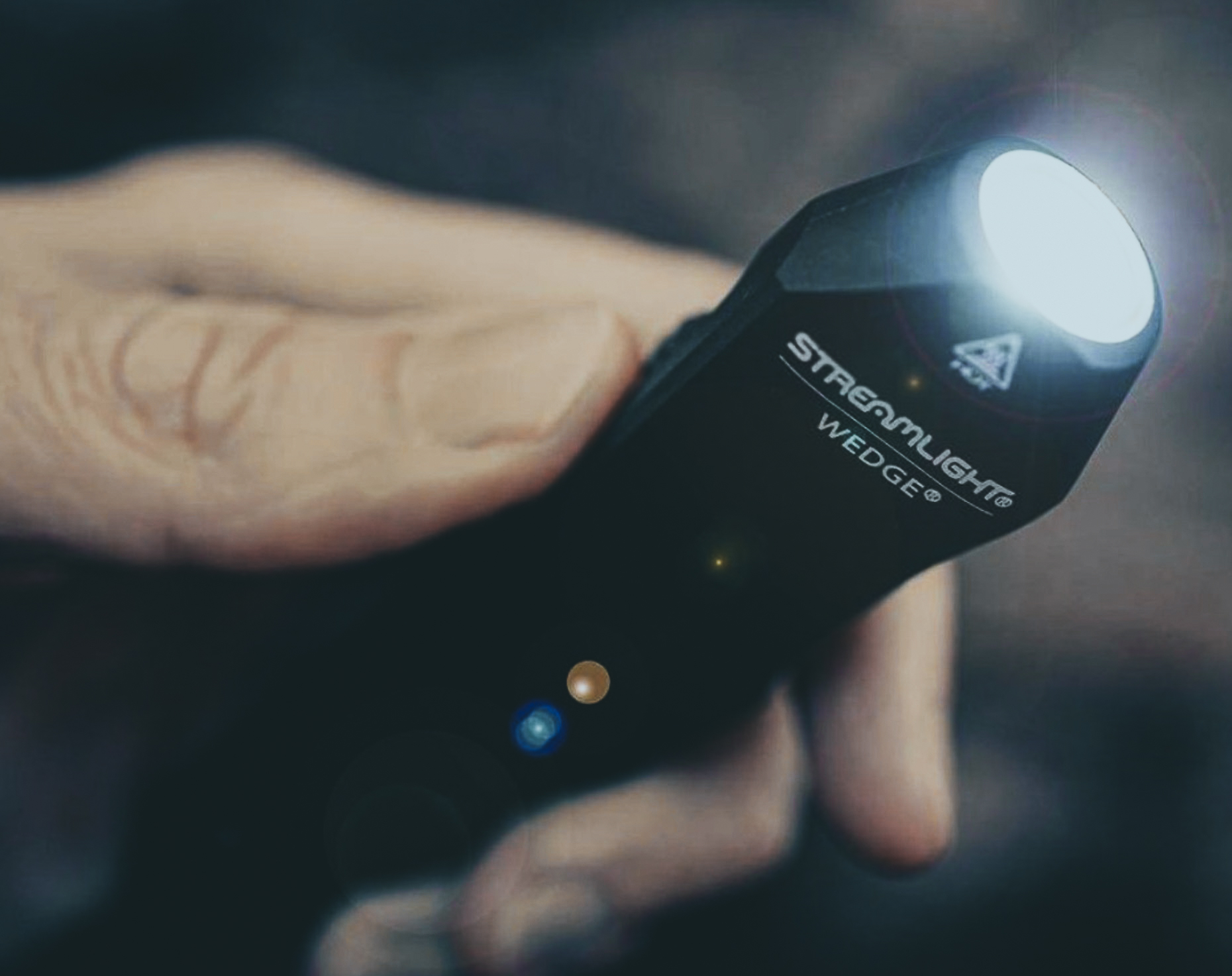 Designed for easy pocket carry, the Streamlight Wedge is waterproof, rechargeable, ultra-lightweight, and has an extra-slim design. Perfect for EDC applications, it's also refreshingly affordable.
---
BEST POCKET TACTICAL FLASHLIGHT OVERALL
SureFire Stiletto Pro
Price: $232.49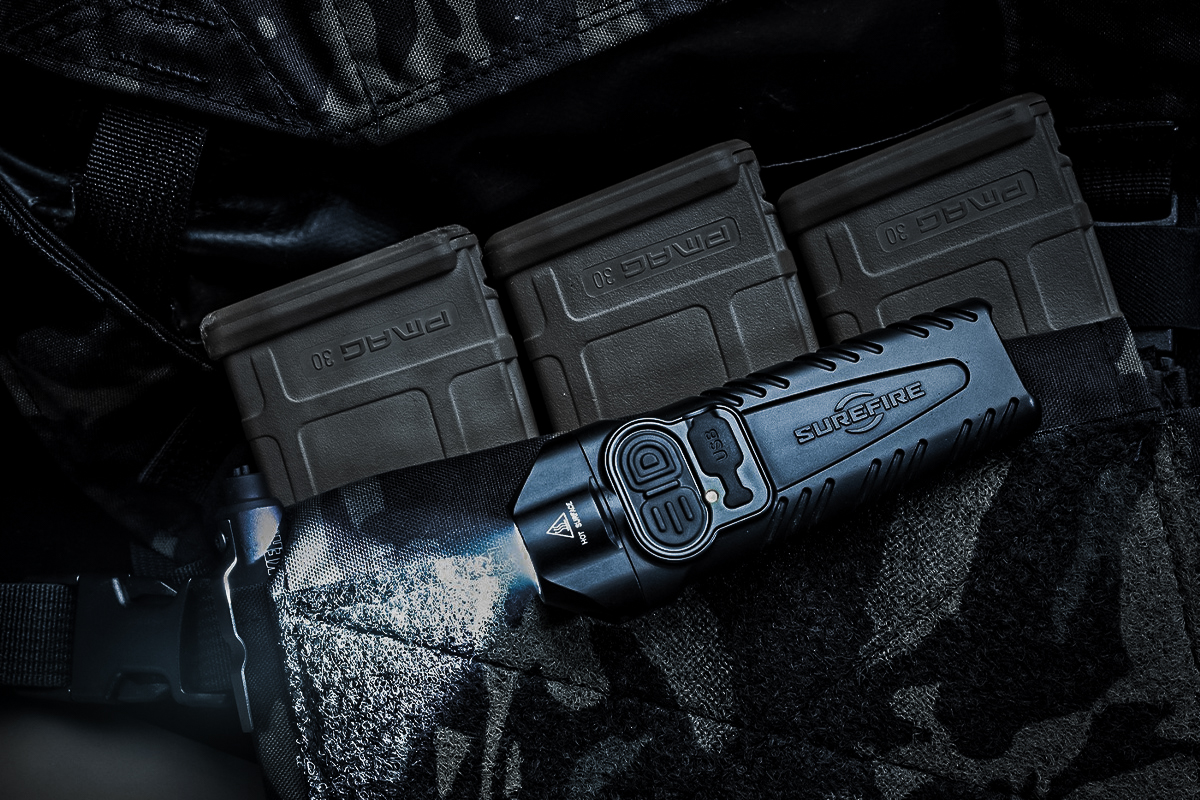 A high-output tactical LED flashlight with a slim profile, the Stiletto Pro easily fits in a pocket for quick-and-easy access anytime you need it. Made from military-grade, hard-anodized aluminum, this rugged pocket light is corrosion-resistant and has an IPX7 waterproof rating. It also has a nearly indestructible pocket clip.
---
BEST BUDGET RIFLE TACTICAL FLASHLIGHT
Streamlight ProTac HL-X
Price: $148.23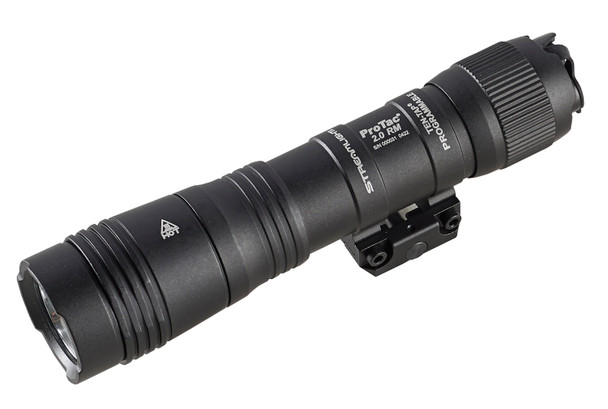 This rail-mounted light features an integrated red laser, a USB rechargeable lithium ion battery, and tappable programming that lets the user easily customize how they cycle through brightness settings and strobe mode.
---
BEST RIFLE TACTICAL FLASHLIGHT OVERALL
Cloud Defensive Rein
Price: $348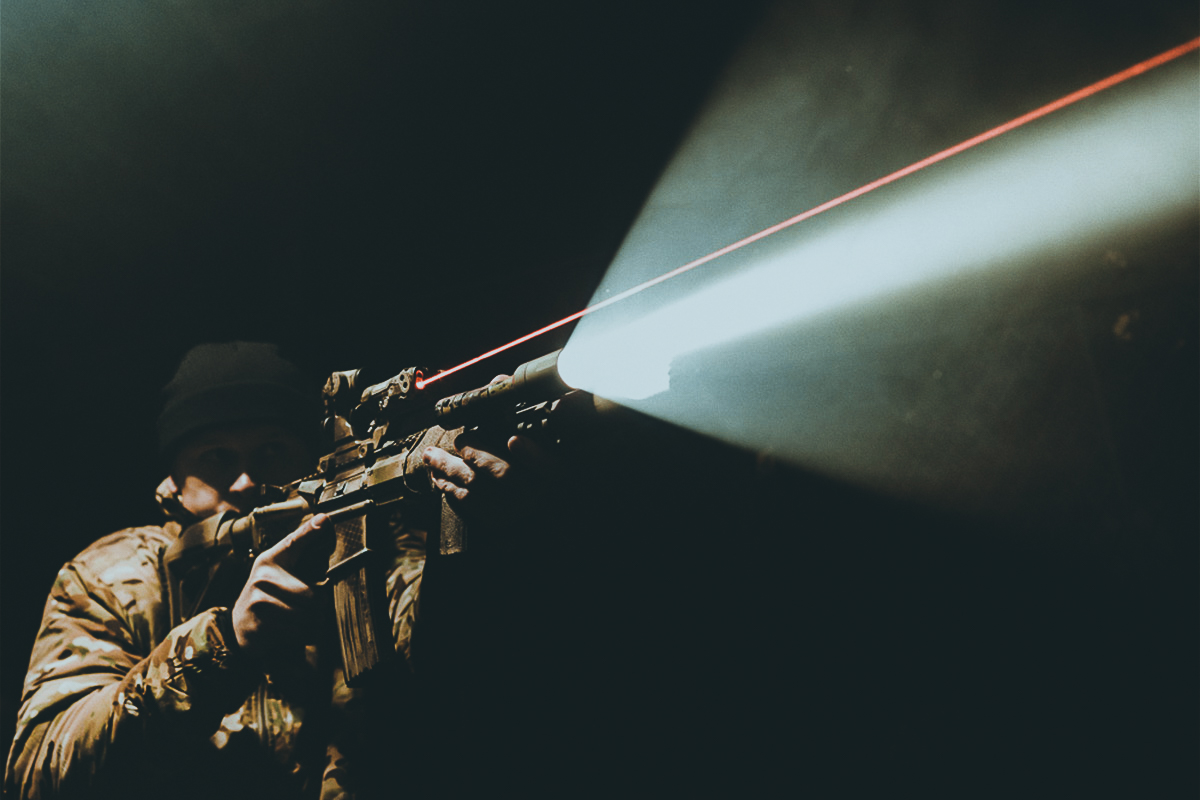 Built to hold up to rough use and harsh environments, the Cloud Defensive Rein light is shockproof, dustproof, and has an IPX8 waterproof rating, which means it can survive being submerged to 100 feet for up to 24 hours and still function. It has a modular three-piece design, with a convenient remote switch. It is also proudly made in the USA.
---
BEST BUDGET PISTOL LIGHT
Streamlight TLR-1 HL
Price: $149.95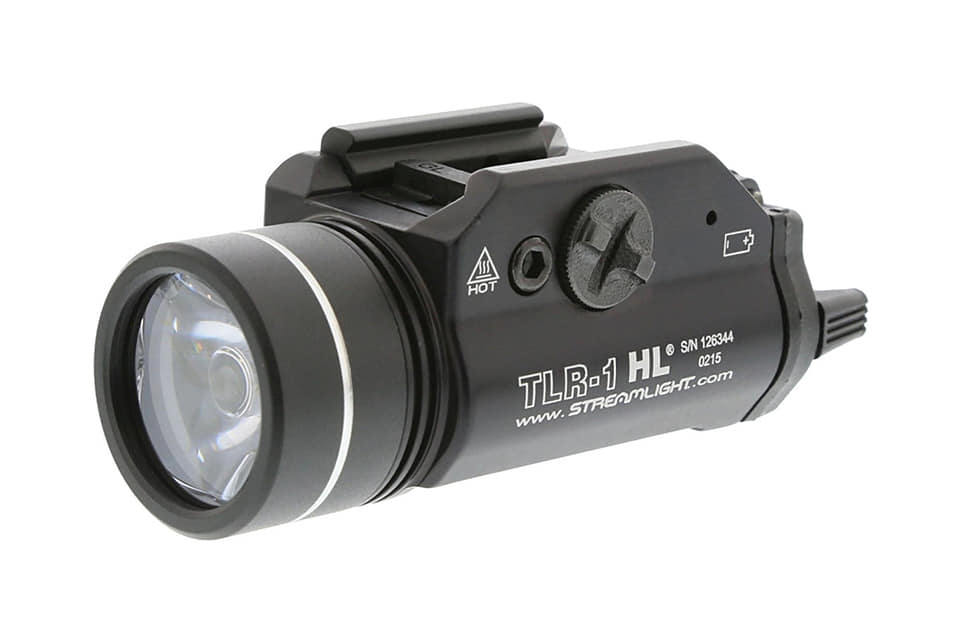 An affordable option for your EDC pistol, the Streamlight TLR-1 HL has an impressive 20,000-candela peak beam intensity. It has a durable aluminum construction with an anodized finish and features a high-temperature, shock-mounted, impact-resistant Borofloat glass lens.
---
BEST PISTOL LIGHT OVERALL
Modlite PL-350
Price: $319 – $329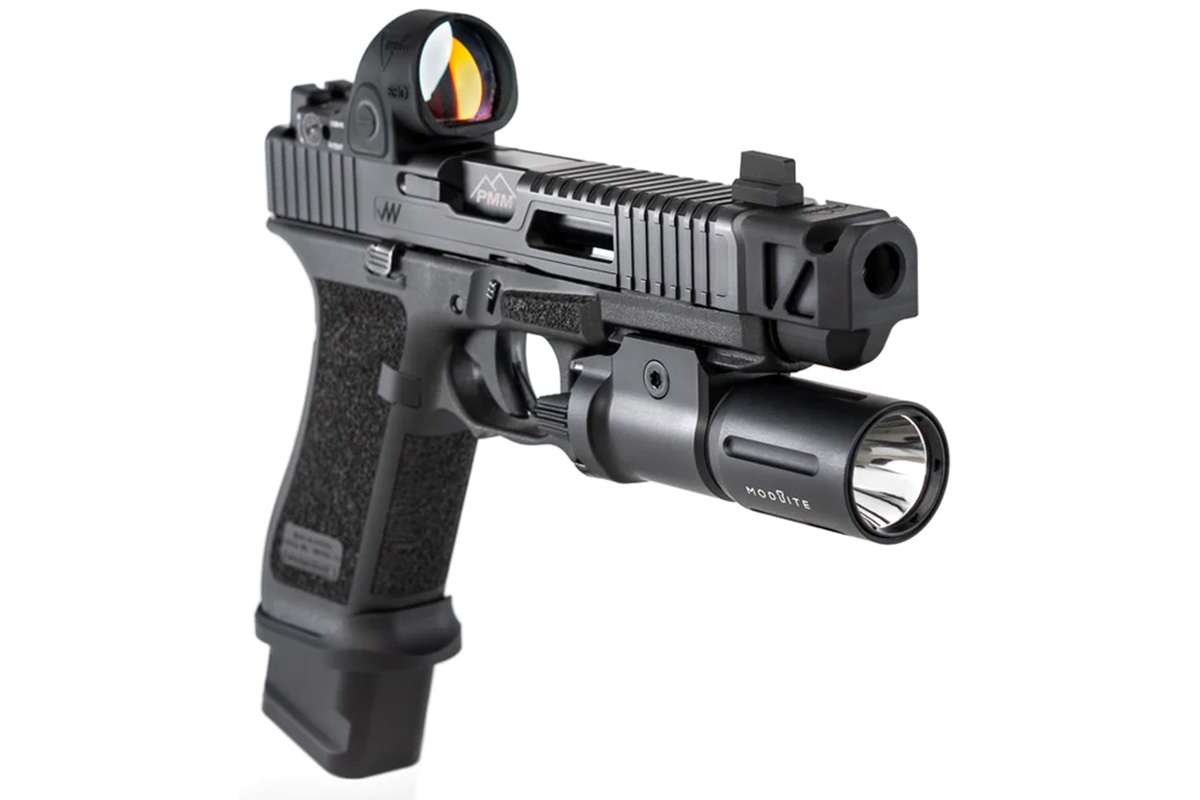 The Modlite PL-350 puts out 1,350 lumens and 54,000 candela. It also does a fine job for both spill and long throw illumination. Plus, it's damn sturdy.
RELATED — 6 Tactical Rifles Capable of Filling Multiple Roles
---
Tactical Flashlight FAQs
---
What's the best tactical flashlight?
It depends on your intended use, but many people swear by lights from SureFire, with Modlite, Streamlight, and Arisaka also being incredibly popular.
---
What makes a flashlight tactical?
Durability is most of it. A flashlight that can take a beating and keep working is valuable in low-light situations. Another key component is brightness and candela, since tactical flashlights are often used in environments with light pollution, and they need to illuminate their subject at greater distances. Finally, some high-lumen lights are designed to act as infrared illuminators under night vision, which is not a feature that's commonly found in civilian lights.
---
What is an EDC versus a tactical flashlight?
EDC lights usually focus on being as small and compact as possible and are designed to be carried in a pocket. In contrast, more traditional tactical flashlights are built to maximize durability and brightness, with the assumption they'll be carried in a pouch or on a weapon.
---
READ NEXT – Iron Will Releases New Wide Single-Bevel Broadheads