Most turkey hunters don't take the time to clean and cook the wings from a bird. Honestly, it's hard to blame them. Of all the potentially edible meat that is sometimes left in the woods, the meat on wild turkey wings is among the most forgivable discard, and it's difficult to find a wild turkey recipe that calls for them anyway.
No matter how hard you try, wild turkey wings always come out hacked to shit and covered in tiny feathers you can't seem to pick, burn, or wash off. Considering what a pain in the ass it is to clean them and the fact that the little bit of meat on the bones is tough as leather, it's no wonder that turkey wings haven't really caught on in the wild-game cooking scene.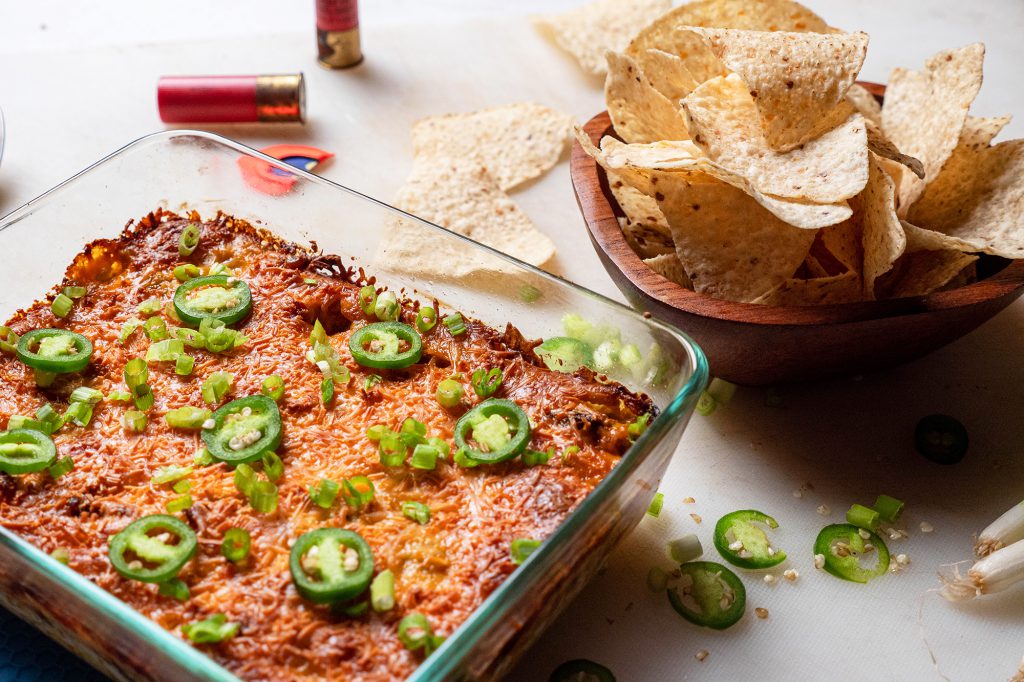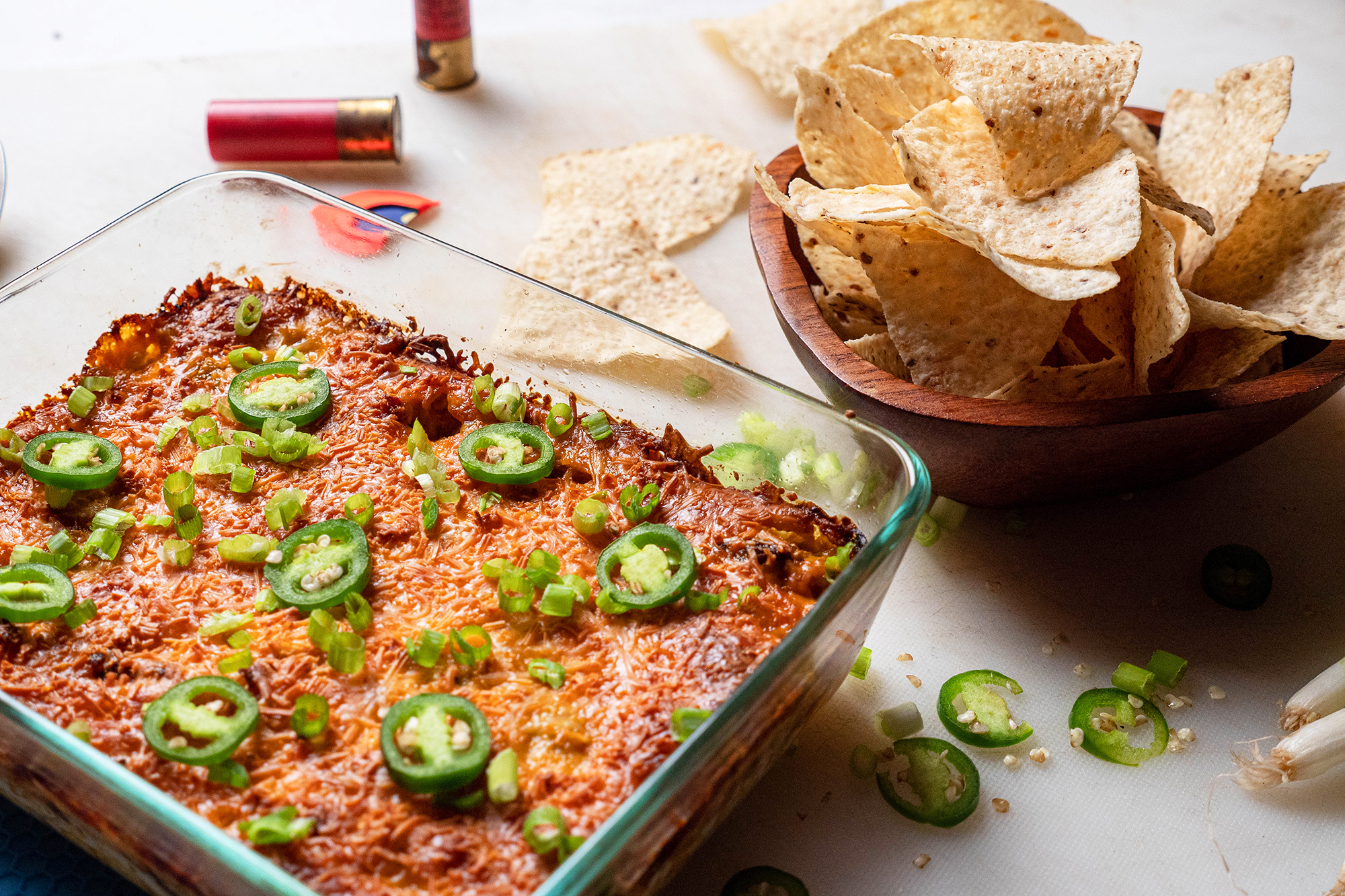 At least, that's what I thought until I made the conscious effort to cook with them, and I'm glad I did because I'm here to tell you that turkey hunters have been missing out.
I'm not going to bullshit you with clickbaity statements about how wild turkey wings are going to change your life, but the simple fact is, they can be damn good and worth the extra effort. I've tried a few wing recipes at this point, but my favorite is hands down this wild turkey wing dip.
Related: Fall Mushrooms – 7 Easy-To-ID Autumn Fungi That Are Great Eating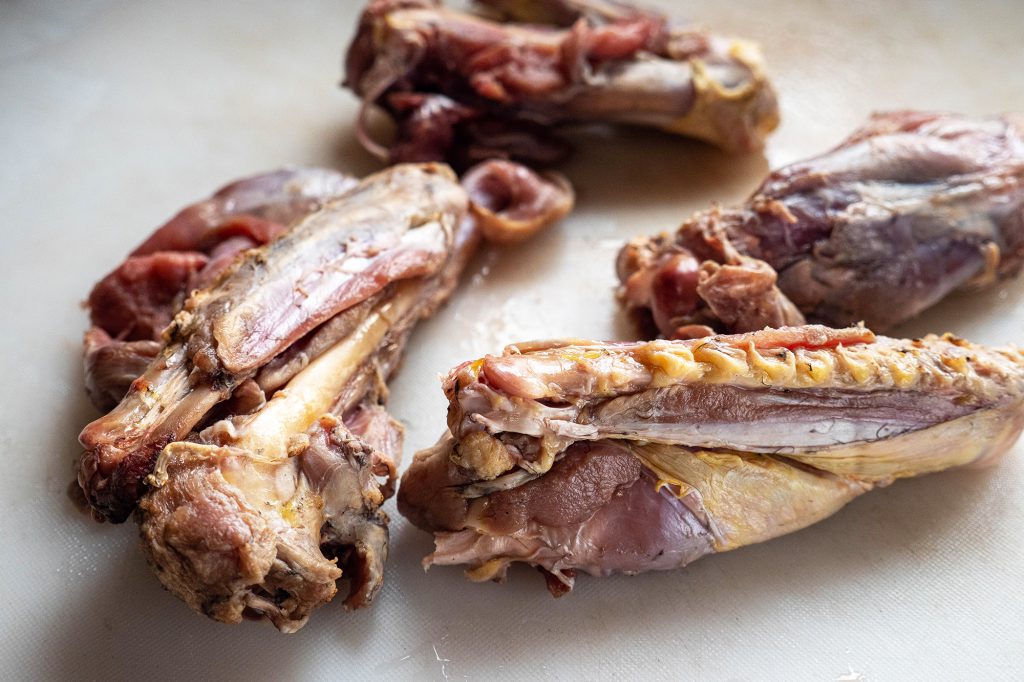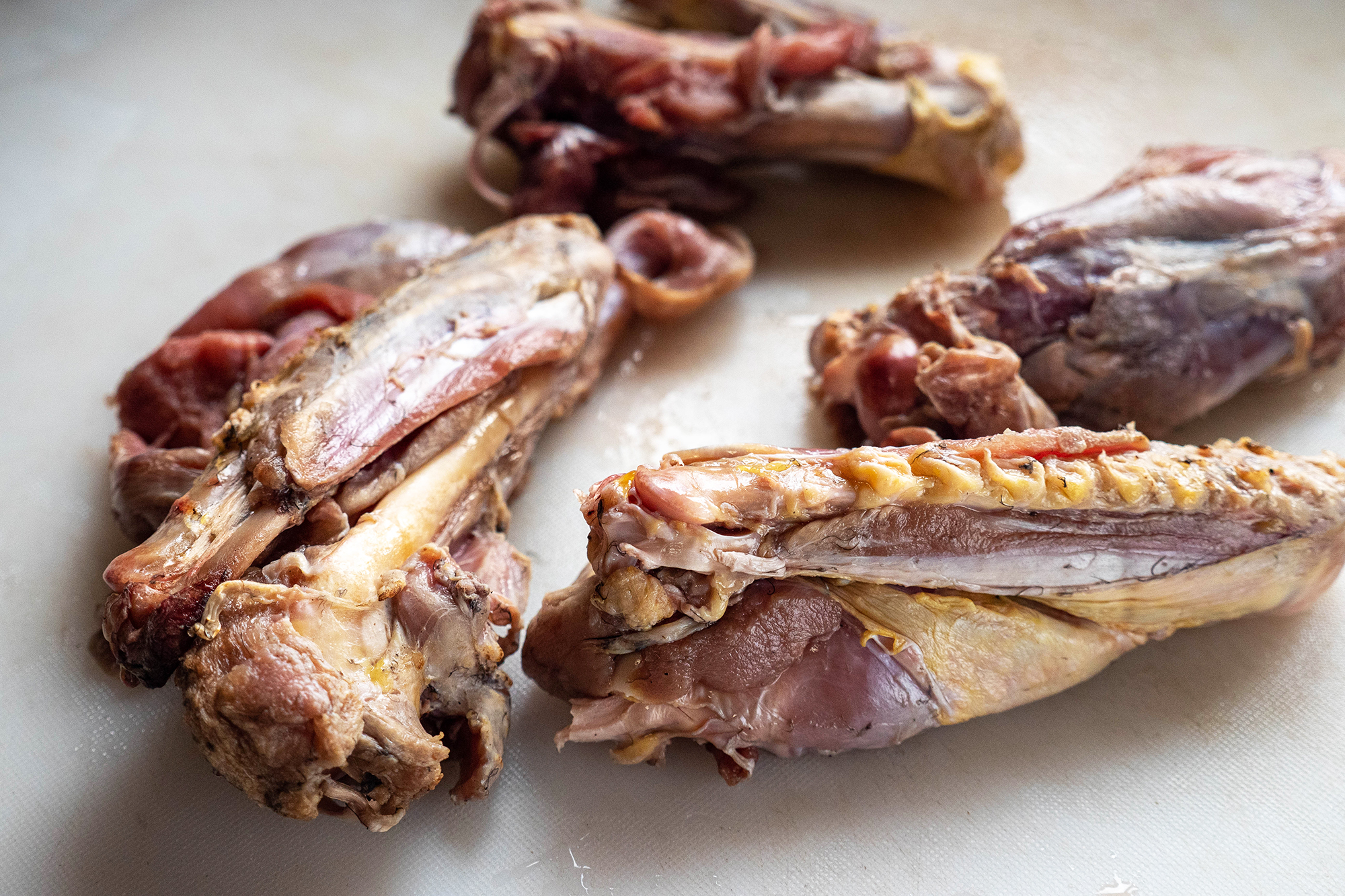 Being tougher and stringier than chicken, traditional bone-in wing recipes aren't going to work with wild turkey wings. Instead, I smoke the wings to give them some flavor and make the meat into a buffalo-style dip after slow cooking and shredding it. This dip is ridiculously good, and I can promise you won't be leaving any more wings for the coyotes after trying it yourself. 
Related: This Ground Venison Crunchwrap Is Way Better Than Taco Bell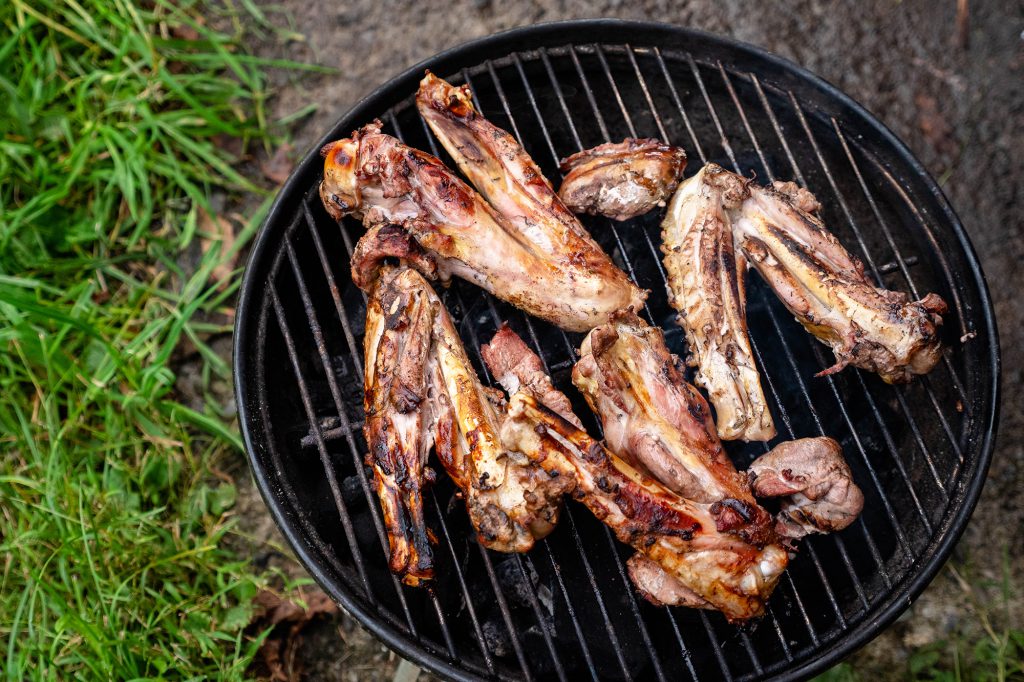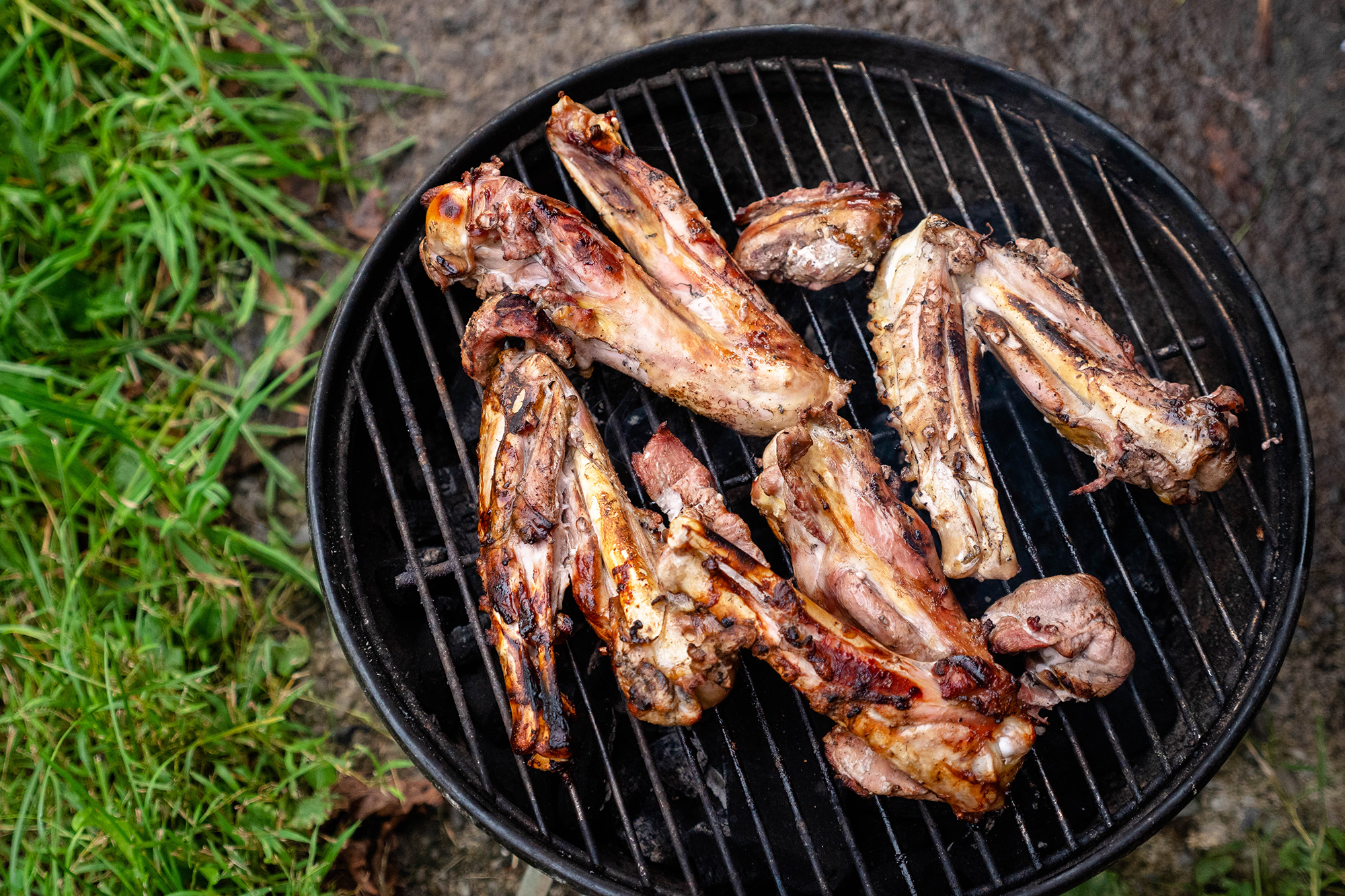 Wild Turkey Wing Dip Ingredients
2 to 4 wild turkey wings
1 teaspoon salt
12 oz. can beer, lager
2 tablespoons hot sauce
1 package (8 oz.) cream cheese
2 tablespoons buffalo wing sauce
2 tablespoons ranch dressing
1 can green chilis, chopped
1 cup shredded Mexican cheese
1/2 cup blue cheese crumbles
1 jalapeno pepper, thinly sliced
1/4 cup scallions, chopped
Related: Thai-Style Fish Cakes – The Perfect Freezer Clean-Out Recipe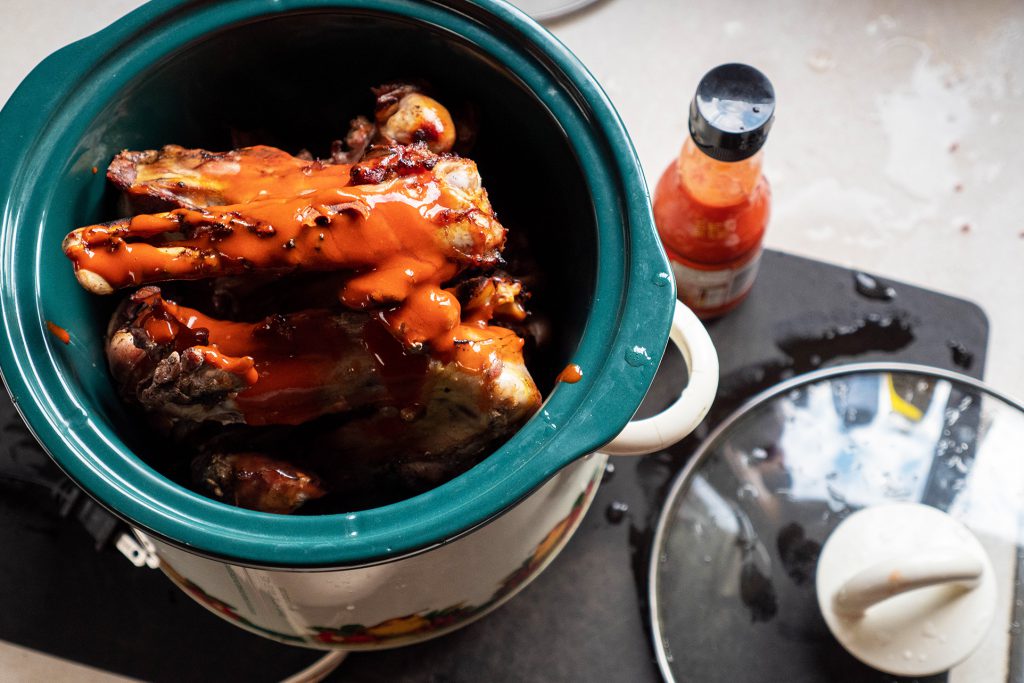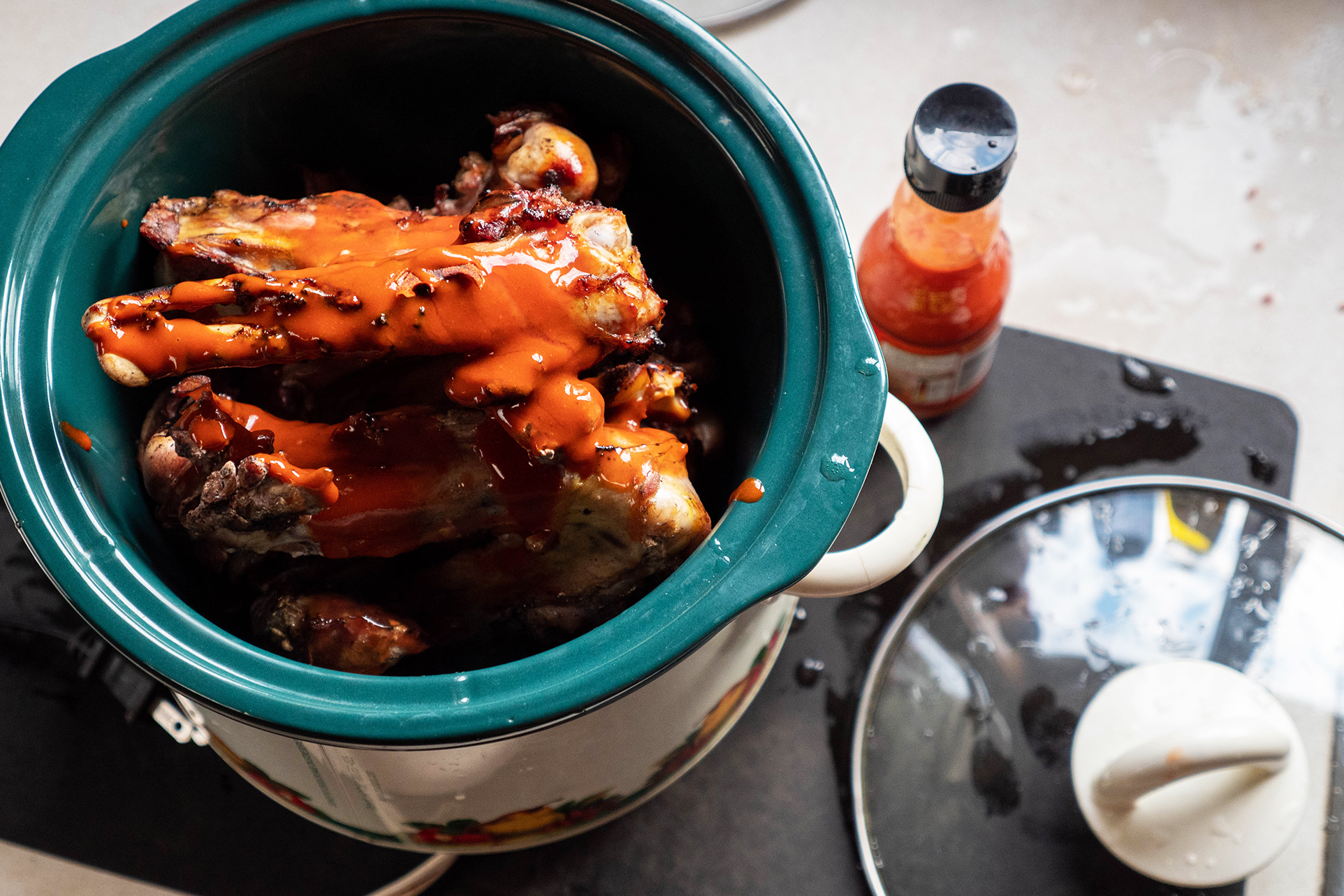 Directions
Prepare a charcoal grill with a hot bed of coals, or bring a smoker or pellet grill up to about 350 degrees. 
Sprinkle salt on the turkey wings then place them on the grill. Brown on all sides, then cover and let the residual heat and smoke cook the wings for another 30 minutes to an hour.
Place the wings in a slow cooker with a 12 ounce can of beer and about two tablespoons of hot sauce. Cook on low for 2 to 3 hours, or until the meat is tender. Pull the meat off the bone and shred it with a fork, then set aside.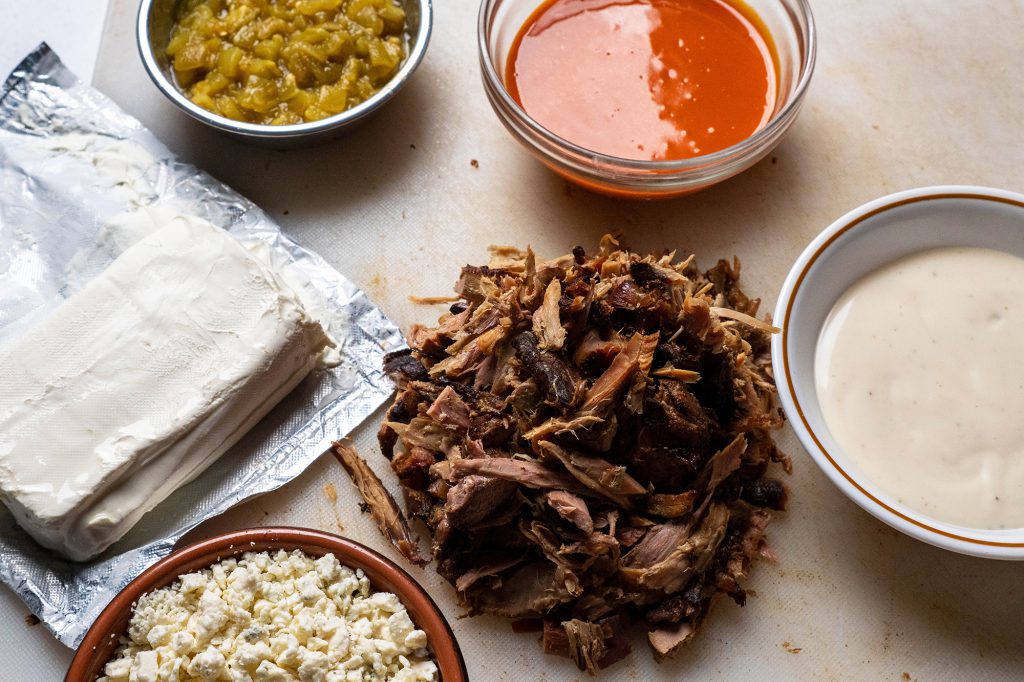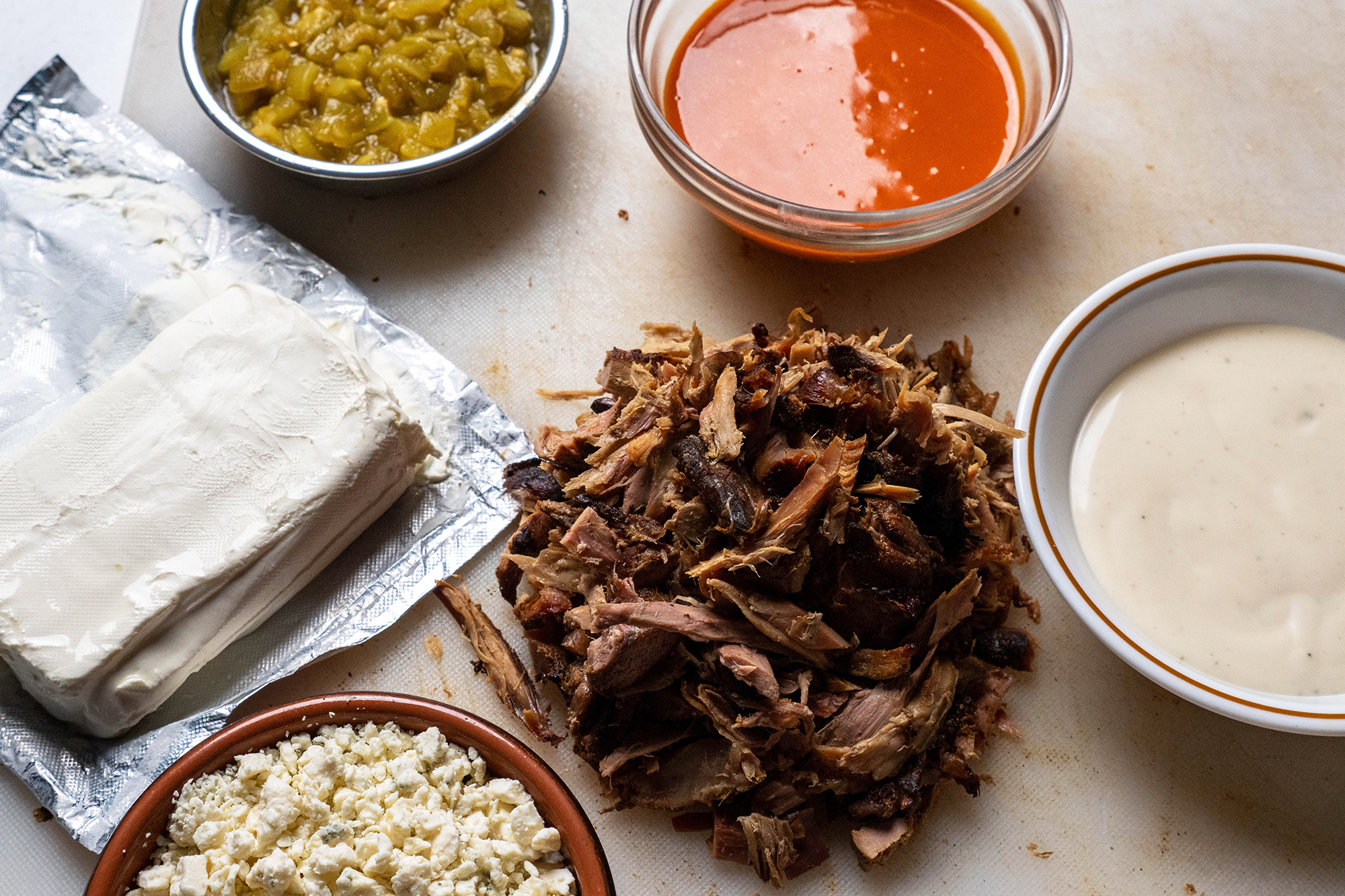 Preheat an oven to 350 degrees. 
Put about two tablespoons each of ranch dressing and buffalo wing sauce in a mixing bowl and toss the mixture with the wing meat. 
Spread one whole package of cream cheese on the bottom of a small casserole dish in an even layer. 
Layer the wild turkey wing meat over the cream cheese evenly. Spread the green chilis evenly over the wing meat. 
Sprinkle blue cheese and shredded Mexican cheese over the top until fully covered. 
Place the casserole dish in the oven and bake for 45 minutes to an hour, or until the cheese on top is melted and browned. 
Top with sliced jalapenos and scallions and serve with chips. 
Related: Most Useful Barbecue Tools – 12 Grilling Accessories You Actually Need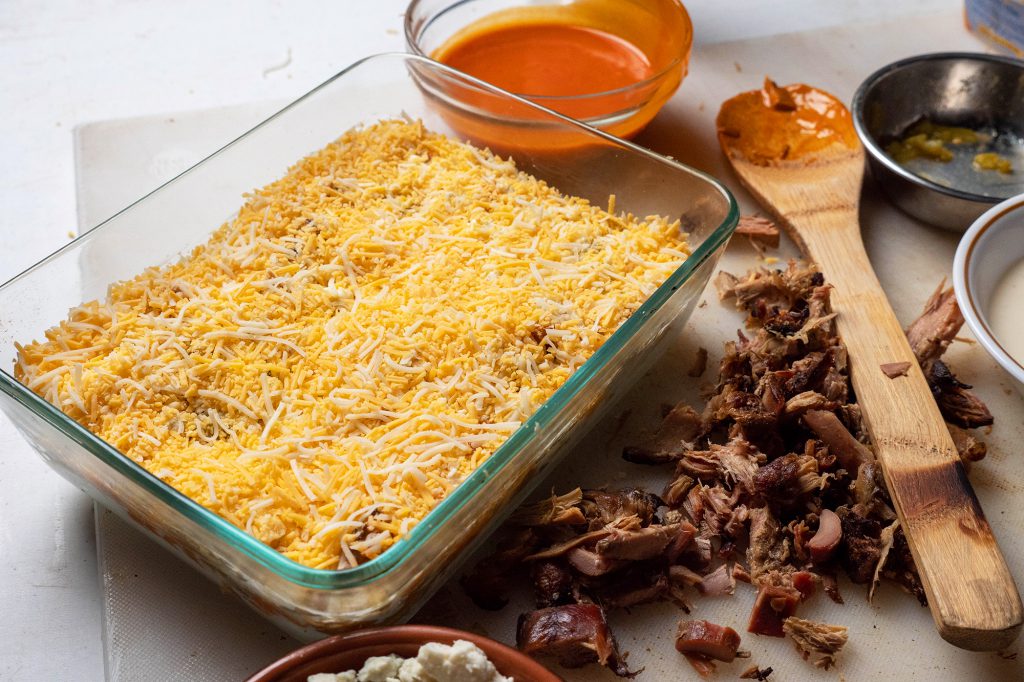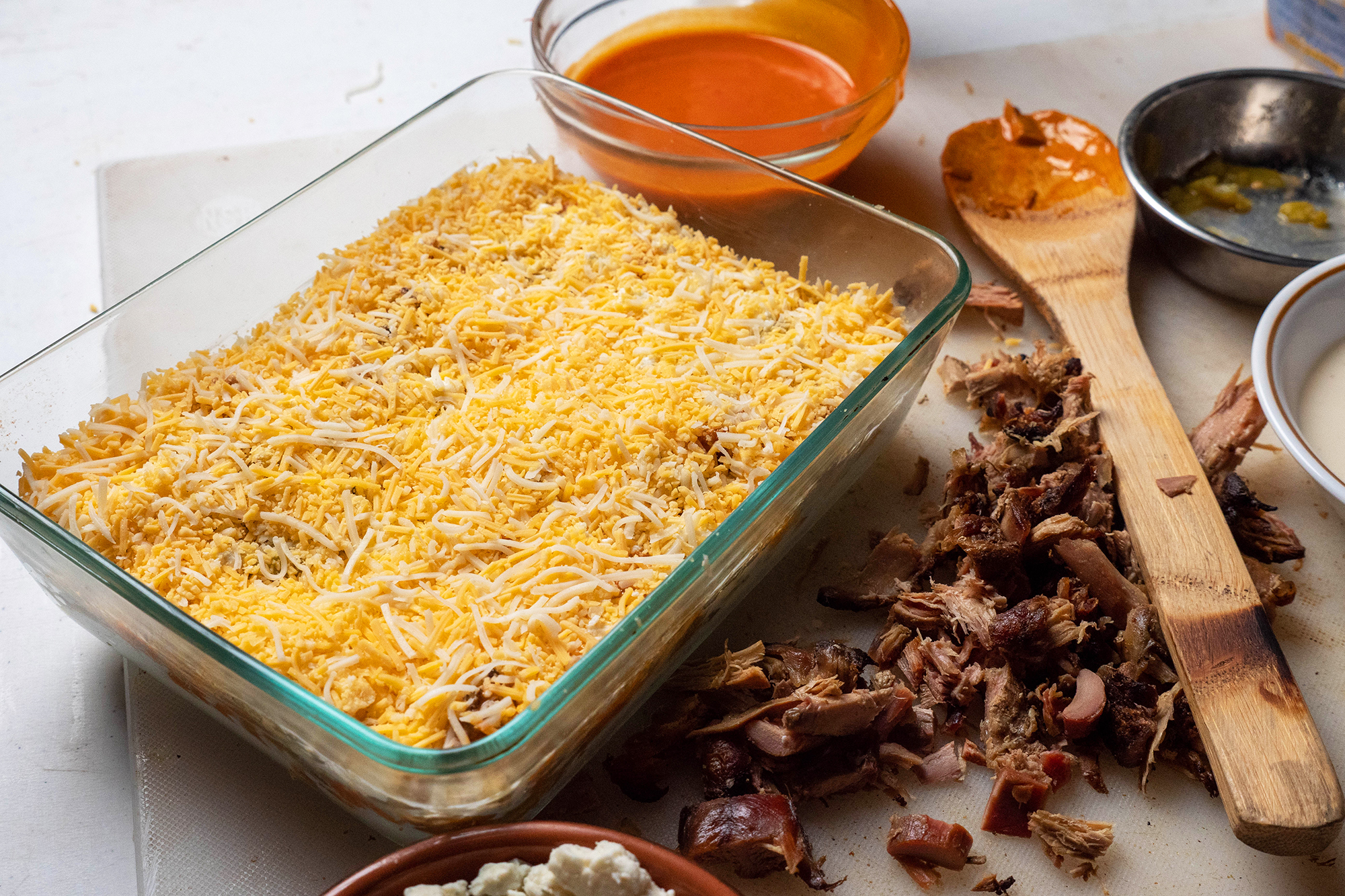 Wild turkey wings were something I always overlooked, but I'm glad I started keeping them. Finding interesting and delicious ways to make the most of hunted, caught, and foraged food is just plain fun. Besides, minimizing waste is never a bad thing.
You never know what overlooked, and underrated things will surprise you. Turkey wings are definitely one of those things, and this dip was one of the best wild game dishes I've had in a long time.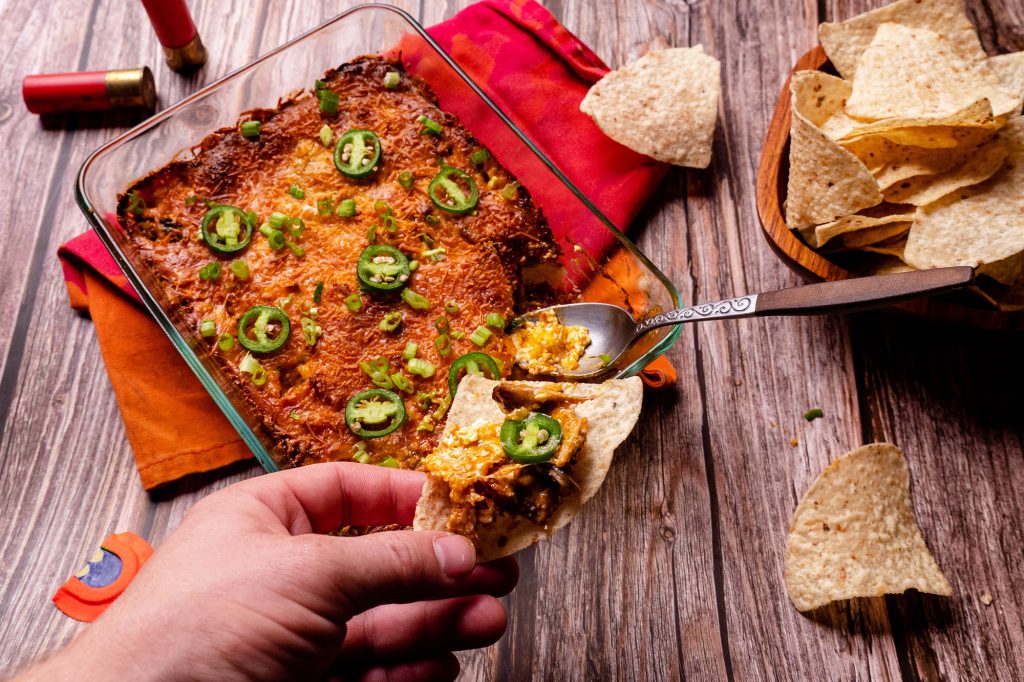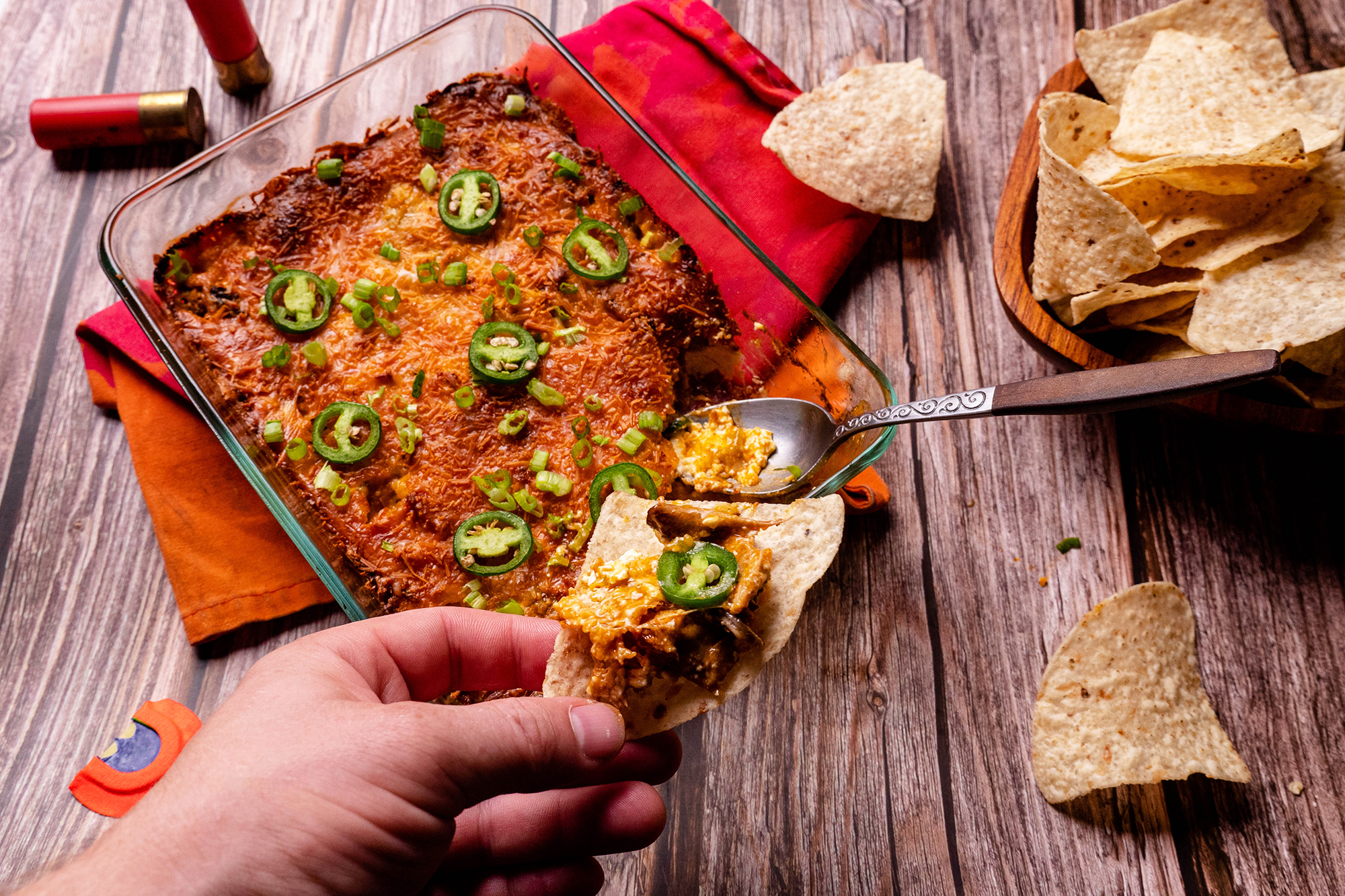 Personally, I find it pretty cool that it can be made with something most people throw out. If you find that kind of thing cool too, I highly recommend you and your buddies save your wild turkey wings and try out this game-day special for yourselves. 
Read Next: Birria-Style Venison Tacos – A Delicious Way to Prepare Tough Cuts