Camping meals don't have to consist of hotdogs, canned beans, and the occasional campfire s'more. With the proper campfire cooking kit, you can grill, sauté, boil, steam, and bake like a badass backcountry chef.
While backcountry adventure is often about embracing the physical suck, there's no reason for your chow to suck, too. Food feeds the soul and the body, and a hearty, delicious meal can fuel tired bones and change a tired attitude.
I've spent plenty of long hours on backcountry hunts that have kicked my ass daily, and anyone who has done the same knows just how restorative — for the body and the will — a good meal can be when the day is finally over. Sometimes that means a dehydrated meal out of a bag, but even a can of dollar-store beans can taste like heaven if you're tired and hungry enough. But when you have the capability, you should endeavor to go beyond the beanie weenies and canned chili.
Here's some hard-won advice on how to find the right gear and setups to level up your campfire-cooking game. But be careful, you might end up being the de facto choice to run the chuck wagon at every hunting camp if you get good enough.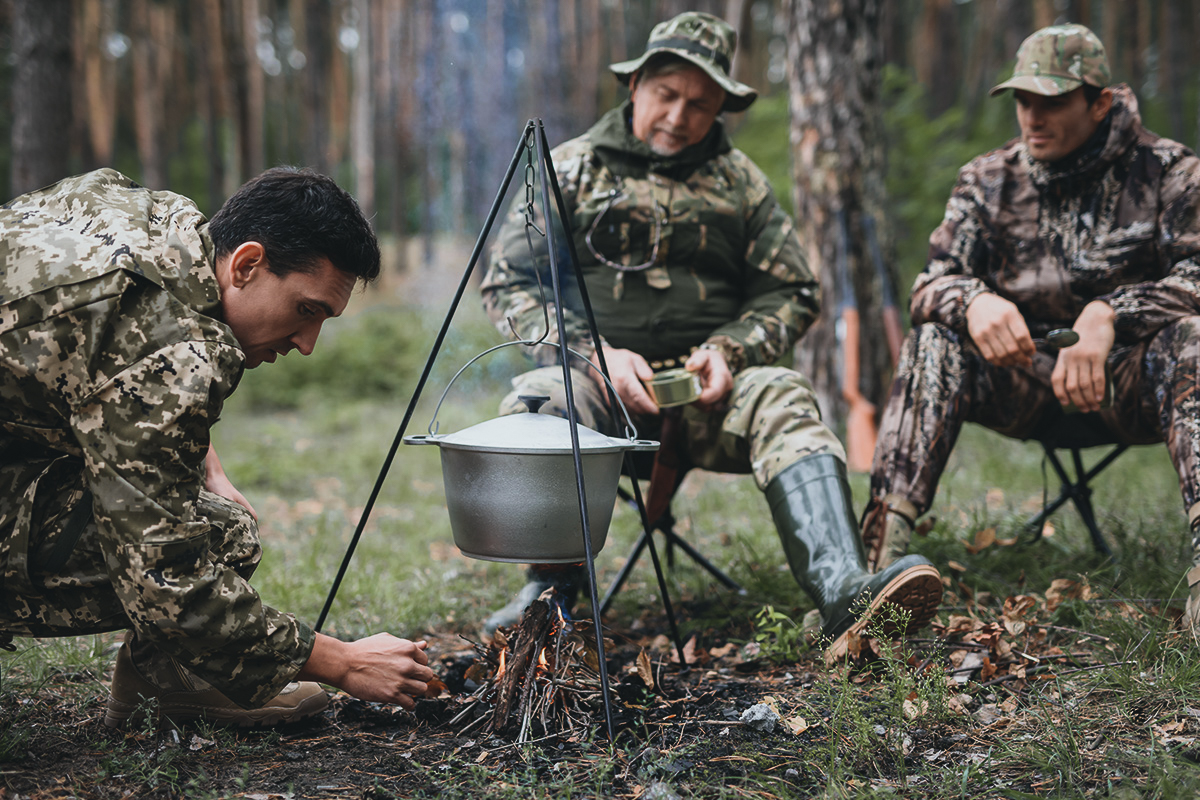 RELATED — Camp Stoves 101: Understanding and Choosing the Right Cooker
---
Choosing the Right Cookware for Your Campfire Cooking Kit
Humans have been cooking with fire since the first cave dweller wielded a flaming cudgel. The basic formula for open-fire cooking (fire + food = meal) is so easy a caveman can do it.
However, modern humans are used to knobs and buttons that immediately adjust the temperature of a heat source. Without the flexibility of instantaneous temperature control, you must attend to your meal and the fire to maintain consistent heat and even cooking.
Cooking over open flames enhances both the flavor and experience of your outdoor meals. However, most standard cookware can't handle the extreme heat of open-fire cooking. Having the right gear can also simplify your life by reducing cooking time and making cleanup easier.
If you plan to customize a kit, look for pots, pans, and griddles made from durable, fire-ready materials like aluminum, cast iron, and stainless steel. Avoid cookware with plastic, rubber, or silicone handles or accents. With relatively low melting points, these materials could dissolve right into your campfire.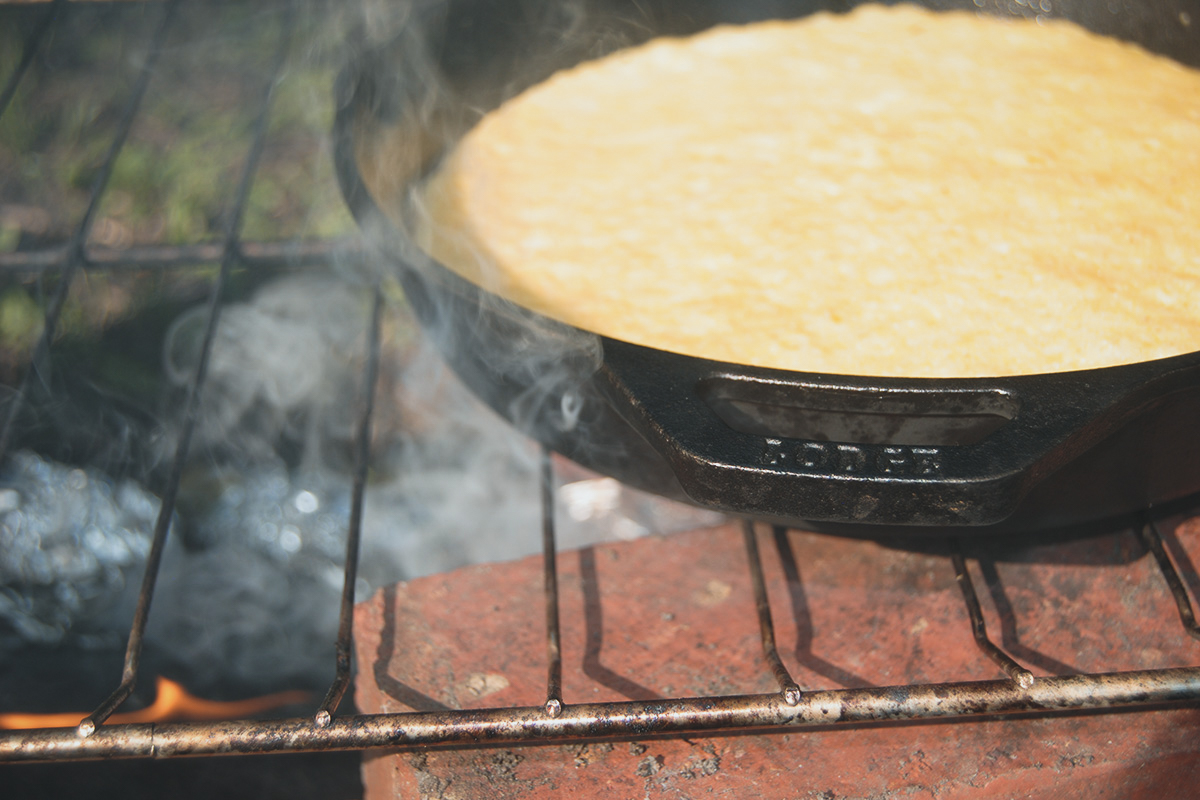 RELATED — How To Pack for a Big Outdoor Trip – Adventure 101
---
The Case for Cast Iron
The heavy nature of cast iron makes it a perfect conductor of heat in that it heats evenly, holds heat well, and is not scarred by open flames. It's also virtually indestructible, so there's a good chance the cast-iron cookware you buy today will get handed down to your grandkids.
Well-seasoned cast iron also has natural nonstick properties that make cleanup easy when running water and electric dishwashers aren't readily available.
The one major drawback to cast iron is its weight. The average 12-inch skillet tips the scales at a whopping eight pounds. If ounces are pounds and pounds are pain, one single pan in a backpack equals a butt ton of pain. You'll want to leave the cast iron at base camp.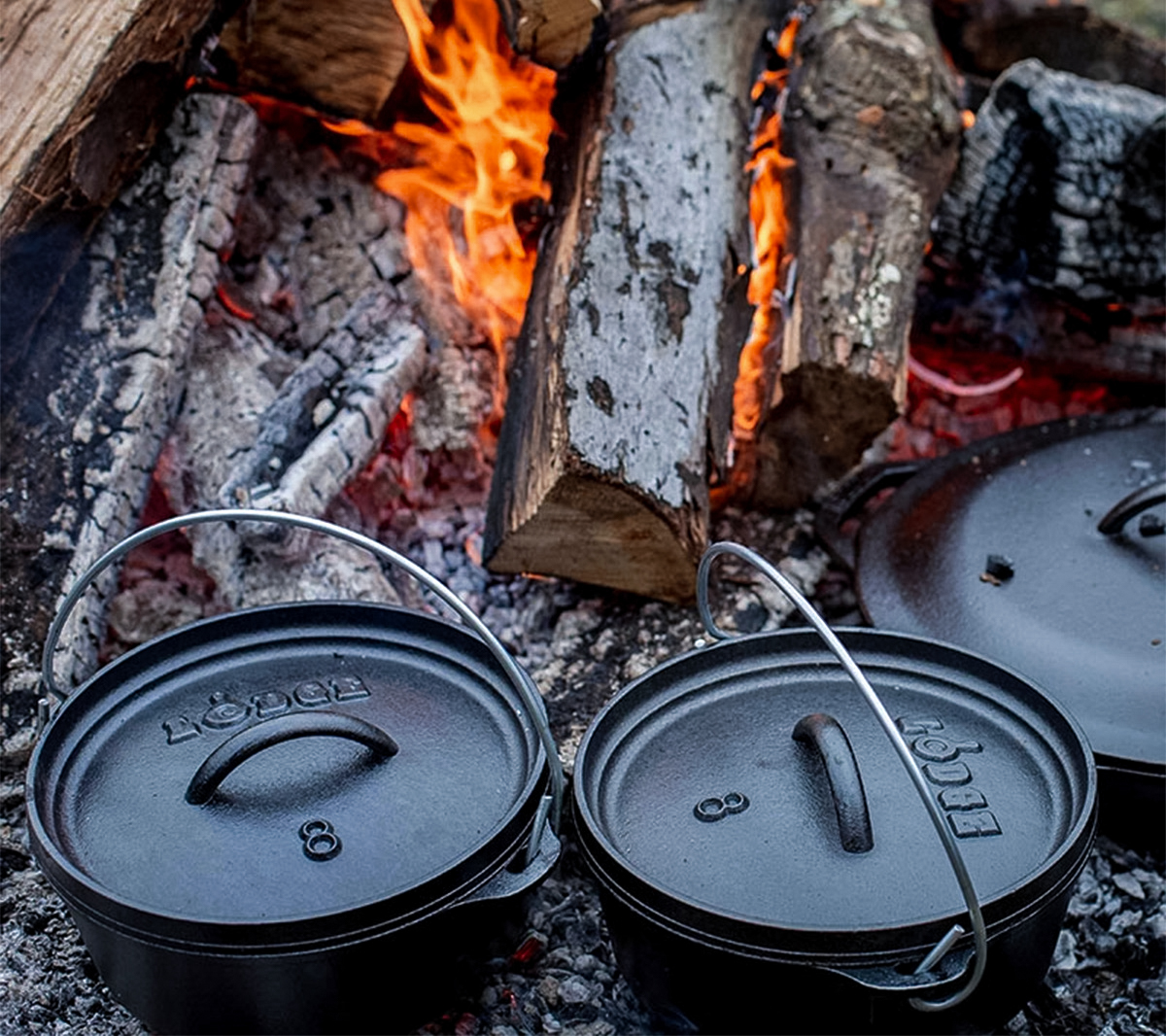 RELATED — Making a Hiking Road Trip Food Plan – Adventure 101
---
All About Aluminum
Anodized aluminum cookware is much less dense than cast iron and is generally the go-to option for backcountry hikers and hunters. Although it is super back-friendly, aluminum pots tend to get banged up pretty quickly.
Cooking with aluminum pots and pans over an open fire can also be tricky. Aluminum doesn't heat as evenly as cast iron. It also doesn't hold heat as well, so it cools off quicker than cast iron. It also heats up faster than a Glock vs. 1911 gun forum discussion. Burnt, stuck-on food is a typical by-product of campfire cooking with aluminum pans, so you'll need to be uber attentive.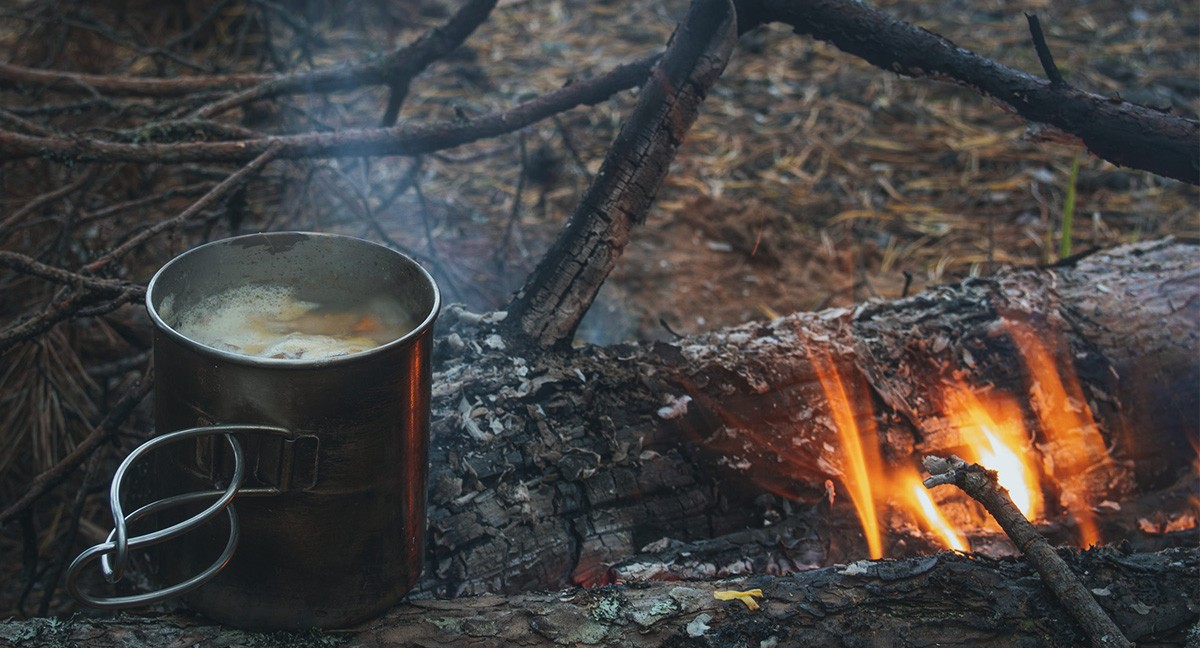 RELATED — Planning a Big, Badass Outdoor Trip – Adventure 101
---
Stainless Steel
Stainless steel strikes a decent balance of weight and durability. It is lighter than cast iron but more durable than aluminum. It stands up well to open-flame cooking but will get charred in the process. Stainless steel isn't going to win any beauty contests, especially after a few uses, so if you want your cookware to look pretty, this isn't it.
While steel cookware conducts heat fairly well, it doesn't clean up easily. If you do anything beyond boiling water, you'll need to invest some serious elbow grease in scrubbing off the remnants of even the simplest meals.
Stainless-steel cookware weighs more than aluminum, so if you're planning to tote it into the backcountry, you will feel that pain every step. Honestly, aluminum just makes more sense if you need to hike in your kitchen setup. If you need pots and pans for base camp cooking, cast iron is the cookware of champions.
RELATED — New Matador Backpack, BEAST28 Helium, Targets Ultralight Hikers
---
Titanium
Titanium cookware is all the rage for campers with money to spare. Although pricey, titanium pots and pans are super lightweight but far more durable than aluminum. Technically, titanium is about 68 percent heavier than aluminum, but a solid pan requires less material because it is stronger. Most titanium pots and pans weigh slightly less than similarly sized aluminum cookware.
Many titanium pots use an aluminum core for better heat distribution and retention, so if you don't care about dents and dings, you can save a ton of cash by just using aluminum.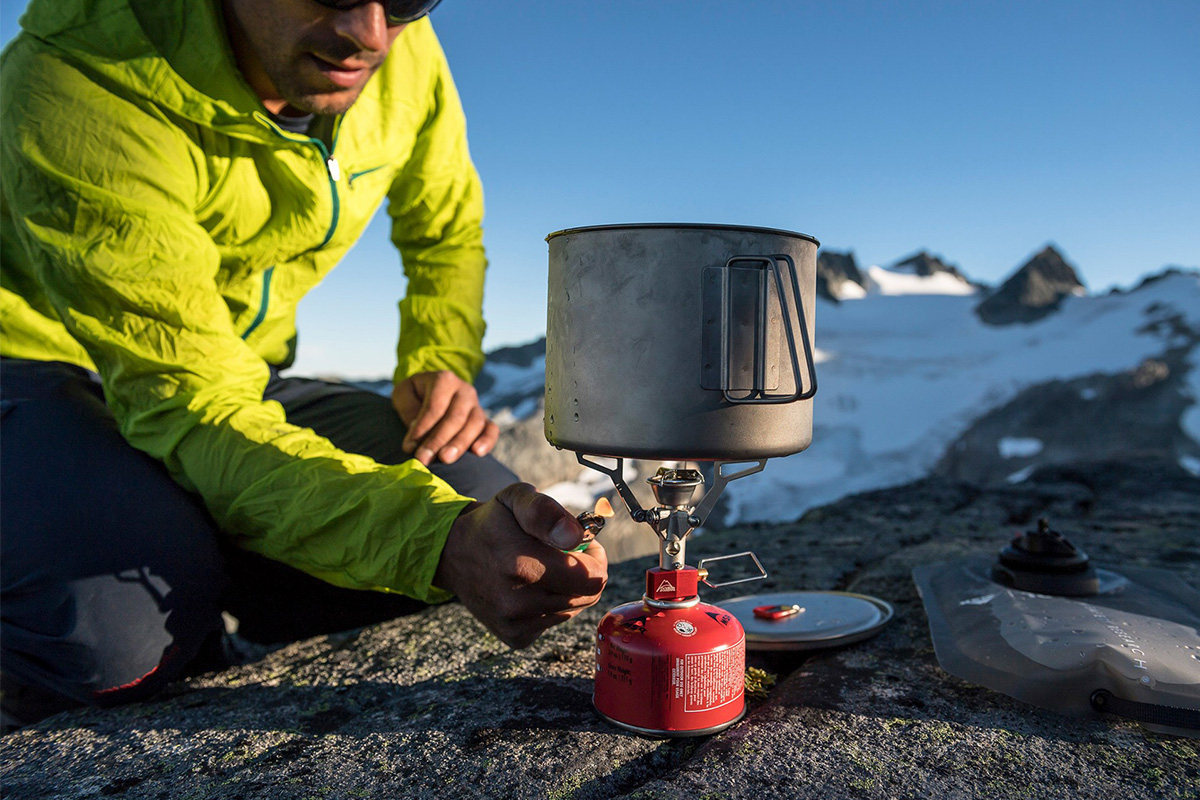 RELATED — How To Avoid Getting Lost in the Woods
---
Stacking Your Campfire Cooking Kit
The number and size of the pans you need in your kit depend on your individual needs. If you're a minimalist solo hiker who just needs to boil water for coffee, instant oatmeal, and freeze-dried meals, you can probably get by with a single two-cup titanium pot like the TOAKS Ultralight 550ml Pot and a spork. (Because titanium cools quickly, you can boil water and eat out of the same vessel).
You'll need a few more options if you want to feed all your hunting buddies four-course meals. A couple of saucepans with lids and a skillet are the bare-bones minimum. Add a Dutch oven for everything from slow-simmered chili to fresh-baked bread and a few accessories, and you'll be dining in style.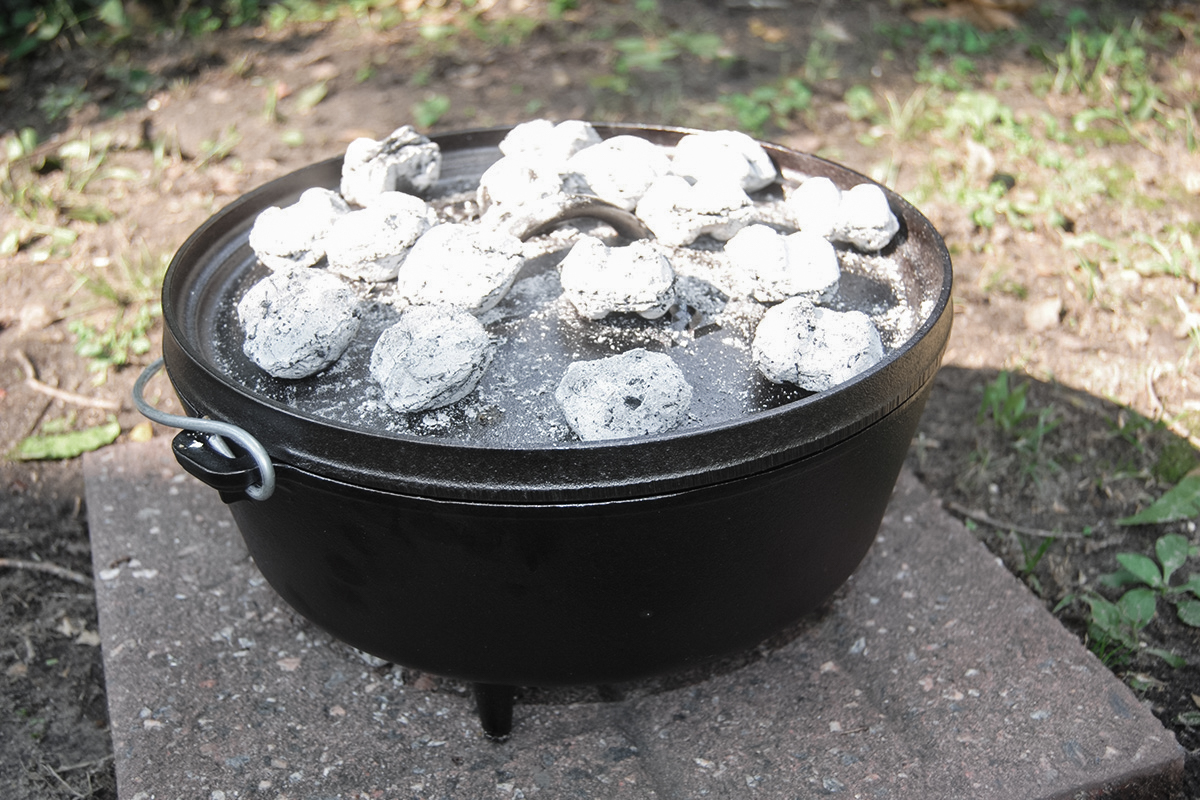 RELATED — Is the New Trxstle Bike Packing System Any Good?
---
Essential Accessories
Trying to balance cooking pots and pans on hot coals or flaming logs is a recipe for disaster. Every base camp cooking kit should include some way to get your cookware out of the fire.
A simple grill top is an ideal spot for your skillet or griddle to sit while you cook. You can also grill directly on the grate, which is the perfect way to roast those fresh-kill backstraps.
You can purchase a standalone grate (we love this lightweight aluminum version from GrillGrate), or you can borrow the grate from your backyard grill and prop it on the edges of a stone campfire ring.
Another option is a campfire tripod. These three-legged structures allow you to suspend a pot or Dutch oven from a chain over the fire. You can adjust the cooking temperature by modifying the length of the chain; the closer to the blaze, the hotter the temperature.
Campfire cooking also requires a sturdy set of utensils for turning, flipping, and stirring. Because you'll be working close to a flame, your campfire utensils should also be made from a durable, heat-resistant material like aluminum, titanium, or stainless steel.
A quality set of barbecue utensils works well.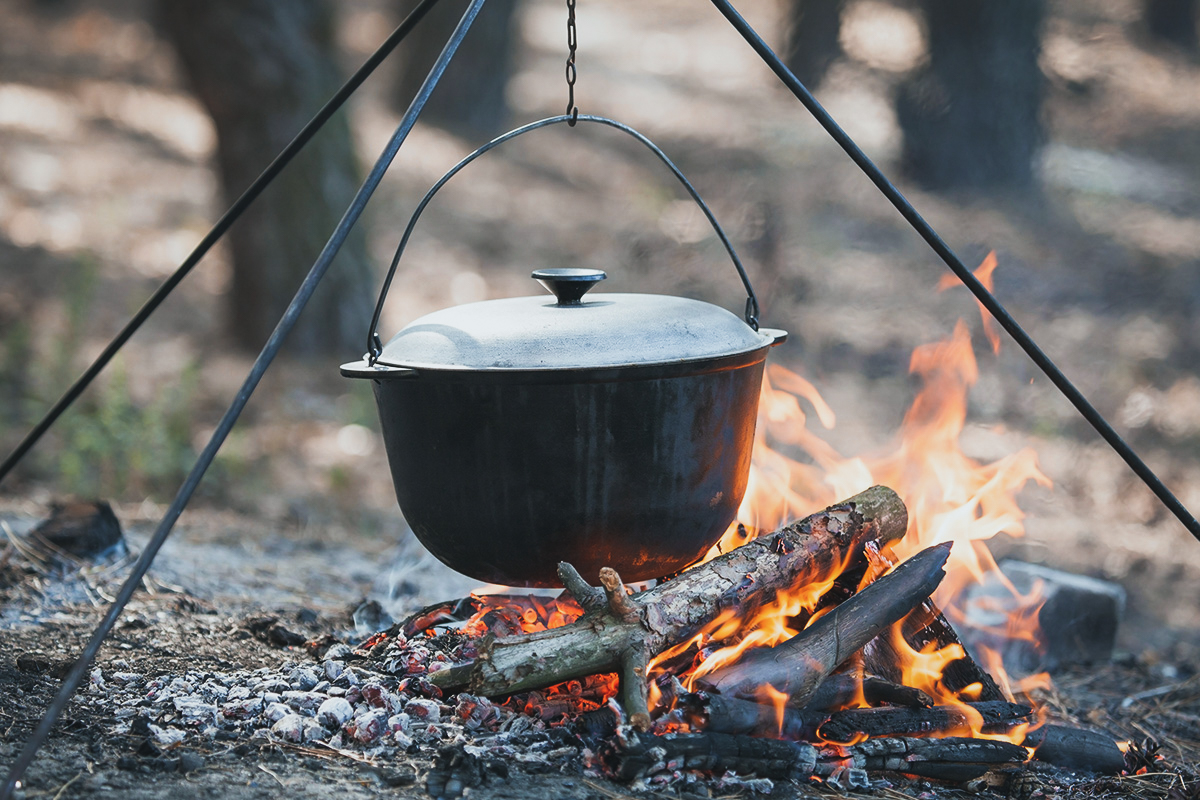 RELATED — Elk Reaper: The Rise and Bowhunting Success of Aron Snyder
---
Add Fire-Resistant Gloves to Your Campfire Cooking Kit
Burns are a serious hazard of open-fire cooking, but you can minimize the risk with a simple pair of gloves.
Sure, you can use regular pot holders or a kitchen dish towel. However, dangling towels catch fire faster than you probably realize, and once you've dropped a pot holder into your campfire, you aren't getting that sucker back. (Ask me how I know.)
A simple pair of leather gloves will save you some serious frustration and prevent more than a few blisters. You can also pick up a pair of specialized grilling gloves to add to your campfire cooking kit. You won't be sorry.
Because I know how nights around a campfire sometimes go, it's probably important to point out that these gloves are "heat-resistant," not "heatproof." While they will let you safely grab the handle of a cast iron skillet, they won't let you dig around in the fire like Shadrach, Meshach, and Abednego.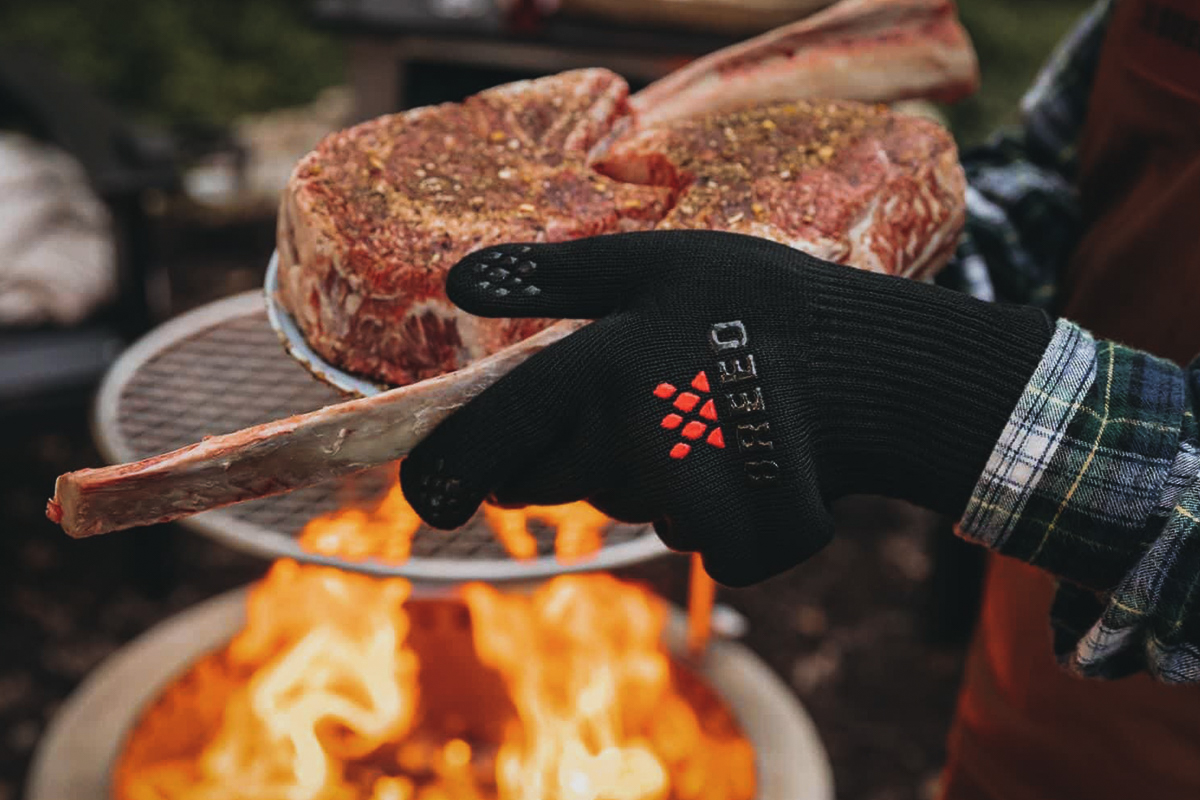 RELATED — Elk Hunting Gear: A Complete Guide to Quality Kit
---
The Beauty of Premade Campfire Cooking Kits
While building your own campfire cooking kit allows you to customize items to fit your cooking goals and needs, there are some serious perks to buying an all-inclusive premade kit, especially for the backcountry camper.
Most backpacking kits nest together like Russian dolls, so they occupy minimal pack space. Many go beyond basic pots and pans and include everything from plates to utensils in one compact, easy-to-stow package.
A premade kit also takes the decision-making stress off your camping meal prep, leaving you plenty of mental energy to stress about other things. If you choose to go this route, opt for an all-inclusive kit. It's a lot easier to leave what you don't need at home than to try to stuff a mismatched pot into a perfectly nesting set.
RELATED — Camping on the Fly: How To Choose the Best Emergency Bivy
---
Best Campfire Cooking Kit Recommendations
---
Woods Heritage Cast Iron Camping Cook Set with Crate
Price: $199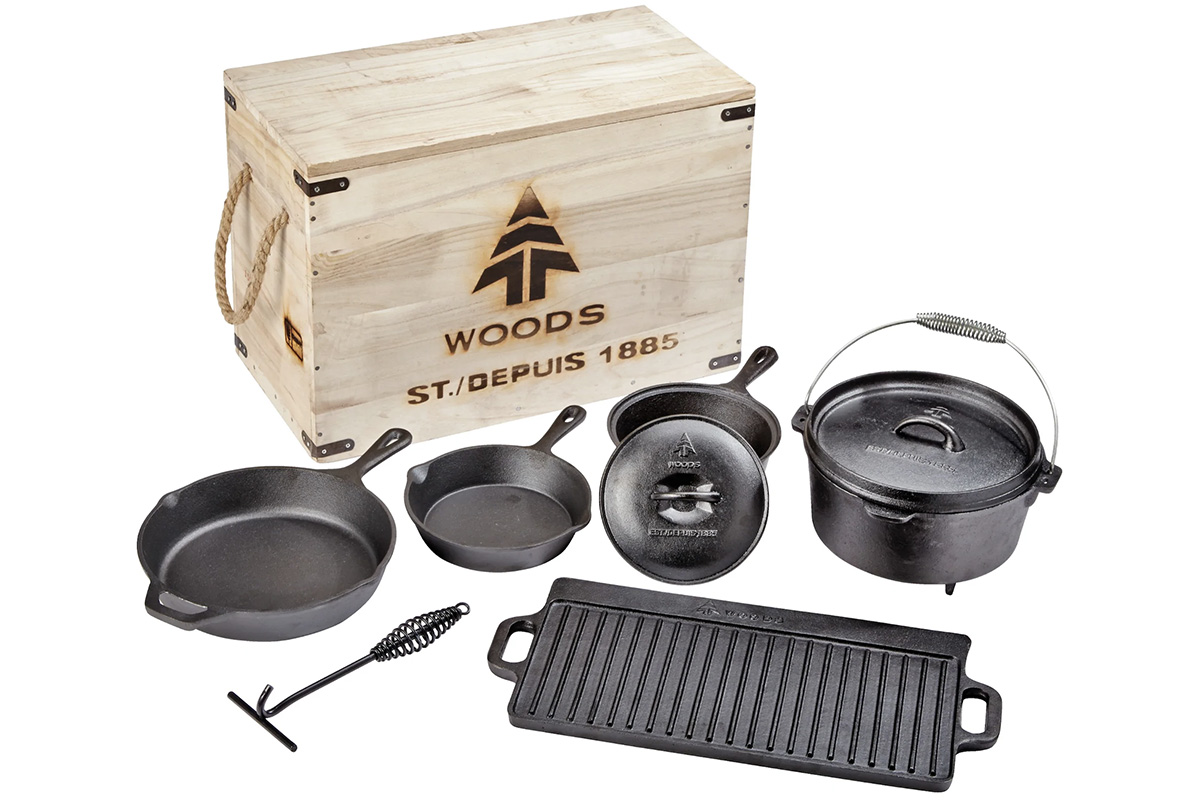 This cast-iron kit contains everything you need to become a campsite chef, including a pot with a matching lid, two skillets, a Dutch oven with a lid, a reversible griddle, and a four-inch pot lifter. Everything is preseasoned, so it comes out of the wooden storage crate ready for business.
---
GSI Outdoors Glacier Stainless Troop Cookset
Price: $149.95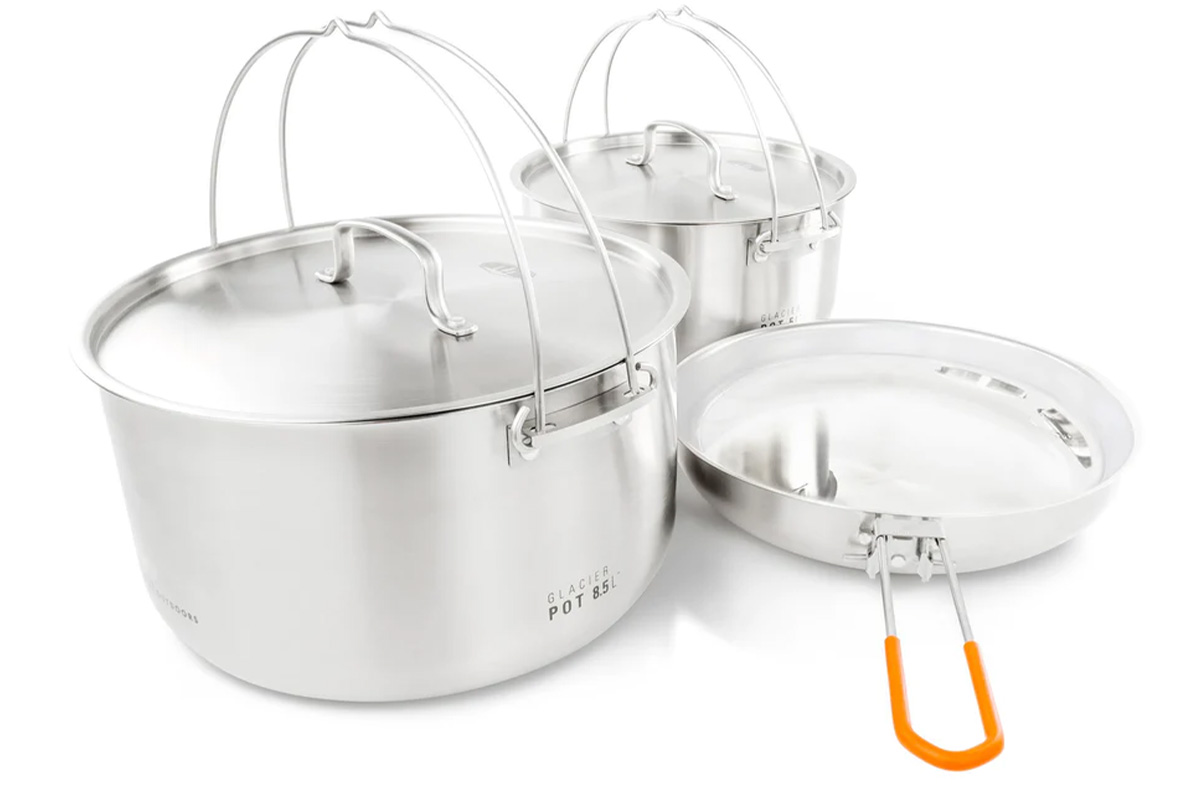 Enormous and virtually indestructible, this stainless-steel cook set from GSI Outdoors has everything you need to feed a small army. Made from rugged 304 steel, the pots and pans in this kit are rustproof, handle open flames like a champ, and distribute heat well for even cooking.
The set includes a massive 8.5-liter pot, a smaller 5-liter pot, lids, a 10-inch frypan, and a convenient stuff sack.
Tipping the scales at almost 8.5 pounds, this is a kit you'll want to save for base camp cooking. It does, however, nest together for easy storage in a camper, RV, or cabin-style tent.
---
MSR Flex 4 Cook Set
Price: $159.95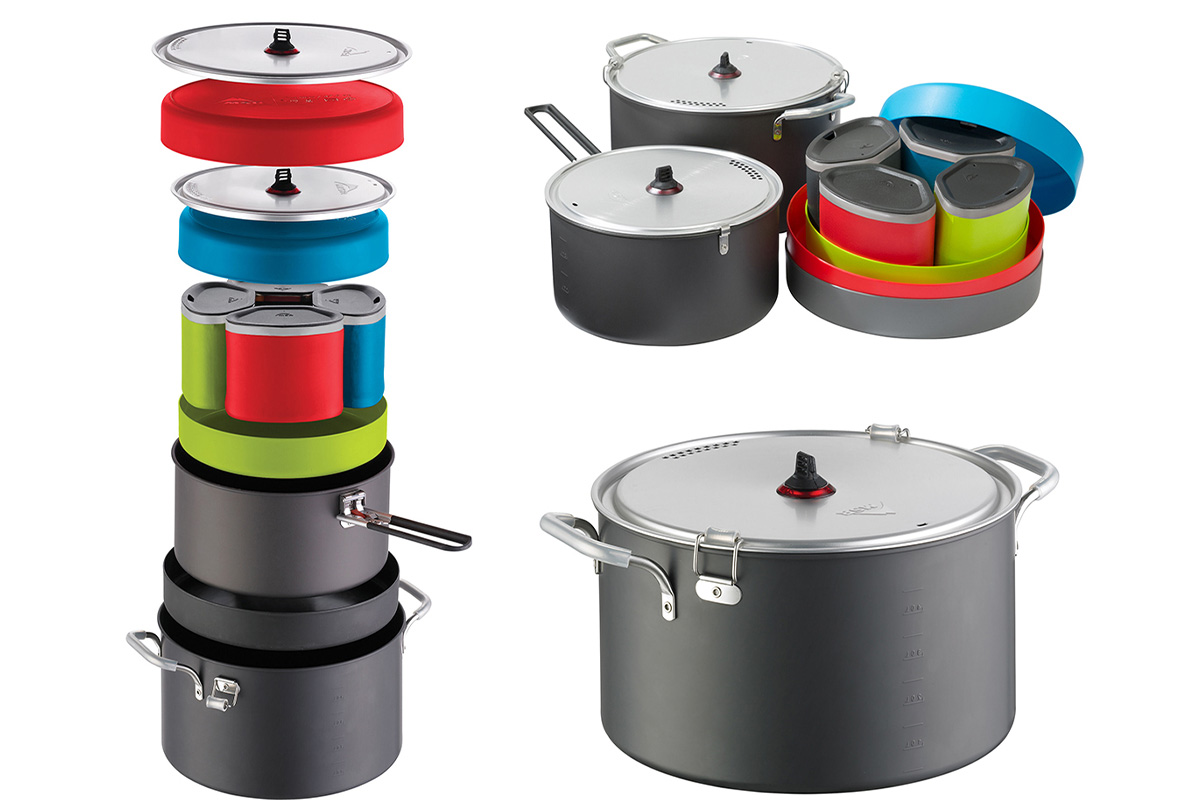 Ideal for hiking or hunting remote places, this set from MSR has everything you need to prepare meals for a party of four. The high-capacity cook system includes a 3.2-liter pot, a 5.3-liter pot, two strainer lids, four deep-dish plates, four insulated mugs, and a pot handle. The only thing missing is a skillet.
The cookware is made of nonstick, hard-anodized aluminum. The whole package weighs less than four pounds, and everything nests inside the largest pot so it won't take up a ton of pack space.
---
Snow Peak Trek 1400 Titanium Cookset
Price: $69.95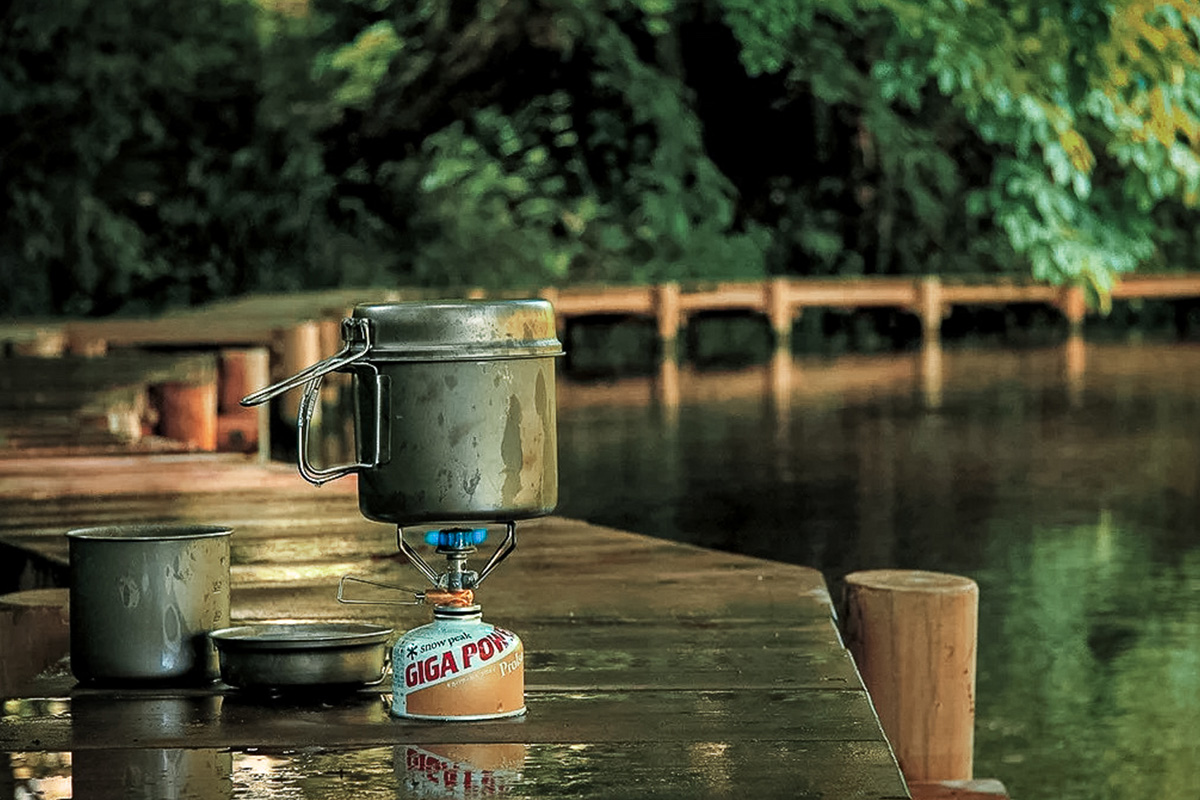 The Snow Peak Trek 1400 Cookset is the bare-bones kit for those fast-paced adventures where pack space comes at a premium. It includes a pot and a frypan that doubles as a lid. It's big enough to cook for you and a buddy but weighs barely over seven ounces. This one is perfect for fixing spike-camp dinners while chasing bugling backcountry bulls.
---
READ NEXT: Essential Gear for Perfect Backcountry Coffee