Machined from super-sturdy CNC-milled 6061 solid billet-aluminum
Fast, easy installation
Adjustable LOP, comb height, and recoil pad height
Includes a built-in RMR/SRO mounting plate
I've been dreaming of topping a shotgun with a low red dot for a few turkey seasons now, but I couldn't justify getting another shotgun or getting the necessary work done to one of the turkey guns in my arsenal. Also, while companies like Mossberg have hopped on the bandwagon with new red-dot-ready turkey guns, the recently re-established Remington hasn't entirely caught up. And I have a couple of Model 870s that are just begging for optics.
There haven't been many options for mounting reflex sights on older pump-action scatterguns beyond drilling and tapping the receiver for a rail, and that still doesn't get the red dot as low as it does with a machined footprint — until now.
Chisel Machining recently released a badass new all-aluminum Remington 870 pistol-grip stock — not only is this thing tactical as hell, but it also has major potential for anyone trying to transform an old 870 into the perfect gobbler-blasting machine.
I was lucky enough to get my hands on one of Chisel's rad new stocks before they started shipping, so I did what any self-respecting Southern girl would do. I slapped that baby on an old-school Remington 870 along with a Viridian green dot, then hit the back 40 to bust bowling pins off an old tree stump yee-yee style.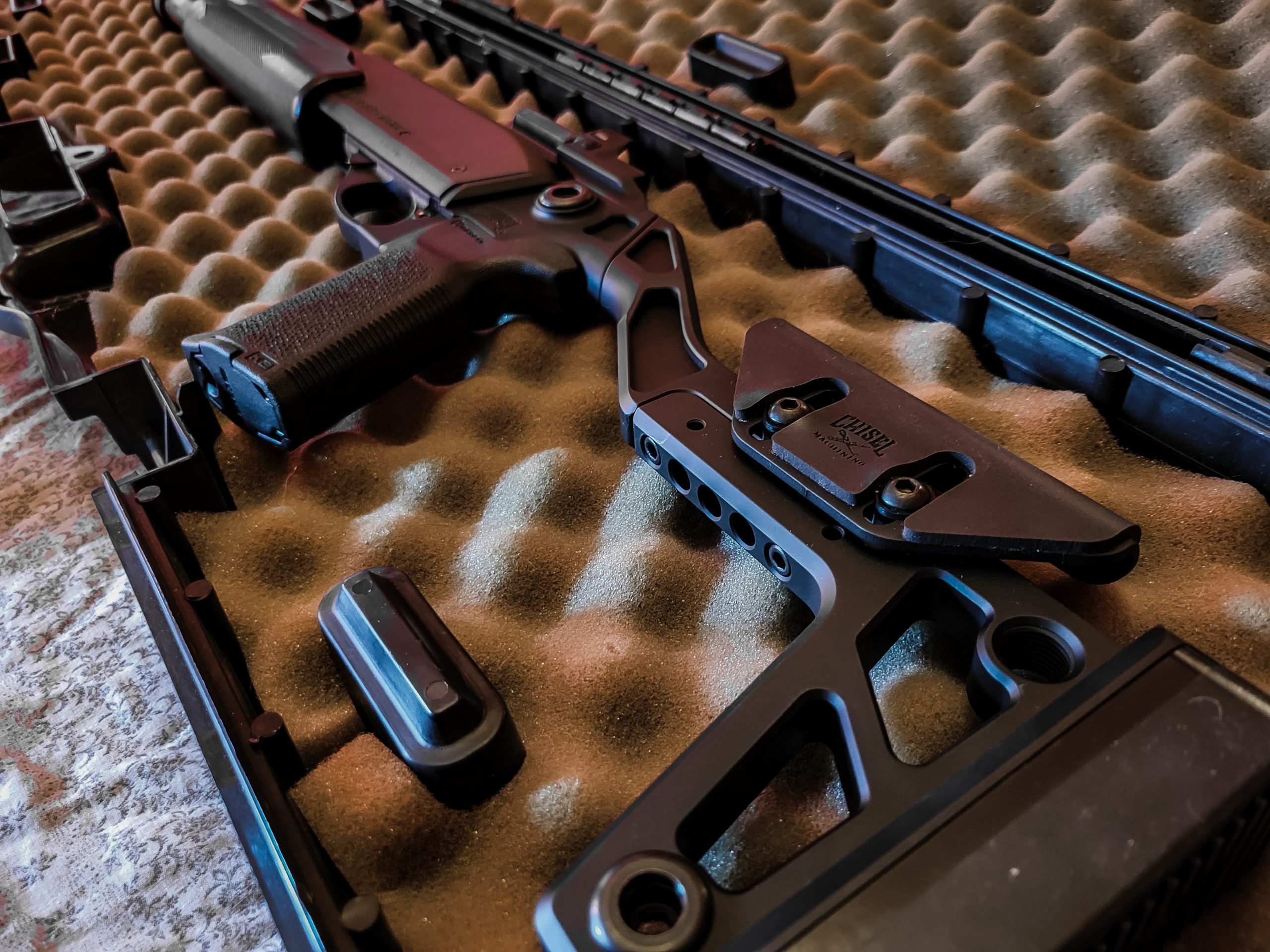 RELATED — The Best Shotgun Moments in Westerns
---
Unboxing the Chisel Machining Remington 870 Stock
Chisel Machining has been producing skeletonized aluminum stocks and handguards for Marlin and Henry lever guns for a hot minute. However, this is the company's first shotgun stock (but not the last). The 870 stock was made available for pre-order on July 4 ('Merica!) through the company's website.
Mine arrived in the mail a couple of days before America's birthday. Because the new all-aluminum 870 stock was so fresh off the presses, Chisel hadn't even made any boxes for it yet or created installation instructions.
While that might not bother the average person who tosses aside package inserts to go rogue with assembly, It had me super-concerned because I am not at all mechanically inclined.
I ended up being worried over nothing. The swap was a cakewalk (even for me), and the adjustability was super intuitive. All I needed was a screwdriver and a hex key. While most people could probably figure it out blindfolded, I found this video super helpful:
Straight out of the box, I could tell this thing was solid. It's made of super-sturdy CNC-milled 6061 solid billet aluminum. Chisel claims its Remington 870 stock is "forged by the same beings that forged Thor's Hammer." I think that claim is totally believable.
Every edge is clean, and most of them are beveled and ultra-smooth. However, the cheek plate seems to have missed out on the beveling, and the edges are a bit sharper than the edges on the rest of the stock. I admit, that had me a smidge concerned right out of the gate, but I figured the included adhesive-backed recoil pad from KICK-EEZ would save the day.
The stock comes with a polymer pistol grip, but it will accept most AR pistol grips on the market if you want something different.
GOOD GEAR – Launch Your Mornings Into Orbit With the BRCC Space Bear Roast
---
The Making of a Turkey Gun
Chisel's badass minimalist shotgun stock looks like it stepped straight out of the pages of some futuristic, dystopian teen fiction. However, my first thought wasn't about building a scattergun to overthrow the Capitol of Panem. Nope. The first thing that occurred to me was that it might make the perfect stock for a turkey shotgun.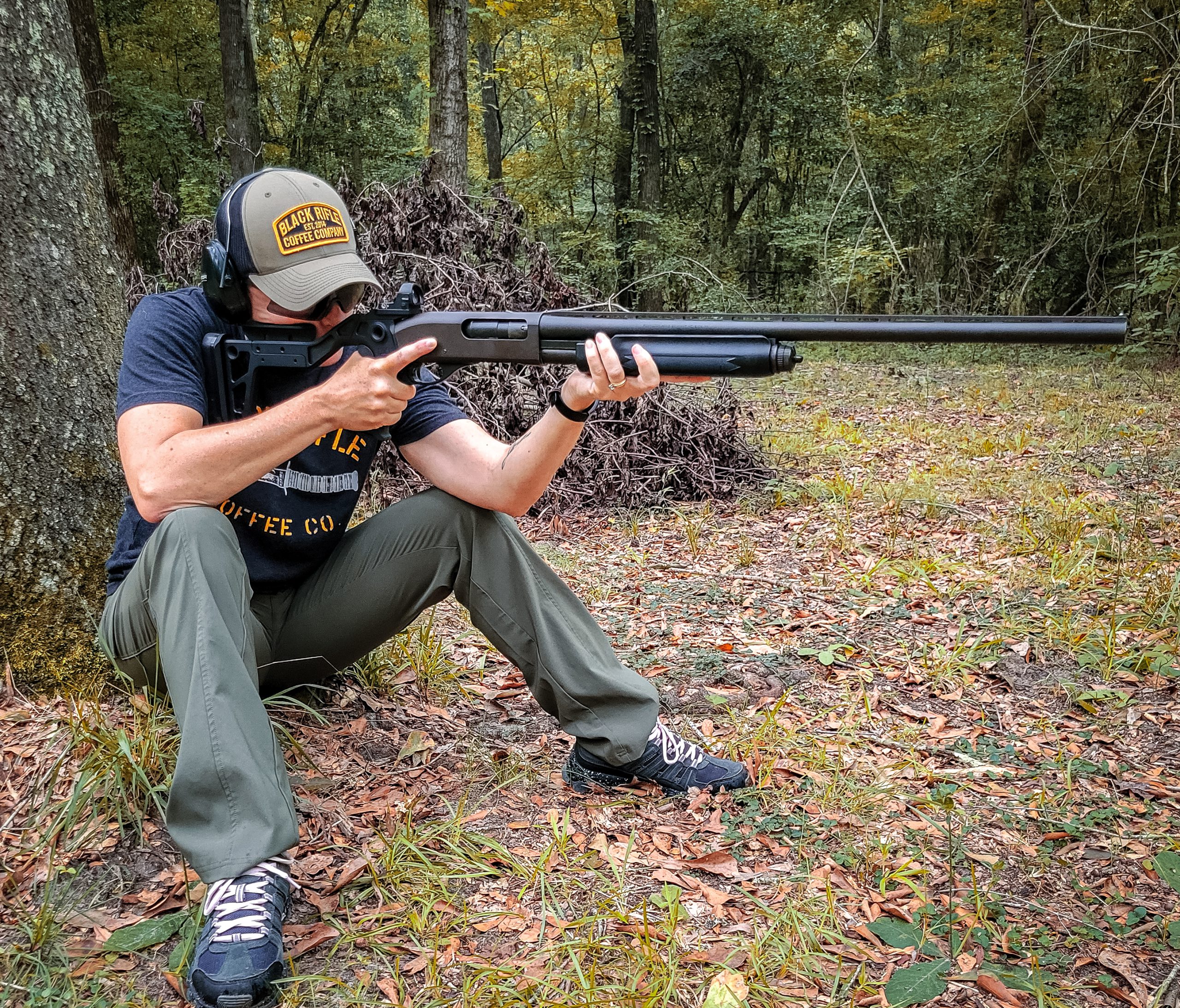 The hotness these days is topping a gobbler-getter with a micro red dot mounted as low on the receiver as possible so it doesn't snag up when you're running and gunning early morning longbeards, and so you can keep your head down on that gun when aiming. A red dot also provides a consistent point of impact, even when you have to make a shot from some contorted position — because turkeys are assholes.
A red-dot optic also looks pretty freakin' rad on a 12 gauge. Just sayin'. The Chisel stock has an RMR/SRO footprint as part of the stock that extends just above the rear of the receiver. When mounted, the bottom of the red dot is basically flush with the top of the receiver: a low-slung red dot on a shotgun with a simple stock change — awesome. (If Chisel puts out a version for the Mossberg 500, it will be interesting to see how they deal with that shotgun's top-tang safety switch.)
The gun I chose as the stock's host was a Remington 870 Express Super Magnum with a 26-inch barrel manufactured in 2006 that was still wearing the factory synthetic buttstock.
Once I had the Chisel stock in place, I topped it with a Viridian RFX 35 green dot reflex sight — more than adequate for a shotty. I started my range day shooting some 2 3/4-inch Winchester AA Super Sport loads for sporting clays loaded with a full ounce of No. 8 shot and getting the red dot dialed.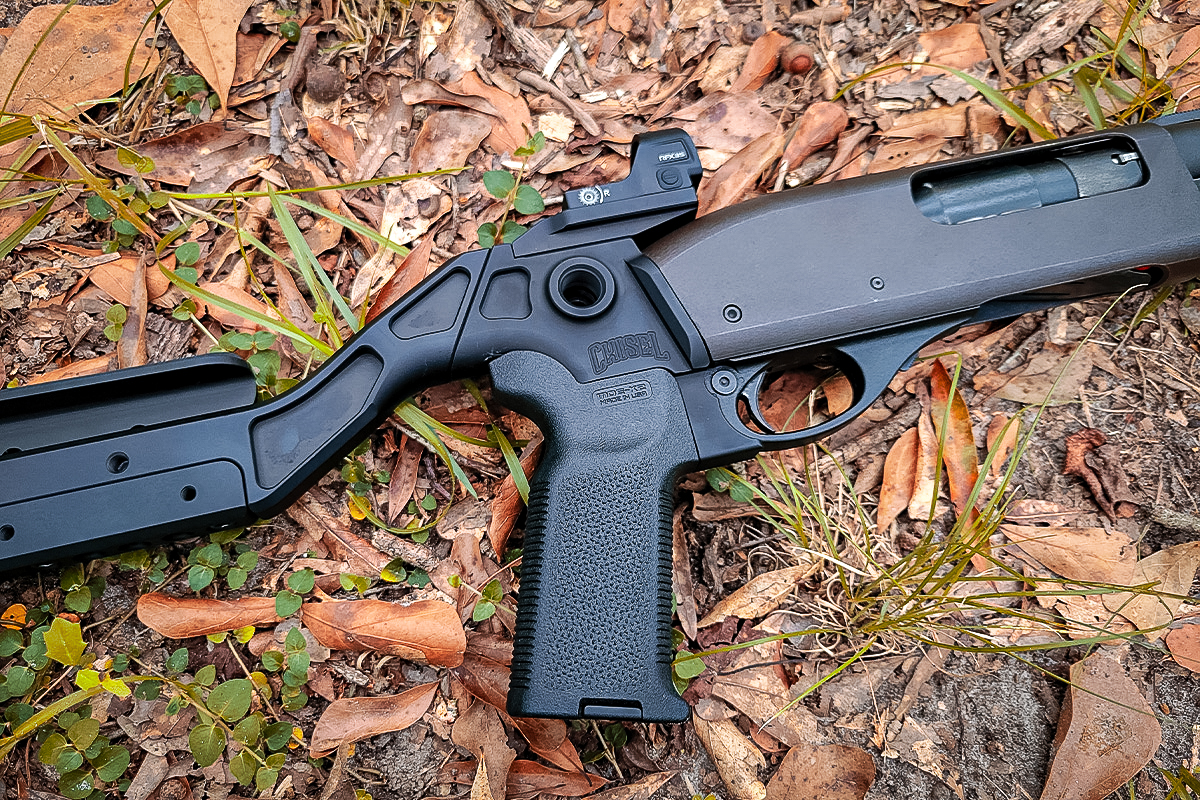 I took a final few shots with 3-inch Winchester Double X High-Velocity 00 buckshot (which sends pellets cruising out the muzzle at a blistering 1,450 fps) because completely obliterating bowling pins with a shotgun is my idea of relaxing.
I also fired a few No. 4 turkey loads since this is supposed to be a turkey gun. But only a few. That shit's expensive, and besides, buckshot is a lot more fun.
RELATED — The Turkey Shotgun: What You Want in a Dedicated Gobbler Getter
---
Making the Adjustment
Aside from its uber-modern tactical look, the best thing about Chisel's Remington 870 stock is its adjustability.
I am not built like the average shooter. God did not bless me with tall genes; I'm only 5'3". I also have a pretty short reach and need an equally short length of pull (LOP) for a gun to fit right. Factory guns are not typically built for people like me.
I was probably 10 years old when my dad reluctantly let me shoulder his Remington 870 Wingmaster for the first time. In a vain attempt to make the 12-gauge more "girl-friendly" (his words, not mine), he added a thick recoil pad to the buttstock. He thought it might make shooting easier on my shoulder. All it managed to do was lengthen the gun beyond what my short arms could handle, throwing the balance too far forward for my small-framed body to support properly.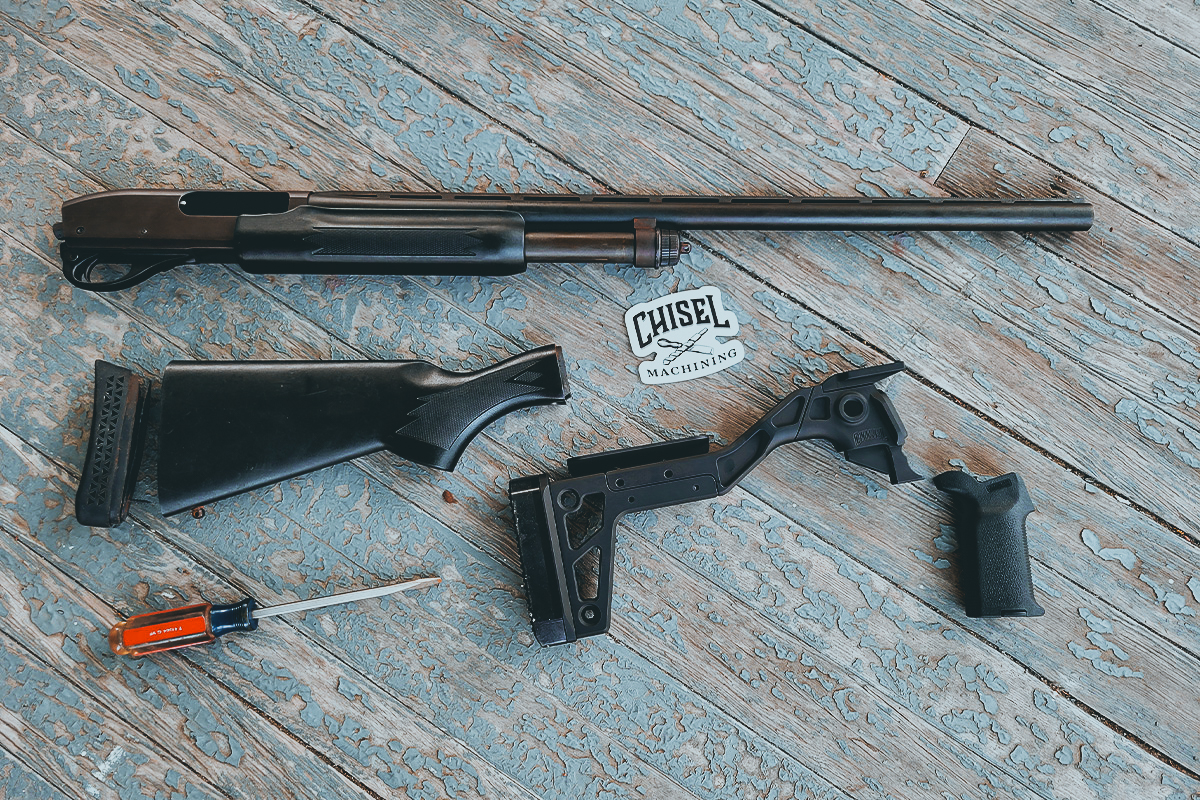 Over the years, I've built a solid love/hate relationship with the 870. I love it mainly for nostalgia — I shot my first whitetail and wild turkey with that same 870 Wingmaster.
But there's more to it than that. The 870 is often called the "King of American Shotguns" for a reason. Those puppies are more reliable than a seasoned bird dog. You can basically drag one of these pump actions a mile through the mud, and it will still cycle when you make it to the blind.
Unfortunately, finding a full-size 870 that fits my small-framed body in a way I don't have to fight with has been a hard row to hoe. I need a stock with a short LOP and a high comb. (Did you know the average woman has a longer neck and higher cheekbones than the average man?)
And for all those reasons, I was stoked to try out Chisel's new Remington 870 stock since it's highly customizable.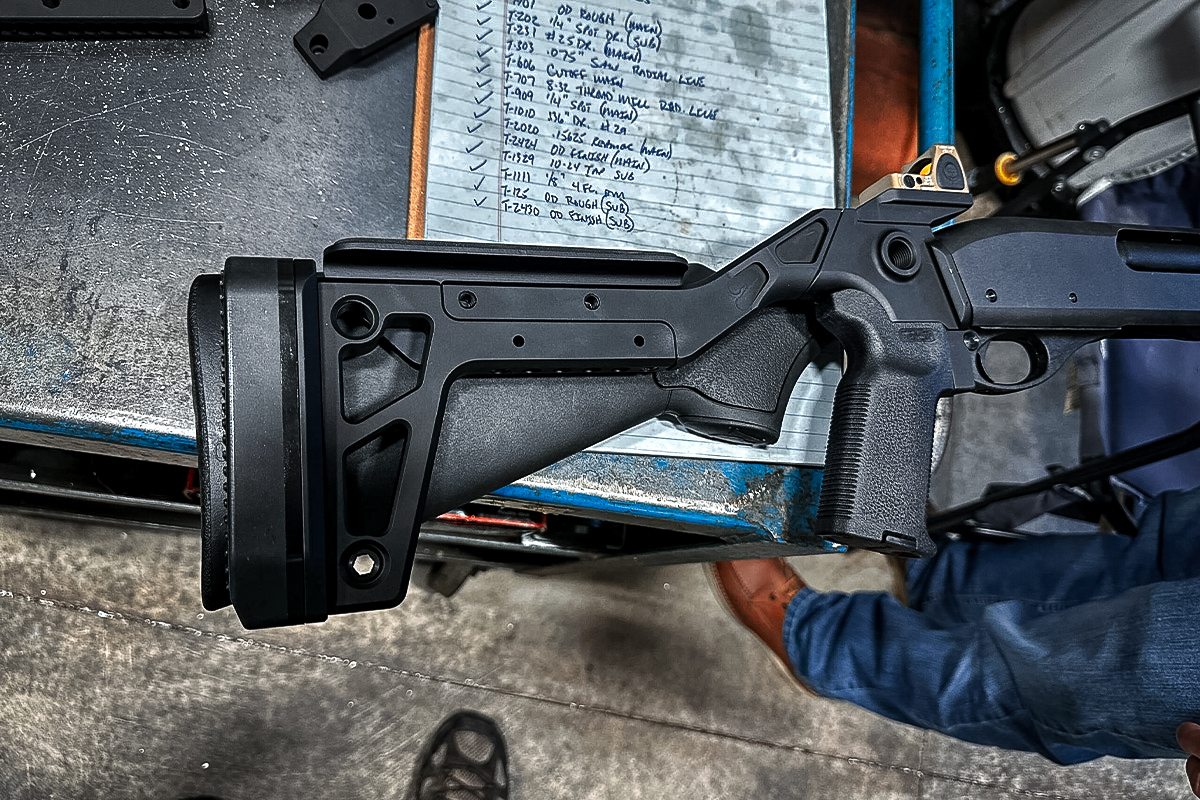 The LOP is adjustable in 1/4-inch increments from 13 to 15 inches. However, I found making adjustments was a little tricky because everything is designed for a snug fit (because recoil can be a real bitch).
Once you remove the hex screws, it takes a slight twist and a solid tug to pull the two pieces apart, which reveals a series of screw holes for refitting the pieces at the desired length.
GOOD GEAR – Enjoy the Perfect Blend Between Salty and Sweet With the BRCC RTD Espresso Salted Caramel
---
Getting Cheeky
The skeletonized replacement stock also features a cheek plate adjustable for height, which I hiked up to find a comfortable fit. Unfortunately, the plate itself can't be moved back or forward on the stock, but it does shift as you adjust LOP.
The first time I shouldered my 870 after stock installation, I had major second thoughts. The edge of that cheek plate isn't exactly soft and comfy, and I wasn't too keen on the idea of being jammed in the face with a cold slab of metal with something close to 50 foot-pounds of recoil energy.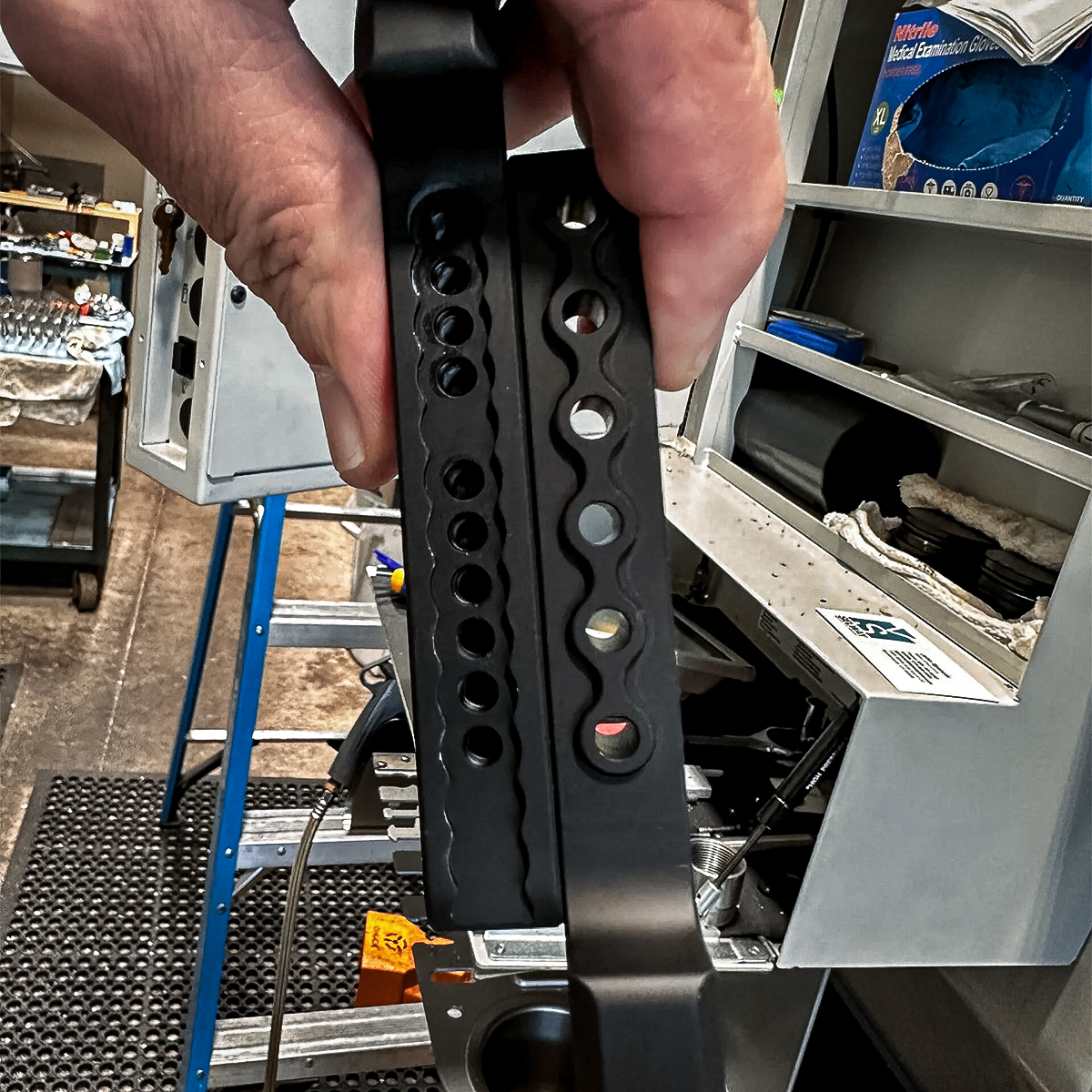 Thankfully, Chisel Machining included a sticky Kick-EEZ recoil pad to cover the cold, hard aluminum cheek plate. And although its thin foam construction might not seem like much, it was a welcome barrier for my face.
If I could change anything, I would make a few tweaks to that cheek plate. I'd love to see the edges rounded out a bit more, and I'd love it if the recoil pad extended to fit the plate all the way to the top edges. Shooting anything hotter than 2 3/4-inch buckshot drives the edge of that cheek plate pretty hard into your face if you have a solid cheek weld, which is the whole point of having a low red dot on a shotgun.
And the top edge, which features a lovely Kick-EEZ logo pressed into the material, started to feel pretty aggressive right around the fourth shot. The backward push of the recoil drove that logo across my cheek, so I got some excellent exfoliation on the right side of my face.
While I mostly came away from my back-40 range day unscathed, my husband wasn't so lucky. One shot shoved the back edge of the cheekpiece into the soft skin in front of his ear, leaving a lovely red strawberry and a story that doesn't even have a good but-you-should-see-the-other-guy ending.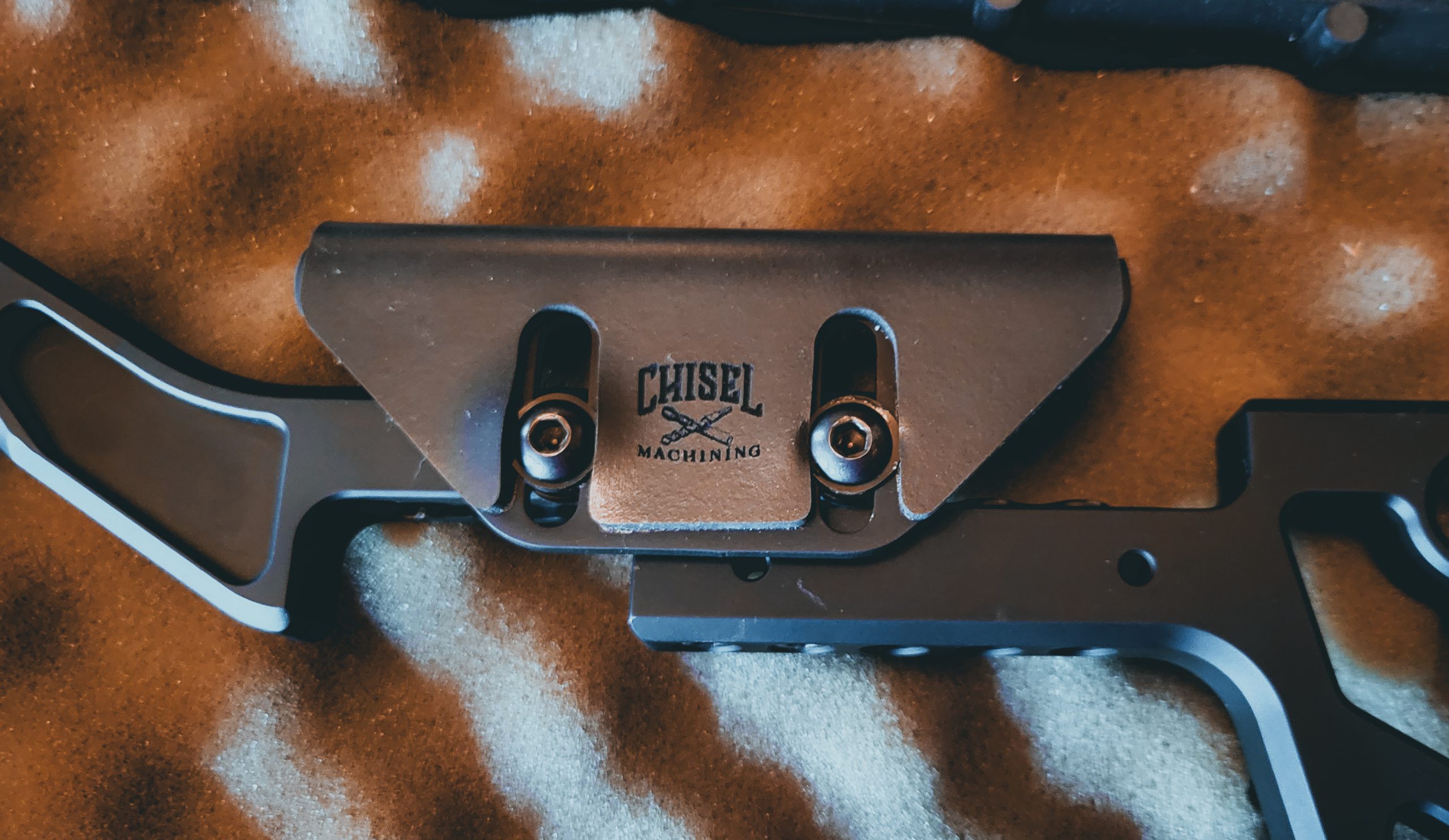 I contacted the good folks at Chisel Machining to see if anyone else had issues with the cheekpiece during recoil, and out of the 20 test stocks they sent out, I was the first with a negative report. It's possible that my different-than-average stature played a role in my uncomfortable shooting experience. But Chisel immediately snapped-to and tried to figure things out for me.
"If it's a problem for you, it may ultimately be a problem for others, so let's try to fix it," is what they said. That's a company committed to quality control and putting out a great product.
Chisel's Remington 870 stock has spent more than a year in development, and the company is still looking for ways to make it better.
RELATED — Why Hunters Pattern Their Shotguns: Dialing-in Your Turkey Killer
---
Turkey Gun or Naw?
While I got to create total wreckage out of some perfectly good bowling pins, the process wasn't as enjoyable as I'd hoped. After half a dozen shots, that aluminum cheek plate became more annoying than duck-lip selfies.
Shots on longbeards are rarely picture-perfect and often require a good deal of contortion. I can't say I'm not worried that a wonky shot position won't drive the edge of that hard aluminum cheekpiece into my face.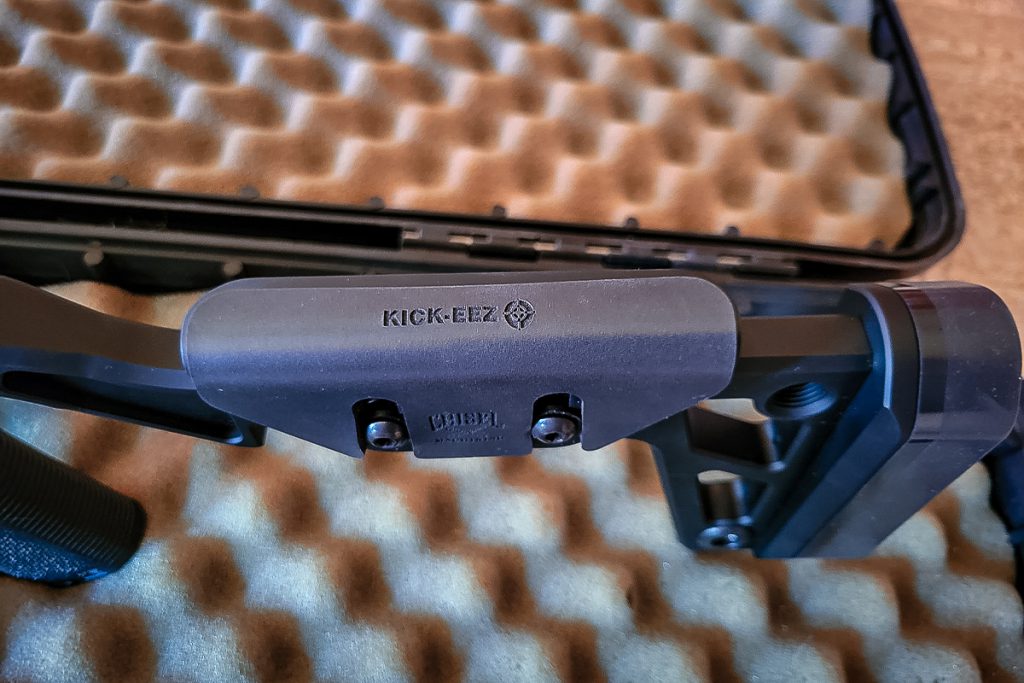 However, my mission was to use this new stock to make a better turkey gun, and in the field, even when the stars and gun sights align in your favor, you rarely get more than one shot on a bird. If you pull off a second or go for a double, you usually send mostly desperate prayers down range. Fuck up your chance, and you might as well just pack up your turkey vest and head back to the truck.
So my final answer as to whether this makes a good turkey stock as is — is "maybe." Although the edge of that cheek pad makes me feel a little flinchy, there's still plenty to love about this stock, and as a tactical stock, which is ultimately what it was designed to be, it would be baller.
I'm totally digging the ability to smack a reflex sight on an 870 without drilling and tapping the receiver and installing a rail.
This thing is also rock-freakin-solid. There's no wiggle or play after installation and plenty of shooting, and no weird gaps; it's a perfect fit on my nearly 20-year-old Model 870.
Also, all that adjustability means I can (almost) comfortably share the same gun with my 6'2" son. All it takes is a few quick adjustments and an Allen wrench. That's no small achievement for a stock this overbuilt.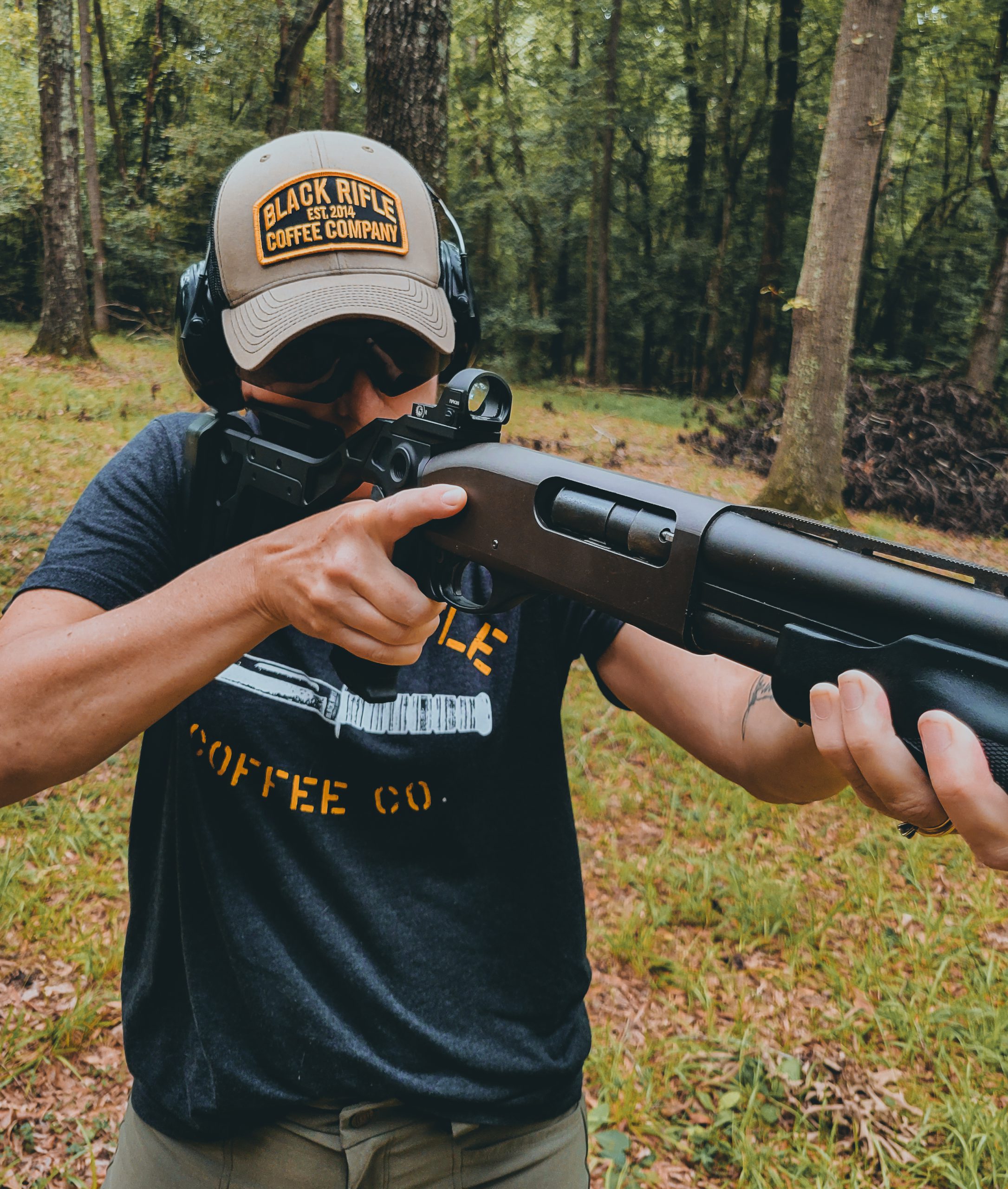 I guess I still have a love/hate relationship with the Remington 870. Deep down, I think this stock identifies more as a tactical stock, and that's fine. After all, Chisel made its name by making lever guns more tactical. Honestly, it may not live its best life on a turkey shotgun, but a full turkey season will probably be the best way to tell.
But man, my face is not looking forward to patterning my shotgun.
GOOD GEAR – Keep Your Coffee Hot or Cold With the BRCC Coffee Saves Tumbler
---
Chisel Machining Remington 870 Stock Specs
Made from CNC machined 6061 solid billet aluminum
Adjustable, ambidextrous cheek plate with Kick-EEZ recoil pad
Adjustable LOP in 1/4-inch increments from 13 to 15 inches
Adjustable recoil pad height
RMR/SRO compatible red dot mounting plate
MSRP: $349
---
READ NEXT — The Remington 870 Shotgun: 5 Most Badass Movie Moments