This week, outdoor, tactical, and shooting enthusiasts from all over the globe are gathered in the Neon Capital of the World for the annual Shooting Hunting and Outdoor Trade Show, better known as SHOT Show. It's like a little piece of heaven fell smack dab in the middle of Las Vegas. While the new guns released at SHOT Show often get all the glory, the week-long trade show also features tons of cool new gear.
From the uber-practical to the oddly absurd, the showroom floors are filled with everything your tactical heart could possibly desire.
Here's a collection of some of the coolest new gear from the 2023 SHOT Show. Check back as we grow the list with even cooler new finds at SHOT Show throughout the week.
---
Price: $165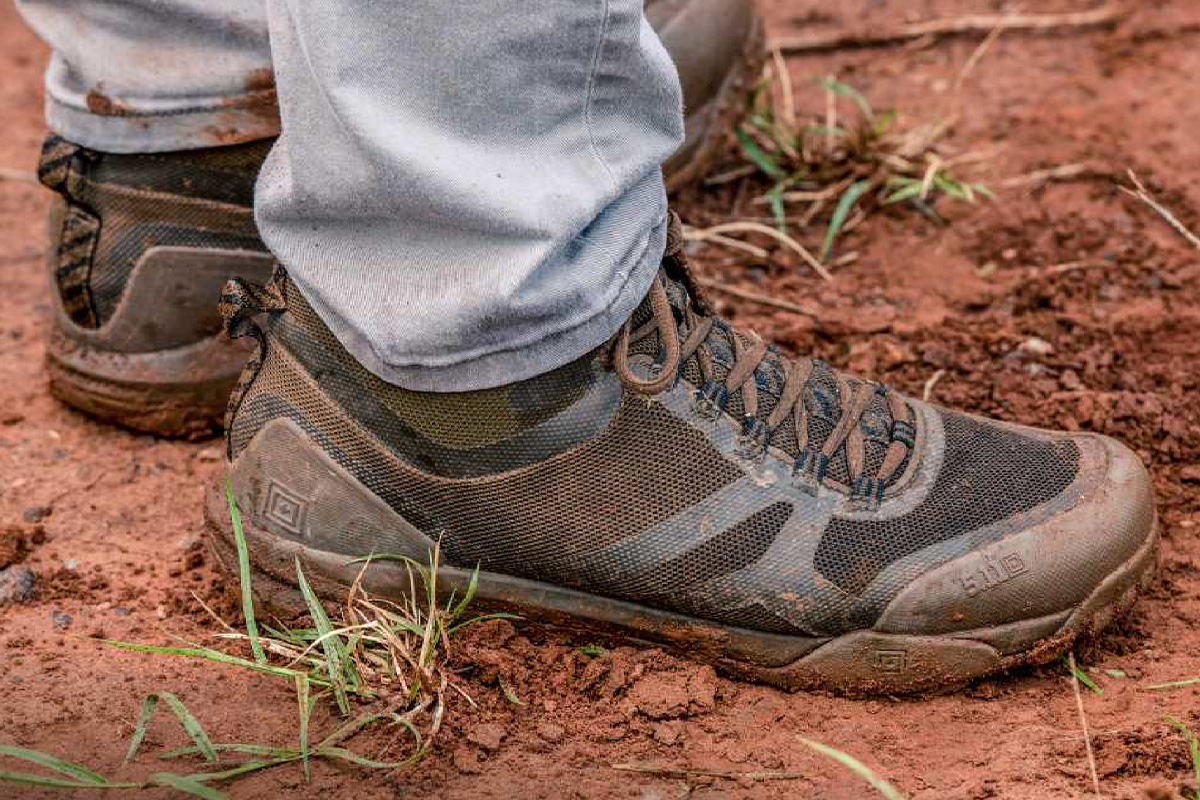 Although 5.11's A/T line of footwear is designed for tactical applications, hunters demand the same type of performance from their feet. We aren't sitting behind a computer screen living the life of the average office slave (at least not on the weekends).
5/11's A/T Mid boots have been a favorite of mine for several hunting seasons, but I've had one major gripe — they are NOT waterproof. I've slogged through plenty of muddy river bottoms during deer and turkey season only to end up with soggy socks at the end of the hunt, which is a serious bummer.
As a fangirl of these boots, I couldn't be more psyched that 5.11 is now offering them in a waterproof version.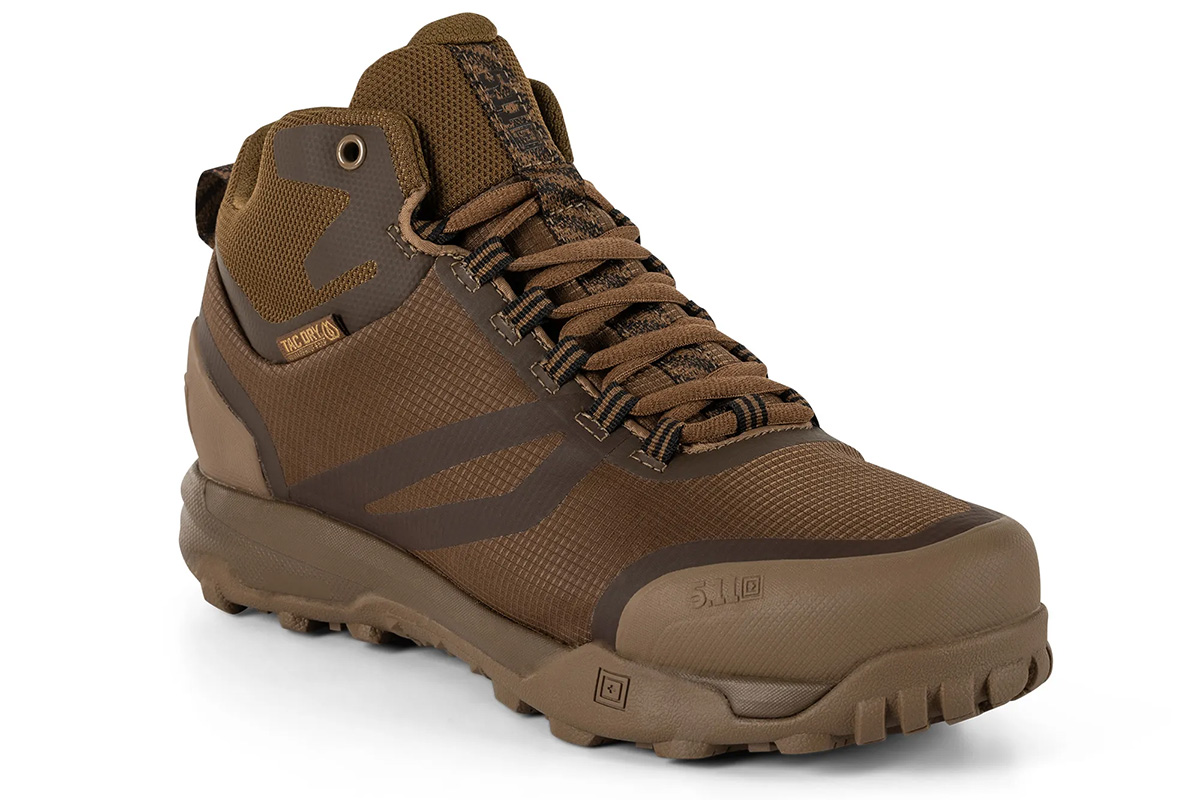 All the awesome features we've come to expect from the A/T line are still there, including a 3D molded toe and heel, shock-absorbing foam in the heel, Ortholite insoles, and a multi-direction outsole lug pattern.
The 5.11 A/T Waterproof Mid Boots also feature the brand's patented A.T.L.A.S. technology that perfectly distributes weight and improves stability, making them perfect for those strenuous, active hunts.
The new waterproof version includes 5.11's exclusive Tac Dry membrane that keeps out both water and blood-borne pathogens, as well as a waterproof breathable mesh upper with TPU welded panels for extra durability. — AJW
Specs:
All Terrain Load Assistance System (A.T.L.A.S.) for complete support and stability
Waterproof breathable mesh upper with TPU welded panels for durability
5.11 Tac Dry waterproof and blood-borne pathogen-resistant membrane
3D molded rubber toe cap and heel counter for added support and durability
5.11 Echo high rebound foam in the midsole
5.11 Force shock absorbing foam in the heel
Removable 5.11 support plate to support carrying a heavier load
Full rubber slip- and oil-resistant outsole
Multi-direction outsole lug pattern
Ortholite insole
RELATED – New Vortex Strike Eagle 3-18×44 Rifle Scope Is Incredibly Versatile
---
5.11 Skyweight Pack Collection
Price: $45-$200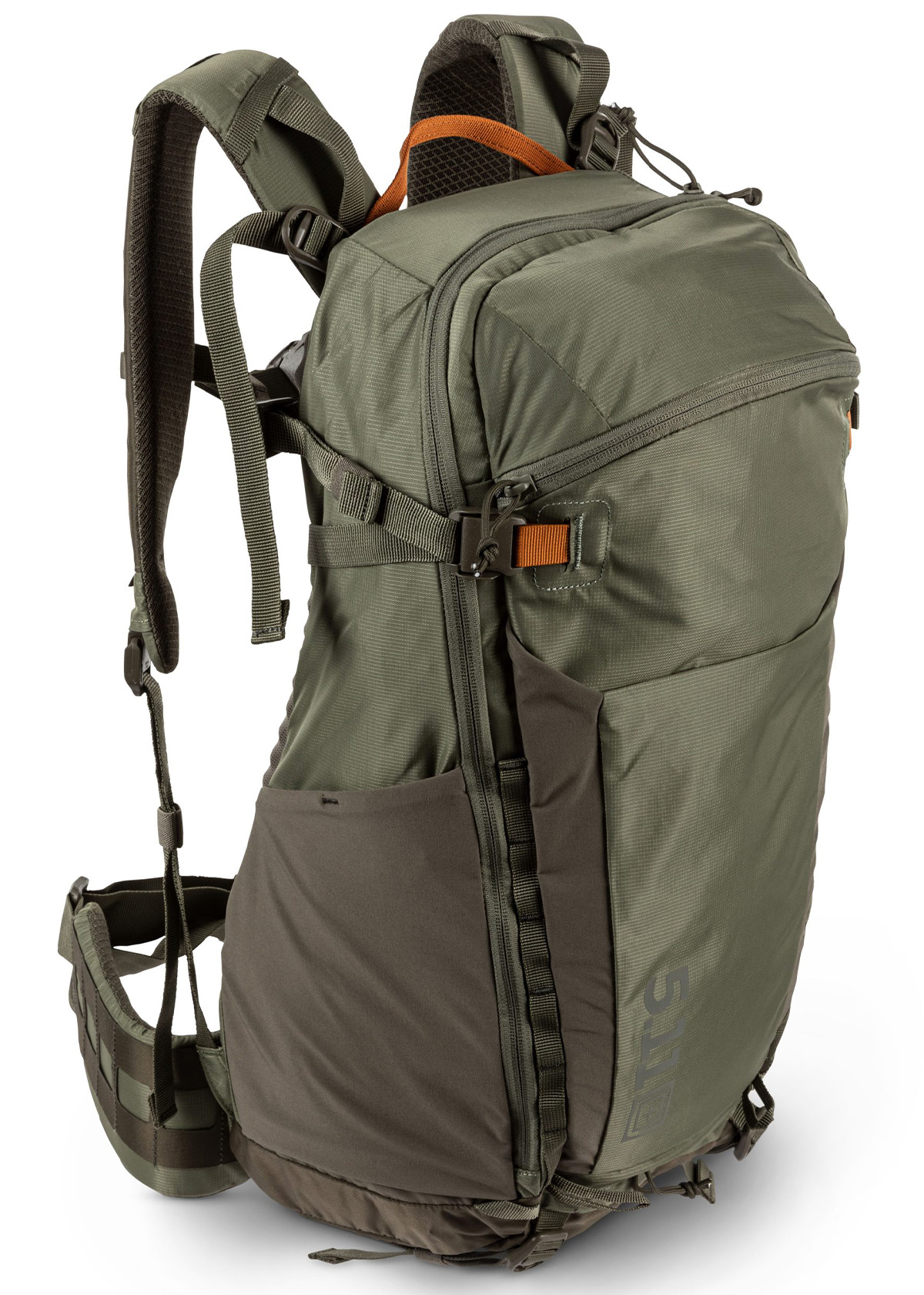 While 5.11 has a hard-earned and well-deserved reputation in the tactical sphere, the company's new lightweight line of outdoor packs deserves some attention from serious outdoor adventurers.
The highlights of the Skyweight lineup are the 36L ($200) and 24L ($150) backpacks, both featuring ultra-lightweight construction with 330 denier ripstop nylon. The bags also feature padded lumbar support, removable load-bearing MOLLE hip belts, padded shoulder harnesses, and cushioned breathable back panels.
5.11's Skyweight backpacks also have all the cool extras necessary for outdoor excursions, including hydration sleeves, integrated rain covers, convenient external stretch water bottle pockets, and plenty of gear loops and MOLLE webbing.
The Skyweight 36L also includes a front shove-it compartment and an internal support frame perfect for heavier loads.
The Skyweight line also includes a Utility Chest Pack ($60) and a Survival Chest Pack ($45).
One of the coolest features of the Skyweight line is its cross-functionality. The larger packs have detachable hip belts that transform into convenient waistbelts by attaching one of the chest packs.
The Skyweight line hasn't hit the company's online store just yet but is expected to launch sometime this spring. — Alice Jones Webb
Specs:
Lightweight and compact design
Made from 330 denier ripstop nylon
Detachable hip belts pair with chest packs to become convenient waist packs.
Loops and MOLLE webbing for attaching extra pouches and gear
Quick-release, breathable harness system
GOOD GEAR – Pack a Serious Caffeine Punch With the BRCC Ready To Drink 300
---
Price: $249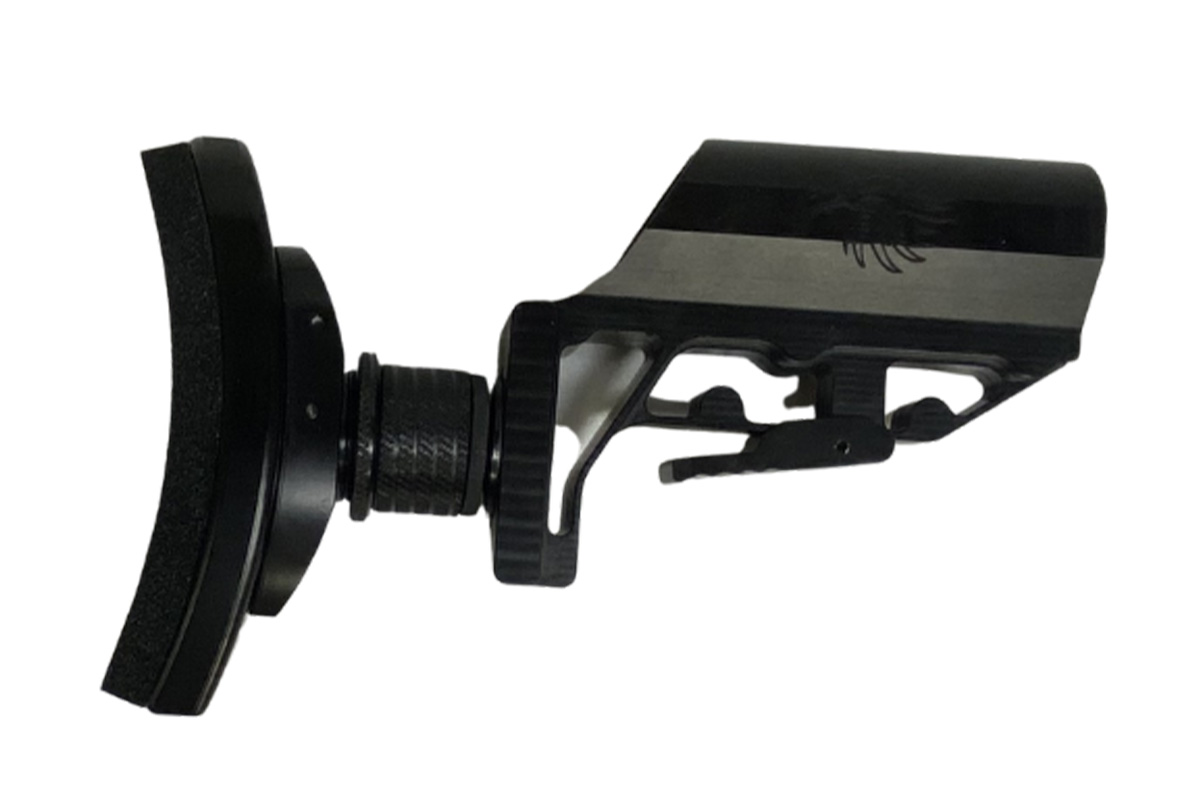 Bilson Arms' new rotating buttstock for AR platform rifles allows the shooter to easily position the firearm through different angles of shot for smooth, seamless transitions from primary to secondary optics with offset mounts.
Because the rear portion of the stock rotates around its axis, the shooter can maintain solid contact with the shoulder while tilting the firearm to accommodate different shooting positions, which can be crucial in dynamic shooting situations.
The patent-pending design fits on any standard MIL-SPEC buffer tube. Shooters can easily adjust the length of pull. The stock rotates 360 degrees, and the rotation tension is completely adjustable. The height of the butt assembly and the height of the buttplate are also adjustable.
The Pivotal Buttstock is machined from sturdy 6061-T6 aluminum and is available in a black anodized finish or Cerakote finish in black, gold, blue, and red.
Specs:
Made from machined 6061-T6 aluminum
Adjustable rotation tension
Fits MIL-SPEC buffer tubes
Full 360-degree rotation
Available in black anodized and colored Cerakote finishes
RELATED – Military Shotguns: The History of Scatterguns Issued by the U.S.
---
Price: $98.99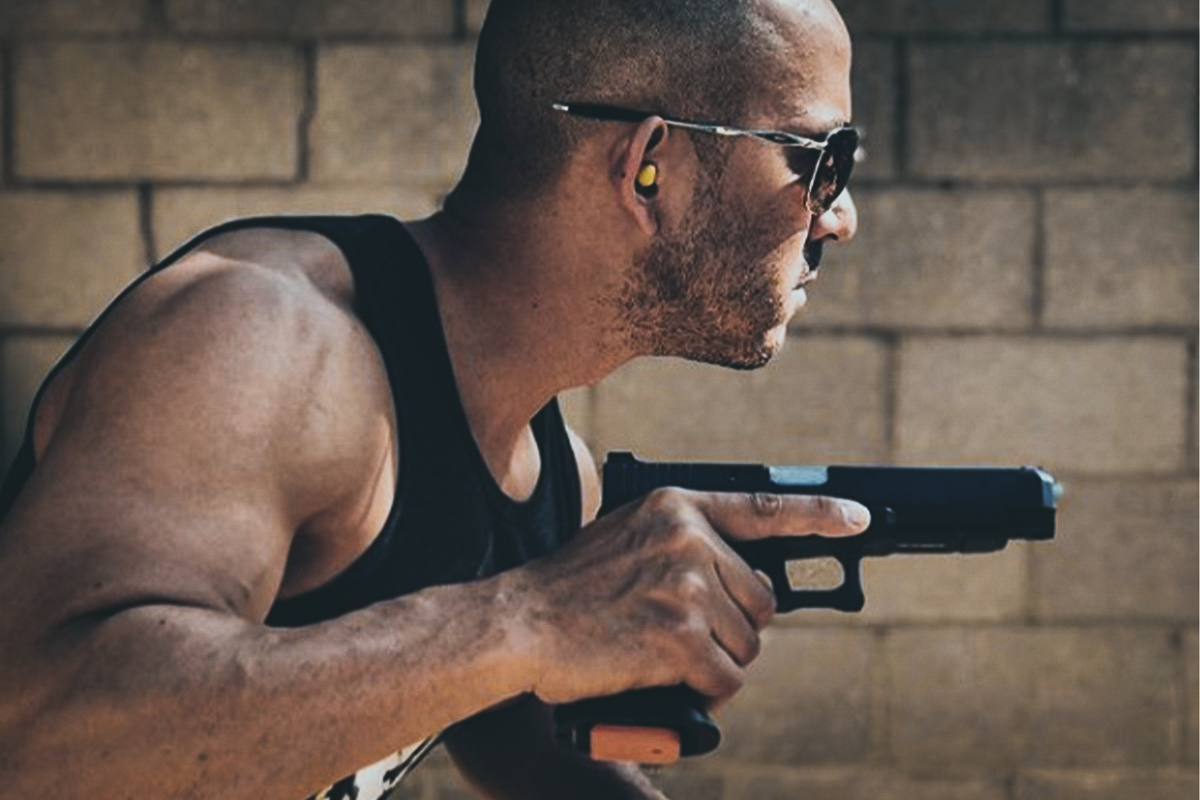 Dry fire practice is a convenient, economical, and practical method for honing shooting basics and developing shooter confidence. As valuable as it is, dry fire training doesn't always allow you to practice like you shoot because you must rack the slide to reset the trigger between shots.
DryFireMag is a unique magazine that takes your dry fire practice up a notch by providing audible, tactile trigger simulation and allows you to use multiple trigger pulls without having to stop the flow to recycle your slide.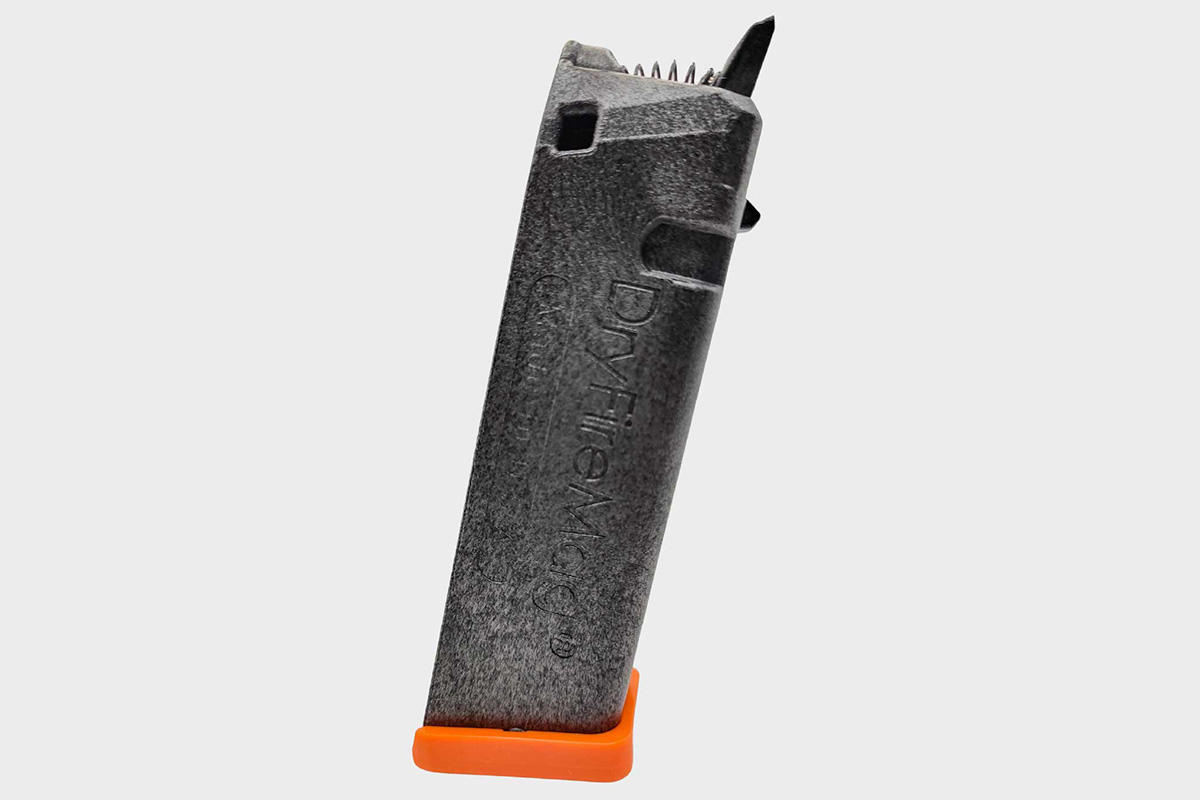 Inside the DryFireMag is a lever that interacts with the pistol's trigger bar. When the trigger bar travels backward, it pushes the lever, which moves the bar forward again, allowing you to perform multiple trigger pulls during your dry fire practice sessions.
The company currently offers DryFireMags compatible with most Glock full-frame pistols, the Springfield XD, Smith & Wesson M&P, and SIG Sauer P320. This is one piece of new gear that can really make you a better shooter through practice. — Alice Jones Webb
Specs:
Blaze orange base plate sets it apart from regular mags
Automatically resets trigger between "shots"
Provides audible, tactical trigger simulation
Builds proper muscle memory
Does not use the pistol's firing pin
GOOD GEAR – Rep America's Coffee Wherever You Go With the BRCC New Era Reticle Hat
---
Price: $54.95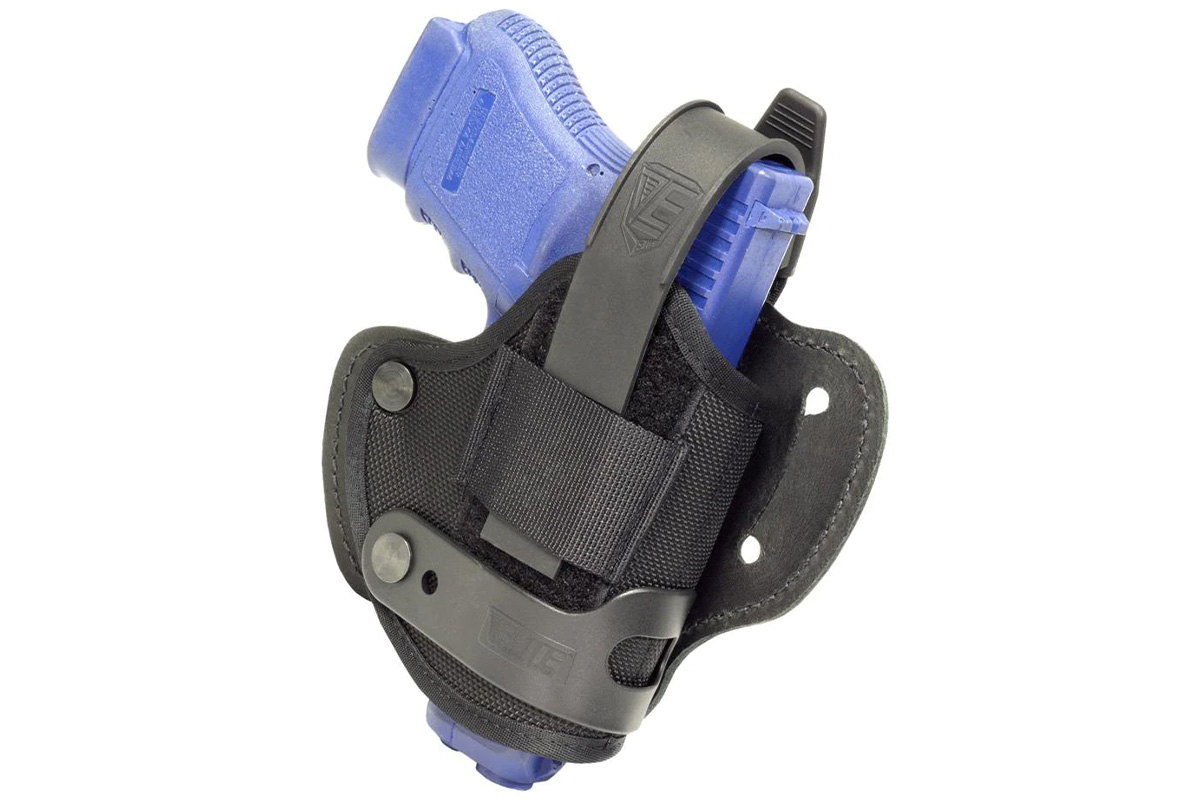 Elite Survival Systems specializes in concealed carry. The company's main objective is to design gear that makes EDC more effective and intuitive, and its new Advanced Belt Slide holster definitely fits the mission.
The holster is constructed of leather and padded ballistic nylon and is built to handle long wear and rough use. The holster has a shortened muzzle design for easier concealment and features Elite's exclusive tension-adjustable PowerBand and a hook-and-loop adjustable thumb break strap.
The Advanced Belt Slide holster also comes with SightStrip, a feature designed to protect your sidearm's sights during the draw. The holster is available in sizes that fit the most popular pistol models, and the belt-attachment panel works with belts up to 1 3/4 inches wide.
Specs:
Available for right- or left-handed shooters
Accommodates belts up to 1 3/4 inches wide
Made from leather and padded ballistic nylon
PowerBand tension adjustment
Reversible thumb break retainer strap
SightStrip sight protection
Sizes available for most pistols
RELATED – Sig Sauer Launches P365 Rose Brand Aimed At Female Shooters
---
Ikarda Systems Reactive Firearms Targets
Price: $499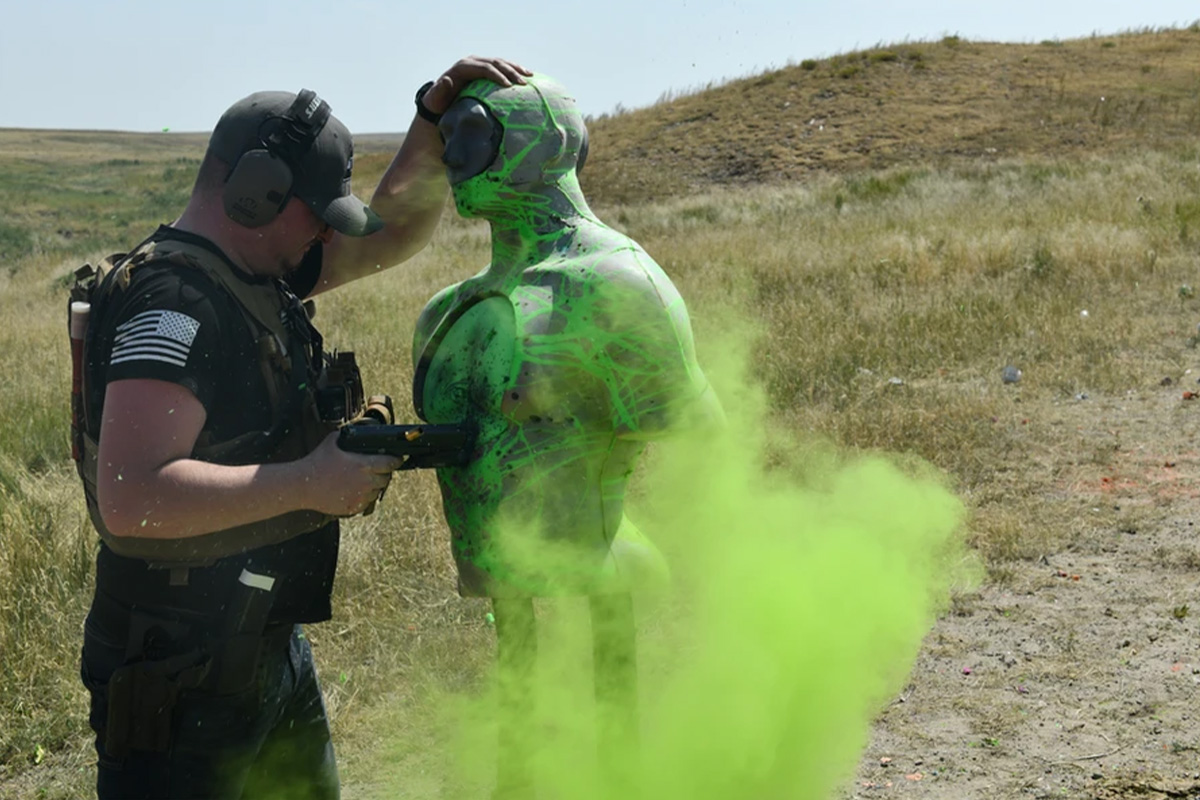 Unlike paper or steel targets, Ikarda System's signature reactive targets provide immediate dramatic visual feedback to build shooter accuracy and confidence.
The targets resemble the "Bob" training dummies common in boxing and MMA gyms. However, these head-and-torso targets come with a replaceable head and center mass inserts that spray a "highly visible airborne report immediately upon impact."
Basically, these targets spray out a brightly colored cloud when you shoot them. You can choose from relatively bland and benign gray or more interesting colors like lime green and hot pink. Ikarda even has a signature red in case you want your range practice to look like a carnage scene out of a John Wick movie.
The replaceable inserts deliver consistent reactions through hundreds of rounds of 9mm or 5.56, while the reusable head-and-torso chassis is engineered to survive well over 5,000 rounds. — Alice Jones Webb
Specs:
Reusable chassis designed to last over 5,000 rounds
Replaceable head and center-mass inserts designed to deliver consistent visual feedback for hundreds of rounds
Inserts color options include gray, lime green, hot pink, and Ikarda red
Includes a two-part steel support stand, matching ripstop bodybag, and a complimentary microfiber towel
---
GOOD GEAR – Visit Your Local Safe Space With the BRCC F.Y.S T-Shirt
---
Price: $399.99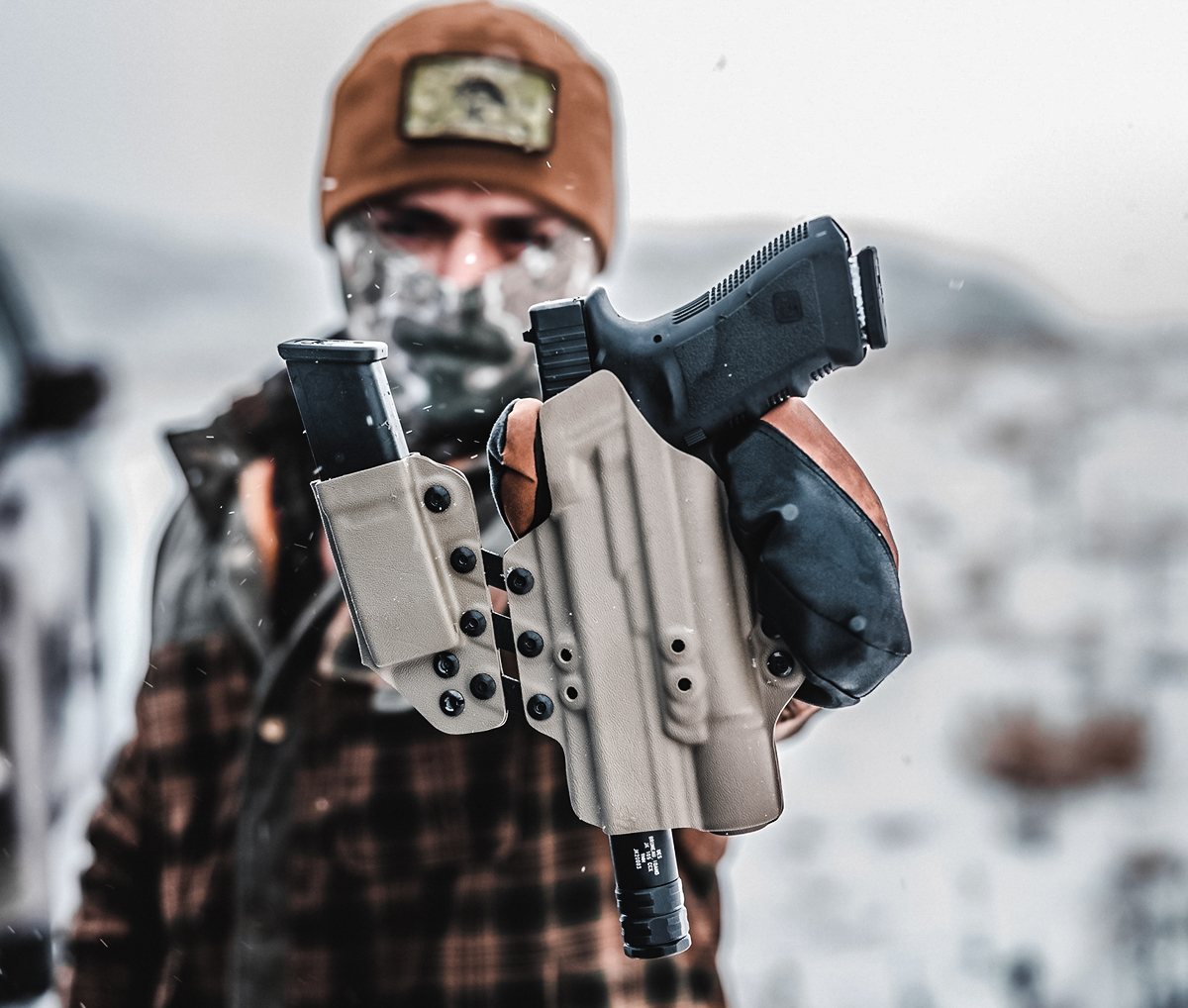 First, red dots made their way to the concealed carry world, and now, it's time for suppressors to do the same. While it was announced a few months ago, the new JK 105LT CCX Suppressor is making a big noise at SHOT.
This modular 9mm suppressor is designed to be carried and is configurable from just 1.9 inches in length to 4.6 inches. It's only 1.05 inches wide, so it will fit in most open-bottom holsters, and thanks to its aluminum construction, it weighs just 1.2 ounces in its micro configuration.
You can keep it tiny for carry while still offering impressive noise and flash reduction or stack it up for maximum suppression at the range. Even in its longest configuration, the105 CCX is so light that it doesn't need a booster assembly to function on a pistol.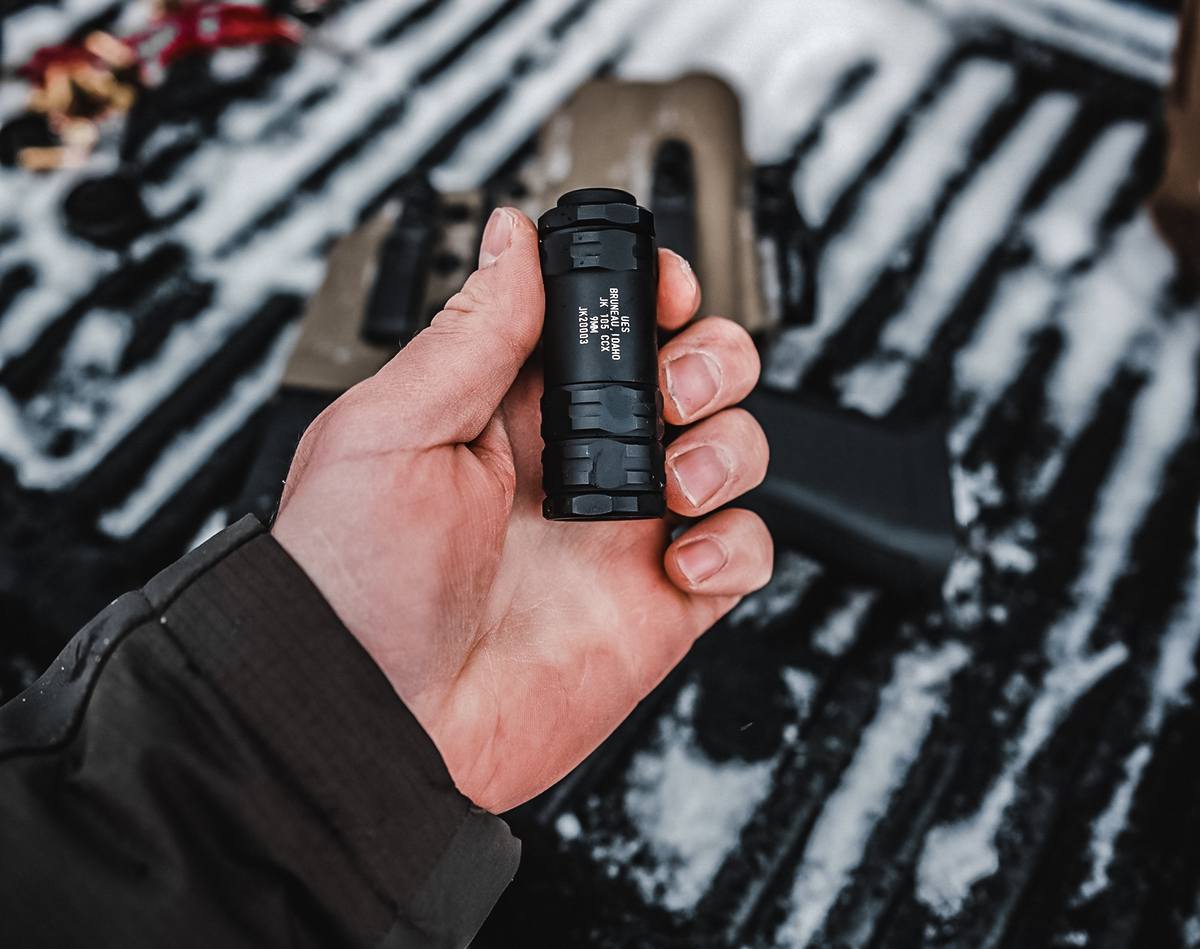 The CCX will suppress any direct thread (1/2-28mm or M13.5x1LH – mount for the latter sold separately). Plus, the CCX is designed to run wet. Petroleum jelly or thick grease works best, will not dry quickly, and provides a dramatic increase in decibel reduction for the first few shots, according to Capitol Armory.
The price is also remarkable — the MSRP for the JK 105LT CCX is just $399.99. A 1/2×28 thread mount is included with the 105 CCX 9.
Specs:
Length: 1.9 – 4.6 inches
Diameter: 1.05 inches
Weight: 1.2 – 2.5 ounces
Color: Black
Material: 7075 billet aluminum
Coating: Type 3 Hard Anodized
GOOD GEAR – Brew the Perfect Cup of Coffee With the BRCC 10 Cup Chemex
---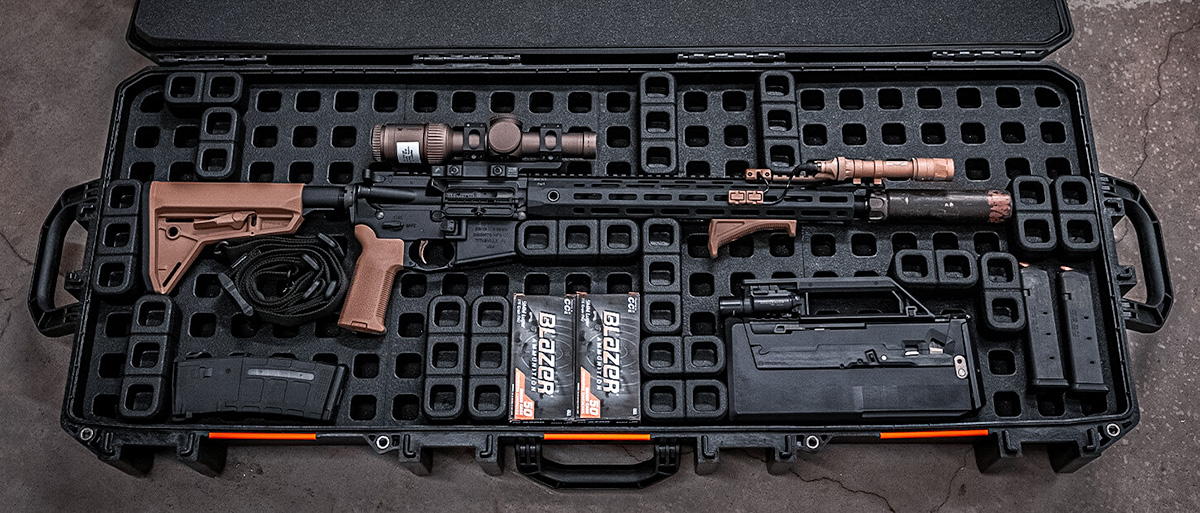 Wyoming gearmaker Magpul introduced a new gear item that could be a game changer for gun transport and storage: the DAKA Grid Organizer for hard gun case. Using the DAKA system, you will replace pluck-and-pull rubber foam with a block system that's not only easier to use but is also reconfigurable.
"In seconds, you can change from one configuration to another without making permanent modifications to the interior," the company said in an advertisement. "The intuitive tool-free block installation can be done by anyone with no more plucking, cutting, tearing, stuffing or wasting."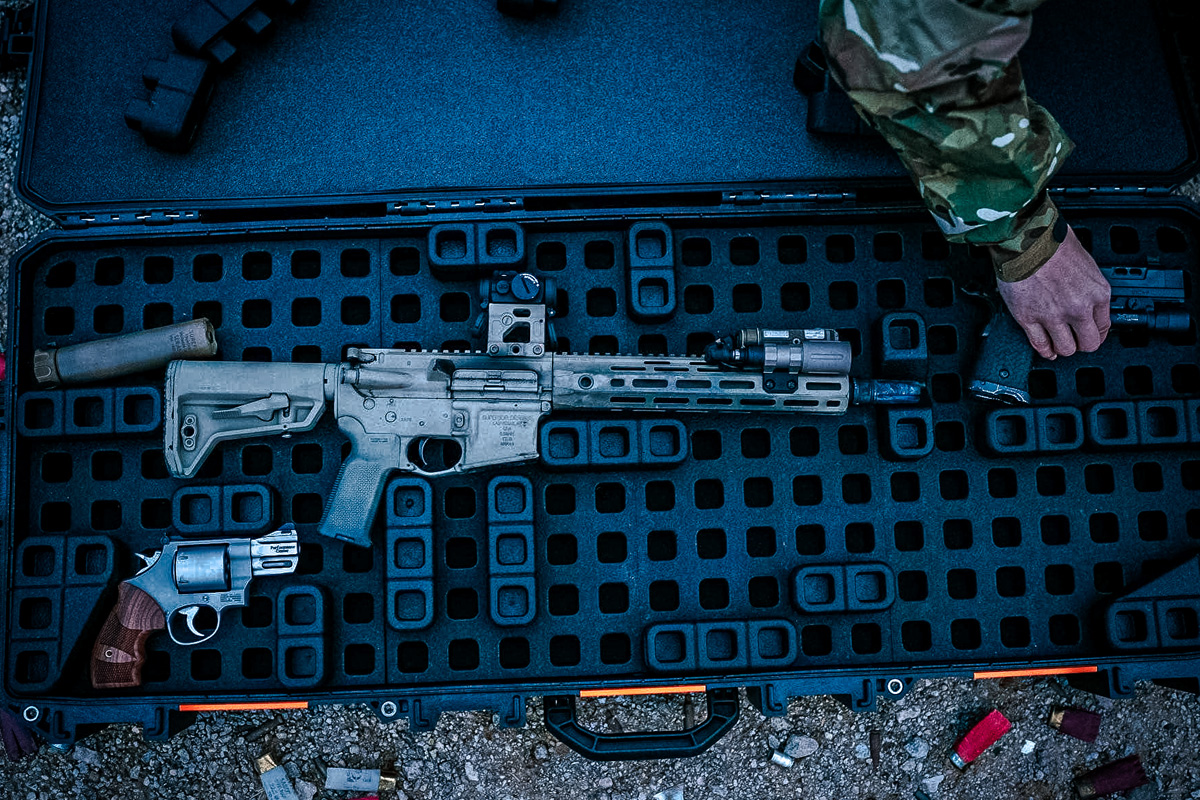 The grid system is a base that you insert into a hard case, and then you use blocks that plug into the grid to secure your firearm and gear. Instead of soft, malleable foam, the DAKA system uses polypropylene foam, which is the consistency of the protective layer in a bike helmet.
While the system consists of about 10 different items, only a handful are available now. To start, Magpul has shipped DAKA Grid Organizers for the Pelican Vault V730 case ($140) and the Pelican Vault V800 case ($160). —DT
RELATED – JK Armament 105 CCX 9 1.5-Inch Carry-Ready Suppressor
---
Price: $399 / $425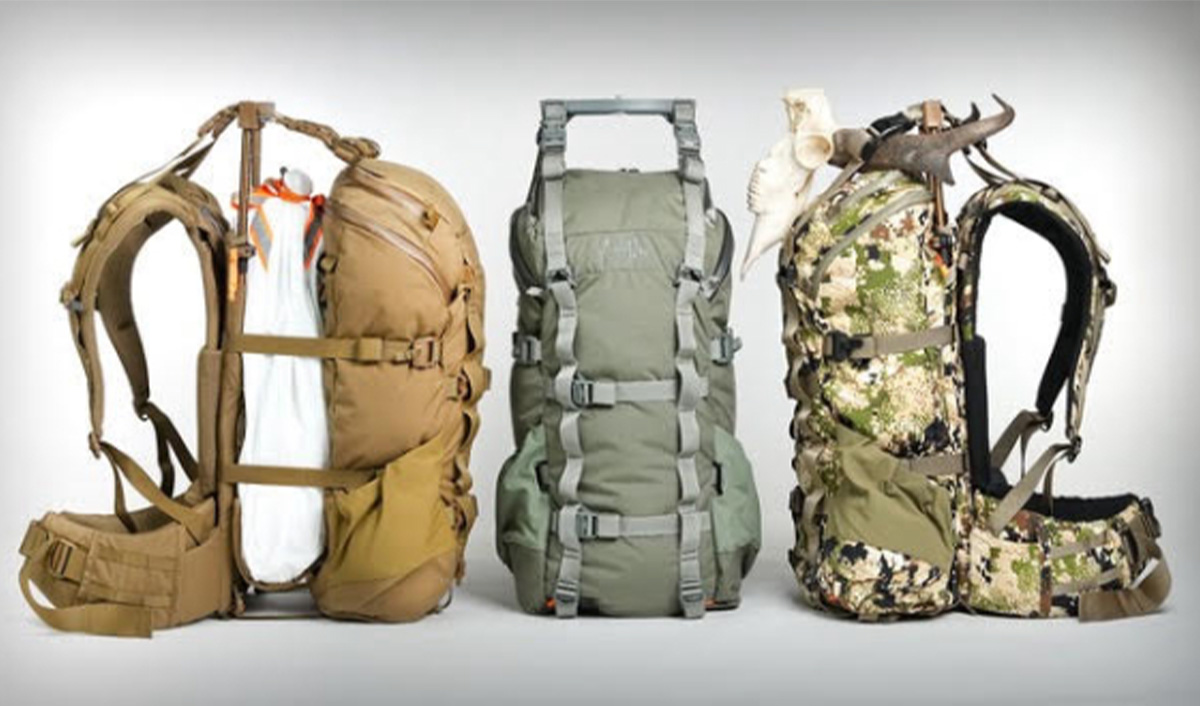 The Mystery Ranch Pop Up series of packs are low-profile daypacks that can pull double duty when you need to haul meat. While Pop Up packs have been a favorite of backcountry hunters for several years, the line received one major upgrade big game hunters will appreciate this fall.
First, Mystery Ranch bumped up the Pop Up's pack capacity, expanding their existing 28-liter and 38-liter models to handle more volume. The new 30-liter and 40-liter configurations are taller and more slender than their predecessors, and the new design perfectly accommodates the Pop Up's signature telescoping frame.
The unique expanding frame quickly transforms the pack from a functional daypack to a hefty meat hauler after a successful hunt. The frame can handle an 80-pound weight load and houses the better part of the burden close to the back for better comfort, especially on those long hauls back to base camp.
Mystery Ranch also invited the ladies to the party. The Pop Up 30 and Pop Up 40 are available in women-specific models, featuring harnessing designed to better fit the female anatomy. There's no pink shrink here. Female hunters can enjoy a better-fitting pack without sacrificing space or functionality.
Both packs are available in coyote, moss green, and Optifade Subalpine and are hydration reservoir-compatible.
Specs:
Pop Up 30
Volume: 30 liters
Dimensions: 22.5x11x11 inches
Weight: 4.9 pounds
Women's sizes: XS, S, M, L
Men's sizes: S, M, L, XL
Colors: coyote, green, Optifade Subalpine
Pop Up 40
Volume: 40 liters
Dimensions: 23.5x12x13.5 inches
Weight: 5.3 pounds
Women's sizes: XS, S, M, L
Men's sizes: S, M, L, XL
Colors: coyote, green, Optifade Subalpine
GOOD GEAR – Only You Can Prevent Terrorism With the BRCC A.T.A. Bear Mug
---
Nightstick TWM-30-GL
Price: N/A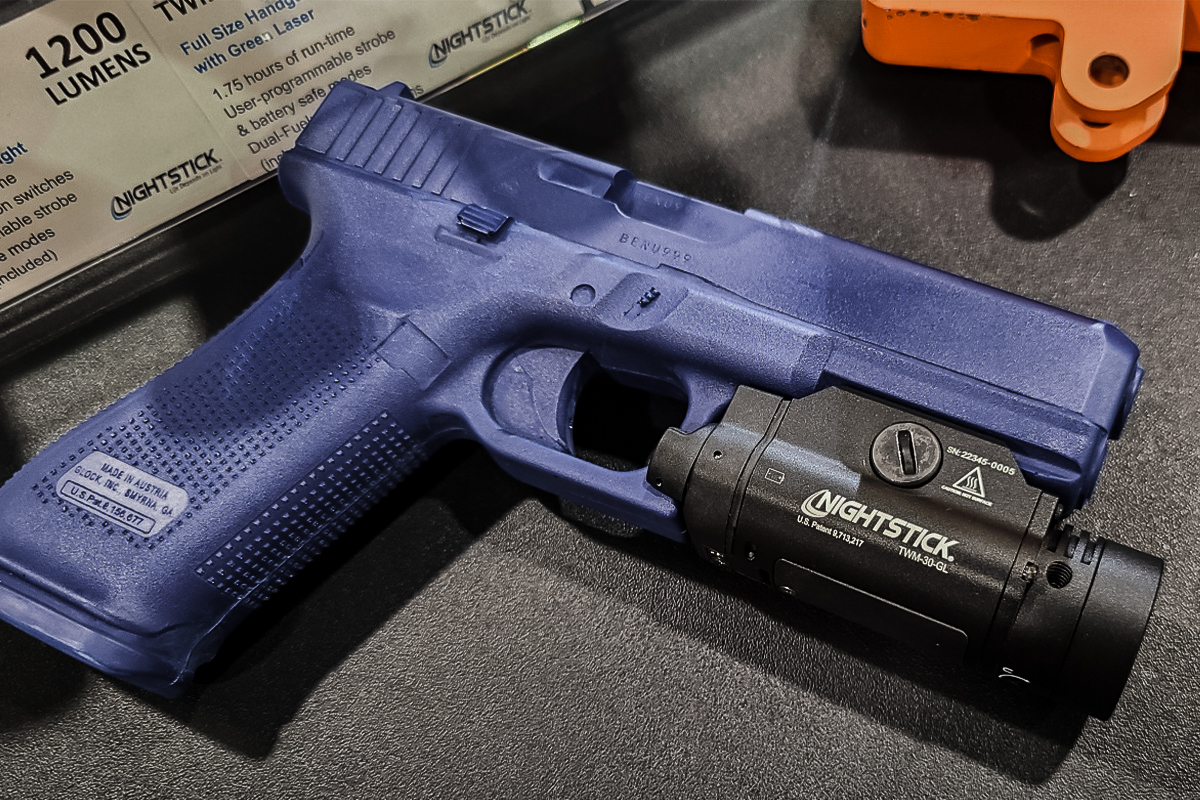 The Nightstick TWM-30-GL was designed with input from law enforcement officers who needed to run a weapon-mounted light and laser on their duty weapons. The problem was that once you added all the accessories, their sidearms wouldn't fit in a standard-duty holster.
Most laser/light combos have bulky protrusions that house the laser innards, which makes finding a sturdy holster that properly accommodates the exact light/laser an absolute nightmare.
Nightstick addressed the issue by shrinking the flashlight reflector to make space for the guts of the laser right inside the flashlight's main housing. It looks a bit odd from the front, but it totally works, and because there's less bulge and bulk to the light, it fits perfectly in standard light-bearing holsters.
This one hasn't hit the market yet, but it should be available soon.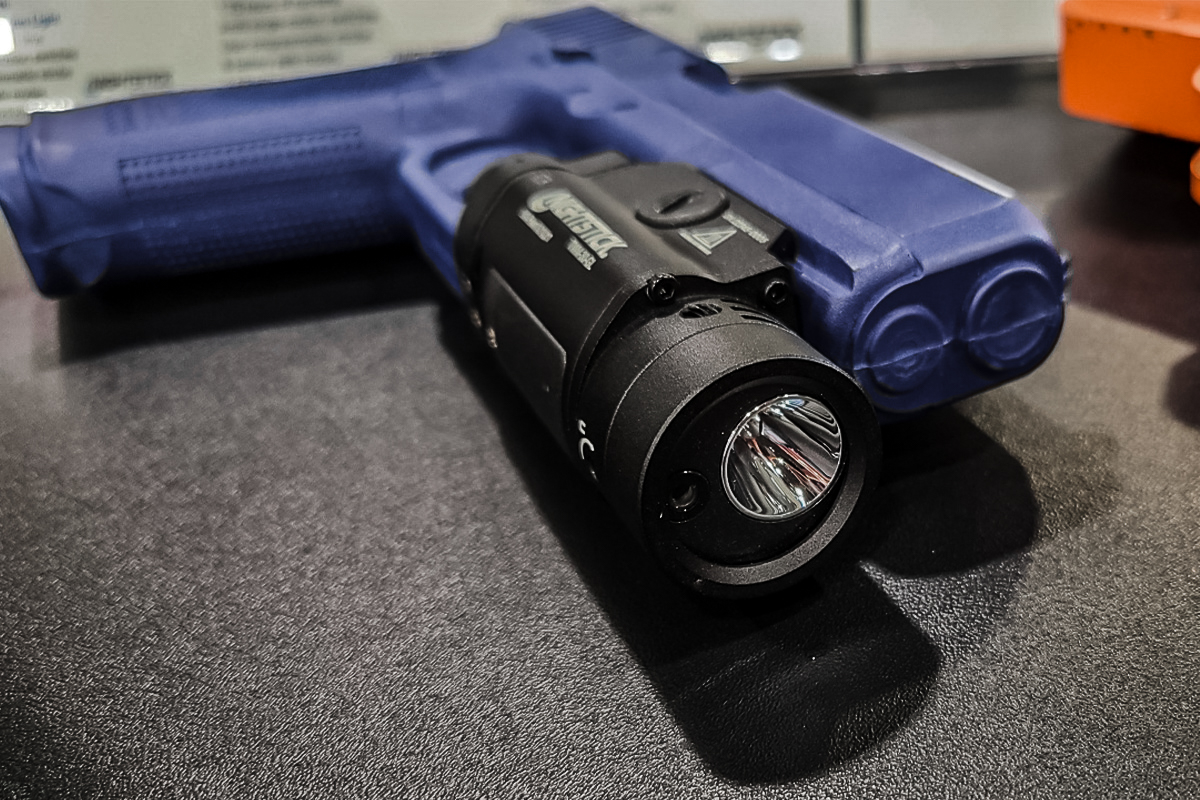 Specs:
Green light and laser combo
1.5-hour battery life
200m beam
1,100 lumens
10,000 candela
Runs on two CR123 or 16310 lithium-ion batteries
---
Price: N/A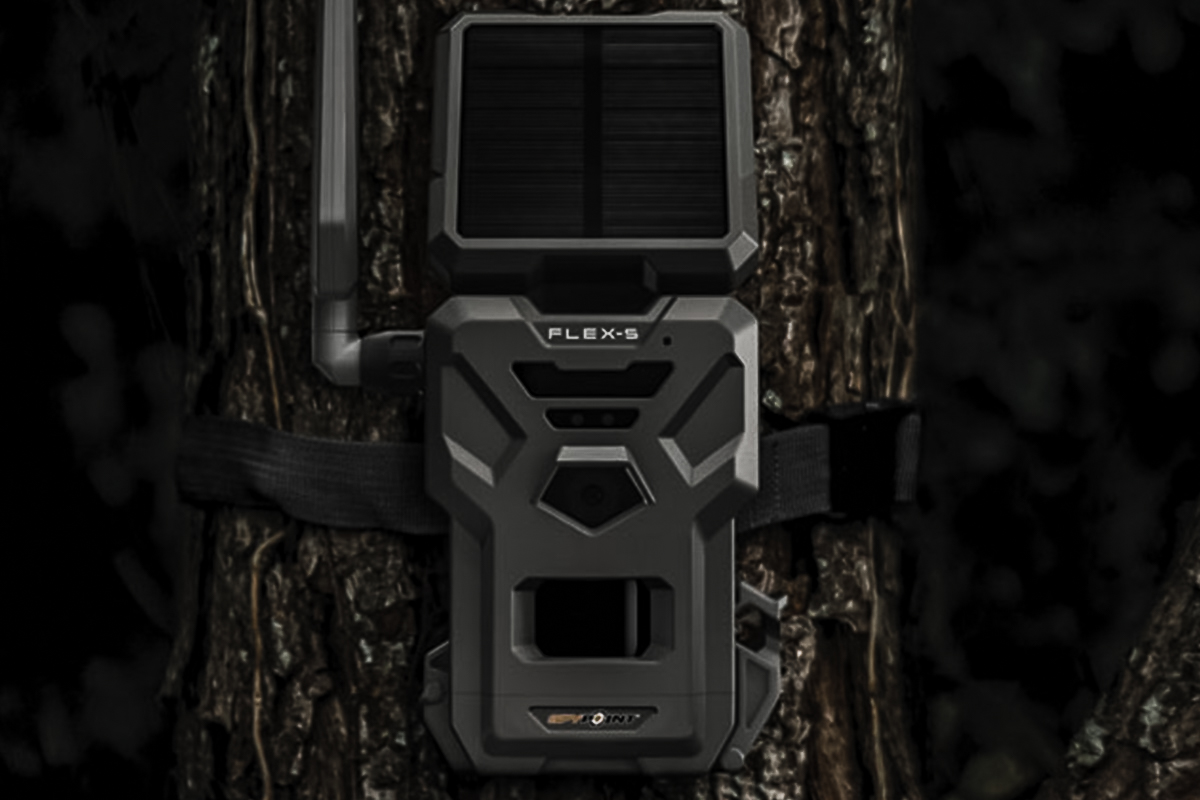 Trail cameras have come a long way in recent years. We no longer have to slog through muddy river bottoms or cut across prime deer territory (through the snow, uphill both ways) to check our cameras and collect SD cards.
Cellular trail cameras ensure that hunters can keep tabs on their hunting area without having to cover miles or mess up their hunting area in the process. Spypoint has been manufacturing cellular trail cameras since 2016, but their new FLEX-S takes remote surveillance one step further. The company added a solar panel to its popular FLEX model. The panel uses the sun to charge an internal lithium battery to keep your camera working longer than ever before.
The FLEX-S will be available to consumers sometime this summer and features multi-carrier auto-connectivity to ensure reliable reception, even in remote locations. — Alice Jones Webb
Specs:
33mp photos
1080p video with sound
Multi-carrier auto-connectivity
Optimized Antenna
0.3-second trigger speed
100-foot flash and detection range
Integrated solar panel
Rechargeable lithium battery
GOOD GEAR – Have the Perfect Gym Buddy With the BRCC Women's CAF T-Shirt
---
Price: $500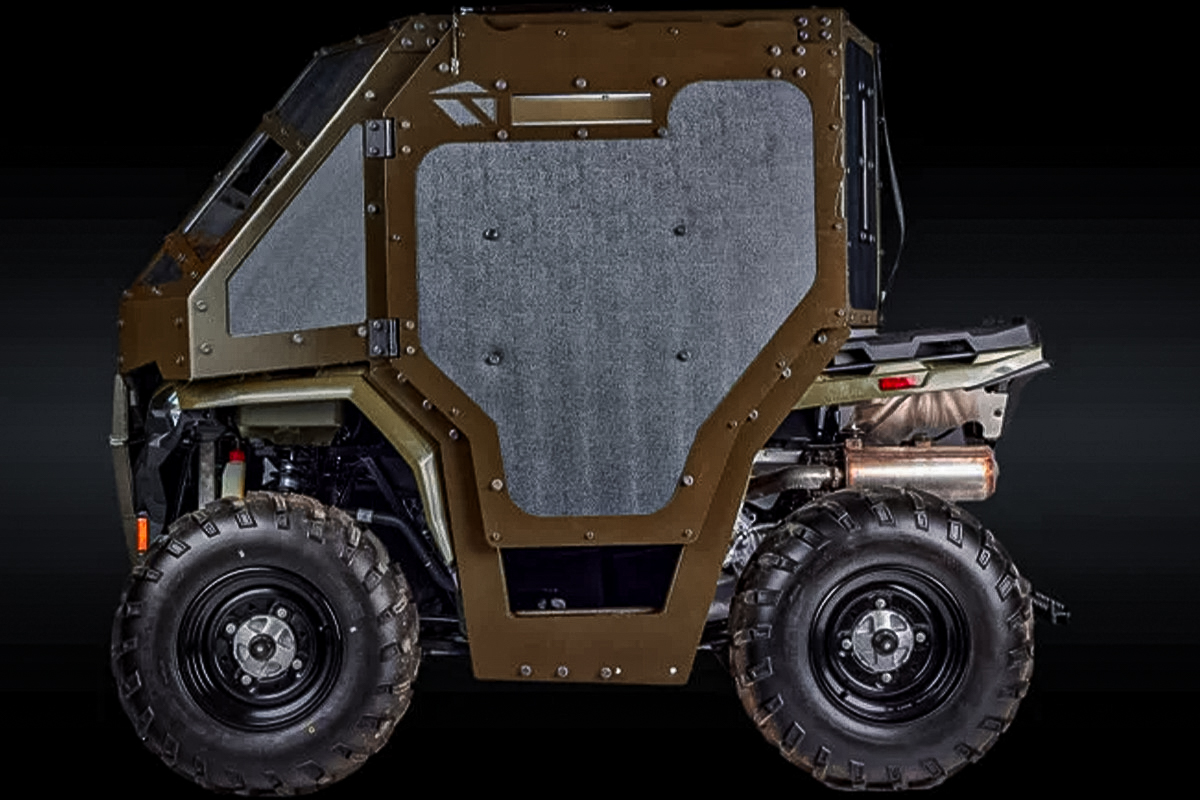 TC Burton Enterprises is a newcomer to SHOT Show this year, but their ballistic armor kit designed for ATVs is drawing some serious attention.
The company's patented LD-1 kit uses a high-tech, laser-cut steel exoskeleton and integrated NIJ III-capable ballistic panels. It installs easily and turns a single-rider ATV into an armored vehicle in less than an hour without compromising its maneuverability. Panels install are NIJ III-rated to stop cartridges up to 7.62x51mm, making it virtually impervious to both AR-15 and AK-47 rounds.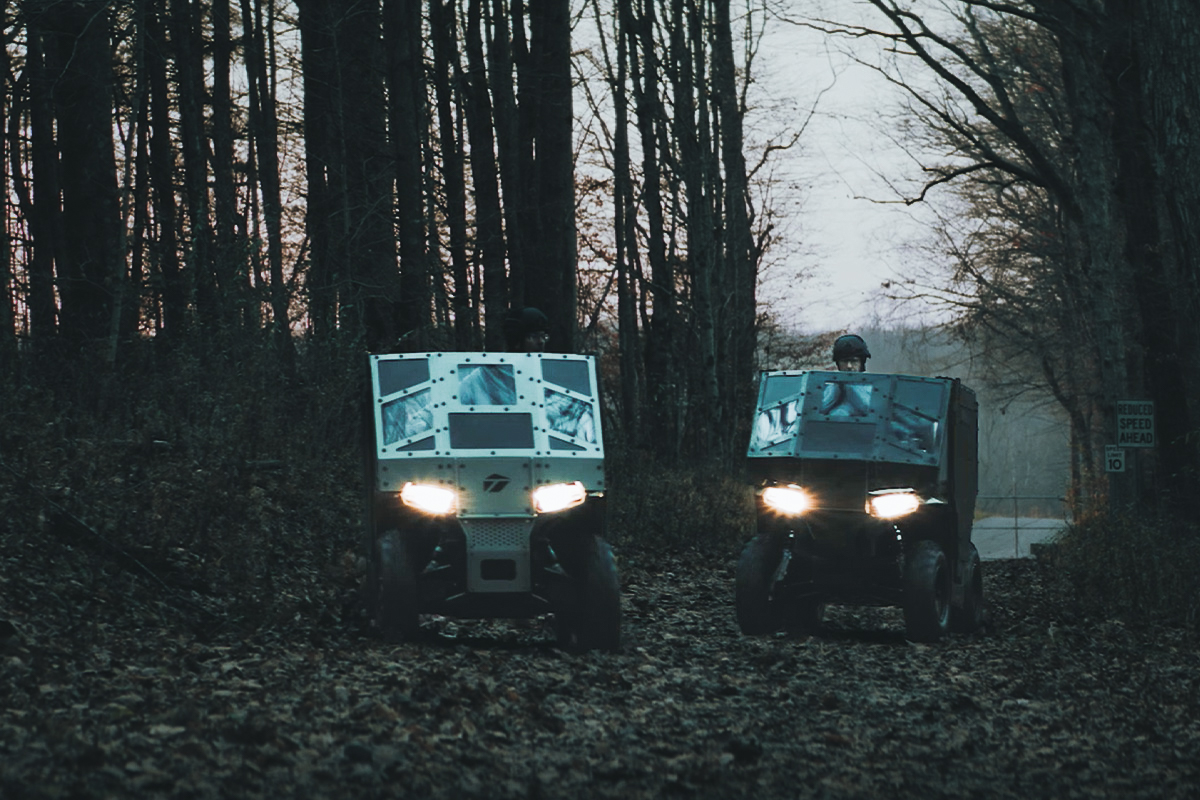 TC Burton engineered the kit specifically for law enforcement and private security personnel. However, you could also use it to take your hunting ATV to the next tacti-cool level. And with the way elk are attacking vehicles these days, you can never be too safe. — Alice Jones Webb
Features:
Made in the U.S.A.
Laser cut, steel exoskeleton frame
Installs in less than an hour
Fits common utility ATVs
Lightweight, replaceable panels
Offers ballistic protection on all sides (NIJ III)
Rated to stop up to 7.62 rounds
---
Vaultek DS2i Smart Station
Price: $480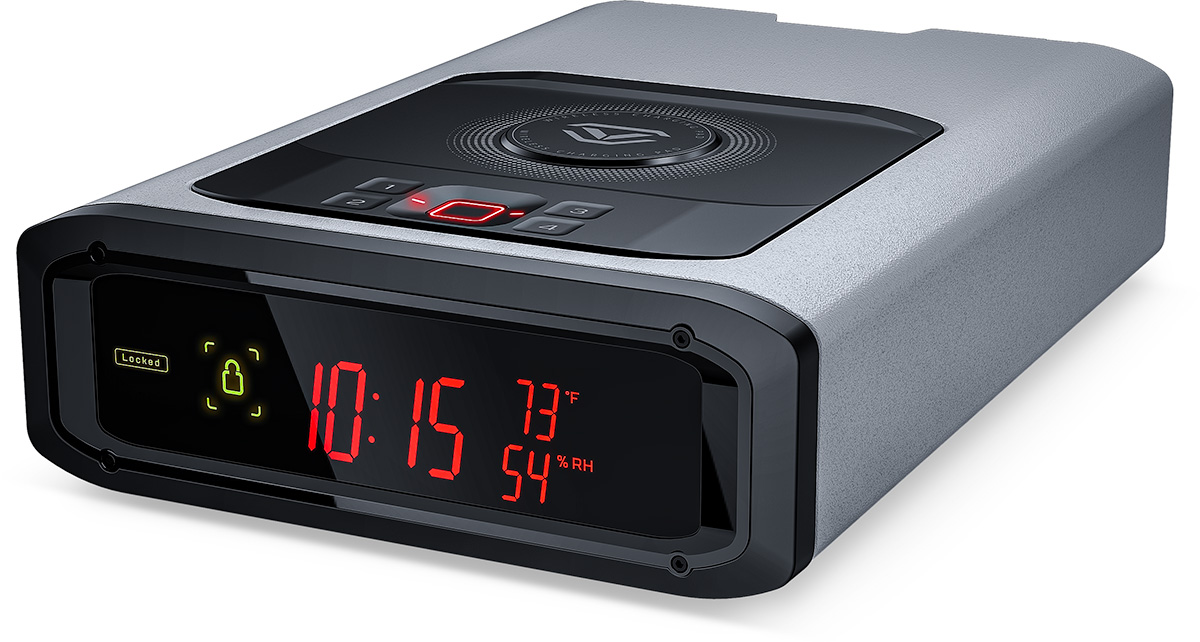 Vaultek calls the DS2i Smart Station a "state-of-the-art safe" and describes it as a "sleek, contemporary design." And that's objectively true! And it's useful in multiple ways. The smart station combines the functionality of a gun safe with the functionality of an alarm clock and a wireless charging station for your smartphone.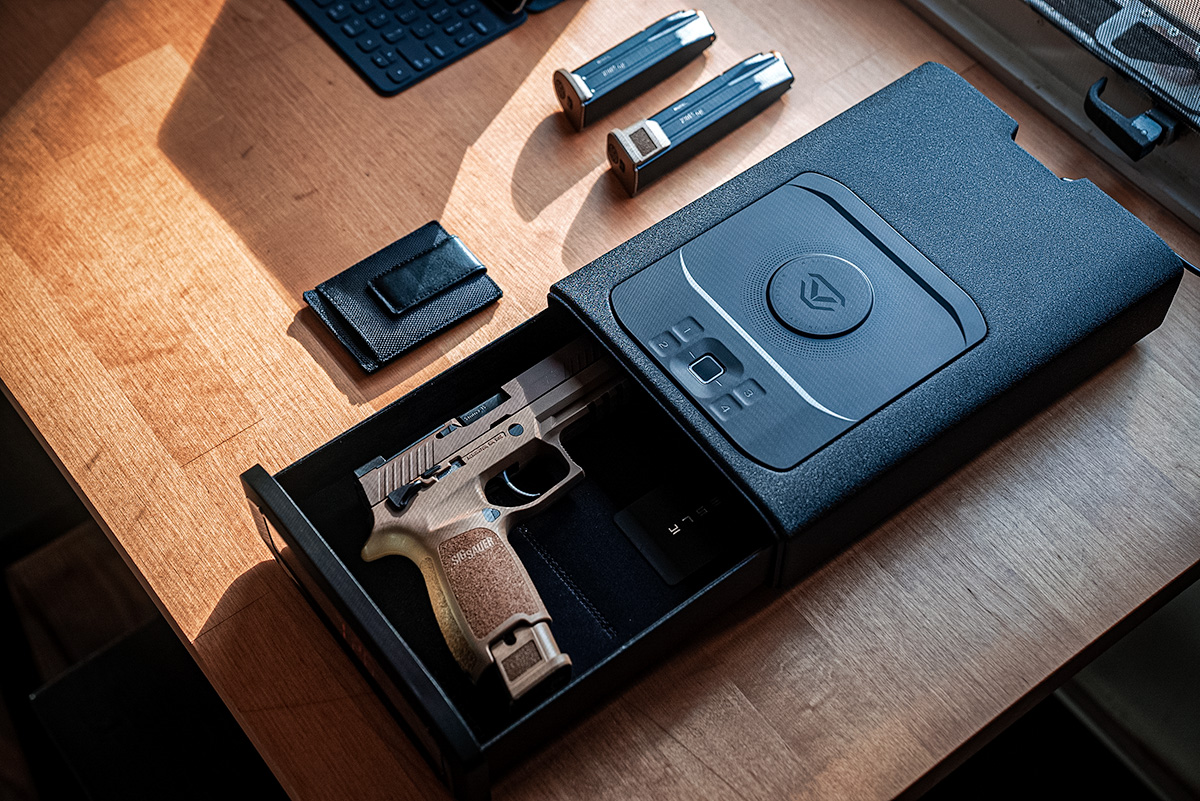 According to the product page, the DS2i features multiple entry methods such as a biometric scanner with 20-print storage, a keypad, and a backup key; a quiet auto-opening door; a digital touch screen that allows you to see internal temperatures; and a durable 18-gauge steel construction with multiple anti-theft designs that safeguard from prying and impact as well as a thick steel cable. It's also compatible with Vaultek's Nano Key, which works kind of like a panic button. You can hide it in a discreet location to open your safe.
Vaultek DS2i Smart Station Specs:
Exterior Dimensions: 12.125 x 8.25 x 3 inches
Interior Dimensions: 9 x 7.5 x 1.5 inches
Capacity: Pistol and magazine
Colors: Covert white, alpine white, and titanium gray
---
READ NEXT – Gemtech Gvac: The First' Suppressor Optimized' AR Upper