We could all use more training time with our firearms, and range bags are a great way to make that happen. When we finally get to the firing line, it's important to make the most of it. That means being efficient, organized, and prepared with more than the last box of ammunition at your local sporting goods store and whatever targets the person before you left behind. Once you're set up with proper ear and eye protection, a cleaning kit, and a few basic tools, you'll need a way to carry it all — that's where a quality range bag comes into play.
Keep in mind that there is no one-size-fits-all solution, and you'll probably end up accumulating more than one range bag. Duffels, totes, rifle cases, pistol cases, and range backpacks all have their place. Start your search by thinking about what you want to carry.
Are you bringing a shooting mat to push your Recce rifle to the outer reaches of accuracy? Do you need large pockets for easy access to shotgun shells on a sporting clay course? Maybe you want one bag to fit multiple firearms; we found some of those, too.
Note: Prices were accurate at the time of writing, but they may change.
---
Eberlestock Bang-Bang Range Bag
Price: $199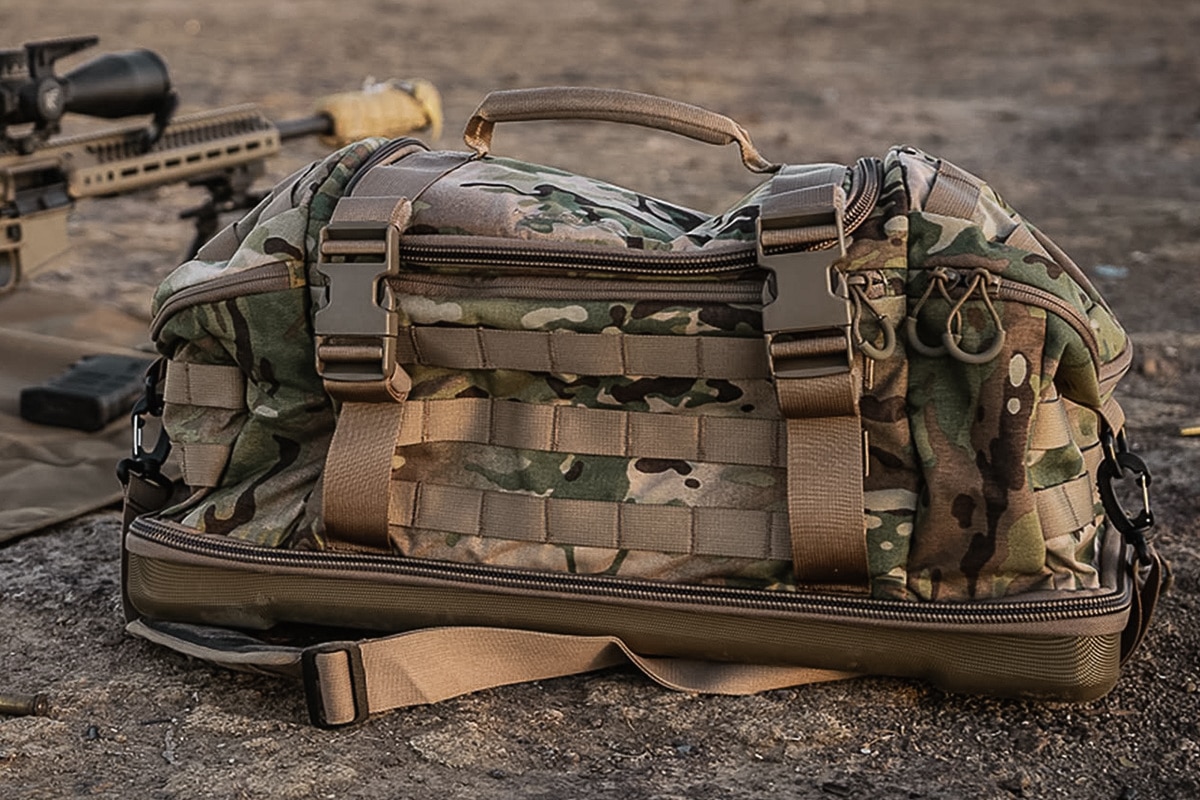 Volume: 33.8 liters / 2,062.5 cubic inches
Weight: 4 pounds
Dimensions: 10.25 inches high, 21 inches wide, 10 inches deep
Eberlestock has a reputation for making high-end hunting and tactical packs and apparel, but the brand has training covered, too. The roughly 34-liter Bang-Bang is actually one of the smaller range bags Eberlestock offers, but it's more than enough for most of us. The cavernous main compartment has plenty of room for large items, or you can use movable soft dividers to organize your gear.
Smaller end compartments are good for extra magazines and basic tools. If you need more room or want to mount a first-aid kit where it's readily available, there's quite a bit of exterior MOLLE. Several handguns will fit in the hard tray compartment at the bottom of the Bang-Bang — and yes, you can buy foam inserts individually if you want to reorganize down the road.
The Bang-Bang is fairly expensive at about $200, but it's large enough that you shouldn't need much else unless you bring a long gun. It really is a jack of all trades. If you spend several hours at the range, it's nice to have one bag that has everything from ammunition and safety gear to snacks and warming layers.
Quality materials and small details like oversized zipper pulls and magazine retention cords set this bag apart, so it'll probably remain your go-to range bag for many years.
GOOD GEAR – Do Epic S**t In The Tacticock T-Shirt
---
5.11 Range Ready Trainer Range Bag
Price: $145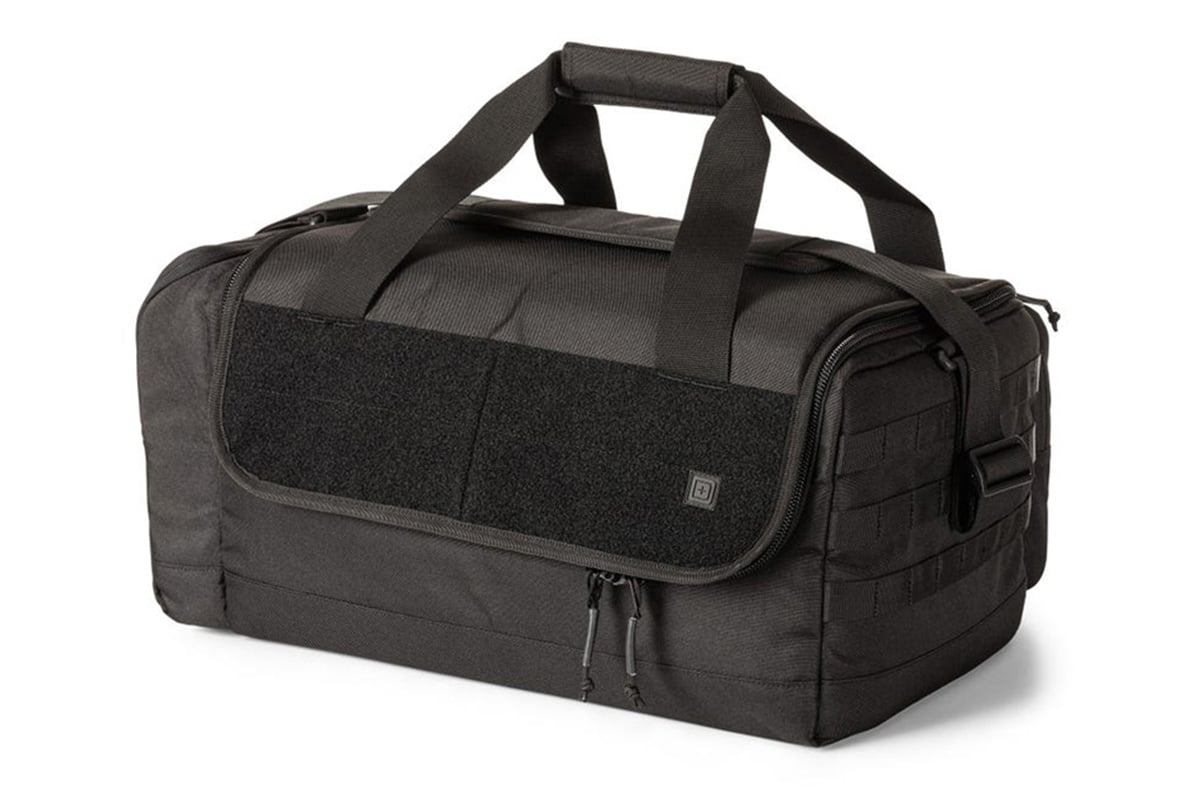 Volume: 50 liters / 3,051 cubic inches
Weight: 4.3 pounds
Dimensions: 10 inches high, 21 inches long, 14.5 inches deep
If you're the kind of shooter who likes to bring everything but the kitchen sink to the range, size is a priority and the 5.11 Range Ready Trainer Bag has plenty of it. This 50-liter range bag is perfect for bulky items like a shooting mat, spotting scope, and tripod. Long-distance and three-gun shooters will appreciate the extra space. Bring all the extra magazines, safety gear, and cleaning supplies you want. Throw in individual pistol cases and carry everything in one trip. The light tan interior means that your gear will be easy to see, even if you choose the black exterior.
Even though this large range bag has plenty of storage for tactical gear and can take a beating, it looks like any other duffel bag (in black, anyway). If you want to get multiple guns from your house to the range without someone trying to put you on a watchlist, this is a good way to go. There's little MOLLE and overt branding on the exterior, but the inside has all the removable dividers and elastic magazine holders you could want. Just be careful not to overload this bag. It does have a reinforced base, but filling this much space can get out of hand in a hurry.
RELATED – The Best Tourniquets: Experts Discuss the Trauma Kit Essential
---
Savior Equipment Specialist 36-Inch Range Bag
Price: $99.99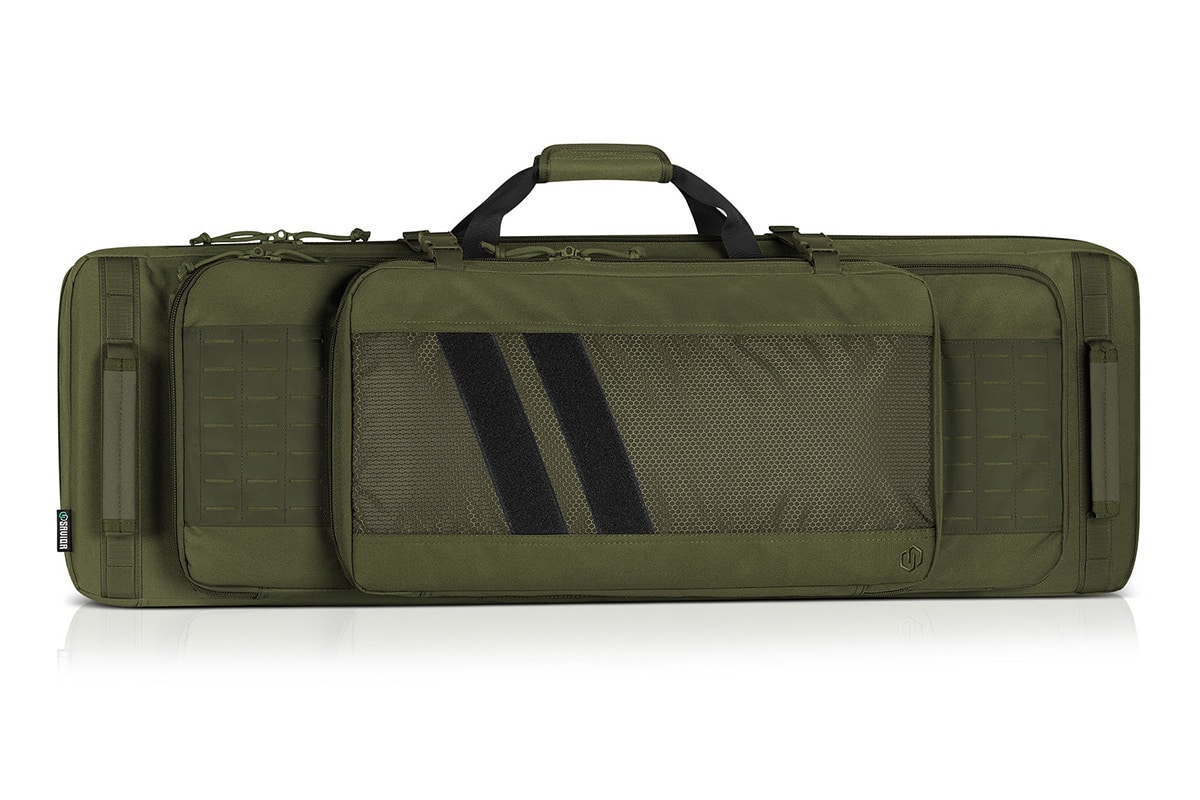 Dimensions: 36 inches long, 13.5 inches wide, 8.5 inches deep
Savior Equipment's American Classic and Urban Warfare rifle cases have set a high bar for a long time, but the Specialist series of range bags might have them beat. Like its predecessors, this 36-inch bag has room for two 34-inch-long guns separated by a removable padded divider and enough pockets for the rest of your range-day gear. What the Specialist series offers is a more understated exterior, a three-tier compartment setup that results in more room compared with previous models, and four pistol sleeves rather than two. Besides, this one has Velcro for your morale patches, and that's important because looking cool is paramount.
The downside of most tactical range bags is that you still need a separate case for long guns. This soft rifle case doesn't have quite as much room as a duffel-type range bag, but there's certainly enough room for the essentials. Carry this case by hand, sling it across your body, or wear it like a backpack with stowable shoulder straps. In addition to the 36-inches described here, there are 42-inch and 46-inch bags in green, tan, gray, or black. Be aware that finding the exact combination you want can require some patience. This range bag is a hot commodity.
GOOD GEAR – Fill Your Empty Velcro Spots With the BRCC Blackbeard's Flag Patch
---
Vertx COF Light Range Bag
Price: $174.99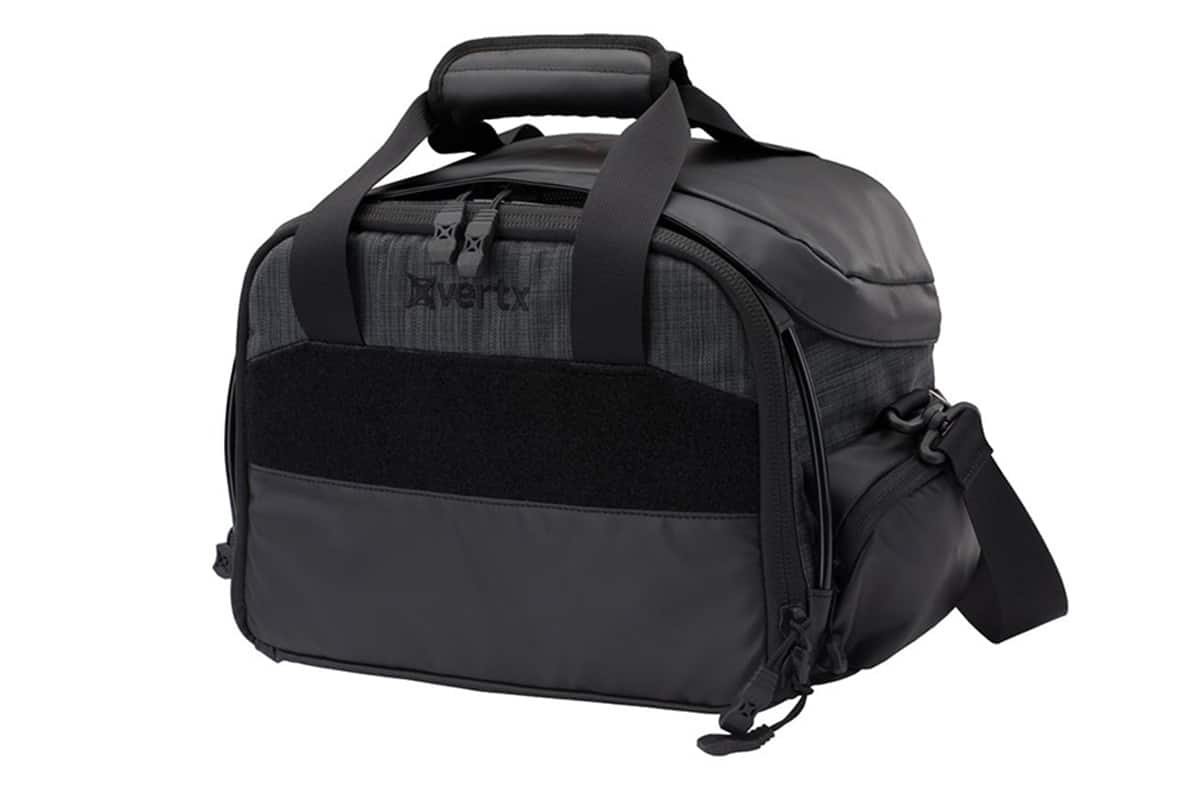 Volume: 9 liters / 549 cubic inches
Weight: 4 pounds
Dimensions: 10 inches high, 13.5 inches long, 7.5 inches wide
The Vertx COF Light Range Bag is great for shooters who want a smaller bag with premium features. The main compartment is fairly small, but there is room for earmuff hearing protection and ballistic glasses inside a case. This is also where you'll find a padded weapon sleeve. The front of the bag opens like a tackle box, providing access to a small zippered compartment and a removable ammunition tray. One of the best features is actually one you won't see; its internal frame makes the soft bag strong enough to support a full load so the main compartment won't collapse into the bottom when you remove the ammunition tray.
The COF Light Range Bag is ideal for shooters with one pistol and a few select pieces of gear. It's as low-key as a regular tote bag and small enough to keep the bay of an indoor shooting range uncluttered. If you need more space, Vertx offers the same features in the 15-liter COF Heavy Range Bag.
RELATED – First Look: The New Born Primitive Outdoor Apparel Collection
---
Savior Equipment Specialist Mini Range Bag
Price: $64.99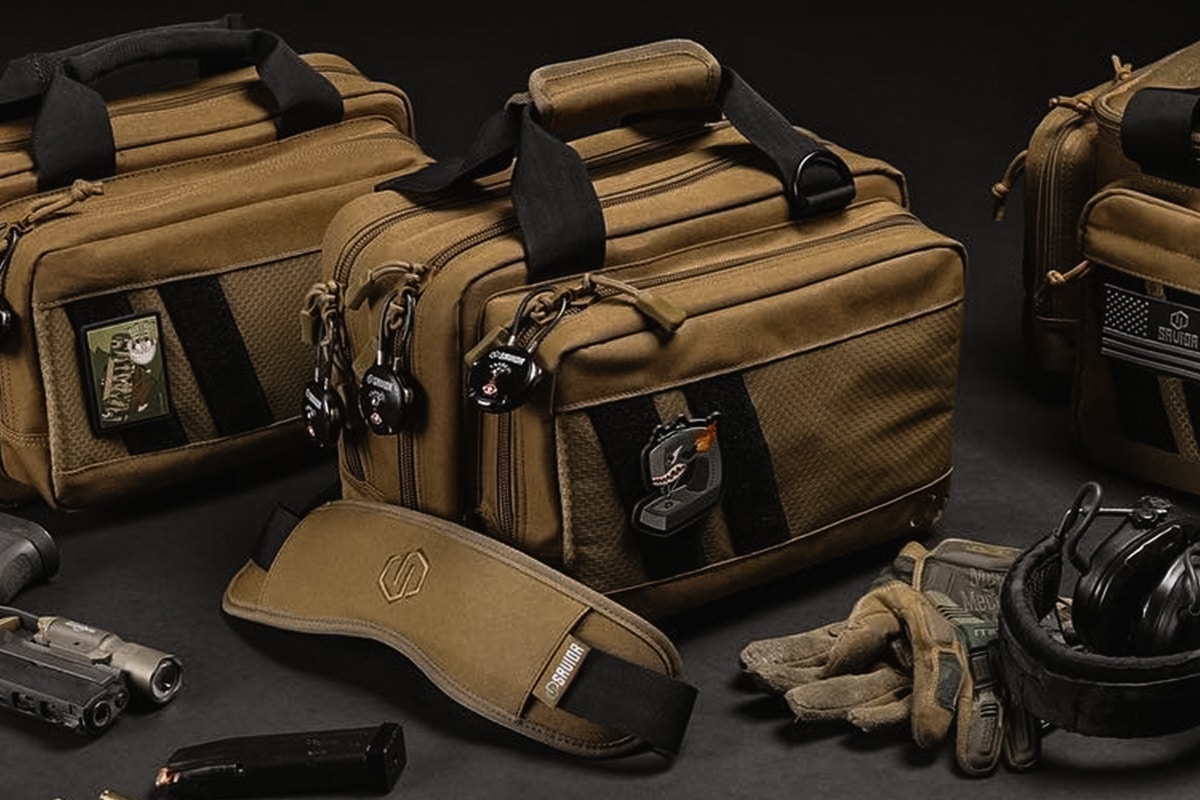 Dimensions: 13 inches long, 9 inches high, 8 inches deep
If you want a light, compact range bag, it's hard to do better than the Mini Range Bag from Savior Equipment's Specialist series. It picks up where the Specialist Pistol Case left off and adds a little more storage room. In addition to two padded pistol compartments, two removable gear pouches, and six magazine pouches, this range bag has two additional compartments for larger items like ear and eye protection, a cleaning kit, a medical kit, and tools. It uses the same 600D nylon, lockable zippers, and hook-and-loop panels as the rest of the Specialist collection.
As good as Savior Equipment's soft pistol cases are, they don't have enough room for much range-day gear. If you plan on training with a few pistols or have limited space at an indoor range, this range bag has a place for all the necessities without weighing you down like a lot of other tote-sized range bags. Savior Equipment really nailed it with the Specialist series, and the fact that these range bags are so affordable makes them that much better.
GOOD GEAR – Keep Your Coffee Tasting Its Best With the BRCC Fellow Carter Everywhere Mug
---
GPS Tactical Backpack
Price: $179.99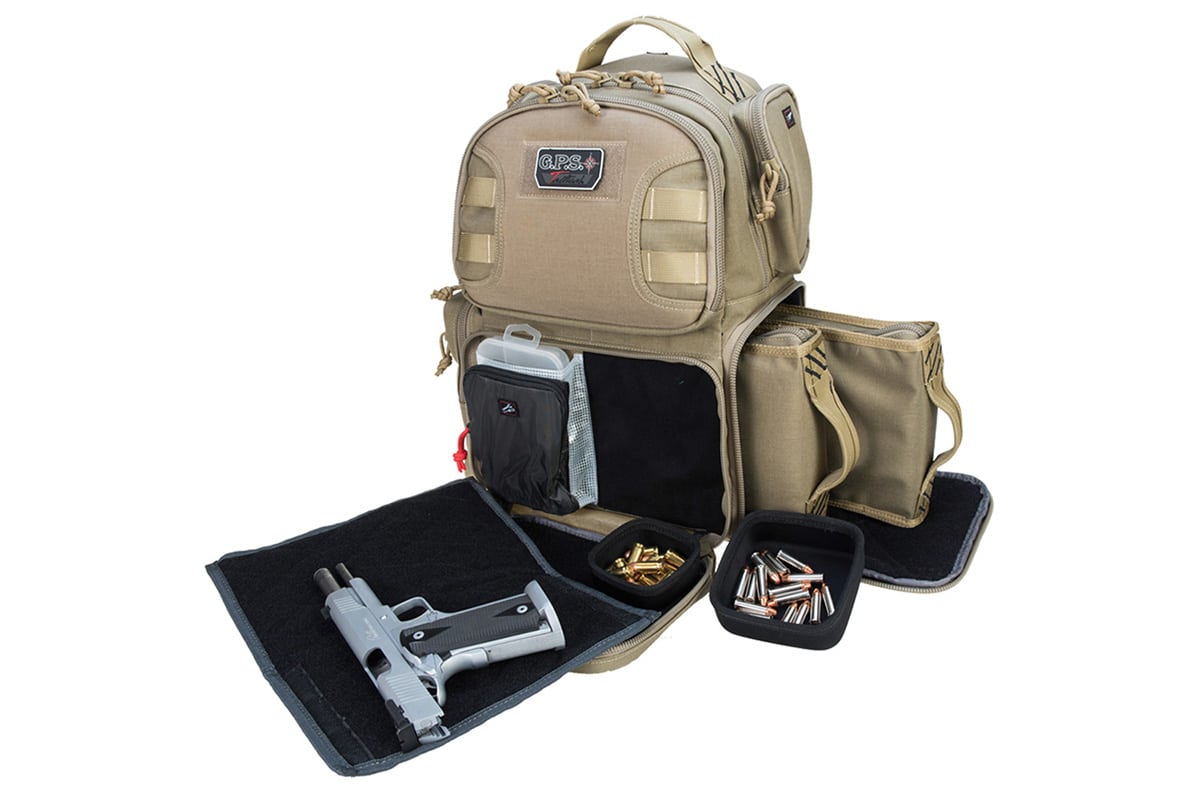 Going hands-free makes life a lot easier, and the GPS Tactical Range Backpack is our pick for those of you who cover a lot of ground during a day of shooting. If you're lucky enough to train outdoors in several firing positions, being able to throw all your gear on your back and cover the ground in a hurry is a huge advantage. This purpose-built backpack can keep all your gear organized, accessible, and protected while you're on the go.
A side-accessible bottom compartment has individual soft cases for two pistols. The top compartment has room for bulky items, and small pouches throughout have labels to keep things like shooting glasses, earplugs, and tools organized. One thing that's always a hassle is carrying paper targets, but this backpack has elastic retainers on the exterior, so you can carry a roll of targets without having to fold them up and cram them inside. The layout isn't as customizable as some of the other range bags of this size, but it's great for people who want to have a dedicated place for every item.
RELATED – Essential Gear for Perfect Backcountry Coffee
---
Eberlestock Sniper Sled Drag Bag 52
Price: $369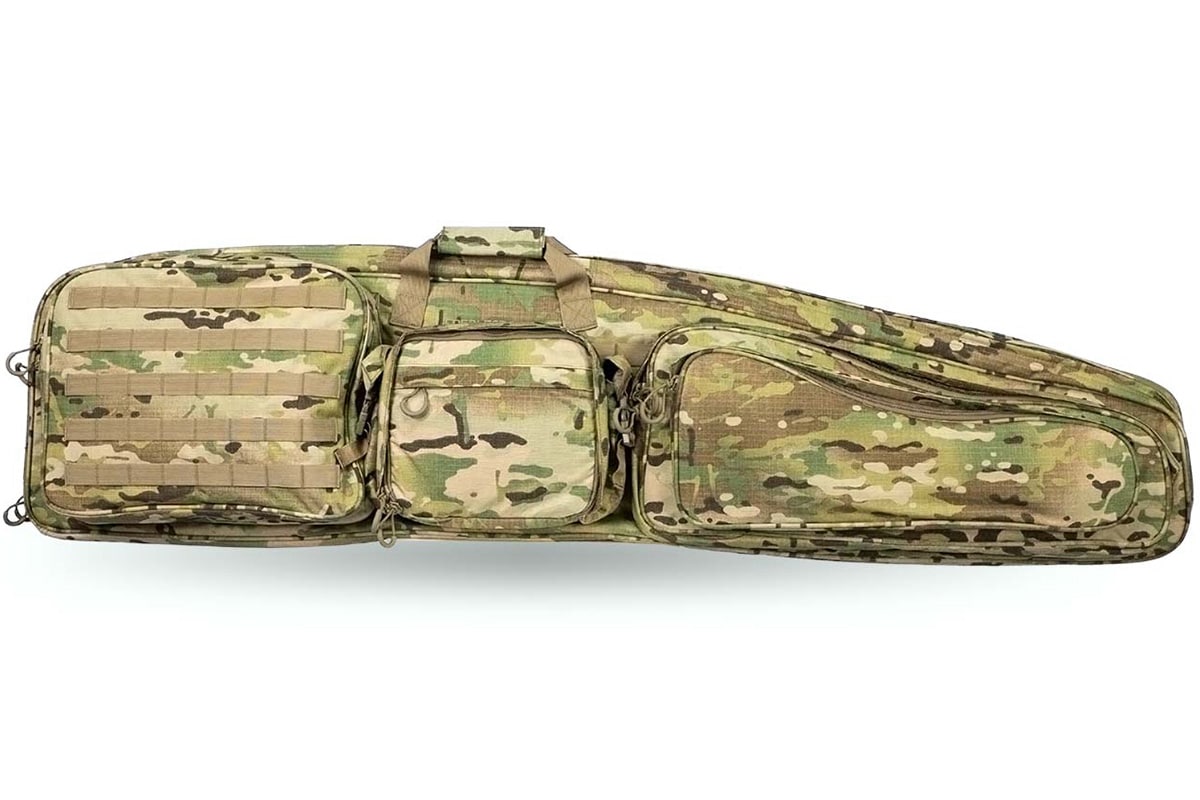 Weight: 7.6 pounds
Dimensions: 52 inches long, 14 inches wide, 2.5 inches deep
If long-range precision shooting is your thing, you probably find yourself sized out of most rifle cases and range bags. The market is full of people with 16-inch barrels on AR-15s, and sometimes manufacturers put the needs of people with longer rifles on the back burner. Eberlestock isn't most manufacturers, though. This drag bag accommodates rifles up to 52 inches long — a 57-inch version is also available.
Exterior pouches and MOLLE provide enough room for your range-day gear, so you should be able to get away with using this as your primary LRP range bag. It's designed for one rifle, but you might be able to fit two by using the fold-out divider to keep them protected. One nice touch is that once you open this drag bag all the way up, it becomes a shooting mat. It costs a pretty penny, but your expensive LRP rifle deserves the best.
GOOD GEAR – Embody the Ethos of the Quiet Professional With the BRCC Silencer Smooth Roast
---
Training Resources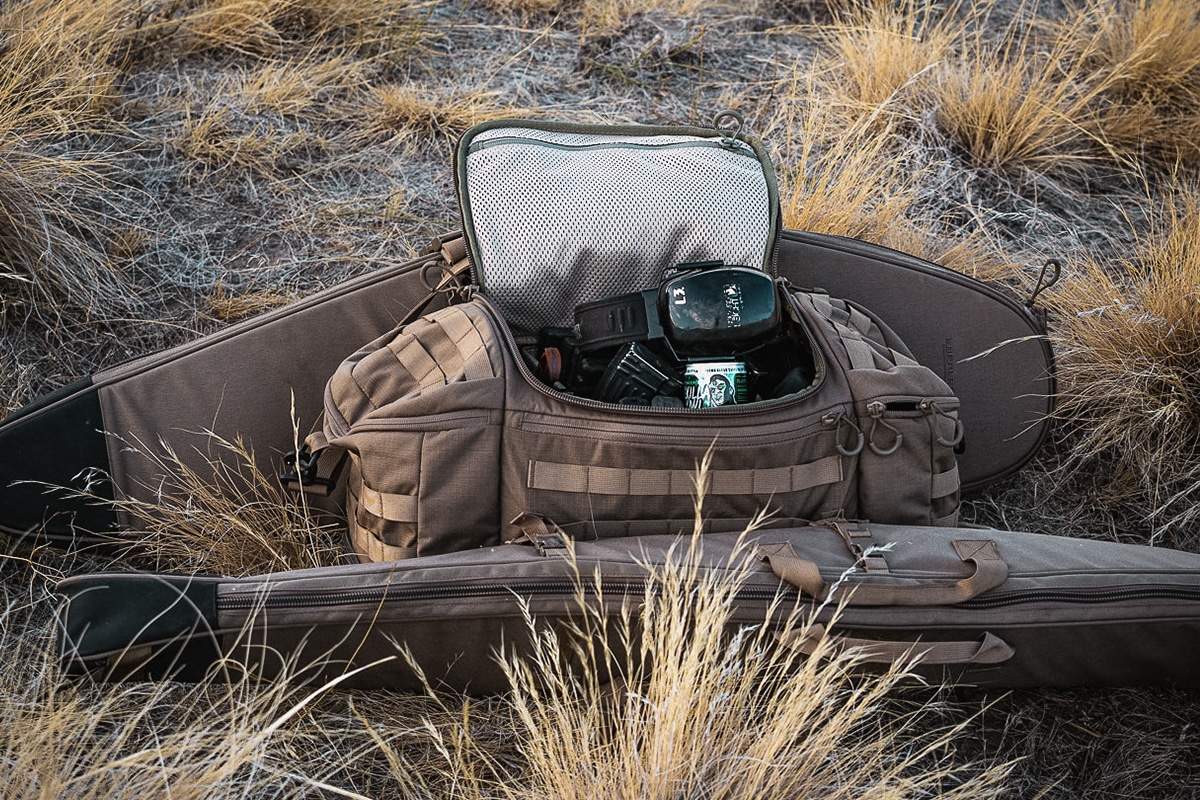 Packing List
If you need help making your gear list before you get too far down the rabbit hole, 5.11 Tactical has a great guide on how to pack a range bag. You may not need everything you see there, but it's food for thought.
Live Fire Drills
Stacking tight groups on bullseye targets from a bench produces some great pictures to show off, but it's not very useful from a training perspective. If your shooting range allows more dynamic training, use these live-fire drills to make yourself a more proficient shooter in realistic scenarios. If not, try to find another range.
DIY Targets
Don't get me wrong, I love the sound of ringing steel as much as anyone; but steel targets are expensive, they don't let you see exactly where each shot lands, and many ranges don't allow them. Get around those challenges by using this template to turn cardboard into IDPA silhouette targets. All those delivery boxes have to go somewhere, right?
---
READ NEXT – 5.11 Low-Vis EDC Packs Get Major Upgrades, Additions