The outpouring of support for the Ukrainian struggle against the ongoing Russian invasion continues in the United States, including American companies, law enforcement agencies, and individuals sending Ukraine gun donations and much-needed shipments of body armor.
Ukraine's foreign minister says more than 20,000 people from 52 countries have volunteered to fight Russian forces. The Office of the UN High Commissioner for Human Rights says 902 civilians have been killed, and another 1,459 have been wounded so far in the war in Ukraine, but also said the real totals are likely "considerably higher," according to NPR.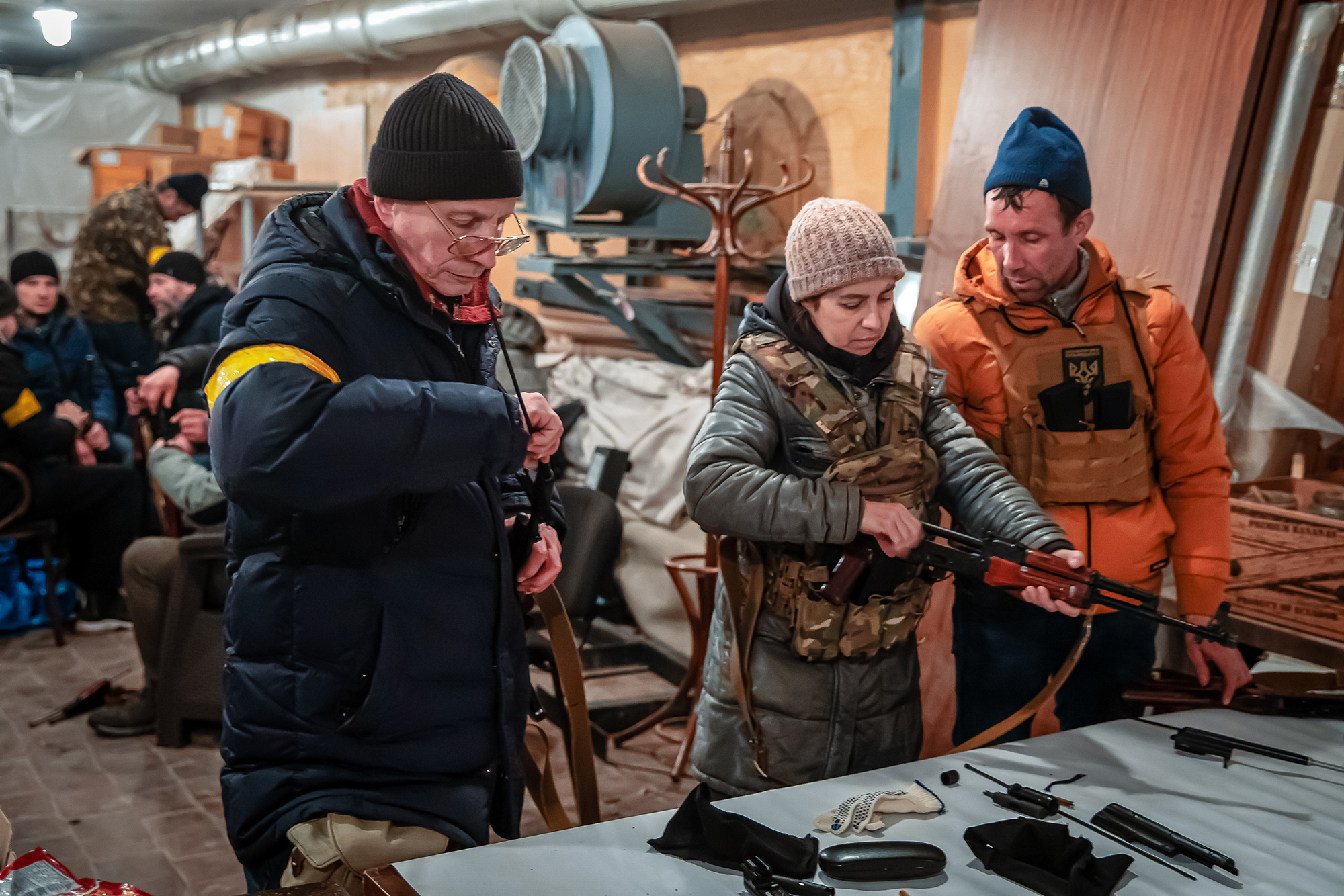 Last week Free Range American reported at least 2 million rounds of ammunition were headed to Ukraine from U.S. ammo makers. Now, many agencies, local gun stores, and individuals in the U.S. are endeavoring to equip those fighters and the Ukraine army with weapons and body armor.
RELATED – California Wants to Let People Sue Gun Shops, Spits Shade at Youth Rifle
---
400 Firearms From Florida
Florida-based gunmaker Kel-Tec was recently left with a $200,000 overseas order that couldn't be shipped. The guns remained boxed up on pallets because the longtime customer they were intended for in Odesa, Ukraine, suddenly dropped out of comms.
The company's director of industrial production and former U.S. Navy pilot, Adrian Kellgren, says Kel-Tec decided to send the shipment of 400 SUB2000 semi-auto 9mm pistol caliber carbines to Ukraine's resistance movement instead.
He said the company wants to help civilians fight back against the Russian military, which has been reportedly targeting apartment buildings, schools, hospitals, and known civilian shelters with shelling.
"The American people want to do something," Kellgren said. "We enjoy our freedoms, we cherish those things. And when we see a group of people out there getting hammered like this, it's heartbreaking."
"This is just right to get them over there, so they do what they were designed to do — defend their home and state," he said.

The firearms will head to a NATO country before being taken into Ukraine. What happens after that is up to the Ukrainian military, News Nation reports.
The SUB2000 is a folding semi-automatic rifle that Kellgren says is ideal for urban combat. Some might not think a 9mm carbine is adequate to go up against Russian military hardware, but Kellgren says the firearms can certainly help if they get into the right hands.
"The only thing that's going to make a difference, in this case, is the people using them," he said.
Kel-Tec is hoping to send more guns to Ukraine since it holds a license for exporting up to 10,000 firearms, Newsweek reports.
RELATED – Send Lawyers, Guns, and Money: Hunter S. Thompson and Firearms
---
Ukraine Gun Donations Drummed-Up in New York, Kel-Tec Helping to Get Them There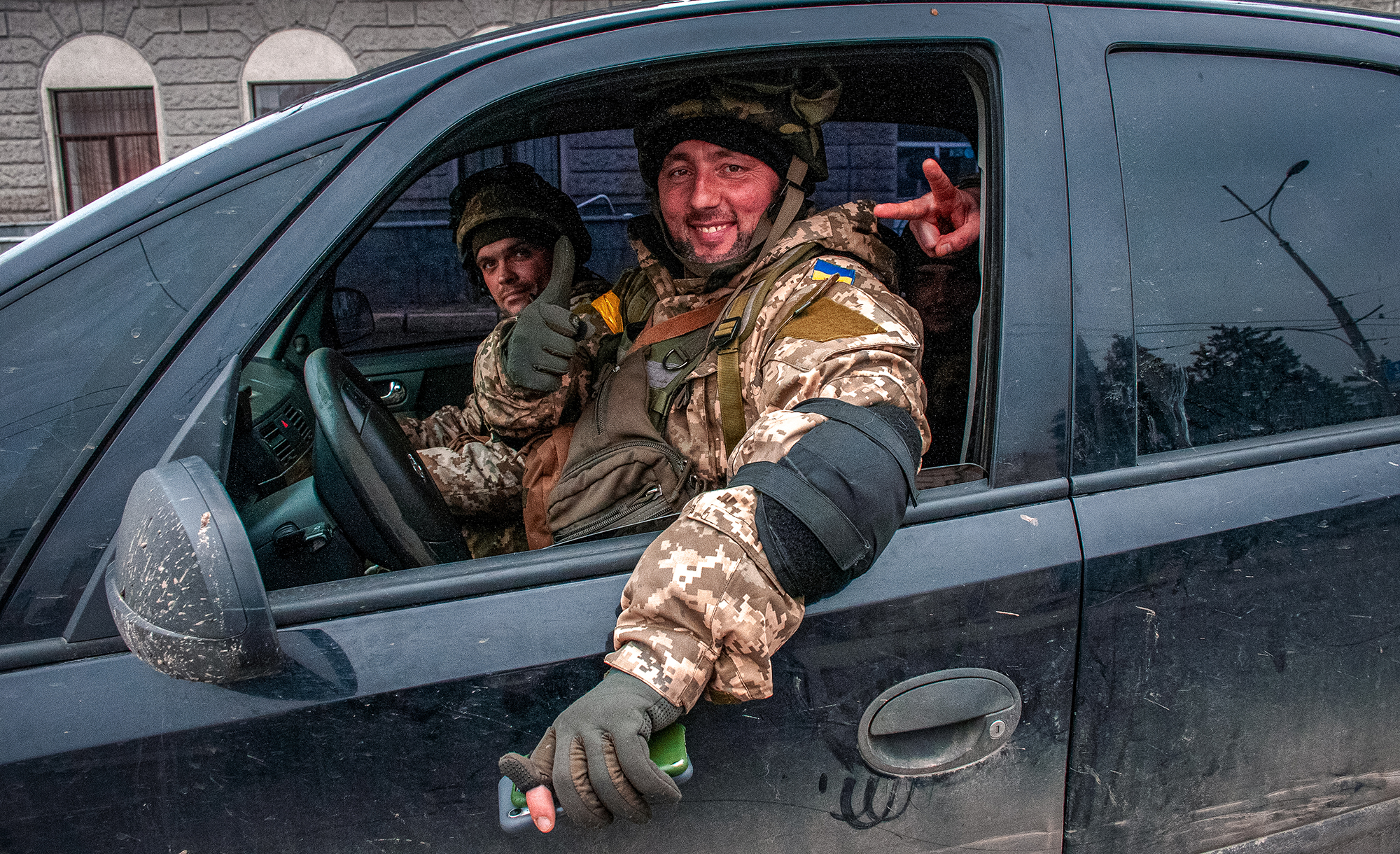 Newsweek and Fortune magazines report that multiple gunmakers in the U.S. have made efforts to provide Ukrainians with firearms and that plenty of gun shops and private citizens have been trying to contribute to the cause in a grassroots movement to arm Ukraine.
A gun shop in Long Island, New York (presumably SP Firearms Unlimited on the Hempstead Turnpike) recently announced it would send dozens of rifles to Ukrainian resistance fighters collected in a local gun drive.
The drive was inspired by Nassau County Executive Bruce Blakeman, who says he bought an AK-47 rifle last week to be donated to Ukraine, according to NBC, and then encouraged his fellow New Yorkers to donate "unloaded, legal long guns" via the Long Island gun shop.
"The Ukrainian people want to protect themselves, so let's give them the resources to do that," said Blakeman, a descendant of Ukrainian immigrants. "President [Volodymyr] Zelenskyy has been begging for help, begging for weapons. How can we sit by silently?"
Once collected, actually getting firearms to Ukrainian resistance fighters has proven far more complicated than boxing them up and slapping on a FedEx label — that's has been the bottleneck in the process.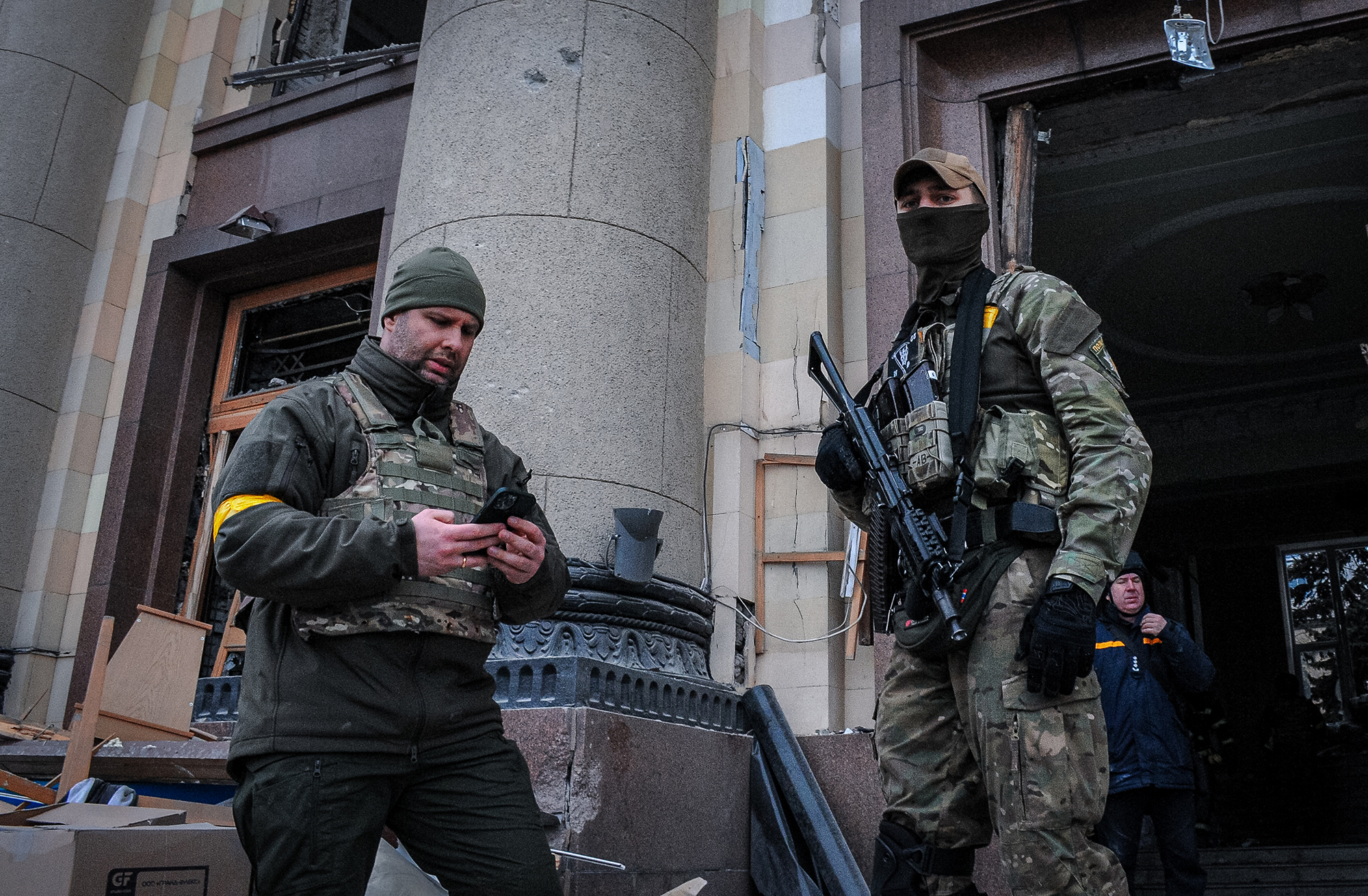 "The question is, how will you get the things there? It's not easy to get things into the country like that," said Congressman Tom Suozzi, who added that his concerns about the plan are practical, not partisan.
"It's a long process to get that done, so that's why we're asking for help from the federal government," Blakeman said. "Time is of the essence. It's life and death. That's why we need help."
Rep. Andrew Garbarino's office said it has "contacted the White House to inquire about how providing the collected guns to Ukraine might be possible."
A spokesperson for the Department of Homeland Security (DHS) told NBC that it would have to approve any such weapons shipments. Blakeman said he has not reached out to the State Department on the matter but noted that any donated guns that don't make it to Ukraine will be returned.
"We will collect 'em. President Biden, you get 'em there," Blakeman said.
Indeed, the red tape seems thick for anyone without established export channels to Eastern Europe.
But it looks like Kel-Tec may have the answer.
Since the family-owned company has dealt with international export regulations for years, and because a Ukrainian neighbor of the Kellgren family connected them to a Ukrainian diplomat, the gunmaker is having a much easier time getting its firearms where they need to go.
Kel-Tec says it was able to have three federal agencies expedite the approval of its 400-gun shipment in only four days; that process would typically take four months. That success inspired Blakeman, and Nassau County officials asked to attach their guns to the company's Ukraine shipment.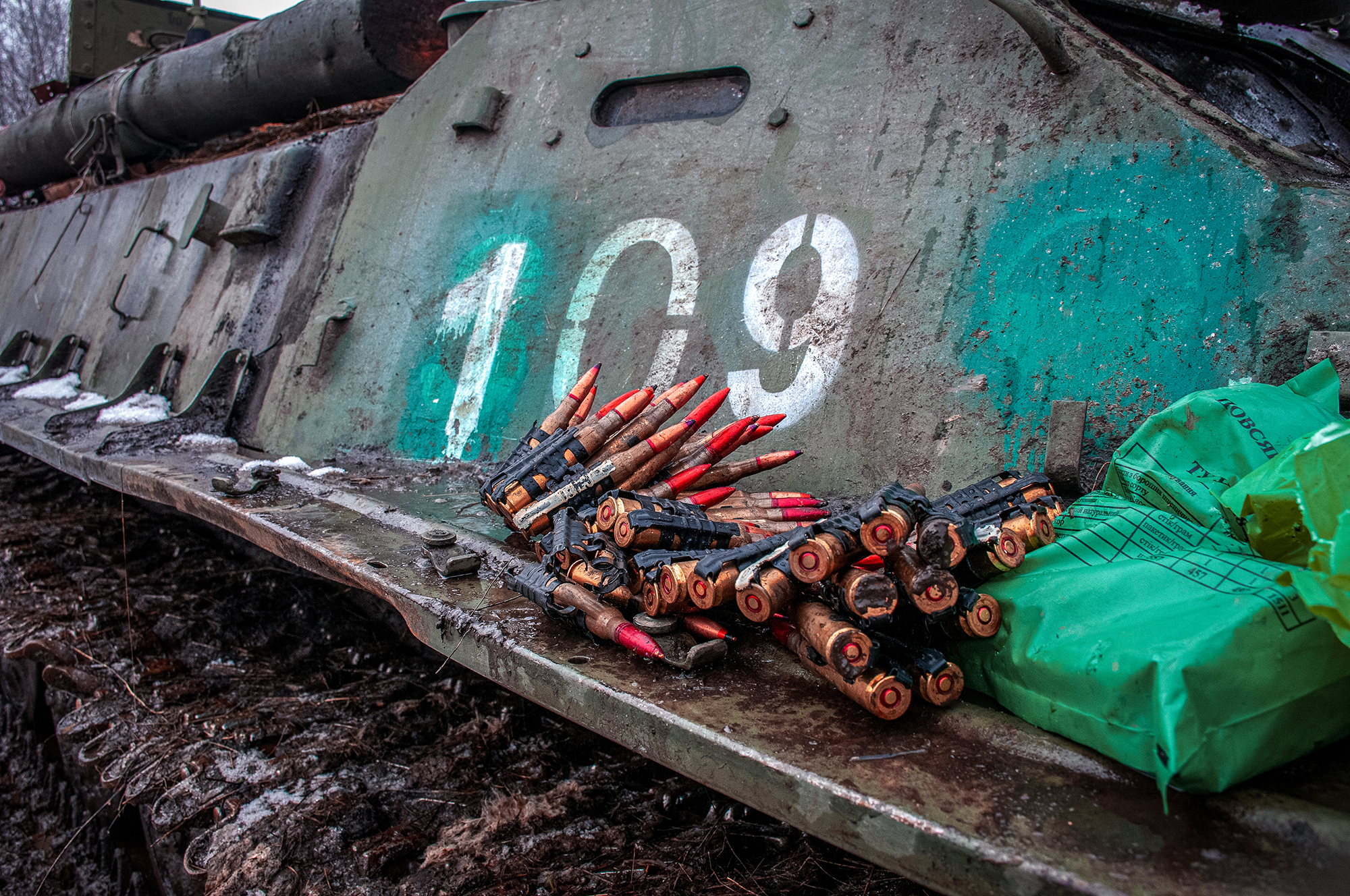 "Now that we know there's a way to do it, we can get tens of thousands of weapons over there, maybe hundreds of thousands of weapons," Blakeman said.
Kel-Tec told NBC it hopes to create a blueprint to allow other U.S. gunmakers to expedite more gun shipments to Ukraine.
"We're trying to create those connections so a free people can have their voices heard in a very effective way," Kellgren said. "There are vectors for us to help these causes and not just look away from the human meat grinder that's happening."
So if you're a gun company or gun shop and you want to donate hardware to Ukraine, talk to the folks at Kel-Tec.
RELATED – Meet Olympic Biathlete 'Lanny Oakley,' Who's Gone Full Tactical
---
Law Enforcement Across the Country Donating Body Armor and Helmets
Meanwhile, many law enforcement agencies and organizations across the country are donating body armor and ballistic helmets to be used by Ukrainian fighters, which are a little easier to ship, logistically, than firearms and ammunition and just as needed.
The state of Colorado has collected 1,300 ballistic helmets and nearly 1,300 complete sets of surplus body armor from local law enforcement agencies that will be sent to Ukraine.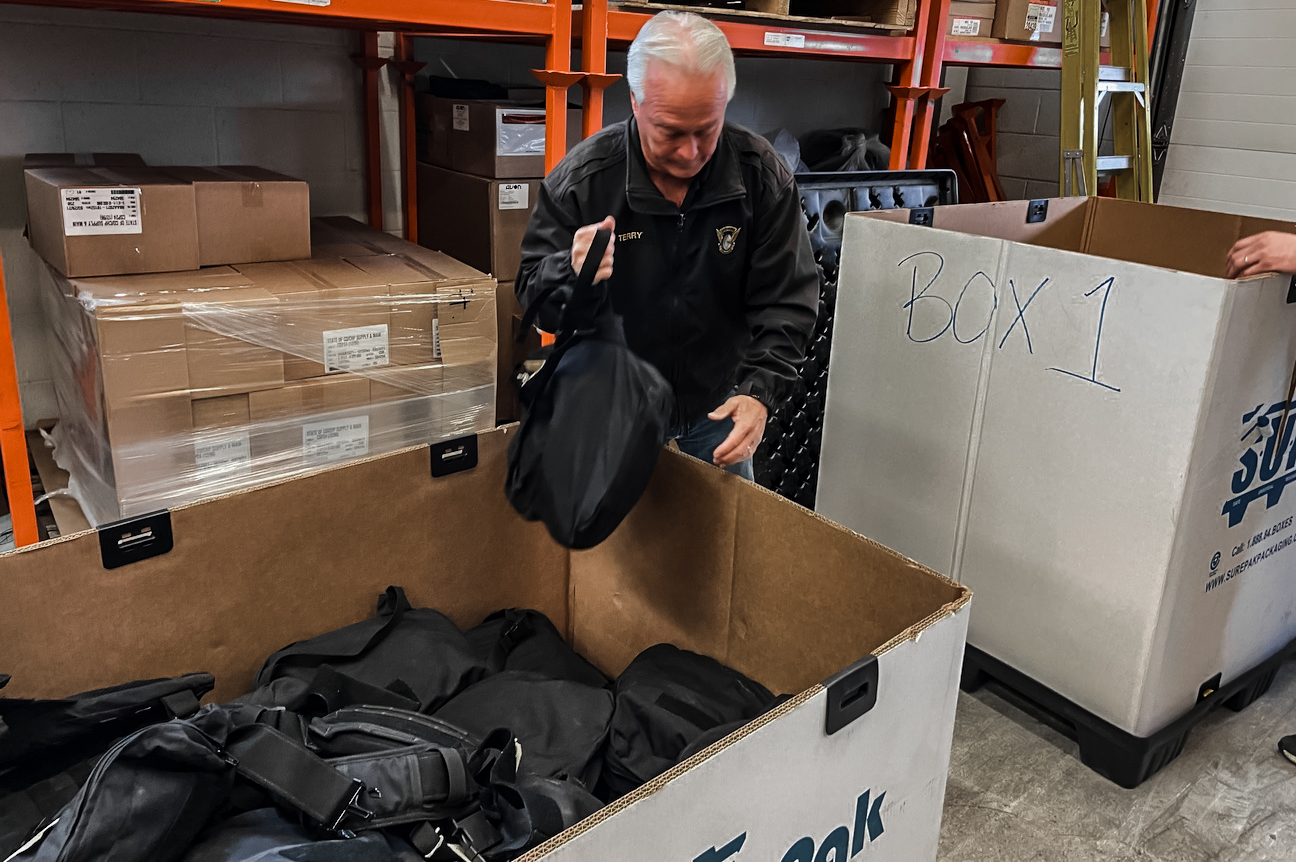 "We are doing everything we can to support Ukraine's fight for freedom, and this surplus body armor is urgently needed to help save lives, stop Putin's ruthless aggression, and save Ukraine," Gov. Jared Polis said in a statement last week.
It only took a week for those donations to come in after Polis announced that his administration and the state's Department of Public Safety and Department of Military and Veterans Affairs would be working to collect and send the excess equipment to Ukraine.
The gear came from more than 25 local law enforcement agencies. Body armor donations were not accepted from the general public so that safety standards could be ensured, according to Colorado News Online.
The Colorado Department of Public Safety was the largest single donor of equipment, contributing more than 750 helmets and 83 sets of body armor. Colorado Springs was the next largest donor with eight helmets and 194 sets of body armor.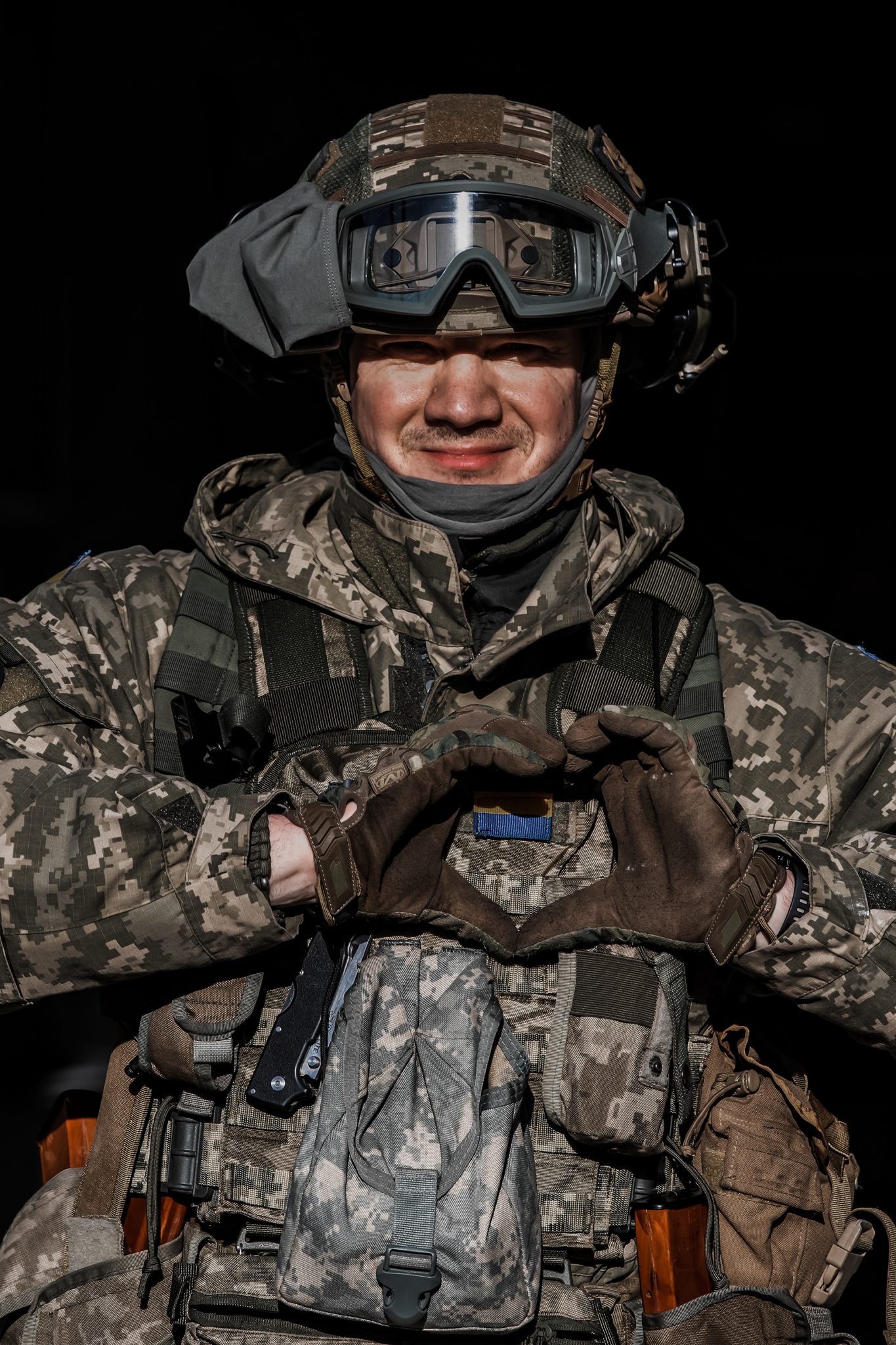 Smaller departments are also donating what they can. The Fountain Police Department, located in Fountain, Colorado, donated 15 sets of body armor and 40 ballistic helmets for the cause.
"The Ukrainian people are fighting for the survival of their sovereign nation," Polis wrote in a letter to law enforcement agencies. "We have an opportunity to help save lives in this battle for democracy."
But Colorado isn't alone.
The Vermont State Police department is continuing to collect donated body armor for Ukraine. As of the end of last week, it had more than 100 vests ready to ship that were donated by law enforcement agencies and members of the public throughout March.
The department says more body armor is expected to arrive before tomorrow's deadline for donations, which are being accepted at the 10 state police barracks across Vermont.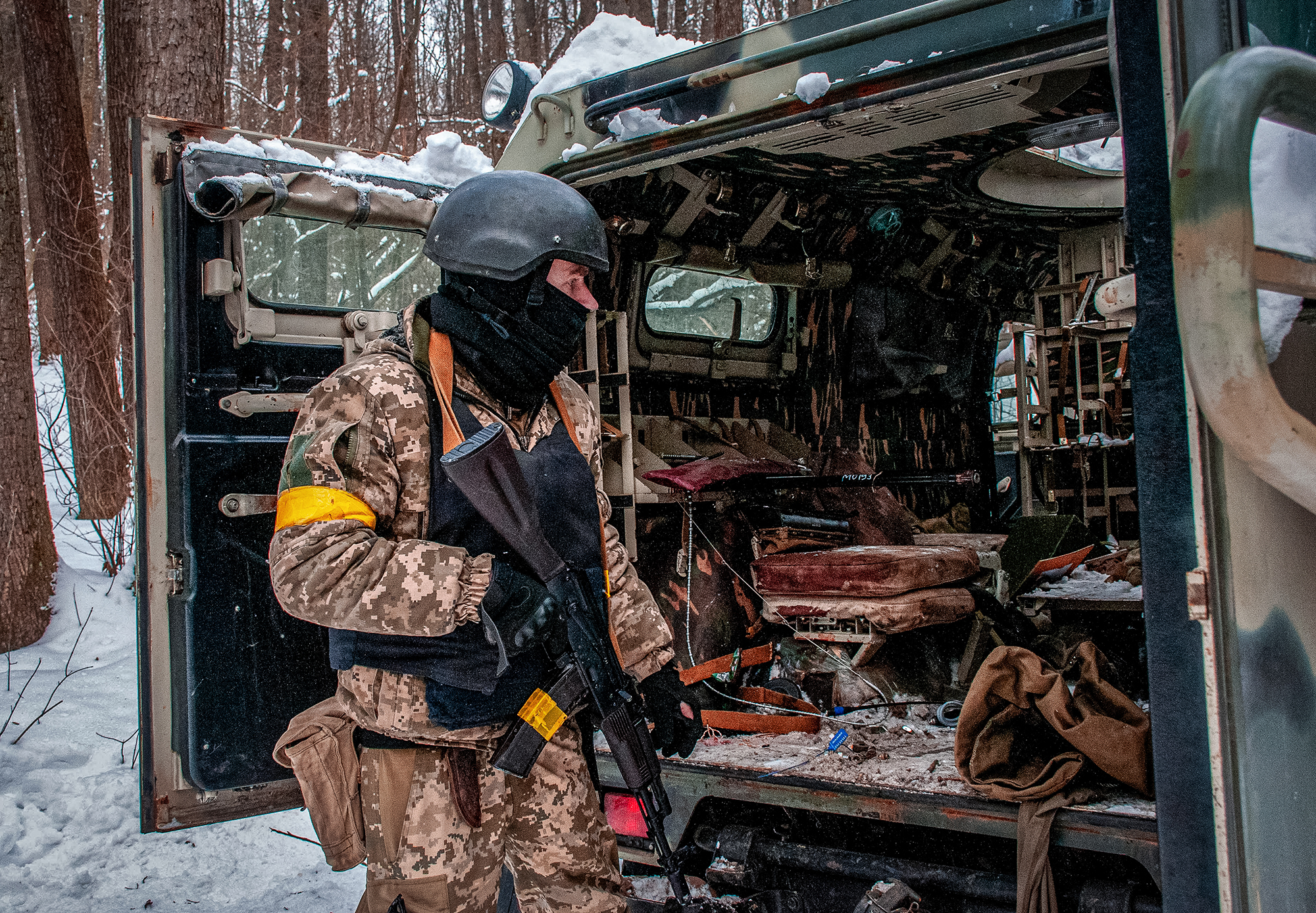 While some of the body armor has been used (meaning it has been worn or is expired, not that it has been shot), the Associated Press reports it is all rated Level III or higher.
West Virginia Gov. Jim Justice recently announced his state, in conjunction with the DHS, is also collecting used or recently expired ballistic vests (which still offer protection) from the state's law enforcement agencies.
Ohio Gov. Mark DeWine and the Ohio National Guard asked state law enforcement agencies to inventory their protective gear and allocate any surplus equipment for donation to Ukraine, according to Cleveland 19 News.
Blakeman's gun collection efforts in New York have been bolstered by a donation of 450 pieces of body armor donated by Suffolk County Sheriff's Office to the Long Island Ukraine Emergency Response Drive.
Suffolk County Executive Steve Bellone and the County Police Commissioner Rodney Harrison donated more than "750 decommissioned bulletproof vests to be sent to Ukraine."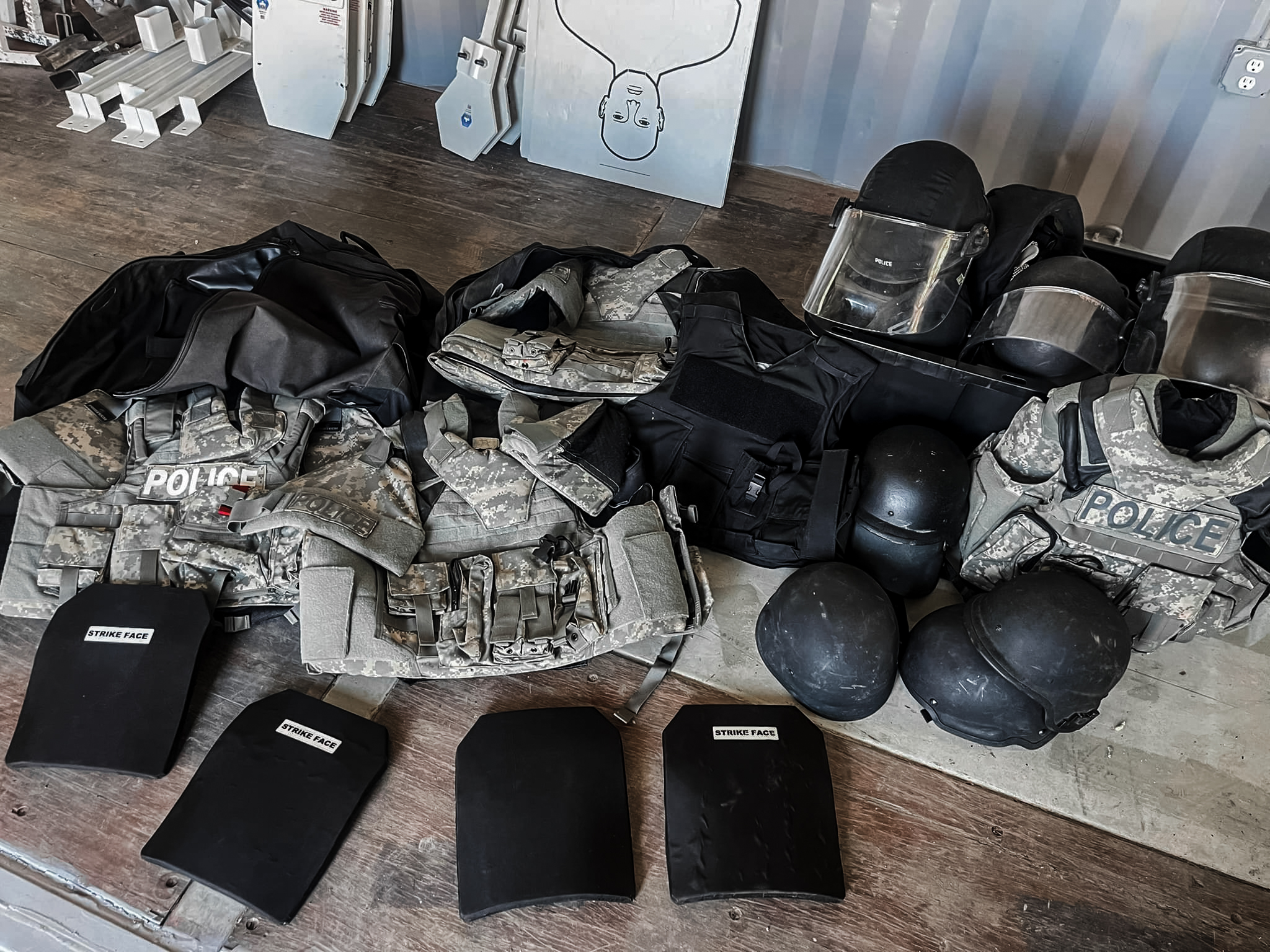 On the opposite coast, the Greenfield Police department in California is one of the latest West Coast law enforcement agencies to donate gear to the Ukrainian army. The department announced on Facebook that it is sending 17 helmets and 15 vests to the California Office of Emergency Services, which would then ship them to Ukraine.
"We are extremely grateful to be able to help Ukraine defend their country," the department wrote in the post.
The department has answered a state-wide call in California for law enforcement agencies to donate unused police armor to Ukrainian soldiers.
RELATED – Ohio Gun Laws: Bill Would Protect Gun Rights During Riots, Emergencies
---
Regular Citizens Chipping In
Private citizens are contributing to body armor donations as well. Brett Starr, the owner of The Starr Conspiracy, a marketing company based in Fort Worth, Texas, says he regularly works with Respect.Studio based in Lviv, Ukraine. After assuring them they would continue to be paid no matter what, Starr asked his colleagues what they needed and how he could help.
"Folks told me they would like for us to secure their air space. Take care of our air space, and we'll take care of everything on the ground. Since that's not happening, the thing they are asking for is body armor," Starr said.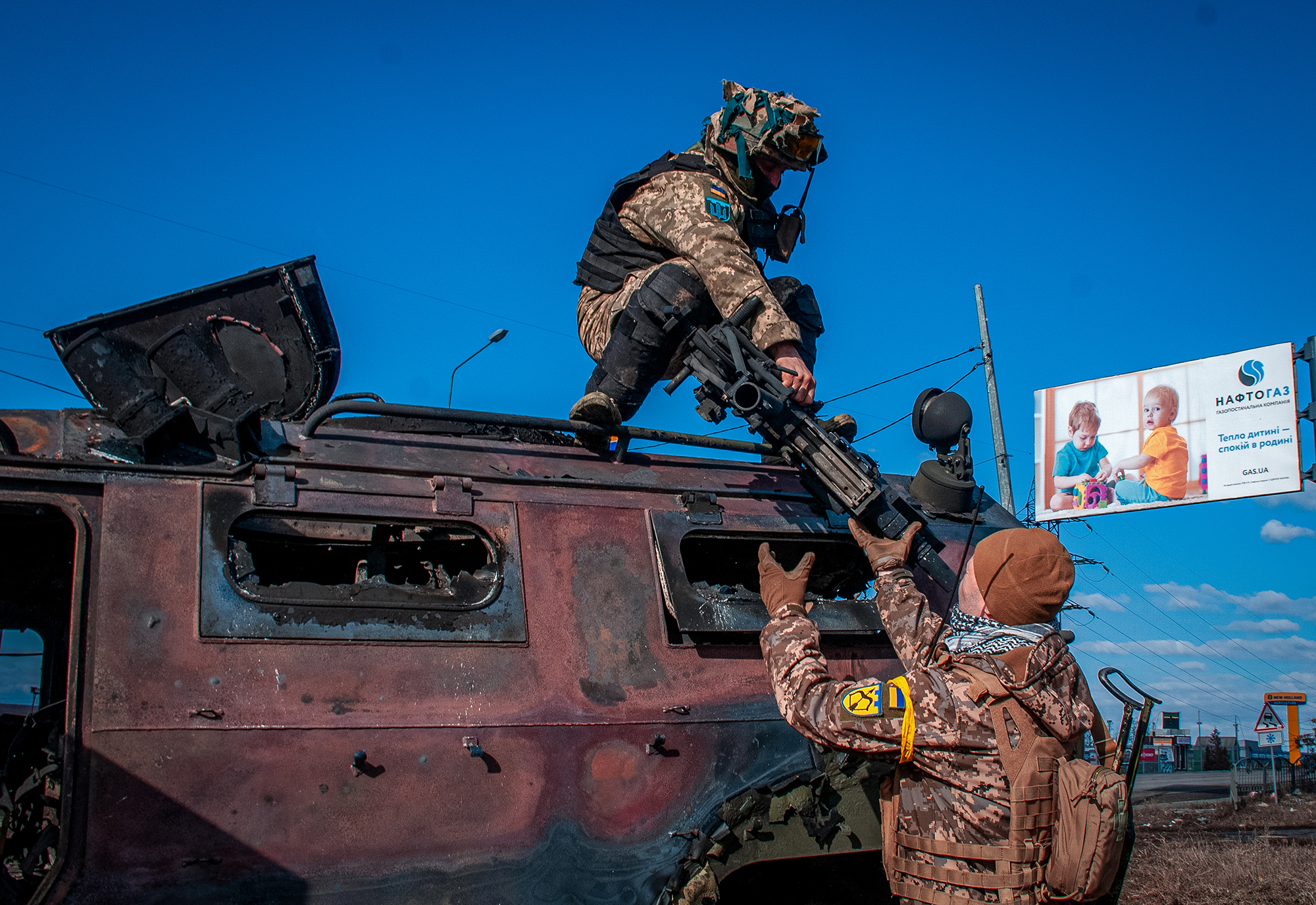 He did some research and found he could get a license to send Level IIIA body armor and then posted on LinkedIn and Fundly with the goal of raising $50,000.
"Yes, it takes a lot of logistics and planning," he wrote in a LinkedIn post. "But guess what, […] I promised some people in Ukraine that I wouldn't give up until we were able to send them body armor."
RELATED – Rash of L.A. Train Robberies Continues: 82 Firearms Stolen, Possibly More
---
Body Armor Bound for Ukraine Stolen in Manhattan
Unfortunately, it is an opportunistic world, and not all well-meant body armor donations have made it to Ukraine. One large shipment of body armor couldn't make its way out of Manhattan's East Village.
About 400 bulletproof vests were stolen there last week after being donated by local police departments to the nonprofit Ukrainian Congress Committee of America and the Ukrainian National Women's League of America. All indications are that this is not the same shipment of body armor collected for the Long Island Ukraine Emergency Response Drive.
The burglary was reported on the morning of March 16 after the doors were forced open overnight by thieves at the Ukrainian Congress Committee of America building on 2nd Avenue between East 12th and East 13th Streets.
"It is despicable that someone would break into a building [and] steal supplies and materials intended to aid those affected by this humanitarian crisis," said Vicki DiStefano, a spokesperson for the Suffolk County Sheriff's Office.
No suspects in the theft have been identified.
---
READ NEXT – 2 Million Rounds Headed to Ukraine From American Ammunition Manufacturers