There isn't much one can be sure of in this world, but you can be certain that, at close range, there is no better gun than a 12 gauge shotgun for wolverines (see below). Also, for wombats, wigeons, wapiti, wobble trap, or woodcock — and that goes for every other letter of the alphabet.
They work well on people and locked doors, too. It's the only shotgun gauge you really need, and it can do everything a shotgun needs to do. It's the most popular gauge in the world, and it's even more popular in other countries, most of which don't share our fascination with small-bore guns.
The 12 is the only gauge anyone shoots at international trap and skeet in serious American trap competitions or in very high-stakes live pigeon shoots. You can shoot other gauges at sporting clays, but if you want to win, you shoot a 12.
It's not only the 12-gauge ballistics that makes it the winning gauge; it's the guns themselves — shooting targets is always easier with a heavier gun that swings smoothly and absorbs recoil, and generally, 12s are on the heavy side.
People tend to fear the recoil of a 12-gauge, but it's the ammunition that delivers the kick, and some hardly kick at all. You can shoot very light 7/8- and 3/4-ounce target loads in a heavy 12, and you'll barely feel the gun go off.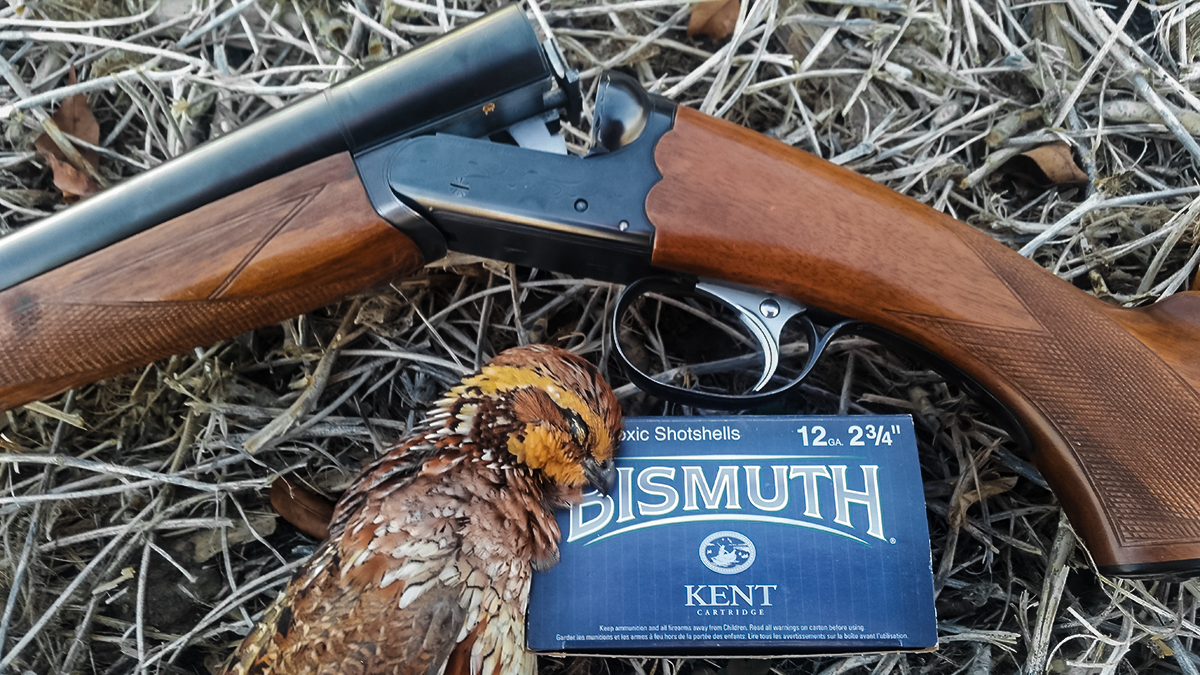 Of course, the lighter a gun is (and there are plenty of lightweight 12-gauges out there), the less recoil it will absorb from the same load, and the more will go into your shoulder.
The downside of the 12, if there is one, is that you'll encounter annoying gauge snobs who call your gun a "cannon." That's okay. Sometimes you need a cannon. The beauty of the 12-gauge is that it can be whatever you want it to be — from a cannon to a peashooter — depending on how you load it. No other gauge matches its versatility.
RELATED – Shotgun Shells: The Most Important Developments of the Past 10 Years
---
What Is a 12-Gauge?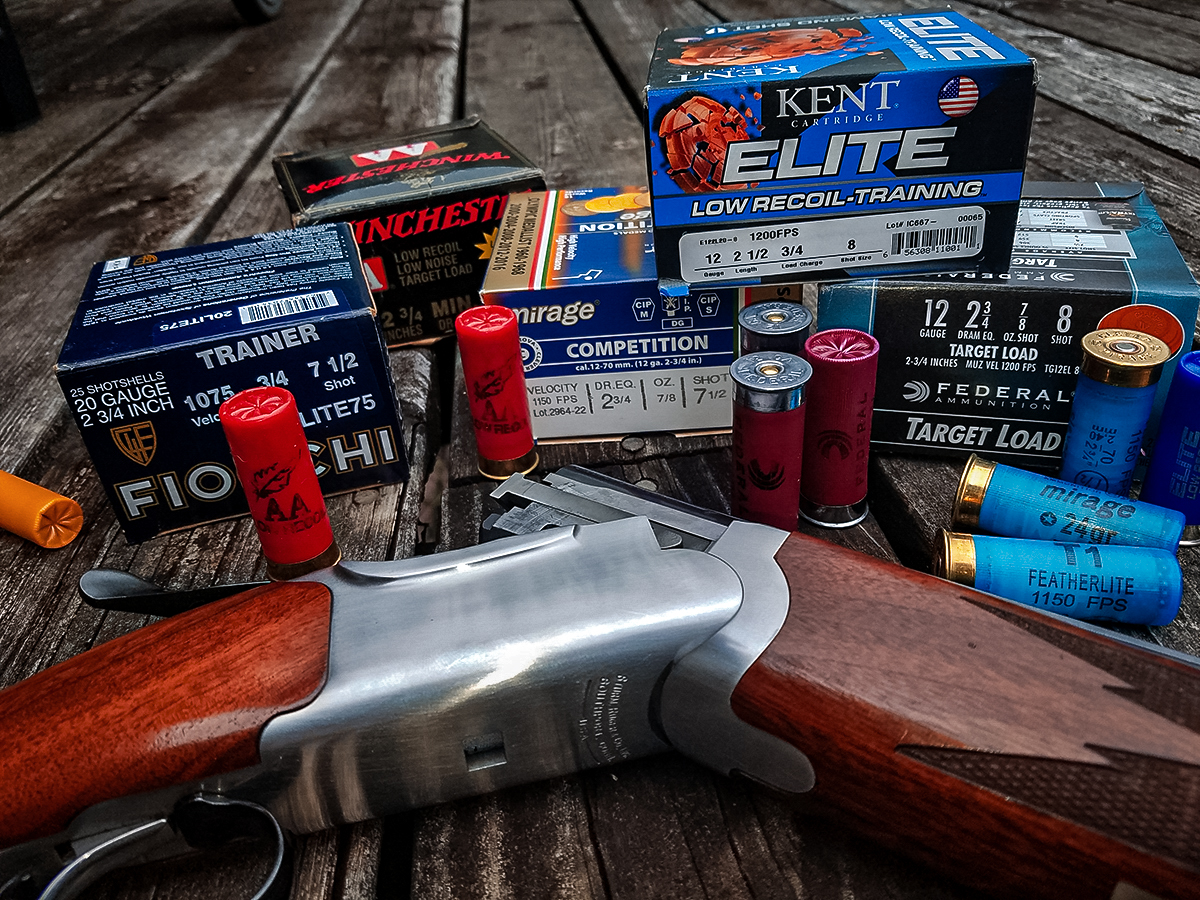 A 12 gauge shotgun has a nominal bore diameter of 0.729 inches or 18.5mm in the rest of the world. A 12-gauge/bore means that a dozen lead balls of 12-gauge diameter weighed together equal a pound. The standard load for a 12 is a 1 1/8-ounce target load, but you can load 12s with payloads as light as 5/8 ounces and as heavy as 2 1/4 ounces. No other gauge can match the range of that spectrum.
Moreover, the 12-gauge hull has enough internal capacity to hold adequate loads of pellets as bulky as 00 buck. Obviously, it can hold anything smaller, too, all the way down to a swarm of tiny No.10 shot for card shooting contests.
The roomy hull and the 0.729-inch bore of the 12-gauge mean that it will shoot more efficient patterns than smaller bores. That's especially true with lead shot that is more easily deformed in smaller bores and with heavy payloads of any large shot.
Twelve-gauge guns have been made for every possible special purpose and ammunition type — they've been built as lightweight double guns with chambers as short as 2 inches for ultralight, low-recoil payloads on up to 3 1/2 inch chambers for heavy waterfowl and turkey loads, slug guns for big game, and tactical versions for law enforcement applications and they've been used on the battlefield in one way or another ever since firearms have been used in battle. These days, there are even short factory 12-gauge 1 3/4-inch shells that run in any double gun or single-shot, and in some pump guns.
That versatility makes the 12 the one essential shotgun gauge and it has an answer for every other gauge's perceived advantages. The only thing bigger out there today is the 10-gauge, which has its own tiny niche, but 3 1/2-inch, 12-gauge shells offer nearly equivalent performance to the 10-gauge in some ways and actually exceed it in others.
When it comes to the weight of 12-gauge guns, they can be made very light for easy carry in the field — put an alloy frame on an O/U, and it weighs the same or less than many 20-gauge shotguns.
RELATED – Cold Weather Duck Hunting Gear That Will Keep You Warm and Shooting
---
A Quick History Lesson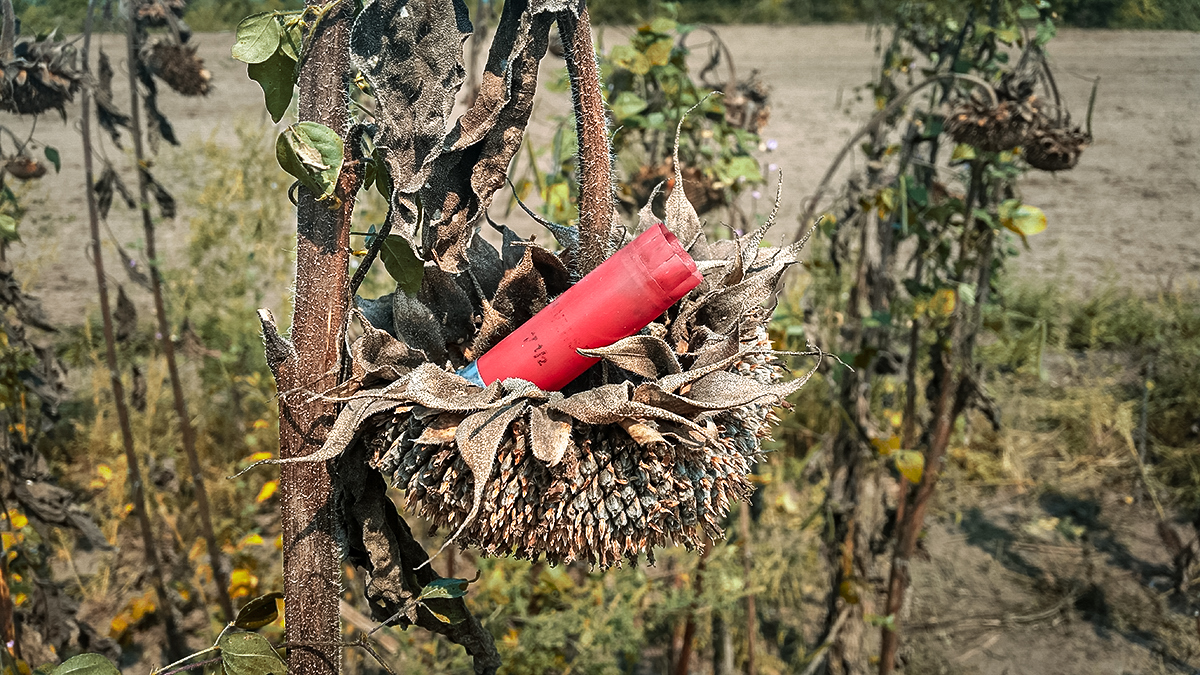 The whole gauge/bore designation system dates to the early days of artillery when cannon calibers were named for the weight of the round ball they fired. That is why a 57mm gun is called a 6-pounder. Gauges were used to designate anything smaller, which is too bad because otherwise, the 3-gauge (if there was one) would have been called the quarter-pounder.
The 12 was just one of many gauges used for smooth-bore fowling pieces in pre-cartridge days. And all of this is a long-winded way of saying we have had 12-bore guns forever, and I can't tell you exactly when the first ones were made. What's more, the 12 wasn't necessarily the most popular gauge for smooth-bore fowlers. There were lots of 16s and 14s and other bores made in those days, too.
With the invention of breech-loading cartridges in the mid-1800s, the 12-gauge began to emerge as the most practical, versatile standardized cartridge. The 10, however, remained popular in the United States into the smokeless powder era beginning in the 1890s.
The Earliest 12-Gauge Shells
According to W.W. Greener, the 2 3/4-inch, 12-gauge shell that we think of as standard now first appeared in black-powder cartridge form in guns made for live pigeon shooting. The task required heavier charges than the more common 2 5/8-inch shells could contain.
In fact, 2 3/4-inch 12-gauge shells became standard in the US in the 1920s, while overseas, some 12s continued to be made for shorter chambers. For instance, my 12-gauge J.P. Sauer shotgun from 1940 was made with 65mm (2 9/16-inch) chambers.
---
The 3-Inch 12-Gauge
In 1935, Winchester introduced the Winchester Super X 3-inch magnum 12-gauge shotshell, designed for waterfowl hunting, and a 3-inch version of the Model 12 pump to shoot it. Other makers also introduced 3-inch 12s, including the famous A.H. Fox "Super Fox."
Then, as now, gun companies made some outlandish claims. An L.C. Smith ad of the day states the only way to kill a teal flying at 130 mph (actually, they only soar at about 30 mph, but what's an extra 100 mph when you've got guns to sell?) is with a 3-inch L.C. Smith that could kill at 80 yards, which, shocker, they couldn't.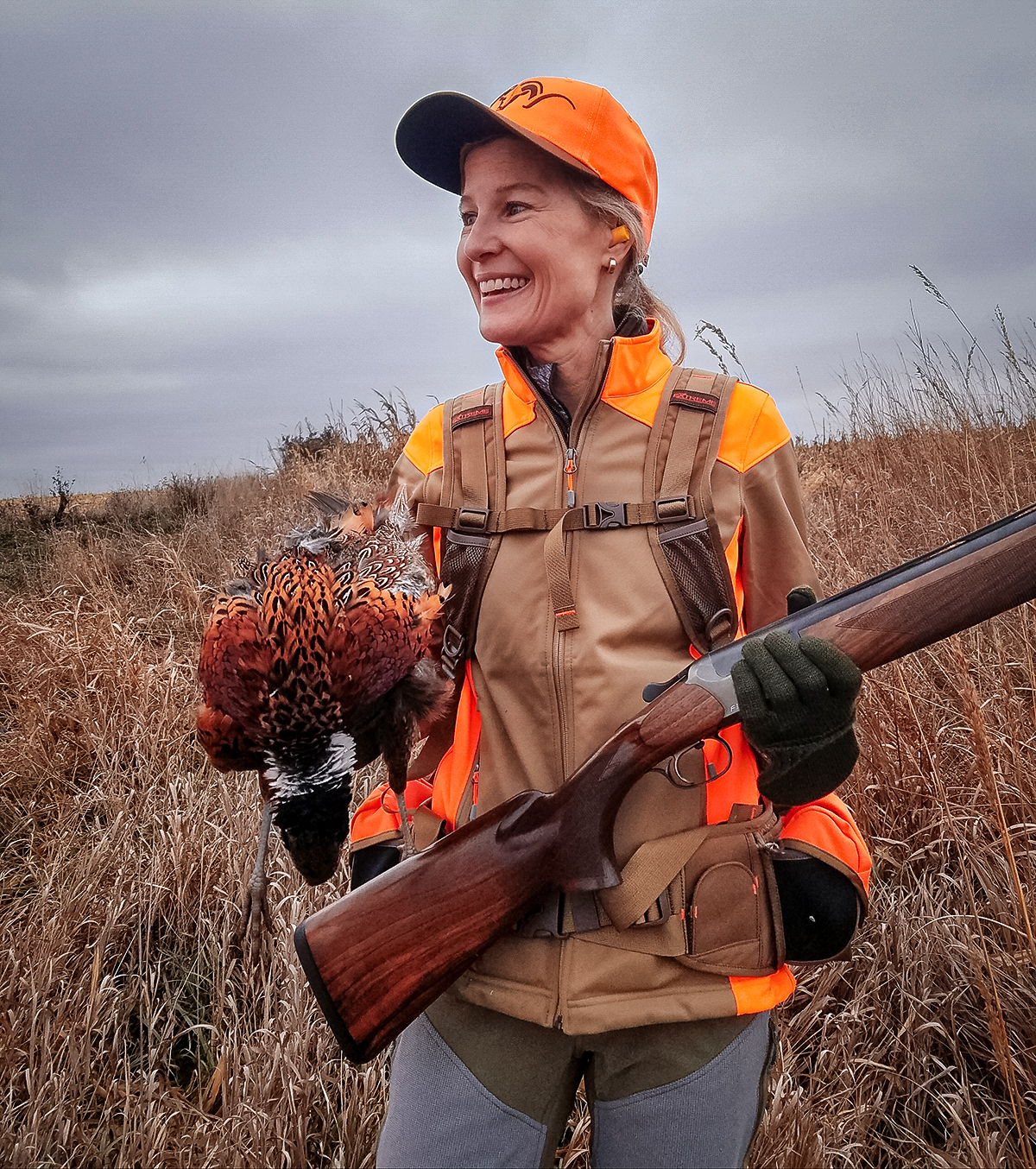 RELATED – Where Have All the Side-By-Side Shotguns Gone?
The Nontoxic Shot Era and the 3 1/2-Inch Magnum
From the 1930s to the late 1980s, a lot of hunters shot 2 3/4-inch 12-gauge shells at everything, and 3-inch magnums were reserved for pass shooters and the small but growing number of turkey hunters across the country. The mandate for nontoxic shot for waterfowl almost unseated the 12-gauge.
Steel was the only practical, cost-effective alternative pellet material to lead at the time, and hunters soon found that one way to improve performance with light steel pellets was to use shot that was two or three sizes larger than they would with lead. Fitting very large pellets, BBB, and T shot for geese into a 3-inch 12-gauge hull wasn't easy.
The 10-gauge, which had been fading away, suddenly seemed like the answer. But before it could make its comeback, Federal Cartridge Company and O.F. Mossberg collaborated on a new 3 1/2-inch 12-gauge magnum shell and a new gun to shoot it: the 835 Ulti-Mag pump.
Because the cartridge and the guns capable of firing it were brand new, no consideration had to be given to hunters using old shotguns. That meant 3 1/2-inch 12-gauge guns could be built from the ground up to withstand higher pressures. That's why factory 3 1/2-inch 12-gauge shells often have about 50 fps more muzzle velocity than comparably 10-gauge loads.
12-Gauge Slugs and Sabots
Around the same time, the sabot slug, a bullet encased in a breakaway plastic sleeve, was introduced and extended the range of the 12-gauge as a deer hunting and big-game gun. Before sabot slugs, the standard for an accurate 12-gauge slug gun was its ability to put five shots into a 5-gallon milk can at 100 yards. This was bragged about. Sabots changed everything.
Sabot slugs in a rifled 12-gauge Benelli recorded the first 100-yard, 1-inch group in the 1990s. Later refinements turned rifled shotguns into accurate and powerful 150-yard-plus deer guns.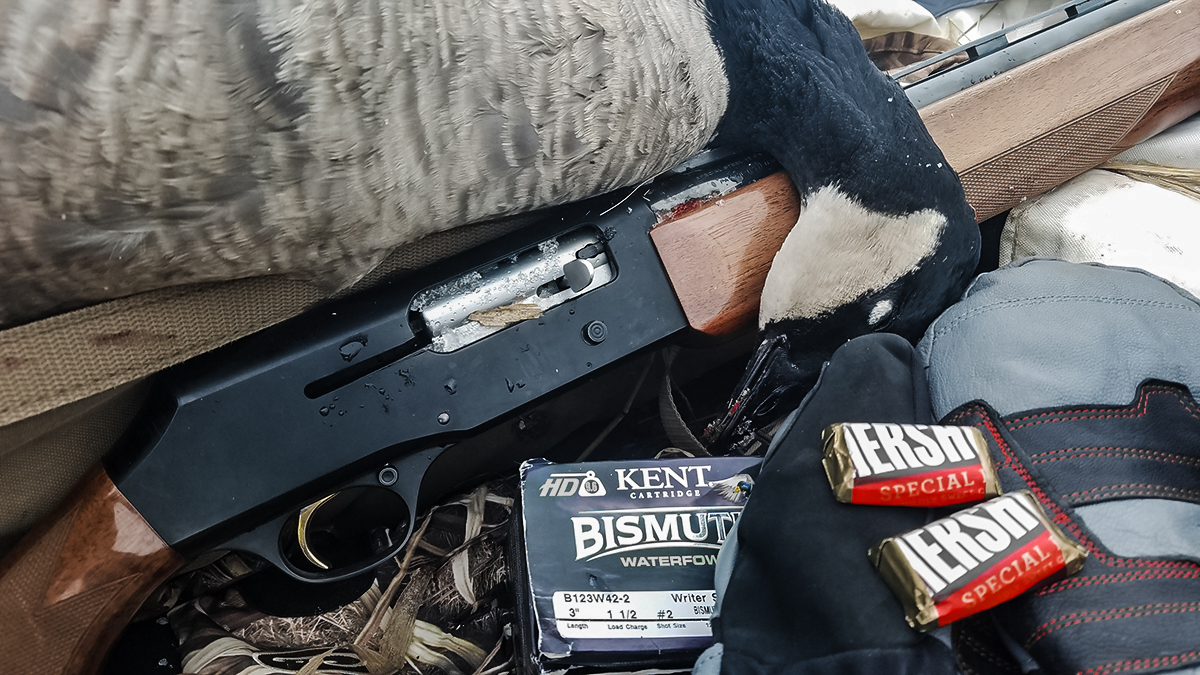 Meanwhile, denser-than-lead HEVI-Shot and much-denser-than-lead Tungsten Super Shot (TSS), for those who can afford to shoot it, finally let the 12-gauge live up to the 80-yard claims made for it by that imaginative L.C. Smith copywriter back in the 1930s.
For the rest of us, there are affordable, effective shells like Federal Power Shok for larger two- and four-footed mammals and the "blue box" Speed Shok steel, which kills ducks and geese just as dead as the high-end tungsten stuff will at reasonable ranges.
Everyone needs a 12-gauge. Here are some to think about:
---
Remington 870 FieldMaster

The most versatile shotgun shell belongs in the most versatile shotgun. Reborn out of bankruptcy as RemArms, America's oldest gunmaker is making shotguns again. The new Remington FieldMaster, introduced at the 2022 SHOT Show, replaces the Express model and delivers great value.
Its upgrades include a walnut stock, a softer recoil pad, three choke tubes instead of one, sling swivel studs, slicker function, and a more corrosion-resistant finish. Yes, at $600, you pay $100 more than you did for an Express, but you're getting a lot more gun.
---
Benelli Super Black Eagle 3

The original 3 1/2-inch semi-auto, Benelli's Super Black Eagle 3 shoots all but the lightest 2 3/4-inch loads, all 3-inch and all the heavy-kicking 3 1/2s you can stand. And it keeps getting trimmer, lighter, and better as it ages.
The latest "3" model features an improved bolt that eliminates out-of-battery misfires common to inertia shotguns, oversized bolt, safety, and bolt release buttons, milled-out loading port, and improved shell latch for easier loading. They start at $1,799.
---
Beretta A300

An excellent deal in a reliable semi-auto gas gun, the Beretta A300 shotgun is more or less the previous generation of Beretta semi-auto — the 391 — made in the United States as a lower-priced gun.
Beretta semi-autos can run a long time between cleanings, and in my experience, will shoot any shell you put in them, even some that are lighter than what the manual recommends. At $849 in synthetic $899 in walnut, it's a great value in a proven shotgun.
---
Mossberg 500/590

The 500 has been around since 1961 and has been sold literally millions — about 11 million of them, I believe. Despite looking and feeling cheap, with its plastic safety and wooden dowel magazine plug, the 500 is a tremendously dependable gun. It's slick, too, and fairly lightweight. It comes in every possible configuration a pump shotgun can come in.
The Model 590 pump action is a bit heavier and based on the military version of the Model 500, with a full-length magazine tube, heavier barrel, and a different barrel nut that makes cleaning the tube easier. The new 590S, pictured above, is made to cycle everything from 1 3/4-inch shotshells to 3-inch magnums. It makes an excellent home defense 12 gauge shotgun. The Model 500 starts at just $473.
---
Browning Citori 725

A slimmed-down version of the Browning Citori O/U, which itself was a simplified version of John Browning's famous Superposed, the 725 comes in numerous field and target versions. It's a great choice if you want to move up to something nice, but don't be fooled by its good looks. Underneath, it's tough, durable, and of all the guns listed here, the most likely to still be running strong when your children's children inherit it.
The basic field gun starts at $2,795. For an extra hundred bucks, you can get it in a Superlight version for upland hunting that weighs 6 pounds, 2 ounces, which makes it a hair lighter than the 20-gauge O/U I hunt with.
---
CZ All-Terrain Drake

If you want an O/U that you can abuse without an iota of guilt, the CZ All-Terrain Drake is for you. It has plain matte walnut wood and an OD Cerakote finish on the frame and barrels to help it survive duck blind life.
It has swivel studs, five extended choke tubes, and clever magnets in the extractors that are just strong enough to hold an unfired shell in the gun when it's tipped up. The idea is to make it easier to load in a duck blind, but it's a neat feature that comes in handy in many situations. The gun has 28-inch barrels and sells for $859.
---
The Future of the 12 Gauge Shotgun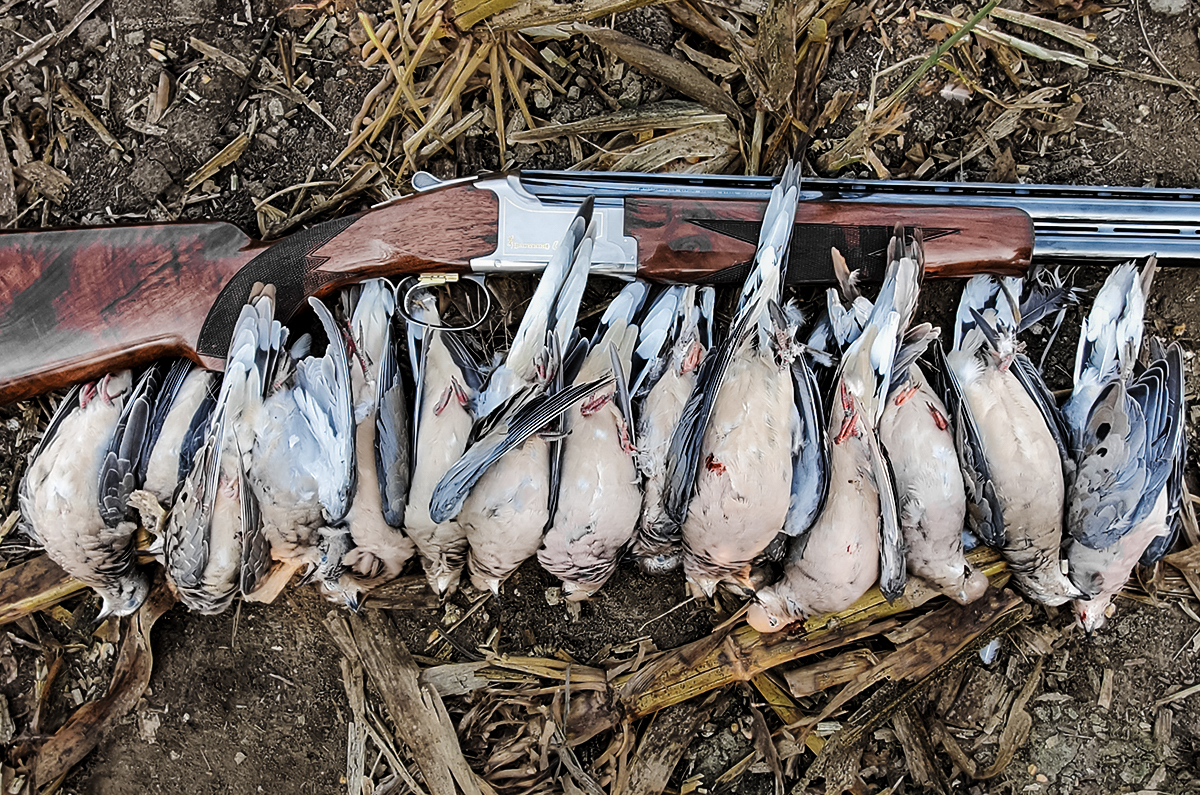 It's not going very far out on a limb to suggest that as long as there are shotguns, there will be 12-gauges. True, the other gauges and even some rifle calibers nibble away at its universality. As more "shotgun-only" states legalize straight-wall cartridges for deer, fewer people hunt with slugs, 12-gauge or otherwise.
There's a trend, too, toward small-bore guns for waterfowl and turkeys now that bismuth, HEVI-Shot, and Tungsten Super Shot (TSS) are around to improve small-gauge performance. But these are trends, and trends come and go, and when they're gone, we'll still have the freakin' 12-gauge to do everything a shotgun needs to do.
---
READ NEXT – What's Behind the Supposed 'Magic' of the 28-Gauge