The Bureau of Alcohol, Tobacco, Firearms, and Explosives has reversed course on plans to reclassify AR-style pistols with stabilizing braces such as the Honey Badger from Q LLC. In a letter released two days before Christmas, the ATF withdrew its previous guidance on "Objective Factors for Classifying Weapons with 'Stabilizing Braces" and a related request for public comment. 
"As explained in the notice, the proposed guidance was not a regulation," the Wednesday letter states. "The notice informed and invited comment from the industry and public on a proposed guidance prior to issuing a final guidance document."
Comment from the industry and shooting public came fast after an Aug. 2 letter from the ATF to Q LLC demanded the maker of the popular Honey Badger AR pistol "cease and desist" production. On Oct. 9, the ATF followed up with a "temporary suspension" of the cease-and-desist order, pending further review, after widespread outcry by Second Amendment advocates.
The ATF then came back with a Dec. 18 notice and request for comment, which seemed to suggest a reclassification of AR-style pistols with stabilizing braces chambered in rifle-caliber ammunition that could not be reasonably fired with one arm, to the class of short-barrel rifles or SBRs.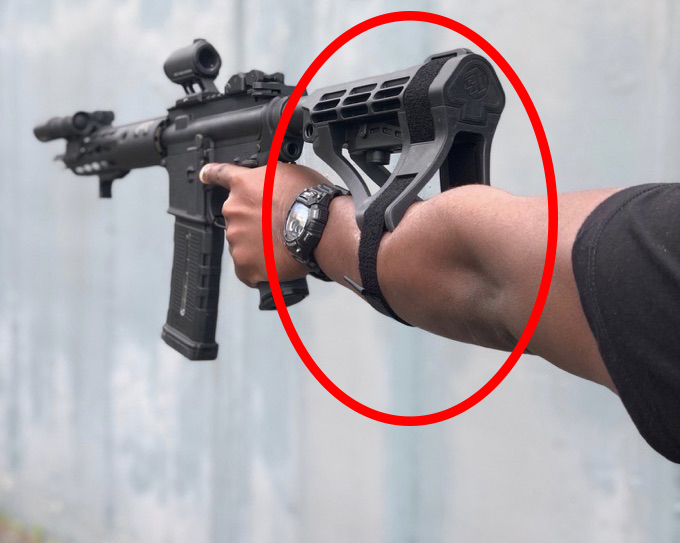 According to current ATF guidelines, an AR-15 with a sub-16-inch barrel and an overall length less than 26 inches with a brace is considered a pistol. They can be bought and built, depending on state law, same as a Glock 19 or a 1911. If it's shot with one arm or two is irrelevant. If the brace is removed and replaced with a more traditional buttstock, that pistol would then meet the ATF classification for a short-barreled rifle or SBR. 
SBRs are Class 2 or Title II firearms, regulated under the National Firearms Act (NFA). There are stark differences in the cost and buying process between an AR pistol and an SBR, or any NFA firearm like a suppressor. 
For an NFA firearm, after paying for the gun and an additional $200 government tax, the buyer must complete ATF Form 4, a Tax Paid Transfer and Registration application, which is submitted to the ATF. The processing time for the paperwork can take three months to a year, sometimes longer. 
A reclassification from a "pistol" to an "SBR" would effectively make millions of pistols illegal, would mean their owners were breaking the law, and would complicate, lengthen, and make more expensive future sales.
Among other things, the ATF proposed dealing with offending firearms already in the hands of gun owners by removing optics and fore-end grip accessories, along with federal registration. 
The recent announcement to withdraw the new guidance officially retires this line of thinking — for now. 
Details surrounding the abrupt reversal by the ATF are still trickling out, but pressure from Congress certainly helped. Rep. Richard Hudson (R-N.C.) and 89 additional members of the US House of Representatives sent a memo to ATF Interim Director Regina Lombardo, expressing "deep concerns" over the bureau's recent actions and demanding "[immediate] action to correct this injustice."
In a Wednesday statement, the National Rifle Association Institute for Legislative Action (NRA-ILA) said "the [ATF's] 'guidance' did nothing to fix [the agency's] history of confusing and conflicting determinations on pistol braces. We would like to thank the NRA members, gun owners, and members of Congress who stood up for the Second Amendment rights of all Americans. And, special thanks to Majority Leader Mitch McConnell and Congressman Hudson for taking the lead in pushing ATF to rethink its arbitrary and unhelpful guidance.'"